After our fourth summer of testing in the California heat, we've determined the best portable air conditioner overall is the dual-hose Whynter – ARC-122DS Elite. The ARC-122DS is more expensive than our single-hose pick, but it will minimize the amount of cold air that's wasted. Thankfully, this 12,000 BTU Whynter is fairly quiet compared to the company's big 14,000 BTU model we've tested in the past. For 2018's new single-hose releases, the brand-new LG – LP1218GXR 12,000 BTU portable air conditioner also impressed us.
After our fourth summer of testing in the California heat, we've determined the best portable air conditioner overall is the dual-hose Whynter – ARC-122DS Elite. The ARC-122DS is more expensive than our single-hose pick, but it will minimize the amount of cold air that's wasted. Thankfully, this 12,000 BTU Whynter is fairly quiet compared to the company's big 14,000 BTU model we've tested in the past. For 2018's new single-hose releases, the brand-new LG – LP1218GXR 12,000 BTU portable air conditioner also impressed us.
Table of contents
How we selected finalists to test
When we first set out to test portable air conditioners, two of our team members had already owned the Honeywell 10,000 BTU model, and we were quite familiar with the limitations of portable air conditioners.
We spent almost 40 hours researching the best models on the market and reading tests results from other publications like Consumer Reports and consumer reviews on the web to find out what other people are looking for.
We decided to focus on models made in-house by big manufacturers, trying to eliminate designs that will be identical inside their shells. This is pretty common among brands like Sunpentown, Keystone and Danby.
We bought the highest-rated models from four manufacturers across three sizes, including the Honeywell we had already been using. We then spent 100+ hours testing this first group in the heat of a San Diego summer.
It quickly became clear that 12,000 BTUs is the sweet spot. Our market research shows that's the size most people are purchasing, too.
After it won our first roundup, we used the LG – LP1215GXR in homes and offices for two years. We tried LG's 2017 replacement since the specs were a little bit better, but we were disappointed with the actual performance compared to our 2016 winner.
In 2018, we added the top-ranked 12,000 BTU dual-hose model from Whynter and the competitive Frigidaire single-hose, along with a limited-release 2018 model from LG.
We haven't tested more 10,000 or 14,000 BTU models; new designs we've looked at don't have better performance specs, so as long as our current picks are in stock we'll keep listing them.
We briefly looked at the monstrous Wi-Fi-controlled Frigidaire Gallery model, but our experiences have made us more and more skeptical of "smart" appliances. We might give a follow-up model a try, but we don't recommend being an early adopter.
The seven best portable air conditioners
Important features to consider
If you're sure you want to use a portable, here are some features you may want to consider.
Portability: Weight is the major concern when you're lifting these up and down stairs, but also consider how tall the unit is if you'll ever need to squeeze it into the front seat of a car. (We've made all the 12,000 BTU models fit, but just barely.)
BTU capacity: This is a measurement of how much heat the air conditioner can remove in an hour. See our investigation into BTU ratings below.
Double hose vs. single hose: This choice comes down to how hot your region gets. At temperatures above 90°F, the single-hose models stop being effective. Check out the details of our testing below.
Energy efficiency: The Department of Energy gives "Energy Star" awards to other air conditioner types if they can reach 12 BTUs per watt, but the new BTU tests have dramatically lowered the ratings of all portable units. You'll probably see an "energy efficiency rating" on models tested before 2017, but newer advertising skips this listing.
A drain pump: If humidity is above 90 percent, you might fill up the water reservoir when running the AC and need to drain it frequently. If you don't have a floor drain handy, some brands sell an alternate version with a pump so you don't need to lift the unit to drain it. Even if you don't spring for that feature, you can still use an external pump.
Availability: Sadly, if you wait until the week before a heat wave you might not be able to get the air conditioner you want in time. We hope you can at least find one of our backup picks if you're trying to get two-day shipping and the top models are sold out.
How do portable air conditioners work?
Portable air conditioners work using refrigerants and coils to absorb heat and pump it somewhere else, just like your freezer does. As the refrigerant absorbs heat from your room air that's being blown over the cooling coils, it changes from liquid to gas and soaks up as much heat as it can.
In a portable air conditioner, all that concentrated heat is still sitting in your room until the machine can move it out a window using forced air. You're enjoying the cool air that blows out the front of the machine, but window air conditioners collect all the captured heat in a coil that stays outside your house.
Single vs. dual hose units
We asked Richard Ciresi, the owner of Aire Serv Heating & Air Conditioning in Louisville, to explain which cases make sense for a dual-hose air conditioner compared to the more popular single-hose designs.
"Generally speaking," Richard says, "it depends on the temperature outside. A single hose unit uses air from inside the home to carry the heat to the outdoors. This means you are using air that you have paid to condition and sending it outside. Warm air from the outdoors is then drawn into the space to replace the exhausted air.
"If it's really warm outside, this gets expensive. If someone is using this device as a permanent solution, the [dual-hose air conditioner] will be an energy saver over the life of the unit."
In our tests, we found that on a moderately hot day (up to about 87°F) the LG single-hose champion could beat the dual-hose Whynter at cooling one room.
On a day when it climbed above 90°F outside, though, things changed. The dual-hose would still cool the room, while a single hose couldn't keep up. The single-hose model starts off with a fast-cooling drop, since it's drawing air into the room from the rest of the house, but after that air is replaced with outside air it actually starts heating up the room.
Note that in either case, you're still getting cold air out of the front of your air conditioner; the problem is with the average air temperature in your whole house.
If heat is coming from inside the room (in kitchens, laundry rooms, or if you've got a room full of sweaty people) dumping the hot room air out a window can actually make the single-hose system more efficient. That's not a typical use for most people, though.
If you think you might benefit from a single-hose system, you can always leave the intake hose disconnected on a dual-hose machine to create a single-hose system; adding an outside-intake hose for a single-hose system should be possible with a lot of duct tape or 3D printing, but that's not realistic for most of us.
Many (like our friends at Wirecutter) insist that it only makes sense to buy an AC that will work as well as possible in the hottest conditions, and the dual-hose Whynter systems definitely fit that bill. Sadly, there aren't many other manufacturers selling this type.
How many BTUs do you need?
Since their main job is pumping heat energy out of your room, air conditioners are rated by their capacity for British thermal units (BTUs) of heat moved in an hour. (One BTU is the heat it takes to increase the temperature of one pound of water by one degree Fahrenheit.)
The air conditioner capacity rating is based on a standardized test designed for the appliance manufacturers by ASHRAE. The test allows manufacturers to compare the size of air conditioner hardware in an ideal environment.
For a window unit or a central AC system, you can use a calculator to see how many BTUs you need for your room. That way, you're not spending money on a machine that's bigger and draws more energy than is necessary for your home. This also helps you avoid an oversized system that makes your room damp instead of comfortable.
For a portable, though, that's not the whole story.
DOE BTU ratings
In 2015 the Department of Energy proposed a new way to calculate BTU capacity of portables that accounts for poor performance on very hot days, called an "adjusted cooling capacity." Both single and dual-hose models were affected, but the single hose models got hit much harder.
Manufacturers pushed back and amendments were made to the testing procedure, so the adjustment is now "seasonal." Eighty percent of the performance rating is determined by tests with outdoor air at 83°F, and 20 percent of the rating accounts for the worst days of the season at 95°F.
All of the 12,000 BTU portables (like the models we tested) are down-rated to around 7,000 under the new tests. Some consumer advocates would have liked to see the testing demonstrate how much worse a single-hose unit is on the hottest days of the year, but the DOE was satisfied by data that shows 80 percent of the time most people run an AC, it's about 83°F outside.
New products in the summer of 2018 had just started to show the new DOE rating side-by-side with the old number, but remember that the rating number doesn't tell the entire story. Portables aren't as efficient as window units, but how much less depends on complex factors.
Manufacturers insist on keeping exaggerated room-size recommendations, though, which is downright disingenuous. In portables, calculating a BTU rating fit for your room size isn't as simple as it is for window air conditioners. On the hottest days of the year, even a giant 14,000 BTU dual-hose portable will struggle to keep up compared to an equivalent window unit.
Is bigger always better?
With a window AC, buying a unit that's too big will mean that it cools off the air before it can suck out the humidity, leaving your room dank. Portables tend not to cool quickly enough to have that problem, though. Models we tested also feature a "dry" mode that will redirect dry exhaust air into the room.
There are reasons to avoid extra-large portable air conditioners, though. In our testing it became obvious that noise from bigger units in the 14,000 BTU range can be detrimental to sleep. The extra coolant and bigger coils make portability suffer, too: The Whynter 14,000 BTU model came in at a whopping 100 pounds compared to a typical 65.
Our recommended size bracket for most rooms is 12,000 BTUs (ASHRAE rating), but manage your expectations on hot days. If you don't care about noise and portability a bigger model will cool more effectively, but remember that you're going to need to be working (or sleeping) close to these beasts to really stay cool.
How we tested
We've run tests over four summers, and conditions have varied from moderate 80-degree California spring days to 105-degree heat waves. We've moved our portables between homes and offices, slept beside them, and run three different kinds of tests.
Size testing
For our first round of testing in 2016, we used a lineup of four portables in a San Diego home and measured the temperature change as they did their work over moderately hot days in two different room sizes.
In a 125-square-foot office, LG's 12,000 BTU model was neck and neck with the powerhouse 14,000 Whynter dual-hose unit, and those two models actually left the room cold — definitely better performance than we expected.
Once we moved the portables into a 450-square-foot great room, the 14,000 BTU size started to show its strength — but it was still disappointing for an air conditioner in a room that it's nominally "rated for."
Having used the 10,000 BTU Honeywell in the heat of summer, we can say that a smaller portable unit needs to be blowing directly on you. Even then, it's not comfortable, it's just barely getting you by.
Let's not kid ourselves — portable air conditioners aren't going to cool an entire house. In many ways, they're best described as personal air conditioning units. If you think of them and use them that way, you'll probably be happy.
Updated tests
For further tests of updated models, we decided to focus on the Goldilocks size of 12,000 BTU models.
Our winner from 2016 is still going strong, but we tested a replacement model that was released in the summer of 2017. LG's sales representatives confirmed to us that they updates air conditioners on a two-year cycle, so we were surprised when we bumped into a redesigned 2018 model, the LP1218GRX, in a Home Depot.
We also bought the Whynter and Frigidaire 12,000 BTU models, since their specs looked competitive and nobody else has tested these models against each other.
For our updated tests we tried three different methods for comparing these designs. First, in early summer when outside temperatures were only hitting 82°F, we heated our upstairs testing room from the inside to see what the actual peak performance of our machines was. Starting from a controlled 85 degrees Fahrenheit and with 2,000 watts of ongoing heat (about 6,800 BTU) from a pair of space heaters, we ran the 12,000-BTU-rated portables for an hour.
Next we shut off one heater to bring the load down to 800 watts for another hour, then turned off the last heater to see how the AC could cool in "easy" conditions.
We were satisfied that the old 2015 LG is still going strong, and a bit surprised at how poorly the Whynter dual-hose model was cooling the room.
When we considered the reason that a dual-hose model is supposed to be more efficient, the test results made sense: a single-hose model draws air from outside or from the rest of your house (depending on how well you your windows and doors are sealed).
If your room is being heated from inside rather than by hot weather, a single-hose portable works very well. In our case, the single-hose models dumped heated room air out of the window exhaust and drew air from a lower floor that stays cooler, even on a moderately hot day. There was still a difference in the amount of cooling these units were doing relative to each other; in the last phase of the test LG's models continued to lead the pack even after the heat was turned off.
Dual hose vs. single hose testing
When a summer heat wave finally arrived and we saw a forecast for back-to-back days at 100+ degrees, we set up the Whynter dual hose and the winning LG single-hose to compare performance in worst-case scenarios.
With outside temperatures climbing from 92°F to 102°F in the afternoon, the dual-hose Whynter was finally playing its strong suit. The LG held on early in the testing day, but when peak temperatures hit the single-hose design drew in hot air more quickly than it could cool the room. (It was actually a few degrees cooler on the day we tested the LG, but it didn't help.)
When we opened our sealed room at the end of the testing period we were impressed at how cool the airstream coming off of the LG was compared to the average temperature logged on our thermometer — it's not an efficient way to cool your room, but a good single-hose design is still making a cool breeze that you could use strategically on a hot day.
Noise tests
After all our cooling tests, we know these units can be loud. While you're not going to get complaints from the neighbors, the worst offenders might disrupt your sleep. If you buy an AC to keep you from sweating all night, it shouldn't make you pay by waking you up.
There are two stages of sound levels for these units: the ongoing noise and the sound of the compressor turning on or off. These units are all designed so that when the room hits a temperature higher than you set, it rumbles to life, reaching its all-time loudest point.
This means that you'll most likely find yourself shaken awake when the unit activates or deactivates throughout the night. Not an ideal situation. Most of them won't be so loud they immediately jar you, but if they find you in the wrong sleep stage, there's a good chance you'll be woken up.
For this reason, we measured not only the ongoing decibel levels of each unit — we also measured the activation/deactivation decibel level, to see which models were most likely to jar us awake.
The 14,000 BTU Whynter, while the most powerful unit, was also the most brutally loud. That's an instant nix if you're considering it as a bedroom option.
On the other side of the sound spectrum, LG's 2015 and 2018 designs have proven the quietest overall. You're not going to mistake these for room fans, but they stayed low enough not to be a nuisance in our night-time testing.
The smaller 12,000 BTU Whynter is a bit louder than the LG in normal operation, but the starting/stopping sound was less of an overall change in sound level. It's a 1dB difference either way, which is so small that you might not notice it without measuring equipment.
Sleep modes and remotes
Another irritating feature of many units is that you can't turn off their LED lights. You'd think the product designers would have thought through the option to shut off the lights for people who prefer blacked out rooms (studies show it helps your sleep), but most didn't.
LG is the standout here, with a button on the remote that will actually turn off the light. On the 2017 model they also designed it to slow the fan down for quieter operation, but the 2018 model just sticks with whatever mode you've been using. Frigidaire made an effort, with a sleep mode that makes the thermostat less picky so the machine cycles less often, but the main light only dims very slightly and the mode LEDs are still bright.
Dehumidifier modes
If you suffer through long, muggy summers, you may find the humidity-removal of these units valuable. Because we don't live in an overly humid area, we weren't able to test the maximum capacity of each, but the reported pints-per-hour ratings are on par with the best dehumidifiers we've tested.
Despite winning on every other test, LG came in last with a manufacturer's rating of 35.04 pints per day — that's less than half of Frigidaire's class-leading 79 pints per day. We haven't heard anything from LG's engineers about why there's such a difference.
Note that all of these units are designed to operate in "dry" or "dehumidify" modes with the exhaust hose disconnected and dry, hot air circulating inside your room. They won't be cooling the room much in dry mode, and water will collect much more quickly in the reservoir.
Best for heat waves: Whynter – 12,000 BTU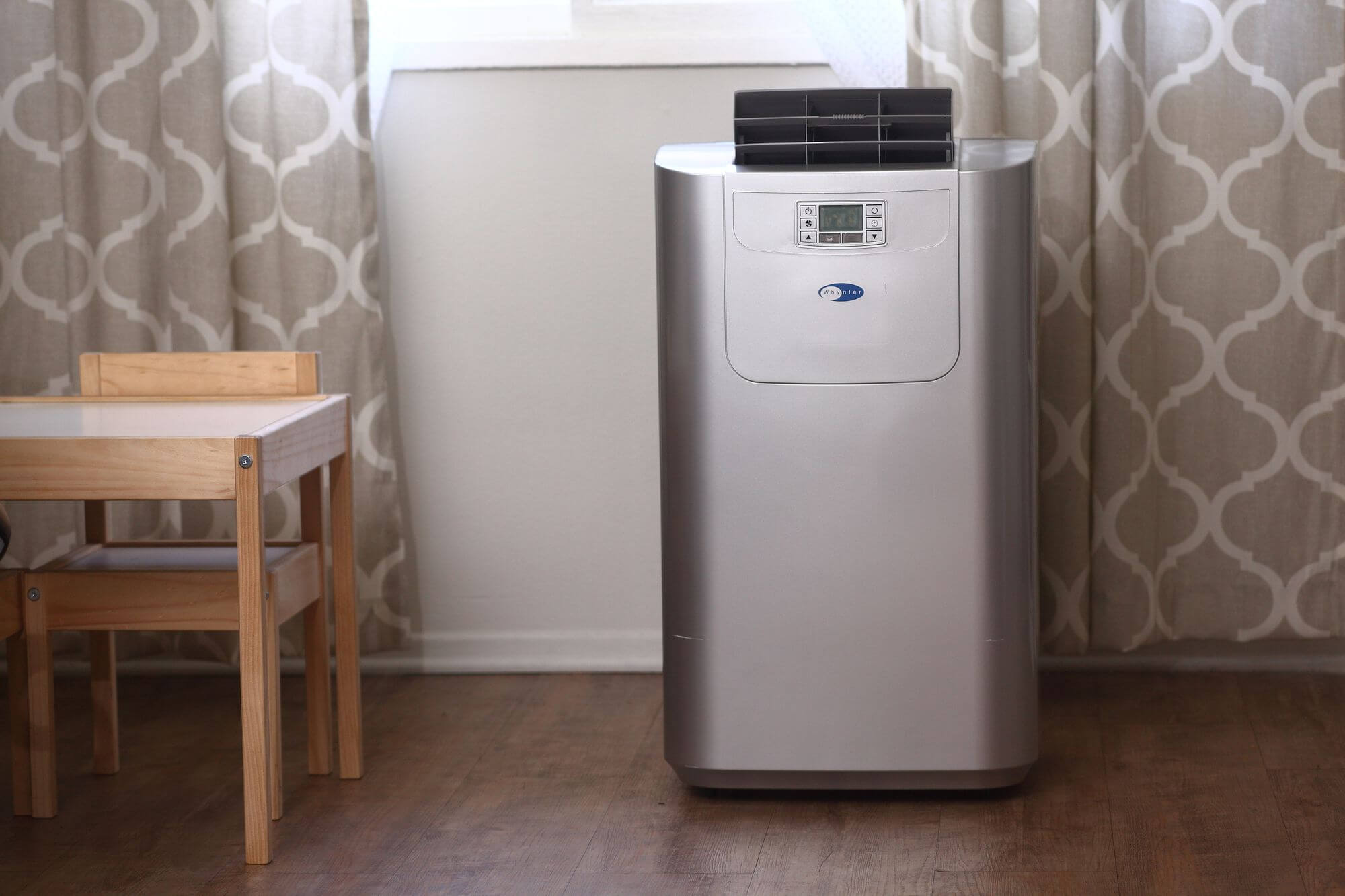 The ARC-122 DS Elite from Whynter is a quiet dual-hose air conditioner, and that makes it a rare beast. Dual-hose models are rare enough as it is!
If you're buying a portable because you expect temperatures to climb above 95 degrees, a dual-hose system will do its job while a single-hose model will struggle. Now that we've had a chance to verify this with our own test in a real heat wave, we have to agree with our competitor on the other coast that the inconvenience of the second hose is a worthwhile tradeoff.
We looked at other tests of competing dual-hose models and didn't see anything that convinced us to buy other models. The Whynter's performance in more moderate conditions was actually pretty disappointing, and usability is lackluster
While Whynter is neck and neck for noise output with the LG in this size class, the screen is hard to see without crouching down, and if you're using the remote you still have to walk over and open or close the vent manually. There's a slip cover included for storage, which is nice, but the paint scratches easily. Finally, when we averaged the power draw we measured with the Whynter it was about 70 watts higher than the competition. Not a huge gap, but notable.
Key takeaways:
The Whynter – ARC-122DS Elite will beat any single-hose design during a heat wave, and that's probably the time when performance is most important.
Whynter is one of the few manufacturers focusing on dual-hose designs, so there's not a lot of competition.
Noise output from this model is competitive with winning single-hose models.
The design is a bit old and clunky-looking, but low weight makes it relatively portable.
Best single-hose portable: LG – 12,000 BTU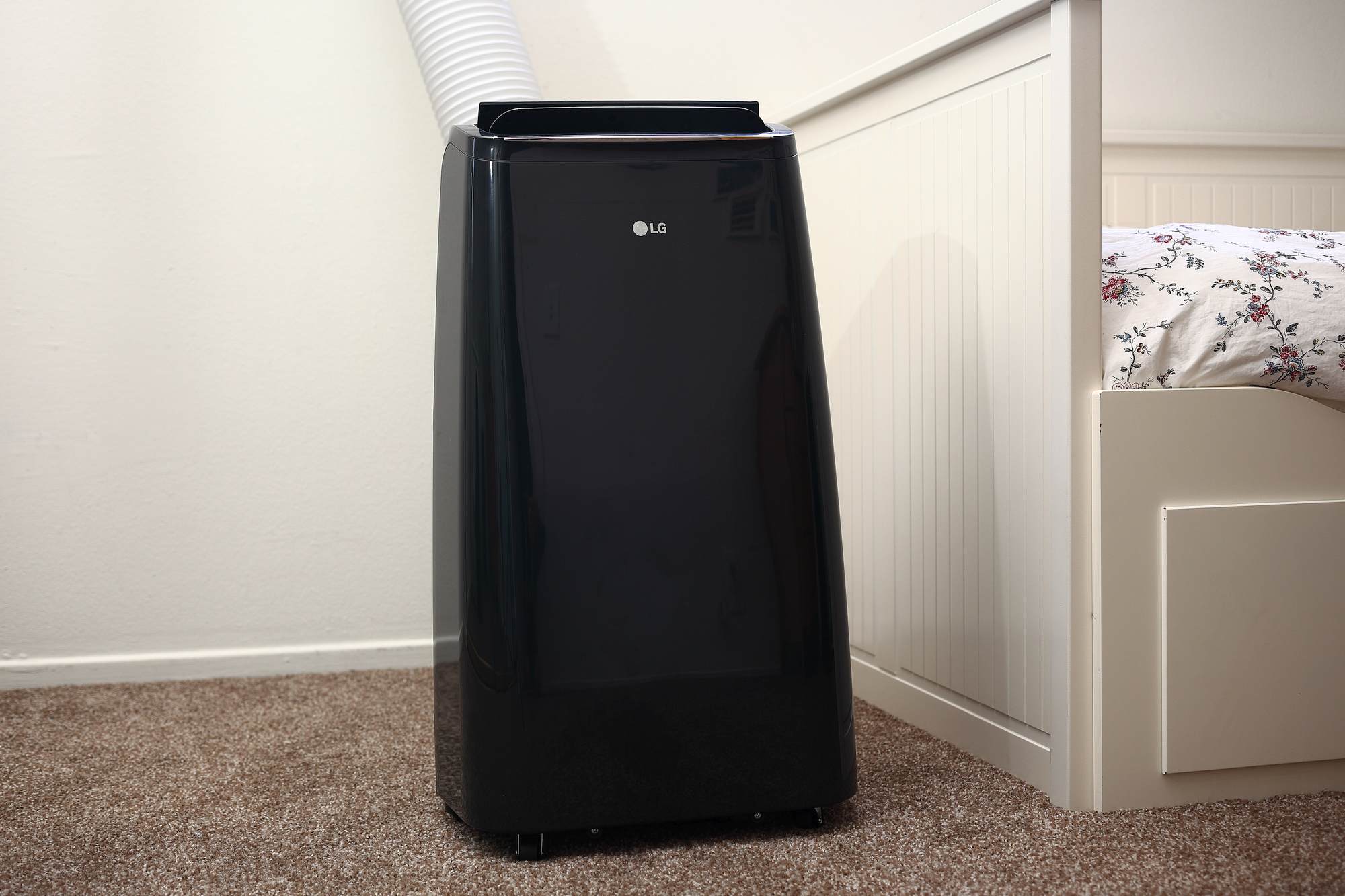 For our money, the new LG – LP1218GXR is the nicest air conditioning unit on the market. It's quiet, portable, powerful, energy efficient and not too pricey, either.
We've tested three versions of this design: the LP1215GXR was current in 2015-16, then came the LP1217GXR, which is supposed to be sold through 2019 according to LG's sales director. The 1218GXR is a limited release we've seen at Home Depot and on Amazon, though, and it's been quieter and more efficient in our tests than the 17.
At the time of this writing, the new LG design is around $20 less expensive than the Frigidaire and $45 less than the Whynter. You could save money by buying a smaller AC (the new Honeywell 10,000 BTU model is typically for about $100 less), but portables are enough of a performance compromise already that downsizing is risky.
The LP1218GXR is the newest model LG makes in the 12,000 BTU size. If you're dead-set on a single-hose design and you want something bigger, check out the LG – LP1419IVSM. The best new features include a dedicated sleep button on the control panel and a hose outlet on the base that allows you to store the hose while it's connected to the machine. A 14,000 BTU model will provide more cooling power, but they're a lot bigger and louder: the fan needs to move a lot of air to cool at that capacity, so for bedroom use it's not really worthwhile.
For our money, the 12,000 BTU LG is also the best-looking model, with a sleek design that tapers elegantly. It also has features sorely missed on the Whynter, like a magnetized holder for the remote and a spindle to keep the cord wrapped when it's in your closet. There's even a nighttime mode that works!
Key takeaways:
The LG – LP1218GXR will give you top performance if it doesn't get above 90°F outside.
During a heat wave, a single-hose design like this can actually make your room hotter.
Of the single-hose models, this was the quietest and nicest to use.
The 2015 model we tested is still going strong, but if you want an updated design try to find the newer 1218GXR.
For extreme conditions: Whynter – 14,000 BTU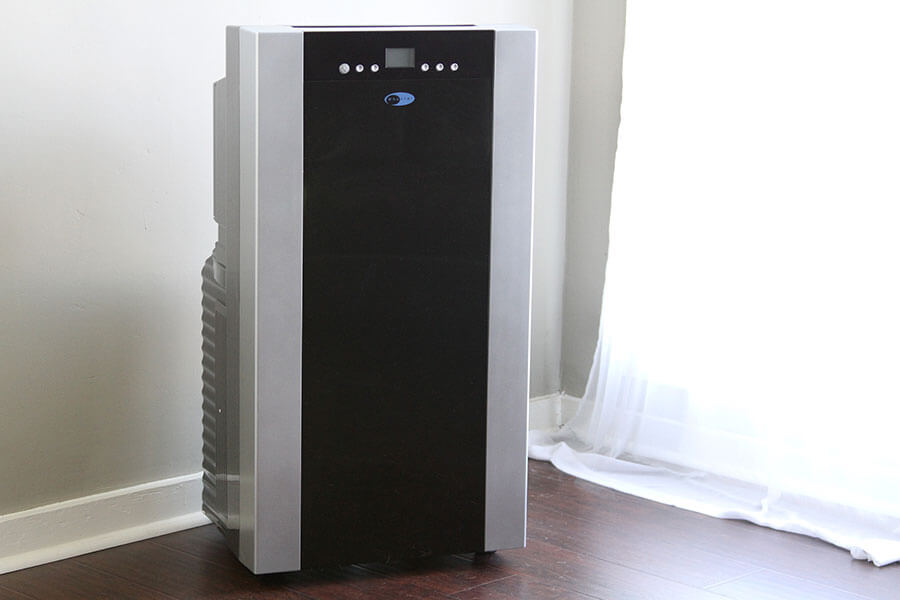 If you're for whatever reason looking for a portable air conditioner that doesn't need to move or sit in your bedroom, the Whynter – ARC-14SH may be a better choice, especially if your climate skews on the much hotter side.
A dual-hose design like the ARC-122 Elite already has a leg up on our single-hose picks, but the enforcer on Whynter's team brings raw power to match. The DOE still down-rates capacity to 8,500 BTUs, but the difference between this and a single-hose unit will get bigger as the outside temperatures get hotter.
One feature this particular Whynter model brought to the table is a heating mode. If you'd like your portable A/C to double as a heating unit, the versatility of the Whynter may be a good fit for your home or office. You can also check out our space heater review here.
We could see the Whynter being a good fit in older office buildings with open floor plans that both get too hot and too cold, but anticipate drawing straws to determine who has to sit next to "the beast."
Best dehumidifier mode: Frigidaire – 12,000 BTU
The Frigidaire – FFPA1222U1 was new to our testing lineup in 2018, and this model has a few strengths.
Frigidaire's machine is highest-rated for moisture removal in dehumidifier mode, which might be an important stat if you're in an especially humid area.
The design has a nice feature that's been deleted from LG's newest models: a space on the back to plug the cord into to keep it tidy. There's no remote holder, though, and the sleep mode doesn't dim the lights as much as we'd like.
The handles are set high on this model, which makes it a bit easier to pick up and move over a short distance (like when you're clearing a threshold between rooms). It's more top-heavy, though, so we prefer the LG's design for lifting and rolling around.
The price for any of these models will bounce up and down as inventory shifts during summer heat waves. On the whole, though, the performance edge and lower noise of LG's 2018 model makes it a better choice even if it happens to be $20-30 more.
Budget pick: Honeywell – 10,000 BTU

The Honeywell – MN10CESWW unit is getting old, but it's still a popular choice for many people — it has solid Amazon reviews and is on the low end of average prices in the market.
We're obviously in the target buyer group: Two different households in our office owned the Honeywell for a total four summers of use. While we were generally satisfied, "ecstatic" would be pushing it.
Even compared to the bigger LG, this thing is hard to move, and we would often decide not to move it from room to room with us simply because of the inconvenience. Even in moderately-hot environments, it really only functions as a cold fan.
This model is on the louder side, too, and frequently woke us up in the middle of the night. Overall, it's a solid product and one that got us by for a few summers, but after testing the LG we understand what you give up with a cheap portable air conditioner.
Updates and long-term notes
This post was originally published in May of 2016. Over two summers we extensively compared the LG 12,000 and a now-discontinued Haier 12,000 in two different rooms, and our opinion of the LG was solidified.
The Honeywell 10,000 BTU unit is as loud and proud as ever, though we find ourselves begrudging any need to move it or turn it on.
Updated models
In 2018, we checked on manufacturers to see what's new on the market and bought an updated LP1217 model from LG.
The new LG is heavier and louder, but average performance over three tests was actually slightly lower than the model we bought in 2016. In one test it did cool more quickly by running its cooling cycles more frequently, but the energy efficiency rating has dropped from 11.2 for the old model to 9.4.
While we were researching for a dual hose vs. single hose shootout, we bumped into a brand-new LG 12,000 BTU model that's not even on LG's website yet. We decided to test it, the Whynter 12,000 BTU, and a new Frigidaire 12,000 BTU model in a new testing battery, since they all had comparable specs.
The LG – LP1218GXR has finally bumped the 1215 off the throne for noise and cooling capacity, but now that we've tried them more thoroughly in heat wave conditions, we can confirm that a dual-hose design does perform better.
The Haier we tested in 2016 was discontinued, but the Honeywell is still widely available for a good price.
The bottom line
Since there are a bunch of factors to weigh, we don't want to make your decision for you, but we hope this information will be a helpful guide for your purchase.
If you live in a region that sees scorching heat waves on a regular basis, the dual-hose Whynter – ARC-122DS is definitely going to be the best choice. We'll say it again, though: even great portable air conditioners aren't very good at keeping up with extreme heat. The best window air conditioners keep heat outside far better, and they're also much quieter.
For as long as it's still readily available, we're happy with the performance of the LG – LP1215GXR, but the new LP1218GXR is sleeker and works a little better. This isn't going to do as well as a dual-hose design like the Whynter during an extremely hot day, but the rest of the year it can't be beat.
If you're between a rock and a hard place with a big sun-facing room and can't install a window unit, Whynter's dual-hose 14,000 BTU portable has more capacity and cools more efficiently than other portables. It's gigantic and significantly louder than our top pick, but this is your best bet for rooms bigger than 400 square feet. It's also a great choice if you need heat in the winter.
And if you find yourself not wanting to shell out this much money for a clunky unit, we also suggest checking out our best fans review.