Portable AC vs Window AC: Which Is Better?
We've reviewed the best window air conditioners and the best portable air conditioners over the last four years, and we know it can be tough to see the advantages and disadvantages of each when you're trying to decide how to cool off a room.
All things being equal, a window air conditioner is better than a self-contained portable design: It will be quieter, more efficient, and less expensive to purchase. But not everyone can install a window unit easily, and that's why portables have become so popular.
Advantages of a window air conditioner
All of the advantages of a window unit come from the fact that most of it is hanging out your window. This makes it more efficient, more affordable, and even more quiet. You'll also give up less floor space.
Efficiency
Since the job of a room air conditioner is to take heat from your room air and move it outside, having the hot components — the condenser coil and compressor — sitting outside in free-moving air is ideal. Since it's all one connected unit, the window AC can even use the water that collects on the indoor coil to help cool off its outdoor components!
Price
The fact that a window air conditioner is so efficient means it can cool a room with a relatively small heat capacity. Since all the parts are compact and contained in the box-shaped chassis, these systems are also fairly easy to pack up and ship around the world. Simplicity and efficiency together mean that you should find a 8,000 BTU window unit for $150–$200 less than a comparable 12,000 BTU portable system. The fact that you'll save 40% or more on the electricity you use will make the difference even bigger.
Noise
Air Conditioner
Maximum Noise Level
Average Noise Level
Quietest Portable Unit
70
68
Average Portable Unit
75
73
Quietest Window Unit
59
58
Average Window Unit
64
63
* A-scale decibels measured at 1 foot
The loudest parts of an air conditioning system are the compressor and the fans moving air past the two coils. A window air conditioner keeps the compressor and one fan outside, so it's quiet. Not as quiet as a central system, but much quieter than a portable.
More floor space
A window air conditioner blocks part of a window and one outlet, but that's really it. You don't lose any floor space the way you do with a portable unit, and there are no bulky hoses hanging off your window.
If you don't have a window close enough to your desk to catch the breeze from a window unit, remember that you can add a tower fan to get the advantages of both systems.
Advantages of a portable air conditioner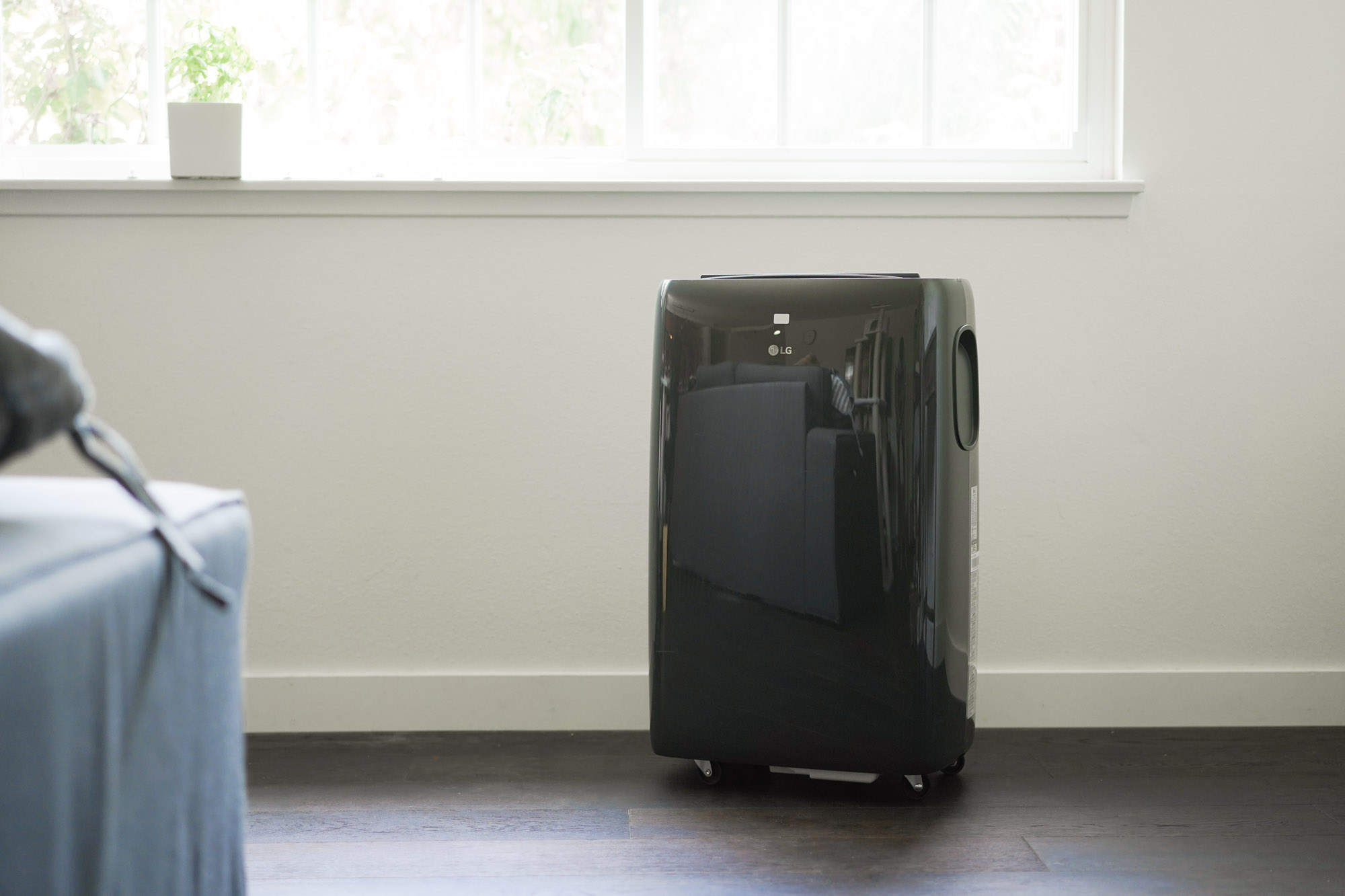 Installation
The biggest advantage of a portable air conditioner is that it can be adapted to vent using almost any window — It doesn't even have to vent out a window. In contrast, window air conditioners are designed to work with vertically-sliding double-hung windows only, with the top window sash keeping it from falling.
The installation of a portable air conditioner isn't exactly easy — if you've got to carry it up the stairs, it's still heavy. But it's definitely less nerve-racking to put some foam tape and a plastic bracket in a window than it is to balance a window unit on your windowsill while you secure it.
Portability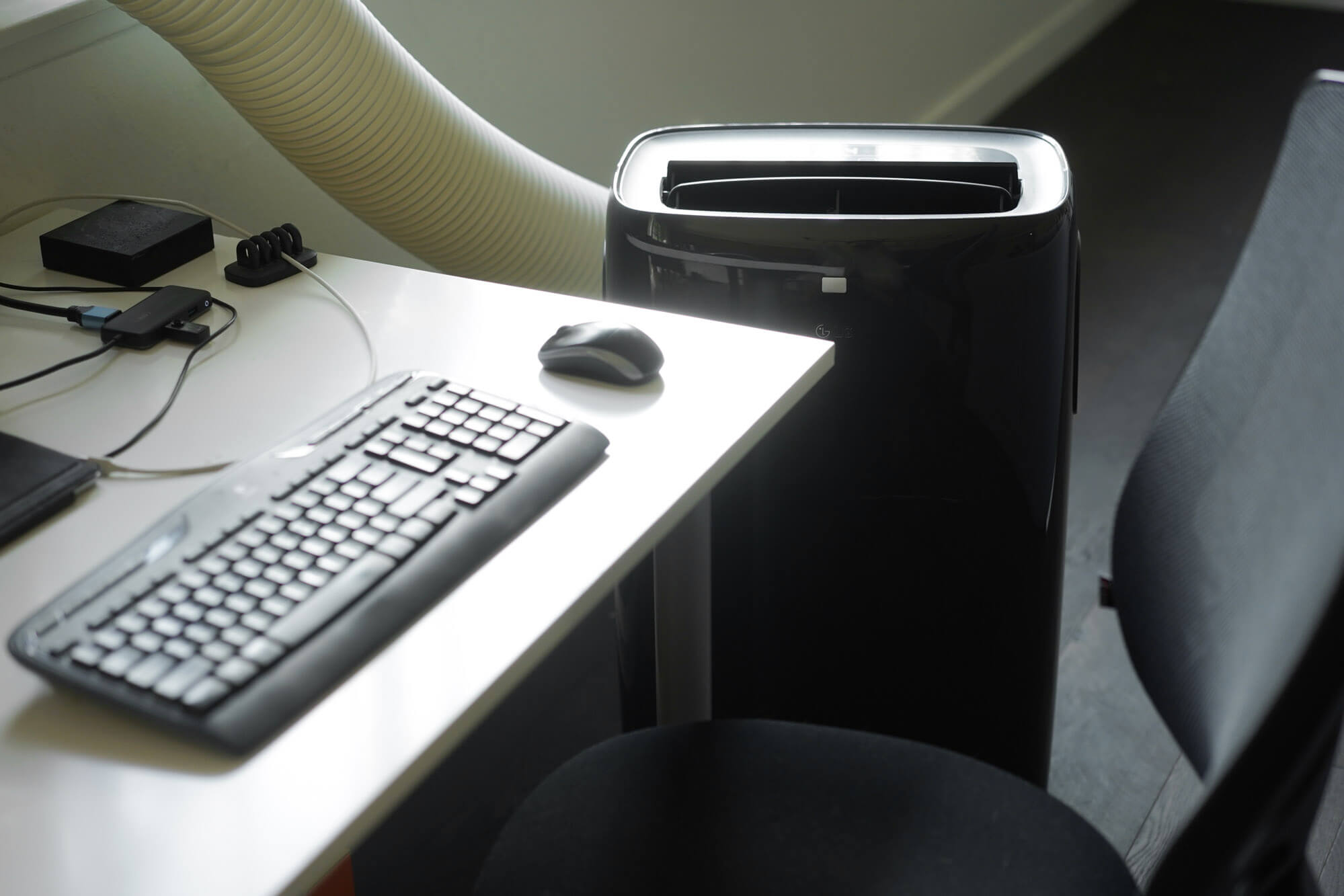 The best thing about a portable air conditioner is that you can aim it exactly where you need it. Not only can you adapt it to nearly any window or door in your house, you can turn it directly toward your desk chair, your sofa, or wherever else you need a cool breeze.
More window space
While a portable AC takes up more space on your floor, it only blocks about 6 inches of your window. Some may find the gigantic vent hoses too much of a compromise, but if you can get past that aesthetic hurdle you'll have more of your window to look out of.
The portable AC bracket can also be secured so that you can easily open the window and even keep your screen in place — with a window AC installed you should lock the window closed so the AC can't fall out.