How Do Portable Air Conditioners Work?
While it would be wonderful to live in an alternate reality where we can turn electricity into cold, we're stuck in a world where we can only directly turn electrical energy into heat. To make a room colder we have to capture heat, then move it outdoors.
We do this complex job using two coils of tubing filled with heat-absorbing refrigerant, one to grab heat from room air and another to radiate the heat away. For most air conditioners the second hot coil is sitting outside where heat can be carried away easily. But to make a portable air conditioner work as a compact and self-contained system, the radiator is still in your house, and it needs a powerful fan and a giant vent hose to move the heat outside.
Evaporator and condenser coils
Air conditioning basically requires four components:
A fan to circulate indoor air
A way to capture heat from indoor air
A way to transfer the captured heat to outdoor air
A way to regenerate the heat capture system
The evaporator coil and refrigerant
The room air fan blows past a radiator-like coil of metal tubing  — called an evaporator coil — to trap heat.
Refrigerant, usually a chemical called R410A, is a gas at temperatures above -61 degrees Fahrenheit under normal pressure, but it starts this cycle under extreme pressure to keep it liquified. After passing through an "expansion valve" (like the spray valve on a can of paint) it expands into a vapor inside the evaporator coil tube.
That change soaks up an impressive amount of heat. If you've ever held a "canned air" sprayer upside down and squirted out liquid propellant to freeze things, it's the same principle.
The required heat is pulled in from the blowing room air through the metal tubing and attached fins. The cold fins also trap humidity — think of water beading up on the side of a cold glass on a humid summer afternoon.
In a window air conditioner, the evaporator coil is sitting just inside your window, while in a portable unit it's visible just behind a mesh filter at the top of the unit.
Keeping the evaporator coil from getting plugged up with airborne dirt and hair is essential to keeping your air conditioning system working properly. See our post on how to clean an air conditioner for more details.
The condenser coil and compressor
Moving the captured heat outdoors and providing all the pressure that makes the energy-sucking vaporization possible are both accomplished by the other side of the system.
A compressor pump pulls the vaporized refrigerant in, then squeezes it into liquid form. The liquid physically can't hold all of the heat it soaked up when it became a vapor, so as it passes through another fin-covered radiator — the "condenser" coil — the heat moves out into the air with the help of a fan. The pressurized refrigerant goes back to the evaporator coil to start the process over again.
In most air conditioners the compressor, condenser coil and fan are all outside so they can work at peak efficiency without leaking noise and heat back into your home.
In a portable air conditioner, all of those components are right beside you, inside the room you're trying to cool off, packed into a rolling plastic box.
To get the heat outside, the portable also has to use a compact, extra-fast blower to draw air across the small condenser coil, then out a window through a flexible vent hose. That's already a big compromise compared to the big outdoor condenser setups of other systems, but it gets worse.
Single vs. dual-hose designs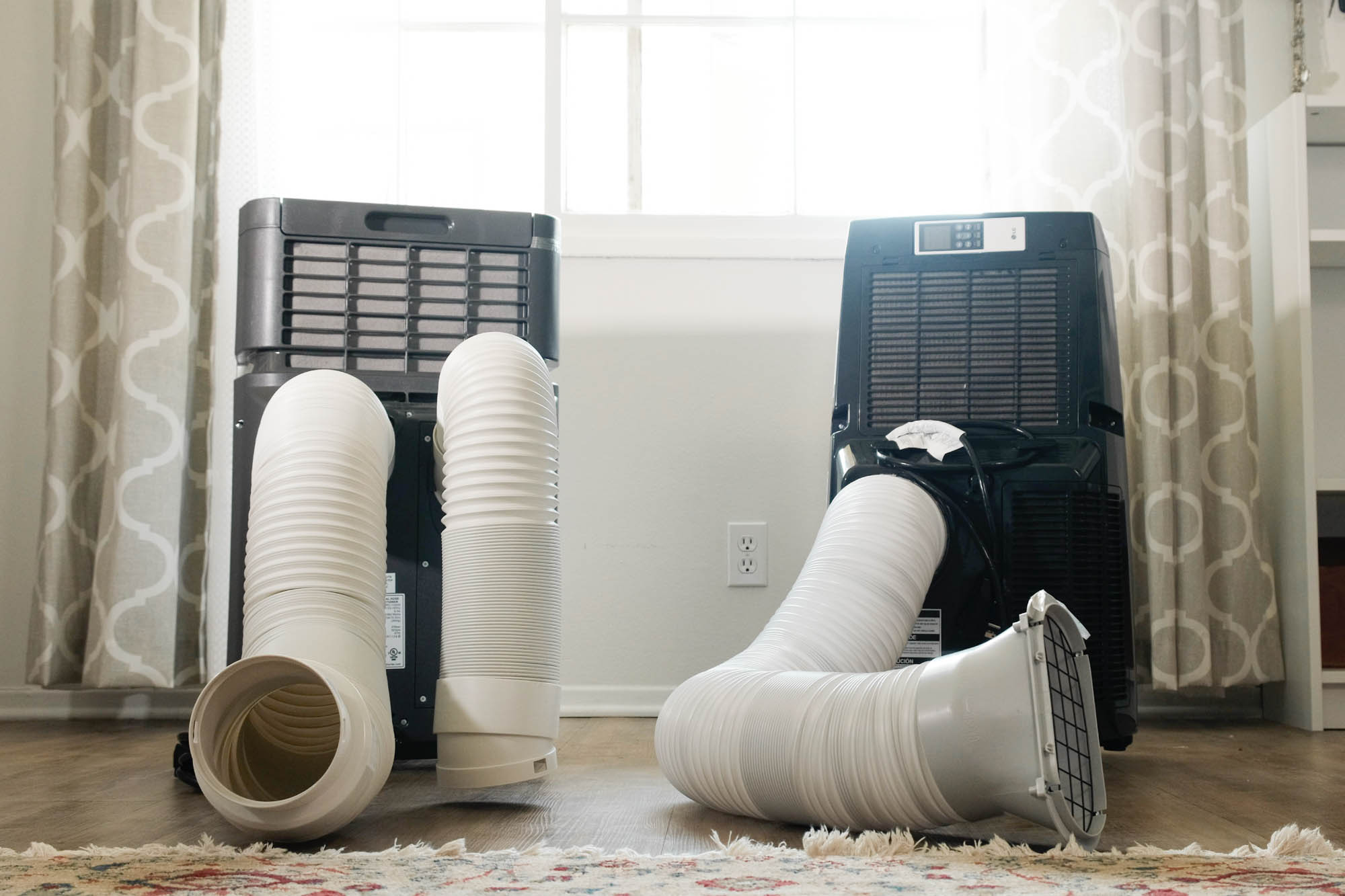 In a single-hose design, the air that carries away heat comes from your room. That means you're pulling heat out of the air with one coil, then literally adding the same heat back to some of that same air with another coil before sending it out the window.
In a dual-hose system, the air conditioner has a hose dedicated to sucking in outdoor air to use when carrying away heat. It's still not as efficient as keeping all of the hot components on the other side of a window, but at least it isn't using up cooled air.
If you have to use a portable air conditioner because of your windows and room layout, the Whynter is the model that makes the most sense. It's not as loud as a giant 14,000 BTU model, and it doesn't have the efficiency drawbacks of single-hose models.
Fortunately, the best portable systems of either design can use the water that collects on the cold coil and drip it onto the hot coil, where it re-evaporates and helps carry heat out the window. This "fully evaporative" system also means you won't have to manually drain the captured water in most conditions.
Drawbacks in extreme heat
The worst part of a single-hose system is that it blows the exhaust air out your window without any way to replace it. More air has to come in from outside, so if that outdoor air is hotter than 90 degrees you'll probably heat up your room more than you cool it.
When we've tested portable air conditioners in moderate temperatures, the infiltration of outdoor air didn't reduce the comfort of people in the room we tested in. The problem is when you use the portable in one room while people are trying to just survive the heat in other rooms — the temperature of bigger rooms with the most air leaks would see the biggest temperature rise, while someone sitting in front of the portable AC in a bedroom would be relatively comfortable.
When we tested in heat-wave conditions above 100°F, a single hose air conditioner cooled the room for about half an hour, but one hour in the heat infiltration had made the room hotter than when we started.
In our heat-wave test, the dual-hose design was only able to get the room down to about 75°F — and it actually took longer to get there than with the single-hose design, since it had to use 100-degree air from outside to carry away heat instead of using up all the 80-degree air from the home. But after 31 minutes that paid off, and the dual-hose design could keep a stable 76°F while the single-hose design was headed back north of 80°F.
Portable vs window air conditioners
Compared to the best window air conditioner, even the dual-hose system is still pretty sad. Our window air conditioner, in the same room and very similar outdoor conditions, had already cooled down to 71°F before the portables hit 75°F, and it was easily able to go even lower than our set 70°F thermostat point to keep a stable, cool temperature.
It's important to note that the window air conditioner is also drawing half as many watts (550 vs 1200) and making half as much noise (10 dBA less). These units are all rated about the same under the new Department of Energy standards for "seasonally adjusted cooling capacity," but that rating only factors days hotter than 96°F as 20% of the rating. See our comparison of portable vs. window air conditioners for more details.