After four weeks testing four top-ranked dehumidifiers in the most muggy conditions we could create with a room full of humidifiers, we've determined that the Frigidaire is the most-efficient, fastest-working and best dehumidifier overall. A powerful fan and efficient components make this an easy top pick. If you don't mind a bit of compressor noise, the hOmeLabs kept humidity levels stable and impressed us as a sturdy performer at a bargain price point.
After four weeks testing four top-ranked dehumidifiers in the most muggy conditions we could create with a room full of humidifiers, we've determined that the Frigidaire is the most-efficient, fastest-working and best dehumidifier overall. A powerful fan and efficient components make this an easy top pick. If you don't mind a bit of compressor noise, the hOmeLabs kept humidity levels stable and impressed us as a sturdy performer at a bargain price point.
Table of contents
The 5 dehumidifiers we tested
1. Best overall: Frigidaire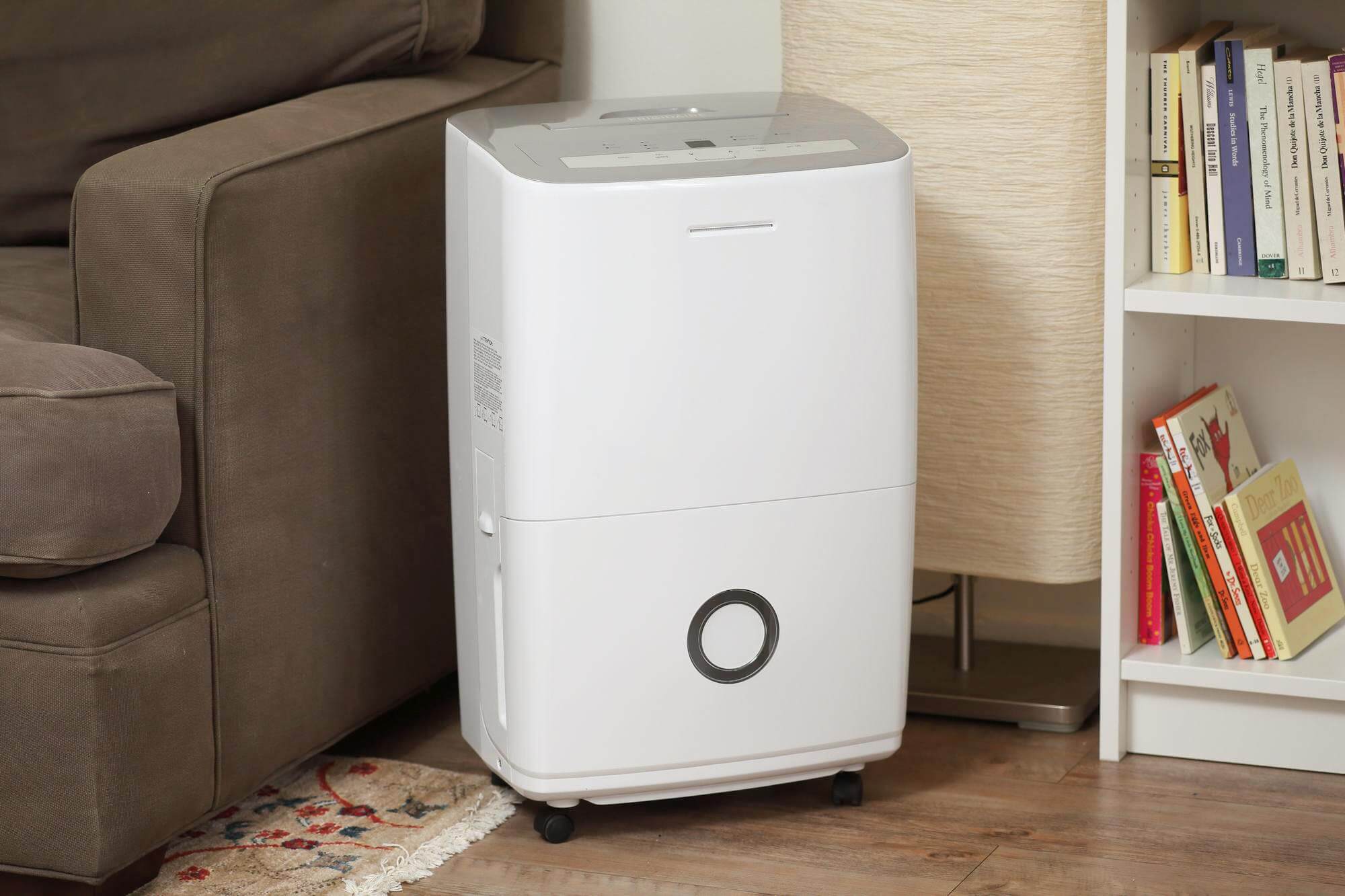 (Editor's note: The Frigidaire – FFAD7033R1 we tested has been discontinued, but the replacement FFAD5033W1 is only starting to show up at a few retailers like Walmart and Sylvane. The older, louder FAD704DWD is still widely available at retailers like Home Depot and Sylvane. We've also tested Frigidaire's quieter, Wi-Fi-controlled Gallery model below.)
If you want to run a dehumidifier in close quarters, like an RV or a bedroom, the Frigidaire 50 pint with "Effortless Humidity Control" is the model least likely to remind you of commercial cooling equipment. This is a well-designed package: a little bit smaller and a lot easier to pick up with its pop-up handle. It's the best-looking dehumidifier, in our opinion, and all the details come together to make it our favorite.
Efficiency and speedy performance are best-in-class, removing more humidity while drawing less power than the competitors. The Keystone only uses 14 percent more power to do the same job, but it also sounds worse and creates a wider swing in room humidity.
The Frigidaire's noise isn't exactly the quietest (the fan moves a lot of air), but the buzzing sound from the compressor is the least pronounced out of all the models we tested.
Frigidaire is the only manufacturer to include a middle-speed option between low and turbo, which might be the best compromise between noise and performance. It's another touch that makes the machine more friendly to use than the others.
If you're manually emptying your dehumidifier tank (hopefully saving the water, it's not drinkable but it is distilled), then you'll find another reason this design shines. While some water buckets are shaped in ways that channel water out of three or four different places while you empty it, Frigidaire uses a splash guard that makes it easier to pour carefully. It's also the largest tank you can get in a dehumidifier this size.
Frigidaire used to make their dehumidifier drain-hose connection so that it was hidden behind a door, but it's now fully exposed and doesn't need an adapter to use.
While this model has a gravity-fed hose outlet that will work great with a floor drain, the version of this model that has a built-in pump would be our pick for catching the water in a toilet tank or draining out a window. An external pump like the Little Giant works just fine with the base model, too.
Key takeaways:
Frigidaire's dehumidifier includes the most powerful "turbo" fan, making this very quick at removing moisture.
This is also the most efficient model we tested.
Other dehumidifiers are technically quieter, but at least this sounds more like a fan than a rickety old freezer.
A compact build and well-designed carrying handle won the day.
2. Budget pick for the basement: hOmeLabs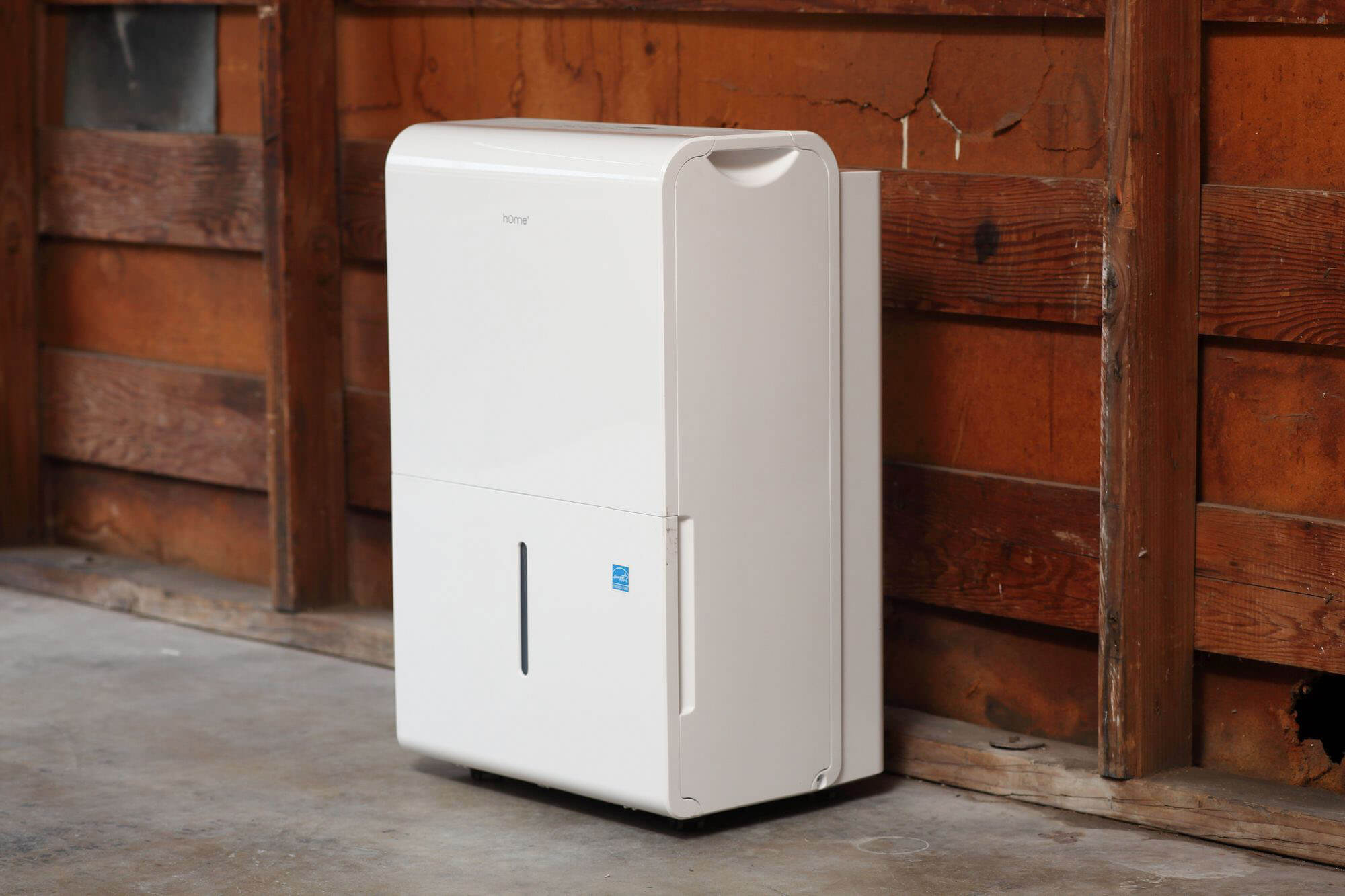 This is a fairly unknown brand with a strangely-styled name that you won't find in brick-and-mortar retailers. We picked the hOmeLabs – 50-pint dehumidifier to test because it has an astounding 4.7/5 review score, even after 1200 reviews. This listing still has a fakespot rating of "A", so it seems like people are genuinely happy with this model — given the class-beating price, we had to check it out.
Let's not mince words: there's very little difference between most of the dehumidifiers you can choose from. Internal components probably only come from a few factories, and the similarities between the finished machines reflect that. If you take off the control panels and plastic covers, only the Frigidaire would stand out as a nominally-unique design (and not really much different at that).
That said, the hOmeLabs doesn't include sophisticated automatic modes like some of the competition, but it's good at all the important tasks. The humidistat works as it should, cycling on and off as needed to keep room humidity stable.
The swings in room humidity during our tests were actually smallest with this model, only inching up to 1 percent below target humidity before it turned on again and ran down to 10 percent below the target.
The biggest concern we had with the hOmeLabs is that it comes in only third place for performance and last place for efficiency. It'd take years running every day for most people to see any savings from the efficiency difference of a different model, though, and the performance is still better than the not-much-cheaper 50-pint models you might also be comparing this to.
When we purchased our lineup the price difference between this the hOmeLabs and our top pick came to $30, but if you compare the average price in the past year hOmeLabs was $52 less than Frigidaire, mostly because this model sometimes appears in flash sales for a rock-bottom $109.
The Frigidaire is unquestionably nicer to have in the room with you, but if you're leaving your dehumidifier in an unoccupied basement or crawl space you might not care about the noise difference or slightly-better performance and efficiency at all. A $30 savings will also cover most of the cost of an external pump, if you don't have a floor drain and want this to run unattended.
Key takeaways:
Even when it's not on sale the hOmeLabs – HME020031N is the cheapest 70-pint dehumidifier we found.
Solid performance, but not a class leader. Our top pick will be 33 percent more efficient on average.
Steady and stable, with less-dramatic swings in noise and humidity than the others.
3. Upgrade pick: Frigidaire – Gallery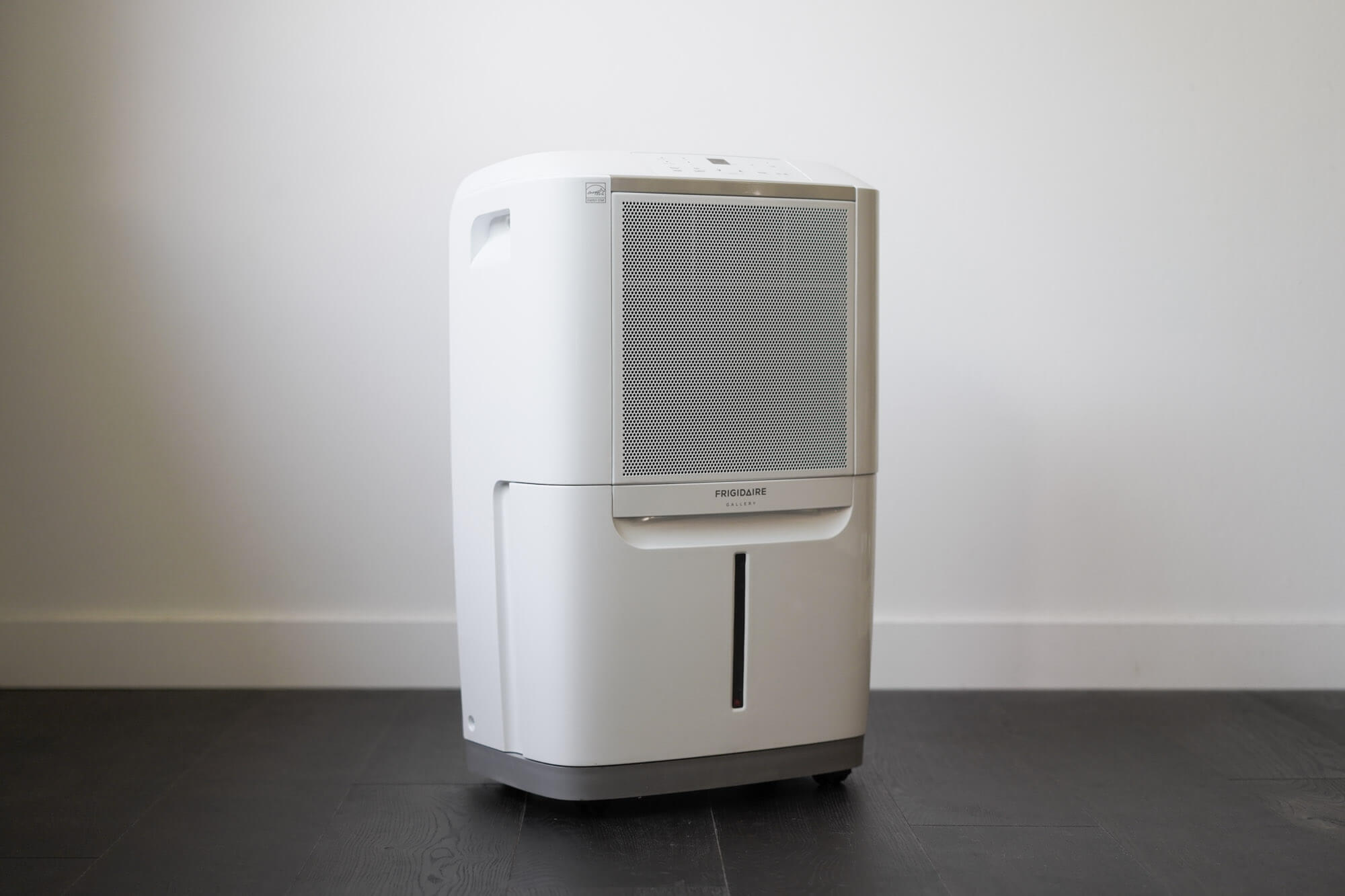 If you will be using your dehumidifier in a bedroom or living room every day, the Frigidaire – Gallery FGAC7044U1 offers quicker, quieter performance and Wi-Fi control.
The Gallery version of Frigidaire's design uses a slower-moving but higher-volume fan to move more air past its coil with a lower noise level. It also uses slightly more electricity, up to 50 more watts when it's running in continuous mode.
The Wi-Fi control features of this dehumidifier are minimal — you can set the humidistat, set a timer or turn the unit on and off. Some air conditioners get a scheduling function in the same app, so it's disappointing that Frigidaire hasn't done more with this model.
At this point, the FGAC7044U1 only works with Frigidaire's app, so you'd get more control with a different dehumidifier plugged into a smart outlet adapter that can be controlled with a more full-featured system like Google – Home, Amazon – Alexa or Apple – Homekit.
The qualities of the Gallery dehumidifier make it nicer than other models we tested, and if you could buy it for $60-70 more, it might be worth that price. But if you're hiding this in the corner of a basement or cold storage room, the average $100 price premium over the hOmeLabs dehumidifier will be wasted.
This model would be a more compelling choice if it had a built-in pump, which would be beneficial for some people leaving it unattended in a basement without a floor drain. As it is, you'll have to use an external pump in those cases, which won't give you a notification in Frigidaire's app if it stops working.
Key takeaways:
The Frigidaire – Gallery FGAC7044U1 is the quietest dehumidifier we've tested, and performance is top-tier.
With Wi-Fi control, you can keep tabs on humidity and change settings from anywhere.
Frigidaire's app doesn't include scheduling or connection to smart-home systems.
In the corner of your basement, extra-quiet performance isn't worth the high price.
No vertical pump means this is best in spaces with a floor drain.
4. Keystone – KSTAD707A

Keystone ranked second-place for performance and efficiency, so this is a OK choice for about $17 less than our top pick. On the whole, though, there's not much reason to choose the Keystone over our budget pick.
Keystone covers all the basic dehumidifier functions, and adds a "comfort" mode that turns up the fan when the days are hotter. These sorts of auto-speed features might make a difference if you're running this in a living space, but the basic humidistat is the only automatic function most people will need.
If you are planning to run a dehumidifier in a space where you're working or sleeping, you should know that this isn't as quiet as our top pick. When you crank up both fans, the Frigidaire puts out a few more dB in "whoosh," but the Keystone's compressor-noise is definitely a louder buzzing.
This is the only model that has any significant difference between the loudest compressor sounds and the noise it makes when it settles down, but that doesn't help its rank.
Keystone's humidistat also allows for the widest swings in humidity, sometimes 7 percent above the target. Coupled with the fairly efficient operation, this might mean it cycles on and off less frequently and saves a little bit more power than other designs, but we don't consider a wide swing a benefit.
5. Danby – Premiere DDR070BDPWDB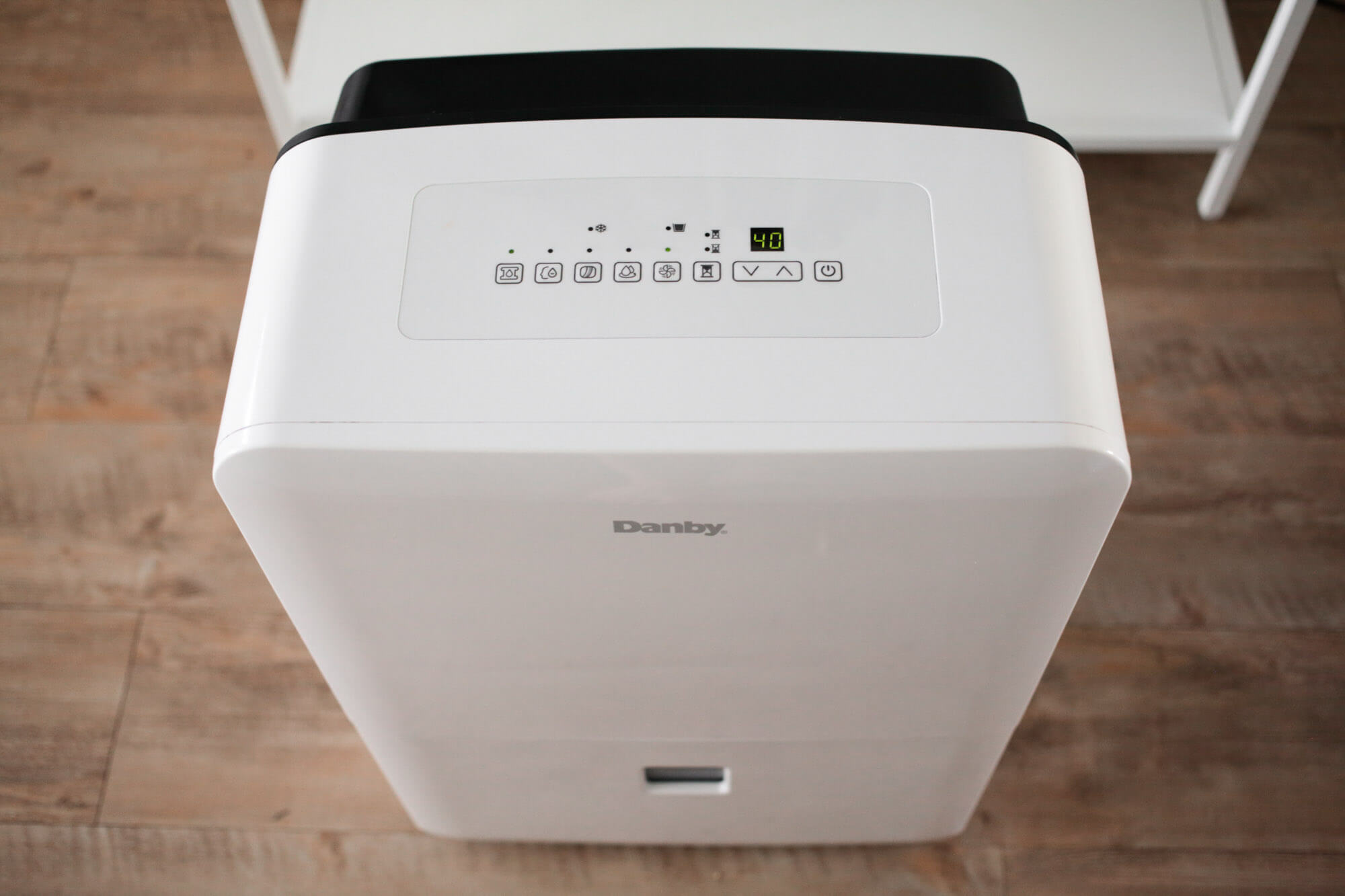 The Danby – Premiere dehumidifier comes from a lesser-known Canadian company that specializes in refrigeration and specialty appliances. Note the spelling of "Premiere," and the no-words-allowed control buttons that are equally confusing in all official Canadian languages.
The similarities between Danby and Keystone's machines are uncanny: the filter screen from the back of the Keystone will fit in the Danby, and Danby's bucket slides fairly easily into the Keystone.
The differences in test performance are real, though slight. Danby has made their Premiere model quieter on the low-speed setting than most brands, though the buzz of the compressor is still sharper than Frigidaire's. When running, this dehumidifier sounds like a slightly-muffled version of the old freezer that sits in your Grandma's garage.
The biggest difference is a notable lag in performance that was consistent across three tests. Compared to our top pick, this model would need 53 percent more power to remove the same amount of humidity.
There's always some variability in appliance performance, and we'd expect that the average machine from Danby might be slightly better than the one we got, but that's not enough to lift it from the bottom of the pile.
The pump-included version of this model sometimes goes for $199, so if you need a basement dehumidifier that can dump automatically into a sink this might be your best buy, but most will be better off buying the Frigidaire or our budget pick with an external pump.
How we selected
One of the challenges when picking a home appliance is the short cycle between updates: every year or two your favorite model will have a new name, and all the reviews on shopping or manufacturer sites will be for a model that's out-of-date. Worse, there's often plenty of stock on hand for old models, and pricing goes up and down in a way that's hard to predict.
We figured out the manufacturer numbering schemes where we could, or faced the hold-music and called a sales rep to find out what was going on with tricky model names.
Discussion board posts comparing different models and options are pretty scarce, but review sites like Dehumidifierbuyersguide.com and The Wirecutter agreed about the best model, and Consumer Reports listed an older model from the same manufacturer.
In the end, we bought up-to-date models from the three top-ranked brands on the trustworthy review sites that have comparable specs. We also picked one lesser-known dehumidifier from hOmeLabs: This dehumidifier is well-ranked on Amazon and has a pretty amazing average rating of 4.7.
We only tested one model with a built-in pump (the Danby) since most manufacturers sell both versions. The pump version can sometimes be hard to track down; fortunately, an add-on pump is a very easy upgrade to any of these machines and will work just as well.
Updates
Since we tested this lineup in 2018, we've been using the Frigidaire – FFAD7033R1 to maintain humidity in a kitchen pantry and we've been very happy with its consistency and performance.
In 2020, Frigidaire refreshed their line and updated model numbers to reflect the new Department of Energy test standards. We've updated our listings to reflect the new model, and we've also tested the Wi-Fi controls on the upgraded Gallery model.
How we tested
We put these machines through as much torture as we could in  late-spring southern California. The climate here is fairly dry despite our proximity to the Pacific, but we had a few days of fortuitous rain where we could gauge the usefulness of a dehumidifier in a real-life home environment.
For the hard numbers, though, we had to create some artificial environments in our test location. (We had a house full of humidifiers on hand to get the job done.)
All the models we bought and tested included a defrost feature, and we're a bit sorry (okay, not really) to say that even running late at night in mid-March, southern California isn't cold or damp enough to freeze up any of these dehumidifiers.
Controlled performance test
In a 35-square-foot bathroom, we used a high-output humidifier to pump the relative humidity up to 60 percent at 78 degrees. (Not as extreme as a summer day in the Everglades, but enough to gauge the relative performance of each machine without being extravagantly wasteful.)
We set each dehumidifier to bring the relative humidity down to 45 percent, and used an Elitech – GSP-6 humidity and temperature logger to track how quickly each machine could change humidity in the room.
We also plugged each machine into a Kill-a-Watt electricity meter to measure the number of kilowatt hours consumed over a twenty-minute runtime. Factored with the change-per-minute in room humidity, we can see that the last-place performer needs about 50 percent more power to dry out a room than our top pick.
Noise test
We set up in our living room late at night and measured the sound pressure level produced by each machine. Our test equipment included a Dayton Audio iMM-6 microphone (spot-checked by our resident audio nerd) patched through Room EQ Wizard.
We mounted the microphone on a stand (about one meter from each dehumidifier) and logged A-weighted decibels over all the different fan settings.
The Frigidaire's noise results are deceptive, because while the fan is definitely louder than the others at full speed, it almost masked the compressor noise.
Danby's case was the opposite. The nominal level on the meter was fairly low, but the compressor would buzz and rumble its way from 53.4 up to 55 dBA at times, and the change in noise is more noticeable than those numbers might lead you to believe. Overall, it was the least-pleasant dehumidifier to have running in the house, though not by a huge margin.
Humidistat accuracy
For our next set of tests, we set up the machines in our living room and ran them against a big humidifier. We weren't tracking overall performance in this test so much as how high each model allows the humidity to go before it turns on.
Humidistat settings are in 5 percent increments on each machine, so there's not much to say about precision. The machines that allowed a wider swing on each side wound up with a closer average accuracy, but if you're buying a dehumidifier for your priceless antique guitars then that's not much comfort.
Calibrating how you set the machines against a more reliable hygrometer is going to be your best bet if you want stability. We'd say the homeLabs is your best bet for stability, though calibration may vary depending on what day of the week yours rolls off the line.
Who needs a dehumidifier?
There are two obvious applications for dehumidification, but we want to make sure that we're laying all the cards on the table here: don't just buy a dehumidifier if you've actually got an air conditioning problem.
First case: the swampy south
Put simply, if you've got a choice between air conditioning and a dehumidifier for a sweltering summer day, choose the air conditioner. Each type of machine is doing the same work — passing your room's air over a cooling system — but the AC will remove heat from your room, while a dehumidifier only sucks out the water and dumps the heat back in your face.
What if your air conditioner isn't doing the job? We talked to heating, ventilation and air conditioning professionals, including a project manager at Siemens and the owner of an HVAC company, to find out why some people report better performance running a dehumidifier and an air conditioner at the same time.
"It's a larger problem than most people realize," says Richard Ciresi, owner of Aire Serv Heating & Air Conditioning in Louisville. "First, heating and air conditioning units are sized for the hottest and coldest days of the year. Therefore, on a moderate day they often don't run long enough to remove the excess moisture from the air. Second, some homeowners and even some contractors still believe in the 'bigger is better' concept, which further exacerbates the problem."
If your air conditioner is plus-sized and running at full fan speed, the moisture won't have a chance to condense on the chiller before the thermostat tells the AC to shut down. Since dry hot air is far more comfortable than humid warm air, you can technically make a room more comfortable in the summer heat by running a dehumidifier if you have this problem.
If there's an air conditioner anywhere in your equation, though, a dehumidifier is one step forward, two steps back. If your central AC is inefficient or broken, you can buy an efficient window air conditioner for the same price as a dehumidifier, and you'll use far less energy that way. If you're renting and can't stand the heat, talk to your landlord about AC fixes before you spend $200 on a dehumidifier.
Modern air conditioners should also have a "dry" mode that will run at a lower fan speed to maximize the amount of moisture they take out of the air.
A good dehumidifier is less expensive to purchase than most portable air conditioners, so if that's all that fits in your budget and you can't install a $200 window air conditioner, it's better than nothing.
Second case: for your basement
Anytime you've got a lot of moisture in cold air, a dehumidifier shines. Because all the heat that's made while running is dumped back into the room, these machines turn cold, damp air into warm, dry air. They're perfect for basements or anyplace else that doesn't get heat or ventilation.
If you're in a colder region, you might have a heated basement that stays very dry during the winter, but even a well-drained house can get a damp basement in the late spring after you shut the heat off. If you've got an older basement without heat, then you probably know all too well the problems that come from stale, moist air.
If you're looking for a dehumidifier to stop mold and mildew in your basement, the biggest question you need to answer is where you can pump the water to. If you've got a floor drain, just about any model will be ideal; if you need to run a hose to a sink, toilet or out a window, then you'll need a "vertical pump" feature.
What size should I get?
Dehumidifiers are rated based on how much water they can theoretically collect from the air in a 24-hour period. Generally, you'll find 20, 30 and 50-pint models.
If you're shopping around, you may find 30, 50 and 70-pint models instead of the sizes listed above. This is because as of 2019, dehumidifiers are tested with air that's 65 degrees Fahrenheit instead of 80. The relative humidity is the same, but the colder air has less water in it so the total volume condensed during the test went down.
After looking at the available models and prices, we decided to test only 50-pint models. There are guides available that try to help you calculate how much capacity you need, but they tend to leave you guessing about how to define your conditions and will often return a recommended capacity that's not available anyway.
Models capable of removing only 30 pints per day might be slightly smaller, but they don't typically cost much less and the fans are sometimes actually louder to keep up. Unlike an oversized air conditioner, there's really no drawback to having a bigger dehumidifier, it just gets you to a target humidity level more quickly.
If saving $50 on an appliance this big is going to be a dealbreaker, then the equivalent 30-pint or 20-pint models should run almost as well as the models we tested.
Updates
In 2019, the Department of Energy changed the way they measure capacity ratings. The actual design of the dehumidifiers hasn't changed, but the numbers are all lower because they use cooler air for the new tests than in the 2012 specification. Most retailers have made no effort to clarify the difference in labels when they list old products alongside new models.
In 2020, Frigidaire discontinued their FFAD7033R1, which was our top pick. We have not yet been able to purchase the updated FFAD5033W1, but it is now shipping from some appliance retailers like Sylvane.
We also added the upgraded Frigidaire – Gallery FGAC7044U1 to our test group. Its performance is very similar to the R1 and W1, with a few perks like Wi-fi control.
The bottom line
If you need a dehumidifier to get rid of your moisture problem and make your home more comfortable, the combination of best efficiency, best performance, and least-annoying sound from Frigidaire is hard to beat. Frigidaire isn't the price leader in this category, but they're not far off.
We recognize that some people are using dehumidifiers in locations where creature comforts aren't the main concern, and the homeLabs – B073VBWKJZ dehumidifier is a solid budget option, especially when it goes on sale.