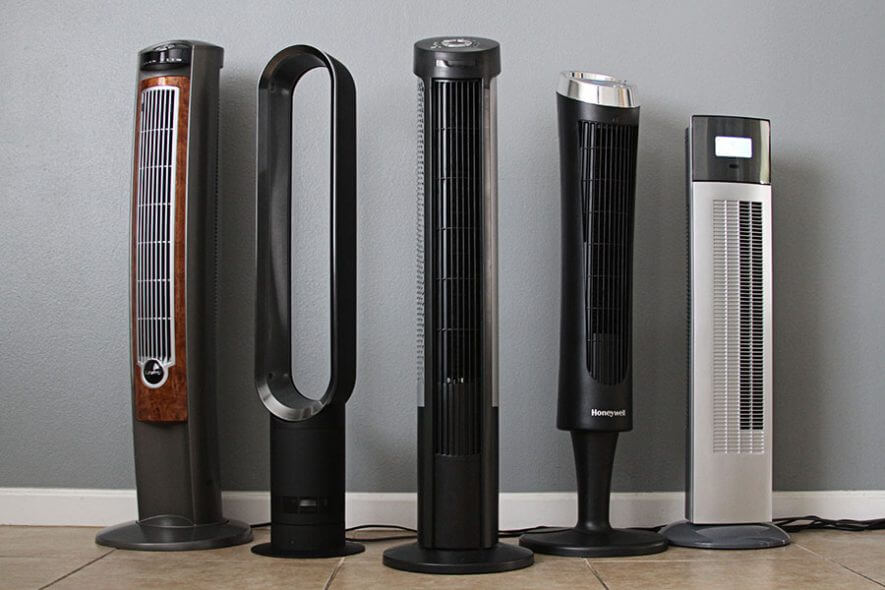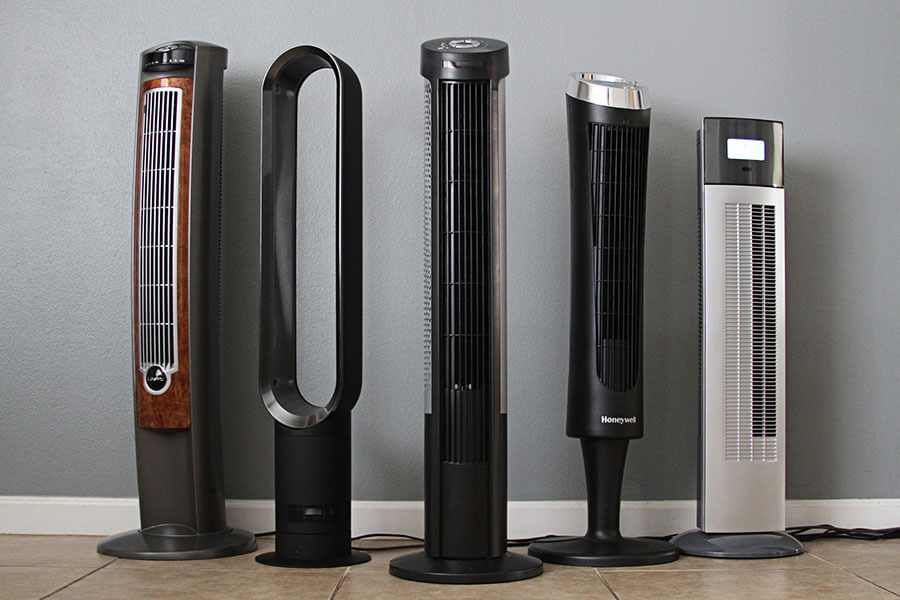 We tested the top-rated tower fans for 70+ hours and selected the Seville Classics – UltraSlimline as the best tower fan overall. The UltraSlimline is affordable, powerful, and capable of cooling a significant portion of your room. For this 2021 update, we tested three newer models and chose the Vornado – OSCR32 as another excellent tower fan that delivers strong cooling power and is whisper quiet. Our luxury pick is the Dyson – TP01. With an integrated air purifier, the Dyson – TP01 is a high-end choice that comes with a high-end price.
We tested the top-rated tower fans for 70+ hours and selected the Seville Classics – UltraSlimline as the best tower fan overall. The UltraSlimline is affordable, powerful, and capable of cooling a significant portion of your room. For this 2021 update, we tested three newer models and chose the Vornado – OSCR32 as another excellent tower fan that delivers strong cooling power and is whisper quiet. Our luxury pick is the Dyson – TP01. With an integrated air purifier, the Dyson – TP01 is a high-end choice that comes with a high-end price.
Table of contents
(Editor's note: For this 2021 update, we tested three newer highly rated tower fans, the Vornado – OSCR32, the Honeywell – HYF290B, and the Pelonis – PFT40A4AGB. Our reviews for these models follow below.)
The 9 tower fans we tested
1. Top pick: Seville Classics – UltraSlimline
For the money, you can't beat the Seville Classics – UltraSlimline, our choice for the best tower fan. The Seville is at the price level of other mid-level fans, but it's the most powerful and is capable of cooling a large room thanks to its excellent coverage. In addition, the Seville's tall, thin design is a space-saving option for smaller living areas.
The Seville's only weakness is that it's on the loud side, but that's what comes with reasonably priced cooling power. On lower speed settings, it is noticeably quiet, meaning you can get similar power at the same noise levels of the other units while still retaining the cooling upside.
Although it's not quite as aesthetically impressive as the Dyson – TP01, it isn't an eyesore for your home. It also features four-speed settings on its control panel, a timer, and a user-friendly remote control that rounds out the Seville's performance package.
2. Also great: Vornado – OSCR32
For this 2021 update, we tested the Vornado – OSCR32, a 32-inch-tall tower fan that impressed us with its cooling power and whisper-quiet operation. The Vornado is sleek and attractive with its smart chrome adornment that also serves as a carrying handle.  Its base sits flat on the ground and has a small footprint, so the Vornado can be unobtrusive in any size room.
At the highest of its three speeds, the Vornado generated a waist-height airspeed of 8.1 mph, comparable to our top pick, the Seville. Its cooling ability was significantly better than the two other newer models we tested because its grill is 22.5 inches, thus allowing more air to be pushed through.
The Vornado has four touch controls on the top of the unit for controlling on/off, wind speed, oscillation, and programming the timer for three, six, or nine hours. The controls are very sensitive, and your finger needs to just slightly brush the button to make adjustments, which are illuminated by a lighted ring around the on/off indicator.
The two other models we tested for this update had an absurdly loud operation, especially at the lower speeds, which are supposed to be for sleeping. The Vornado's lowest speed had less cooling, but was the quietest by far, particularly at the highest speed. The Vornado is about $25 more than the Slimline. It's just as effective and has a more modern design that would suit most home decors.
3. Luxe pick: Dyson – TP01
Our luxury pick, the Dyson – TP01, is one of the TP series called Dyson Pure Cool, which has a built-in air purifier with a HEPA filter. It's very similar to the discontinued Dyson – AM07 we previously reviewed. The TP01 has 10-speed levels that can be adjusted manually or with a remote control that magnetically attaches to the top of the unit.
In our previous testing of the AM07, we found the speed of its airflow lacking, compared to the Seville. However, the TP01 has been significantly improved, since its airflow is nearly as powerful as the Seville's 8 mph, coming in at 7.8 mph.
Dyson's big selling point for their fans — more properly known as air multipliers (you can find out more about that in our full review of the Dyson – TP01) — is that they're quieter than other tower or oscillating fans. This is indeed the case; the TP01 measured at 63 dB. However, the Seville's noise level was slightly more at 68 dB, but there was no audible difference between them.
The big drawback to the Dyson – TP01 is its $400 price tag. The integrated air purifier is a plus, so you're getting more for your money. If you love getting the latest technological marvels, and budget isn't a concern, then we can certainly recommend the Dyson – TP01 as one of the best tower fans you can buy.
4. Honeywell – HYF290B
The Honeywell – HYF290B has lots of bells and whistles, and although its upper speeds cooled reasonably well, we found it to be clunky and overly complex. The Honeywell has eight speeds for supposedly any condition and time of day. The lower four — sleep, whisper, calm, and white noise — are indistinguishable. They all had very limited cooling power and were loud; certainly not conducive to sleeping or meditating. The "white noise" setting was odd since the unit suddenly shifted to a buzz, supposedly mimicking background white noise.
The upper settings were quieter and increased in cooling incrementally, but even at the "power cool" setting, it only gave 6.9 mph wind power. The tower fan itself measures 25 inches, and the rickety plastic base is 12 inches tall, so its presence will be felt in any room. Of the fan's 25 inches, the vent is less than 18 inches, thus limiting how much air is pushed through.
The Honeywell has four time settings from one hour to eight hours and a pointless nightlight dimming function that only affects the lights on the top of the fan, which, because of their angle, you probably wouldn't see when you're in bed. It's a bit more expensive than the Slimline and Vornado, but it's not nearly as effective in cooling.
5. Pelonis – PFT40A4AGB
At 40-inches tall, you'd think you're getting a lot of tower fan for the money, but the Pelonis – PFT40A4AGB is proof that taller isn't better. The primary reason is that its vent is only 18 inches, and the cooling is pushed through the lower half of the vent, meaning only nine inches, and that's not enough to cool a sizable room.
The Pelonis has three fan speeds and three modes: normal, natural (its packaging claims this simulates natural wind), and sleep. At the low speed, there was no difference between the three modes. For the middle and high speeds, normal and sleep increase, but natural stays the same. The lower half of the vent pushes air at the speed of 8.2 mph, while the upper half of the vent is only 4.2 mph.
The control buttons need to be pushed quite firmly, but the Pelonis has a decent remote that works from a 12-foot distance, just as long as you aim it directly at the front of the unit. One feature we did like was its timing function, which can be programmed for up to 15 hours. The Pelonis is about the same price as our top pick, the Slimline, but it didn't perform as well in our tests because of the small vent.
6. Dyson – AM07 (discontinued)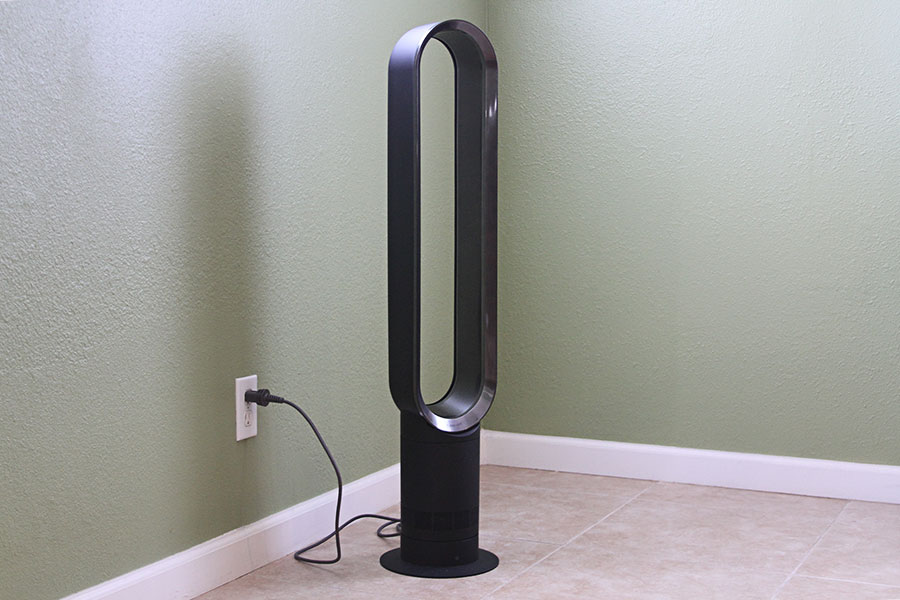 As we noted above, the Dyson – AM07 has been discontinued. In our prior testing, we did prefer it over the Seville, mostly because of its aesthetics. It had considerable cooling power for covering a significant — but not all — portion of a room, and it was considerably less noisy than the other tower fans we tested. However, again, the Dyson was six times the cost of the Seville, which performed just as well.
7. Lasko – Wind Curve
The Lasko – Wind Curve is a solid unit, but it had the lowest degrees of oscillation and was only capable of fair cooling coverage unless you tilted the fan opening. Its wooden face would blend in nicely with the right home, but overall, it's not a unit we'd recommend.
8. Honeywell – HY-280 (discontinued)
The Honeywell – HY-280 was the next best oscillating tower fan option after the Seville, with great coverage, solid airflow, and second-best performance in noise levels behind the Dyson AM07. Its low energy usage and overall cost make it a great budget choice overall. Unfortunately, Honeywell has discontinued this terrific fan.
9. Brookstone – Mighty Max (discontinued)
The Brookstone – Mighty Max was a mediocre unit masquerading as an expensive one. It had a decent design, but it underperformed on every other metric, with poor airflow power and middle-of-the-road oscillation. Twice as expensive as the middle-range units, we gave it a pass for most people.
How we selected
When researching top oscillating fans and choosing the final five, as well as our winner overall, we considered several attributes that people look for most in a tower fan:
Overall cooling power
Overall cooling distribution (oscillation/coverage)
Noise level
Energy efficiency
Cost and/or value for the price
Features (timer, eco mode, remote control)
Aesthetics
We determined this final set by reading dozens upon dozens of Amazon reviews (both good and bad), polling our team, and of course, testing ourselves.
Have no doubt, though — you buy a fan to cool yourself, not to look cool (although Dyson might try and convince you otherwise). We determined our final five based on the consistently positive reviews they warranted across Amazon and in other well-regarded publications.
How we tested
To start, we measured the traditional unit of success: cooling power. Using an anemometer, we measured the wind speed of each fan's highest level in miles per hour when sitting around two feet from the unit, with it pointing straight at us.
However, we looked at not just speed in one isolated spot — we measured two, one at around two feet off the floor, and another at about four. We chose these positions because based on Google searches, we found that the average chair height when is 18 inches, average torso height when sitting is 39 inches, and average total height when sitting averages around 48.4 inches when including the size of an average human head.
This gave us a sense of how much air circulation was being distributed in multiple areas, not just one — a major reason you would buy a tower fan over a table fan. If a fan can't generate wind power at three to four feet, it has design problems.
Overall, the Seville crushed the competition in waist-height cooling power, generating wind speeds of 8.2 MPH — which even beat out the Dyson, a unit that's five times as expensive.
Four feet from the floor, the units started to separate themselves. Dyson and Seville showed their positions as best in class, while the Brookstone, which tries to position itself as a luxury fan, showed that it's incapable of cooling you from the chest up due to its bottom-positioned grates.
The Lasko, while in the same boat, at least has the function to tilt the grates in case you want to cool up rather than down.
Next, we measured noise levels on their highest speed settings. After testing the best portable air conditioners, we were cautious of the impact noise can have on comfort.
Seville showed that with power came noise. However, the noise levels weren't anything unusual or excessive, and each unit stayed comfortably within similar audible — but not disruptive — sound ranges.
However, in our earlier review of the Dyson – AM07, we noted it did show some price value in its ability to generate the most cooling power at the lowest noise levels. The unit somehow generates impressive power without screaming at you. If you're planning to use your tower fan as a bedroom cooling unit, it's definitely the best option.
Finally, we looked at oscillation. If you're trying to cool an entire room, the fan's power for distributing airflow and its ability to rotate are important features.
Using a protractor and two pens to best line up the two points on each end of the rotation, we measured degrees of oscillation. After marking the two points such as in the above photo, we lifted the fan and then used the protractor to measure the degree distance between the two pens. It was tricky to measure to an exact degree, so we rounded up or down to the nearest five-degree mark.
Again, the Seville impressed, showing the strongest total coverage by a slight margin. The Honeywell equaled the movement as well, followed closely by Brookstone and Dyson.
The only poor performer was really the Lasko: it had significantly less movement and didn't have the range capable of covering a portion of a large room, at an underwhelming 70 degrees of oscillation.
Finally, since these fans might run all night, it's worth considering their energy impact, both on the environment and your utility bill. Using a Kill a Watt Energy Usage monitor, we measured the energy impact of each.
The units were pretty close in kilowatt-hour (kWh) usage, with the Brookstone and Honeywell performing best at 0.03 kWh used. To give you some context, you can use a number like KWH to determine how much these units might cost you per much.
Power rates vary by location, but if you lived somewhere where your cost per hour was eight cents, your kWh was 0.03 and you were planning to use the unit for 720 hours a month, the unit would cost you .03 * 8¢ = $0.0024/hr, and if used for 720 hours, $1.72 a month. Comparatively, that would be $2.88/month for the 0.05 kWh units.
All things considered, these units aren't big energy users. The Honeywell, though already a great budget pick, slightly stood out further with cheaper long-term cost when using it.
Important features to consider
Although it's easy to consider looking at the cooling power of these fans in isolation, it's not the only cooling-focused attribute that matters when choosing a tower fan — especially if you're not the only one being cooled.
The other attribute that matters is total wind distribution — that is, not just how much powerful air is blown in one area, but how much air circulation is being distributed in total across the height and width of the fan.
As you can see from the photos, each of these models besides the Dyson have grates the air is pushed through. Not all of them push air through the same number of grates, or in the same way — causing a distributed mix in how effective they are in pushing the air.
Some of them can cool either your chest or face, and others can cover both. Similarly, the oscillation limitations of some of the units mean already ineffective units perform even worse when we consider the airspace covered in total.
Therefore, if you plan on keeping more than one person cool (or want to not have to continually adjust your fan in order to have it cool you in different areas of the room), you want to look for not just cooling power, but also cooling distribution when choosing a tower fan.
If you only care about cooling one small area in isolation, you probably need a table fan.
We think the above metrics are by far the most important things when considering a tower fan, but they aren't the only ones. Many of the tower fans have other characteristics that might be attractive to you.
For one, the Dyson's bladeless design makes it safe for all ages and easy to clean, although there's little about the other encased fans that make us feel like our health is at risk.
If looking cool and feeling cool is important to you, that attribute may get you to consider the $400 price tag. In addition, the bladeless design of the fan makes the model safe for all ages and simple to clean, although there's little about the other encased fans that make us feel like our health is at risk.
Some of the fans feature unique modes that they use for differentiation, such as Seville's "Eco" mode, Honeywell's eight fan speed settings, and Brookstone's "Breeze" mode which attempts to imitate a relaxing wind pattern.
Each of these features is nice, but for the most part, not things we recommend making a purchase decision on. For most people, three to five fan-speed settings on a control panel are enough and Brookstone's "Breeze" mode felt like a sales gimmick.
In addition, tower fans have a reputation for instability. A wide base means smaller odds of barely touching the fan will knock it over.
The Honeywell HY-280, which performed solidly and had impressive oscillation, counters those strengths with an unbalanced design that an active dog wouldn't have any trouble knocking over.
Thankfully, the other four models were mostly bottom-balanced, making them harder than the Honeywell to knock over. They won't anchor themselves against an oncoming linebacker, but they also won't get knocked over by a gust of air.
The bottom line
Overall, we were quite impressed with the Seville Classics – UltraSlimLine. It's high-powered, can cover a lot of ground, and is in the bottom cost bracket of every single top tower fan we tested. Plus, its included remote control means you can control temperature without getting up. It might not have the wow factor of the Dyson – TP01, but it does have the effectiveness.
For this 2021 update, we tested the Vornado – OSCR32, which matched the Seville in cooling effectiveness, thanks to its vent that's proportionate in size to the unit. It has a smart and sleek design that won't command attention in a room. It's a bit more expensive than the Seville, but it's a great option to consider.
If you can afford the $400, then, by all means, indulge in the Dyson – TP01. It's an amazing piece of engineering with an integrated air purifier that keeps your air cool and clean.