LG Portable Air Conditioner Reviews (2015-2021)
We've tested every new revision of the LG since 2015, and compared against four other brands of highly rated portable air conditioners to see which unit is the best performing overall. LG portables have all performed near the top of pretty much every metric, while (luckily) not sitting near the top in cost.
2016 tests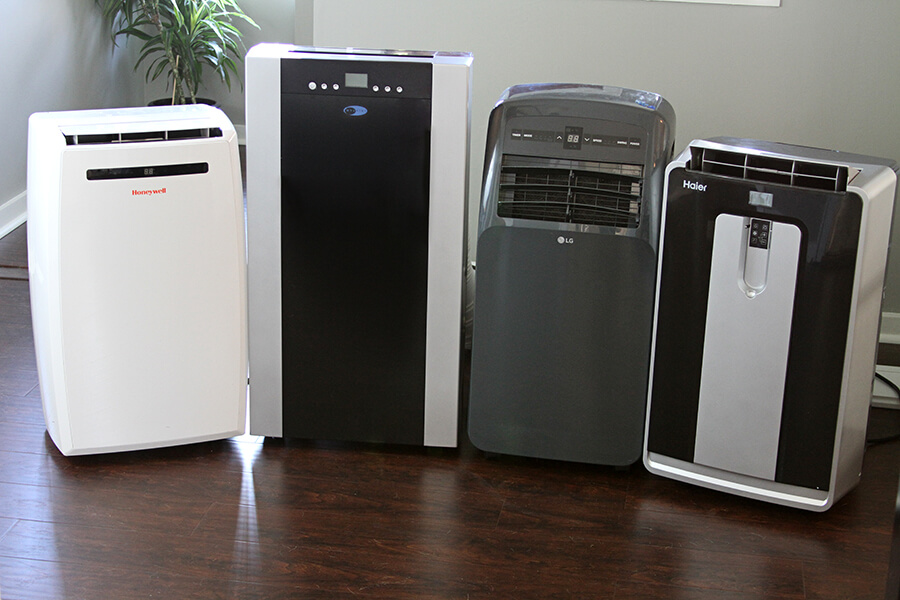 We first tested cooling power with four units in a 175 square foot office and a 400 square foot living room. We ran the air conditioners for approximately an hour in the heat of the early San Diego summer in our poorly insulated home, whose two front rooms are frequently uncomfortable and baked by the sun.
Using an indoor thermometer, we measured the beginning and ending temperatures in the room. We then repeated this process three times in each area, for a total of around six hours cooling time for each unit tested. While by no means scientifically verifiable, we got a good impression of the real-world cooling power of each unit in moderate heat.
The LG actually compared favorably to the Whynter 14,000 unit and out-performed its competitors in Honeywell and Haier.
While this represents realistic daily use in many climates, the conditions were not blazing hot. You'll see results in above-95°F weather in our updated test farther down.
In the bigger great room (a living room/dining room combined room), the Whynter beat out the LG by a significant margin, showing where the 14,000 BTUs really come in handy. However, the LG still came in second, doing a nice job and also cooling the room considerably in the tests we ran.
Next, we considered an important attribute of a portable air conditioner — noise levels. If you want to sleep and cool your room, you'll want a unit that doesn't require noise canceling headphones.
The LG did just that, with ongoing noise levels of 70 decibels at its highest point that made it the quietest of the four units we tested. The 14,000 BTU Whynter, while significantly more powerful, began to fall back here, producing a much louder noise level that we would not recommend for a bedroom.
2017 tests
After two years of excellent service, LG discontinued the LP1215GXR and replaced it with the LP1217GXR, which was a bit louder and not quite as quick in our cooling tests.
2018 tests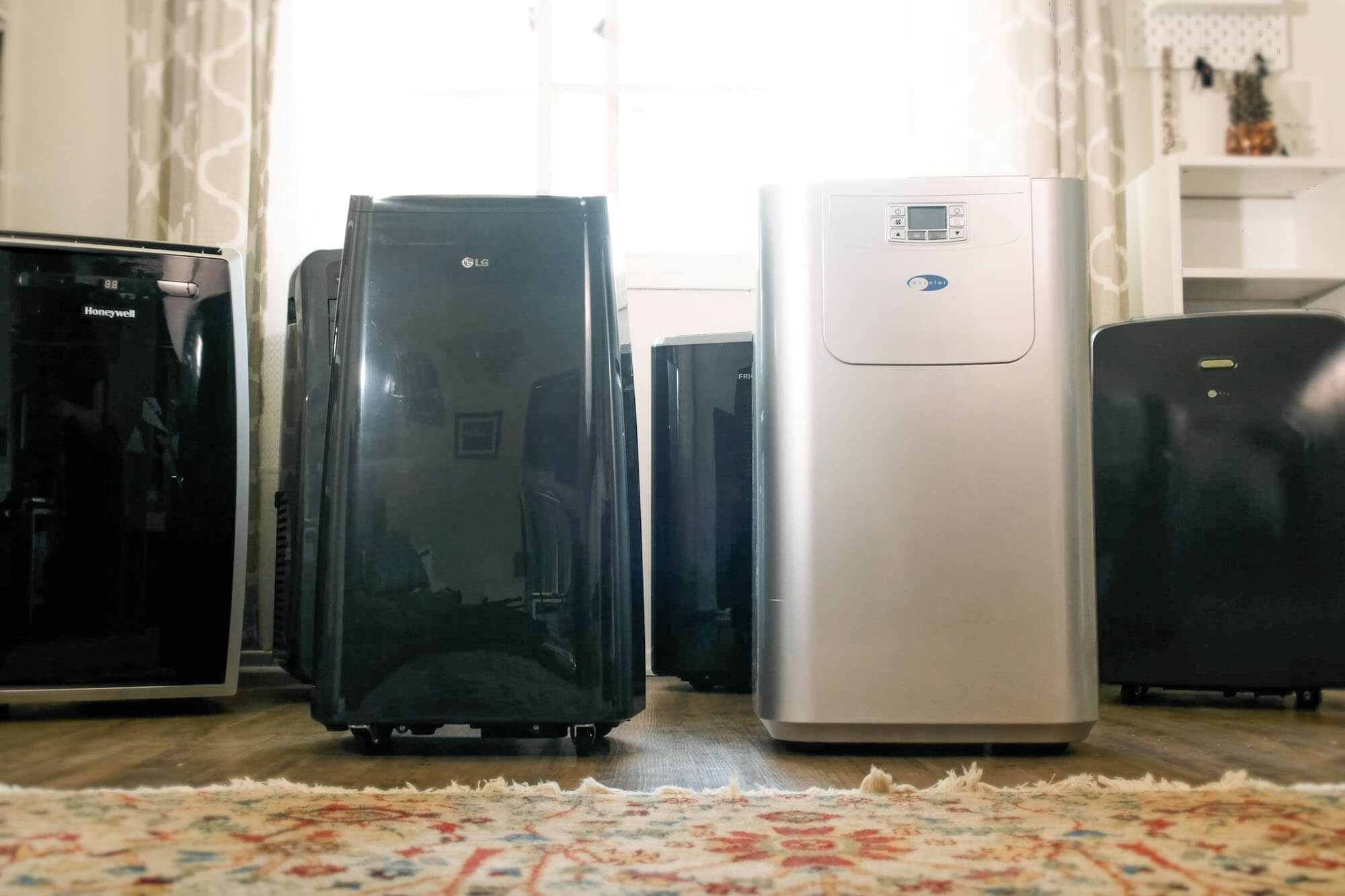 In the summer of 2018 LG released a new version of their portable, the LG – LP1218GXR. We tested this unit against the 2015 and 2017 models, and also added a comparable dual-hose portable air conditioner from Whynter to get a better comparison of the advantages and disadvantages of the two types.
We set up an initial test in a small bedroom, loading the room with heat from space heaters to create repeatable conditions.
The results for the LG units we'd already used made sense, but the poor performance from the dual-hose Whynter showed us that our controls weren't necessarily a fair comparison.
Dual-hose vs single-hose tests
We researched the standard tests designed by the Department of Energy for rating BTU capacity in air conditioners, and we discovered that there's a long-running fight over how to test and rate these things.
Single-hose air conditioners rely on using up the cooled air in your home to move heat out the window vent. That works extremely well in a few conditions — like our space-heater test where all the heat was coming from inside the room and outdoor air wasn't as hot — but when your room air will be replaced with 110°F outdoor air, it's a disaster. If you want to know more, see our post about how portable air conditioners work.
We re-set our test room in the middle of summer during a week-long heat wave, at over 98°F each day, to compare performance between the LG's top single-hose design and Whynter's dual-hose design with matching noise performance.
We also added a window air conditioner on a third day of testing to see how much better it would fare. We knew window units were more efficient in extreme heat, but the result totally changed our perspective on portable air conditioners.
2019 and 2020 updates
Lg didn't refresh their line in 2019 as expected, instead releasing a single model in the largest size and with a more expensive variable-speed compressor system: the LP1419IVSM. At a significantly higher price, and with all the same drawbacks of other single-hose designs, we skipped it. This design does allow for more efficient performance and lower noise on less-hot days, since it only runs the compressor as quickly as it needs in order to keep the room cool.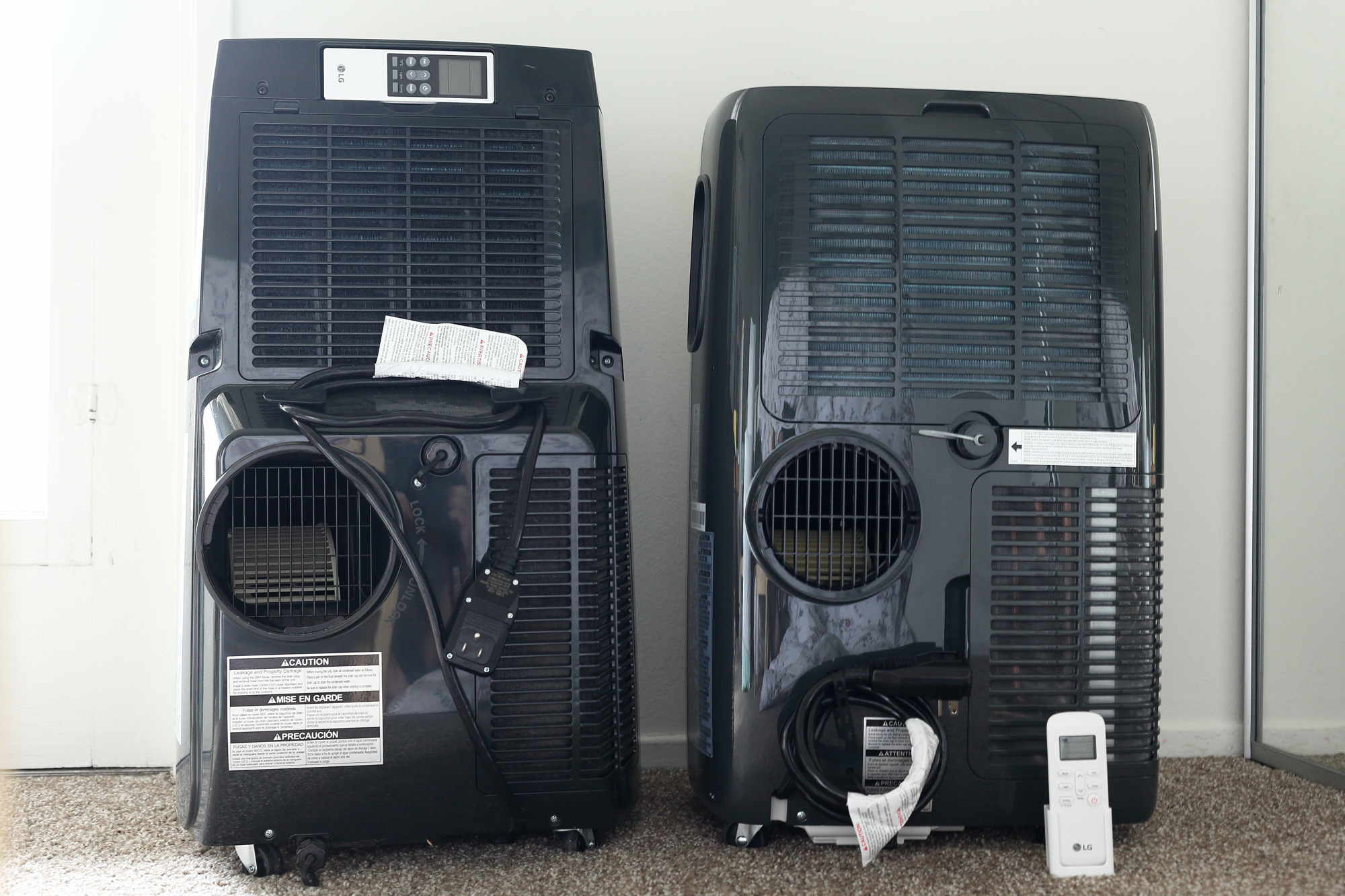 In 2020, LG released the LP-1220GSR. LG made a few changes to storage features we didn't like: They removed the cord management spool and magnetic remote control storage cubby. Instead this year we get a cable tie and a wall bracket; those would be welcome upgrades to the old design, but as it is we like the old model more.
Performance-wise, according to the spec sheet the 2020 model has less refrigerant inside, running a bit faster to compensate. It pulls 30 watts more power and makes 1 decibel more noise, so while the differences are small we think the LP1218 is still the best LG portable AC.
Updated noise tests
We've added five new models to our testing stable since then, and the LG line has always been quieter than the competition from brands like Frigidaire and Honeywell. The new 12,000 BTU Whynter, as well as easily beating any single-hose design during a heat wave, did manage to tie up the race for quietest portable AC.
Comparing the best portable air conditioners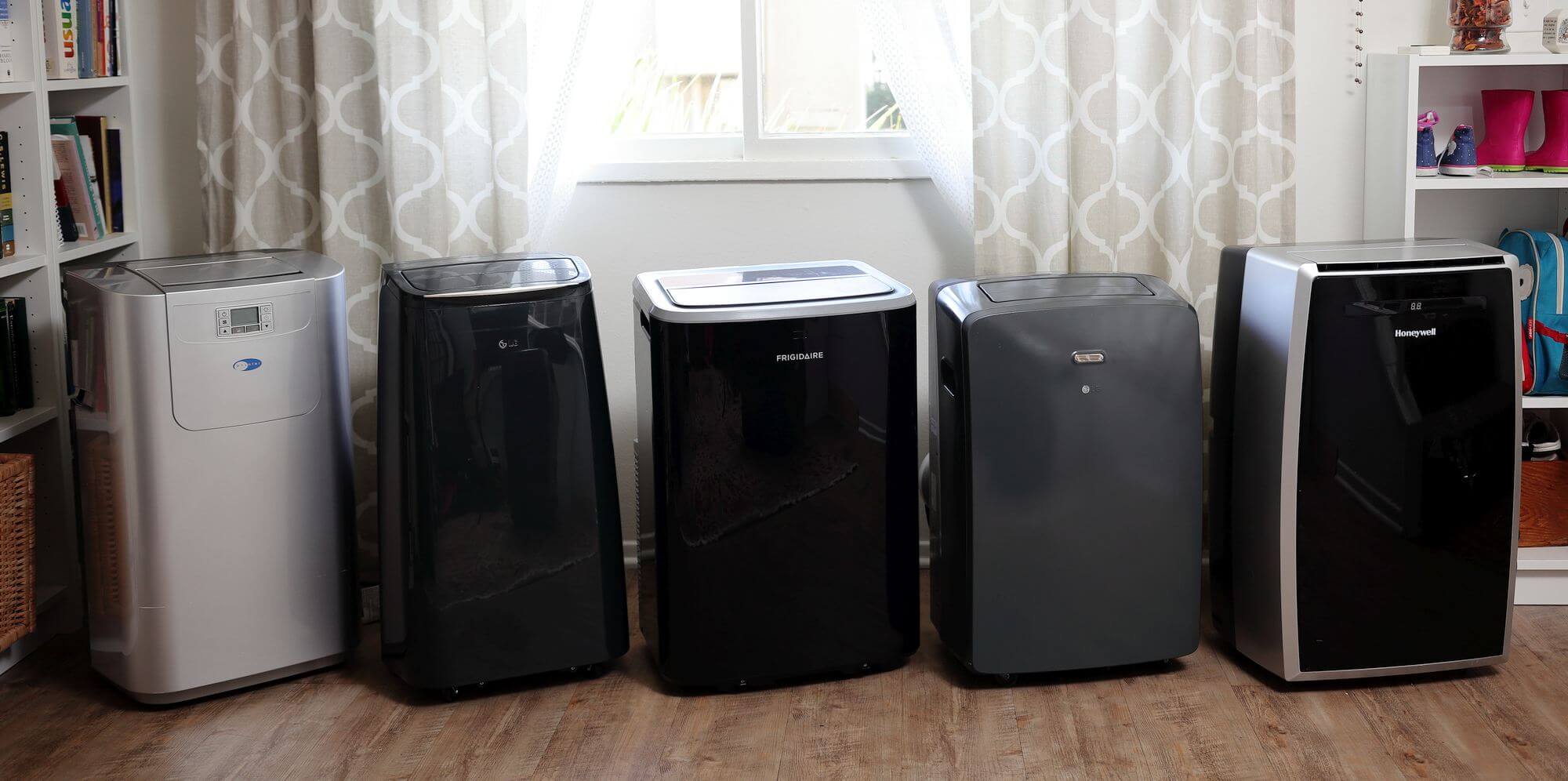 For all the metrics on how LG compared to the other top models we tested, check out the following chart:
| Product | Cost | BTU Class | Max Noise (dBA) | Weight (lb) |
| --- | --- | --- | --- | --- |
| 1. Whynter - ARC-122DS Elite | $$$ | 12,000 | 66 | 60 |
| 2. SereneLife - SLACHT128 | $$$ | 12,000 | 68 | 71 |
| 3. Whynter - ARC-14SH | $$$$ | 14,000 | 75 | 100 |
| 4. Black + Decker - BPACT08WT | $$ | 8,000 | 63 | 53 |
| 5. Koldfront - PAC802W | $$ | 8,000 | 65 | 57 |
| 6. LG - LP1218GXR | (Discontinued) | 12,000 | 67 | 64 |
| 7. LG - LP1220GSR | (Discontinued) | 12,000 | 67 | 62 |
| 8. LG - LP1215GXR | (Discontinued) | 12,000 | 66 | 62 |
| 9. Frigidaire - FFPA1222U1 | (Discontinued) | 12,000 | 67 | 65 |
| 10. LG - LP1217GXR | (Discontinued) | 12,000 | 68 | 67 |
| 11. Honeywell - MN10CESWW | (Discontinued) | 10,000 | 68 | 68 |
The final word on the LG
The LG Single-hose air conditioners have worked well for us in moderate San Diego and Orange County heat. The LG is relatively quiet and cools smaller rooms quickly compared to other single-hose portables, so we're quite happy with it under local conditions for most of the summer.
But if you try to cool a room with a single-hose design when it's hotter than 95°F outside, you'll actually heat up the room. Finding some way to install a window or through-wall air conditioner is well worth hiring a contractor for, or you can use a dual-hose unit like the Whynter 12,000 BTU or larger, louder 14,000 BTU for better (but still not great) performance.