The Best Garage Door Openers
After 20 hours of installing and testing three different types of garage door openers, hundreds of open/close cycles and consulting with expert installers to learn what issues cause long-term problems, we chose the Chamberlain – B500 Series as the best garage door opener for residential use. Chamberlain's B550 is an ideal model for most do-it-yourself types, with a worry-free belt drive and all the features you'll need right out of the box. For a German-engineered opener — and a higher price tag — look to our runner-up, the Sommer – Direct Drive.
After 20 hours of installing and testing three different types of garage door openers, hundreds of open/close cycles and consulting with expert installers to learn what issues cause long-term problems, we chose the Chamberlain – B500 Series as the best garage door opener for residential use. Chamberlain's B550 is an ideal model for most do-it-yourself types, with a worry-free belt drive and all the features you'll need right out of the box. For a German-engineered opener — and a higher price tag — look to our runner-up, the Sommer – Direct Drive.
Table of contents
Compare the best garage door openers

1. Best overall: Chamberlain – B500 Series
There are times when it feels like cheating to pick the market leader as the "best" product in a category, but for most people, it makes sense to go with the popular Chamberlain Belt Drive system.
Chamberlain will sell you this garage door opener with any one of a dozen configurations, and that's one of the reasons we like it. Whether you buy the $110 Home Depot special or the $238 system with an upgraded motor, battery backup and LCD wall panel, the opener should install and behave in predictable and consistent ways. It might be a bit of a pain trying to find exactly the combination of features you want (you can't get the feature-encrusted wall panel without an upgraded motor and bulky three-button remotes, for example), but at least you know you'll be able to find the parts separately.
If you don't see the B550 for sale, you can get a similar set of features in a chain-drive model for about the same price. We asked our installer, Jesus Rodriguez, which system he preferred, and he says that he hasn't had any specific problems with any of the Chamberlain systems. "If you have a problem, it's usually a problem from the start. Once an opener is set up right, we don't really have problems with them."
Installation for this system was fast and straightforward. Chamberlain does not include lag bolts or ceiling plates with their openers, so if you don't have exposed overhead joists to hang the motor from (or if they're in the wrong place) you'll want to pick up some lag screws and bracket material at your local home improvement store.
Everything else about installing the Chamberlain is quick and by-the-book. We had a pro installer hang this model for us, and they finished in less than two hours (including time for remote programming and our incessant questions.)
The day after installing there was a problem with the electronic safety "eye" alignment, probably due to the springs on the clip-on bracket settling overnight. After rocking them back and forth, the receiver LED glowed a steady green again, and everything worked without a hitch.
Wi-Fi-setup was quick; for more details on "smart" functions see our comparison with the Nexx Garage system below. Chamberlain has basically ensured that you can't use third-party Wi-Fi adapters with their openers by changing the way wall switches send control signals, and that means you have to use Chamberlain's MyQ app if you want smart features with this door opener. The downside there is that Chamberlain charges $10 per year to enable Google Assistant or IFTT compatibility, and that's just sad.
We know that the people who want programming features like IFTTT compatibility are the same people who will refuse to buy products with pay-walls, so it's a baffling decision. That said, it's cheaper to buy a Chamberlain opener and subscribe to the IFTTT feature for a few years than it is to buy any competing "smart opener" systems.
Key takeaways:
Chamberlain is the market leader for a reason. The B550 Opener is well-designed but still priced competitively.
Any installer or service technician will know exactly how to set up or troubleshoot this opener.
If you're looking for info to do your own troubleshooting, Chamberlain has good documentation and most of the online discussions will be about a similar model.
This was the fastest door opener.
The remotes and wireless keypad work flawlessly, even when using cheap LED light bulbs.
Chamberlain's Wi-Fi "smart" app control was quick and easy to set up.
2. Runner-up: Sommer – Direct-Drive
First, the bad news. Sommer's – Direct Drive is the most expensive opener we tested, and it has the fewest accessories or perks. The install manual isn't as easy to navigate as the others, and there's even a part / design update that didn't get included in the manual shipping with those parts. This opener also had interference problems with a common LED lightbulb brand we tried, and the remotes have a fairly short range.
With that out of the way: we really like this garage door opener, and if we had to re-install an opener every week this is the one we'd pick each time.
Many cantankerous old men talking about garage doors on the internet complain about the disappearance of mechanical limit switches, the part that tells your opener when to stop opening or closing the door. New-fangled electronic controllers are easy enough to program, but it warms the cockles of our hearts to see that Sommer is still using a fail-safe mechanical system.
There are exposed moving parts and nylon gears on most garage door openers that need to stay tight, lubricated and precisely aligned in order to keep the system from wearing, chattering or jumping. (You also need to keep cats and birds from getting caught in the belt or chain.) Sommer keeps the moving parts to a bare minimum with one directly-driven metal sprocket that follows a tensioned metal chain hidden inside the rail.
The snap- or bolt-together rails of the other systems aren't exactly awful designs, but the C-channel system Sommer uses is designed to stay in perfect alignment with the same tension that holds the chain up. If you have any doubts about tension in five or ten years, the system is easy to check and adjust.
Sommer managed to come out of our testing as the quietest opener, but that's mostly because it's the slowest. Unless you're opening a brand-new door made with impossibly smooth joints on a perfectly-designed track, the door itself is going to be louder than any opener motor or drive mechanism, and the faster you open it the louder it will be.
While the other systems give you electronic eyes with brackets that snap onto a standard-size door roller track, Sommer makes no assumptions about your door and gives you brackets to screw into the wall. Aiming them was actually easier than it was for the Chamberlain system. On our track, the Chamberlain clips took far more effort to snap on than we expected, so that's another mark in Sommer's favor.
This opener will work flawlessly with any third-party "smart" opener system like Nexx Garage, and you can buy it bundled with Gogogate at the Home Depot. That's yet another price premium compared to the all-included price of Chamberlain's system, but at least they won't charge you a subscription fee to turn on IFTTT.
The one comment in a customer review that worries us slightly is a note from a user who has seen carbon buildup on the metal electrical contacts on his system. The contacts should be self-cleaning, so it's hard to say what went wrong in his case. Spraying the contact point with Deox-IT every few years definitely wouldn't hurt. In the long run, the risks of something going wrong with a drive gear or belt on a conventional system are much higher, but it is something to watch for, and some people might be uncomfortable with a charged 24V DC rail overhead.
Key takeaways:
Sommer's Direct-Drive one of the most expensive openers on the market, but the engineering quality might be worth the money in the long run.
A lifetime warranty means this is an opener you'd probably consider taking with you if you move, and it's the easiest to disassemble and re-install.
No keypad or Wi-Fi accessories at this price, but they're simple to add if you need those features.
Some surprise undocumented design updates and LED compatibility issues did make our install experience less than perfect.
The other finalist we tested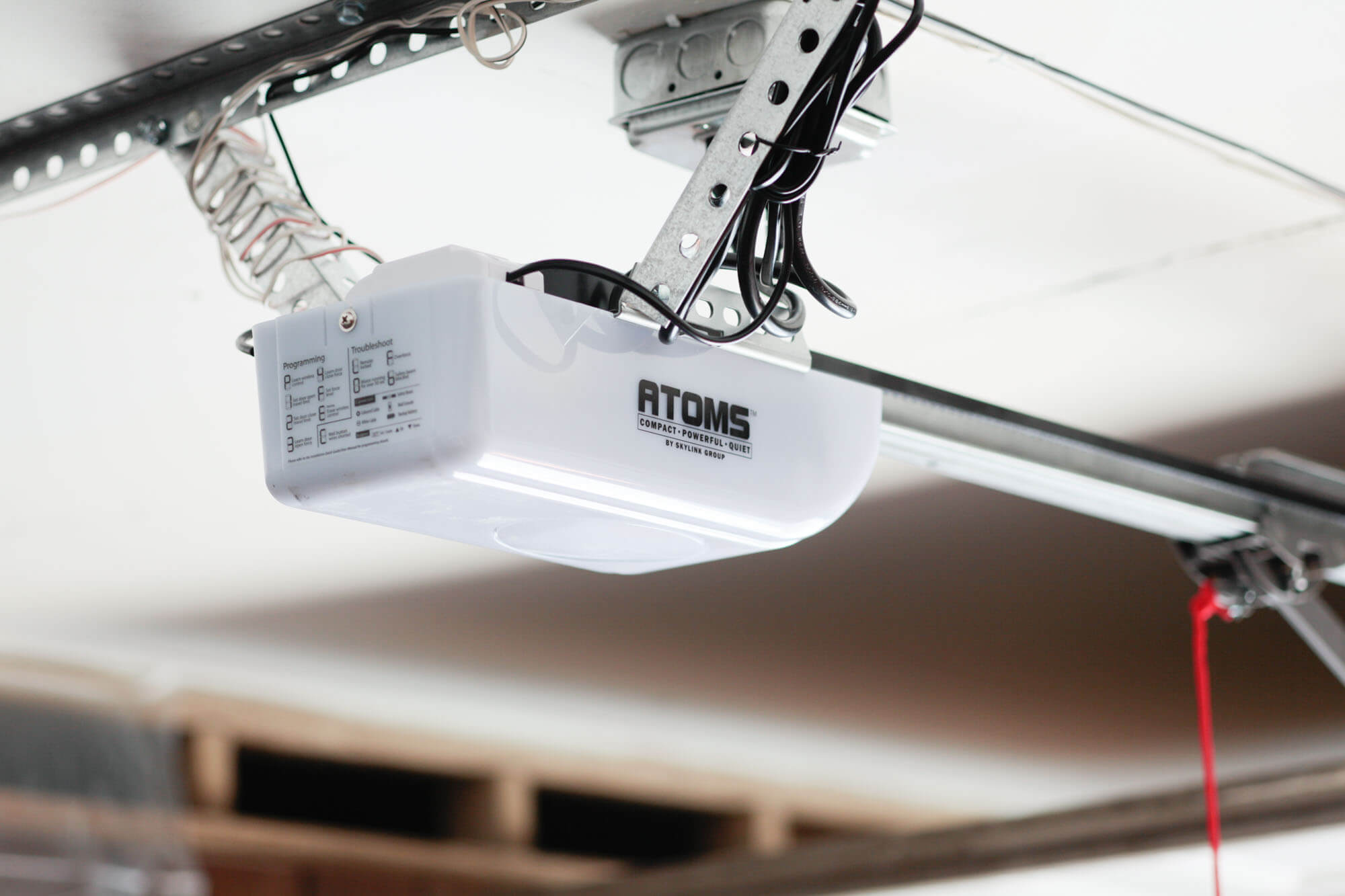 The Skylink – Atoms AT 1612 is not a bad opener. It's a compact and simple design compared to our top pick, but the design emphasizes meaningful features at the expense of not looking like the garage door opener you grew up with.
If the cable-car-style sliding trolley had been a little bit more overbuilt, or if the optional Wi-Fi module and "smart" wall control were included at this price, the Atoms opener could maybe unseat Chamberlain.
As it is, there are too many concerns about the long-term life of all the lightweight parts and not enough reassurances that Skylink is going to be around in twenty years to sell you new ones.
Skylink has carefully thought through the install package and included niceties like lock-washers, lag bolts and extra bracket material that Chamberlain simply refuses to provide. The clear, simple alphanumeric programming and troubleshooting codes are also superior to the 'count-the-flashes' system Chamberlain uses.
While we were unimpressed by the range of the remotes included, it's sufficient and we like how compact they are. The keypad is as good as anything we've seen, and the safety "eye" transmitter/receiver clipped on (with some effort) and worked immediately without any aiming or tweaking headaches.
The fact that the lightbulb is built-in is also a refreshing change from the old bring-your-own philosophy of the incandescent era. It's not the brightest LED setup we've seen, but it's great that you don't need to guess about compatibility.
If you're looking at this opener as part of Skylink's security system, they checked all the right boxes for this component and you won't have any compatibility headaches. For anyone else, we're still not sure it's worth choosing over the opener everyone else is buying.
How we selected products to test
We know plenty of anecdotal stories about openers in our own homes and in the garages of our friends and relatives, but we spent a long week digging on internet communities like /r/homeowners/ and the Garage Journal forum to see what other people have to say about the openers they install and use.
We talked to our contractor friends at KTY Construction, garage door installers at Crown Door, and three different contractors who work with The Garage Door Hero.
After checking a few facts, we found out that Chamberlain Group, Inc. now makes the majority of openers in the US. This includes well-known brands like Liftmaster and Sears' private label Craftsman.
Fortunately, Chamberlain has a good reputation among installers and homeowners. Sadly, the same cannot be said for the only major competitor, Genie. The general consensus is that durability and quality of materials used in Genie's residential-class openers have degraded significantly in recent years, and it was hard to find an expert who didn't warn us about that when we asked about the brand.
We decided not to test a Genie opener, since they're very similar to Chamberlain models except in the reputation for build quality, and they're not competitive in pricing.
To see how the other brands stand up to the market leader, we chose a newcomer to the market; Skylink has made a name for themselves selling their compact "Atoms" openers with tight integration into the Skylink DIY security/smart-home system.
We also tested a Sommer direct-drive model, since it represents probably the only significantly different option you'll have in the world of residential garage door openers. Sommer has very positive buzz in homeowner discussions and a lifetime warranty is always a good sign, even if it does come at a price premium.
Important features to consider
Motor power and door weight
A garage door can weigh quite a bit, but nearly all rolling-door systems are designed with a large, carefully-tensioned spring that will keep the door "balanced." If your opener is disconnected and you pull the door halfway open, it should stay there and not move. If you're installing a new opener or replacing an old one, checking the balance of your door is a good first step to making sure your opener will work well for a long time.
Because the spring carries the weight of your door, for the majority of residential door installations the common ½ HP motor is more than enough power. At the very top of the open position the door is often resting on the track, though, and an especially heavy door (with wooden panels, for example) might benefit from a bigger ¾ or 1 HP motor.
"Trolley" openers
These all work in pretty much the same way, with your choice of a belt, chain or worm-gear shaft driving a trolley up and down a track that you install on your garage ceiling.
The majority of openers sold and installed are chain-drive, and typically that's the only option on the most economical models at your hardware store. Belts are more common on models with all the bells and whistles, advertised as quieter than chains. Worm-gear driveshafts are less common and require periodic greasing to keep them running quiet and smooth.
Direct-Drive openers
Sommer makes an opener system that mounts the motor directly to the trolley moving up and down the track, so the only moving part is the drive wheel itself. These are more expensive than the pulley-drive "trolley" openers, but they're made in Germany and come with a lifetime warranty. This system is also one of the few that still uses a mechanical limit "stop" that tells the motor when to stop pushing, which will reassure the traditionalists who distrust the control circuits in other openers.
Jackshaft openers
If you have room (recommended clearance is almost a foot from the edge of your door to the wall), a "jackshaft" opener like the Liftmaster – 8500 lifts your door directly from one side of the spring-balanced axle that makes your door easy to open and close. The advantage here is that you don't need track and drive systems installed overhead, so setting it up should be much simpler and cleaner if you have space on the wall. (There are also adapters to get around clearance problems like two-door installations.)
Do note that a jackshaft system requires extra tuning to keep the cable from unwinding and potentially causing the door to fall. Pusher springs are recommended to make sure your residential door will never get stuck at the top and cause a dangerous accident by free-falling.
Battery backup
Most garage door openers on the market are now available with a battery upgrade, and if the power in your area is especially unreliable it might be worth the cost.
We asked our installer contacts for opinions about batteries, and they noted that the biggest downside to batteries is that they will need replacing. Customer reviews online confirm that five to six years is a typical life for a backup unit, even if your power never goes out when you need to open the door.
If your garage door is the only way in and out of a building, make sure that you have some kind of mechanical emergency release system in place, even if you opt for a battery backup in case of power outages. A keyed "vault lock" emergency release is quick to install and gives you a secure way to manually open the door from the outside even if your opener motor is malfunctioning.
Remotes and keypads
One of the only differences between manufacturer model numbers is the package of accessory remotes and panels included in the box you get.
It's definitely cheaper to buy a package with all the components you want than to pick and choose redundant replacement parts, but you may have no choice if you want a compact single-button remote and an outdoor wireless keypad, for example.
Sommer was the only manufacturer that didn't have a package with a code-entry keypad, and that's definitely the feature that we missed most. If you don't want to set up internet-enabled opening, a keypad on the outside of the door is a great backup just in case a family member locks you out of the house.
Lighting options
Other than the Atoms models, garage door openers all have sockets for standard a21-size lightbulbs. We tested models with two sockets, but some less expensive models will only take one.
Note that while incandescent bulbs are hot and inefficient and CFL bulbs are ugly, some LED bulbs can interfere with opener remotes.
Smart hubs and compatibility issues
Chamberlain Group (which includes Liftmaster and some other names) are integrating the "MyQ" smart garage system into their hardware, and it was included with the B550 opener we tested. All of the new opener motors from Chamberlain's brands are compatible with the system, but if you don't see a "Wi-Fi" logo on the motor housing, then you'll need to add the "MyQ home bridge" to make it work.
Nexx Garage is an example of a third-party device that adds the same functionality. The hardware is a compact Wi-Fi-connected box that comes with one sensor so it knows when your door is open or closed. There's also one set of wires to emulate a button push on your garage door opener's wall panel and trigger the motor.
This is where the compatibility tricks come into play: Chamberlain's MyQ openers don't use a simple normally-open switch to trigger the motor, so Nexx Garage won't work with Chamberlain hardware out of the box. Nexx Garage is currently offering a free bridge that uses a wireless remote signal to trigger your MyQ opener, but it's much easier to try working within Chamberlain's walled garden if that's the opener motor you want.
Nexx Garage is fairly easy to install: screw one side of the magnetic sensor to the wall above your door and screw the other side to the top of your door next to it. The included screws weren't tough enough to get through the aluminum skin of our tester door, but a drill helped them out. There are also brackets included if you don't have room at the top of your door, but the suggested mounting position worked well for us.
So long as you don't have a Chamberlain opener, the button-push wires can go straight into your motor control connectors where your wall switch wires go. (There's a small jumper wire included so you can test that this method works to trigger your opener, or you could test with a paperclip before you buy a Nexx Garage.)
The apps we tested, MyQ and NexxGarage, are nearly identical in functionality and setup. Even with a mediocre Wi-Fi signal out in the garage we quickly got both systems working and haven't had any problems.
The app is great for checking on how often your door has opened during the week or opening/closing for a friend or a delivery guy without giving away your keycode. We linked NexxGarage to Google's Assistant, but other than voice control there isn't much it adds.
IFTTT recipes are the most powerful way to leverage a smart garage door. IFTTT can do things like open your door when you reach the driveway or turn off some security systems and turn on your smart lightbulbs when you get home and open the door.
Right now Chamberlain's MyQ system supports IFTTT if you pay a (small) subscription fee; Nexx Garage includes it for free, though it's "in beta testing."
IFTTT opens up an insane number of "that's cool, but why?" possibilities. The number of things that could trigger your door to open/close is overwhelming, but we can't think of many that would be really useful. (The weather, maybe? An RSS feed publishing door statistics on your blog?)
If you're the kind of person who worries at lunchtime whether you closed the door when you left for work in the morning, then this system might bring you peace of mind. Wi-Fi enabled opening and monitoring is a nice feature to have when it's included (as in the Chamberlain systems), but we're not sure it's worth the extra purchase for the other openers we tested. If you buy a system like the Sommer without a keypad, buying an accessory keypad is probably a smarter first upgrade than the internet modules.
The one feature that we didn't test, which seems exclusive to Gogogate, is integrated video along with door monitoring. Gogogate says they can integrate most IP security cameras into their garage door app directly, and that's a cool feature if you're already buying smart security cameras for your home or if you have a rural security gate that's inside your Wi-Fi range.
Long-term testing update
In our long-term testing, we did use the Nexx Garage smart system to remotely open a garage door (from another country!) after both of the Sommer remotes had been left inside our detached garage. (The Sommer doesn't come in a package with a code-access keypad like the others do.) Getting notifications on your phone that the door has been left open for longer than ten minutes was cool at first, but we turned it off after working all day in the garage one weekend.
The status on the Nexx Garage app is occasionally wrong when you first open the app, but it's always correct when you refresh it. We haven't had any Wi-Fi connectivity issues, but we did see a one-day outage of the Chamberlain MyQ system recently (they said in an email that they lost power to servers). So far, reliability has been good for both systems, but not good enough that we'd say you should replace your remotes and access panels with a smartphone app.
How we tested
Installation
We started with a blank slate: a single-car garage with a finished ceiling and a locking manual-open handle on a sectional roll-up door.
We worked with a pro installer from Garage Door Hero to set up the Chamberlain opener, and then our tester took it down and installed the other two systems himself.
Install difficulty is graded on two scales: ease of assembling and installing the hardware, and ease of understanding the instructions. Sommer's system is remarkably easy to work with compared to the weight and complexity of the pulleys and fasteners of the other systems, but a critical step in the assembly of the drive unit is missing from the version of the installation instructions included in our box.
Motor speed and noise
We tested the speed of each motor and the amount of noise they made. Looking at the test results, it's clear that the number of seconds you save going with the fastest model and the change in noise is not going to be significant to most people.
We tested the noise level when opening and closing the door using an LEQ-A scale with REW measurement software. We also tested the noise level when the motor was disconnected from the door and the level of noise made by the door being opened and closed by hand.
Unsurprisingly, the door itself is by far the main source of noise, so if you want to get "whisper-quiet" operation you're better off looking into door maintenance than a different drive system.
That said, the door definitely makes more noise when it's moving quickly, so if quiet operation is your goal, the slow-and-steady Sommer wins by a nose.
Security
We tested the door closing mechanism for resistance to intruders and for the safety features that prevent the door from closing on a person or object.
Each opener was secure against prying or lifting when closed, with no give or slack once the opener had been set to close the door completely during the final step of the installation process. If you notice a door that has a gap or any looseness when closed, you should be able to re-train the opener's stop limit; check your owner's manual.
Each opener system has a switch on the wall panel inside that allows you to "lock out" opener remotes or wall switches and prevent any remote entry.
Safety sensors
If you can't get your safety sensors aligned, your garage door opener will not work. We actually had more trouble with the highly adjustable clips on the Chamberlain system than the bare-bones brackets that came with the Atoms opener, though once we got them aligned we didn't have any issues with sunlight or any other interference preventing the door from closing.
Once the sensors were aligned we did both standard safety tests: the doors did not close if there was an object in the doorway blocking the light beam of the sensor, and the doors all auto-reversed when they hit an object.
Remote range
We took our opener remote down the block to see how far away you need to be to get the door to open.
Chamberlain was the only manufacturer who listed a range number in marketing materials, and we only managed to get 10 percent of the claimed range, even with the bulky three-button remotes included. We checked and the LED bulbs we were using are on the recommended list. It's possible that our issues would be solved with new batteries, but the range with the remotes as they came out of the box was sufficient.
The Skylink and Sommer remotes are compact key-fob-sized models, which we appreciate (especially when using the garage remote on a motorcycle), but there are compromises to get the compact package:
Skylink's opener never managed to pick up remote signals from farther away than 60 feet. That's more than enough to sit in your car in front of the door and open or close it, but if you second guess a button press while driving up because you're not sure you were close enough you can start yourself down a frustrating stop-start cycle that will definitely add unneeded stress to your life.
The Sommer antenna was definitely getting interference from the smart LED bulbs we tested; with the bulbs in, it would barely pick up a signal from twenty feet away after the light turned on. Without any bulbs installed the opener would work from approximately the same 70-foot radius as the Chamberlain opener.
Update: we tried these Sylvania LED bulbs in the Sommer, and the interference problem went away. If you can't find those, Genie advertises bulbs that should be compatible with "most systems", but they're very expensive.
Smart features
We tested the MyQ system integrated into Chamberlain's opener and the add-on Nexx Garage system by setting them up with smartphone control. Our Wi-Fi coverage in the garage was good enough for the test, and we never noticed connection problems with the openers even when a laptop wasn't getting enough signal to stream music.
Can you install an opener yourself?
After working with three different types of opener systems and talking to three installers, we'd say there are a few essentials you need if you want to DIY:
Construction know-how. If you can't climb up on a ladder and add a brace between studs to mount the bracket above the door header, then hire someone to do this job for you.
Supplies and tools. Chamberlain's kit doesn't even include the lag bolts or angle iron you'll need to hang the motor end, so a basic familiarity with construction fasteners and where to get them is essential. Beyond a ladder, you should have a measuring tape, wrench set and a good screwdriver. A stapler and a drill or impact driver are also must-have for running wire and driving lag screws.
A helping hand. It's possible to lift and install an opener motor yourself (the Sommer Direct-Drive is easiest in that case), but it isn't fun. At the very least you'll probably need a big cardboard box or a stool to raise the back of the rail so you can clear your door springs when you hang the front end.
If you've got a free afternoon, tools and supplies, then installing a garage door opener isn't especially difficult. If you're replacing an existing opener, it shouldn't take more than four hours.
Hiring a professional installer
If you search on Yelp or talk to general contractors and property managers, it's pretty easy to find garage door installers with good reputations. These are the guys installing, repairing and maintaining residential and commercial doors all around you, so they know how to keep your door rolling.
Retailers like Home Depot and Amazon also have "professional installation" services they sell, but from what we can see, they're not much different from calling up a pro from Yelp. There's a lower chance of getting stuck without service or warranty recourse if you go through a bigger company, but you can save some money if you cut out the middle-man.
Pros:
An installer can do the job quickly and efficiently and will have all the materials ready to get the job done.
If you're buying the opener hardware from your installer, there's usually a service warranty included in case anything ever goes wrong.
The installer's opener, if you buy it, typically has a long one-piece track that is said to be more reliable and durable than the bolt-together track that comes in retail packaging.
An installer will also be able to maintain and service your door, including adjustment of the track, joints and spring balance. All our experts said this is the #1 key to keeping your door running for a long time.
Cons:
An installer will often try to sell you an opener, and in that case, you'll probably have fewer choices than you would if shopping for your own.
An installer won't do electrical work for you, so make sure you have a ceiling outlet tested and ready to go before you call.
If you want to install something exotic like a Sommer Direct-Drive or a Jackshaft opener, some installers will turn down the job or offer no warranty even on the installation labor.
How to install a garage door opener
Installing an opener on a door that has never had a motor before will take a few extra steps.
Spring balance will probably be biased toward making your door open by itself once you unlock it. That's nice for saving you work when opening by hand, but it means a motorized opener is fighting the spring every time it closes the door, and that's extra wear on the motor over decades of opening and closing. It's not really that complicated to tweak spring balance, but if you've got any doubts about your ability to do this safely then it's definitely worth paying a pro.
Make sure you have an electrical supply where you need it. For our test install, we had to swap a lamp base for a receptacle: we tried a lamp-holder-with-outlet solution but found that the plug would fall out of these receptacles easily and we don't recommend them. You might be able to fit a receptacle in your ceiling electrical box, but with a smaller ceiling box designed for lamp bases, you may need a specialized adapter.
If you have a finished ceiling rather than exposed joists or rafters, then locating the studs is going to be a must for hanging the opener. The installer we worked with uses perforated angle iron for hanging the opener motor and attaching the front of the rail to the wall above the door, which made all adjustments easy.
After you find your power and structural options, or if you're replacing an existing opener, the step-by-step guides included with the openers are thorough and clear. Assemble the rail, assemble the drive system, hang the door end of the rail, hang the motor, attach the door bracket and wire in the safety and control switches.
The bottom line
If you have a garage door opener that's died or if you're installing a brand new one, it's incredibly confusing trying to navigate the maze of features and specifications for the models available.
We went with the Chamberlain – B550 for a few reasons. It's easy to find and purchase online, and every installer or repair guy in the US will be familiar with this design. The hardware is well-built and the system has proven dependable for millions of owners.
The price on the B550 is also right in the sweet spot: this has all the features available in Chamberlain's ½ HP lineup without a battery backup, so it's often priced lower than less-common ½ HP models that don't have Wi-Fi modules.
If you don't like the snap-together rails and nylon pulleys of residential openers and you don't have room for a Jackshaft opener beside your door, Sommer's Direct-Drive system is worth a look. There are quirks and a price premium that kept this model from making top pick, but it's a well-designed piece of hardware with a lifetime warranty.