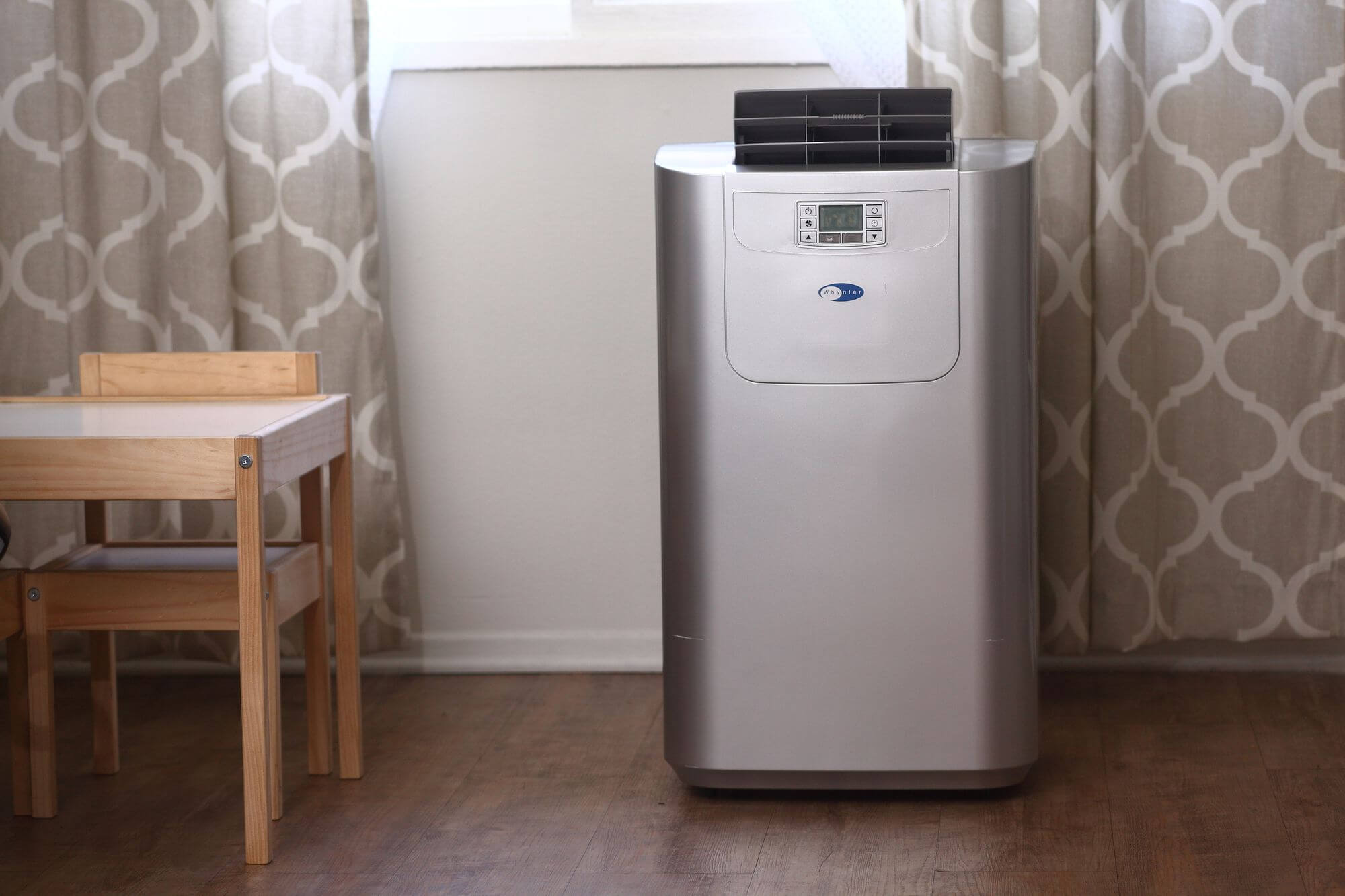 Whynter Portable AC Review (ARC-14S & ARC122DS)
We've tested the best portable air conditioners for five summers, and we're confident that the 12,000 BTU Whynter ARC-122DS Elite is the best choice for most people who need a portable air conditioner. A window air conditioner is a better choice if you can make it work, but the Whynter is quiet and cool adequately well compared to other portables — even in conditions above 95 degrees Fahrenheit.
If you're cooling a larger space you need it for that isn't a bedroom, or if you're fighting temperatures above 100°F on a regular basis, the 14,000 BTU Whynter – ARC-14S is a worthwhile upgrade. It has impressive cooling power but is hard to move, and also loud enough to disturb your sleep in a bedroom.
The optional "heat-pump" heating modes in the ARC-122DHP or ARC-14SH is also a big plus for those comparison shopping. It's not as effective as a space heater in really cold climates, but if you just need a bit of warmth on a chilly morning it's an effective two-in-one system.
How many BTUs do you need?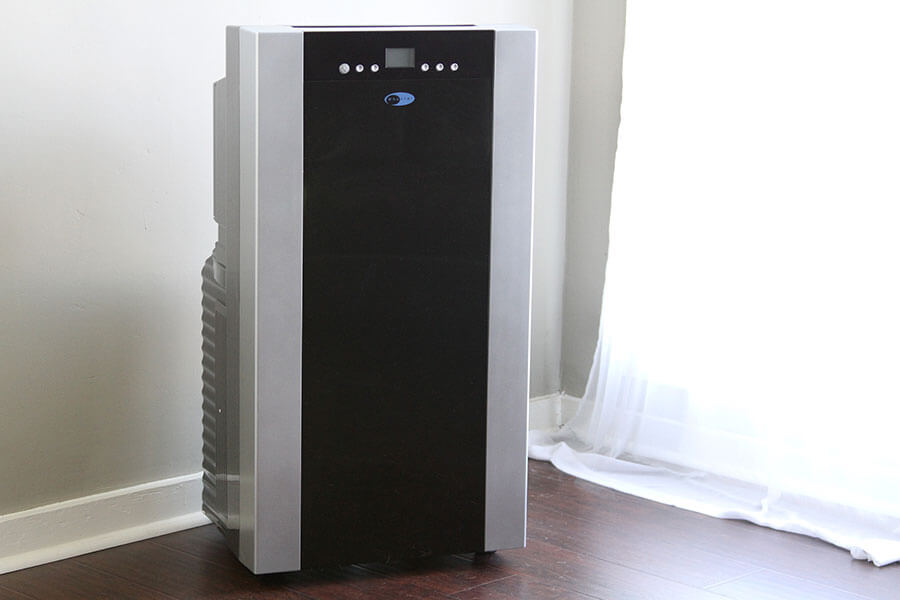 In our post that covers what air conditioner size you need, we compared capacities of different air conditioners in "British Thermal Units" (BTUs, a measurement of an absolute amount of heat) per hour. But the way BTUs are removed from your home in real-world conditions is often different from the way a testing system in a laboratory works.
The Department of Energy has, after years of back-and-forth with manufacturers and consumer advocates, decided to change the tests that determine portable air conditioner capacity ratings. The tests are now split: 80% of the performance rating is determined by tests with outdoor air at 83°F, and only 20 percent of the rating accounts for days at a mildly-hot 95°F. The number of BTUs of heat the portable can move over the course of this test determines the "Seasonally Adjusted Cooling Capacity" or SACC.
The SACC for all portable air conditioners is far lower than the theoretical maximum capacity you'll see in model numbers. But the SACC is still a rather generous rating if you're relying on the air conditioner to keep a room down below 72°F during a heat wave.
Put simply, don't buy a portable air conditioner based on the size that's "right" for your room. Buy something you can afford, that you don't mind looking at (since it's basically going to be a piece of furniture), and if you're buying it for the bedroom pick something quiet.
The Whynter – ARC-122DS Elite gets knocked down from a nominal 12,000 BTUs to just 6,775 in the DOE test. The bigger ARC-14s gets knocked down to 9,500, but it also draws 1300 watts of power to cool that much, compared to a window AC that will draw about 750 watts and be much quieter to do the same job or better.
How we tested portable air conditioners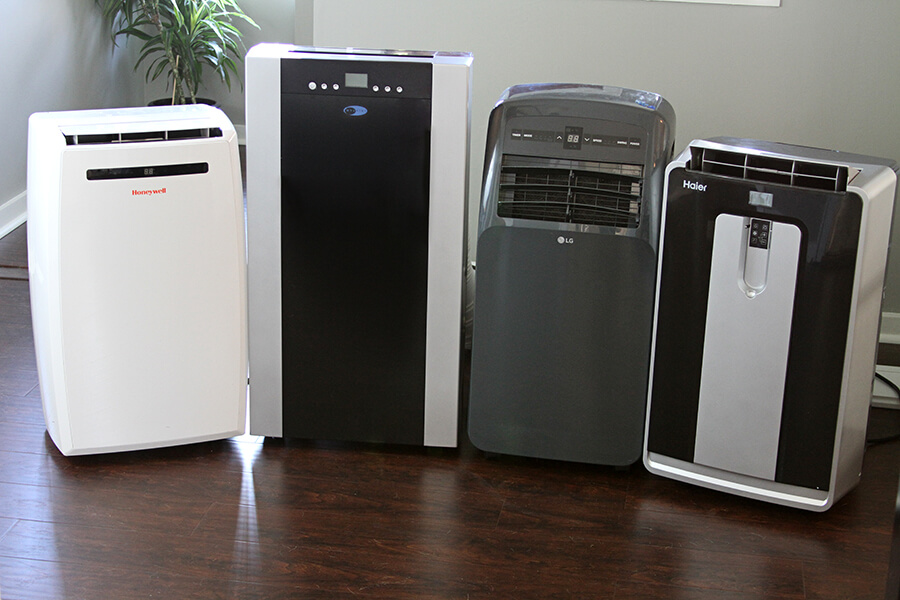 We've tested Whynter's two highest-rated models against four other brands of highly rated portable air conditioners to see which unit is the best performing overall. Whynter is pretty unique for having dual-hose systems, which is already a big advantage for many buyers, but the smaller ARC-122DS Elite is also one of the quietest models we've tested.
2016 tests
Our initial test of cooling power compared four units in a 175 square foot office and a 400 square foot living room. We ran the air conditioners for approximately an hour in the heat of the early San Diego summer in a poorly insulated home, using two front rooms that are frequently uncomfortably hot.
Using an indoor thermometer, we measured the beginning and ending temperatures in the room. We then repeated this process three times in each area, for a total of around six hours cooling time for each unit tested. While by no means scientifically verifiable, we got a good impression of the real-world cooling power of each unit in moderate heat.
The Whynter 14,000 unit was only narrowly out-performed by the LG in this test, where the speed of the circulating fan and capacity of the systems didn't make as much of a difference.
While this represents realistic daily use in many climates, the conditions were not blazing hot. You'll see results in above-95°F weather in our updated test farther down.
In the bigger great room (a living room/dining room combined room), the Whynter beat out the LG by a significant margin, showing where the 14,000 BTUs really come in handy.
2018 tests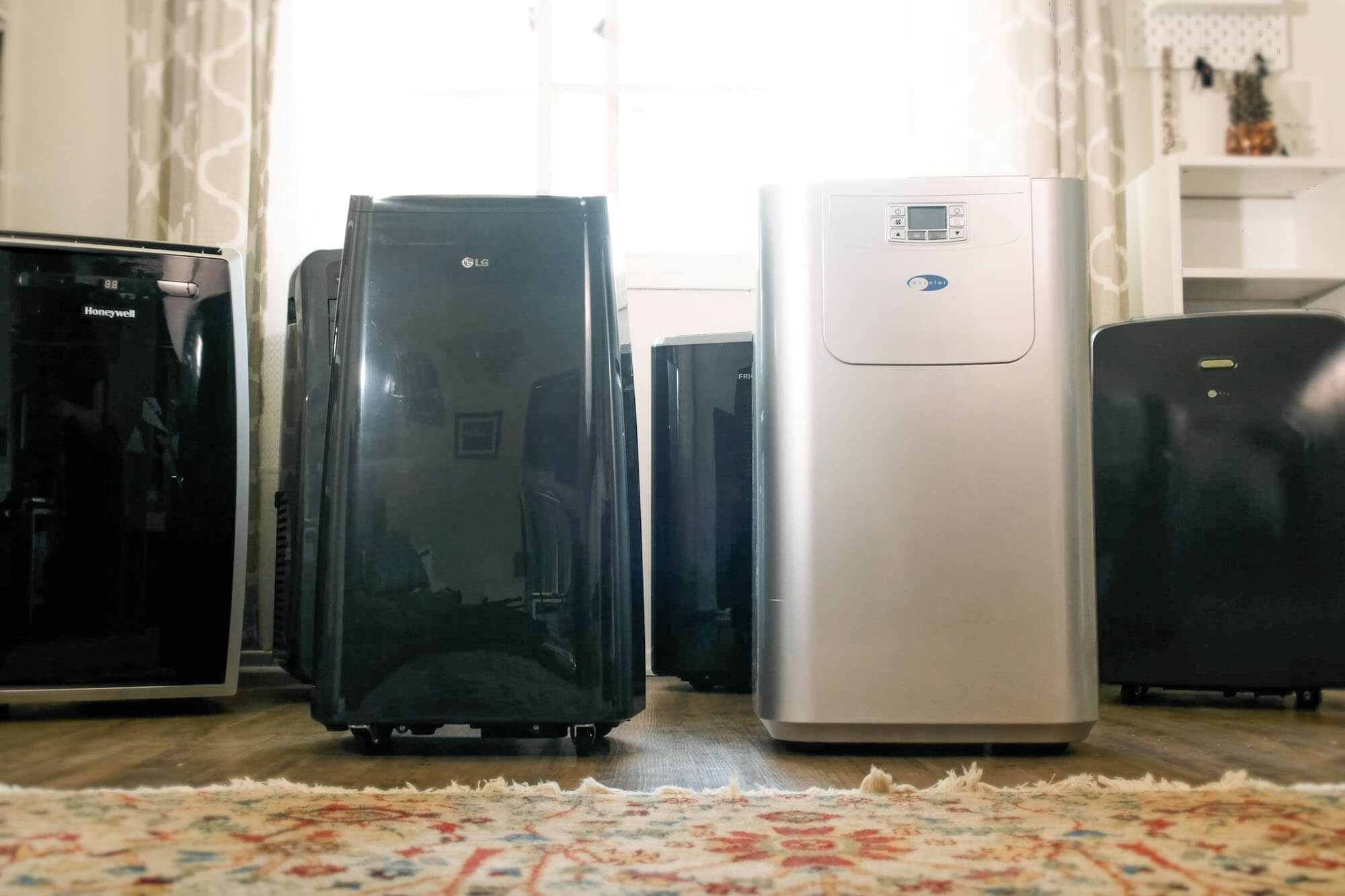 We tested the new LG portable, the LP1218GXR, against the best-available dual-hose portable air conditioner from Whynter that was rated for similar heat capacity and lower noise than the big ARC-14SH we'd previously tested. We also decided to try a new testing setup to find out the real differences between single-hose and dual-hose units.
We set up an initial test in a small bedroom, loading the room with heat from our favorite space heaters to create repeatable conditions.
The results for the LG units we'd already used made sense, but the poor performance from the dual-hose Whynter showed us that our controls weren't necessarily a fair comparison.
Dual-hose vs single-hose tests
We researched the standard tests designed by the Department of Energy for rating BTU capacity in air conditioners, and we discovered that there's a long-running fight over how to test and rate these things.
Single-hose air conditioners rely on using up the cooled air in your home to move heat out the window vent. That works extremely well in a few conditions — like our space-heater test where all the heat was coming from inside the room and outdoor air wasn't as hot — but when your room air will be replaced with 110°F outdoor air, it's a disaster. If you want to know more, see our post about how portable air conditioners work.
We re-set our test room in the middle of summer during a week-long heat wave, at over 98°F each day, to compare performance between the LG's top single-hose design and Whynter's dual-hose design with matching noise performance.
We also added a window air conditioner on a third day of testing to see how much better it would fare. We knew window units were more efficient in extreme heat, but the result totally changed our perspective on portable air conditioners.
Noise tests
We also considered another important attribute of a portable air conditioner — noise levels. The 14,000 BTU Whynter, while significantly more powerful than most other portables, produces a much higher noise level. We would not recommend it for a bedroom.
In contrast, the smaller 12,000 BTU Whynter is one of the quietest we've tested. Not as quiet as a room fan or even a window air conditioner, but the sound of the compressor turning on and off is not nearly as noticeable as it was on the bigger unit. LG's top single-hose unit is comparable.
If you want an even quieter AC, you could step down to a smaller 10,000 BTU unit, but you're trading between how quickly a room is cooled and how quiet it is.
Comparing the best portable air conditioners
For all the metrics on how Whynter compared to the other top models we tested, check out the following chart from our review of the best portable air conditioner: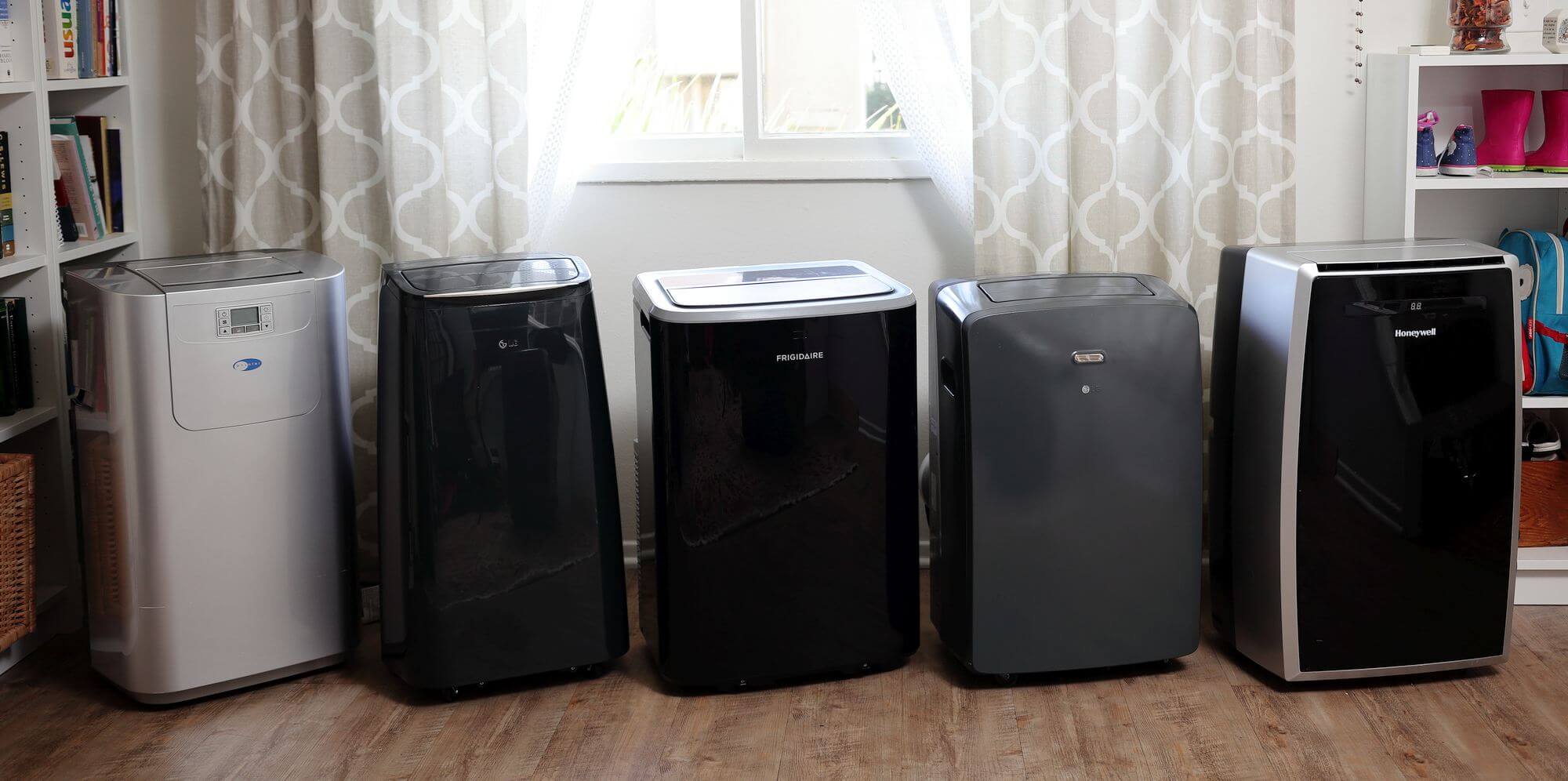 | Product | Cost | BTU Class | Max Noise (dBA) | Weight (lb) |
| --- | --- | --- | --- | --- |
| 1. Whynter - ARC-122DS Elite | $$$ | 12,000 | 66 | 60 |
| 2. SereneLife - SLACHT128 | $$$ | 12,000 | 68 | 71 |
| 3. Whynter - ARC-14SH | $$$$ | 14,000 | 75 | 100 |
| 4. Black + Decker - BPACT08WT | $$ | 8,000 | 63 | 53 |
| 5. Koldfront - PAC802W | $$ | 8,000 | 65 | 57 |
| 6. LG - LP1218GXR | (Discontinued) | 12,000 | 67 | 64 |
| 7. LG - LP1220GSR | (Discontinued) | 12,000 | 67 | 62 |
| 8. LG - LP1215GXR | (Discontinued) | 12,000 | 66 | 62 |
| 9. Frigidaire - FFPA1222U1 | (Discontinued) | 12,000 | 67 | 65 |
| 10. LG - LP1217GXR | (Discontinued) | 12,000 | 68 | 67 |
| 11. Honeywell - MN10CESWW | (Discontinued) | 10,000 | 68 | 68 |
The bottom line
Overall, the 12,000 BTU Whynter – ARC122DS Elite is our top choice for those looking to cool a small room in a hot or humid climate, but only if you can't make a window air conditioner work. The Whynter is better than almost any other portable air conditioner in this price bracket, and it will even compete with 14,000-BTU single-hose designs on an especially hot day.
If you need the most cooling power you can get in a "portable" unit, the bulky, heavy, loud ARC14SH will move more heat, but you won't enjoy trying to sleep beside it.