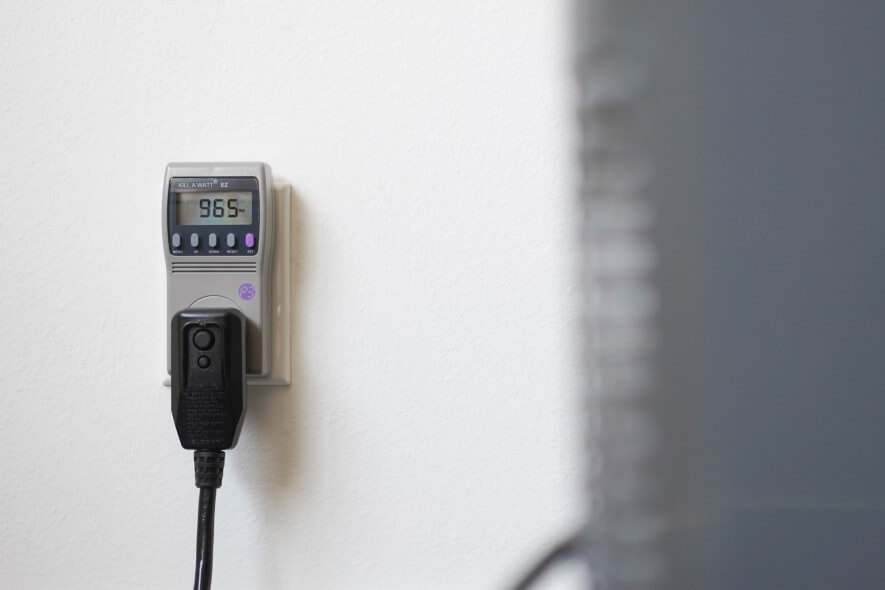 How Many Watts Does A Window AC Use?
If you're shopping for a window air conditioner, there's an official standard for efficiency you should understand: the combined energy efficiency ratio, or CEER, which represents the number of BTUs of heat per hour an air conditioner removes for every watt of electricity it consumes. The Department of Energy "Energy Star" rating is given to window air conditioners that rate better than 11. That works out to the following figures for popular sizes:
For a small bedroom, a 5,000 BTU window unit should only use 450 watts
A mid-size 8,000 BTU AC should use fewer than 715 watts
A big 14,000 BTU air conditioner should only use 1,250 watts
Even the least-expensive units we researched for our review of the best window air conditioners got a score of 11, and all of our picks were rated 12 or 12.1.
When we tested 8,000 BTU window air conditioners, we also tested the power draw on every cooling and fan setting with an electricity usage monitor. As you can see, there is some difference, but it's not very large.
| Setting | Frigidaire | Friedrich | LG | Average |
| --- | --- | --- | --- | --- |
| Idle (Watts) | 1 | 0.6 | 1.5 | 1 |
| Fan - Low (Watts) | 88.8 | 64.4 | 116 | 90 |
| Fan - Hi (Watts) | 114 | 75.2 | 129 | 106 |
| AC - Low (Watts) | 573 | 520 | 530 | 541 |
| AC - Hi (Watts) | 574 | 538 | 543 | 552 |
| Efficiency Ratio (CEER) | 12.1 | 12.2 | 12.1 | 12.1 |
The latest and most efficient variable-speed window units like this bigger model from LG or the brand-new Midea U-shaped unit rate as high as 14.7 and 15, but you'll pay extra up-front to squeeze out that extra efficiency.
Window vs portable air conditioner efficiency
Compared to portable air conditioners, window units are engineering marvels: Most portable designs can't even hit an efficiency rating of better than 7 or 8 in real-world conditions, and so a rating is rarely listed. You'll use about 50% more electricity to get the same amount of cooling, and that's assuming only moderate outdoor heat — on the hottest days, even the best portable air conditioners can't keep up.
Window AC watts  vs. central systems
Comparing window units to central air conditioning is trickier, though, since the efficiency rating system most often advertised is different.
Window unit CEER is based on the BTUs per hour removed when it's 95 degrees outside, as defined by the Air Conditioning, Heating, and Refrigeration Institute standard 210/240. That same standard defines another calculation called the "Seasonal Energy Efficiency Ratio" (SEER) to average out efficiency over an entire year, including a standardized number of days out of the year an air conditioner is not running.
That means the SEER rating for a central air conditioner is always higher than the CEER of a window unit, even sometimes if the central system is really less efficient. If you can find a non-"seasonal" EER rating for a central system, that is a number you can more closely compare with the CEER of a window unit.
Energy Star lists the most-efficient central air conditioning systems, among which we found a Lennox unit that hit a class-leading EER of 16 (SEER of 26) for a small 24000-BTU central system. It'll use about 1400 watts to cool about 1200 square feet of a house in average summer conditions, and even less if you only need a little bit of cooling. A less-efficient Mr. Cool model from Home Depot with the same capacity but a SEER of 14.5 will use about 1,000 watts more, and only runs at one speed.
Remember, though, that even if the efficiencies are comparable the way you use a central air conditioner is different from a central system. You're spending less on electricity because you're only cooling off one room when you're in it, but you have to settle for more noise and an obstructed window.
Watts vs amps
If you already own an air conditioner (or other electrical appliance) it will have a label that tells you how many amperes ("amps") of current they can draw. You may not have a listing for watts at all.
The rating for maximum amps is the most important number to know for electrical appliances, since it's this factor that moves you closer to the limit of your circuit breaker.
To figure out your peak power draw in watts, you can just multiply amps by the voltage of your electrical system. If you're using this number for informal calculations and comparisons, you can assume 120 volts for standard wall-mount outlets in North American homes, but a 5% change higher or lower isn't unusual.
Newer homes should have 20-amp breakers dedicated to each room, and hopefully more than one in a room you'd put an air conditioner in. Sadly, many of us are stuck with older homes or apartments that have 15-amp breakers shared between multiple rooms.
If you're putting in an appliance that will run constantly like an air conditioner, it's well worth finding out which outlets and lights are on which breakers to avoid overloading a circuit. As a rule of thumb, anything with an electric heater in it — a hair dryer, a kettle, or even a keurig — can draw enough amps to trip a breaker if you've already got another small appliance running.
How many BTUs do you need?
If you're not sure what size of air conditioner you should look for, we've taken the size recommendations from the Department of Energy and made a calculator to help you find the BTU capacity you need.
What is the size of the room you need cooled in square feet?
Is your room heavily shaded?
Does your room get direct sunlight?
How many people regularly occupy the room?
Is the unit used in a kitchen?