After weeks spent researching and reading before bed, we determined that the LuminoLite – Rechargeable LED is the best book light. Its easy-on-the-eyes yellow glow, multiple light-level settings, flexible neck and high-quality construction earned it high scores from our voracious readers-turned-testers.
After weeks spent researching and reading before bed, we determined that the LuminoLite – Rechargeable LED is the best book light. Its easy-on-the-eyes yellow glow, multiple light-level settings, flexible neck and high-quality construction earned it high scores from our voracious readers-turned-testers.
Table of contents
Compare the best book lights
Best overall: LuminoLite
So what is the best book light for reading in bed? After hours of before-bed reading, we've determined that the LuminoLite – Rechargeable LED book light is the best book light. It casts a warm, buttery-colored glow that felt easier on our eyes than some of the whiter-toned lights. We also liked that it had two different light settings. The brighter setting was illuminating (but not abrasive) when reading in bed with the lights off. The dimmer setting was perfect for reading on a red-eye flight, where we didn't want to disturb our sleeping seatmate. And speaking of flights, this light was also easy to travel with. The lightweight, flexible neck and durability of this little gadget made it easy to stuff into a coat pocket on layovers.
Plus, the LuminoLite's micro-USB charging cord made it easy to plug into our laptop while waiting at the terminal. The diffused lights on this gadget also meant our whole book was illuminated at one time.
The only thing we didn't love about the LuminoLite was its clip. While it worked well on hardcover books and laptops, it was ever-so-slightly too heavy and unwieldy to use on most paperbacks. Our tester ended up holding the clip in their hand when reading anything paperback.
Runner-up: Ecologic Mart
As a runner-up, we also liked the Ecologic Mart – Eye Care Warm Booklight. This one also has a warmer yellow light. More specifically, it has double the warm yellow light, since it has two heads. Our tester was skeptical about this feature at first, but ended up loving the way that it illuminated both pages at once. Our tester found that the grip worked well for every kind of book, paperbacks included. They also appreciated that this light is lightweight and easy to use in any position.
It comes with a rechargeable battery that held strong throughout the testing process, and it was easy to charge when we plugged it in (via USB cable) as well. The Ecologic Mart light was also the most expensive on our list, at just over $20, but we feel confident saying that it's worth the (relatively small) investment.
The only downside we found to the Ecologic Mart? It has multiple settings, which is great, but you have to click through all of them to get to whichever one you want to use.
Best for e-readers: TFY
Editors note: like many of these book lights, the item we chose as the winner for this category was discontinued, but has an exact replica made under the brand TFY. We've replaced with all mentions on this review of ikross with the identical product from TFY. The only difference is the TFY comes in white.
For those who prefer the digitized version of their daily read, we suggest the TFY – LED clip On Light. Our tester used this on their Kindle and found that it stayed gripped in place no matter how they sat with it. They also liked that it had an adjustable arm, which meant they could move the light's focus and shadows on the Kindle screen were never an issue. The two levels of luminosity on this light also offered flexibility for reading in a variety of settings.
What didn't we like about the TFY? Though it's advertised for use on both e-readers and traditional books, our tester found that it didn't work on the latter because it was too awkward to turn the pages. Plus, unlike the rechargeable book lights, this one required us to keep three AAA batteries on hand.
Other finalists we tested
CeSunlight – Rechargeable Book Light
The CeSunlight was the most unique book light we tested, with a design meant to wrap around your neck rather than clip onto your novel. It's also a multipurpose tool. Our tester used it as a flashlight, to walk the dog at night and more. Because it has multiple brightness settings (from a direct concentrated spotlight to a wider, diffused light), it can be used in almost any situation.
It also came with a pre-charged lithium battery that lasted throughout our entire testing period. However, we tested its battery charging feature anyway. You simply plug one end of the included cord into the light's charging port, and the other into the USB port on your computer. We loved being able to do this, rather than keeping regular batteries on hand to power it.
While the CeSunlight is great for sitting up in bed and reading in just the right position, it can present a challenge if you want to relax any other way. Our tester found that laying on their side to read with this light was impossible because the book light leaned to the side along with them. They also found that they had to hold the book at a certain height so that the light emanating from around their neck could illuminate it properly. Simply put, this light will work for you, but only if you find the right reading position and stay there.
Raniaco – Touch Switch Book Light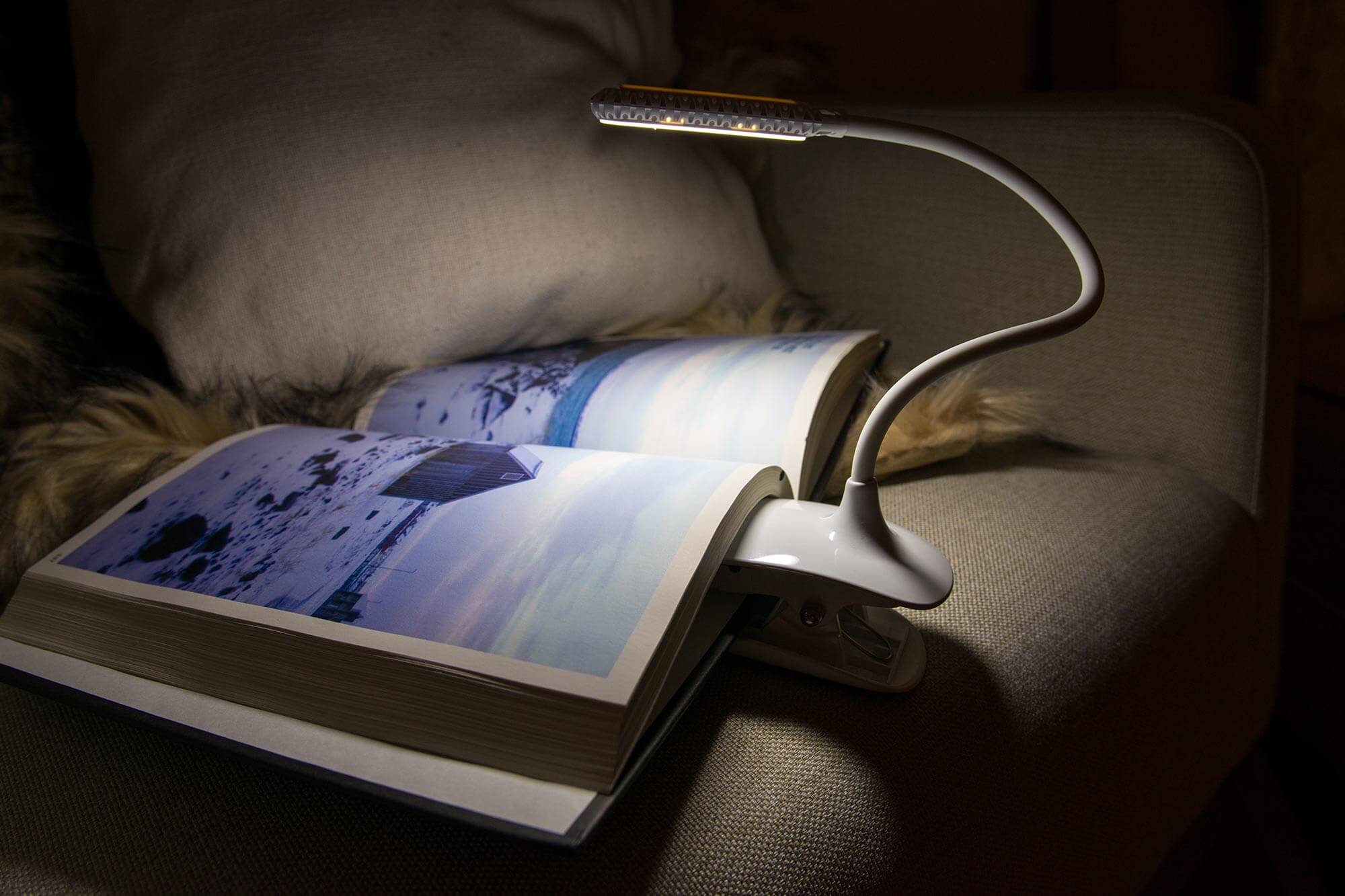 The Raniaco is the sleekest and modern of the lights we tested, with an all-white design and buttonless touch-lamp feature. It's USB-chargeable and has a wide clip that fits onto a desk edge for late-night work. The small details on the Raniaco, like the anti-slip silicone and frosted lampshade, make it feel a step above the rest in terms of quality. All of that being said, our tester was not a fan. In fact, though they liked the actual light, they "loathed it from the neck down."
Why? They found the touch button unnecessarily difficult to use when an on/off switch could have performed the same feature. Plus, they found that the bulky clip made it difficult to turn pages. Moreover, it was awkwardly shaped and obscured the pages, making it nearly impossible to clip onto a book.
Long story short, if you're looking for a modern, attractive clip-on desk lamp, the sub-$20 Raniaco still may be for you. However, if you're looking for a compact book light for reading in bed, we don't recommend it.
How we selected finalists to test
First, we combed through hundreds of book light reviews on Amazon to find the lights users liked best. Then, we took to sites like Book Riot and Hooked to Books to see what the literary-minded section of the internet recommends. We also scoured the forums on Goodreads to see what passionate readers are looking for in a book light. Finally, we consulted with one of our own testers, who reads an average of four books per month. Then we used all of this information to select our top contenders.
We avoided book lights that exceeded $25. Why? We found that any models above this price point were similar or identical in design to their lower-priced counterparts. We also chose to only test a couple of the most highly-rated e-book lights, since many electronic reading devices are already illuminated enough on their own.
Important features to consider
If you're considering purchasing a book light, you probably already enjoy cuddling up in your sit-up pillow with the latest bestseller from a book subscription box. A book light is a pretty simple purchase, but there are still some factors to keep in mind while selecting one.
Light and brightness: When it comes to book lights, it's no surprise that brightness is the number one factor you should consider. You want a light that's bright enough to prevent eye strain, but not so bright that it's painful to read. If you're purchasing a book light to use before bed, choose one with warm-colored bulbs. Cool-colored bulbs may be too stimulating. (We also found this to be true in our night lights review.)
You may also want to look for a light with multiple brightness settings, so you can choose the one that's most conducive to your task or the time of day. Most of the book lights on the market today use LED bulbs, which are the most energy-efficient option.
Storage, portability and aesthetics: Some book lights are designed for travel, so they're extra light and durable. Others are more sturdy and meant to hold firmly in place while you work.
Style and features: There are almost as many styles of book lights as there are genres of books. Some have a flexible neck (or even two) while others wrap around your neck. Some are designed to clip onto an e-reader while others are well-suited for a flimsy paperback.
Some lights also come with helpful features, like a shut-off timer that prevents you from sleeping with the light on.
Power source: While most of our book light contenders came with rechargeable batteries, one uses removable AAA batteries. Consider what's most suitable for your situation. Equally important is how long each light holds a charge.
How we tested
We divided our book lights amongst a group of three insatiable readers. Then, we asked them to use the lights to read every night over a two-week period for at least 30 minutes. After that, we had our readers answer a slew of survey questions about their experience. Some of the questions we asked included:
Do your eyes hurt after you use your book light to read?
Does the light make turning the pages of your book inconvenient?
Do you have to hold your arms at an awkward or tiring angle while using it?
Is it lightweight enough to clip onto a paperback book?
We used all of these survey answers to do qualitative analysis. We also examined each light's construction, noting any parts or materials that felt especially flimsy or durable. And finally, we tried charging the rechargeable lights (even if they didn't need it yet), so we could see how well the process worked.
The bottom line
If you find the time to read regularly, you should be rewarded with the best book light on the market. Luckily, even the best-functioning ones we've found don't surpass the $25 mark. Our number one pick, the LuminoLite, costs far less than that and is simple, convenient to use and easy on your eyes. For e-reader fans, we recommend the TFY, which clips firmly to your e-reader and won't cast shadows on the screen.