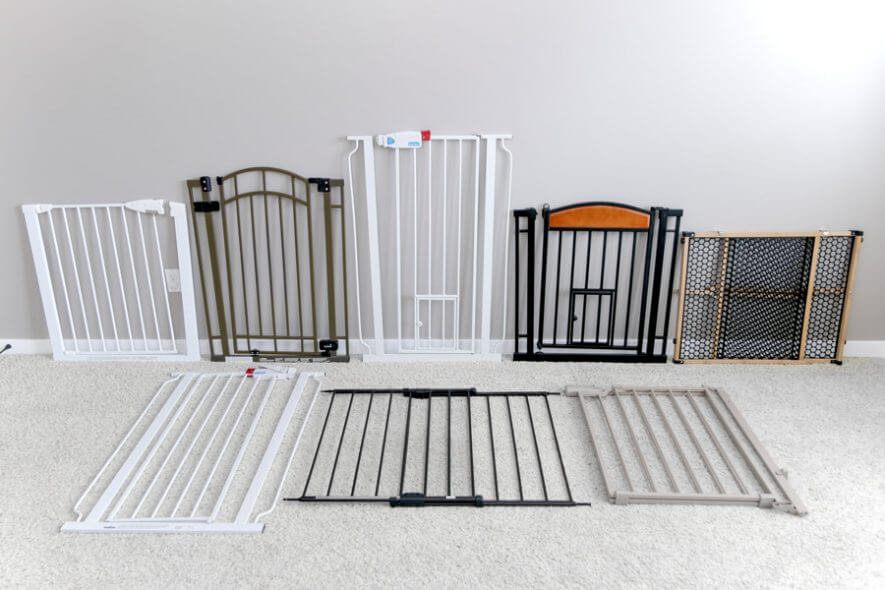 We researched and tested the best pet gates on the market for dogs and cats. The Safety 1st – Nature Next Bamboo Gate was our favorite dog gate for its portability, ease of use and good looks. For more semi-permanent setups, the Summer Infant is a well-built runner-up. We also really enjoyed using the Carlson because of its tall framework and small pet door that's perfect for cats.
We researched and tested the best pet gates on the market for dogs and cats. The Safety 1st – Nature Next Bamboo Gate was our favorite dog gate for its portability, ease of use and good looks. For more semi-permanent setups, the Summer Infant is a well-built runner-up. We also really enjoyed using the Carlson because of its tall framework and small pet door that's perfect for cats.
Table of contents
Compare the best pet gates
Best for dogs: Safety 1st
Our top dog gate pick goes to the Safety 1st model because its features an extremely quick setup and excellent portability. The bamboo framing also allows for this dog gate to be extremely light at just over four pounds. Easily tuck away the gate in a closet or lean it against a wall when it is not needed. Not everybody wants a gate attached to a doorway at all times.
This dog gate has an impressive span of 28-42 inches, so it should have no problems covering hallways, doorways or openings in the kitchen. Its versatility makes it stand out from the rest and should be have a place in every dog owner's home.
Not only does this gate provide solid functionality, but the contrast in dark panels and light frame make for a very charming look. The frame is constructed of bamboo and the panels are made from 100% recycled plastic! The Safety 1st gate takes on a "less is more" approach on this model and we absolutely agree. Even though this gate does not have a built in door or metal framework, its simplicity is a welcome contrast to many other pet gates.
The tension bars do not require complicated mechanics like a spring loaded trigger system, so we wouldn't be surprised if this gate keeps its structural integrity for many years to come. Simply lift the tension bars to provide slack, line up the metal clip with the appropriate groove to create tension, and push down to lock in place.
With the right amount of pressure, the gate should stand firmly on its own with the rubber pads gripping the wall. The gate can be adjusted in ¼-inch increments to ensure a snug fit. One of the attractive features of this gate is that the setup and breakdown can be accomplished within a few seconds.
Of course there are a few considerations with this gate. Standing at only two feet tall, the Safety 1st gate is not ideal for cats or dogs that are eager enough to jump over this short partition. If a gate is needed for a high traffic area, a model with a swinging door may be more ideal to allow for a clear path. This gate is intended to be a quick and temporary solution and it does this very well.
Best for cats: Carlson – Extra Tall
For its reliable locking module, small pet door and extra tall framework, we easily recommend the Carlson Extra Tall gate for cat owners, but it can surely work for dogs as well. If you have both, then perfect! This gate towers over the rest — measuring 41 inches tall and includes a small pet door at the bottom. Many consumers report that the extended height deters many cats from jumping over the gate. If you need to provide access for your small pet to travel through freely, the small pet door offers that option.
The Carlson Extra Tall gate can fit in hallways and doorways from 29-34 inches, but can be extended by purchasing additional panels to cover larger openings. The door can only be swung in one direction, which is an important feature when using it at the top of the stairs for added safety. The doorway opening only measure 16″ wide, which is on the smaller end especially for such a large gate.
The locking system requires two hands to operate when the red clip is fully engaged. This may not be of concern if the gate is used in an area with less traffic. If you plan on traveling through this gate frequently, we recommend not using the red clip so one-handed usability is still an option.
The Carlson Extra Tall gate locks and unlocks very consistently without issue. When engaging the lock, a large u-shaped component extends to nestle around another piece to hold it into place. Some of the other gates have much smaller latches that rely on spring systems to lock into place.
We would have liked to see the Carlson Extra Tall with thicker bars within the frame. Our stressed showed more bowing on this model than the others, but not to the point of major concern. The most eager pets may be able to bend the bars with enough force and will, but this should be a non-issue for most pet owners. Our 100-pound golden retriever didn't think twice about maneuvering through the gate.
You'll notice that the Carlson Extra Tall and Regalo pet gates are nearly identical and share the same design and building components. We could not find definitive information online that these companies are related, but the similarities in their products are too hard to ignore. However, we can distinguish that the Carlson brand is marketed towards pet owners, while the Regalo brand is intended for babies. We chose the Carlson Extra Tall over the Regalo for our favorite selection because of the addition of the small pet door.
Other products we tested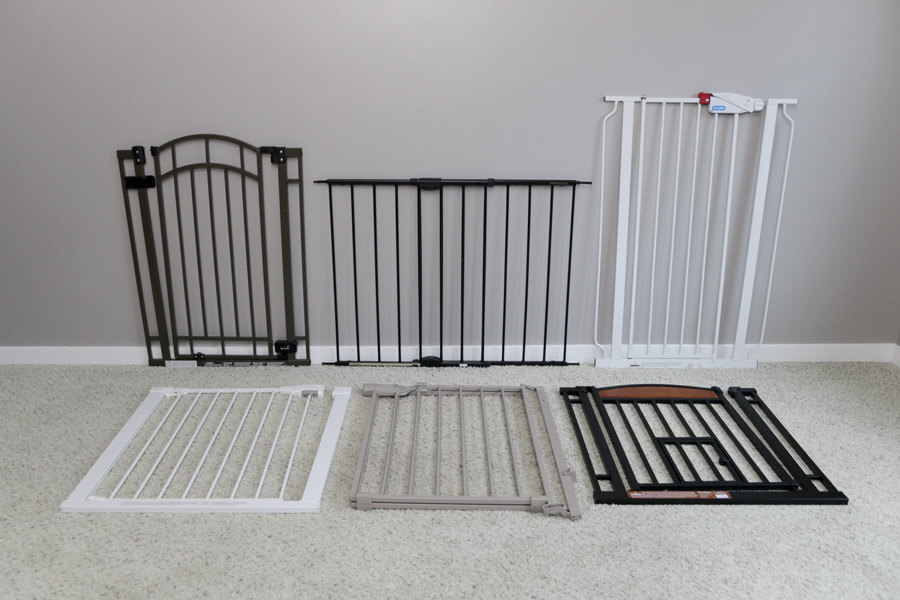 The Carlson Design Studio gate's locking mechanism was the easiest to use out of all the gates. The button release felt substantial and the lever only required a short pull to disengage the lock. With such a fluid locking system, the one-handed usability is great on this model.
We do not recommend the Carlson Design Studio pet gate for families with small children. After 48 hours with this gate installed, our one-year-old adventure-seeking son was able to open the gate on his own. He then repeated this action the next morning. We aren't sure if this a measure of his intelligence or if the gate simply too easy to open.
The Carlson Design Studio gate is marketed as a pet gate, but we should clarify that it does not double as a baby gate. We are a bit disappointed that the gate is not safe enough to both purposes. The other gates that were tested in this series were all reliable enough to use for pets and small children.
Aside from not being suitable for use with children, the Carlson Design Studio's metal construction feels rigid and does not flex when pulled. With all-steel construction, this gate is very durable against scratches and even teeth markings. This gate fits doorways 37.5 inches wide to fit most standard doorways, but a 4-inch extension is included.
The auto-closing door feature didn't have enough tension to close consistently on its own. However, a gentle push would usually be enough to make sure the door is shut all the way. This is something to be mindful of so that you don't simply assume the door will close every time.
Finally, the elephant in the room is the cherry wood finish at the top of the gate. This might not be for everyone, it certainly wasn't the style we were looking for, but we can't speak for everyone.
If you're looking for a more semi-permanent gate with a swinging door, the Summer Infant model impressed us all with its build quality, easy one-handed use and auto-locking feature. Its heavy construction and bronze metal finish made for an impressive design. The bars within the frame are arranged tightly and are not vulnerable to bending when force is applied.
The only thing we would have liked to see on this gate would be a wider door opening: 17.5 inches is one of the most narrow doorways we've measured on a gate. This makes it a harder to maneuver, especially when carrying a child and/or bags. If it was marketed exclusively as pet gate, we may have a had a different perspective. Unfortunately the brand name carries the added expectations.
The North States gate has an elegant bronze matte finish, lightweight swing and wide opening. This wall mounted gate looks and feels like an extension of the home rather than an afterthought. If you have a mildly tempered dog and don't require a gate that supports a lot of weight, this could be a great model. Dogs who like to jump up on gates, might give the wall mounts a run for their money. For this reason we can't fully recommend this gate to all dog owners.
For a simple pressure mounted gate with a door, look no further than the Munchkin gate. The main feature is the doorway opening at 22 inches, much wider than the other gates in its class. This allows for pass through without affecting normal stride. The metal framing is quite nice, but you can find more substantial models for the more ambitious pets. In many cases the Munchkin will perform very well and is also great for young children.
The Evenflo gate's locking module felt sticky and did not pull easily. It was also inconsistent in how much force was required to pull the door shut. This is unfortunate because we really liked the design language on this model. The door has a fluid swing and the frame bars felt more substantial than most of the other models. Coincidently the taupe paint color on the gate perfectly matched our walls, but it wasn't quite enough to win us over.
As mentioned before, the Regalo gate shares many similarities with the Carlson Extra Tall because they stem from the same parent company. We will also note that the lever-locking module is not good for one-handed use. For that reason we cannot recommend this gate if you have small children.
How we selected
We started our research by gathering information through online forums, review sites and retailers such as Amazon, to get a baseline for the most popular pet gates on the market. After careful consideration, we narrowed down our results to eight qualifying models to advance to our in-home test.
Having spent several weeks with each of the gates and testing them daily, we were able to simulate real world testing environments to produce reliable results. We recruited our 100-pound golden retriever as the feature pet for our tests. To help assess the gates, we identified four categories we found most important for pet owners to consider:
Ease of installation and breakdown
Locking mechanism effectiveness
Ease of walking through
Build quality
How we tested
With our selection narrowed down to eight finalists, we began our testing by installing them throughout our two-story home. All of the pet gates were placed in high traffic areas to allow for frequent interaction. Over two weeks, we critiqued each product by installation times, locking mechanics, walkthrough accessibility and build quality.
Ease of installation and breakdown
There are two main styles of gates: pressure mounted and wall mounted. To avoid drilling holes in the walls, pressure mounted gates offer a great solution that utilizes tension between the walls to hold up the gate. Areas with woodwork like doorways or stairway posts are typically more sensitive to drilling.
Pressure mounted gates have a no-hassle installation process, taking approximately five minutes to put up. Place the four tension screws in each corner of the gate, extend them to the screws to the wall, then turn the tension wheels to secure the gate into place.
Wall-mounted gates, like the North States and Evenflo, are fixed to the wall with screws and drywall anchors (anchors not included) for full support. They offer full clearance from top to bottom when open. The absence of a bottom bar leaves us without worry of accidental tripping. Installation will require more precision work, taking approximately 5-10 minutes per gate. This also means removing them will be more time-consuming and require patching holes in the walls.
Extension panels are easy to install on all of the models. Each one connects to the main frame by a metal pin. The hole in each of the corners make it breeze for the pins to slide into. They do not require any other pieces and are held together by the tension.
The Safety 1st gate is a pressure-mounted gate featuring a classic design without a swinging door. Its simplistic format requires no setup out of the box. Simply extend the length of the gate and lock the tension by pressing down the bars. When installing the Safety 1st gate against base molding, the bottom part of the frame is no longer flush with the top. This creates a slight bow and will slightly affect its tension, but still remains adequate for most applications. Fortunately the gate's tensioning rods allow for ¼-inch micro adjustments to refine the tension.
Locking mechanisms
Unless your dog has a thumb, all of the locking modules should fare well against your four-legged friends. In this category, we evaluated how well these components operate for humans. Each of the locking mechanisms should reliably open and lock without stutter.
To measure, we opened and closed each gate 30 times in succession to see how well they performed with exaggerated repetition. In addition, we kept the gates mounted in our house for several weeks to test normal day-to-day usage.
Ease of walking through
Gates are great for partitioning your pet from unwanted spaces, but owners should not feel confined by them. We should be able to walk freely through the gates when needed. For this test we measured the doorway opening on each of the gates. Simply put — the wider the gate is, the better it is, allowing for natural motion through the gate. The Munchkin gate shown above had an impressive door width of 22 inches for a pressure mounted model.
The wall mounted models, such as the North States and Evenflo gates, offer the widest openings by design. Many of the pressure-mounted models require extra framing on either side of the door to keep its rigidity.
Even though the Safety 1st gate does not have a swinging door feature, the unit is able to disassemble and fold up quite easily. It is also lower to the ground with a gate height of 24 inches so stepping over the gate as needed is doable without requiring yoga moves. Even without a door, this gate remains quite accessible with the lower height.
Build quality
All of the gates we tested had metal framework with a few plastic components. Overall, we were pleased with construction quality out of the box.
Weight is a good indication of structural integrity, since the mounting screws are nearly identical with the pressure mounted gates. The added weight helps secure the framework against the floor. Most of the other pet gates ranged anywhere from 4-15 pounds.
If you have a large dog that likes to lean up on the gate, you may want to lean towards one of these heavier models. Wall-mounted gates do not have three points of contact (two walls and floor) when mounted, so large amounts of downward pressure should be avoided.
We also measured build quality based on the gates' susceptibility to scratches or biting. Our dog didn't want to jump on our gates for this test nor would he feast on the metal bars, so we had to improvise. We used the tip of a screwdriver to simulate dog nails or teeth for this stress test. All of the models performed fairly well to light and moderate amounts of pressure, any more force would show a visible line in the paint. We didn't find these marks to be distracting at all and no physical marks were left from the scratch test.
Over the course of several weeks we also made observations of normal wear and tear. We looked for scuff marks and discoloration on the framing and on the locking module. The same story was pretty consistent with all of the gates. Any plastic components were most susceptible to scuffs, but can usually be wiped down.
Finally we tested the rigidity of the frame bars by squeezing them as hard as we could, to see how easily they'd bend. Some larger and more eager pets have been known to weasel their way through poorly constructed metal bars. Most of the gates had no issues in our stress test, but the Carlson Extra Tall and Regalo flexed a little more than the rest. The added height on this gate may be the cause of the weaker frames.
The bottom line
We can easily recommend the Safety 1st gate as the best option for your pet gating needs. The design aesthetics are charming with the light bamboo frame and contrasting dark panels. When not being used it can be easily tucked away because of its small form factor. It doesn't offer an intricate locking mechanism and it doesn't stand as tall as some of the other gates, but it was enough to keep our 100-pound dog on one side.
If you need something more substantial, the Summer Infant has the toughest frame we've tested. The frame bars are incredibly rigid and will not bow or bend for any pet. Unfortunately the doorway opening was the narrowest at 17.5 inches, making it more of an obstacle if used in high traffic areas. The auto-close feature may also be sought after by some, but disliked by others. In the end, it comes down to personal preference, but we admire the build quality nonetheless.
The Carlson Extra Tall gate remains to be the best option for cats because of its towering stature. Cats will require a ladder to get over this gate. The locking system performs reliably without hitch and the small pet door is a welcomed feature. Its simple, all-white design makes it easy to integrate into any home.
Each household is different and finding the right gate can make a difference in the quality of life for you and your pet. Assess your specific needs for you and your pet and hopefully one of our pet gate favorites will make your house a little more manageable with your furry friends. If you need a pet gate that's also baby-friendly, check out our review of the best baby gates too.