How to Clean an Air Conditioner
We've researched the instruction manuals and maintenance guides for more than a dozen different air conditioners in the course of testing portable air conditioners and window air conditioners. These are the steps you need to take every year to keep your air conditioner working its best.
How to clean an air conditioner air filter
The first part of an air conditioner that gets dirty is the air filter. Room air conditioners pull all of the air in your room through this filter — usually many times per hour — so it's designed to catch as much dust as it can without slowing down the flow of air.
A plugged up filter can be messy, just be thankful you don't have to get all that hair and dust off the coils inside!
How often should you clean your air conditioner?
You should clean a washable screen filter before it has collected enough dust to slow down the air going through it. If you can't see the metal fins anymore because of dust, it's definitely time to clean. Also check the filter if the sound of air flowing through it changes from a low "whoosh" to a whistling sound.
Tools for filter cleaning:
Filter cleaning steps:
Remove the filter carefully, and try not to knock any clumps of dust onto your floor. If your air conditioner has a paper filter inside the mesh screen, remove it before rinsing
Take the filter somewhere you can spray it thoroughly with water, like in a tub with a hand-held shower head or outside with a garden hose nozzle
Use warm (not too hot) water to rinse away the dust until the filter is clean
Use a sponge if there's built-up hair
Tap the filter to shake off most of the water, and let it air-dry
Re-install the filter
Disposable air conditioner filters
If your air conditioner uses a disposable filter — this is the case for all central air conditioners — you should replace it if it starts to smell or if it's clogged with dust. Usually the trapped dust and hair will smell bad long before it has a big impact on performance, but if you live in a dusty area you may want to replace the filter more frequently, or consider using an air purifier to cut down on the dust in your home.
If you smell mold when you turn your air conditioner on, definitely check for a damp, dirty filter.
How to clean air conditioner coils
Every air conditioner has two coils: An evaporator coil, which pulls heat out of the air in your house, and a condenser coil that pushes that heat into the air outside.
Tools you'll need for coil cleaning:
or
Coil cleaning steps:
Disconnect power from the air conditioner
Remove covers or shrouds so you can access the coil fins
Vacuum with a soft brush or rinse with water to clean light dust
Use a foaming cleaner to clean heavy grime, then rinse
Replace all covers
Reconnect power
Repairing coil fins
The metal coils are covered in fins, and keeping these clean is an essential part of keeping your system in top shape. If fins are bent, they can block air from flowing the same way an obstruction can, so if you see dents it's a good idea to straighten them with a fin comb when you clean your coil.
Central air conditioner coils
In a central HVAC system, the condenser is the big box sitting outside. A once-over with a vacuum or leaf blower might be all you need for yearly maintenance, but for some systems it's easier to just wash it with a hose (after you disconnect the power.)
The evaporator coil in a central air conditioner is more difficult to get at. Consequently, evaporator coils have filters installed to keep dust out, but if the filter is leaking or not installed correctly dust and hair can still slip by. If your air conditioner is not performing as well as it should, an HVAC technician will probably do a pressure check to see if there's an obstruction before they take apart the air handler cabinet.
How to clean a window air conditioner without removing it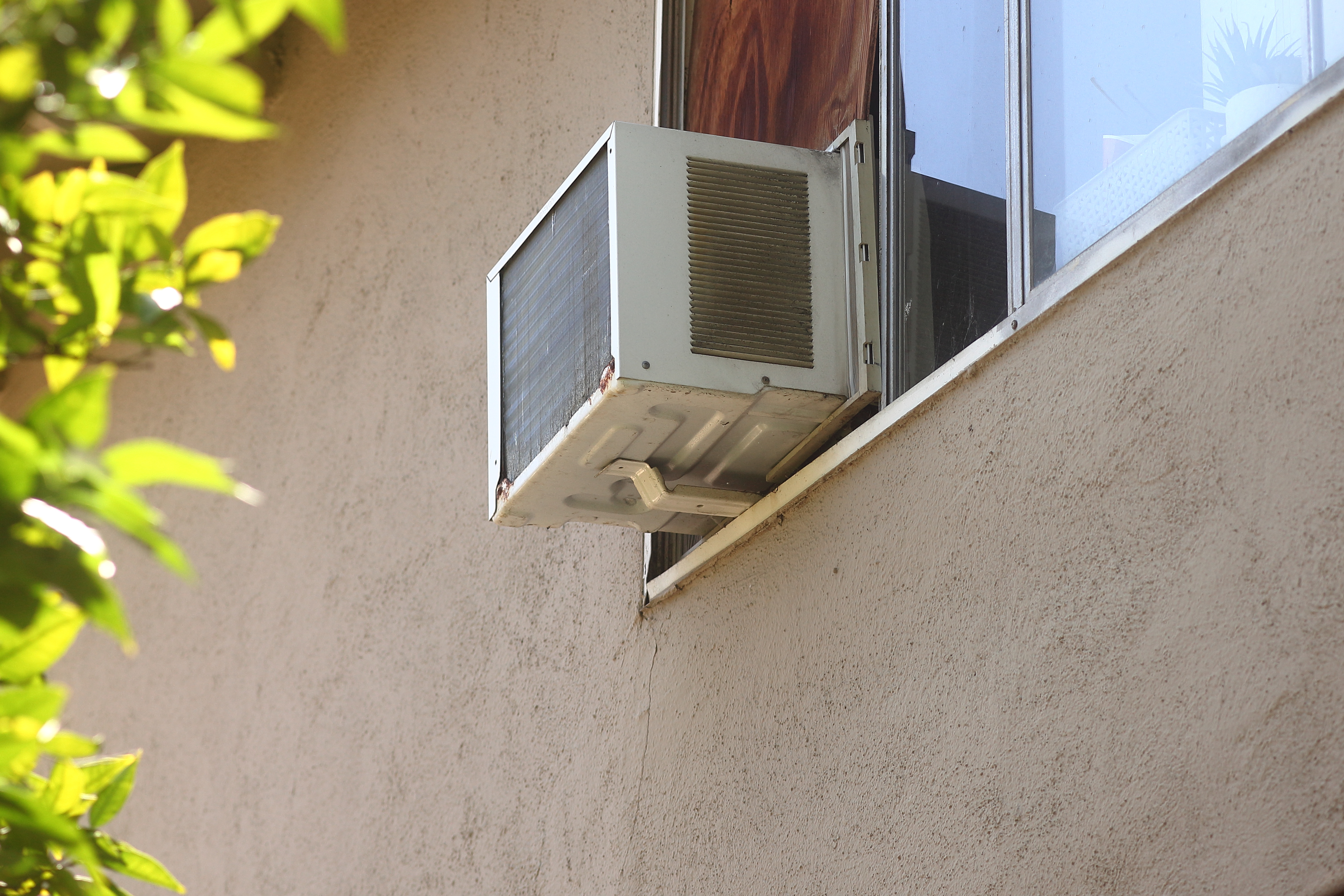 Window air conditioners have the same set of two coils, but on a smaller scale, with the condenser coil hanging out of your window and the evaporator coil sitting just inside.
The outside of a window air conditioner is sometimes tricky to access without removing it from the window, since the upper window sash is really the only thing keeping the unit from sliding or tipping out.
If you can't reach the back of the unit with a vacuum, LG's maintenance guide suggests a gentle rinse with a garden hose.
The inside evaporator coil is easy to access, and after you clean the filter you can spray the fins with a mild household cleaner or a foaming cleaner like professionals sometimes use.
Both condenser and evaporator coils are waterproof, but it's still best to unplug your air conditioner before cleaning it.
Mold, rust, and water build-up
Evaporator coils collect water from your air whenever they run. If that water can't drain away, you can get mold or rust growing in the system.
Central air conditioners
You should be able to find a clean-out port for your evaporator drain pipe, and you can test this every season with a glass of water to make sure water is draining. If it's not draining, the same strategies that apply to sink and shower drains also apply here. If you have mold or mildew growing in your filter, check to make sure that water isn't dripping down from the evaporator coil into the rest of the air handler.
Window air conditioners
Window units are designed to drain condensation into the pan at the bottom of the unit and then outside, which is why they need to be installed with a slight tilt. Most new window units are designed to keep a small amount of water in that drip pan, rather than draining it through a hole, so that a "flinger" fan can splash the water onto the compressor and condenser and make the system more efficient.
If you use a window unit regularly the water in the drip pan shouldn't cause any problems, but if water sits for a long time mold and rust can start to grow. Make sure to let a window air conditioner dry completely before storage, or mold can grow all over the styrofoam baffles inside. A mild bleach solution will take care of mold, but you'll have to take the air conditioner apart to get at it. Minor rust in the drip pan is easy to clean with a rust remover.