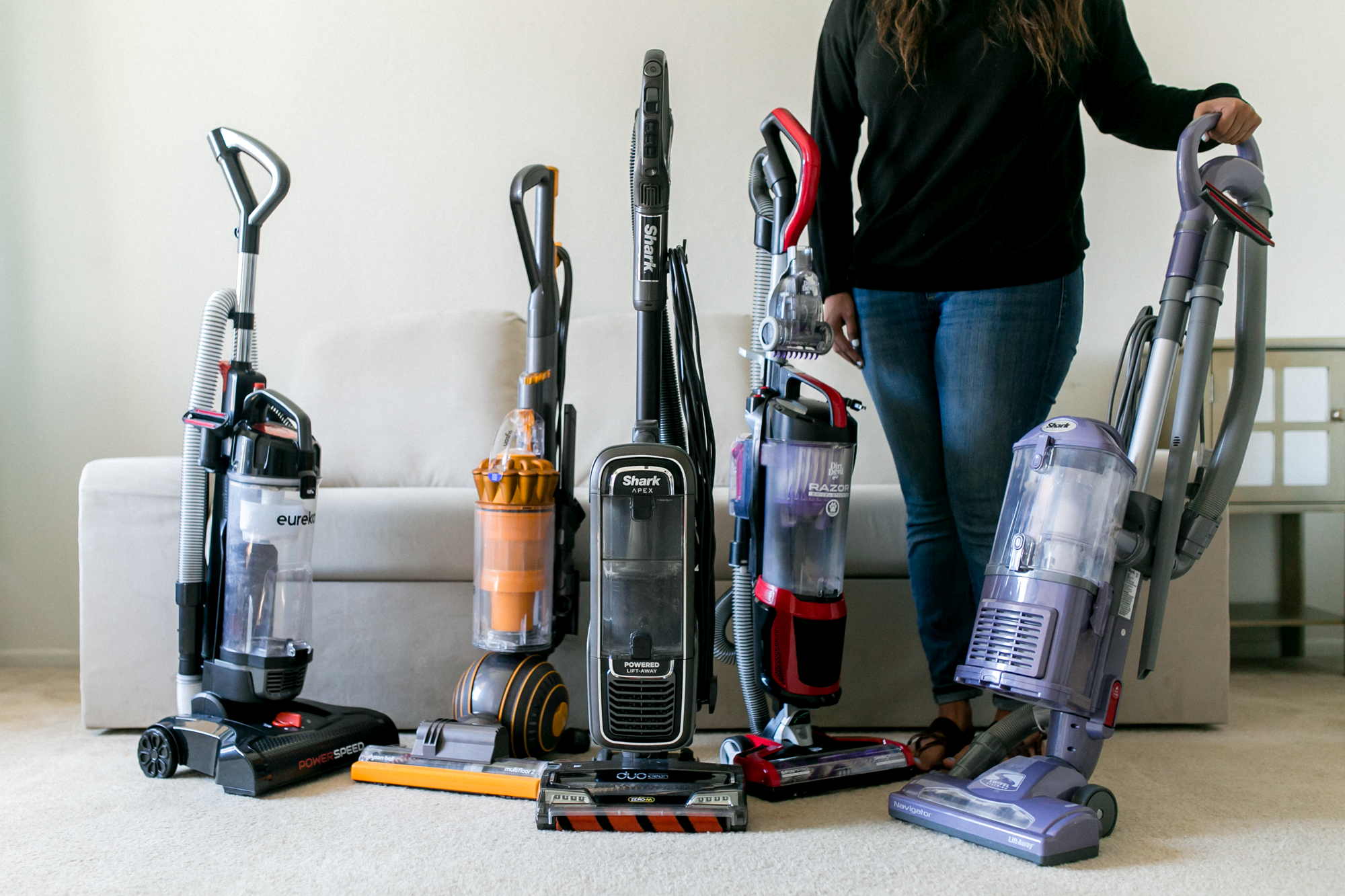 After testing five vacuums in three different apartments and running controlled tests side by side, we've determined that the Shark – Apex is the best upright vacuum. This predator is at the top of the food chain with quiet power and effective cleaning on more surfaces than most other upright vacuum cleaners. The entry-level Shark – Navigator is also a good value at about half the price, and the Dirt Devil won a spot among our top picks with compact maneuverability.
After testing five vacuums in three different apartments and running controlled tests side by side, we've determined that the Shark – Apex is the best upright vacuum. This predator is at the top of the food chain with quiet power and effective cleaning on more surfaces than most other upright vacuum cleaners. The entry-level Shark – Navigator is also a good value at about half the price, and the Dirt Devil won a spot among our top picks with compact maneuverability.
Table of contents
How we selected
After spending the last year researching and testing selections for task-specific categories like the best vacuums for pet owners, handheld vacuums and stick vacuums, we were ready to tackle a more general overview of the vacuum market.
We read comparison reviews by traditional publications like Wirecutter and Consumer Reports, but we also sunk hours into the endless testing footage available from vacuum enthusiasts on YouTube. We also investigated the latest buzz on the r/vacuums subreddit.
Vacuum cleaners, like many appliances, are often sold with different model numbers or packages at different retailers. Even finding the most recent models or determining differences between model numbers is sometimes nearly impossible. Our researcher compared specs on 18 different models for Shark alone, and that's just the currently available models.
We included Shark's perennial classic, the Navigator, since it's their best value in terms of power for dollar and is still readily available. We also included the new Shark – Apex AZ1002, a model with all of Shark's latest bells and whistles at a correspondingly higher price.
Selecting a worthy competitor for the Apex was tough. Every review of the Shark vacuums praises their relative maneuverability, while Dyson vacuums (though powerful) tend to be considered clunky by comparison. We selected the Dyson – Ball Multi Floor 2 rather than the larger, heavier, more expensive Animal or Cinetic models. (Some reviews actually show the Multi Floor to be more powerful than the Animal.)
Shark and Dyson have the high-end bagless vacuum market pretty much to themselves these days. We did find some well-regarded competitors in the budget bracket, though, with affordable and lightweight models from Dirt Devil and Eureka that had excellent customer reviews.
The 5 upright vacuums we tested
Important features to consider
Cleaning path: A wider cleaning path means fewer passes to clean an area, but it usually also makes a vacuum less maneuverable.
Edge cleaning gap: This is a measurement of the distance of the pickup track from the edge, which determines how much dirt is missed when you're vacuuming along baseboards or furniture.
Steering design: Dyson really made a name for themselves with the "big ball" steering design, but we've come a long way since the days when every vacuum handled like a giant commercial model. Swivelling heads are now a common feature that actually made two other brands easier to turn than the Dyson.
Accessories: Upright vacuums typically come with hose attachments that help you clean things like stairs, couches and drapes. Great attachments really make some jobs easier, but if you don't have any upholstered furniture you might find yourself keeping them in the closet.
Weight: Lower weight is always better for carrying and using a vacuum, so long as you aren't giving up features you need. This is also an important factor if you're vacuuming on hardwood, since lighter vacuums are less likely to leave scuff marks.
Noise: All vacuums are loud, but some are louder than others. Sleeping housemates will thank you.
Filter performance and sealed systems: High efficiency particulate air ("HEPA") filters are common, and the filter itself almost always does a great job filtering out even the smallest dust particles. The big difference between vacuums is whether they're fully sealed or just let dust escape out of cracks and gaps.
Height to fit under furniture: Coffee tables, beds and other low-clearance furniture can be tricky to vacuum under. Low-profile vacuum beater heads can slip into more places without stopping to use a specialty attachment.
Cord Length: You want to be able to vacuum your entire floor without switching outlets, so cord length is a big priority for larger rooms or even just getting down the hallway.
Length of hose: If you want to get the most out of your specialty attachments, it's nice to be able to roam a bit. This is especially important for high ceilings.
Total reach: This spec is usually a combination of cord length and hose length, plus the longest extension attachment. We think it makes more sense to think about your needs for cord length and hose length separately, though.
Warranty and service network: In the past, vacuum repair worked like car repair: You buy an expensive machine from a dealer and take it back in for repairs. Dyson still has a repair network, while Shark works mostly by shipping things in the mail.
Who needs an upright vacuum?
Upright vacuums are great on carpet. If you've got wall-to-wall medium-pile carpet, an upright vacuum is probably going to be your first choice. If you have more than 500 square feet of carpet to clean, an upright also makes a lot of sense.
For bare floors, like hardwood or tile, an upright vacuum usually isn't the best choice. Picks from our steam mop review will be a much better choice on tile or vinyl, though a good upright vacuum will still pick up dirt.
Being able to turn off the brushroll is an important feature if you're going to use an upright on bare floors, since the brush will usually scatter dirt too much and doesn't really help on a bare floor. Brushroll control is a standard feature for all the vacuums we looked at.
Upright vacuums put the weight of the motor above the brushroll, which helps it work into carpet fibers. That extra weight pushing down helps with getting out tough dirt, and for "grooming" longer carpet into that gorgeous freshly vacuumed look.
A good upright vacuum also makes cleaning floors more convenient. An upright keeps all of your vacuum parts rolling on one set of wheels, which means you only have to stop vacuuming when you get to the end of your cord.
The cordless models from our stick vacuum review are even more convenient to carry around. An upright is wider, though, so it can clean more quickly, and it can also go longer before the dust cup fills up. Most importantly, a plug-in upright won't run out of battery power before you finish cleaning.
Upright vs. canister vacuums
Generally speaking, an upright vacuum puts the suction motor, roller brush and dust receptacle in one piece riding on wheels with a long handle. A canister vacuum separates the motor and dust receptacle from the tools with a long hose, so you typically have most of the weight of the vacuum in a piece that follows you around on the floor while you hold the attachments and pickup tools.
Upright vacuums are similar to the oldest designs, basically adding suction and a bag to 19th-century carpet sweeper designs like the Bissel. Early upright designs were called "suction sweepers," while early canister designs were called "suction dusters."
Those names highlight the strengths of each design: Upright vacuums are very efficient for "sweeping" over large surfaces, while the maneuverability and flexibility of a canister's detached hose make it perfect for vacuuming things that aren't your floor.
That said, most upright vacuums sold to consumers deliberately allow you to use a flexible hose and attachments, so you can still clean your drapes and upholstery.
Likewise, canister vacuums typically come with long-handled floor-sweeping attachments, and some even come with very nice electric-powered brushroll systems for plush carpet.
An upright vacuum really shines if you need to clean up and down a carpeted hall. The cord is long enough that you can finish the job without unplugging, and you won't have to drag a canister along behind you. It's also easier to store in a closet because of the small footprint.
If you're cleaning smaller rooms with lots of furniture, the lighter weight and low-profile head of a canister vacuum's pickup tool make it much easier to work under and around obstacles. The drawbacks start when you have to move the canister body while you're vacuuming.
Canister vacuums often come with air-powered tools, which means that only the flow of air is powering the brushroll that's picking up hair and dirt from your carpet. Air-powered tools are better than nothing in a pinch, but they're not nearly as effective as a motor-driven brush. We found out when testing the best pet hair vacuums that just because a canister vacuum is expensive doesn't mean it's always the right tool for the job.
Shark's popular "lift-away" vacuum design tries to split the difference between a canister and an upright. If you want to separate the bulky motor housing from the floor tools you can just push a button and detach it. The hose is very short compared to a purpose-built canister system, but it has many of the same strengths when you need to vacuum under a bed or on carpeted stairs.
Note that among Shark models, only the powered lift-away models can run the brushroll motor when the base is detached. The un-powered Navigator, however, can still do bare-floor cleaning just as capably in this mode.
Why a bagless vacuum cleaner?
It might seem like distant history, but for most of the hundred or so years of vacuum cleaning we've relied on a bag to capture dirt that's picked up. Once the bag was full, you had to throw it away and replace it with a new one. Bags could be made from paper for cheaper designs, but more expensive bags used other materials for better reliability and filtration.
Various bagless vacuum designs have been tried, but it was James Dyson who really popularized the bagless concept. Dyson pioneered the use of "cyclonic" airflow to separate dirt inside the dust receptacle through centrifugal force. Twenty years later, nearly all consumer-grade vacuums are bagless.
Without cyclonic dust removal, filters are the weak point of any vacuum system. If the filter is too fine, not enough air will get through and they will plug up quickly. If the filter lets a lot of air through, dust particles will also escape. Bag systems slowly lose suction efficiency as the filter pores fill with dust.
Modern bagless vacuums all use cyclonic action to separate dust, which means they can all use HEPA filters and filter-exhaust air down to sub-micron particles without instantly plugging up. Bagless systems generally use filters that are designed to be washed, so you should never have to buy replacement parts.
One more perk of bagless designs is that you can more easily find a piece of jewelry or a micro SD card that you accidentally pick up.
The savings are a relief, and not having to hunt for replacement bags when your vacuum is discontinued is nothing to sneeze at, either. But there is at least one downside to bagless designs.
When your vacuum collects dirt in a bag, you can simply throw it away and move on if you pick up something sticky, smelly or otherwise nasty. With a bagless vacuum, you've got to clean out the plastic receptacle and wash the filter.
In the marketplace, bagless has been a clear winner. You can still find a few of the old standby brands that maintain marketshare among commercial users, but even Panasonic has left the US vacuum cleaner market altogether after making Kenmore's vacuums for decades.
How we tested
We tested each of these vacuums in real-world conditions over the course of two months in three different apartments. We also spent a week testing for specific performance criteria in side-by-side dirt pickup tests on different types of carpet, and we measured noise and dust output.
After all that testing, we sat down and analyzed the strengths and weaknesses of each vacuum to decide which buyers they could be best for.

| Vacuum | Turning (1-5 stars) | Rolling (1-5 stars) | Fits Under Furniture (Min. Inches) | Pick-up from Edge (Inches) | Cord Length (Feet) | Hose Length (Inches) |
| --- | --- | --- | --- | --- | --- | --- |
| Shark - Apex | ☆☆☆☆ | ☆☆☆ | 2.5 | 0.50 | 32 | 62 |
| Shark - Navigator | ☆☆☆☆ | ☆☆☆☆ | 3 | 1.12 | 25 | 82 |
| Dirt Devil | ☆☆☆☆☆ | ☆☆☆☆ | 2.2 | 1.00 | 25 | 95 |
| Dyson | ☆☆☆ | ☆☆☆ | 4.25 | 1.25 | 31 | 120 |
| Eureka | ☆ | ☆☆☆ | 4 | 1.06 | 24 | 56 |
Maneuverability and weight
We tested maneuverability around everyday living-room furniture. Weight played a big role in improving the scores of the Dirt Devil – Razor Pet, which also swivels well for quick turns. The Shark – Apex kept up, though, despite weighing about four pounds more than the budget-priced uprights.
The other surprising results for maneuverability were the Dyson – Ball Multi Floor 2 and Eureka – PowerSpeed models. The Dyson ball design just seems stiff and clunky compared to the new swivel-head designs from other makers. And remember, this is a lighter, smaller sibling in the Dyson family.
The Eureka was definitely the most frustrating, though. Without any consideration for swiveling, even the low weight made just turning it around at the end of a hallway far more difficult than it was with the other models.
The dust cups in this roundup were surprisingly similar. Dyson has a slight edge with a one-button release and dump system that makes emptying easier, though figuring out how hard to press the button takes some getting used to. Putting the Dyson's pieces back in place is sometimes tricky, too. The other systems also have a drop-away bottom that makes emptying dirt easy, but fiddling with their latches isn't quite as elegant.
Dyson's outer canister separates completely from the cyclonic separator piece, so it's easier to do a deep-clean if something gets lodged in there. None of the other dust receptacles were especially bad at trapping debris, but the Dyson system is (as one might expect) very elegant.
Under-furniture height
Measuring the height of each vacuum's head gives an idea of how low the base of your furniture can be before the vacuum won't fit at all. A model like the Dyson may fit under your couch part-way, but that doesn't mean it will actually vacuum underneath. Most upright vacuums are too bulky, so you need to use an accessory tool on the hose to get all the dust bunnies.
Shark's powered lift-away system on the Apex has a definite edge here. With the motor body removed, the brush head is free and clear to vacuum in tighter quarters.
Edge cleaning
We also tested the ability of these vacuums to pick up along the edge of a room or large furniture that goes to the floor. The Apex was a clear winner on this test, with good pickup right to a half-inch from a baseboard. The other finalists all left a track of dirt more than an inch wide.
Attachments and Hose Length
Our testers rated the usefulness of attachments for tricky situations like stairs, couches and drapes. Shark is almost cheating on this score, since the lift-away design means you can attach the handle directly to the motorized brush head to easily vacuum stairs, but the Shark vacuums include useful tools in other respects, too.
Of note is the motorized hand-sized upholstery brush included with the Apex. This kind of tool only works with vacuums that send power through the hose, so it's pretty unique on a vacuum that doesn't cost $600.
Hose length was a tricky feature to analyze: If you need to vacuum over and under a big sectional couch, for example, it might make all the difference. But the stand-out winner in this category, the Dyson – Ball Multi Floor 2, had the hose storage system that was most annoying to work with. Dyson stores a rigid extension tube inside the hose, and it all nestles into the handle shaft, but getting the parts to click into place after use was difficult.
The Shark's short hose length lost the most points with our testers. The hose on the Apex is only half the length of Dyson's incredible ten-foot reach. It's easy to lift the Apex's body with one hand if you're standing on a stepladder to reach a ceiling, but if you're going to use the hose frequently you might start looking at the after-market hose extensions offered by other companies.
Pick-up performance
| Vacuum | Short-Pile Tests: | Medium-Pile Tests: | Long-Pile Tests: | Cereal Pieces Left (all lengths) |
| --- | --- | --- | --- | --- |
| Shark - Apex | 85% | 84% | 74% | 0 |
| Shark - Navigator | 90% | 89% | 56% | 25 |
| Dirt Devil | 84% | 95% | 46% | 3 |
| Dyson | 98% | 95% | 41% | 18 |
| Eureka | 80% | 67% | Failed | 8 |
We ran ten different tests to determine performance on various kinds of carpet and with different types of dirt. We weighed samples of icing sugar, sand and circle-shaped cereal and tested how much each vacuum left behind in a single pass on short-, medium- and long-pile carpet.
The stand-out performance in the pickup tests came from Dyson. If you've got medium- or low-pile carpet and want a deep clean, Dyson does a great job. In those cases it left behind mere grams of material. That said, in long carpet fibers, Dyson offers no height or power adjustment to keep it from simply getting stuck. If you've got luxurious carpet or area rugs, count Dyson out.
Shark's Navigator and the Dirt Devil – Razor Pet were nearly tied for how much they picked up on shorter carpet. We were especially impressed with the performance of the Dirt Devil, given how inexpensive and light it is.
Long carpets and area rugs
The real winner for overall usefulness was the Shark – Apex. While the Navigator and Dirt Devil performed acceptably well on long carpet in their bare-floor modes, the Apex is the only vacuum in this lineup to offer real suction or brush speed control.
The Dyson and Eureka designs (despite the "height control" setting on the Eureka) were impossible to use effectively on long carpet. These vacuums try to gobble up the long fibers with the brushrolls on, and all the suction power pulls the vacuum down into the carpet so you can't move.
It's even worse if your plush carpet is a small area rug: With a vacuum like the Dyson, you'll just get totally stuck or even damage your rug when it gets pulled part-way inside the vacuum.
Filtration and sealing against dust escape
| Vacuum | Starting Average PPM | PPM After Vacuuming | PPM After 5 Minutes Filtering | Average Filter Performance |
| --- | --- | --- | --- | --- |
| Shark - Apex | 31 | 104 | 56 | 46% |
| Shark - Navigator | 299 | 307 | 229 | 25% |
| Dirt Devil | 222 | 218 | 227 | -4% |
| Dyson | 52 | 59 | 47 | 20% |
| Eureka | 215 | 348 | 288 | 17% |
For a real test of the filter performance, we used a Dylos air-quality meter to measure particle counts in particles per million by volume, measuring half-micron particles and ten micron particles separately but averaged together here. Readings were taken before and after a vacuuming session, as well as after an additional five minutes running the vacuum to allow its filter to capture particles that had been thrown around.
Sealed-system vacuums performed better than the budget-priced models, though we were impressed at how well the Shark – Navigator kept up with the more expensive competition, even spreading less dust than its bigger sibling.
The Eureka turned in an impressive result if you only look at the improvement from running the vacuum for five minutes after you finish using it; the amount of dust it spat into the air while it was vacuuming, though, was by far the highest.
These results show that even a well-sealed vacuum that has a good filter will still kick up a lot of dust. Dust will settle naturally, but it takes a while. You should always vacuum the day before you have asthmatic friends over, not immediately before they arrive.
In our pet vacuum review we saw comparable performance capturing smells. The sealed vacuums also performed well keeping pet dander and even odors inside the receptacle. The Eureka performed surprisingly well here capturing dust, much better than it did capturing smells, but there's definitely enough variability in our testing environment and the way dust circulates in a room to account for that.
If you're looking to keep your air as clean as possible, Shark and Dyson do a good job of keeping dust contained. Check out our review of the best room air purifiers if you want to get dust levels even lower than this after you're done vacuuming.
Noise
| Vacuum | Noise: Peak dB(A) | Noise: Brush Off dB(A) |
| --- | --- | --- |
| Shark - Apex | 86 | 80 |
| Shark - Navigator | 87 | 82 |
| Dirt Devil | 90 | 86 |
| Dyson - Ball Multi Floor 2 | 91 | 90 |
| Eureka | 92 | 89 |
| Shark - Rocket Stick Vacuum | 93 | 83 |
| Dyson - DC25 (Discontinued) | 88 | 85 |
After we collected all of the test data on effective cleaning, we booted up our audio-analysis rig to get some noise readings. We used a calibrated mic and the Room Eq Wizard software, set to measure decibels with A-scale weighting.
We took noise measurements from six feet away in a single-car garage bay with a concrete floor. That's about double the distance you'd be at when using the vacuum. We also included two other test vacuums: The tester's old Dyson – DC25 (purchased in 2013) along with the Shark – Rocket stick vacuum, which won top place in our stick vacuum review.
The average noise level is quite loud, 85 dBA for just a vacuum motor or 89 with the brushroll engaged and picking up dirt on a hard surface. These vacuums move a lot of air very quickly, so noise is inevitable. For the louder machines, these levels are actually close to what we got in tests from our review of electric leaf blowers.
The difference between the quietest and loudest vacuum was a full 10 dBA. Because of how sound works, people will perceive that as only double the loudness, but it's the same power increase as running nine more of the quietest vacuums in a room together.
The quietest vacuum was the Shark – Apex, also the most expensive vacuum we tested. The cheaper Shark – Navigator was only 1dBA louder, with both vacuums peaking under 87 dBA with the brushroll turned on. That's still loud enough that according to guidelines set by the National Institute for Occupational Health and Safety, you shouldn't be up-close with these vacuum cleaners for more than an hour every day without hearing protection.
All of the other vacuums we tested (including the stick vacuum) were louder than 85 dBA from six feet away. From close-up, as you'd be using them, the loudest vacuums measured at 97 dBA. You shouldn't use a loud vacuum cleaner for longer than half an hour every day without some ear plugs.
This is still much quieter than the noise exposure from power tools at a jobsite, but it's something to keep in mind. If you clean for a living and need some hearing protection, check out our review of the best ear plugs. Obviously, any of these vacuums are loud enough to wake most roommates (not to mention a baby).
One notable quirk is that while the Dyson is loud overall, its brushroll motor hardly adds any extra noise. Shark's powerful brushrolls are quiet, but you can definitely tell when they're turned on and off.
Best Overall: Shark – Apex
At just over $300 from most retailers, the Shark – Apex AZ1002 is a premium product that really works to justify the extra cost. This is Shark's largest vacuum, and it includes all of the best toys: powered accessory tools, a wood-floor-friendly brushroll, a hair-proof brush cleaning system, an extra-long cord and some working carpet-height settings.
This is the biggest vacuum we tested, though it actually has a fairly narrow cleaning track at 11.5 inches. Compare that to 12 inches on the budget-friendly Dirt Devil or 13.4 inches on the smaller-sized Dyson we tested. Shark tends to focus on maneuverability and flexibility instead of a wide pickup path, and we're pretty happy with that tradeoff.
At 16 pounds and drawing 1350 watts of power, the Apex definitely feels like a full-size vacuum when you first assemble it. Most impressive are the power and floor-surface control switches that are mounted on the handle for easy access. No more bending down just to pause to answer the door or move from carpet to hard flooring.
We also noticed the DuoClean brush rollers pulling the Apex across floors more briskly than other uprights. Thankfully, the quick-swiveling head is easy to steer, so we never felt like this was a runaway vacuum. It's power you can feel, but you're in control.
Best for thick carpet
Thick carpet is where this vacuum really shone. Some of the other machines could get you by if you turn off the brushroll to keep it from jamming up, but the Apex gives you just the right amount of suction and brush speed to move swiftly across the floor and effectively clean your carpet.
In our test picking up icing sugar, the Apex was only 20 percent better than the Dyson on long carpet. With sand, though, that difference jumped to an astounding 43 percent. The Apex was also the only upright to earn a perfect score picking up large objects, though the Dirt Devil was not far behind.
Powered lift-away design
Shark's trademark design innovation is that they don't let upright vacuums just be uprights: most of their line also converts to something more like a canister system, with the motor and dust cup in a "Lift-Away" pod that detaches from the handle tube.
The Lift-Away design makes the vacuum more flexible than a simple hand tool plugged into a hose could ever be. As mentioned above, since this is a powered Lift-Away model you can use the full-size brush head under furniture, and if you're vacuuming a small area with lots of obstacles you can shed all the motor weight for more agility.
The downside of Shark's Lift-Away designs has always been short hoses. You run out of hose very quickly if you try to use the Apex like a canister vacuum with the motor unit on the floor, so if you're vacuuming a whole room with lots of furniture to clean under you'll probably wind up carrying it in one hand while you vacuum with the other.
You can buy a wheeled cart for the canister, and there are non-powered hose extensions you can try, but most of the time it just makes far more sense to use the Apex in its upright mode.
Having too much extra hose can be annoying, and even Dyson's remarkable collapsing hose is a bit unwieldy. Maybe there's no perfect two-in-one canister and upright vacuum, but we really would like to see at least another three feet on the Apex to say it's worth considering as a canister-mode design. For stairs and upholstery, though, it's fantastic.
Also the best upright vacuum for hardwood floors
The Apex isn't a one-trick fish, though. As well as tackling plush carpet, this is the best upright vacuum for bare floors. The Apex brings a few features to bear that you should consider if you're vacuuming a hardwood floor rather than wall-to-wall carpet.
First, there's Shark's DuoClean brushroll. Many hardwood experts don't like using a brushroll anywhere near hardwood, and you could use a vacuum that just has a simple easy-gliding suction head. (You could also use a dust mop.) But the DuoClean system is an exceptionally soft brush, and it works well to dust and even slightly polish your hardwood or manufactured flooring.
If you've got sand on your floor, it's better to pick it up without grinding it in at all, but most of the time you encounter grains of sand on your floor you won't know until you see a scratch. The Apex is, at least, designed to minimize the damage.
Another reason this is the best upright vacuum for hardwood floors is that it won't choke on your area rugs. None of the other vacuums we looked at in this price range have controls for switching surfaces, so this is the vacuum that does the whole room at once.
We need to stop for a moment here and emphasize that if you've got a new engineered hardwood floor, you should double-check with the manufacturer that use of a soft brushroll won't void your warranty. Flooring finishes should all be fine, but care instructions sometimes specifically say not to use a buffing machine or a "beater bar" head.
Again, we haven't seen any evidence that this vacuum could damage a floor unless you're running it through piles of sand and deliberately grinding it into your hardwood.
Attachments
Shark sells the Apex in a few different versions, but we tested the version that had the best set of accessories, the AZ1002. This model ships with three compact attachments you can plug into the end of the hose:
Compact, motorized brush head
12-inch crevice tool
Combination upholstery brush & mattress tool
Also remember that the extension tube and the full-size head will plug into the handle, so you can get about 30 inches of extra reach with any of these tools for dusting high-up corners and drapes.
Shark sometimes runs promotions that will include extra accessories, like a flat-surface or under-furniture dusting tool, if you purchase directly from their site.
The motorized pet tool is a good pick if you've got corduroy upholstery or other surfaces that collect hair and need more than just suction to clean. It probably wouldn't be worth picking this tool up all by itself if you buy the Apex without it, but it's a nice perk and stores neatly on the base of the vacuum.
For stairs and other tricky carpeted surfaces, we think that plugging the handle directly into the regular carpet head and using the Apex like a super-powered handheld vacuum is a fantastic trick. If you've ever skipped cleaning carpeted stairs because you hate how clunky your vacuum is, you'll love the Apex.
Sealed system and HEPA Filter
The Apex performed very well in our dust collection test. Any powered-brush vacuum will kick dust into the air, so don't count on the Apex to make your air dust-free immediately after vacuuming, but the sealed system and HEPA filter will make sure that it's not just blowing all the dust you pick up back out into your room.
A bigger, better vacuum
To sum up all our time with the Apex: this is a big vacuum that's not clunky. Shark has some great tricks that make this a more versatile system than any other vacuum we found. If you have long carpet, area rugs, or any other tasks that utilize Shark's special features it's an easy vacuum to recommend.
If you're only vacuuming medium-length carpet, though, both the Shark – Navigator and the Dirt Devil – Razor Pet will also do a good job. Those vacuums are lighter, so they're easier to use, and they're much less expensive, too.
Key takeaways:
The Shark – Apex is a big vacuum, but it's still easy to handle.
On long carpet, the Apex easily beat all competitors.
This doesn't quite have as much cleaning power as a Dyson on medium carpets.
Shark's powered lift-away design gives flexibility.
Good sealing and filtration keeps dust to a minimum.
The DuoClean brushroll design is also good for hardwood floors.
Best Value: Shark – Navigator
The Shark – Navigator NV352 earned a second-place ranking based on performance in our tests, but when you consider that it's only half the price of the more expensive vacuums we bought, there's plenty of reason to consider it best value overall.
The Navigator is a consistent winner in vacuum tests all over the internet. This is a step up from the cheapest vacuums that Shark makes, and a clear step down from their full-featured models. The NV352 doesn't have the new hardwood-polishing soft brush, and the version with Shark's new maintenance-free "ZeroM" brushroll is about $50 more. The lift-away mode won't run the brushroll, and there's no suction or speed control to make long carpets bearable.
That said, on mid- or short-length carpet this vacuum almost keeps up with a $300 Dyson in our pickup tests for sand and powder.
This is our pick for those whose biggest concern is pet hair pickup, so long as you don't have longer carpet. If you do have high-pile carpet, this isn't the worst-performing vacuum if you turn the brushroll off, but it's not nearly as good as a machine with real multi-surface controls.
Just like the Apex, the Navigator beat the Dyson in both air quality and noise-output tests. It's nice to know that for a value-priced vacuum, you don't have to make compromises when it comes to your health.
If you're vacuuming on low-pile carpet or bare floors, the Navigator did spray more sand than the Apex or Dyson. If you spot a pile of sand, you should always turn off the brushroll anyhow, but the Navigator seems to have an extra-aggressive brush.
Shortcomings
As you can see in the clip above, the Navigator had trouble in the cereal pickup test, especially on medium carpet. Even on short carpet, where it performed much better, there was a straggler.
In our maneuverability tests the Navigator easily beat the Dyson, but it's not as easy to steer as the Dirt Devil. When we asked our tester which vacuum she would most like to keep for her apartment, she passed up the Navigator's air filtration and power for the most maneuverable choice.
All in all, there are a few ways the Apex is clearly a better vacuum. The Navigator keeps pace, though, and actually outperformed the Apex in some tests. For most people, this will be a great vacuum.
Key takeaways:
The Shark – Navigator is a tried and true value pick.
If your biggest concern is pet hair on mid-length carpet, get this.
Even the less-expensive Shark filters exhaust air even better than Dyson.
The Navigator is almost as quiet as the Apex.
A non-powered lift-away design makes this less flexible than the Apex.
Budget pick: Dirt Devil – Razor Pet
Dirt Devil's lineup of vacuums is very much focused on the budget segment of the market, with few models crossing the $100 threshold. The Razor Pet Steerable Upright is the upgraded model with swivel-action steering, and we think it's a great vacuum if your budget is tight.
The Dirt Devil kept pace with the Navigator through the low- and mid-pile carpet tests, so it's a vacuum that's capable of thoroughly cleaning your carpet. But where it really stood out was in handling. The Dirt Devil is actually slightly heavier than the Navigator, but it's easier to maneuver and wheel around.
This vacuum also fits under furniture with a clearance height just slightly lower than the Apex's. Without the lift-away feature this isn't as versatile in some tight spots, but there's something great about a vacuum that's just good at what it was built for.
For dust control, this vacuum doesn't have a HEPA filter or a fully sealed system. It will spread more fine dust around than the Shark or Dyson vacuums. That said, it was surprisingly good at containing the smell and dust from pet hair in one tester's apartment. It's also slightly quieter than a Dyson.
Attachments
Dirt Devil includes an air-turbine-powered hand tool with this package, and it's the kind of tool that might help in a very few situations, but for the most part you'll probably skip it. The Shark's motorized brush is wider, and actually has enough torque to get dirt out of carpet or upholstery fibers.
Dirt devil also includes a two-in-one crevice and brush tool for capturing loose objects that fall out of your pockets into your couch. The tools are friction-fit, instead of snapping in place, but they work about as well as most cheap vacuum accessories and store neatly on the side of the vacuum.
One of our testers advocated for a second-place ranking for this vacuum. If you've got a small apartment or a limited area of carpet to clean, this is a vacuum that will get the job done without any pretentious extra features.
Key takeaways:
The Dirt Devil – Razor Pet is an easy-to-steer upright vacuum.
If you need competitive cleaning power on a tight budget, here it is.
A low-profile head makes this easier to get under furniture.
The Razor's filter and noise reduction won't beat Shark, but it keeps up with Dyson.
The other finalists we tested
Dyson – Ball Multi Floor 2
The Dyson – Ball Multi Floor 2 is a powerful vacuum with some great design details, but after spending time with all of the vacuums in this lineup, none of our testers really liked using it.
Dyson products are often tricky to review. When Dyson does something well, they usually do it very well. James Dyson revolutionized vacuum cleaners and has been a dominant force since the DC07 was released in 2001. That said, Dyson has never been very competitive with price, and there are some things about this vacuum that are nearly unforgivable.
At about $300, the Ball Multi Floor 2 is a solid performer. We don't want to misrepresent the performance numbers: this is clearly the best vacuum for low-pile carpet if all you care about is deep-cleaning. The track is wide, and the suction and agitation get more dirt out —  on average, the Dyson picked up 95 percent of our test samples on carpets where it will actually move effectively.
Dyson also makes an even more expensive vacuum, but it doesn't solve the Multi Floor 2's biggest problem. The Ball Animal 2 is supposed to have even more power, but if you have high-pile carpet or area rugs that's just like throwing gasoline on a fire. Dyson does not design these vacuums for people with multiple floor surfaces.
The Dyson is a few pounds lighter than the Shark – Apex, but despite all the ingenuity of the rolling-ball design, this is a difficult vacuum to push around and maneuver. Compared to clunky old commercial vacuums from forty years ago the ball is a great idea, but the new swivel-head competitors are much easier to use. Again, the upgrade model from Dyson would just make the problem worse with a bigger and heavier body.
This might be the best upright vacuum for tile floors, since the hard brushroll doesn't matter the way it does on hardwood, and the most important feature is suction power in that case. But it's clear that any of the choices from our steam mop review would be a better tool for cleaning tile floors.
One strange quirk of the new Ball 2 design that you won't see in promotional pictures or even most video reviews is the pressure relief vent at the top of the handle.
When you finish vacuuming and push the Dyson up into its standing mode, the suction switches from the brush head to the handle-mounted extension hose automatically. Air starts rushing in through the cap at the top of the handle.
It's a bit scary if your hand is on top of the handle when you push it into the standing mode, and it's not something we'd seen on the other Dyson vacuums we've used. You're not going to lose a finger or anything, but it was a turn-off for our testers.
In 2018, Dyson announced that they're no longer developing new plug-in vacuum designs. We chose their V8 cordless stick vacuum as a top pick in our stick vacuum review, so we know they're on to something, but there are good reasons for many of us to own a conventional upright.
It seems like Dyson never got further than designing around great suction and long hoses. If that's your primary concern, then this model or the even more powerful Animal 2 will beat most other vacuums. If you want a vacuum that's easy to push and works on other surfaces than low-pile carpet, we suggest looking elsewhere.
Eureka – PowerSpeed
The Eureka – PowerSpeed NEU180B Upright isn't a terrible vacuum. It has good reviews on the retail websites we looked at, with a 4.4 average on Amazon and a good Fakespot grade, as well, so we don't suspect those are disingenuous reviews. Many of them seem to be cat owners, so it's not like they're just easy to please.
But about the best thing we can say about the Eureka, in comparison to the other models we tested, is that it's very light. Compared to the Dirt Devil at the same price, or the Shark – Navigator for about $60 more, it's just not at all competitive. Not in pickup, not in maneuverability, not in ease of use, not in noise. It doesn't even fit under furniture well.
The Eureka is worthless on long carpet. No, a Dyson isn't much better, but that's not a good excuse when you advertise "five height-adjustment settings." It turns out that the setting just opens or closes the suction opening at the floor very slightly and directs it away from the brushroll. This vacuum did not work on area rugs or carpet with any kind of long pile.
The bottom line
Upright vacuums are tricky beasts. Just about any upright will do a decent job of getting everyday dirt out of low-pile carpet, and so picking the very best means testing for the most extreme cases. It also means we had to be a little bit more picky about likes and dislikes.
After testing vacuums in a variety of real-world settings and comparing them side-by-side in controlled tests, it's clear that the Shark – Apex is the vacuum to beat. Good performance on every surface was definitely a winning trait, and creature comforts like handle-mounted switches didn't hurt. The powered lift-away design isn't everything that a canister vacuum would be, but it's pretty darn close for a two-in-one design.
Even with a runner-up pick, it's hard not to feel like we're short-changing the Shark – Navigator. It's small and light, but it packs a lot of power into that compact frame. This value-friendly model is still dust-sealed and quiet, but it doesn't have multi-surface power settings or run the brush head in lift-away mode.
If you're looking for something even cheaper, the Dirt Devil – Razor Pet is a budget-friendly underdog that keeps up with the pack. There's no dust sealing and it's not quiet, but it's very maneuverable and picks up dirt well.