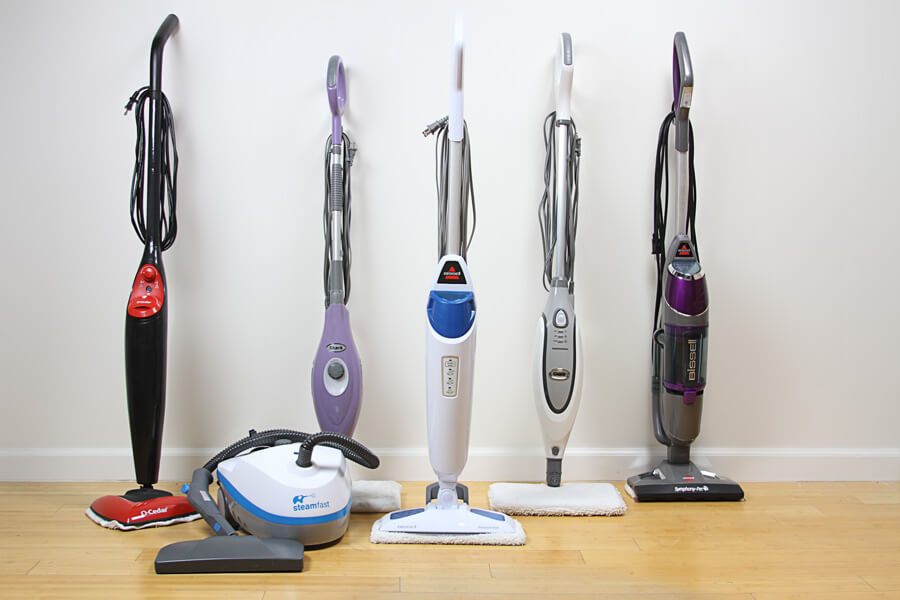 After long-term testing steam mops, for this 2021 update, we've selected the Shark Genius – S5003D as the best steam mop overall.  With its unique features, the Shark Genius makes cleaning and sanitizing your floors effortless. Also great is the Bissell – 19404 PowerFresh that makes fast work of tough messes. The most portable steam mop is the Sharper Image SI-160, which has a detachable body and accessories for steaming anywhere, even the stovetop. If you're looking to steam clean more than just your floors, the heavy-duty Steamfast – SF-370WH is a great multipurpose option.
After long-term testing steam mops, for this 2021 update, we've selected the Shark Genius – S5003D as the best steam mop overall.  With its unique features, the Shark Genius makes cleaning and sanitizing your floors effortless. Also great is the Bissell – 19404 PowerFresh that makes fast work of tough messes. The most portable steam mop is the Sharper Image SI-160, which has a detachable body and accessories for steaming anywhere, even the stovetop. If you're looking to steam clean more than just your floors, the heavy-duty Steamfast – SF-370WH is a great multipurpose option.
Table of contents
(Editor's note: Since we first reviewed steam mops in 2017, we have updated this review whenever the products we tested were discontinued. For this 2021 update, we learned that the Light n Easy steam mop is no longer being sold. We tested two new models, the Shark Genius – S5003D and the Sharper Image SI-160 to see how they compared to steam mops we previously reviewed.)
The 10 steam mops we tested
Shark Genius – S5003D
Shark Ninja clearly put a lot of thought into designing the Shark Genius – S5003D because this steam mop was the easiest to use and the most efficient in cleaning any floor type, including hardwood, of any other steam mop we tested. Out of the box, the Shark Genius has three pieces — the handle, the body, and the head —that snap together in less than 10 seconds.
The first thing that stood out is the Shark Genius's head, which opens up like a book into three sections. You place the double-sided mop pad (two are included) on the floor, then guide the head's four corners into the pad's pockets. Alternatively, you could slip the pad on yourself, but the mop is lightweight enough to just hover the head over the pad and slip the head into the pad.
By pressing down, one section of the head snaps up into place, and by turning the mop slightly, the second section snaps up. Shark calls this Never-Touch technology, and indeed, once you're done mopping, you hold the head over a laundry basket and push a button, which unlocks the mop head and releases the pad. (Presumably, you would have to eventually touch the pad to toss it into the washing machined.) The double-sided pad can cover a lot of floor space because once one side gets dirty, you can flip it over to the opposite side.
The Shark Genius has a 350 ml tank that's incredibly easy to fill. You pop open the tank's chamber and pour in distilled water (never with any cleaner or detergent) with the included filler flask that has a curved narrow spout. Once plugged in, the Shark Genius heats up in 25 seconds and gives three options for the intensity of the steam, depending on the floor type and how badly soiled the floor is. The mop glides effortlessly over the floor, and its pivoting head allows you to reach corners and floorboards.
Another feature that we loved was its Steam Blaster. For a particularly ground-in stain, you flip the mop head, which exposes a nozzle, and when you press down, a rush of intense steam bursts out. We experimented using the Steam Blaster on an outdoor, painted deck, and tree sap and pollen were steamed away in seconds. The Shark Genius has a generous 22-foot power cord, so you can clean a large space without needing an extension cord.
Our only complaint with the Shark Genius is that its fill tank isn't removable. If you only clean a small area and don't use all of the water in the tank, you'll need to lift the mop over the sink to empty it. The Shark Genius weighs slightly less than 6 pounds, so it really isn't difficult to do, but it could be more convenient if it could be lifted out of the body.
The Shark Genius – S5003D is a bit more expensive than other similar steam mops. But no other steam mop has the Never-Touch technology and the Steam Blaster, which we feel justifies the price.
Key takeaways:
The Shark Genius – S5003D is the easiest steam mop to use on any floor type, including hardwood.
Never-Touch technology and Steam Blaster make it maneuverable in corners and get out the toughest, ground-in stains.
Its steam tank is easy to fill, but it's not removable, so you need to empty it out by lifting the mop over the sink.
Also great: Bissell – 19404 PowerFresh
After two weeks of testing (and moving around appliances so we could find new areas to steam), we found the Bissell – 19404 PowerFresh to be as easy to use as the Shark Genius. It gave us good results, leaving brighter, shinier, and cleaner-feeling floors.
The Bissell has a built-in scrubber, which flips down with your foot and adds an extra boost to the steam power. In our tests, it took only ten seconds to clean up dried-on food soils and the easy scrubber made a clear difference in the high traffic areas. This certainly beats scrubbing with a paper towel. (Check out our paper towel review for the best ones.)  You can actually see the grime coming up as you clean, with a marked difference in the areas just steamed.
It comes with two microfiber pad options: a white microfiber pad for everyday use, and a striped scrubby pad for tougher messes. Both pads are treated with Microban antimicrobial protection and have a pocket to hold an optional Spring Breeze scent disc. We found the fresh scent of a clean, steamed floor was appealing enough, but if you're really a scent person, you can add the discs or even Bissell demineralized water in scents like Citrus and Eucalyptus Mint.
Our favorite feature is the removable water tank. It was so convenient to pop it out and bring it to the faucet to refill or to dump out the extra water when we were finished cleaning. However, to ensure that there was no water inside the Bissell's body, we still had to hold it upside down in the sink to completely drain it.
The shape of the mop head fits into corners and tight spaces (like around the toilet), but it's still large enough to cover a lot of square footage quickly. The 23-foot cord and 20 minutes of steaming time also mean that you can cover a large area without stopping. The mop head swivels easily, and the unit's lightweight makes it easy to push around, while still being sturdy enough that it didn't feel as if it would break easily.
The Bissell – 19404 PowerFresh starts heating as soon as you plug it in and is ready in 30 seconds when the digital indicator light stops blinking to let you know you're all set to begin. It doesn't have an empty light indicator (perhaps the only negative), but you can tell you've run out of steam when it makes a knocking sound. There are three digital settings (low, medium, and high), so you can easily vary the level of steam you want to use.
All in all, this mop was simple to use, super convenient for cleaning floors, and reasonably priced, leading us to recommend it as the best steam mop on the market.
Key takeaways:
The removable water tank makes the Bissell – 19404 PowerFresh a breeze to fill the tank, without searching around for a measuring cup.
The PowerFresh comes with a removable easy scrubber and two machine-washable microfiber pad options, so you can customize your cleaning power for the best results on your floors.
The digital indicator light and steam-control settings make it simple to figure out when you've reached full steaming capacity and to choose which level of steam will work best for the job you need to do.
Most portable: Sharper Image SI-160
The Sharper Image SI-160 2-in-1 steam mop is quite similar to other steam mops, except for one distinguishing feature: Its main body can be separated from the extension pole and mop head. With four included accessories — a jet nozzle, two utility stiff-bristle brushes, and a brass-bristle brush — you can clean practically any surface in hard-to-reach places. The SI-160 was a bit daunting to put together with all of the pieces that spilled out of the box. But by carefully following the manual, we managed to piece it all together in about 10 minutes.
Also included are two microfiber pads and a carpet glider that snaps onto the bottom of the mop head for cleaning rugs and carpet. The carpet glider was pretty efficient, and it definitely glided over the carpet with ease. The glider, however, diminishes the size of the mop head that's exposed, which makes it better for spot cleaning; otherwise, it would take an hour to clean an average-size room.
The SI-160 has a unique water tank. It's removable and has a pop-up rubber spout so water can be added and emptied easily. What makes the water tank different is a tube that transfers the water to the main body and is weighted by a copper ball. When the steam mop is on, the copper ball rapidly spins, purportedly to distribute the water flow. We're not sure if it actually works, but it's fun to watch. It does serve another purpose, however; if you haven't properly connected the body, extension tube, and head, it loudly rattles, warning you to double-check the connections.
The SI-160 takes 30 seconds to heat up, and the amount of steam is controlled by a small switch near the handle. Even though steam was produced, it took a while for the steam to travel down the pole, into the head, and penetrate through the cleaning pad. We found this to be a wetter steam than the Shark Genius, and we had to go over the floor a few times without the steam until it was dry.
The Sharper Image really excels when the pole and head are disconnected. The body is about the size of a handheld steamer so it's great for getting into areas the mop head can't reach. The jet nozzle attachment concentrates the steam into a powerful spray for especially tough stains. The utility brushes and the copper brush fit onto the jet nozzle, and these can be used on many different surfaces.
If you have a non-ceramic stovetop, the copper brush is ideal for getting rid of hardened grease and other stains from cooking. The utility brushes have stiff bristles that work for spot-cleaning floors and around the floorboards. The manual does warn about using judgment in deciding what surface to clean using the utility brushes since their bristles may cause damage.
If you already have a handheld steamer, the Sharper Image SI-160 probably isn't for you. But if you're looking for a steam mop that can also be used as a handheld steamer, this is an excellent — and reasonably priced — product to consider.
Key takeaways:
The Sharper Image SI-160 has a detachable body that can be used to steam-clean surfaces other than the floor.
It comes with a carpet glider that fits over the mop head for spot-cleaning carpets.
The SI-160 is reasonably priced for a two-in-one steam mop and handheld steamer.
Best multipurpose: Steamfast – SF-370WH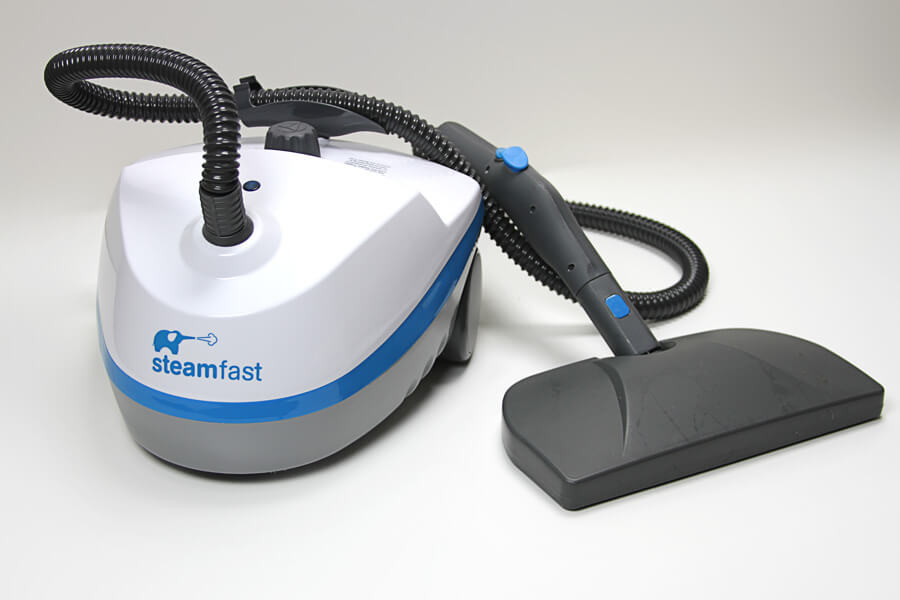 We were impressed with the wide variety of surfaces the Steamfast – SF-370WH was able to clean, from floors and baseboards to oven racks. In fact, we were so excited that we made a whole day of it, steam cleaning our fridge, oven, and walls. Thanks to the extension wands, we were even able to reach the ceiling.
The scrub brush and nylon utility brushes did an amazing job on our floors and walls, removing years of grime that couldn't be touched by other cleaning products. The nylon utility brush also refreshed our low-pile carpet, removing stains and unflattening the fibers. On the area rug, it removed stains but did pull on the fibers, so we would have preferred a more gentle tool there.
One of the features that is great about the Steamfast is the ability to either clean in short bursts using the steam trigger or to push forward the steam-lock switch for a continuous flow of steam. This gives your hand a break when cleaning larger surfaces such as floors, but also gives you the ability to stop and move furniture or other objects out of the way without worrying about damaging the floors with continuous steam.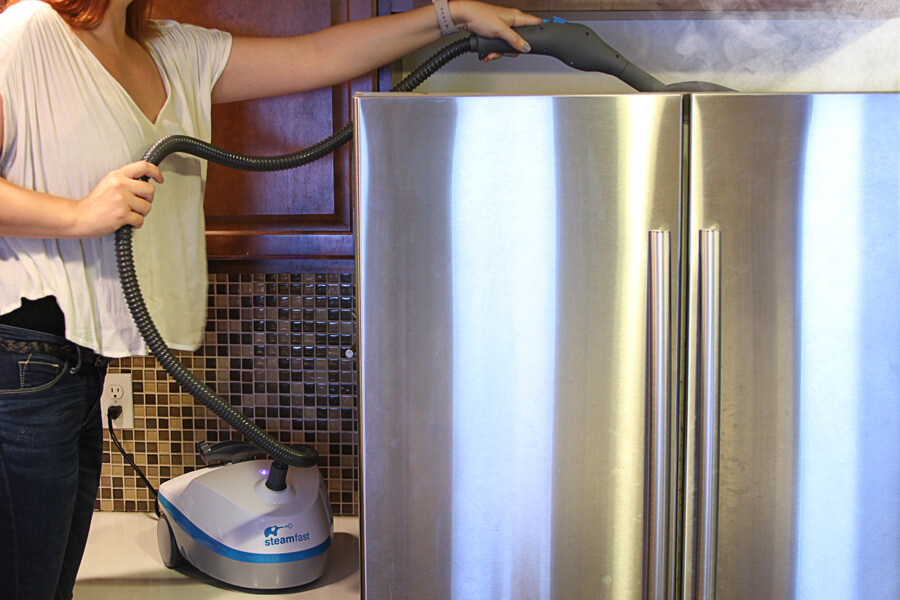 This cleaner is shaped like a tank, and with good reason. It holds up to 1,420 ml of water, so it can be used for around 45 minutes without needing to refill. That's just over double the amount of use time as the other finalists. The only drawbacks we found were that the shape was a little more cumbersome than the models shaped like conventional mops, it took a little longer to heat up, and that the boiler was hard to fill without spilling.
Key takeaways:
Multiple accessories that come with the Steamfast – SF-370WH allow you to decide which attachment to use on different surfaces; soft microfiber pads work well on hard floors and delicate surfaces, the squeegee tool can be used to clean windows and nylon utility brushes provide extra scrubbing power on grout and carpets.
An extra-large capacity water tank gives you up to 45 minutes of steaming time, allowing you to complete several rooms or projects without stopping to refill and reheat.
Budget pick: Shark – S1000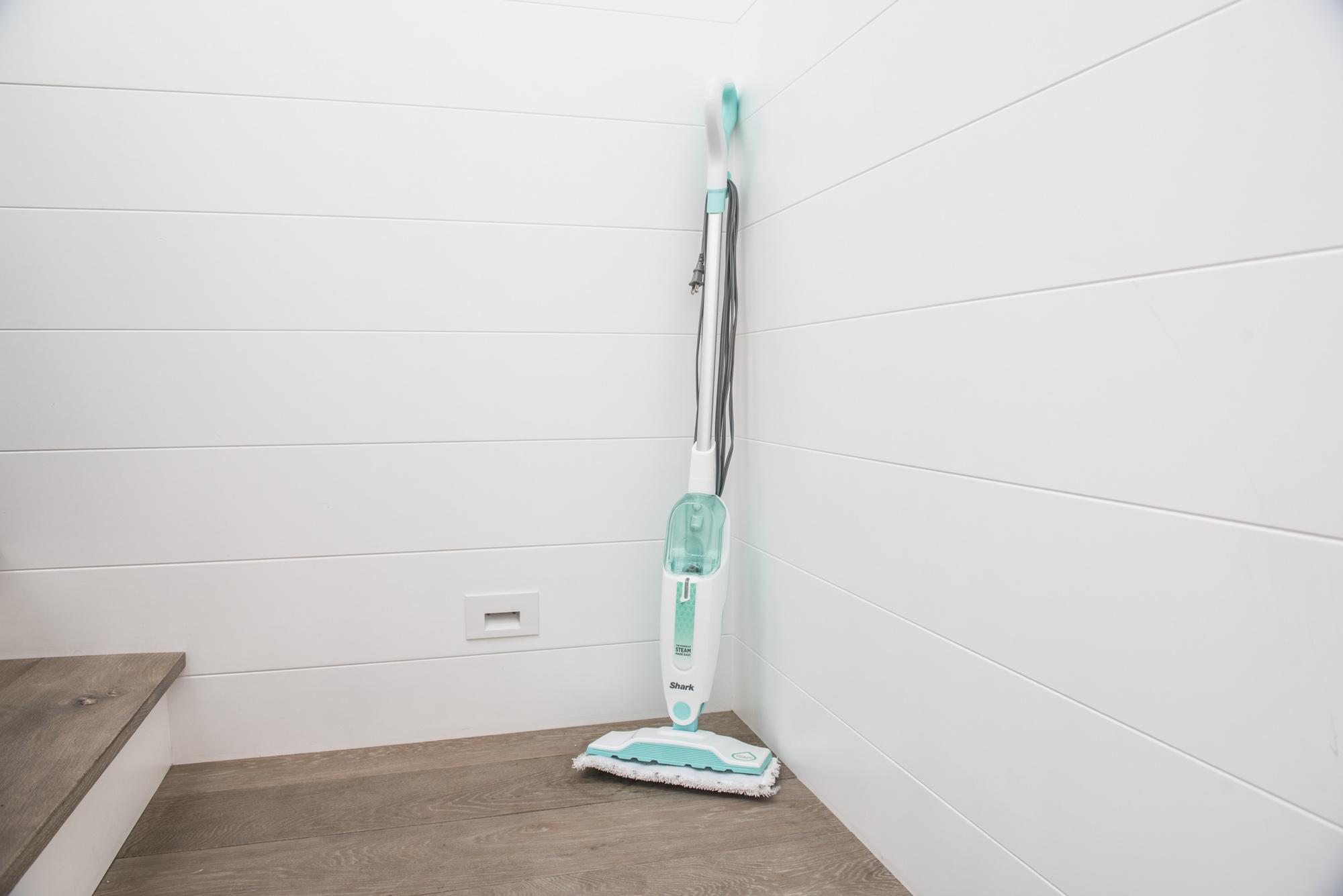 With the Shark – S1000, Shark made some improvements over our previous budget pick, the Shark – Steam Pocket Mop, which Shark has discontinued since our original review. The older model had a smaller (220 ml) non-removable tank that needed to be filled with a small flask. The new Shark – S1000 has a removable 400 ml tank that is easily filled from a faucet. During our tests, the tank didn't need to be refilled for 15 minutes, which gave us plenty of time to mop our entire kitchen floor three times.
Like the previous model, the Shark comes with two thick pads made of 80% polyester and 20% nylon, which not only aggressively grabbed our ground-in food stains but also rinsed clean in seconds. The pads are machine washable and emerged from the wash and dryer cycles almost like new.
The Shark – S1000 begins heating when it's plugged in, and it took 1 minute 42 seconds to heat up, a full minute longer than the prior model. But once the steam began to hiss, it was ready to go. Similar to our top pick, the Bissell – 19404 PowerFresh, the Shark has a swivel head and straight edge that allows you to get into tight corners and under cabinets.
You need to pump the mop a couple of times to get the steam flowing, but after that, the natural motion of mopping automatically emits gushes of very hot steam with every sweep. We needed a bit of elbow grease while mopping, but the Shark – S1000A weighs only 4.6 pounds, so although it's not effortless, we didn't find it tiring. Like the discontinued model, the Shark – S1000A can sanitize floors by mopping over the area 15 times, as Shark recommends.
Another plus is the Shark – S1000's price: This improved model is $20 less than the discontinued model, which, at the time of our review, we didn't feel its cost was justified buying it over the Bissell. If you don't want to invest in our top picks, which we still recommend, the Shark – S1000 is a great performer at a budget price.
Key takeaways:
The Shark – S1000 takes a little longer to heat up than other steam mops, but once it's hot, it emits gushes of steam with every stroke.
Its thick microfiber pad grabs grime and dirt and rinses clean.
The Shark's swivel head and straight edge let you get into corners and under cabinets.
It takes a bit of elbow grease to use, but it's incredibly well priced and a real bargain.
Other products we tested
Bissell – Symphony
Both of the Bissell brand models we tested performed highly in terms of final cleaning results. The Bissell – Symphony Pet was able to remove dried-on soil in 10 seconds when using the vacuum function. It also picked up all the dirt and grime in our high traffic areas, although it wasn't as bright of a finish as the 19404 PowerFresh.
If you have pets, you know how stubborn pet hair can be, even after sweeping. The Symphony gives you the ability to steam clean your floors while vacuuming up the pet hair at the same time. It features digital controls, so you can easily switch the vacuum on and off, as well as switch between high and low steam settings. We also appreciated the ready light indicator, which lets you know that the water has heated sufficiently to begin steam cleaning.
Although it doesn't have a removable water tank, this was the easiest stationary tank to fill, thanks to an easy-fill opening that helps prevent spills. The dirt tank is also easy to use and features a built-in Drop-IT system. All you have to do is press the lever to empty the debris into the trash.
The Symphony comes with the everyday use microfiber pad and scrubby pad (along with an optional scent disc, just like the 19404 PowerFresh), as well as steam-boost disposable pads. We all know that sometimes pets make messes that are better suited for the trash than the laundry, and the disposable pads are a handy option in those cases.
It does take longer for the floor to dry with the disposable pads (40 minutes versus the five minutes with the microfiber), and in general, we found the need to remove the bottom tray to attach either style of pad a little annoying. Other than being a little more bulky than necessary for regular use, we found the Symphony to be a highly efficient steam mop that would be great for pet-owning families.
O-Cedar – Microfiber Steam Mop
While it doesn't have extra bells and whistles, the O-Cedar – Microfiber Steam Mop was probably the fastest mop to set up and get you started the soonest. With a couple of clicks, the addition of a velcro pad attachment that was the easiest to get on, and a fill of the water tank, you're on your way. The best part about the O-Cedar is that it heats in only 20 seconds, the fastest heat-up time of all our finalists. It weighs only seven and a half pounds, so it's easy to push around, and it releases continuous steam until you unplug it.
It comes with an angled head mop, which is great for quickly covering large spaces and fitting into corners, but difficult in small spaces such as bathrooms. It does make knocking noise when heating up (just like both the Bissell models we tested) but is silent while cleaning. We rated this one last because it took several swipes to remove food and dirt soil and performed only fair on high traffic areas. It also had a long dry time of 16 minutes, much like using a conventional mop.
The O-Cedar also comes with a carpet glider, for refreshing and deodorizing carpets. Again, it's easy to use; you just snap the glider on over the mop head and steam away.
Light n' Easy (Discontinued)
The Light n' Easy steam mop was very popular with consumers, but after testing it several times, we question why. First off, it's a half-pound heavier than the Shark – S1000A, and although that might not seem much, it was actually difficult to push the mop across the kitchen floor. Its non-removable tank holds only 200 ml of water, which needs to be slowly poured with an included plastic flask into the tank's nickel-sized hole.
Each time we tested, it took only 50 seconds to heat, and though it was hissing steam during this period, it wasn't until 2 minutes later that there was enough steam to begin mopping. The Light n' Easy has a very thin microfiber pad, which feels more like a terry cloth dishtowel. Rather than soak up food stains, it merely smeared them around: We had to mop over the same area a few times before it was clean.
The steam never got hot enough nor was much emitted, and after 8 minutes, the tank was empty. We found the Light n' Easy to be less convenient than a regular sponge mop, and because we had to repeatedly go over spots it didn't clean at the first swipe, it was also exhausting and frustrating to use.
Finally, the Light n' Easy isn't a budget product. If you want to purchase extra cleaning pads, the total cost is almost double that of the Shark – S1000A, which is a much more efficient and cost-effective steam mop.
Shark – Steam Pocket Mop (Discontinued)
The Shark – Steam Pocket Mop mop comes with many of the key features we looked for in a mop. It heats up in less than a minute (30 seconds, to be exact) and our test floors were dry in around two minutes.
It only took slightly longer to remove dried-on food soil than our top pick, the Bissell 19404 PowerFresh. It cleaned our high traffic areas at least as well as a conventional mop, without the hassle of hauling around a mop bucket and waiting for ages for the floor to dry. Plus, you can start sanitizing the floor after three minutes of use, although you do need to pass over the area with a backward and forward motion at least 15 times.
This is the only steam mop we tested that takes elbow grease to use. You have to pump the handle to start releasing steam, which it continues to release with a push-forward motion. As you push faster, the steam gets hotter. Since the mop itself is so lightweight, only four and a half pounds, this isn't a difficult task, nor did it put any strain on our arms.
What we liked best about the Shark is the pocket-style microfiber mop. It slips over the mop head and both sides can be used. All you have to do is easily flip the mop head, which can even be done mid-cleaning. We loved using one side of the double-sided microfiber pad to clean and then flipping it over to sanitize with a fresh side. The Shark comes with a large rectangle-shaped mop head, but you can order a triangle-shaped mop head separately if you prefer.
The few negatives we have to report are the fact that you have to lay the mop sideways to fill or refill tank, which was tricky and not at all convenient, and that the provided filling flask is not marked with milliliters. This made it difficult to know how much water you were putting in the tank, or if you reached capacity. (We used a separate measuring cup for our tests.)
Shark – S3601D (Discontinued)
For tough cleaning jobs, the Shark  – S3601D's heavy steam setting removes dried-on soils in 10 seconds and cleans high-traffic areas as well as our top pick.
Although still quiet, the Shark – S3601D does make more noise than the rest; it sounds something like a cat purring loudly. Unlike all the other finalists we tested, this one requires a Phillip head screwdriver to put together, but you only need to screw together the handle and the water tank.
In terms of upgrades from the basic Shark, the S3601D doesn't require any manual effort to produce steam. It has a digital steam control with three settings for dusting, mopping, and scrubbing. The scrub setting, paired with the scrubbing strips on the Sonic Lift microfiber cleaning pad, was especially effective on high-traffic areas. The other side of the pocket pad features shaggy fingers which are meant to lock in dirt and dust, which is great when you want to use the lower heat dust setting on more delicate surfaces.
They also extended the cord by two feet and improved the range of the swivel motion (it is pretty impressive). We tested the S3601D, with the "D" option adding a triangle mop head and pocket pad to the deal. The triangle mop head is useful to get deeper into corners and clean tight spaces, but for larger jobs, the rectangle mop head is more effective, and we found we didn't want to switch mop heads just to finish a single room.
How we selected
During our research phase, we read subreddits like /r/BuyItForLife/ and reviewed articles from cleaning experts to gather information on what features to look for in a steam mop. We also checked out blog reviews and YouTube videos. We narrowed down the field to 18 steam mops, then culled the list even further based on consumer reviews.
Our finalists were all rated four stars or higher on Amazon.com, and each meets all or most of the criteria that we found to be of the highest importance to consumers. We then put each of our finalists through a series of household tests to see how easy they were to use, and how well they performed.
How we tested
Performance
We tested each product on linoleum flooring in the kitchen, bathroom, and laundry/mudroom. The multipurpose steam mops were also tested on short pile carpet and area rugs. Each steam mop was put through several rounds of general-purpose mopping in the kitchen and bathroom, plus two specific performance tests:
High traffic areas: We wanted to find out how well each steam mop cleaned up ground-in dirt and dust, and there was no better test for this than the laundry/mudroom. Outside dirt is constantly tracked onto the linoleum floor here, leaving dusty and sometimes muddy footprints all over the surface. With each steam mop, we did the same number of slow passes on the floor and then checked the results. After cleaning, we considered the floor's brightness, how it felt to the touch, and how much dirt was on the microfiber pad (meaning it was no longer on the floor!).
Food soil: For this test, we spread a black bean paste on the floor and let it dry overnight. In the morning, we set a stopwatch as we hovered the steam mop over the stain with short passes until the stain was removed. Our intention was to stop at 20-second intervals, to prevent the floor from becoming damaged. However, in every case, the dried food soil was removed at 20 seconds or less.
The Bissell – 19404 PowerFresh was the top performer in both the high traffic and food soil tests. The scrubby microfiber pad (one of two microfiber pad options that come with the Bissell units) and easy scrubber brush meant that the mop required less passes and fewer seconds of continuous steaming to remove dried-on messes and ground-in dirt.
The Bissell – Symphony Pet All-in-One Vacuum and Steam Mop also made fast work of cleaning up food soils, but the Bissell 19404 – PowerFresh performed better in high traffic areas. The scrub tool and nylon utility brush attachments of the Steamfast – SF-370WH Multi-Purpose Steam Cleaner garnered excellent results in both areas, but it did not perform as highly with just the microfiber pad you would normally use to mop a floor.
Convenience
The whole idea behind a steam mop is that it offers you convenience, which means fast heat-up times and fast dry times. It also means that you shouldn't have to stop several times to refill the tank or unplug the cord just to finish the room. After all, a longer cord allows for easier reach to electric sockets and less likelihood that you'll have to unplug the cord and wait for the unit to heat up again just to finish a room.
To that end, we filled the tank of each steam mop up to 400 ml and timed how many seconds it took to heat up at the medium setting. Then, we timed how many minutes it took before it ran out of steam, in order to test how long the tank lasted (again, on a medium setting). Once the floor was mopped, we pulled out our stopwatch one final time to test how long it took for the floor to dry.
While the Steamfast – SF-370WH Multi-Purpose Steam took nearly five minutes to heat up, it had the largest tank capacity by far, holding approximately 976 ml more than the other models. The other finalists all heated up in half a minute, but only had a 400-500 ml capacity. The O-Cedar – Microfiber Steam Mop was the fastest to heat up, ready to go in only 20 seconds.
The Bissell – 19404 PowerFresh and Bissell – Symphony Pet had the longest use times, both lasting 20 minutes (more than enough time to mop a kitchen floor). The Bissell Symphony also had the longest cord, extending 25 feet.
The convenience factor we appreciated most, however, was a fast dry time. If the water in the tank only reaches the boiling point, the steam tends to be wetter and the dry time is longer. The higher the temperature, the drier the vapor. The Bissell – 19404 PowerFresh and Shark – Steam Pocket Mop were both dry in two minutes, or about the time it takes to put the unit away and walk back across your floor without leaving a trail of footprints.
Comfort
This wasn't a test, per se, but we felt it was important to judge the comfort level of using each steam mop. We considered how much it weighed, how easily the mop head maneuvered into tight spaces, how easy it was to use, and whether or not it was noisy during use.
The good news is that none of our finalists were noisy enough to wake up a sleeping toddler. The Shark – Steam Pocket Mop and Steamfast – SF-370WH Multi-Purpose Steam Cleaner made no noise at all except for the sound of steam being released, and the remaining mops were equally silent once they heated up (after the first fill or refill, they make an initial "knocking" sound). If you wanted to use the vacuum function of the Bissell – Symphony Pet, we might recommend waiting until after nap time.
At less than five pounds, the Shark – Steam Pocket Mop and Shark – Professional weighed the lightest of the mops we tested. However, the Shark – Steam Pocket Mop does require you to pump the handle and push to create steam. Even though this is the natural action of mopping, we found it more comfortable when the steam was released without manual effort.
This made the Bissell – 19404 PowerFresh Steam Mop Hard Floor Steam Cleaner and O-Cedar – Microfiber Steam Mop our top picks for comfort. At eight and seven pounds, respectively, they are both lightweight enough to push around the room easily, and both release a continuous steam flow without any physical labor.
Why use steam?
You're probably already keeping countertops and showers clean with our recommended glass cleaner, and your toilet bowl is sparkling, thanks to the best toilet brush, but now you should think about the best way to clean your floors. Bathroom and kitchen floors can harbor bacteria, such as Salmonella and E. coli, by contact with shoes or spills.
Steam mops make it easy to clean and sanitize your hard floors, without the need for detergents that can contain hazardous chemicals. Since hard surfaces are porous, steam cleaning can penetrate the surface to remove embedded grime. At a high-enough temperature, steam vapor can kill bacteria, dust mites and mold spores by loosening the physical bond between soils and the surface you are cleaning.
The steam mops we tested claimed to kill 99.9% of bacteria in sanitization studies. Although we didn't perform a bacteria culture ourselves, it is true that heat above 212° F will kill most microorganisms. Sanitizing an area requires continuous steam for 10-15 seconds; you'll want to check the user guide for specific instructions for your model.
Household bleach is an EPA-registered disinfectant often recommended for disinfecting by health professionals; however, the fumes can irritate the lungs and mucous membranes. With steam cleaning, you can sanitize without exposure to toxic chemicals, which is especially reassuring if you have young children or pets crawling around on your floor.
Steam mops also offer the benefit of using microfiber pads, which are able to capture more dirt and dust than a conventional mop, even before you use the steam function. A study completed by the University of California Davis Medical Center found that traditional wet mops only reduced 30% of the bacteria present before cleaning, while microfiber mops reduced 99% of the bacteria.
How to use a steam mop
Steam mops can be used on ceramic tile, grout, sealed wood floors or linoleum flooring, but you should always check the care instructions from your flooring manufacturer to make sure you don't accidentally void your warranty. Some types of flooring are sensitive to moisture and the National Wood Flooring Association notes that "steam or excessive water may damage a wood floor." Manufacturers such as Armstrong/Bruce Hardwood & Laminate Flooring and Avaire Floating Porcelain Tile do not recommend steam mops, while LM Hardwood does recommend them. It's best to check your warranty ahead of time to see what stance the manufacturer takes.
If you've used a wet/dry mop with a disposable pad, you'll be comfortable transitioning to a steam mop. You attach a microfiber pad to the plastic head, fill the tank with water (most models recommend using distilled or filtered water to avoid mineral build up if you have hard water), and plug it in. Once it heats up, you can see the steam as you mop. As a general safety precaution, the user manuals recommend wearing closed-toe shoes to protect your feet.
Prior to cleaning, you should thoroughly sweep or vacuum your floors with a vacuum we recommend, and the microfiber pads should be cleaned and washed regularly. Some models come with carpet gliders, which can eliminate odors and freshen carpets, but do not remove stains. Multipurpose types have brushes and attachments to clean carpets.
Important features to look for
Steam control: Some types of flooring may not be able to handle the high heat settings necessary for sanitization or deep cleaning. Whether a digital or dial control, being able to customize your settings means you can adjust the steam to accommodate the type of surface you are cleaning.
Removable water tank: Not only is it easier to fill, it's much easier to empty. This is important because you should always empty the water tank when the steam mop is not in use.
Heats in under a minute: We all have busy lives, and no one wants to waste precious cleaning time waiting for a steam mop to heat up.
Wide-angle swivel head: A mop with a swivel head allows you to clean hard-to-reach areas such as corners, under cupboards and along walls.
Ready light indicator: This gives you a clear visual indication that the mop is ready to begin steaming.
Empty light indicator: This shows you when the tank is empty, making for much less guesswork.
Continuous steam: Most consumers purchase a steam mop because they want to decrease the amount of physical labor needed to get the job done, making a mop with continuous steam preferable to a unit that must be pumped in use.
Multipurpose: Many steam mops can only be used on hard floors, but some are great multitaskers and take it up a notch with various attachments and brushes to clean carpets and other surfaces.
The bottom line
For this 2021 update, we tested two new models and have selected the Shark Genius – S5003D as the best steam mop. It has two unique features that we haven't seen in other steam mops. The Never-Touch technology allows you to attach and detach the mop pad with the flick of a lever, and the Steam Blaster gives you powerful bursts of steam to clean away the grimiest messes and stains.
We also recommend the Bissell – 19404 PowerFresh that has a built-in easy scrubber and scrubby microfiber pad. Both work together with the steam to remove soil and grime in a matter of seconds.
It takes a little more elbow grease, but the Shark – S1000 is a great option for the budget-conscious, Lightweight and easy to use, the Shark – S1000A's thick microfiber pad grabs dirt and grime in tight corners and under cabinets. Once it heats up, the Shark – S1000A emits gushes of hot steam that cleans and sanitizes your floor.