After more than 35 hours of research and weeks of practical testing with a group of seven pairs of parents, and taking into consideration the price, ingredients, wiping performance and a host of intangible qualities, we've determined that Babyganics – Face, Hand & Baby Wipes are the best baby wipes.
After more than 35 hours of research and weeks of practical testing with a group of seven pairs of parents, and taking into consideration the price, ingredients, wiping performance and a host of intangible qualities, we've determined that Babyganics – Face, Hand & Baby Wipes are the best baby wipes.
Babyganics wipes clean up messy diapers with ease. They also feel soft and gentle, have a pleasant scent and contain mostly plant-based ingredients. Though not most inexpensive, they are still competitively priced against baby-product giant Pampers and relative newcomer Amazon.
Table of contents
How we chose finalists to test
Our baby wipes finalists are among the most-reviewed products we have researched and tested at Your Best Digs. A simple Google search for "best baby wipes" turns up more than three million results from parenting blogs, forums, magazines and product pages. All of our finalists have more than 100 user reviews on Amazon, and some of them have well over 1,000.
Led by these user reviews, and with guidance from the bloggers such as Momtricks, and analysis of online market share, we chose eight of the top-selling natural, sensitive and fragrance-free wipes — the ones that claim to be the best baby wipes for newborns or the best wipes for sensitive skin. Carefully observing scent, softness, thickness, texture, moisture and strength, our seven testers wiped baby bottoms, hands, faces and furniture.
We tested the two leading brands' natural wipes, an up-and-comer and several smaller players.
Compare the best baby wipes
Why should you use baby wipes?
Only 30 years ago, caregivers were still wiping baby bottoms with wash cloths. It wasn't until 1990 that Huggies introduced the first widely available disposable wipes, revolutionizing the way we changed diapers.  Baby wipes are a billion-dollar industry in the U.S. alone, with steady worldwide growth.
Demand for these convenient products continues to grow thanks to rising household incomes, busier lifestyles and constantly improving manufacturing methods. While there is a strong movement among new parents toward reusable wipes (and diapers), disposable baby wipes are still the established choice for caregivers at home and on the go.
If you're out and about, having a cleaning product you can rely on in your diaper bag or even just in the bottom of your stroller will help you deal with all the little messes in your day.
Eco-friendly, natural and sensitive baby wipes are a relatively recent and growing facet of the industry. This trend is in response to consumer demand for wipes that are safe for babies and better for the environment. As the economy improves, mainstream and boutique brands are introducing and improving baby wipes made with high-value features like plant-based ingredients and natural fibers.
Important features to consider
Caregivers' preferences vary across the board when it comes to baby wipe features, and there is a wipe on the market for every preference. Do you want a thick yet soft wipe, or a light, untextured wipe? Do you prefer scented or unscented? Are you concerned about the percentage of plant-origin ingredients and materials, or is price your primary driver? Or maybe you only care that your wipes are available at your favorite store.
For our testing purposes, we selected key features from our own experiences with personal care wipes as well as noting some of the more commonly cited product features. We considered the measurable features of cost, size, ingredients and materials used, as well as more subjective features like softness, thickness and texture.
Cost: As is often the case, with baby wipes it usually pays to buy in bulk. Purchasing several packs of wipes at a time can often save you a few cents per wipe, and that savings can be significant if you're stocking up. Each brand of wipes offers different amounts of wipes per package, so we found it helpful to look at price per wipe when comparing cost.
Wipe size: A baby wipe needs to be small enough to easily dispense, but big enough to create a sense of security when wiping a very messy diaper. Much like other paper products — facial tissues, toilet paper, paper towels — consumers expect a baby wipe to be a standard size, give or take fractions of an inch, or it will feel odd and negatively influence the wiping experience. Few brands even mention size on their packaging, apart from providing the dimensions of the individual wipes.
Package size: most brands we tested come in large packages of around 100. That's good for saving on wasteful packaging, but if you're using a wipe dispenser like the one from our Eddie Bauer diaper bag backpack review you'll have to take wipes out of those packages to load into the dispenser.
Natural ingredients: Because a baby's skin is still developing, irritation can develop very easily. As Babyganics says, "babies' most sensitive places are also the messiest." Harsh additives and excessive friction can contribute to skin irritation, diaper rashes and discomfort. Manufacturers of baby wipes need to find a balance between mild, non-irritating ingredients and those that will be effective enough to clean with as few passes over the skin as possible.
While formulations vary, baby wipes generally contain similar types of ingredients: cleansers, moisturizers, preservatives, fragrance, thickeners and featured ingredients like aloe or vitamin E.
Wipe materials: Baby wipes are made from nonwoven fabrics that usually comprise a combination of natural and synthetic materials. None of the wipes we tested are biodegradable, compostable or flushable.
Strength and durability: Nobody wants a wipe to break in the middle of a diaper change. And while none of the wipes we tested broke mid-wipe, some of them tore or stretched easily when removing them from the package, which can be frustrating when trying to change a squirming child. Our "tug test" put each kind of wipes up against a gentle two-hand tug to see how easily it would break and how well it would hold its shape.
The intangibles: Softness, texture and thickness are a kind of trifecta of difficult-to-measure, yet very important qualities in a baby wipe. Each quality affects the wipe experience, and often a combination of the three can improve or detract from the experience.
Softness is a quality one would expect in all baby wipes. When considering a wipe's softness, we looked at its feeling in the hand and whether its texture felt harsh or gentle. In some cases, thickness tipped the scales in favor of one wipe over another.
Scent and moisture are also subjective and subtle qualities in a wipe. A mild or unobtrusive scent is preferred among our test group and presumably among targeted consumers. As for moisture, testers agreed the ideal level is a "know it when I feel it" middle-ground. Too wet, and it dripped when it shouldn't. Too dry and it didn't feel effective in its purpose. Somewhere in the middle was the "just right" moisture level we expected.
How we tested
We distributed packages of wipes evenly among the seven testers, ensuring each type of wipes was tested by at least four people. Each tester was given several days to test their wipes for diaper changes, after-meal cleanup, wiping runny noses and other household and on-the-go uses.
Then, each tester was asked to take a survey and rank each brand's scent, softness, texture, thickness and moisture on a scale of one to five, with one being the worst and five being the best. Once all the surveys were complete, we averaged the scores of each quality to see which wipes impressed our testers the most. We also asked testers to share any comments about using the wipes, as well as whether they would purchase those wipes in the future. Using this data, we also calculated a "wiping" score to complete the evaluation.
It's important to reiterate the personal nature of preferences in these categories. Even in side-by-side tests, the differences in these qualities tended to be subtle and highly subjective. This observation explains the myriad wipes on the market, and certainly makes it tricky to name a winner. However, some wipes received consistently higher overall rankings than others, so we've graded below according to those ratings.
The price test
The top eight brands of wipes we used range between two cents per wipe and six cents per wipe on Amazon. If you're using a conservative 500 wipes a month, that's a difference of $20 a month — $240 a year — if you choose the least expensive wipes over the most expensive.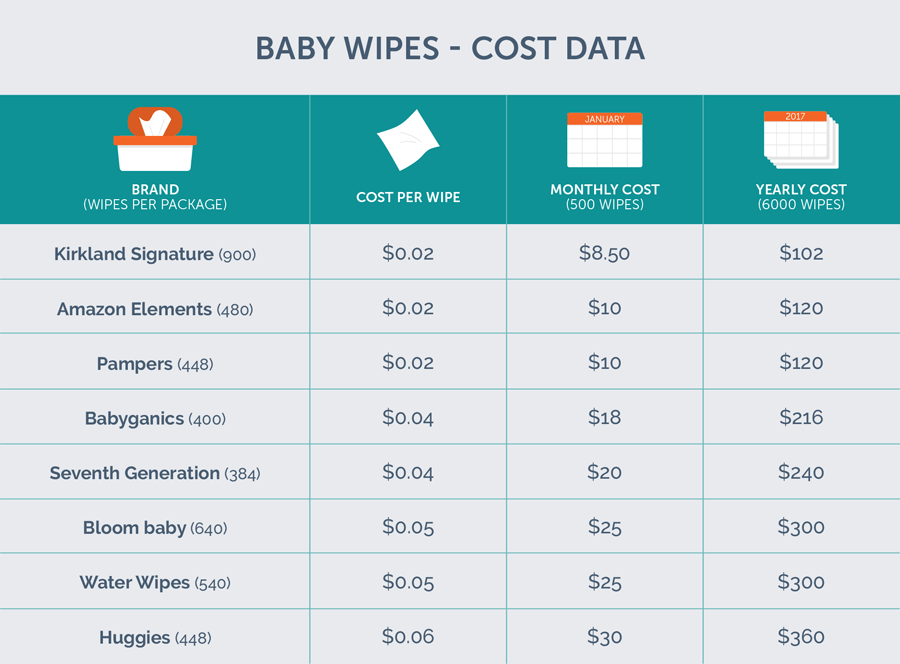 Most wipes will hold up well when stored for two years or more in a closet, pantry or bathroom. The exception in our testing group is WaterWipes. As we discuss below, the lack of preservatives in these wipes shortens their shelf life compared to other brands, so the manufacturer recommends using them within 15 months of purchase.
For some brands, it is significantly more economical to buy in bulk. Kirkland Signature are the least expensive wipes we tested, at less than two cents per wipe — but only when you purchase a box of 900 wipes. If you wanted only 400 wipes, for example, you could pay seven cents per wipe for the same product.
The ingredient test: additives and fabrics
All of the wipes we tested are marketed specifically on their natural or sensitive ingredients, and in fact all of them are hypoallergenic, alcohol free and free of dyes. Packaging claims include "plant-based ingredients," "chemical free," "hypoallergenic" and "naturally scented." Several of the brands print their ingredients on their packaging or website as a chart listing the purpose of each substance, and most have detailed information about their ingredients and fabrics online.
Chemical preservatives are an added ingredient in all of the wipes we tested except WaterWipes.
Babyganics, Pampers, Amazon, Kirkland and Seventh Generation each include Sodium Benzoate, a common synthetic food and cosmetics preservative. Four of the brands — Kirkland, Amazon, Huggies and Bloom — include Phenoxyethanol, a preservative controversial for its possible toxicity or allergic reaction, especially when used around the mouth.
Babyganics, Bloom, Seventh Generation and WaterWipes all contain a majority of plant-derived ingredients, which is our expectation of "natural" baby wipes. The remaining wipes include multiple other chemicals that, while common in cosmetics and other personal care products, don't seem to jive with the "natural" or "sensitive" label.
WaterWipes certainly stand out in this category. Marketed as "the world's purest baby wipe," WaterWipes contain only two ingredients: water and grapefruit seed extract. The obvious benefit of this is the inclusion of fewer potential allergens or irritants. Grapefruit seed extract is a natural skin conditioner and frequent ingredient in skin care products. Because there are no preservatives in these wipes, the manufacturer recommends using them within 15 months of purchase.
The Amazon brand embraces an extra level of transparency in the sharing of ingredient information. A QR code on each individual package allows you to see the geographical origin of every ingredient in that package, as well as its manufacture and expiration dates. For example, the water used in Amazon's wipes comes from White Lick Creek Aquifer in Mooresville, Indiana. While it may not affect the wipe's cleansing ability, this level of detail may give consumers more peace of mind or simply warmer feelings about the brand.
As for fabrics, Bloom wipes are 100% naturally derived cellulose. Pampers, Amazon and WaterWipes use 100% synthetic fibers. Seventh Generation, Babyganics and Huggies wipes include a combination of plant-based cellulose and synthetic fibers. Kirkland advertises that their wipes are 70% TENCEL fiber, a naturally derived cellulose fiber, but they do not share what the other 30% of the material is.
The size test: physical dimensions
Does the size of the individual wipe make a difference in its wiping ability? In a word, our testers said no. Kirkland's "extra-large wipe" is only a quarter-inch larger than Babyganics, the next largest wipe, which isn't noticeable. Testers did notice that WaterWipes and Seventh Generation wipes have a slightly smaller feel in the hand, but specifically cited no noticeable difference in effectiveness for their smaller size.
The sniff test: scent
Seven of the eight wipes tested were marked "unscented," "fragrance free," or "perfume free" — and WaterWipes' two-ingredient composition implies this quality as well.
All of the wipes have some kind of scent — none of them smells like nothing — even those marketed as "unscented" or "fragrance free." Babyganics and WaterWipes came in at the top of the list here with pleasant scents that didn't linger on skin. Babyganics' scent is a lightly floral fragrance, while WaterWipes has a clean, astringent, almost fruity smell. Amazon Elements and Seventh Generation also got high marks for their mild, soapy fragrances.
Kirkland wipes turned off several of our reviewers, who said they had a "chemical" smell.
The touch test: softness, texture and thickness
Testers were divided on these three qualities. Pampers and Babyganics were the top softness performers, with especially high marks compared to the other brands. Pampers credits their blend of plant-derived rayon and polypropylene for the "fabric-like feel." But that wasn't enough for either one to get the highest marks for texture, which went to Bloom, and thickness, which went to Huggies and Pampers.
Texture on baby wipes is created by stamping or weaving a pattern or picture into the surface of the wipe. Six of the eight wipes have textures, including ducks and clouds, polka dots, and wavy lines. WaterWipes and Babyganics are simply smooth cloth with no specially created texture.
Seventh Generation wipes are relatively thick with a stamped texture, but because they're not soft they feel stiff and not pliable enough for the inevitable crevices that need to be cleaned. Babyganics, however, is a thinner, softer wipe with no stamped texture that still feels very effective at clean-up.
In these categories the personal preferences really shone through. For example, some testers rated Amazon wipes as "too coarse" and "too papery," while another noted they were "among the best wipes I've tried." One tester gave Babyganics the lowest score possible for texture and thickness, while another gave the same wipes the highest score possible in those categories.
The drip test: moisture
Amazon, Pampers and Seventh Generation tied for first in this category, achieving that "just right" level of moisture that's so hard to define. Some testers thought WaterWipes were "too wet" — although one tester noted that is her preference. Babyganics had median scores, but two testers noted the wipes were "not wet enough at all."
The tug test: strength
Using an admittedly unscientific method, a "tug test" was administered to each kind of wipes to determine breakability and stretchiness. Huggies wipes consistently broke with only one tug, and also occasionally tore when dispensing from a Huggies-brand container. Seventh Generation, Bloom and Kirkland all tore on the third or fourth tug, with minimal stretching. Amazon, Babyganics, WaterWipes and Pampers all stretched significantly and held up to seven or eight tugs before breaking.
The wipe test: cleaning
All of the wipes performed adequately on post-meal cleanup of hands, faces and high chairs. Testers noted a few areas of sensitivity, however. One tester stopped using Amazon wipes on her children's faces and hands because "the kids hate the taste." Another stopped using Huggies wipes altogether after kissing her daughter's recently wiped face and musing, "If they taste that bad I'm afraid to use them" for further diaper changes.
In our testing, all the wipes stood up well to the rigors of wet and soiled diapers. Babyganics was a stand-out, cleaning messy diapers with fewer wipes than the other brands required. Bloom was labeled "efficient" by our testers, and Seventh Generation also performed well. Surprisingly, the most breakable wipes — Huggies — also had a high wiping score.
Bottom of the heap? Kirkland wipes didn't have the thickness or texture to clean a mess in one or two wipes, so big messes required multiple passes with multiple wipes. WaterWipes also disappointed with soiled diapers, with one reviewer noting a damp washcloth would have been more effective.
Best overall: Babyganics
Because there wasn't one kind of wipes that topped every category, we took a close look at all of the wipes' features, measurable and otherwise, and carefully considered our choice for best baby wipes. Our reviewers generally agreed that scent, wiping efficiency, natural ingredients and price are their highest priorities in choosing baby wipes, so we gave those qualities more weight as we made our final rankings.
If you're looking for hypoallergenic wipes with mostly plant-derived ingredients, efficient wiping ability and a pleasant scent at a competitive price point, you can't go wrong with Babyganics – Face, Hand & Baby Wipes. Our testers loved their scent and softness, noting especially that the scent — however pleasant — did not linger after wiping. This brand also wiped out the competition at diaper-changing time, requiring fewer wipes per change than any other brand, which definitely saves money in the long run. And with a regular price of $14.99 for 400 wipes, they're a good buy for a mostly all-natural product.
Babyganics are truly well-rounded, all-purpose wipes. While most of the other wipes we tested were adequate for diaper changes, Babyganics was also a superstar at wiping messy faces, fingers, and surfaces. This all-around quality is extremely valuable for caregivers who may also be spending money on products like baby face wipes or extra paper towels.
Although they're not the most natural wipes we tested or the least expensive, the overall experience of the Babyganics wipes won us over in the test to choose the best wipes for our babies.
Key takeaways:
Babyganics has a pleasant scent that doesn't linger on the skin.
Thinner than the rest, yet it cleaned up diapers with fewer wipes than any other brand.
Sold as a natural product, Babyganics contains a majority of plant-derived ingredients.
Three honorable mentions
Because of the subjective nature of these products, several other brands earned honorable mentions among the best baby wipes. If your top priorities are minimal ingredients, plant-derived materials, or extreme softness, these three finalists are worth your consideration.
WaterWipes need to be at or near the top of the list for anyone looking for the most natural baby wipes, or for the best baby wipes for newborns or babies with sensitive skin. Truly, ingredient lists don't get much more "natural" (or minimalist) than water and grapefruit seed oil. High marks for scent and decent performance in all-around wiping balance out the slightly higher price. If you want truly natural baby wipes and price isn't your main driver, these are the wipes for you.
Another bonus: these smaller packets take up minimal space, and fit neatly in the side dispenser pocket of one of the finalists from our review of the best diaper bags.
Seventh Generation Free & Clear
Seventh Generation was a consistent performer in diaper changes and on messy hands and faces, without leaving a residue or lingering smell behind. Ingredients are almost all plant-derived and the wipes themselves are made from 70% plant-derived cellulose. They're not the softest or most friendly wipes we tested, but more than one tester named these their favorite.
Pampers scored very high in our tests, with especially high marks for softness, which is an important concern when selecting sensitive baby wipes. They're not quite "natural" wipes, with several synthetic chemicals in their formulation, but testers liked their gentleness and light scent. And with a price point of $0.02 per wipe, these are an exceptionally good buy.
Other finalists we tested
It's evident that the folks at Amazon have done a lot of homework on what consumers want in baby wipes. If we consider the purchasing experience side by side with the product itself, Amazon Elements has an edge on the competition. It's good to know what's in your baby wipes; it's downright impressive to be able to track the source of every ingredient too. Testers found the wipes rather thin and not particularly soft, but overall, these are average wipes with a great price.
Another middle-of-the-road wipe that got the job done without any kind of bells and whistles, Bloom just didn't stand out to our testers. The almost-all-natural ingredient list and 100% natural fabric go a long way to recommend this brand, although the addition of possible irritant Phenoxyethanol might give some caregivers pause.
These medium-thick, relatively soft wipes feel like they could tear at any minute. At $0.05 per wipe for 448 wipes, it's at the higher end of the price range of the wipes we tested. And the inclusion of Phenoxyethanol and Cocamidopropyl Betaine, among other synthetic additives, belies the "natural" in this wipe's name. They're champion wipers, but if you're looking for truly natural wipes, these don't really fit the bill.
Budget wipes well-known to caregivers shopping at Costco, the smell of these "unscented" wipes put off our testers. Firmly falling to the bottom of the group in most categories, these wipes couldn't stand up to their higher-quality competitors. When purchased in bulk (900 wipes per box), this product prices out at less than two cents per wipe, so that could be a deciding feature for many consumers. However, the cost savings doesn't feel as significant when you end up using more wipes per diaper change compared to the other brands.
The bottom line
Caregivers want a gentle, mildly scented, effective product when selecting the best natural baby wipes for their needs. There are some great choices out there that cater to specific preferences for few additives, extra softness and enhanced manufacturing transparency.
For our money, Babyganics Face, Hand & Baby Wipes are the best natural baby wipes in overall performance, price, and those all-important intangibles that combine to make your wiping experience feel "just right."