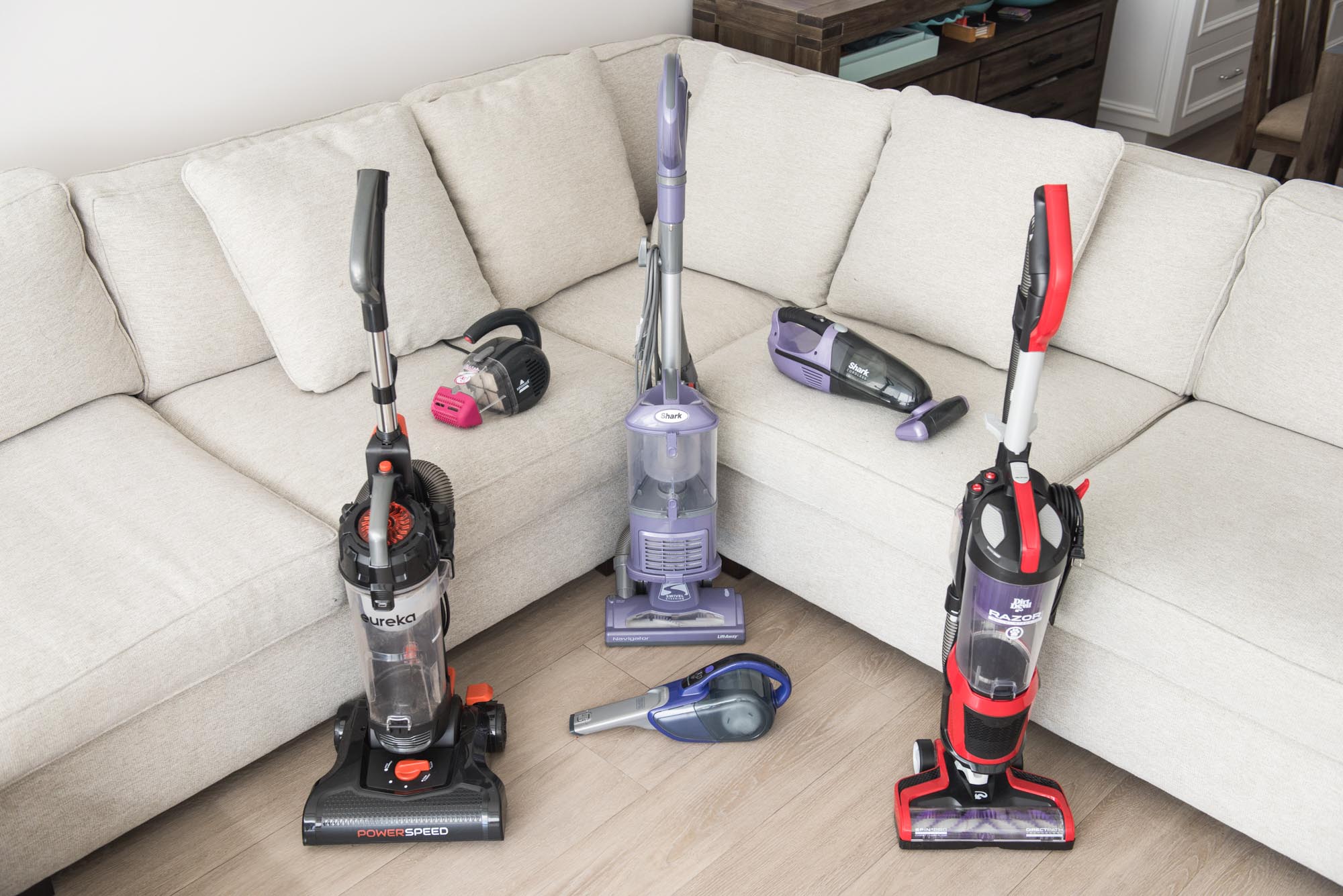 The Best Pet Hair Vacuums
Over a six-week period we tested the top three upright canister vacuums on the market that are specifically designed for pet hair. The Shark – NV350 outshone the others with its powerful cyclonic suction, HEPA air filtration system and superb maneuverability. For this 2022 update, we tested three top-rated handheld vacuums for pet hair, and we selected the cordless Black+Decker – HHVK515JP07 as our new winner as the best handheld vacuum for lifting embedded pet hair from upholstery, stairs and tough-to-reach nooks and crannies.
Over a six-week period we tested the top three upright canister vacuums on the market that are specifically designed for pet hair. The Shark – NV350 outshone the others with its powerful cyclonic suction, HEPA air filtration system and superb maneuverability. For this 2022 update, we tested three top-rated handheld vacuums for pet hair, and we selected the cordless Black+Decker – HHVK515JP07 as our new winner as the best handheld vacuum for lifting embedded pet hair from upholstery, stairs and tough-to-reach nooks and crannies.
Table of contents
The 9 pet hair vacuums we tested
Best upright vac for pet hair
The most critical thing we can say about the Shark – NV350 is that its power cord could be longer. Besides that, this powerful, quiet and nearly perfect upright canister vacuum will make short work not only of pet hair, but also dirt, dust, debris and and anything else you may vacuum.
(The Shark – NV350 comes in a number of colors, each of which has a different serial number. We tested the lavender Shark – NV352.)
The Shark – NV350 is marketed as "liftaway," which means that the canister can be detached from the main chassis to transform into a portable vacuum. This feature allows you to vacuum anywhere within the power cord's 25-foot reach and get into tight areas and up and down stairs.
The Shark – NV350's cyclone separation technology and completely sealed HEPA filtration system suck up every last bit of hair and dust. The HEPA filter also freshens the exhaust air from the side vents.
The canister is removed by unlatching top and bottom latches, which completely prevent any debris from flying up and out when you empty it into the trash. Before the testing period, our tester vacuumed frequently with a Miele bagged canister vacuum, so he was shocked when he saw how much more embedded hair and dust the Shark – NV350 vacuumed up.
If that wasn't eye-opening enough, our tester vacuumed over the same areas where he tested the Eureka – NEU180B and the Dirt Devil – UD70355B, and the Shark sucked up a half-full canister of more hair and dust.
The Shark – NV350 is lightweight — less than 13 pounds — and has superb maneuverability thanks to its swivel steering and motorized power brush. The power brush can be turned on for carpets and off for bare floors. It took slightly more effort to push the Shark on bare floors, but on carpet, it practically whizzed around the room on its own volition.
The Shark has the usual attachments — crevice tools, a couple of brushes — and also includes a pet upholstery tool, which resembles a lint brush. It's pretty good at picking up pet hair on furniture, but you need to brush in a downward direction.
Depending on where you purchase the Shark – NV350, a mini power brush is included (note: the mini power brush is not included with the Shark that is sold by Amazon). It works the same as the large motorized power brush, but it's about one-third the size, which makes it perfect for stairs and reaching under the bed.
Clean-up is a cinch. The aforementioned liftaway canister makes it easy to empty the vacuumed-up debris into the trash, and it washes clean in seconds. Both foam filters are cleaned by simply rinsing them through with water and squeezing them dry.
Shark offers a five-year limited warranty and a lifetime guarantee for the foam filters and motor belt. The Shark – NV350 is the most expensive of the three upright canister vacuums we tested, but at $145, it's still moderately priced for such a high-quality product that outperformed the other vacuums we tested.
Key takeaways:
Lightweight but extremely powerful, the Shark – NV350 can suction up every last bit of pet hair, dust and debris from both carpeted and non-carpeted floors.
It has excellent maneuverability thanks to its swivel steering and motorized beater brush.
The Shark – NV350 is one of the few vacuums marketed specifically for cleaning up pet hair that has a sealed filtration system with a HEPA filter.
Its "liftaway" canister turns the vacuum into a portable vacuum for getting into corners, up and down stairs and under furniture.
Best handheld vac for pet hair
Although our former top pick for handheld — Black+Decker – HHVJ325BMP07 (now discontinued) — performed superbly when we first reviewed it, the updated model — Black+Decker – HHVK515JP07 — tested even better. Nicknamed "Furbuster," this handheld vacuum is actually the brand's Dustbuster but with a detachable motorized roller brush.
Its powerful lithium-ion battery keeps this little machine running for about 30 minutes, which is plenty of time for vacuuming up every pet hair in your home. For our 2022 test, we vacuumed a week's worth of hair shed by two shaggy dogs from two 14'x14′ area rugs, carpeted stairs, a carpeted bedroom, furniture, and every baseboard and corner in a 2300 square-foot house.
The Furbuster has two speeds: one for general vacuuming, and a second high power speed for vacuuming up extra stubborn hair and/or debris. This "powerboost" does diminish the battery's running time, so it should be used sparingly, which we did because the regular speed is much more powerful than the other handheld vacuums we tested.
The Black+Decker – HHVK515JP07 has an extra-long crevice tool — 9 inches when fully extended — that we found to be especially helpful for vacuuming in between sofa cushions and the tight crevices in between our car's upholstery. Our only gripe about the crevice tool is that it doesn't really lock into place when extended and tends to collapse when pressure is applied.
The Furbuster weighs in at a little over four pounds, but you don't feel its weight when you're using the motorized roller brush because it propels the vacuum forward. The brush is great for churning up and collecting long pet hair on any surface (even a dirt- and hair-embedded door mat. Overall, the brush's rubber bristles are non-tangle, but on one occasion, we did need to remove a long carpet thread got wrapped around the brush.
The Furbuster's collection cannister is double the size of the new Shark Ultra-Cyclone we tested (see review below), and sucked up triple the amount of hair and dust. The Furbuster has two filters — both washable — that effectively trap everything the vacuum comes in contact with.  Another feature we liked about the cannister is that it has a one-touch lever for emptying the contents into the trash, so you don't ever have to pull out hair and debris with your hand.
The Black+Decker – HHVK515JP07 doesn't have a charging stand, but it's been designed to stand upright. Cleaning the Furbuster isn't as easy as it should be. The filters pop in and out and can be rinsed in water, but the cannister can't be removed, and so you need to hand clean it with paper towels or a dish towel.
Other than that minor inconvenience, the Furbuster smashed the competition for winning the war against pet hair.
Key takeaways:
The Black+Decker – HHVK515JP07 has a powerful lithium-ion battery that keeps the vacuum running at full speed for nearly 30 minutes.
It has a large collection cannister that can hold three times the pet hair than other handheld vacuums.
Its motorized brush head has non-tangle rubber bristles that can gather up deeply embedded pet hair.
Other products we tested
Shark – CH951
Like other Shark vacuums, the Shark – CH951 UltraCyclone uses cyclonic technology for gathering up pet hair and swirling it into the collection cannister. In this case, we didn't think it worked. This Shark model does have the power — although we estimated it to be half of the Furbuster — to vacuum up most pet hair, but once captured inside the cannister, the hair forms a ball that just swirls around in the upper part of the cannister and doesn't deposit into the lower part so it can be removed. So, in effect, every time we emptied our the cannister, we had to pull the ball of hair out.
The Shark's lithium-ion battery took the longest to charge — six hours — but it did give us 19 minutes of running time at full power. It comes with three attachments: a 3-inch crevice tool, a dusting brush, and a motorized brush, described as "self-cleaning," which it decidedly is not. The actual brush within the motorized head is only 2.75 inches in length — half the size of the Furbuster's brush — so you don't get much coverage and takes longer to vacuum up a large area. As to "self-cleaning," unfortunately long pet hairs do get wrapped around the inside of the brush, which stops the motor, and need to be picked out.
The Shark has a dual-filter system that's very effective for capturing dust and dander, but because it does such a good job, you'll need to wash them after every use. Its cannister pops out and is easy to rinse out, but you'll need to carefully remove what's been vacuumed or the cannister gets clogged. Another odd design choice is the Shark doesn't have a storage caddy and just lies flat at 20 inches in length, making it difficult to store. The Shark – CH951 is the same price as the Furbuster, which is a much better pet hair vacuum.
Bissell – 29869
The Bissell – 29869 Aeroslim is a handy, nicely designed little vacuum that charges quickly via USB. Its charge lasts 14 minutes but with a noticeable decrease in power after 10 minutes, so it's really intended for quick pick-ups. The Bissell weighs a little over a pound, and its slim profile makes it easy to maneuver in tight spaces.
It has two washable filters (one is extra, since the vacuum only uses one at a time), and although its collection cannister is too small for larger jobs, it cleans in a jiffy. The Bissell comes with a 5.5-inch crevice tool and a dusting brush, but we found the Bissell was more efficient without using them. It tested well with vacuuming up hair in a car, but it really didn't have enough power to vacuum up pet hair from large swathes of furniture or rugs.
The Bissell is reasonably priced, but it's better for vacuuming up dirt and debris than it is for suctioning up pet hair.
Dirt Devil – UD70355B
The Dirt Devil – UD70355B, also known as the Razor Pet, is another cyclonic upright canister vacuum and appears to be one of the better made vacuums by this company. Dirt Devil markets the Razor Pet for pet owners by stamping a paw print icon on the box and canister, but it's otherwise similar to the regular Dirt Devil Razor.
The only addition to the Razor Pet is its "turboclaw" attachment. It's a mini beater brush with nine rubber teeth that presumably are designed to rake up hair from a carpet. However, to work properly, the claw must be held at a 45-degree angle so the beater brush can actually reach the carpet. The vacuum has strong suction, so pet hair is lifted up without the assistance of the useless — but cute — turboclaw.
The Razor Pet did an excellent job of consistently sucking up pet hair into neat whirling balls inside the canister. It has swivel steering like the Shark – NV350, and you can lower the vacuum head so it's nearly flat (which lets you get under furniture) but we found the steering to be stiff and not very easy to maneuver. In fact, even though the Razor Pet is lightweight, we needed quite a bit of elbow grease to push the vacuum around.
The cyclonic separation works differently in the Razor Pet than it does in the Shark – NV350. The vortex keeps the vacuumed hair separated and elevated and dust and dirt is forced upwards through a conical foam-covered filter. A latch on the bottom of the canister releases the hair, but the filter must be removed from the top of the canister by unlatching a needlessly difficult lock.
Once removed, the foam is slipped off the ridged fabric filter, which traps hair between the ridges and must be pulled out by hand. A good amount of dust is trapped in the filter, but since it's not sealed, like with the Shark – NV350, the Razor Pet cannot capture pet dander. It's a good all-around vacuum, but it really isn't a vacuum for handling the challenges of pet hair.
Eureka – NEU180B
The Eureka – NEU180B is an upright canister vacuum that's marketed specifically as a pet hair vacuum, but again, in reality, it's just a vacuum with a lint brush tool. It's very lightweight, because it seems to be made almost entirely of plastic. One Amazon reviewer wrote that it looks like a kid's toy, and we have to agree. Even though it weighs only ten pounds, we found it difficult to push around carpeted floors, and it has no steering capability at all.
It has an extra large canister, but it's not a cyclonic vacuum, so everything blows up into and swirls around the lower third of the canister. Other than a thin piece of foam in the canister, the Eureka doesn't have an air filter system, so clearly it's not been designed for pet dander and dust — plus, the exhaust air does not smell clean.
The beater brush can purportedly be adjusted to five levels with a lever, two of which are mysteriously not labeled, but we turned the lever to each level, and nothing moved. Since the beater brush should not be used on a hardwood floor, this is a major design flaw.
For such a noisy vacuum, it doesn't seem to have much suction power. The ultimate test result was that we vacuumed the same area with the other two upright vacuums, which picked up double the amount that the Eureka did.
Bissell – 33A1C
The Bissell – 33A1C is one of the most highly rated handheld vacuums on Amazon. The majority of reviewers cite the low price, and at $30, it's absolutely the least expensive of handheld vacuums for pet hair. We found it to be very effective on our dog's bed; it grabbed up every last hair. However, its rubber-teethed mouth doesn't really rake up the hair, and we had to go over the bed several times before all the hair was picked up.
It's corded, so it has limitations as to where you can vacuum. We found the vacuum especially challenging when trying to clean the car, since you need an outlet nearby that can accommodate its cord.
The vent exhaust is close to the head, so for anything other than hair, the exhaust air blows it around. The Bissell's tapered mouth allows you to vacuum in tight spaces, but the spaces in the rubbered mouth are so small that it really can't pick up much besides pet hair.
Finally, cleaning the filter is a pain, especially if you have a pet with long hair. The Pet Hair Eraser has a ridged fabric filter, which traps long pet hair and can only be removed by picking it out with your fingers.
Shark – SV780 – Discontinued
(Editor's Note: In 2022, we learned that Shark has discontinued this model and is no longer available.)
This cordless handheld vacuum has cyclonic technology, like its upright vacuum, with a built-in beater brush. The Shark – SV780 is powered by a rechargeable 18-volt nickel metal hydride battery, which lasts longer than alkaline batteries in high-drain electronics. Be that as it may, each time we charged the Shark – SV780, full power lasted slightly less than eight-and-a-half minutes.
For the brief time that the Shark – SV780 is at full power, it's got powerful suction and grabbed up everything in its path, including pet hair deeply embedded in car carpeting. Its side vents are positioned beneath the rubberized grip handle, so the exhaust blows backwards and doesn't scatter the debris you're vacuuming.
It has a sturdy bag filter that captures dust and dander, and it's very easy to clean. It's a terrific handheld vacuum that does indeed seem like it was designed for pet hair. However, because of its short charge, it just doesn't give you enough time to clean up anything other than quick little messes.
Black+Decker – HHVJ325BMP07 – Discontinued
(Editor's Note: In 2022, we learned that Black+Decker has discontinued this model and is no longer available.)
All three of the handheld vacuums we tested had elements designed specifically for picking up pet hair. The Black+Decker – HHVJ325BMP07 did the better job of vacuuming dust and dirt as well, thanks to its Smartech auto-sense feature that automatically changes speed and power levels by sensing whether you're vacuuming carpet, bare floors or upholstery. The auto-sense's LED indicator also shows battery life and whether it's time to change the filter.
The Black+Decker is a cordless handheld and is charged by a lithium ion battery for a minimum of six hours. For all of our tests, the charge lasted approximately 18 minutes, which was nearly double the time that the Shark – SV780 (the other cordless handheld we tested) lasted.
During the period of its charge, the auto-sense did indeed switch speeds when we moved back and forth from carpeting (higher speed), furniture (middle speed) and floor (lowest speed). The charge did dip a bit to about 15 minutes when we kept the vacuum running at its highest speed.
The Black+Decker has very strong suction that lasted during most of its charge, and even when it began to diminish, it was still able to remove stubborn pet hair that clung to car carpeting.
The vacuum itself resembles a Dustbuster with an elongated nozzle that can be used for vacuuming tight corners and under cabinets. One of the Black+Decker's excellent features is its beater-brush attachment that slips on to the nozzle. The brush's alternating rows of rubber bristles and soft rubber tabs prevent long pet hair from getting wrapped and trapped when you're vacuuming carpeted areas and upholstery.
We were also impressed by how well the Black+Decker sucked up dust from between couch cushions and pillows, which was revealed when we opened up its canister and examined its dual-filter system.
Everything is sucked into the canister where large debris, such as dog hair or cat litter, is separated. Dirt and dust are forced through the filter cup and trapped in the fabric filter bag that's locked inside the cup. Once vacuuming is done, the filter cup can be removed and the pet hair in the main container emptied without dust flying everywhere.
Two fabric filters are included with the Black+Decker, one of which is scented and perfumes the exhaust air as you vacuum. The "fresh linen" scent is a bit overpowering, but the second filter bag is unscented. As with all handheld vacuums, they should be cleaned after every use. Cleaning is a simple task since the canister and filters can be quickly rinsed and dried.The Black+Decker – HHVJ325BMP07 is the most expensive of the three handheld vacuums for pet hair that we tested, but thanks to its brush attachment, we found that it was the only one that "powers through pet hair" as advertised. This is a fantastic all-around handheld vacuum you can use for any small area and upholstery.
How we selected
We began our research by checking out websites that are devoted to pet care, such as Rover.com, and other websites that reviewed and made recommendations for the best pet hair vacuum. It soon became obvious that almost none state how they tested the vacuums, and most recommend vacuums for general purposes and not those specifically designed for the challenges posed by pet hair and dander.
We decided to focus on vacuums that either had a special pet hair attachment, such as a mechanized roller brush, or vacuums that were specially designed for vacuuming pet hair. Once we had assembled our list, we narrowed it down to the vacuums reviewed by Amazon consumers as the most effective, durable and easy to use.
How we tested
Test conditions
Our tester lives in a two-bedroom 1200 square-foot condominium that has approximately 90-percent low-pile carpeted floor. Every two weeks for a six-week period, he tested the vacuum cleaners by allowing hair from his mixed-breed terrier to accumulate.
Each vacuum was tested in a specified area of the condo, each area having both carpeted and marble-tile floors and several pieces of upholstered furniture, where his dog was allowed to sit and nap. If the vacuum was portable, our tester also vacuumed sections of the condo's fifteen carpeted stairs. All of the handheld pet hair vacuums were tested on the stairs.
Our tester owns a Miele bagged canister vacuum and vacuumed an area as a comparison with the three upright bagless canister vacuums we decided to test. He changed the Miele bag at the beginning of the testing period so its suction power would not be diminished.
For the three handheld pet hair vacuums, he also allowed dog hair to accumulate on his car's upholstered driver and passenger seats, carpeted floor and rear hatchback area.
Vacuuming
Our tester vacuumed each designated area three times with each vacuum over the six-week period. After each vacuuming of the carpets and floors, he checked the beater brush to see whether any hair had been trapped in its bristles. If the vacuum had a special attachment for pet hair, he then vacuumed the upholstered furniture. Finally, using the same attachment, he vacuumed a section of the carpeted staircase.
Ease of use
During the testing our tester noted the following:
Maneuverability: Two of the uprights we tested — the Shark – NV350 and the Dirt Devil – UD70355B — had swiveled steering, which allowed easy access in corners and beneath the furniture and bed.
Weight: Upright canister vacuums are designed to be lightweight. We tested how much effort it took to push the vacuum and also carry up the stairs.
Motorized attachment: Several vacuums have a motorized brush attachment and we determined whether motorizing the separate beater brush was actually more efficient in picking up pet hair.
Length of power cord: A longer power cord allows convenient access to multiple rooms from one electrical outlet.
Cleaning
After each vacuuming, our tester documented the amount of hair, dust and debris trapped inside the canister and how easy or difficult it was to remove. Unlike a bagged canister vacuum, which does not need its bag changed after each vacuum, a bagless canister vacuum should have its canister emptied and washed every time.
Theoretically the vacuum's filters should be changed once a year, but presumably that is advisable only if you wash the filters on a regular basis. Our tester noted how much dust each filter collected and washed it to determine its efficacy the next time he vacuumed.
The handheld vacuums were not as easy to clean. It was a challenge removing everything from the compact canister, and the filters were a dusty mess after each use. The Bissell – 33A1C's ridged filter was especially troublesome to clean, since pet hair got trapped between the ridges and needed to be extracted by hand.
Who needs a pet hair vacuum?
Dog and cat owners can probably agree on one thing: their fur baby sheds constantly, and if you allow them on the furniture or in your bed, then you've got pet hair everywhere. Pets shed all year round, and many dog breeds have shedding seasons when they lose their top coats and thick undercoats all at once. If you don't keep up with it, you'll be suffocating in tumbleweeds of hair.
You could be conscientiously grooming your pet every day, but you're not just dealing with hair; you've got to rid your living space of dander too. For people with allergies, those microscopic flecks of skin will make them miserable if the air is filled with dander. Air purifiers certainly help, but you need a vacuum that can simultaneously suction up pet hair and filter pet dander.
Vacuums, of course, come in many shapes, styles and sizes:
Upright bagless canister
Upright bagged canister
Corded handheld
Cordless handheld
Robot vacuum
The vacuum that will be most effective on pet hair will depend on the size of your home and whether you have carpet, hardwood floor or both.
Most vacuum manufacturers advertise that their product is best for pet hair, and some simply stamp a paw print icon on their product's box to target pet owners. We learned from our research, however, that the differences between a regular vacuum and a vacuum for pet hair are actually pretty minimal.
In fact, when we compared handheld pet hair vacuums with the "regular" vacuums in our handheld vacuums review, we found that they were notably similar. A pet hair handheld vacuum may have an additional feature, such as a motorized beater-brush  or a rubber comb, but that's about it.
Manufacturers claim that a bagged canister vacuum is the most powerful for deep cleaning on a regular basis. But if you're a pet owner who wants to vacuum every day, it doesn't make sense to lug one of those around to every room and up and down stairs.
An upright bagless canister vacuum is lightweight, has great maneuverability and is easy to clean. It's really the best and most convenient for vacuuming pet hair up from both carpeting and bare floor.
Important features to consider
Cyclone separation technology: You've probably read or heard about "cyclonic" vacuums. Dyson is the most famous vacuum that uses cyclone separation. (Check out our Dyson review here.) In brief, it's a method for creating a rotating high-speed air flow, like a mini cyclone, that sucks everything up into the vacuum. The vortex inside the vacuum canister keeps the pet hair elevated and spinning. Dust and dander are then separated from the hair by centrifugal force and are trapped in an air filter.
Air filtration: An air filtration system collects dust and dander from pet hair, and in some cases, freshens the air flowing through the vacuum's exhaust vents. All upright canister vacuums have a filter made of sponge, foam or ridged fabric. The filters are easy to remove and clean by simply running them through water and squeezing them dry.
A HEPA (high efficiency particulate air) filter — found in many air purifiers — is often a secondary filter in a vacuum cleaner, and it traps virtually all airborne particles. Of the three upright canister vacuums we tested, only our top pick, the Shark – NV350 had the additional HEPA filter.
Beater brush control: The rotating brush — or beater brush — under an upright canister vacuum whisks up embedded dirt and debris from a carpet, which is then sucked into the canister. Beater brushes, however, are not effective on a hardwood floor, since they scatter more hair and dust than they actually brush up. Look for an upright canister vacuum that has a control to turn the beater brush on and off or raises and lowers it.
Special pet hair brush attachment: All vacuum cleaners have attachable accessories, such as brushes and extension wands, for vacuuming drapery, upholstery and tight spaces. Upright vacuums for pet hair also have an extension wand, a brush or two and sometimes an upholstery tool, which resembles a lint roller brush.
Two of the upright canister vacuums we tested — the Shark – NV350 and the Dirt Devil – UD70355B — had a special pet hair brush attachment. It's about one-third the size of the regular beater brush, so you simply attach it to the extension wand and use it to get in between couch pillows or under your bed. Dirt Devil's attachment has a rubberized claw, which is excellent for raking up hair from pile carpet.
The bottom line
There's clearly a lot of competition in marketing a vacuum to pet owners, and at first, it can be daunting to decide which type of vacuum you need and then whether it really can do as advertised. You could certainly spend a month's rent on a very high-end vacuum, but we focused our research and subsequent testing on reasonably priced upright and handheld vacuums that were designed specifically for vacuuming pet hair.
The best upright bagless canister vacuum for pet hair was unquestionably the Shark – NV350. Its swivel steering and motorized beater brush give this lightweight vacuum excellent maneuverability, so you can get under furniture and into tight corners. The Shark – NV350 has a dual air filtration system with a HEPA filter, which eliminates virtually every speck of dust and dander on your carpets and floors. It also has a canister that can be removed to transform it into a portable vacuum that's perfect for going up and down stairs.
Our pick for the best handheld vacuum for pet hair is Black+Decker – HHVK515JP07 . It's a cordless handheld, and its charge lasts almost 30 minutes, giving you plenty of time for rapid clean up of small areas. The Black+Decker is more expensive than other handheld vacuums, but it really does the job that others didn't in our tests.