For this 2021 update, we tested the new Dyson – V15 Detect, which proved to be exceptional in every way. Like most Dyson products, it's pricey, but if you have dust and pet allergies, the Dyson – V15 is worth every penny. Another excellent cordless Dyson is the V11 – Torque Detector, which significantly advanced the V Series technologically. If you're in the market for a corded model, we recommend the Shark – Rocket HV382.
For this 2021 update, we tested the new Dyson – V15 Detect, which proved to be exceptional in every way. Like most Dyson products, it's pricey, but if you have dust and pet allergies, the Dyson – V15 is worth every penny. Another excellent cordless Dyson is the V11 – Torque Detector, which significantly advanced the V Series technologically. If you're in the market for a corded model, we recommend the Shark – Rocket HV382.
Table of contents
The 10 stick vacuums we tested
(Editor's note: We learned in June 2021 that the Shark – Rocket HV382 is out of stock on the company's website, and to date, it's only available as a renewed option. We still recommend the Shark, but due to its unavailability, we've moved it down in our rating.)
Best overall: Dyson – V15 Detect
Dyson is continually updating and improving their product line, and when we reviewed the cordless Dyson – V8 Absolute, it was certainly the best stick vacuum on the market at the time. However, since then, Dyson has updated the V Series several times, and we tested the latest model Dyson – V15 Detect, which we now crown as the best stick vacuum overall.
The V15 is similar in appearance to the Dyson – V11. They both have digital displays that show power level (Eco, Auto, Boost), and a time that shows how much charge remains in the click-on battery. Each has an on/off trigger, washable filter, a quick-release system that lets you empty the bin without touching it, and a battery that lasts about 60 minutes in the Eco mode (45 minutes in Auto mode, 7.5-8 minutes in Boost mode). Both can be used with the stick and without as a handheld vacuum.
So what's different about the V15? Quite a lot. First, the V15 has about 20% more power, giving it even stronger suction. If you're a neatnik, you'll feel great satisfaction that you've vacuumed your room impeccably clean by the read-out on the Piezo sensor display, which monitors the dust and debris you vacuum up. The display is a four-bar graph that shows the amount and the type of debris. Yellow for allergens (during our tests, the highest registered 490 million), orange for microscopic dust (usually in the lower millions), pink for dust mites, and purple for larger debris, including fleas. In honesty, we were at first horrified by the high numbers, but then we released all of the microscopic stuff that had been picked up.
The Dyson V15 comes with a slew of attachments that allow you to vacuum and/or dust in crooks and crannies, drapery, and upholstery. Two exceptional attachments were added to the V15. Both the V11 and V15 have a torque head for vacuuming hardwood floors, but the V15 has added an anti-tangle comb with polycarbonate teeth that pull up pet or human hair without getting trapped inside the head. A mini version is also included, and it's fantastic for vacuuming stairs and the backs of car seat cushions.
Another addition is the Laser Slim Fluffy cleaning head that, when activated, has a green LED that shines on the floor, illuminating dust you wouldn't see in regular light. We found that the laser worked better in dimly lit areas (like the laundry room), and it really does show you where you need to vacuum.
Our only quibble with the Dyson – V15 Detect is that the handheld unit can get heavy if you're holding it for too long, and the trigger press can be uncomfortable on your forefinger. Of course, the price ($700) could be a deterrent, and our other picks are not as expensive. But if you're serious about cleaning your home, the Dyson – 15 Detect is a great investment.
Key takeaways:
The Dyson – V15's new Piezo display screen shows you the number of allergens, microscopic dust, dust mites, and other debris (including fleas) you've vacuumed up.
The Lazer Slim Fluffy cleaning head shines a green LED in dimly lit areas where you should vacuum dust and debris you can't see in normal lighting.
It's expensive, but if you suffer from allergies or have shedding pets, the Dyson V15 Detect will help get your carpets and floors allergen-free.
Also great cordless: Dyson – V11 Torque Drive
If you're bothered by the Dyson – V15's visual display that your home is filled to the gills with allergens, bacteria, and dust mites, the Dyson – V11 Torque Drive is less accusatory about your house-cleaning skills. Each new Dyson model makes improvements upon the previous top-of-their-game model, and the V11 is several steps up from the V8 Absolute that we first reviewed.
The most noticeable change in the V11 is its LCD screen that displays charge time and performance mode. This feature was introduced in the V10 model, but it's been refined to display the actual type of selected performance mode. Dyson substantially increased suction power and bin size with the V10, but the V11 has been engineered to increase air wattage from 150 to 185, which means it's more efficient.
The major technological upgrade is the new torque cleaner head that can automatically detect a change in floor surface: carpet or hardwood/tile. During our testing, the detection happened almost instantaneously. When you press on the foot release, the torque drive kicks into gear and moves the vacuum forward. The sudden rush of power certainly made vacuuming a lot easier, but it also took some strength to steer it in the direction we wanted.
The V11 is nearly a pound heavier than the V8 and the V10, but we didn't notice a difference in the weight increase until we tried using it as a handheld. That extra pound definitely tired our hands while vacuuming stairs, ceiling corners, and car interior. The V11 charges the same as previous V-series models by plugging in the entire handheld unit. The vast improvement made in the V15 of charging an attachable battery pack was sorely missed.
That quibble aside, the Dyson – V11 Torque Drive is another great cordless stick vacuum that you can purchase new or completely refurbished by Dyson on the company's website for substantially less money.
Key takeaways:
The Dyson – V11 Torque Head adds an LCD screen that displays battery life and performance mode.
A big technological advancement is the automatic floor-surface detection.
The V11 has increased power, battery life, air wattage, and bin size.
Budget pick: Dirt Devil – SimpliStik
Not everyone wants to spend a significant amount of money on a supplemental cleaning tool. For those, the Dirt Devil – SimpliStik is a budget-priced corded model that gets the job done without leaving much dust in its wake. Thanks to a long-reaching cord, lightweight design, and smooth-rolling wheels, you can clean up quickly without any hassle. It doesn't have a brush roll to engage carpets, LED lighting, or swivel steering like our other finalists, but it is excellent at picking up litter and debris.
It moves easily from room to room and you only need to search for one outlet in each room, because 16 feet is typically more than enough cord length.
If you need to quickly switch to a handheld with a crevice tool, the Dirt Devil does so easily. Since the crevice tool is an on-board attachment, you don't have to worry about misplacing it in between tasks. We found the Dirt Devil to be a multi-functional, handy cleaning tool that manages most jobs, despite a lack of bells and whistles.
Because it converts into a handheld and the power button needs to be accessible in both modes, you are required to bend down to turn the vacuum on/off. Other than this design flaw and a high-decibel noise level, the Dirt Devil is a functional stick vacuum available for a fraction of the cost of the higher-end models.
Key takeaways:
The Dirt Devil – SimpliStik has a lightweight construction and smooth rolling wheels.
It can easily fit into a broom closet, so it's ideal for small spaces.
As a corded model, it offers constant suction power and comes with a 16-foot cord that easily wraps up for storage.
The onboard crevice tool for the hand vacuum makes it easy to multitask; you can clean under the couch and between the couch cushions without switching vacuums.
Best corded: Shark – Rocket HV382
The Shark – Rocket HV382 has the strongest suction capability of the stick vacuums we tested, and thanks to its unique dual-brush roll system, could handle piles of sand and Cheerios without snow-plowing them to the walls. The brush roll system is designed to capture three types of particles from floors and carpet, so even stuck-on messes (think squashed raisins) come up easily. This meant that it took less work to clean up the floor than with our other stick vacuums.
It easily converts into a handheld vacuum for versatility, has powerful LED lights, and comes with a pet multi-tool attachment for embedded pet hair. At nearly 10 pounds, the Shark isn't the lightest stick vacuum on the market. In fact, it weighs the most out of all the stick vacuums we tested. While it may be top-heavy, the unit moves forward with very little force.
The self-propelling motion combined with swivel steering makes the Shark easy to maneuver and navigate around furniture. Once converted into a hand vacuum, it only weighs 4.6 pounds, so it's easy on the wrists when it comes to above ground-level cleaning.
Shark's patented DuoClean technology changes the game with two brush rolls that work in unison: a soft roll to buff hard floors for a polished look and a bristle brush roll to pull up debris that has worked itself into the carpet. LED headlights illuminate dark corners and under furniture, while the exposed brush roll allowed us to pick up large particles and piles of small particles. This meant that we could vacuum over cereal and rice without it scattering and that it could handle a small pile of sand in one pass.
The Shark had the most powerful suction of the finalists, but perhaps even more importantly, everything it captured made its way to the filter and dustbin. It aced the emissions test, as the air had fewer small particles after vacuuming than when we started.
The Shark was clearly the winner when it comes to handling pet hair. Even before we tried the pet multi-tool, we were able to pick up large amounts of pet hair easily with the DuoClean vacuum head. In our pet hair test, the suction was strong enough to suck up litter and embedded cat hair, visibly making a difference in the area where we vacuumed with the Shark. When we measured the output, it weighed 14 grams — more than the other finalists. We also tried it on the areas where other vacuums picked up only two or three grams of hair, and again filled the waste container.
It collected quite a bit of hair in the bristle brush and soft roll, but it was easily removed since you can open the brush roll garage to maintain the brushes. The pet multi-tool works as a hand vacuum attachment, so you can remove embedded pet hair from furniture or inside a kennel. The brush part of this attachment releases to serve as an upholstery tool as well, and the Shark comes with a duster crevice tool, on-board tool clip so you can store your attachments with the wand, and a wall mount.
Key takeaways:
The self-propelling force and swivel steering of the Shark – Rocket HV382 make it easy to maneuver around your living room, no matter how many pieces of furniture you own.
It captured the most embedded cat hair and litter with powerful suction, and also comes with a pet multi-tool for more difficult-to-reach spots such as inside a kennel.
With DuoClean technology, the Shark uses two brush rolls to engage floors and remove stuck-on particles.
There is no front wall, so rather than pushing large particles or piles of sand out of the way, it captures them with the exposed front brush roll.
Other products we tested
Dyson – V8 Absolute
When we first reviewed the Dyson – V8 Absolute we found its features to be worth every penny. Its powerful suction was very close to the power you can get with a traditional upright. As a handheld, we loved how convenient it was to clean ceilings, drapes, and blinds just by adding the combination tool or soft dusting brush to the end of the stick attachment. This high-end cordless stick vacuum would be most beneficial to people who want to use one tool for the majority of their cleaning tasks, from vacuuming the multiple floor types to dusting bookshelves to cleaning out car seats.
Powered by a "digital V8 motor" which spins at 110,000 rpm, the Dyson offers 40 minutes of powerful suction. You can toggle between two power modes: Powerful mode and MAX mode (which gives you just seven minutes of increased power). It has sealed-system HEPA filtration (which we'll get into in a minute) and quickly transforms into a handheld with several attachments.
Dyson's statement that the Dyson – V8 Absolute "expels air cleaner than the air you breathe" sounds like marketing fluff. So we were impressed that the Dyson lives up to its claim, as proved by our emissions test. Not only was there zero dust kickback, the air we measured was cleaner after vacuuming.
The most important aspect to look for when choosing a vacuum to reduce dust mite allergens is high-efficiency particulate air filter (HEPA) filtration. Cordless vacuums don't usually come with a HEPA filter, making the Dyson V8 unique. The air path from the cleaner head, wand, and bin is sealed until the air is expressed through the HEPA filter. In fact, the Dyson is the only stick vacuum we tested that is certified asthma and allergy friendly by the Asthma and Allergy Foundation of America.
Even if you don't suffer from allergies, most of us would agree on the importance of clean air. Dust mites, pollen, and pet dander are particles bigger than 0.3 micrometers, so any good vacuum will capture these particles. HEPA filtration is designed to capture particles smaller than 0.3 micrometers, and filter out 99.7% of bacteria, pathogens, and microbial spores. Small particles are the most likely to cause health problems, since they can be inhaled deeply into the lungs. If you're concerned about your indoor air quality, the Dyson is worth the price tag.
In addition to whole machine HEPA filtration, the Dyson comes with two heads so you can adapt the unit to your flooring type: a soft roller cleaner head for hard floors, and a direct-drive cleaner head that removes ground-in dirt for a visibly cleaner carpet. It also converts into a handheld and can be used with interchangeable attachments: a quick-release soft dusting brush (useful for electronics), a mini motorized tool, and a quick-release combination tool.
At less than six pounds, it's easy to lift this vacuum to reach high places such as walls and drapes. It has a low profile, so you can easily get under furniture. With all the attachments, you can easily clean your whole house from floor to ceiling. It only takes four hours to fully recharge and has a run time of 40 minutes. This gives you 10 minutes more run time than any of the other models we tested, for the same charge time or less.
If you use the mini motorized tool to tackle pet hair in small spaces, it gives you 25 minutes of cleaning power. On max mode, you have seven minutes. For most cleaning jobs, you'll toggle back and forth between power modes and still have enough time to finish the task.
If anything, the Dyson is almost too effective. It pulls up so much dirt that the dust bin fills in a matter of minutes. It's easy to empty, though, and you don't have to touch any of the dirt you just vacuumed; all you have to do is pull a lever to release everything into the garbage. The mantra of the stick vacuum game is convenience, convenience, convenience. Emptying the dustbin without removing a
Hoover – LiNX
Unlike the majority of cordless models we tested, which ran out of battery power with little to no warning, the Hoover – LiNX's 18V Li-ion battery has an LED fuel gauge so you always know your battery capacity. When all three LEDs are lit, you are operating on at least 75% battery power. When two LEDs are lit, you have at least 50% capacity remaining, and one lit LED indicates 25% capacity. Less than 25% capacity is indicated by one blinking LED light.
As we tested the Hoover, we noticed that the shape of the head and the edge-cleaning bristles made it exceptional at pulling in debris from along walls. We found that we didn't really need to stop and use an additional handheld along walls and in corners. This feature is so useful (since you don't have to stop and use a crevice tool or other attachment to pick up debris along the walls) that we would consider the Hoover a runner-up to our top pick. It doesn't make number one, though, because it doesn't convert into a handheld.
The multi-floor brush roll meant we could vacuum the carpeted living room and then easily transition to the hard floors in the kitchen. It runs for 18 minutes on the highest mode of suction, but it only takes three hours to fully recharge. You can also purchase this model with a spare battery.
It's better at picking up everyday debris such as cereal, rice, and sand than it is at removing pet hair, but overall we were impressed with the Hoover.
Black+Decker – BDH2020FLFH
As a hand vacuum, the rubber pet attachment helped the Black+Decker – BDH2020FLFH win top marks as the best hand vacuum for pet owners. The Black+Decker is an excellent choice if you're primarily looking for a hand vacuum, with a secondary ability to be used as a stick vacuum. While it was a top performer as a handheld vacuum, the stick attachment was less adept at picking up ground-in dirt than our best stick vacuum finalists.
The stick head is just one of the many attachments that come with this model, so it makes a handy one-size-fits-all supplementary cleaning tool. Since the stick head attachment connects to the flexible hose, you hold the unit in one hand and vacuum with another. It's only 3.2 pounds, so it isn't heavy, but it does require the use of both hands. This style is perfect for cleaning walls and ceilings, but it's cumbersome if you're only using it to clean the floor.
As busy individuals, it's not uncommon to try to finish all your cleaning tasks in one session: picking up pet hair from the upholstery, getting into the crevices between the couch cushions, and vacuuming the floor. If you find yourself switching out cleaning tasks between a handheld and standing vacuum, the Black+Decker is the way to go. If you're looking for something to keep the living room floor clean on a daily basis (say, before you let the baby roam), then you may want to go with a more traditional stick model.
BISSELL – AirRam
The BISSELL – AirRam is another stick vacuum with a fuel gauge: this one features four quadrants, so you're well aware of how much battery power remains. It has a 22V lithium-ion battery that lasts for 30 minutes. It takes five hours to fully recharge, but thanks to the battery gauge, you can charge it for just long enough to finish a quick job.
A bulky head made this cordless stick vacuum the least helpful at what stick vacuums should do best, cleaning under furniture and reach into smaller spaces. Our annoyance at the bulky head was tempered when we realized how much pet hair it could pick up and how convenient it is to empty the dirt bin. However, because of its bulk and lack of swivel steering, we didn't include it in the running as a top pick.
The dirt bin pops out of the vacuum, and then you push the hair and debris out using the easy empty slider. You don't have to tug on the hair or touch any debris with your hands. The hair that caught in the beater bar necessitated the use of scissors, but it was a minimal amount of hair compared to some of the other models.
BISSELL – 38B1
For a stick vacuum on the lower end of the price spectrum, the BISSELL – 38B1 has a powerful suction that can easily handle sand, cat litter and a moderate amount of pet hair (we'll call it a vacuum for a one-cat household). We seriously considered it for our budget pick, but the dust kickback was the highest of the vacuums we tested.
However, if you want a lightweight, lower-priced model with a two amp motor and versatility, the Bissell is a good choice for you. It weighs only four pounds and has a 16-foot power cord for a long reach. We also appreciated its 3-in-1 convertible capability, which allows you to complete a range of cleaning tasks in one session. It functions as a stick vacuum and a handheld, and the quick release handle makes it easy to remove the handle but keep the foot for stairs. Due to its narrow width, the Bissell is easy to store away in a cupboard or under a bed.
Electrolux – Ergorapido (Discontinued)
(Editor's note: The model we tested has been discontinued. Updated models can be found on Electrolux's website.)
The swivel steering on the Electrolux – Ergorapido is phenomenal; swivel action is a great feature in and of itself, but the Electrolux truly glides on carpet and hard floors (We may or may not have danced across the living room with the Electrolux like Fred Astaire with Ginger Rogers. Sorry, Dirt Devil.)
We also appreciated that it has a 30 minute run time, so you can finish a four-room house without needing to recharge. Once the battery does discharge completely, it only takes four hours to fully recharge. Most of the vacuums we tested snap together; the Electrolux setup requires a Phillips head screwdriver to fasten the handle to vacuum.
One of the neat things about the Electrolux is the motorized brush roll that spins backward at the push of a button to remove tangled hair. This patented self-cleaning feature came in handy when we were picking up large quantities of pet hair, although the suction didn't fare as well in this test. The Electrolux wasn't able to pick up cat litter that had settled in the carpet grooves. Another drawback is that you need to remove the filter to empty the dust bin, which can prove to be messy.
The 180° EasySteer maneuverability, self-cleaning brush roll, and convenient run time to charge time ratio make this stick vacuum a good pick for households who prioritize ease of use over power. The lack of power and high emissions kept it out of the running for best pick, although it is still a good stick vacuum.
How we selected
In order to find a lineup of stick vacuums to consider, we first had to find out who is best served by a stick vacuum and what types of cleaning tasks they hope to accomplish. We consulted an excessively tidy community on the Laundry Love & Cleaning Science Facebook group, where science-backed data reigns and "vacuum recommendations" and "carpet cleaning" are the hottest topics. This group favored lower-priced corded models, providing feedback on our budget picks, but also had strong opinions on which vacuums are worth the splurge.
In addition to doing in-depth research for our handheld vacuums post previously, we also scoured through amateur reviews and posts by neatnik consumers on blogs, subreddits like r/VacuumCleaners and Amazon. Finally, we rounded out our data with input from professional reviewers like Wirecutter and Consumer Reports. This helped us narrow down the most-desired features in stick vacuums.
From there, we devised a series of rigorous tests that satisfied our inner geeks and helped us come up with a more objective basis for choosing our winners. During the testing phase, we vacuumed our rugs, carpets, upholstery, and hard floors, then used the attachments on curtain blinds, inside the cupboards, and even the walls.
How we tested
Usability
Our practical testing involved a house with young children, both carpet and linoleum floors and a heavily trafficked rug in the living room. While accomplishing daily (or even more frequent) cleaning tasks such as removing Cheerios, dried Play-Doh and debris from foot traffic on the floors, we first considered the ergonomics and ease of use.
Is it easy to push around the room? How is the grip? Is it heavy to lift when taking it out of the closet and storing it again? Can it easily convert to a handheld to quickly pick up debris along the edges of walls and furniture? What is the waste emptying process like? These are the types of questions we asked as we put each finalist to use on typical cleaning jobs.
Since the Berber carpet and linoleum floors we used for testing tend to be hardier than hardwood and laminate floors, we also checked reviews to verify details on scratch-susceptible flooring before deciding on our winners. Some products were less hardwood friendly, such as the Hoover – LiNX and BISSELL – AirRam, where consumers reported scratches. The Dyson – V8 Absolute is the only model with an interchangeable brush roll designed specifically for hard floors, made of soft woven nylon and anti-static carbon fiber filaments.
Dust emissions test
We wanted to know whether the vacuums were actually picking up or just kicking up dust and debris, so we conducted an emissions test with a Dylos air quality monitor. The Dylos measures indoor air quality in small and large particle counts. By testing before and after vacuuming, we were able to compare the numbers and ascertain whether there was a high amount of dust kickback.
According to Southside Vacuum Company, dust kickback can occur when the dirt container is too full, large items clog the vacuum, or the height adjustment is set incorrectly. Therefore, we made sure to take all these points into consideration before conducting our test. However, even a vacuum that is functioning properly can throw around particles that won't be caught in the filter.
You need a sealed HEPA filter like the Dyson – V8 Absolute to fully capture the finest dust and dander, which meets the United States Department of Energy standards by capturing 99.97% of particles as small as 0.3 micrometers.
The Shark – Rocket HV382 exceeded expectations on this test and also left the air cleaner than when we began. It has two pre-motor filters (foam and felt) and a post-motor filter, so it was able to capture more small particles. All of the remaining vacuums produced kickback of varying degrees, with the BISSELL – 38B1 blowing back the most dust.
We set the Dylos on a flat surface slightly above the floor and took a test reading to get our base counts. We took a new base reading for each vacuum as the counts can vary over a period of days and weeks.
For each test we vacuumed a large area rug, making sure it was free from large debris, that the height settings (if available) were set correctly and that the dirt container was empty. After vacuuming for approximately five minutes, we turned on the Dylos and took a second reading with the vacuum still running.
Suction test
As we used each finalist on general house cleaning tasks, we noted the efficacy on both hard flooring and carpet. Since a stick vacuum is not a deep cleaning tool, we judged efficacy by the ASTM F2609 standard. This standard applies to the removal of litter clinging to the surface of a floor, rather than how well it removes embedded dirt.
To test suction power and design, we sprinkled cereal and then rice on both hard floors and carpet. We gave each finalist 30 seconds to vacuum up the litter, taking note of whether it pushed the larger debris out of its path or if we needed to maneuver the vacuum by lifting the head for better suction.
Sand is prevalent in San Diego (where we conducted our tests), but it is not always visible on light-colored carpet. To give a more clear indication of efficacy on small particles, we used blue kinetic sand made of baking soda, baking powder and Dawn dish soap. Then we followed the same steps as the litter test to see how well it cleaned the floor.
For the units that converted into handhelds, we conducted an additional test to measure power. Holding the vacuum nozzle above the floor, we slide the unit downwards until it sucked up cereal and recorded that distance in inches.
Pet hair
Many consumers who purchase a stick vacuum as a supplemental cleaning tool to their full size vacuum do so because they fight a daily battle against pet hair and other pet-related debris. We all know that once pet hair lands on carpet or upholstery, it never wants to let go.
To determine how well our stick vacuums removed embedded pet hair, we put them up against a clowder of cats. Healthy cats shed constantly, even those of the shorthaired variety. In a home where four cats reside (one longhaired and three shorthaired rescue cats), the carpet under the bed in the master bedroom gathers a prolific amount of pet hair, dander, cat litter and other unpleasant messes.
Since the cat hair was not visible on the light carpet, we gave each finalist 30 seconds to pick up as much hair and debris as it could, making sure to vacuum a new section each time. We considered whether the vacuum was able to capture cat litter embedded in the carpet divots, how clean the floor appeared and felt after vacuuming and whether or not hair was getting stuck in the brush roll or making it all the way to the waste bin.
After vacuuming, we emptied the waste canister and used a kitchen scale to determine which finalist was the most effective at removing embedded hair from the carpet. While there were potential variations in the amount of hair on the carpet in each area, the weight found in the waste bin was consistent with our qualitative data.
The Shark – Rocket HV382 picked up an impressive 14 grams of pet hair using the pet multi-tool, and thanks to easy access to the brushroll, it was simple to remove the hair after vacuuming. The exposed brush roll design (no front wall) meant that it easily sucked up cat litter, rather than pushing it forward and leaving a line of debris against the wall.
The Dyson – V8 Absolute was a top contender here, sucking up 11 grams of pet hair with very little getting caught in the brushroll. With a low profile that lies flush to the ground, it was the best at reaching under the bed without moving the mattress.
It should be noted that after testing with all seven of our stick vacuums, we finished the job with an upright Dyson DC 40 and still managed to pick up deeply embedded hair. However, for the more moderate one or two pet household, an ability to capture 14 grams of pet hair should prove more than adequate.
Sound test
Usually a noisy vacuum means a more powerful motor, but sometimes it just means a louder motor. Since some people can be sensitive to noise, we measured sound by holding a decibel meter an inch away from the motor and recording the max decibels.
To give you an indication of comparable noise levels, we clocked a portable electric fan at 68.1 dB and a refrigerator motor at 78.8 dB. At 89.8 dB, the Electrolux – Ergorapido is the quietest of the stick vacuums we tested. The Dirt Devil – SimpliStik was the noisiest, at 101 dB. Generally speaking, the corded vacuums were louder than the cordless vacuums (at 96.7 dB, the BISSELL – 38B1 was unusually quiet for a corded model) so that's something to keep in mind if you're considering a corded model.
Charging and run time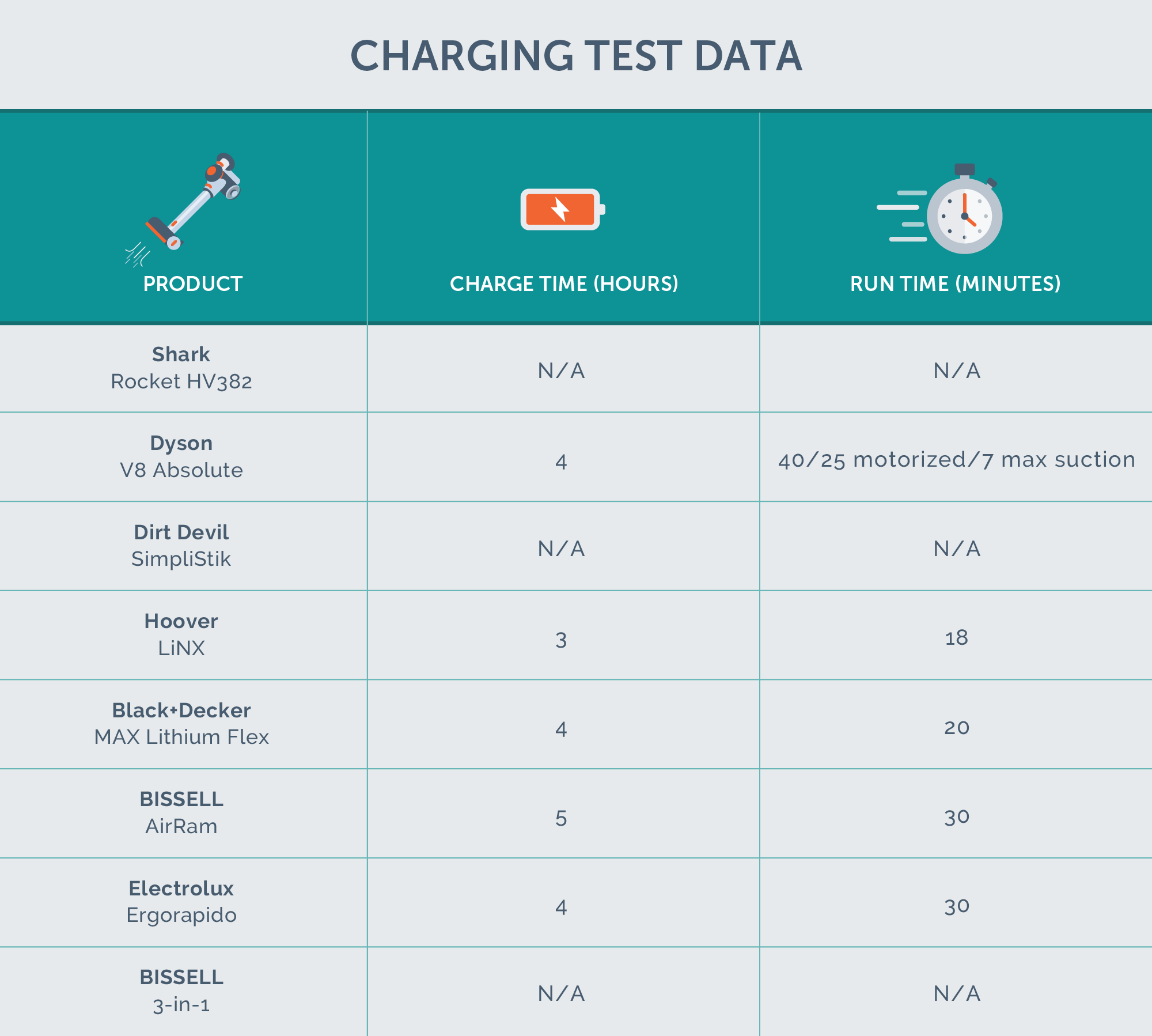 For the cordless models, charging and run time are important considerations. It can be quite disappointing to charge a stick vacuum for three hours, then find that the battery only lasts for 18 minutes or less as with the Hoover – LiNX. If you have a small space, this may not matter as much, but it is significant if you're trying to clean a whole house. While the ratio of charge time to run time isn't balanced on any cordless stick vacuum on the market today, a shorter charging time and longer run time is preferable.
Most of the manufacturers are clear about their charge time and run time, and we verified this data by timing how long it took each cordless stick vacuum to charge (from 0% battery power) and how long we could run the battery before it fully discharged.
Stick vacuums vs. traditional upright vacuums
When it comes to versatility and reach, stick vacuums are the cleaning tool of choice. They are lightweight and flexible, making them ideal for quick pick ups (think animal cracker crumbs, pet hair and the potato chip bits that follow your roommate around).
The majority of the models we tested can convert into cordless handhelds and/or lie flat, allowing you to clean spaces that are typically awkward for an upright model to clean. A stick model makes it more convenient to clean under furniture and fit into small spaces like behind the toilet or inside cupboards.
Since they take up less storage space, these are well suited for the fastidious college student or for small businesses to use in between their regular cleaning service. Although stick vacuums are making advancements, they are still less powerful than upright vacuums.
If you have a lot of square footage (such as a large home or business) or only want to invest in one cleaning tool, your best bet is to stick with an upright vacuum. However, if you already have a full size vacuum for deep cleaning and are looking for a supplemental cleaning tool, a stick vacuum is handy to have.
Important features to consider
Low profile: Upright vacuums rarely lie flat, so it's one of the features that make a stick vacuum stand out. The lower the profile, meaning how flat it lies to the ground, the easier it is to reach further under furniture. Since stick vacuums tend to be a supplemental cleaning tool, it's helpful if they reach places that are hard to clean with a traditional vacuum.
Swivel steering: This feature gives you more control, making it easy to maneuver around furniture and other obstacles. Fewer than half of our finalists have this feature, but agility makes a big difference on your arm and ability to get into tight spaces with ease.
Multi-functional: As a supplemental cleaning tool, a stick vacuum adds extra value if it is able to convert into a hand vac and/or comes with attachments. The last thing you want to do is go get yet another cleaning tool when you're trying to finish multiple tasks at once.
Power: We already mentioned that you won't get the deep cleaning associated with an upright vacuum, but that doesn't mean you want a wimpy model. Newer models continue to outdo themselves when it comes to more powerful suction on carpets and hard floors.
Battery life / run time: If you know you want a cordless stick vacuum, you'll want to consider how long it runs before you need to recharge and how long it takes to recharge. A fast recharge and longer run time is the ideal combination in a cordless stick vacuum.
Unit size: If you're purchasing a stick vacuum because you have limited storage, the upright dimensions of the unit are key. For instance, the Dirt Devil – SimpliStik has a width comparable to a broom or mop, while the BISSELL – AirRam has the width and depth of a traditional upright vacuum. Smaller dimensions makes these vacuums easy to keep in a corner for quick pick ups. On the other hand, a wider head allows you to cover more square footage more quickly, while a narrower head allows you to fit into tight spaces. The width you need depends on the type of job you want to accomplish.
Safe on delicate floors: One of the convenient things about a cordless stick vacuum is that you can easily move from room to room without searching for a new outlet. It's nice to know that you can move from carpet to wood floors to tile or linoleum without scratching delicate surfaces.
Noise: This may not matter as much if you plan to vacuum in a dorm room or bustling office, but a quieter vacuum is nice when you have kids or pets who may be sensitive to loud noises.
Corded vs. cordless
Since cordless models run on batteries, they tend to be less powerful and have a shorter life span. Additionally, they can suffer from a battery "memory effect," more accurately referred to as voltage depression. A corded vacuum gives you constant suction power, so there's no concern about how long you can run it. If you have a lot of square footage to cover and don't want to wait for a battery to recharge, you might want to go with a corded model.
On the other hand, cordless stick vacuums are highly convenient. There's no need to worry about cord length or dancing with the cord. Since run times can vary from 20 to 40 minutes, they tend to be better for smaller spaces such as dorm rooms, studios and apartments. Choose a model with a good charge time to run time ratio, i.e. one that charges for fewer hours and has a longer run time.
In the end, the choice between a corded or cordless stick vacuum comes down to lifestyle, how large your space is and the types of cleaning jobs you need to accomplish on a regular basis.
The bottom line
Whether a corded or cordless model best matches your lifestyle, you can't go wrong with our top picks. Any neatnik would agree that emissions are an important consideration with a vacuum (stick or otherwise), as you don't want to pull dirt up from the floor just to spray it into the air. Nobody wants to have to dust the bookshelves just because they vacuumed underneath the couch.
While these models are on the more expensive side, you don't have to cash out bonds just to enjoy the convenience of a stick vacuum. The Dirt Devil – SimpliStik has very little dust kick back, quickly converts into a handheld vacuum, and can still tackle dust, dirt, and crumbs — leaving you with a cleaner floor in minutes.