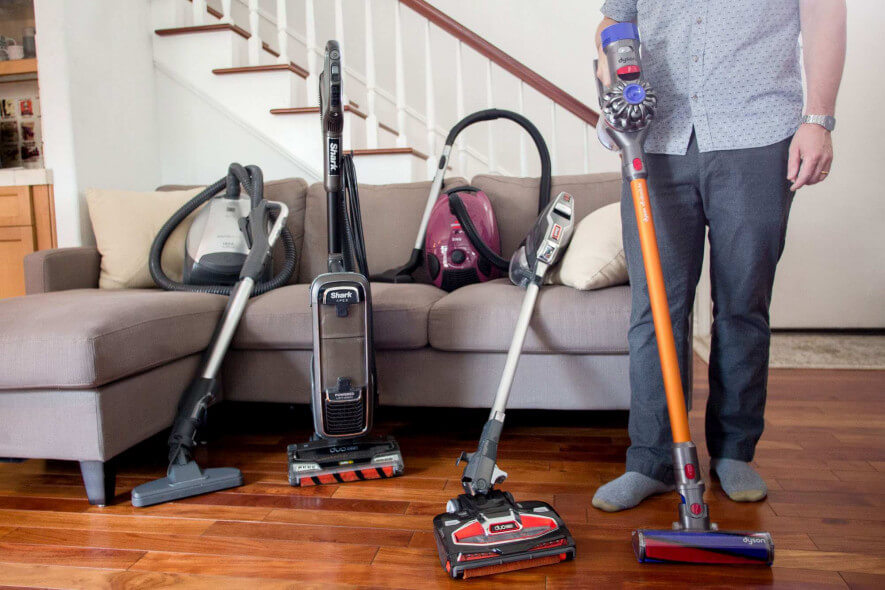 The Best Vacuums for Hardwood Floors
After 18 months of testing seven vacuum types on a variety of surfaces, we rounded up our top picks from other reviews and compared how well they work on hardwood. The best vacuum for hardwood floors and carpet is the Shark – Apex, with a multi-surface brush system that doesn't choke on area rugs. For quick clean-up, the best cordless for hardwood is the Dyson – V8 Absolute with an excellent hardwood cleaning head. For a corded vacuum that's light and easy to use, we prefer the Shark – Rocket stick, and the Kenmore – Elite canister vacuum will be a sure bet for those who need full power together with maximum maneuverability.
After 18 months of testing seven vacuum types on a variety of surfaces, we rounded up our top picks from other reviews and compared how well they work on hardwood. The best vacuum for hardwood floors and carpet is the Shark – Apex, with a multi-surface brush system that doesn't choke on area rugs. For quick clean-up, the best cordless for hardwood is the Dyson – V8 Absolute with an excellent hardwood cleaning head. For a corded vacuum that's light and easy to use, we prefer the Shark – Rocket stick, and the Kenmore – Elite canister vacuum will be a sure bet for those who need full power together with maximum maneuverability.
Table of contents
How we selected finalists to test
For the most part, experts at sites like Consumer Reports and Wirecutter agree that cleaning a hardwood floor isn't an especially difficult job for any vacuum. You're using the vacuum airflow to grab loose dirt and small objects off the floor, like a broom would. (See our guide to cleaning hardwood for more details on other steps to keep your hardwood looking amazing.)
The trick with vacuums is finding a design that picks up the loose dirt without causing other problems: Even if you can turn off a brushroll to keep it from flinging dirt across the room, it might still hang up on lumps and pebbles and just snow-plow them around.
We've tested many vacuum categories in the past, including stick vacuums, upright vacuums, canister vacuums, vacuums for pet hair, and lightweight vacuums. We looked at all of our past picks carefully and chose six designs that have features for excellent hardwood cleaning.
In the past, this meant a suction-only cleaning head that glides around on stiff bristles. The downside with these designs has always been the way they push around objects that don't slip through the brush.
For three of our top picks we chose newer vacuums with fluffy roller-brushes designed to capture all sizes of dirt and pull it in.
We also considered the importance of rugs in homes with hardwood, with top picks that work well on multiple flooring types and make switching easy.
Compare the best hardwood floor vacuums
Important features to consider
Multi-floor designs: Door mats and area rugs help capture dirt and keep it off your hardwood, but they require different tools than typical bare floors heads. An add-on or multi-purpose brushroll helps deep-clean rugs, but you usually need power and height control to keep it from getting stuck and just sliding your rugs around.
Finish-friendly brushrolls: Dyson and Shark both offer a special brushroll that's soft. These bristles will grab every last bit of fine and coarse dirt, but they won't scratch polished floors.
Bagged vs. bagless system: Bags often capture fine dust better, and they can make it easier to dispose of what you've vacuumed up if you don't have the option of stepping outside to empty it.
Onboard tool storage: Specialized tools for detail cleaning are handy to have, but if there's no place to keep them on the vacuum itself, many of us will keep them in a box and forget about them quickly.
HEPA-class filters: High-efficiency particulate air filters (almost always called HEPA-class) are defined by the U.S. Department of Energy as filters trapping 99.97% of tiny 0.3-micron particles that pass through. If the manufacturer doesn't specify HEPA filtration, you're almost certainly blowing a lot of fine dust into the air when you vacuum.
Sealed-system airflow: Expensive filters are needed to capture allergy-triggering dust, but if your vacuum isn't sealed, some of that dust will just leak out all the same. Most high-end vacuums with HEPA filters are supposed to be sealed, but some are better than others.
How we tested
Cleaning tests
We started this test with a set of vacuums we already love. In past reviews, we've considered all of these vacuums and selected them for good (if not excellent) performance in picking up dirt and sand.
| Vacuum | Suction Power | Dirt Capture | Area Rugs | Pet Hair |
| --- | --- | --- | --- | --- |
| Shark - Apex | ★★★★★ | ★★★★★ | ★★★★★ | ★★★★★ |
| Dyson - V8 Absolute | ★★ | ★★★★★ | ★★★ | ★★★ |
| Shark - Rocket HV382 | ★★★ | ★★★★ | ★★★ | ★★★ |
| Kenmore - Elite | ★★★★★ | ★★★ | ★★★★ | ★★ |
| Eureka - MightyMite Pet Lover | ★★★★ | ★★★ | ★ | ★ |
| Bissell - Zing | ★★★★ | ★★★ | ★ | ★ |
Each pick is also esteemed for qualities like handling and versatility, most edging out the competition for overall ease of use. We're featuring vacuums here that perform well on small area rugs and doormats, since that's often the most difficult job for a vacuum.
Soft roller tests
We designed a specific test to see if the new soft-roller vacuums from Shark are fit for hardwood: Taking samples of dark-stained hardwood floor, we dry-brushed a thin layer of white watercolor paint onto the surface. Next, we piled sandy dirt onto the samples and used the vacuums to slowly crawl across the hardwood. We were worried we might see some scuffing or scratching from sand caught in the bristles, but all of these vacuums passed without leaving any scratches.
The soft rollers all do a great job picking up dirt or even larger items, but Shark's soft rollers work on both bare floors and carpet, while Dyson's soft roller is made for hardwood only. Shark's top-tier vacuum also has "Zero-M" anti-hair-wrap combs, so it sucks up hair instead of wrapping and tangling it.
| Vacuum | Pickup | Anti-Hair-Wrap | Multi-surface? |
| --- | --- | --- | --- |
| Shark - Apex | ★★★★★ | Yes | Yes |
| Dyson - V8 Absolute | ★★★★★ | No | No |
| Shark - Rocket HV382 | ★★★★★ | No | Yes |
Noise
We tested all of the vacuums from the same distance, at ear-height while moving the vacuums as they would be used for cleaning. We used a sound pressure meter with an a-weighted frequency bias, which emphasizes the effect of bothersome high-pitch noises and is the standard method to measure noise (rather than something like music).
| Vacuum | Dust Filter Performance | Noise: Suction Motor (dBA) | Noise: Brushroll (dBA) |
| --- | --- | --- | --- |
| Shark - Apex | ★★★★ | 88 | 93 |
| Dyson - V8 Absolute | ★★★★ | 60 | 63 |
| Shark - Rocket HV382 | ★★★★ | 64 | 72 |
| Kenmore - Elite | ★★★★★ | 93 | 94 |
| Eureka - MightyMite Pet Lover | ★★★ | 100 | N/A |
| Bissell - Zing | ★ | 97 | N/A |
HEPA filtration
We've tested each of these vacuums to see how well they keep dust inside once it's been sucked up. The best performers are fully sealed airflow systems with HEPA filters that will actually clean your air as you vacuum.
Top pick: Shark – Apex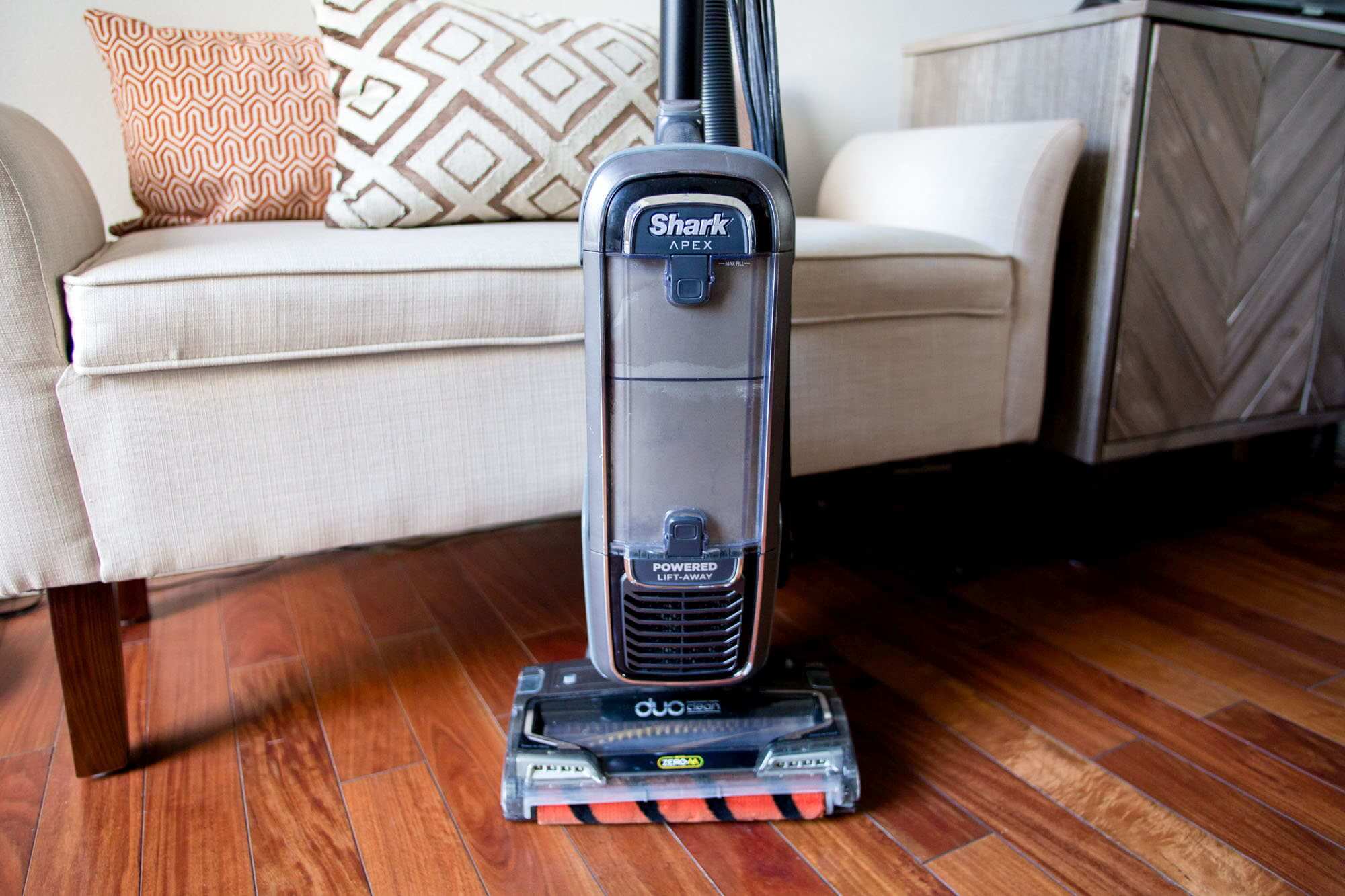 The best vacuum for hardwood floors and carpet is the innovative Shark – Apex, which uses an all-surface roller that will pick up any kind of dirt on any kind of floor. This is also our pick for the best upright vacuum, and it cleans both hardwood and area rugs as well as anything else we've tried. It's Shark's best corded vacuum, and we think even homes with mostly hardwood will love it.
Shark put every feature into their top model. The "Powered Lift-Away" design lets you take the weight of the suction motor off the cleaning head for better agility and to fit in tight spaces. Even though it's a fairly heavy vacuum, the two-piece design makes it great for stairs.
The Apex is also the best vacuum for hardwood floors and pet hair, since the multi-surface brushroll also has a "Zero-M" comb that stops hair from wrapping up in the rollers. Shark builds these vacuums with a sealed air path and good filters, so it even keeps your air clean.
You can get some of these features in other vacuums, but the Apex gives you everything in one package for not much more than the price of the most basic upright vacuum from competitors like Dyson. It's also much quieter than other full-size uprights.
In all our tests, the Apex didn't bog down in anything but the longest shag carpet, and even then it was as good as the best competition.
The only downsides to this design are that it's heavy at more than 17 pounds, and the hose is too short for lift-away mode to fully replace a canister vacuum for those who want maximum flexibility. It would be nice to see the powered lift-away system and DuoClean rollers show up on lighter, more affordable Shark models like our top pick for pet hair on carpet.
If you've got mixed hardwood and carpet in your home, this is the one vacuum that really does everything well. You set suction and brush roller power with a three-position thumb switch, and the area rug and bare floor settings work as intended. There's no fiddling with carpet height switches or bypass valves required, you just keep vacuuming.
Key takeaways:
For bigger houses with mixed flooring, the Shark – Apex is top of the food chain.
The DuoClean brushroll design is very good on hardwood floors.
On long carpet, the Apex easily beat all competitors.
Shark's powered lift-away design gives flexibility.
Good design keeps dust and noise to a minimum.
The Apex is a bit heavier than less-powerful vacuums.
Cordless option: Dyson – V8 Absolute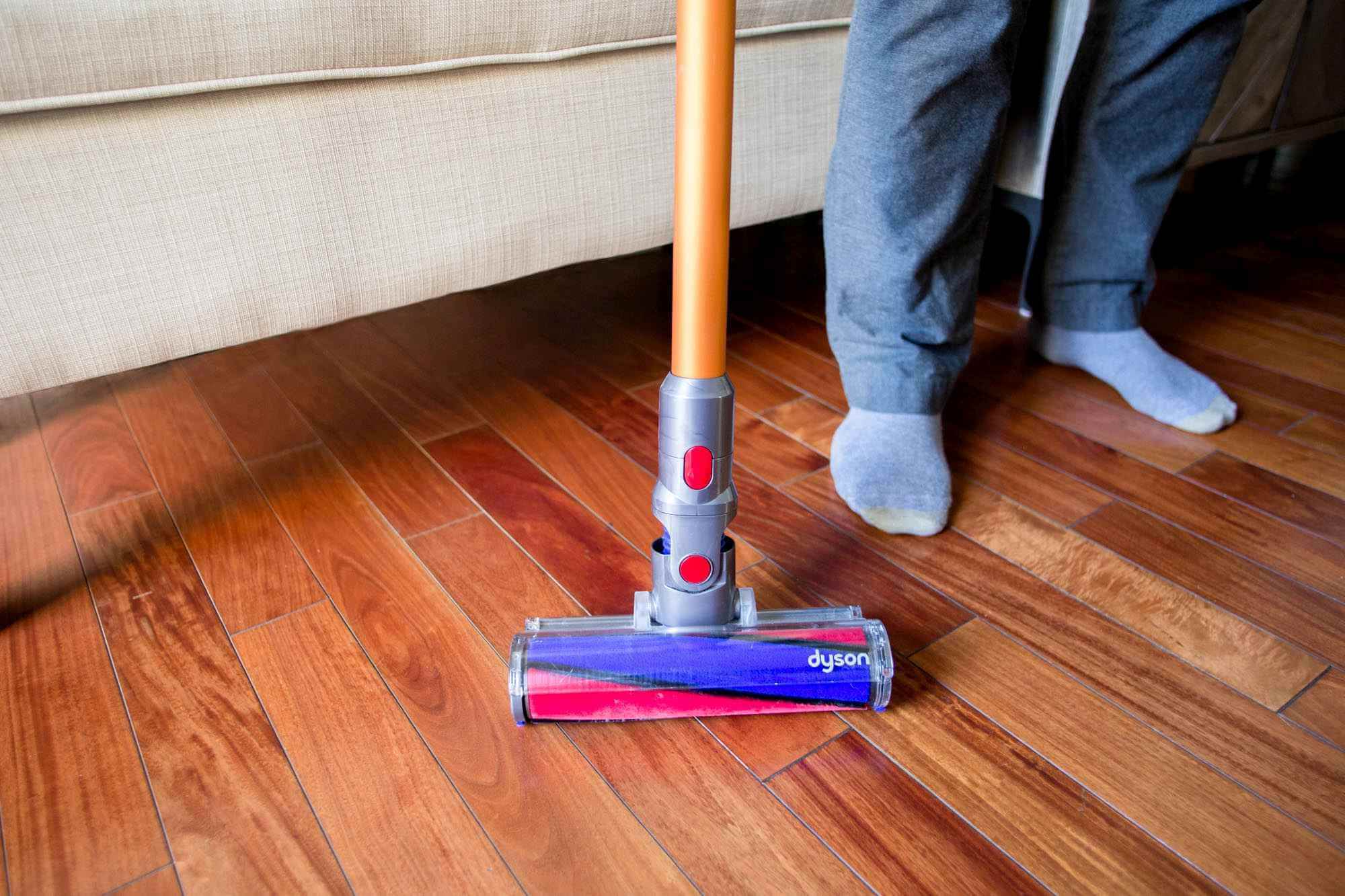 The best cordless vacuum for hardwood floors is the Dyson – V8 Absolute, an award-winning stick vacuum that really turned the tide for the cordless vacuum-cleaner market. It's also the best cordless model we tested in our full stick vacuum review.
Cordless vacuums used to be heavy, noisy and so ineffective that you wouldn't even consider using one on your carpet. Dyson put a lot of thought into these shortcomings, and with some very careful engineering they made a cordless "stick" vacuum with enough power to make you seriously consider giving up a full-size vacuum.
The V8 is also quiet, even when the motorized head is running. It's one of the quietest vacuums we've tested, but it achieves that with carefully designed noise baffles rather than by giving up airflow like other quiet vacuums.
Air-filter performance was excellent, too, so the V8 actually collects more fine dust than it spits out.
The Dyson is, as you can probably guess, one of the most expensive picks in this lineup. Dyson has released the V10 and V11 designs since we first tested the V8, though, so it's now priced competitively with other hardwood-friendly cordless designs like the Shark – ION F80. The Shark lacks HEPA filtration, and its much longer battery life isn't as big of a deal as it sounds, since the whole benefit of a stick vacuum is quick cleanups.
There are a few reasons we stuck with the V8 over newer Dyson designs: For one, it's plenty powerful on hardwood floors. The V10 and V11 have more suction power on the highest power mode, but you won't need that mode very often if you've got the excellent soft roller head grabbing all the dirt in sight.
The other factor that makes the V8 our top pick is that you need to buy the full "Absolute" package to get that soft roller head, and so far Dyson hasn't actually released one in the U.S. for the newest V11 model.
Key takeaways:
The Dyson – V8 Absolute is a top-tier stick vacuum that works very well on hardwood.
We haven't found a better vacuum for quick cleaning.
Dyson's engineering makes noise and dust reduction excellent.
The V8 is an older design, but it has plenty of power for bare floors.
Shark's DuoClean heads are more convenient if you switch from carpet to hardwood frequently.
Best corded stick: Shark – Rocket DuoClean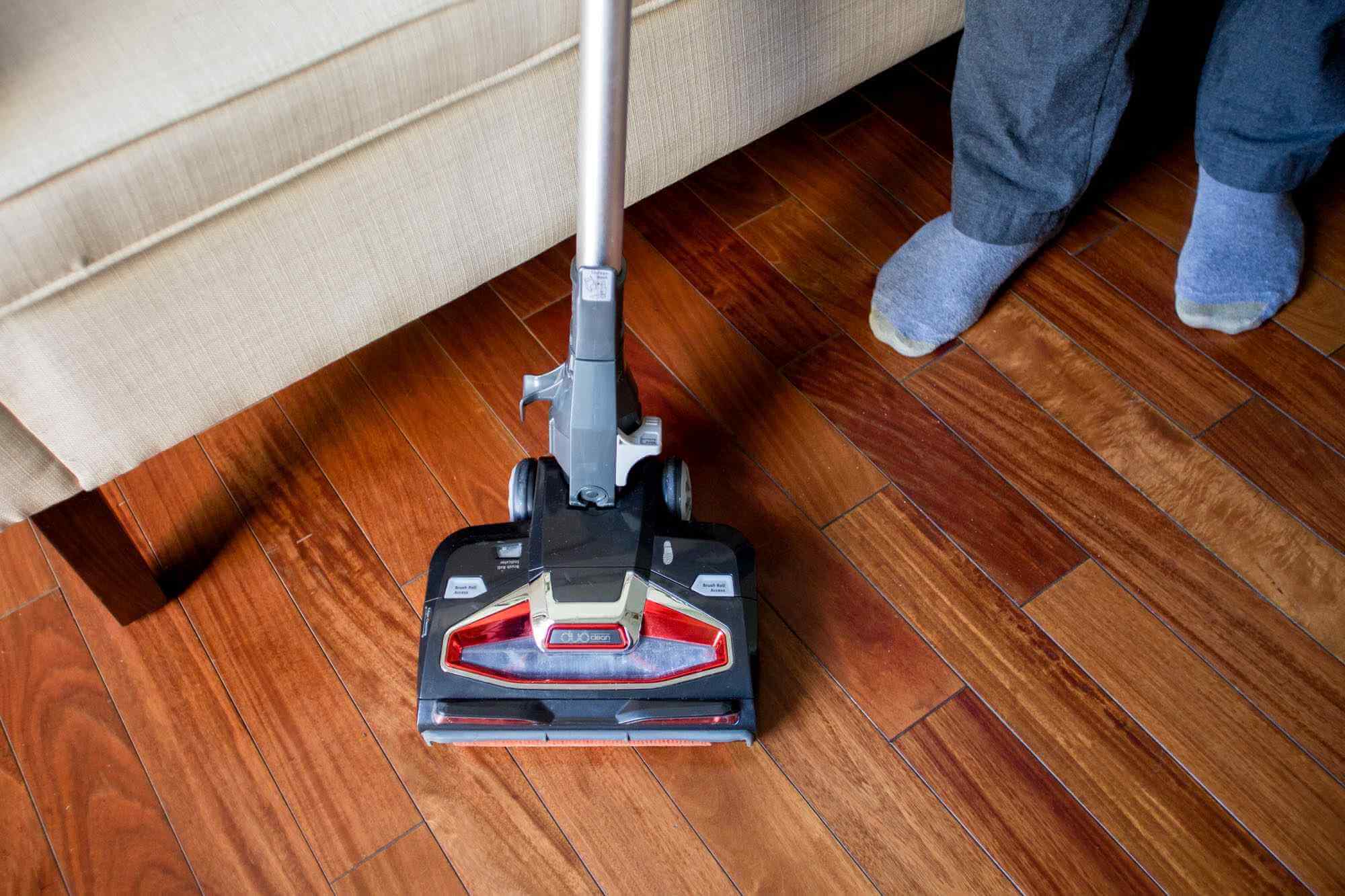 If you don't mind the cord, the best stick vacuum for hardwood floors is the Shark – Rocket DuoClean HV382. With more suction than any other model in our stick vacuum review, the unique dual-brushroll DuoClean system also takes top marks for grabbing dirt and small objects on hardwood floors.
Our testers loved the handling of the Rocket, with swivel steering to maneuver around obstacles and into tight corners. The fully motorized head runs for as long as you need it to on plug-in power, so it's a good compromise between a full-size upright vacuum and a cordless design. It can also work just as well on carpet and hardwood with one head, unlike the Dyson which needs to switch between surfaces.
Like its big brother, the Apex upright vacuum, the Rocket is heavier than the competing designs in the same category. At nearly 10 pounds, it's about 40% heavier than the cordless Dyson and three times heavier than the lightest vacuums we've tested. That said, it's still an easy vacuum to use, great for apartments or anywhere the 1-quart dust cup will be big enough to make sense.
The Rocket isn't as powerful as the Apex, and it's as noisy as most vacuums. Surprisingly, despite the lack of a HEPA-class filter the Rocket does a good job of managing dust, but it's not an air-cleaning machine like the Kenmore – Elite sealed canister system.
If you're after something more maneuverable than a full-size vacuum, but you don't want to give up excellent cleaning ability on both hardwood and carpet, the Shark – Rocket is an ideal choice.
Key takeaways:
The Shark – Rocket HV382 is maneuverable and compact without sacrificing performance.
Shark's DuoClean design uses two specialized brushrolls to pick up dirt and debris very well on both hardwood and carpet.
While this is smaller and easier to push around than a full-size vacuum, it's bigger than most other stick vacuums.
The Rocket's noise and dust output are both higher than our other top picks.
Best canister: Kenmore – Elite
Picking the best vacuum cleaner for hardwood floors meant considering all of the different room layouts that would give different vacuums the advantage, and for tight quarters we like the flexibility of a canister vacuum. The Kenmore – Elite won top spot in our canister vacuum review, and its best qualities make it excellent on hardwood.
The bare-floor head of a canister vacuum is ideal for hardwood because it's light. If you don't have carpet, you don't really need the brushroll and heavy motor in your floor cleaning tool. Even if you have to wiggle a bare-floor head around or lift it up to pick up the larger stuff, it's easy to do.
Kenmore made this vacuum easier than most to switch between hardwood and carpet by designing the hard-floor head to snap into the carpet head, which they call a "crossover" design. The carpet-cleaning head features full control for height, so it won't get bogged down in long-pile carpet like most other motorized heads do.
Even if you're not looking for an excellent carpet-cleaning accessory, the quiet performance of the large and powerful motor Kenmore uses will help it reach deeper into cracks. Kenmore also made this bagged-type dust collection system with an excellent sealed airway and a HEPA filter that cleans your air as you clean your floor.
The Kenmore – Elite is more expensive than even the Dyson cordless vacuum, but it's designed to compete with $800 German canister vacuums, not plastic stick vacuums. If you're going to be weaving between your furniture, the Kenmore keeps the weight and power at the end of the hose so it won't weigh you down.
Key takeaways:
For the most power and nimble handling, the Kenmore – Elite competes with canister designs that cost double or triple this price.
The bare-floor head docks with a fully featured carpet head for quickly changing between floor types.
The included HEPA-class filtration works well enough to clean your air while you vacuum.
Even at full power the Kenmore is relatively quiet.
This is a big vacuum and takes up the most space in storage
Other finalists we tested
Eureka – Mighty Mite Pet Lover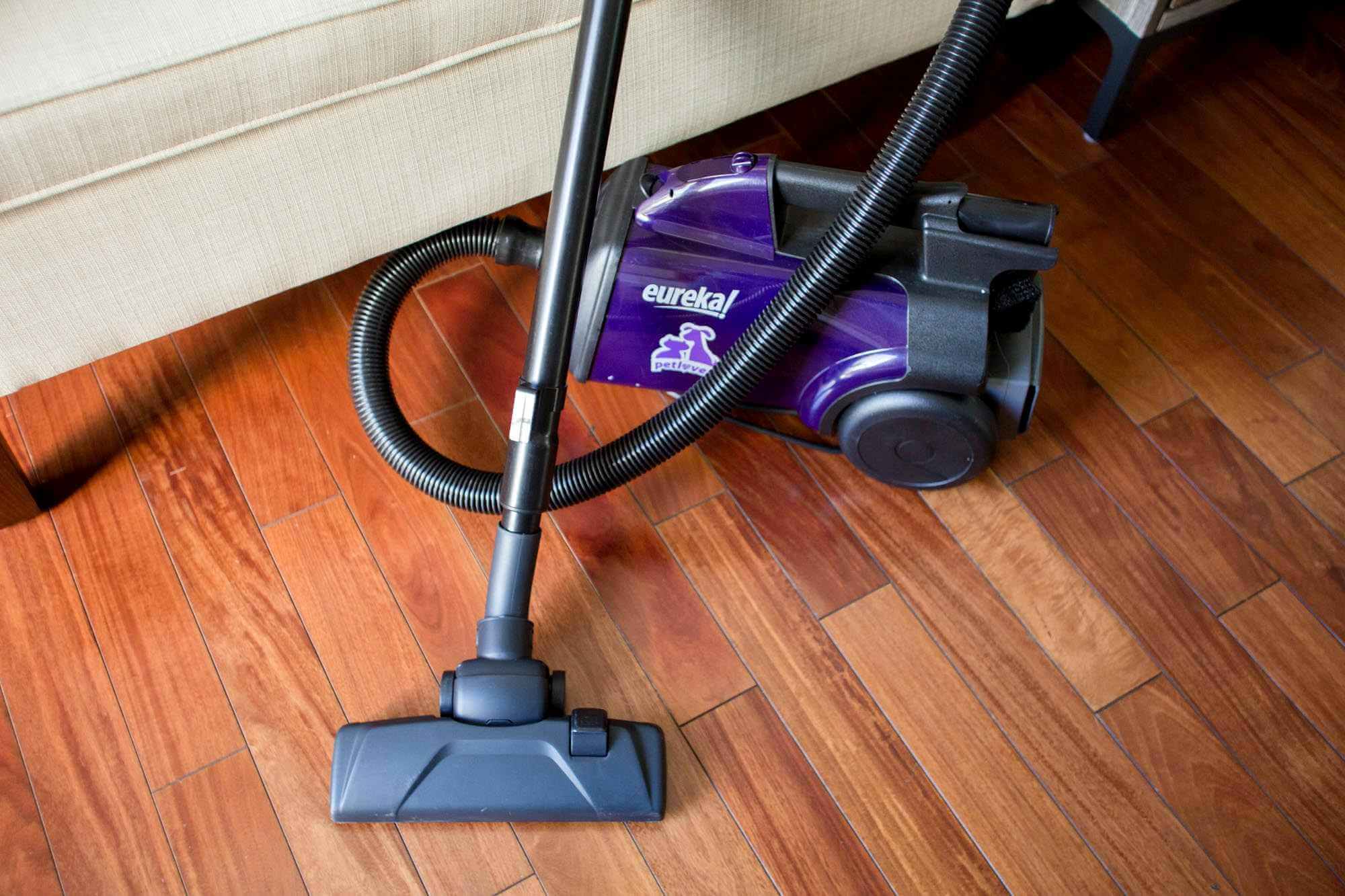 For a house with mostly bare floors to clean, a canister vacuum with a good bare-floor pickup tool works very well. The Eureka – Mighty Mite Pet Lover puts a powerful bag-type vacuum in a compact canister, then adds a good filter and extra tool options to make it just a bit nicer than other budget-priced canister systems.
You can use the two-mode floor-cleaning tool on a rug by retracting the bristles so it glides along the top of your carpet pile, but unless you open up a bypass valve to let some air slip into the hose this design will just get stuck on medium-length carpet. It also lacks a system to agitate or brush dirt that's trapped below the surface.
Eureka doesn't give you all the luxury features that come with most canister designs, like adjustable power control or a retractable cord. But the filter makes up for that by helping keep your air clean. The Eureka wasn't a top performer in any one category, but for bare floor cleaning it's a solid showing given the price.
Bissell – Zing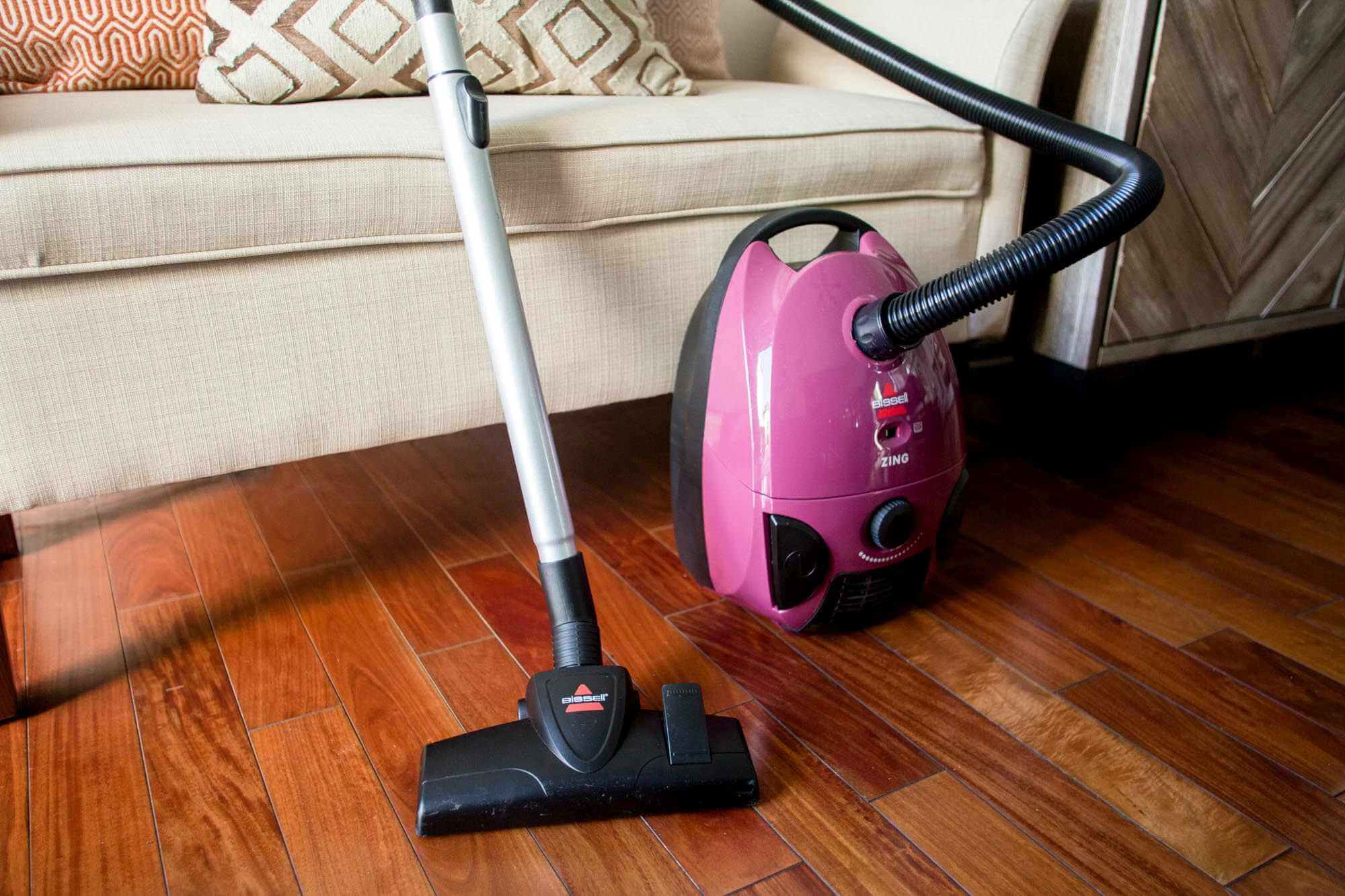 Like the Eureka, the Bissell – Zing is a stripped-down package that gives you tools best suited for bare floors. The Zing has a few perks over the Eureka, but it also makes some compromises.
The Bissell has a compact, easy-to-store body. The cord retracts with a tap of your toe on the pedal, and there's even a power-control knob to turn down the suction for attempting thick carpet. It's also the most affordable vacuum we tested.
You give up dust filtration to get the low price, though. Hardwood cleaning performance is very similar to the Eureka, and it's not quite as useless on area rugs with the extra power control, but we think it's worth paying the full price for a HEPA filter and a multi-surface brushroll.
The bottom line
Picking a vacuum for a hardwood floor requires some careful consideration. But after you decide which features are the most important, you can pick the vacuum that will serve you best.
For houses with mixed hardwood and carpet, finding a vacuum that does both jobs well will save you time and frustration. Our top pick for upright vacuums is the Shark – Apex because it has excellent multi-surface performance as well as enough control to work with area rugs that would get stuck in other vacuums. It's also quiet and keeps dust contained.
For situations where you want to do quick spot cleaning on a regular basis, the Dyson – V8 is a light, quiet cordless vacuum with plenty of power and an excellent hardwood floor brushroll.
If you're looking for a bit more power and versatility than the Dyson, but you don't want to buy a full-size carpet cleaning vacuum, the corded Shark – Rocket DuoClean stick vacuum has a similar soft-brush head and won't ever run flat halfway around your living room.
Finally, for homes with a lot of furniture in a small space, a canister vacuum has much better maneuverability. We like the excellent power and refined accessory features of the Kenmore – Elite, especially for quick switching between carpet and hardwood.