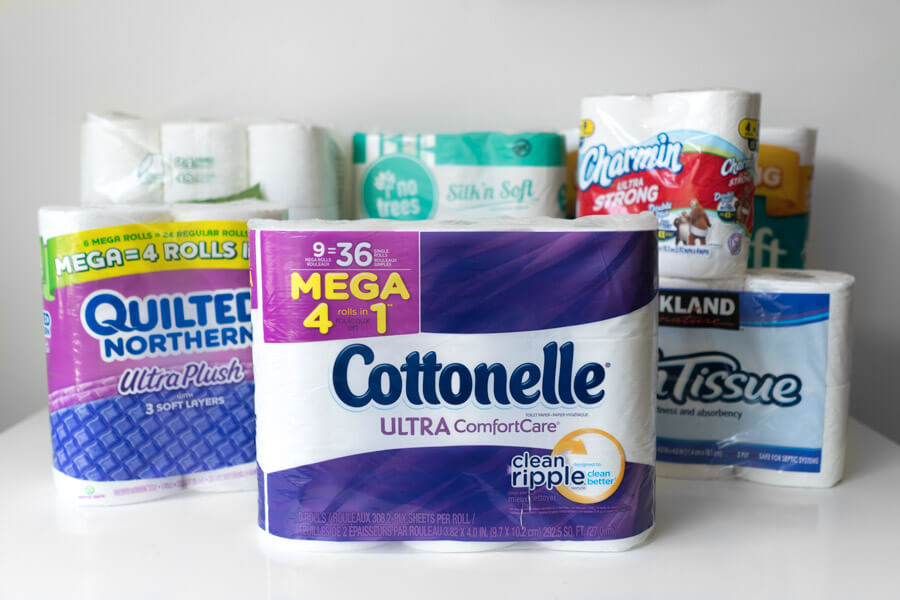 With an extensive 200-hour-long study that included research, lab tests and user surveys, we narrowed the top-rated toilet papers down to eight. We developed the end-all-be-all of toilet paper tests. After subjecting each roll to extensive usage by our team, we hereby bestow the best toilet paper crown to Cottonelle – Ultra ComfortCare, which scored high marks in both lab tests and user satisfaction. Quilted Northern – Ultra Plush is our pick for most luxurious.
With an extensive 200-hour-long study that included research, lab tests and user surveys, we narrowed the top-rated toilet papers down to eight. We developed the end-all-be-all of toilet paper tests. After subjecting each roll to extensive usage by our team, we hereby bestow the best toilet paper crown to Cottonelle – Ultra ComfortCare, which scored high marks in both lab tests and user satisfaction. Quilted Northern – Ultra Plush is our pick for most luxurious.
Table of contents
Compare the best toilet paper brands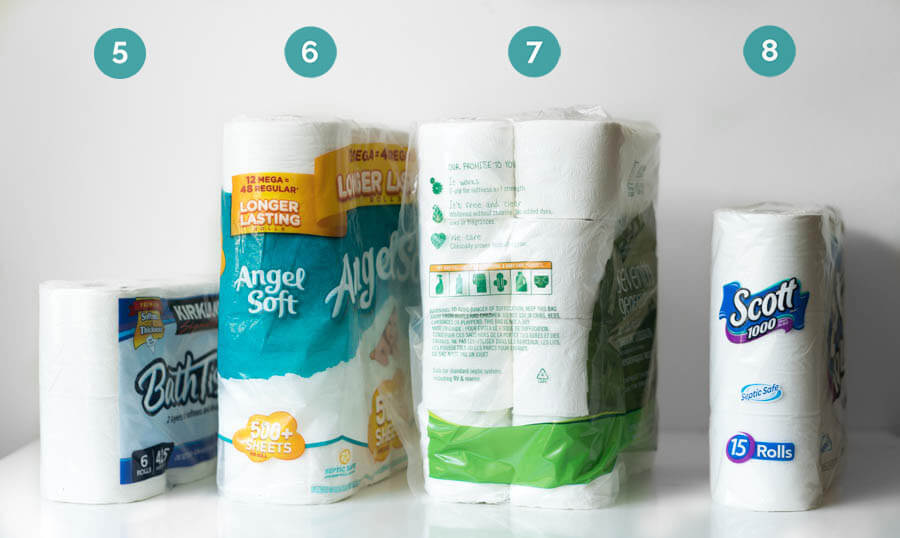 Top pick: Cottonelle – Ultra ComfortCare
Cottonelle takes the crown, narrowly beating runner-ups Quilted Northern and Charmin – Ultra Strong when we combined both lab tests and user surveys. Cottonelle – Ultra ComfortCare tied with Quilted Northern Ultra Plush in multiple categories like wet strength, absorption, dry lint and width, but user surveys pushed the final score over the top. Even though Quilted Northern beat Cottonelle in the lab tests, the lead in our user surveys tipped the scales in Cottonelle's favor.
In our user surveys, grades in strength and impression of quality outweighed softness. This goes to show that strength may be as important, if not more so, than softness. Maybe there's something to Cottonelle's claim that their signature ripple texture "cleans better" after all. The deeper grooves potentially hold and trap more. The horizontal banding is more pronounced than third place contenders Charmin – Ultra Strong, adding to the effect of fluffiness with deeper pockets.
Its slightly elastic feel is also unique, a quality that makes the paper feel extra strong. It lends a paper towel-like feel, thicker and more robust than the other brands. When placed side by side, Cottonelle stands out as the hardiest of the bunch, a quality that our testers prefered.
Some testers claimed to be able to identify Cottonelle from its signature patterning. We neither confirmed nor denied their suspicions until after we revealed the results. It is interesting to note power of brand recognition and how it may have affected an unintentional bias in our blind testing. Cottonelle's paper indeed stands out from the rest in terms of look and feel and we think it's possible that this aspect alone could inspire subconscious confidence in the brand, or at least make a more memorable impression.
Key takeaways:
Cottonelle – Ultra ComfortCare scored highest in user test surveys
A slightly elastic quality gives Cottonelle a paper towel-like feel
Distinctive ripple pattern gives a sense of strength and extra clean
Luxe pick: Quilted Northern – Ultra Plush
In our testing, Quilted Northern – Ultra Plush triumphed as the softest and plushest of toilet papers and therefore wins as our pick for the most luxurious roll. This one is for those who pull out all the stops for ultimate softness, regardless of strength and price. Though Charmin Ultra Strong beat Quilted Northern in the user survey, our technical tests gave Quilted Northern a slight advantage in total score.
The embossed design of Quilted Northern is mottled, dimensional and finely executed. It not only looks like the nicest, it feels like it too. The fluff factor is high, and the toilet paper feels silky to the touch. Air pockets between its indulgent three plies give the roll a pleasant pushback when squeezed.
The entire roll has a pillowy feel. If we had to choose a toilet paper to sleep on, this would be our pick, hands down. If we ran out of facial tissue, we would reach for this roll first for blowing noses.
As one would expect from a softer tissue, the breakage and lint factor is higher which explains some point loss in our tester surveys. Quilted Northern just may be too delicate for more aggressive wiping techniques, working better for those with a lighter, dabbing method. In addition, users may need more sheets to compensate for linting, even though it scores very high in absorption. However, there is nothing more luxurious than excess.
Key takeaways:
Quilted Northern – Ultra Plush is the softest toilet paper of all those tested
The delicate silky touch may be suited to those who wipe with a lighter touch
Its softness makes it the best stand-in for facial tissue
Most eco-friendly: Silk'n Soft
We were surprised to find that Silk'n Soft performed quite well for an "alternative" toilet paper. In a blind test, we were unable to tell which was made of bamboo. The biggest difference was that the perforation was tougher than the rest. Matching Quilted Northern's three-plies, it was surprisingly soft for how hardy it was.
In terms of strength, it was only second to Cottonelle and Quilted Northern (both tied for first). It was also the second most opaque roll just behind Quilted Northern, indicating dense fiber construction.
Because of its usage of highly renewable pulp in bamboo, this reasonably-priced roll was one of the most eco-friendly options of all our finalists. Choosing a bamboo-sourced toilet paper saves virgin trees from this highly disposable fate. All from our list but Seventh Generation use virgin lumber stock. While Silk'n Soft uses the same ECF bleaching process as these virgin sources, it claims its "closed loop" processing minimizes dioxin emissions.
The biggest drawback of Silk'n Soft is that it performed the poorest in our Breakdown Test. As such, we recommend Seventh Generation Natural Bathroom Tissue as an eco-friendly alternative for those with sensitive septic tanks.
2020 Update: Since we reviewed tp in 2018, many brands have entered the market with 100% bamboo toilet paper such as Reel Paper, Who Gives A Crap, Tushy, and Caboo to name a few. As do many eco-friendlier options, bamboo tp carries quite the premium compared to standard tp. Though all the brands highlight it being a sustainable option, there are subtle differences in sheet size, roll size, with one brand even offering an unbleached option. We've tested a few of these but given the current shortage of tp, we will have to wait to give you a full update.
Key takeaways:
Silk'n Soft was second place in user test surveys, dispelling the idea that virgin paper alternatives are not as soft or comfortable
Bamboo is fast-growing, sustainable grass plant making it ideal for toilet paper manufacturing
As expensive as Charmin (at five cents a square foot), this three-ply roll feels weighty and strong
Not recommended for sensitive septic tanks as it scored among the worst in our breakdown test
Other products we tested
Charmin – Ultra Strong
Charmin – Ultra Strong came in second in our tester surveys, only a few points ahead of Quilted Northern. In our lab tests, it scored the highest average of both wet and dry lint tests, one of the most desired characteristics according to our testers. This continues the trend of our testers preferring strength over softness.
This roll has more of an industrial feel, a little more of a "starched" and compressed look. The embossed pattern appears sharp and uniform, the edges sturdy and crisp. It's horizontally striated in waves, much lighter in depth than Cottonelle's signature ripples. Overlapping circle patterns add a clean and uniform look. The texture is slightly more papery than Cottonelle and Quilted Northern, giving it a stronger impression overall.
Some Amazon reviewers note that the strength of paper results in less paper being used, equaling savings in the long run. Our lint and absorption tests corroborate this; however, it's on the upper end in terms of cost at about five cents per square foot.
Kirkland Signature (best value)
A well-known and well-loved option for both budget and strength, Kirkland Signature holds court in fifth place. It is Costco's cash crop, the best selling item in the massive bulk-warehouse store. It's reportedly well-researched and studied, scientifically-engineered and designed to sell, sell, sell! Indeed, they sell more than a billion rolls per year. It's the perfect item to buy in bulk — who doesn't want a seemingly infinite supply of toilet paper?
In line with their unspoken motto that "bigger is better and cheaper," the Kirkland Signature toilet paper rolls are the biggest of all the other finalists at 11cm width. While virtually almost every other manufacturer has shrunken their rolls steadily over the years, Kirkland Signature has not.
Even though this roll costs only about two cents per square foot, it is the biggest and widest of the lot. It doesn't excel in any category but does everything reasonably well. An overall good value, coming in massive 30-roll packages, we expect Costco to hold onto this position.
Angel Soft
We would plant Angel Soft brand toilet paper firmly as a middle of the road brand. It received very average scores in almost all categories. The embossed texture looks sparse and crude next to Quilted Northern.
Angel Soft is as cheap as Kirkland Signature at about two cents per square foot, we get the sense that Kirkland Signature is a better value. However, our scores show that they are actually pretty even.
Seventh Generation
Seventh Generation has been in the recycled-toilet-paper game since 1988. It's the only roll in our lineup that uses recycled paper stock. However, in a blind test, we could hardly tell the difference between it and virgin toilet paper.
It scored only half a point below Angel Soft for comfort. Considering such a small margin, the payoff of saving trees and saving the environment from chloride bleach (and its resulting dioxins) is worth it in our eyes.
It is no less white in color than its virgin competitors, though it's PCF (Processed Chlorine-Free) with oxygen based bleaches instead of the ultra-harmful chloride bleaches used for virgin paper processing. The latter releases carcinogenic dioxins into the environment, one of the most toxic chemicals on earth.
The danger of BPA in recycled toilet paper has been de-bunked by experts who cite that receipt paper is the real danger, containing a thousand times more BPA than toilet paper. In comparison, toilet paper contains only microns.
A shocking 98% of toilet paper in the United States uses virgin-paper pulp, versus 60% in Latin America and Europe. To buck the trend and help relieve staggering deforestation, choosing recycled toilet paper is a good start.
Seventh Generation Natural Bathroom Tissue costs about $1.37 per roll (four cents per square foot).
Scott – 1000 Sheets Per Roll
Scott's single-ply roll seemed to be a bit of a novelty act, but really did last longer than the other rolls. The 1000 sheet count is more than double the second highest sheet count (Kirkland Signature at 425 sheets). In order to get enough thickness for wiping, many more rolls (or volume for gobbing into a ball) are necessary. This is a little more time consuming, but in general we did not find it to be too much of a nuisance.
Because it's only one ply thick, Scott 1000 scored best in our Breakdown Test, breaking down almost immediately when in contact with water. As such, we recommend Scott 1000 for sensitive septic tanks and RVs.
Surprisingly, it also scored the highest marks in the dry lint test. The wet lint test didn't fare as well. The smooth face of the sheet along with the slight paper-like quality meant there was less to drag, until it was soaked with moisture.
We were pleasantly surprised to find out that Scott 1000 is FSC-certified, meaning the manufacturing process is monitored for sustainable practices.
While we didn't find that the single-ply construction bad when we doubled or tripled the number of sheets per wipe, Scott 1000 is a bit of an eclectic choice amongst the competition. It definitely wins in value and eco-friendliness, but is resolutely off-trend when it comes to the luxury game.
We think that Scott 1000 may be geared more towards commercial uses — that single ply thinness feels hauntingly familiar. Despite having to take more time to gather more sheets for a wipe, Scott 1000 performs reasonably well. It's just nowhere near luxury or hardy. For those eco-friendly consumers, Scott 1000 is the only roll in the lineup that is FSC certified — a big plus in our book.
How we selected
We embarked on an epic research mission to uncover a broader understanding of features and characteristics most desired by the average consumer. Invaluable resources like The Wirecutter and Consumer Resorts served as springboards that inspired and guided our own choices. User reviews on Amazon and forums like Reddit's /r/ToiletPaper gave voice to public opinions on trends and preferences. We surveyed these voices and resources into usable statistics that comprised the foundation of our testing development and criteria. The result was a stalwart top eight that best represents today's biggest players along with notable alternative newcomers.
Factors like budget and environmentalism were commonly noted to affect buying habits. In order to understand consumer preferences, we researched toilet paper construction, different types of paper sources and general information to understand the ins and outs of toilet paper.
We found that the most popular and requested features were softness, septic breakdown, strength and lack of residual lint. A team of "experts" used each roll to completion and completed blind surveys. Our aim was to grasp general patterns of user preferences without branding bias. We combined our lab tests and surveys to create a point system to determine their ranking order. Here are the results!
How we tested
To avoid bias with brand names, we conducted blind tests. Recycled or bamboo toilet papers were not identified in any way and scores relied purely on performance.
We split our testing into two main components: Lab Tests and User Test Surveys. Lab tests consist of objective measurements and grading to test for physical quality of each brand. Our surveyors took the rolls into real life testing, collecting a swath of subjective scores from our panel.
Lab tests
Size
Durability / lint
Sheet transparency
Wet strength
Water absorption / dryness
Softness
Perforation
Septic breakdown
Size & value
We took the following measurements for each roll: weight of 25 sheets, thickness of 25 sheets, width of a single sheet, length of 25 sheets and area of 25 sheets. These measurements allowed us to calculate cost per square foot and give us an overall sense of value per dollar.
Durability / lint test
To test for dry lint, we used a textured object and applied a swiping pressure to a rolled bunch of 25 sheets. The wet lint test was the same except we began by spraying the toilet paper with equal amounts of water. We awarded scores by visual inspection of the damage.
Sheet transparency (fiber density)
We graded each brand on the opacity of a single sheet, which gave us an indication of the denseness of fibers.
Wet strength test
Strength of toilet paper is a key measurement when comparing brands. The trick is to achieve both softness and strength while wet. To test, we attached a sheet to a plastic cup, sprayed the paper with water, placed pennies in the center of the sheet and counted how many would remain until breaking through.
Water absorption test
To measure how much water each brand could absorb, we dunked three sheets of each into water for 30 seconds before measuring its weight. The heavier the weight, the more absorbent the paper.
Softness test
Softness is of the most important factors consumers take into account when choosing a brand. We graded for softness on a scale of one to five through direct touch.
Perforation test
A more obscure factor, quality of perforation can make the difference between a speedy or frustrating experience. We tested perforation by tearing the sheets apart and grading the ease on a scale of one to five.
Breakdown test
A test spanning 24 hours checked the disintegration of each brand. We submerged one sheet of each brand into plastic cups, stirred and graded breakdown at these different time marks: two, 12 and 24 hours. These test results should be of special interest to those with sensitive septic tanks. The harder to break down, the more likely clogs will occur.
Lab test results
User test surveys
Our panel of testers used each brand for a week or until the roll ran out. Each brand was numbered without packaging to avoid bias. Our panel graded each criteria on a scale of one to five, with one as unfavorable and five as favorable. They tested each roll in the following categories:
Softness / comfort: A culmination of several factors like thickness, tactile softness, airiness.
Strength: How well did the paper held up to wiping? Did it fall apart?
Lint / breakage: Pilling, rolling, or linty residue brings the score down.
Perforation: How easily do the sheets tear?
Absorbency: How much can it absorb? Better absorbency means less sheets necessary and ultimately a better value.
Value: Do you feel like you're getting a good deal? Anything from roll size, sheer size to absorbency may affect your perceived value.
Enjoyability: Lastly, another subjective question meant to gauge general satisfaction of their experience using each brand.
The crowd favorite is Cottonelle – Ultra ComfortCare with a total average score of 4.2. Silk'n Soft took second place surprising us with a score of 3.8 just ahead of Charmin – Ultra Strong at 3.7.
History of toilet paper
Modern toilet paper as it is known today was invented in 1857 by American Joseph Gayetty, hitting the market at 50 cents for a pack of 500 sheets. The pack of stacked tissues evolved into a roll around 1883 when the first patents for roll-based dispensers were filed. China invented paper around 25 AD and were also the first to mass produce paper specifically for bathroom use as early as the 14th century. The rest of the world took about 1,300 years to catch up!
Before toilet paper, each great society had their own method of wiping in the loo. In some places, only the rich could afford the luxury of using soft materials like wool, lace or hemp. For others, using one's hand to wipe was not unusual. When and where you lived determined the types of materials available for this dirty duty (pun intended!).
Materials ranged from plants like grass, leaves, hay and moss to more unimaginable things like wood chips, stones, seashells, corncobs and fruit skins. Anything handy and disposable seemed a worthy candidate. Ancient Romans famously used a relatively sophisticated sponge on a stick, stored and disinfected in vinegar after each use. Ancient Jewish societies reportedly kept small bags of pebbles, dry grass and or smooth pieces of broken pottery expressly for wiping.
It must have come as quite a relief when paper finally became the world's standard. With it came a groundbreaking advancement in wiping: absorbency!
How is toilet paper made?
Toilet paper is predominantly made of trees and water along with whiteners, fiber-extracting chemicals and possibly other undisclosed chemicals used for processing. Factories receive reams of recycled or "virgin" paper as raw material that is then processed and packaged for retail.
Toilet papers look nearly indistinguishable from one another. That long roll of perforated white sheets wrapped around a cardboard core hasn't changed much since the fifties, when colored toilet papers were all the rage. Give them a closer look and feel and subtle differences come to light. Give them a wipe and the differences become even clearer. Each company has a signature design or texture, not only for aesthetics but for function as well.
Georgia-Pacific, the makers of Angelsoft and Quilted Northern, describes a method called "creping" to soften, strengthen and fluff their toilet paper. While the paper is drying on a large cylinder, a large metal blade scrapes the surface to create the "creping." We found this method was common with other companies as well.
Kimberly-Clark, the makers of Cottonelle and Scott products, boasts about their signature ripple texture and claims it cleans more effectively. They use a patented technology that dries paper without embossing or compressing it, allowing the paper to retain its ripples when wet.
Recycled paper vs. new paper pulp
Recycled toilet paper continues to be an alternative choice that is not as prevalent as conventional virgin-sourced toilet paper. Among our Top 8, only one roll represents the recycled paper camp: Seventh Generation Natural Bathroom Tissue. This ratio is roughly representative of its availability in mainstream stores. Technological advances as of late have elevated recycled paper options from brown paper bag drags of the past into very comparable and soft rolls. We here at Your Best Digs think that recycled toilet paper deserves another look.
New pulp paper is commonly called "virgin" paper since it comes from brand new lumber. For toilet paper, the blend is typically 70% hardwood and 30% softwood. Softwoods like Southern Pine and Douglas Fir have longer fibers that provide more strength while the shorter fibers of hardwoods like Gum, Maple and Oak provide softness.
Lumber plants first de-bark and cut the pieces down. These wood chips then get mixed with "cooking chemicals" which turns into what is known as a "slurry." A giant pressure cooker then cooks the slurry, which evaporates the liquids. A portion of the mixture turns into usable pulp, which is then washed of the cooking chemicals. The rest is dirty fluid ominously called "black liquor."
The cleaned pulp goes to a bleaching plant where it undergoes multistage chemical processing to ensure the paper ends up as white as can be. To become paper stock, the pulp is mixed with a whole lot of water (99.5% to .05% fiber), then it is dried, matted and rolled onto giant heated cylinders. From there, each company diverges in their methods to crepe, stamp and or emboss to their completed product.
Recycled paper used for toilet paper comes from white and colored stock collected in the recycling bin (with staples and pins removed of course). It gets "cooked" in a large vat called a "pulper" along with water and detergents until it turns into a slurry. After a washing process to remove coatings and inks, the recycled pulp undergoes a bleaching and sanitizing process using oxygen-derived bleaches like peroxide.
This is an important distinction from regular toilet paper, which uses a much more toxic and environmentally damaging chemical: chloride dioxide. After this processing, the rest of the procedure is the same as regular toilet paper.
Recycled paper
Saves new trees from being used
Much safer oxygen-based chloride compounds used for bleach
Trace amounts of BPA found passed down from recycled paper stock
Uses 64% less energy to produce
Uses 50% less water to produce
Creates 74% less air pollution
Virgin paper
Some believe paper is softer, fluffier and whiter
Bleaching process releases carcinogenic dioxins to the environment
54 million trees are cut down every year for toilet paper
Chemical controversies
The chlorine dioxide bleach used to process virgin-paper varieties is notoriously harmful to the environment, ranking in the top 10% of hazardous compounds in the US. While there are countless articles about the toxicity of chlorine in virgin paper products, we could not find an exact figure for how much of it is left in the final product.
Many health-minded blogs condemn using virgin-paper-pulp toilet papers, citing skin irritation and allergies. Because of the lack of citations, we consider these claims to be possibilities and not hard facts.
More testing needs to be done. One possible reason for the lack of information may be that the companies find ways around them. One study we found on chronic vulvar irritation states that paper and other cosmetic tissue companies, "[refuse] to provide consumer information, claiming proprietary rights to trade secrets." Through literature review, they further claim the fluffier and whiter a cosmetic tissue is, the more likely it contains formaldehyde, another toxic chemical monitored by consumer health watchdogs.
Again, we couldn't find any formal statements about formaldehyde-urea resins or newer PAE compounds that release by-products like MCPDs. Solenis explains in technical detail the development of "wet strength resin" used in the papermaking process to strengthen wet paper, and it seems clear that PAE has replaced formaldehyde-urea as the resin of choice, but that just means there are new byproducts to be monitored.
It is troubling that manufacturers do not have to disclose the "ingredients" they use, leaving us scratching our heads. The lack of hard evidence on long term effects on health is confusing and potentially misleading in both directions: We can't say that you'll get irritated skin from one brand based on the label, but we can't really tell which brands are less likely to cause it, either.
What is irrefutable is the deforestation and toxic waste that results in the manufacturing of virgin paper. According to the EPA, if everyone in the US swapped one single roll of regular TP for recycled, the US would save 470,000 trees, 1.2 million cubic feet of landfill space and 169 million gallons of water. In addition, the chlorine dioxide bleaches used for virgin papers are far more toxic, releasing carcinogenic dioxins into the environment, known as one of the most toxic chemicals in the world.
For more environmental-friendly bleaching processes, look for the following labels.
"Safer" bleaching chemicals:
TCF (Totally Chlorine-Free) – Non-recycled stock bleached with oxygen, ozone or hydrogen peroxide
PCF (Processed Chlorine-Free) – Recycled stock bleached with oxygen, ozone or hydrogen peroxide
ECF (Elemental Chlorine-Free) – Stock bleached with chlorine dioxide instead of chlorine gas. An improvement over chlorine gas, but still produces dioxins.
Other labels to consider:
"Chlorine Free" – Rodale's Organic Life warns us that this is an empty label and likely means that the paper is PCF, or more likely ECF. Just because chlorine gas wasn't used in processing, doesn't mean it is free of chlorine derivatives.
FSC Certified – Forest Stewardship Council certifies that toilet paper is made from "responsibly managed forests that provide environmental, social and economic benefits."
BPA and recycled paper
While choosing recycled toilet paper may be the more eco-friendly choice, research has shown that it contains trace amounts of BPA (along with just about any other paper and hygiene product made from recycled paper). It's not in the processing or manufacturing of toilet paper, but from the source itself. The culprit is thermal paper — receipts, lottery tickets, luggage tags, shipping labels — that we throw into the recycling bin which ends up in the recycled stock.
Thermal paper is coated with a dye and developer that "prints" without ink. The BPA in the developer gets mashed and mixed together with other paper sources to form the tainted recycled pulp that is processed into new products.
Before you forgo all paper products, many experts tell us not to be alarmed, as we absorb far more BPA from handling plastic and aluminum food containers. They claim that the risk to exposure with toilet paper is miniscule, at just a few micrograms per gram. Compare that to handling thermal receipts which contain a milligram of BPA per gram — that's one thousand times a microgram!
Benefits of using recycled toilet paper:
Uses oxygen, ozone, sodium hydroxide or peroxide to bleach, instead of harmful chlorine gas or chlorine dioxide which creates carcinogenic dioxins
Recycled toilet paper takes a lot less water to produce
Makes use of waste paper that would have otherwise been dumped or incinerated
According to the EPA, if everyone in the US swapped one single roll of regular TP for recycled TP, the US would save 470,000 trees, 1.2 million cubic feet of landfill space and 169 million gallons of water
If softness is the main reason holding you back, fear not: The Toilet Paper Encyclopedia says that due to technological advances, some brands of recycled toilet papers can be just as soft as regular toilet paper. Indeed, we found that Seventh Generation Natural Bathroom Tissue performed better in softness than expected at just a half-point below Angel Soft.
Is 'cheaper' better for the environment?
Toilet-paper brand Marcal, known as an inexpensive budget brand, rebranded in 2010 to let everyone know that they have always been eco-friendly. They source paper from the "urban jungle" of New York's recycling program. Though being low-budget and environmentally friendly may have been a coincidence, we welcome it; however, it may or may not come at the cost of softness.
It's good to know that there is one just cause for the rough, thin stuff found in public restrooms. 60% of them use cheaper, recycled toilet paper. Though undoubtedly stocked for the savings, we're happy that it's not all for naught.
Chemical conclusion
In 2009, The New York Times decried the U.S.'s obsession with soft toilet paper, "exotic confections that are silken, thick and hot-air-fluffed," as being partly responsible for the deforestation in North and South America, including "a percentage of rare old-growth forests in Canada." With a mysterious cloud masking true, hard facts about manufacturing and chemicals, it's easy to overlook the problem, or even know that one that exists. To be honest, it never crossed our minds until we discovered it in our research.
While it remains unclear whether or not direct contact is harmful, it is indisputable that the byproducts emitted by manufacturers using chemicals like chlorine and formaldehyde are harmful to people and the environment. Depending on your personal stance on environmental issues, this may or may not affect which toilet paper you choose to take home.
Different types of paper sources
New paper pulp: "Virgin" paper stock made of newly cut trees.
Recycled pulp: A blend of post-consumer recycled paper stock. Uses 50% less water than regular toilet paper production.
Bamboo: "Treeless" alternative that is sustainable and renewable. Uses 80% less water than regular toilet paper production.
New toilet paper alternative on the block: bamboo
Bamboo is still an unfamiliar resource for many people, though consumers can already find it in a variety of things, from wood flooring, furniture, and clothing to paper. Hardwood trees take decades to mature while bamboo only takes three to six years, which makes it a great candidate for disposable paper products like toilet paper.
It can take a century to regrow a forest, while bamboo regrows as soon as it's harvested because it's a grass, not a tree. In our lineup, Silk'n Soft Bamboo is our top pick for eco-conscious consumers. Boasting a low carbon footprint, bamboo grows without herbicides, pesticides, or fertilizers. As far as performance, Silk'n Soft Bamboo is comparable to virgin lumber-sourced Kirkland Signature in comfort, softness, and strength.
To achieve the same white color as other toilet papers, bamboo requires the same type of bleach as virgin-paper stock (the more harmful chloride type). Silk'n Soft uses the ECP bleaching process (less dioxins than chloride gas), but claims that it's used in conjunction with a "closed-loop system" that treats wastewater and renders their process "nearly free of all dioxins".
The Best Eco-Conscious Toilet Paper: Silk'n Soft uses fast-growing bamboo, a much more sustainable choice for paper production. This three-ply alternative scored an impressive 3.8 average score in our User Test Surveys, only second to Cottonelle. About $1.33 per roll (five cents per square foot).
What to look for in eco-friendly toilet paper
Check the source: Look for recycled sources. The higher the post-consumer percentage of recycled stock, the more eco-friendly. This could come at the cost of softness, though there have been many technological improvements that have closed the gap. Bamboo is a good choice as it is highly sustainable and can be as soft as regular toilet paper.
How is it bleached?: Say no to products bleached with chloride gas, which produces the greatest amount of hazardous dioxins, one of the most dangerous pollutants in the world. ECF (Elemental Chlorine-Free) emits 90% less dioxins, but is still not perfect. Recycled papers use much safer oxygen-based bleaching agents.
BPA, Dioxins, Formaldehyde?: The truth is all toilet paper contains trace amounts of harmful chemicals due to processing. However, some are worse than others. Recycled paper products contain trace amounts of BPA, though handling paper receipts will expose you to one thousand times more BPA. Experts still endorse recycled toilet paper over virgin toilet paper, which releases highly toxic dioxins into the environment due to its bleaching process.
Is it FSC Certified?: If you prefer regular toilet paper from virgin paper sources, look for a stamp of approval from the Forest Stewardship Council. They uphold strict standards to ensure that manufacturing is socially and environmentally responsible. This certification may increase cost up to 20%, though in our line-up, the only FSC-Certified brand is budget-friendly Scott – 1000.
The bottom line
According to the Toilet Paper Encyclopedia, a whopping 84% of households prefer "premium" and "super premium" toilet papers. While more and more people concern themselves with environmental issues, the big brands still sell and rely on this preference for the softest stuff.
Our number one Cottonelle – Ultra ComfortCare sits comfortably on the throne as our pick for best overall toilet paper. With its signature ripple design, Cottonelle hits the sweet spot for both strength and softness. For those who prefer a softer and silkier touch, Quilted Northern – Ultra Plush is our pick for the most luxurious roll.
For eco-conscious consumers, many new brands now offer toilet paper made of sustainable and renewable bamboo. The National Resources Defense Council states that if every household replaced only one roll with one of recycled paper stock (or tree less options, like bamboo), we could save 423,900 trees. Our eco-friendly pick, Silk'n Soft is a very robust three-ply option. The softness is on par with Angel Soft, which is made of the much more environmentally harmful virgin paper stock.
Toilet paper is by nature very personal and though we have done extensive research and systematic testing to determine our best picks, everyone has their own idea of toilet paper perfection. Your personal preferences and environmentalism will ultimately determine your ideal toilet paper. If you have a little one in the house, check out our baby wipes review too.