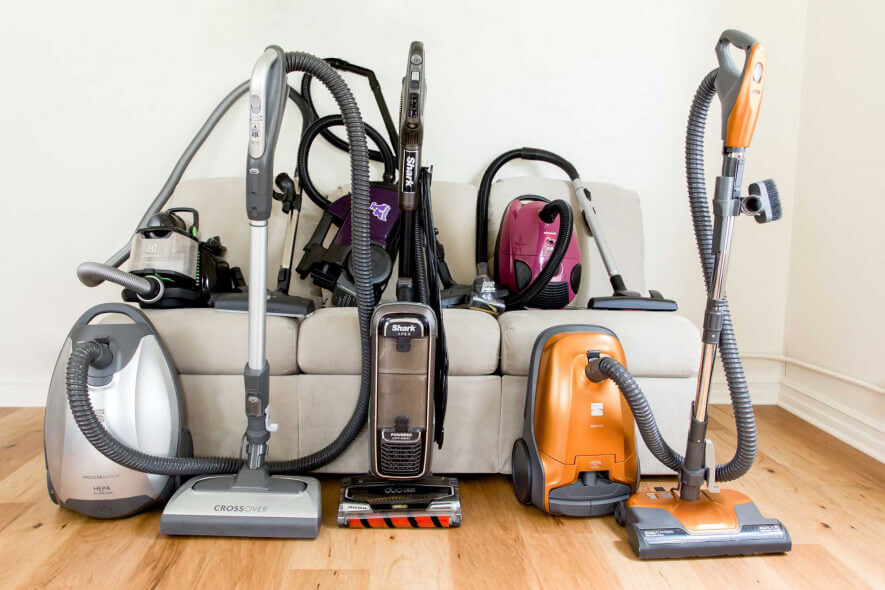 The 6 Best Canister Vacuums
After testing six top designs for power, efficiency and easy handling, we chose the Kenmore – Elite as the best canister vacuum. The unique multi-mode floor head switches quickly between carpets and bare floors, and the power and dust control on this model are competitive with popular dealer-sold vacuums going for double or triple the price. If you're not sure about the long hose of a canister vacuum but want more flexibility than an upright, the bagless Shark – Apex has the best features from both types.
After testing six top designs for power, efficiency and easy handling, we chose the Kenmore – Elite as the best canister vacuum. The unique multi-mode floor head switches quickly between carpets and bare floors, and the power and dust control on this model are competitive with popular dealer-sold vacuums going for double or triple the price. If you're not sure about the long hose of a canister vacuum but want more flexibility than an upright, the bagless Shark – Apex has the best features from both types.
Table of contents
Compare the 6 canister vacuums we tested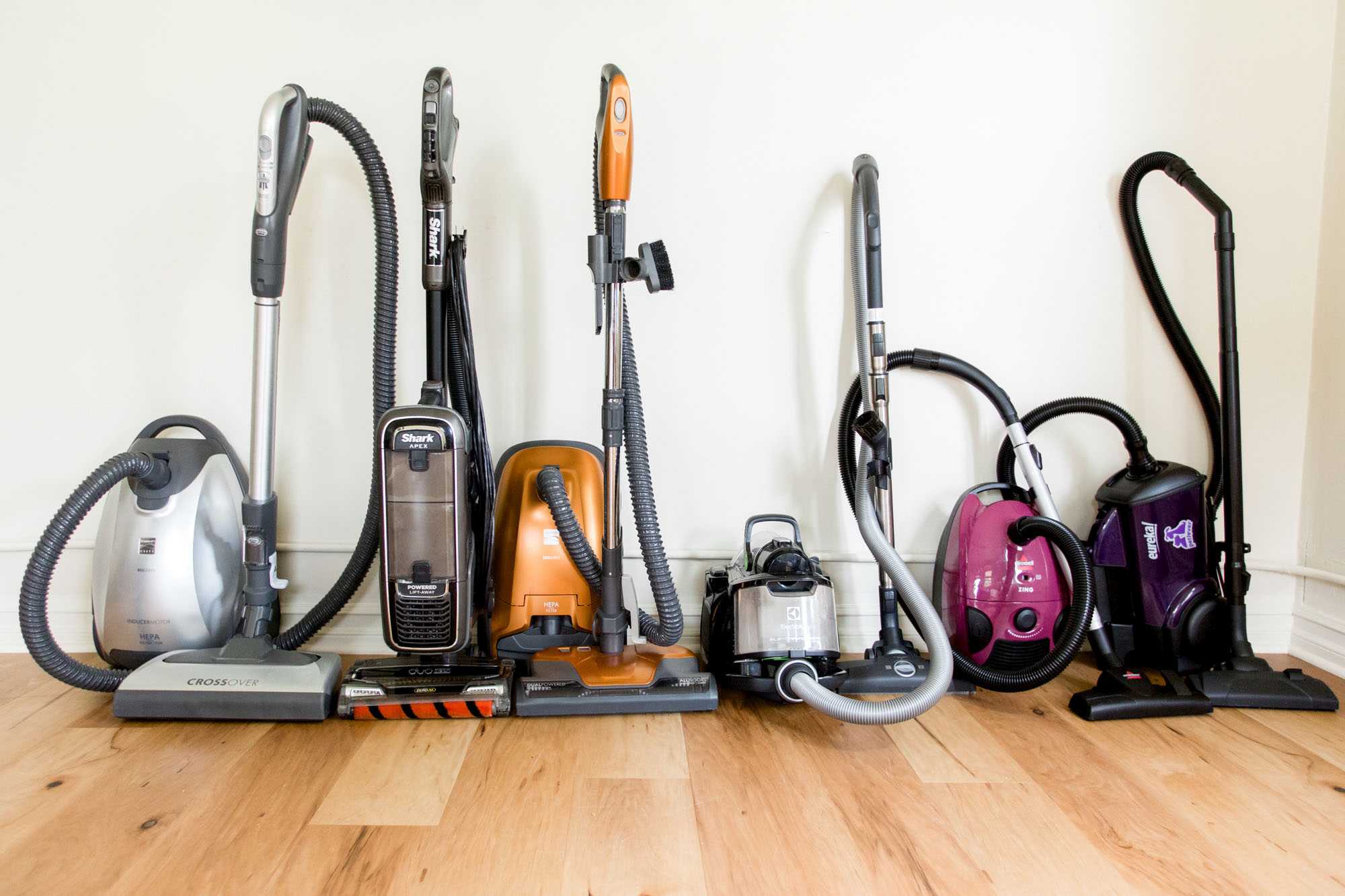 Top pick: Kenmore – Elite
If you want a top-class canister vacuum with great suction power and a versatile cleaning head that will handle both carpet and bare floors, the Kenmore – Elite 21814 Crossover is our choice.
This has all the strengths of a top-of-the-line canister vacuum system: It's lightweight, has excellent organization features for easy storage and a bagged dirt collection system that captures more fine dust and makes disposal easy.
Kenmore gives you all these features for less than $500. Given that the canister vacuums you'll find at vacuum dealers will usually cost $800 or even $1200 for a comparable feature set, it's a bargain.
Multi-surface design
Rather than having a separate head for carpet and bare-floor cleaning, Kenmore gives you a convertible system called the "Crossover" head. The bare-floor tool snaps into the carpet head, and it's easy to lift out with the press of a foot lever.
The Crossover head is a very good carpet head, with an easy-to-adjust height control and a heavy hardwood agitator brushroll that will help you get dirt out of your carpet. This head is easier to steer on carpet than the less expensive Kenmore design, though not quite as refined as the Shark.
The most powerful vacuum cleaner
The Kenmore – Elite has the best suction power of all the vacuums we've tested — even 5% better than the new motor design in the Apex — pulling minus 23 kilopascals of air pressure. That makes it excellent for getting dirt out of floor cracks and picking crumbs out of your couch.
Moving up the handle, the premium features that set the Elite apart from other canister vacuums in the under-$500 price bracket are handle-mounted control. You can turn the vacuum on and activate or deactivate the brushroll without bending over, and you can also control the level of suction bypass with an easy-to-use slider. This means you've got full manual control of the vacuum, making it easier to move from bare floors to small area rugs to full carpet.
Best vacuum for allergies
It's a high-quality vacuum just by itself, but Kenmore also gives you excellent filtration. We were also impressed by the performance of other sealed systems like the Shark in our pet hair vacuum tests, but the Kenmore was about 20% better at capturing fine dust.
Other features

When you've got a complete line of accessory tools, it's important that the vacuum provides a good place to keep them all. Fortunately Kenmore did just that with the Elite, so you don't have to hunt in your closet for missing tools when it's time to clean your blinds.
Like most good canister vacuums, the Kenmore includes a retractable power cord. There's an adjustable-length wand that goes from 43 to 55 inches, both for the comfort of taller or shorter users and for reaching up to the ceiling with the cleaning brush attachments.
The Kenmore – Elite is designed to sit securely on a stair, and it does that job well. There's even an included Pet PowerMate miniature brush head that makes quick touch-up jobs easy. It's better for cleaning dog hair off of sofa cushions than it is for a full staircase job, but at least it won't stall out on carpet like turbine-powered tools do.
Key takeaways:
For the most power and great features, the Kenmore – Elite 21814 Crossover competes with vacuums that cost double or triple this price.
The full-size bare floor head and powered carpet head dock together for quickly changing between floor types.
The included HEPA-class filtration works well enough to clean your air while you vacuum.
It was the quietest of the conventional canisters we tested, even at full power.
This is a big vacuum, only slightly more nimble than an upright.
Bagless pick: Shark – Apex
We chose to include the Shark – Apex lift-away vacuum in this roundup of canister designs because it represents a unique set of attributes at an excellent value. This is more closely related to an upright vacuum than a canister, but it's one of the few uprights that makes just as much sense for a household that would typically prefer a canister design.
While most traditional vacuums basically force you to switch between a rotary-brush head for effective carpet cleaning and a simpler suction-only head for bare floors, Shark has pioneered the use of a thick, soft roller that captures dirt on bare floors and doesn't just throw it around before it gets sucked in. They call this a "DuoClean" brush system, and it works effectively on all the floor types we've tried.
The Shark is also more agile than other fully-powered brushroll systems, and it has handle-switched lower-power settings that will keep it from eating up area rugs. For mixed flooring types, this vacuum is just as good as the Kenmore Elite, but you can't shed the weight of the brushroll for quicker coverage of large bare-floor surfaces.
Also the best for pet hair
The Apex also features Shark's new "Zero-M" system, which actively combs out hairs so they don't get wrapped around the roller. This makes the Shark – Apex the best canister vacuum for pet hair, or even for extra-long human hair. You'll only ever catch a few strands on the roller, which eliminates the maintenance needed on traditional roller designs.
Bagless designs usually aren't quite as good at capturing fine dust, but part of what makes this Shark the best bagless canister vacuum is a HEPA filter that worked better than the rest (including Dyson's) in our review of upright vacuums. Against the tougher competition of bagged canister vacuums, the Apex let more fine dust into the air than Kenmore's top-of-the-line sealed bag system did. The difference is only about 20%, and the Shark captured more large dust particles, so we're happy with this performance considering the other advantages of the system.
Shark also includes the obligatory mini-power-brush for cleaning dog hair off your sofa. It's powered by an electric motor so it won't just stall out the way cheaper versions of this attachment do if you try to use them on your stairs.
Most of Shark's accessories have a handy storage spot, but the various model numbers (we tested the AZ1000W) may include accessory brushes that don't have a home.
The drawbacks
There are a few things we don't like about the Shark in canister mode.
The lack of wheels for the motor canister unit and the very short hose mean you're basically forced to carry the motor around in one hand while you vacuum, rather than towing it behind you as you work through tight spaces. The agility of Shark's motorized brush head makes steering with one hand no problem, but if you've got a large room to cover you'll definitely want to use upright mode most of the time.
The Shark doesn't have a retractable cord. That's not the most important feature on a vacuum, but it's a standard on canister designs and makes storage easier. Retractable cord systems add weight and the Apex is already a heavy vacuum as it is, but on a premium-tier vacuum, we'd like to see some innovation beyond the bare-bones wrapping system.
If you're only interested in a canister vacuum for tricky spots like vacuuming under a coffee table and on the stairs, the Shark – Apex will handle those jobs well while serving as a full-featured multi-surface upright vacuum the rest of the time.
If you think the short-hose lift-away mode will meet your needs, but you're not interested in using it on carpet, and you want to save some money, the Shark – Navigator was a runner-up in our best upright vacuum review and winner of our best pet hair vacuum review. It's still excellent at cleaning carpets in an upright configuration while giving acceptable performance in lift-away mode on bare floors.
Key takeaways:
The Shark – Apex has more versatility than any other vacuum we've looked at.
Ideal if you only need canister-style flexibility in a few places.
A sealed bagless design and HEPA filter manage dust very well.
Shark's new brush design prevents pet hair from tangling.
Soft, powered rollers are excellent on everything from hardwood to carpet.
The hose is too short for constant use in lift-away mode.
Budget pick: Bissell – Zing
Choosing a canister vacuum without a powered carpet head was tricky, since the bare-floor cleaning that these vacuums are best at isn't particularly complicated. The Bissell – Zing offers good power at a very affordable price, and it doesn't skimp on the details.
The Zing offers basically the same two-mode floor-cleaning head as the other sub-$300 vacuums we tested, with a bristle-down position for gliding across hardwood and tile and a bristle-retracted mode for sliding along low-pile carpet.
Don't try to use a basic canister vacuum like this for medium-pile or longer carpet; it'll just get stuck. You can turn down the suction to make gliding along easier, but at that point you're not really vacuuming up much dirt. The Bissell – Zing did manage to pull slightly more dirt out of our test carpet than the other non-powered heads in our test, but it was a very difficult process.
The Bissell also lacks the HEPA filter featured on more expensive canisters, and it threw five times more dust particles into the air than the closest competition. That said, vacuuming when nobody will be in a room for a few hours, then running an air purifier or opening a window and using a tower fan, can take care of that problem.
The biggest strength of the Bissell is simplicity. You still get essential features, like a retractable power cord and adjustable-length wand, but the only accessory comes in the form of a clip-on brush and crevice multi-purpose tool.
Key takeaways:
For less than $75, the Bissell – Zing is a compact, effective vacuum.
The bare-floor tool serves its intended function well.
Storage and handling features are surprisingly refined.
This bagged system only has basic dust filtering.
Don't bother with a vacuum like this for carpet or area rugs.
Kenmore – 200 Series
If you want a powered brushroll for some carpet-cleaning tasks but don't need all the other features of the Kenmore – Elite, the Kenmore – 81214 200 Series canister vacuum is an affordable mid-range option.
For about a $200 savings compared to the Elite, you've given up handle-mounted controls, the bigger bare-floor tool, two feet of hose length, noise reduction, dust capture performance and more agile steering. This isn't a vacuum we'd choose above other designs unless budget were the primary consideration.
Compared to the other sub-$300 vacuums we tested, you still get a motorized height-adjustable carpet head and a powerful suction motor. The small bare-floor head and difficult steering on carpet really handicap this model in most households where a mid-range canister vacuum makes sense, though.
Electrolux – EL4021A
The Electrolux – EL4021A is a bagless canister vacuum from a well-regarded manufacturer, but its middle-tier features and performance make it hard to recommend.
Most confusing of the results from our tests were the air quality results for this model: Despite the advertised HEPA filter, this vacuum kicked up just as much dust as the non-HEPA Bissell model.
Electrolux includes a turbine-powered carpet head with this model, and that was also a disappointment. It's incredibly loud, and stalls out quickly on anything thicker than tight-knit carpet like Berber. The Electrolux was light and fairly easy to maneuver, but for cleaning performance the Kenmore – 200 Series has it totally beat.
Eureka – Mighty Mite Pet Lover
For those looking at budget vacuums but are still in need of dust filtration, the Eureka – Mighty Mite Pet Lover takes a popular utility vacuum design and literally clips an extra filter to the back.
The Mighty Mite isn't a bad little vacuum, but the price increase to get the HEPA filter is hard to swallow. Compared to the Bissell – Zing, you get bigger detailing tools (with some onboard storage) but give up some airflow on account of the filter. You can attach the hose to the exhaust side of this canister for situations when you want a blower, but you're better off buying an inexpensive leaf blower for most situations where that would be an asset.
The included air-turbine-powered pet-hair brush isn't good on carpet, and there's no place to store it on the vacuum so most owners will likely lose it quickly.
If you're seriously considering the less expensive Eureka – 3670h without the $40 filter, look closely at the Bissell – Zing first. The retractable cord is a worthwhile upgrade for most households.
Important features to consider
Appropriate floor tools: If you only need to clean bare floors, the most basic sweeping heads will work quite well at picking up dirt. As soon as you need to work on carpet, though, an electric rotary-brush head helps shake out and capture more dirt.
Bagged vs. bagless system: Most popular canister vacuums still use bags to capture dirt, despite upright vacuums switching almost entirely to bagless designs. Bags often capture fine dust better, and they can make it easier to dispose of what you've vacuumed up if you don't have the option of stepping outside to empty it.
Hose length: The length of a hose will determine how much area you can clean before you have to start dragging the motor around.
Retractable cord: While the canister design means that you've always got a hose taking up space in the closet, a common convenience on these vacuums is a retractable power cord.
Height control: On the plushest carpet, wheels that lift the brushroll head above the ends of the fibers will allow you to continue gliding smoothly even with strong suction power and strong agitation from a brushroll.
Onboard tool storage: Specialized tools for detail cleaning are handy to have, but if there's no place to keep them on the vacuum itself, many of us will keep them in a box and forget about them quickly.
HEPA-class filters: High-efficiency particulate air filters (almost always called HEPA-class) are defined by the U.S. Department of Energy as filters trapping 99.97% of tiny 0.3-micron particles that pass through. If the manufacturer doesn't specify HEPA filtration, you're almost certainly blowing a lot of fine dust into the air when you vacuum.
Sealed-system airflow: Expensive filters are needed to capture allergy-triggering dust, but if your vacuum isn't well-sealed, some of that dust will just leak out all the same.
How we selected products to test
After testing stick vacuums, upright vacuums, car vacuums and vacuums for pet hair, we turned our attention to the prestigious category dominated by thousand-dollar European super-vacuums beloved by enthusiasts (and dealers, if not repair technicians) worldwide.
We thought long and hard about a budget for this review. We read all about Miele, Riccar, Sebo and other well-known makers who have canister vacuums that compete for shelf space at vacuum dealers. Miele is especially notable, since they consistently take top scores in publications like Consumer Reports and even the usually-budget-conscious Wirecutter. We also talked to vacuum dealers and watched them demonstrate these luxury vacuums and rave about their power, longevity and long-term value.
After our pet vacuum tester's lackluster experience with his own Miele – Calima, though, we thought long and hard about how to qualify value for a general review.
Given how well our stick vacuum and upright vacuum review winners handle the same situations a canister excels in, we settled on a high-but-comparable $450 price maximum as a first criteria. This eliminated even the least-expensive Miele models with a power head, like the $700 Compact C2 Electro+. Other high-end brands were even farther out of reach.
We think you should know these prestige brands are out there, and if you're researching canister vacuums you've almost certainly heard people rave about them, but none of our team members could imagine spending $700 to $1200 on a vacuum given how good the less expensive brands have become.
Looking for results of vacuum tests that weren't specifically dealer-sponsored advertisements, we quickly found that Kenmore is the only major seller of canister vacuums with filtration and carpet-cleaning features we've come to expect in this middle-tier price range.
We also looked at consumer satisfaction numbers from Consumer Reports and J.D. Power, along with retailer customer reviews and YouTube reviews, to pick three more competing designs that could fit into tighter budgets along with the mid-range Kenmore and Shark vacuums.
How we tested
Cleaning
The critical tests for a vacuum involve, of course, cleaning floors. But the features that make a vacuum excellent on tile floors may not be as good on wall-to-wall carpet, area rugs or hardwood.
We sprinkled samples of precisely weighed debris samples on carpet, then weighed the bags or canisters of the vacuums after to see how much of the dirt was recovered. On bare floors, we put down the same dirt as well as cereal and tested for scatter and efficient pick up of the biggest pieces.
A powered "beater" brushroll makes a big difference getting sand and dirt out of carpet, and it was easy to see the impact of agitation and brushing in the results.
| Vacuum | Bare Floor Rating | Carpet Beater | Carpet Rating | Height Control | Suction (kPa) |
| --- | --- | --- | --- | --- | --- |
| Kenmore - Elite | ★★★★ | Electric | ★★★★★ | Yes | -23 |
| Shark - Apex | ★★★★★ | Electric | ★★★★★ | No | -22 |
| Kenmore - 200 Series | ★★★ | Electric | ★★★★ | Yes | -22 |
| Electrolux - EL4021A | ★★★★ | Air-powered | ★ | No | -20 |
| Bissell - Zing | ★★★ | None | ★★ | No | -18 |
| Eureka - MightyMite Pet Lover | ★★★ | None | ★ | No | -19 |
The turbine-powered brushroll on the Electrolux – EL4021A didn't help much, though. It got stuck in longer carpet fibers and was only slightly more effective than the bare-floor tools included in less expensive vacuums. The height control on the Kenmore heads gave the biggest advantage in long-pile carpet, but Shark's dual-brush system performed almost just as well.
Too much suction will make it hard to move a vacuum over thick carpet, or even get caught on the edges of area rugs. All of these canister vacuums offer some way to either slow down the suction motor or allow some air to bypass through a vent. That makes them more versatile than even the most prestigious brands in our upright vacuum review that just got bogged down or stuck.
Suction
In order to compare the raw power of these vacuum motors, we plugged them each into a vacuum gauge rig and noted the maximum amount of negative pressure made by the motors.
The difference in power between the most expensive and least expensive groups is worth noting, but all of these vacuums have enough power to easily pick up heavy sand and debris on all floor types. For carpet, the higher suction numbers won't really help without excellent height control, or a more complex brushroll system like the Shark – Apex uses.
HEPA filter
We logged air quality readings with a Dylos particle counter before, during and after our cleaning tests to see how well the HEPA-class filters in some models actually capture dust. These tests weren't performed in a sealed room, but the air was cleaned to a baseline level between tests with the Winix air purifier from our air purifier review running for five minutes.
The readings after vacuuming showed even most HEPA-filter vacuums kicking up three times more large dust particles into the air than we measured at the start of the test — on average from 13 up to 48 parts per million (PPM). The worst case was the Bissell – Zing: Its basic foam filter didn't catch much dust, and there was ten times the starting level in the air after vacuuming.
Between its strong airflow and effective filter design, the Kenmore – Elite made an impressive 20% improvement in air quality compared to starting conditions — a powerful sealed-system vacuum can actually clean your air as well as your floor.
We didn't carefully time the vacuuming time on this test, only analyzing the performance while actively cleaning our test carpet. In past tests, we've seen that a good vacuum from Shark or Dyson can clean the air if it's left running for a few minutes, but the Kenmore did that even while cleaning the floor.
| Vacuum | Dust Filter Performance | Noise: Suction Motor (dBA) | Noise: Brushroll (dBA) |
| --- | --- | --- | --- |
| Kenmore - Elite | ★★★★★ | 93 | 94 |
| Shark - Apex | ★★★★ | 88 | 93 |
| Kenmore - 200 Series | ★★★ | 99 | 100 |
| Electrolux - EL4021A | ★★ | 92 | 102 |
| Bissell - Zing | ★ | 97 | N/A |
| Eureka - Mighty Mite Pet Lover | ★★★ | 100 | N/A |
Noise
We tested all of the vacuums from the same distance, at ear-height while moving the vacuums as they would be used for cleaning. We used a meter with an "A-weighted" frequency bias, which emphasizes the effect of bothersome high-pitch sounds and is the standard method to measure noise (rather than something like music).
The winner of this test was no surprise. The Shark – Apex won our pick for best upright vacuum and is the quietest vacuum we've ever used: With the brushroll turned down to bare-floor mode the suction motor puts out 88 dBA, about as loud as the average level of film dialog in most movie theaters. Turning up the brushroll speed for carpet increased the noise to a fairly normal 93 dBA, very close to the same volume as the more expensive Kenmore – Elite.
By comparison, the air-powered brushroll on the Eureka brought the noise level up to 102 decibels — definitely not something you'll want to use early in the morning.
Storage and ergonomics
| Vacuum | Cord Retracts | Hose Length (inches) | Wand Length (inches) |
| --- | --- | --- | --- |
| Kenmore - Elite | Yes | 128 | 43–55 |
| Shark - Apex | No | 66–80 | 45 |
| Kenmore - 200 Series | Yes | 107 | 46 |
| Electrolux - EL4021A | Yes | 112 | 39–52 |
| Bissell - Zing | Yes | 106 | 32–44 |
| Eureka - Mighty Mite Pet Lover | No | 126 | 39–57 |
The biggest advantage of a canister vacuum is the long reach offered by the hose, but compared to the best upright vacuums or stick vacuums, that's also a downside when you need to put it in the closet. As a consolation, most of these canister vacuums offer collapsing wands and retracting power cords to keep the storage as simple as possible.
An adjustable-length attachment wand is mostly important for reaching high ceilings or vacuuming on top of furniture with a detail brush, but some shorter or taller people may also find vacuuming the floor easier after adjusting the length of the wand.
Probably the most important factor for ease of use is the location of the vacuum's controls. Usually only the most expensive vacuums give you power and brushroll control switches on the handle; less expensive models require you to reach down to the base of the vacuum or tap buttons with your foot.
Tools and accessories
| Vacuum | Powered Tools | Small Rotary Tool | Onboard Storage |
| --- | --- | --- | --- |
| Kenmore - Elite | Yes | Yes | All tools |
| Shark - Apex | Yes | Yes | Most tools |
| Kenmore - 200 Series | Yes | No | Floor tool |
| Electrolux - EL4021A | No | No | None |
| Bissell - Zing | No | No | Most tools |
| Eureka - Mighty Mite Pet Lover | No | Air-powered | None |
One accessory that sets apart the most expensive vacuums is a small powered rotary-brush tool, specifically designed for grabbing pet hair that sticks to furniture. Less-expensive vacuums sometimes include an air-powered version that might be worth trying out, but those are ineffective for tougher jobs like cleaning carpeted stairs.
All models we tested include a detail brush and a crevice tool to get into furniture cracks. The best models also include a place to keep every tool so they won't get lost in your closet.
Canister vs. upright vacuum cleaners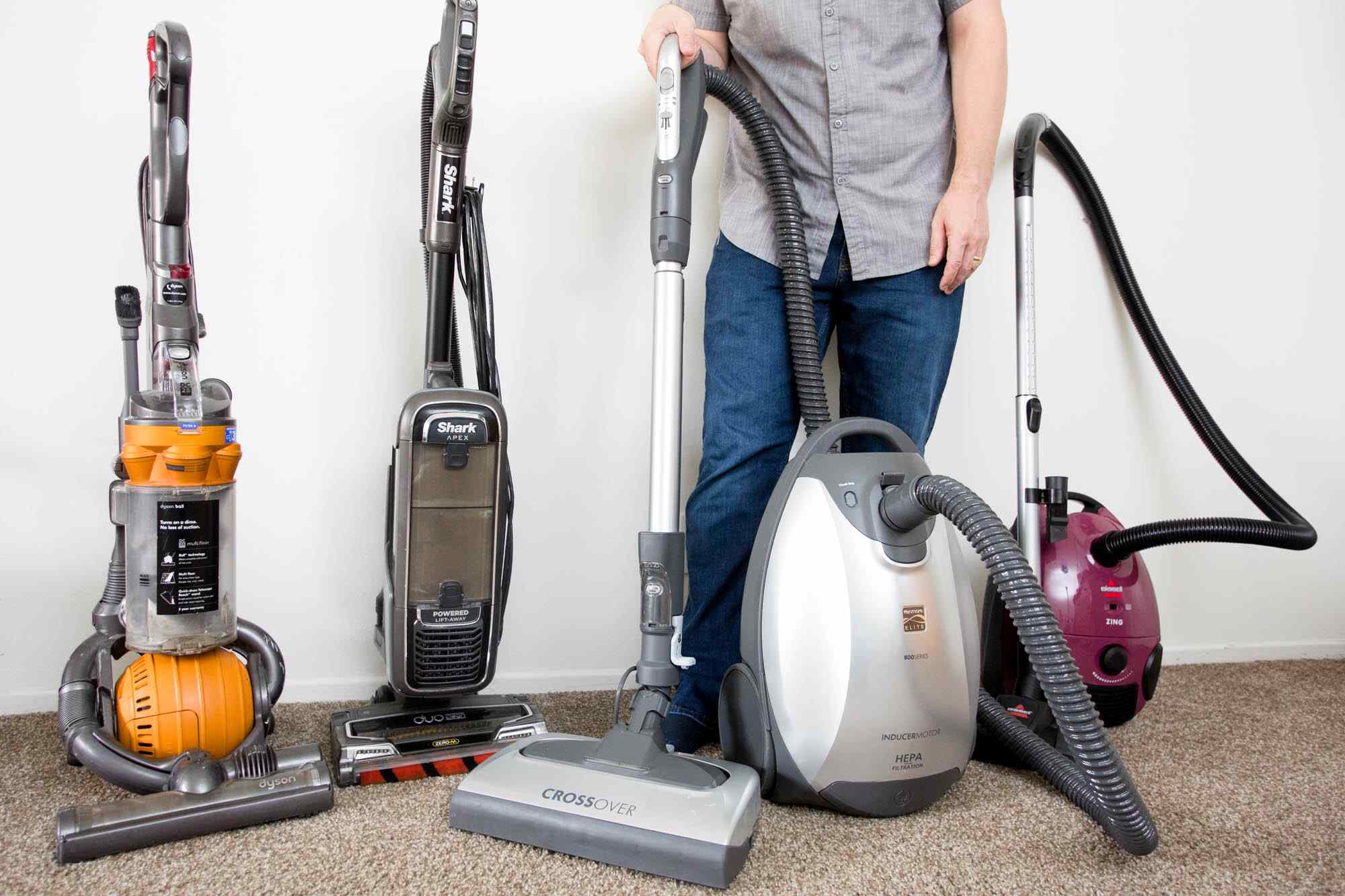 Generally speaking, a canister vacuum separates the motor and dust receptacle from the tools you hold with a long hose. Most of the weight of the vacuum is in the "canister" that follows you around on the floor, so you're more free to move around and reach tight places.
Canister vacuums have the advantage in smaller rooms. The low-profile head of a canister vacuum's pickup tool fits under furniture, and the lower weight makes tight corners less tiring. The drawbacks start when you have to move the canister body while you're vacuuming.
An upright vacuum, by comparison, really shines if you need to clean up and down a carpeted hall or over a large open space. The cord is usually long enough that you can finish the job without unplugging, and you won't have to drag a canister along behind you.
Canister vacuums are popular in Europe, and upright vacuums are overwhelmingly more popular among American homeowners. This shift probably comes down to a difference in floor plans, with spread-out wall-to-wall carpeting floorspace favoring uprights versus the bare floors and staircases of old-world architecture.
Air vs. electric brushrolls
For cleaning carpet, a spinning brush roller works much better than suction alone by agitating the carpet and sweeping up the dirt and hair as they bounce around. This is a defining trait of most upright vacuums, but you can get a brushroll head for many canister vacuums.
Canisters often come only with air-turbine-powered brushroll tools, though, which means that the flow of air spins a turbine that powers the brushroll. That's better than no roller at all on low-pile carpet. However, we found when testing the best pet hair vacuums against our writer's own air-driven Miele – Calima that even expensive turbine heads are poor at picking up hair, and they don't have enough power to agitate long-pile carpet.
For this review, we tested two canister vacuums from Kenmore that use motorized brushrolls, and one turbine-powered system from Electrolux.
A third way: Shark's Lift-Away system
Shark's "Lift-Away" vacuum design tries to split the difference between a canister and an upright: When you want to separate the bulky motor housing from the floor tools you can just push a button and detach it. The hose is very short compared to a purpose-built canister system, but it has many of the same strengths when you need to vacuum under a bed or on carpeted stairs.
Note that among Shark models, only the more expensive "powered lift-away" models like the Apex can run the brushroll motor when the base is detached. We've tested the value-oriented Navigator in our best upright vacuum review and best pet hair vacuum review, but we only compared the more versatile Apex against canister vacuums.
The bottom line
Canister vacuums aren't as popular in North America as upright vacuums, but we've tested and compared them in situations where they make the most sense: Tight quarters, bare-floor cleaning and situations where the extra dust control from a bagged system is a key asset.
With those parameters, the Kenmore – Elite is a clear winner for anyone who also needs to deal with carpeted floors. The power, filter performance, ease of use and flexibility of this system are competitive with the better-known European brands, but at one-third the price.
If you're covering enough floor that you're trying to decide between a canister and upright vacuum, the convertible Shark – Apex has most of the flexibility on stairs and in tight spaces as a canister, but is much better on open ground. It's easily the best bagless vacuum we've tested.
Lastly, if you're looking for an inexpensive canister vacuum with only a bare floor head, the Bissell – Zing is our budget pick. It doesn't have the filter or carpet-cleaning prowess of other vacuums, but it has plenty of power for the price.