Dyson V7 Trigger Vacuum Review
We spent 30 hours on research and four months of in-house testing before choosing the Dyson – V7 Trigger as our best handheld vacuum. The point-and-shoot design, easy handling and incredible suction power made the Dyson our go-to handheld vacuum. While there are other handheld vacuums with cyclone technology, we found the Dyson picked up the most fine dust and large debris of all the finalists we tested.
We spent 30 hours on research and four months of in-house testing before choosing the Dyson – V7 Trigger as our best handheld vacuum. The point-and-shoot design, easy handling and incredible suction power made the Dyson our go-to handheld vacuum. While there are other handheld vacuums with cyclone technology, we found the Dyson picked up the most fine dust and large debris of all the finalists we tested.
British engineer and designer Sir James Dyson started developing cyclone technology in 1978. Five years (and over 5,000 prototypes) later, he had invented the world's first bagless vacuum cleaner. Dyson's cordless vacuums have become so popular, they've actually stopped developing new plug-in vacuums. As the most expensive handheld vacuum on the market, we wanted to know if the V7 lived up to the hype.
Over the course of several months, we put vacuum through a series of tests to judge their performance and ease of use. We also put each model to task on a variety of daily cleaning jobs, such as vacuuming up cereal from car seats and sand from our front door mat. The Dyson – V7 Trigger is the latest release of their handheld vacuum, and our in-house testing confirmed that Dyson lives up to its reputation.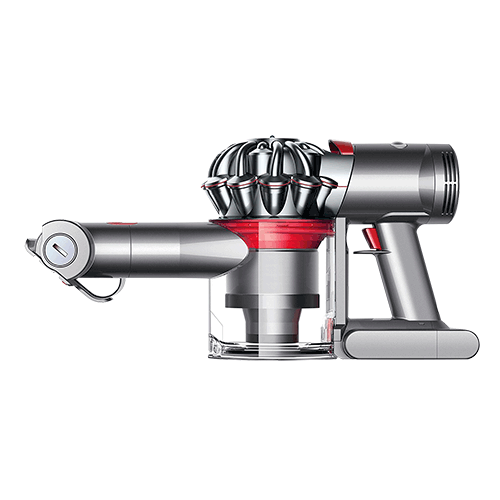 Table of contents
What sets the Dyson V7 apart
Compared to the other finalists, the Dyson offers the most convenience. It is portable, lightweight and easy to maneuver. The Dyson is ergonomically designed to fit comfortably in your grip and to spread the weight across your whole hand.
Power and suction are arguably the most important part of a handheld vacuum. And simply put, the Dyson was easier to use and more powerful than the other handheld vacuums we tested, making faster work of our cleaning projects. The lithium-ion battery can be fully charged in 3.5 hours and runs for as long as 30 minutes. Comparatively, the other finalists took between four to eight hours to fully charge, and lasted between 12 and 30 minutes.
While not even lithium-ion batteries are truly "fade-free", the Dyson suffered minimal power drop when we tested it at the 90% discharge point (minutes away from a completely dead battery). Our other finalists with lithium-ion batteries did not fare so well.
Cyclone technology
The Dyson can collect smaller particles than other finalists we tested, thanks to a unique two-tier cyclone system that we'll explain in a minute. The difference was notable on our floor and upholstery, and also when we emptied the dustbin. The dust was finer in the Dyson than in any of the other finalists, indicating that it was pulling up dust and dirt to a higher degree than its counterparts.
Dyson's cyclone technology uses two tiers of 15 cyclones to generate a centrifugal force that can create a powerful upward sucking motion and can capture microscopic dust. Once vacuumed into the chamber, the first tier of cyclones creates a vortex that spins at about 200 mph and flings large particles out of the cyclone into a dust-collecting cup. The second tier of cyclones, tucked inside the first, creates a cyclone that can reach 900 mph, which can spin out and collect dust particles as small as 0.5 microns.
For comparison, a single strand of human hair is 50 to 70 microns in diameter. The U.S. Environmental Protection Agency places particle pollution into two categories: inhalable particles 10 micrometers and smaller (such as dust, pollen, mold) and fine inhalable particles 2.5 micrometers and smaller.
Smaller particles can get deep into your lungs, and some may even get into your bloodstream. We also reviewed the best air purifiers that can help control fine dust in your home, but collecting as much fine dust as possible in your vacuum is definitely your best bet.
The other advantage to a vacuum using cyclone technology is a strong suction power, and therefore cleaner floors. The downside is that these types of vacuums are generally sold at a much higher price point.
Dyson digital motor V7
Most cordless machines use brushed DC motors that spin around 25,000 rpm. The motor of the Dyson – V7 uses a digital pulse to propel a magnetic rotor that can reach 110,000 rpm. To give you an indication of how fast this is, a race car engine moves at 19,000 rpm. The end result of the high speed is more powerful suction, so you can clean more effectively.
Dyson – V7 performance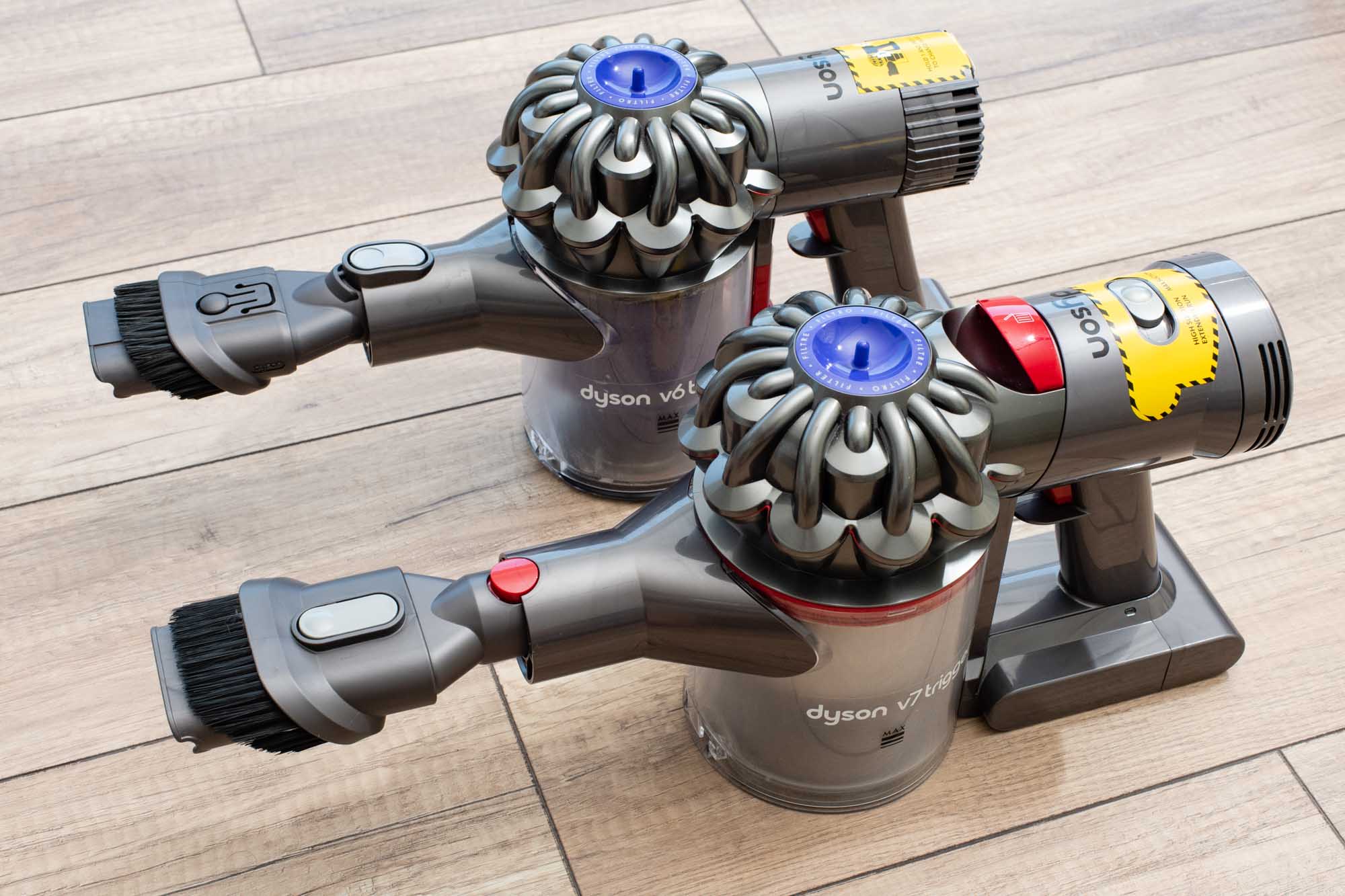 We tested our handheld vacuums for several months before determining a winner, and Dyson (a company that is always working on new products and technology) released a newer model of their handheld vacuum during the time we were working on our article. We originally reviewed the Dyson – V6 Trigger, and when the Dyson – V7 Trigger arrived on the scene, we tested the newer model as well.
Testing both models over a period of months gave us an in-depth familiarity and understanding of the Dyson handheld vacuum. With that knowledge, we felt comfortable recommending the Dyson – V7 Trigger as our number one handheld vacuum. It outperformed the other seven finalists in terms of power, runtime and ergonomics. Here's a rundown of how the Dyson compared to the rest:
Usability
One of the aspects we found frustrating with other handheld vacuums that we tested was that emptying the waste bin necessitated pulling out the filter, making it a dirty job. Thus, the Dyson's hygienic one-touch bin emptying was a favorite feature of ours, as it drives out dirt and debris with one action. It was also simple to remove, wash and replace the lifetime filter.
It is lightweight, only 3.8 pounds, and ergonomically designed. The trigger fits flush to the handle of the machine, so that the load is shared across the whole hand. This puts less pressure on the wrist and fingers, and makes it easy to use for an extended period of time. Compact and portable, we found it the easiest of our handheld vacuums to grab and go.
It has a clear dustbin with a 0.15-gallon capacity, so you can actually see the amount of fine dust it captures, and hygienic one-touch emptying so that you don't have to touch any of it. In the case of dirtier jobs, such as vacuuming a mattress, we found this to be a pretty key feature.
Power and suction
We can tell you that the Dyson generates up to 100 air watts of suction on MAX mode, but we'd rather spell it out in terms of actual cleaning capability. The Dyson can suck up a Cheerio from an inch and a half away, and can suction at least 16 ounces of weight.
While it's not likely that you'd wish to vacuum up something that heavy, it is a good indicator of how well the Dyson performs. It was excellent at removing sand, debris and dust from both hard floors and carpets, which we tested using cereal and dry oatmeal.
We put the Dyson to task on staged tests such as baking soda ground into short pile carpet, as well as real life messes. Of all the finalists we tested, the Dyson was the most capable at picking up debris and dust. Not only could you clearly see a difference on the floor and upholstery, you could see an incredible amount of fine dust in the waste container; much more than we originally assumed was on the floor.
The run-time enhancing, light-touch trigger means that battery power is only used for cleaning tasks. The Dyson allows you to save seconds and minutes of battery life by shutting off the second you release the trigger. Not only does the battery run longer than its counterparts, battery power isn't wasted between cleaning tasks.
Sound
We used a sound decibel meter to measure and record the amount of decibels when held one inch from the motor. The Dyson – V7 Trigger measured at 89 dB, making it the quietest handheld vacuum we tested. This is an improvement on the Dyson – V6, as it measured 7.9 dB louder. The V7 has been acoustically engineered to reduce volume and improve sound quality over its predecessor.
Runtime and charging
The Dyson gives you 30 minutes of runtime in Powerful mode and 6 minutes in MAX mode. MAX mode gives you even stronger suction for those particularly challenging areas; we found it especially helpful to pick up debris in heavy traffic areas like the front-door floor mat. We cleaned a car using a mix of Powerful and MAX mode as necessary, which gave us about 18 minutes of runtime and was ample to complete the task.
Rather than having to balance the Dyson on a charging stand, you simply plug it in to the power cord. We appreciated this no-fuss charging as much as we appreciated the fast recharge time. The Dyson recharges in only 3.5 hours, faster than any other handheld vacuum we tested. Since it suffers only minimal power loss on a low battery, you can still use it before the 3.5 hours is up. It will run for a shorter period of time, with nearly the same level of power as a full charge.
Pet hair
In addition to making fast work of removing pet hair from a Golden Labrador's favorite resting place (a canvas pet bed trimmed with piping), we could see in the waste bin that the Dyson picked up fine debris that was likely pet dander. We used both the stubborn dirt brush and the mini motorized tool on this task. The mini motorized tool was better able to agitate and loosen embedded hair, since it has smaller bristles to catch fine hair and fibers as well as direct drive action. When pet hair does get caught in the brush bar (unlike the rubber nozzle of our top pick for pet hair), the brush bar slides out so you can easily clear obstructions.
Attachments
The Dyson – V7 features the new quick-release connectors for easy attachment and removal. Three accessories (the combination tool, crevice tool and mini motorized tool) are included in the purchase price, and additional attachments can be purchased separately. In addition to the included accessories, we tested the mattress tool, stubborn dirt brush and extension hose.
Combination tool
The less you have to carry, the better, when you're multitasking around the house. The combination tool offers a two-in-one attachment, with a dusting brush (we used it on both keyboards and window blinds) and a wide mouth crevice tool.
Crevice tool
The crevice tool is good for narrow spaces and was particularly useful on car seats to suck up spilled snacks. Getting into tight spots (such as a car seat) sometimes necessitated an awkward turn of your arm or whole body to get the correct angle and most suction.
Stubborn dirt brush
The stubborn dirt brush has coarse bristles to agitate and loosen dirt from sturdier carpets and door mats. Gaps in the bristles make it easier to push across surfaces. We found it a little too rough for the flooring in our car (it made it a little fuzzy), but it was great for an outdoor floor mat.
Mini motorized tool
You can get an even stronger pickup with the mini motorized tool, but be aware you'll get a slightly shorter runtime (25 minutes as opposed to 30). When you combine this tool with MAX mode, you can accomplish some tough tasks. Even in Powerful mode, it was excellent at removing pet hair and ground-in dirt.
Mattress
Dirt, dead skin cells (a favorite snack of dust mites) and allergens can collect on your mattress surface. Gross, we know. So we deep cleaned our full-size mattress with the mattress tool by using it to cup the seams and to slowly glide along the surface of the bed on MAX mode for six minutes. It picked up one gram of debris and was not a pretty sight, but we were thankful it was no longer on the surface of our sleeping area.
We had previously used the mattress tool with the Dyson – V6, and while we did not weigh the output the first time, we were surprised how much debris had already accumulated in a few short months.
Extension hose
The extension hose gives you an extra 23 inches to reach up high, deep into cabinets or underneath car seats. We especially liked that it folds back up into a short length for easier storage.
What we didn't love about the Dyson – V7
Cost
The Dyson – V7 was clearly the best handheld vacuum we tested, but there is one significant downside: the cost. It was nearly double the cost of our runner up and best handheld vacuum for pet hair. Budget-conscious consumers might balk at purchasing a handheld vacuum for the same price as a capable upright vacuum, which are typically better at deep-cleaning carpets. The Dyson – V7 does come with a two year worry-free warranty, and knowing your handheld vacuum has lasting power may help justify the cost.
Keeping up with the latest release
Similar to Apple's iPhones, Dyson's ongoing releases may have you feeling like you are always behind the times. As Dyson releases new lines, you may be able to get a deep discount on previous models that have been redesigned. On the other hand, you won't have all the improvements that come with a newer model.
Even when lines are discontinued, you can still get help for your older machine. Dyson continues to offer support on nearly all of their models, even the original Dyson released in the U.S. (2001), the DC07.
The bottom line
Despite a high price point, the Dyson – V7 Trigger would be an advantageous tool for households that prize convenience, need power and would use a handheld vacuum regularly. Namely, we would recommend the Dyson for households with kids and furry pets. Its portability, strong suction and maneuverability make it a cleaning tool that can handle the constant messes that come with crumb-dropping children and fur-babies who shed.