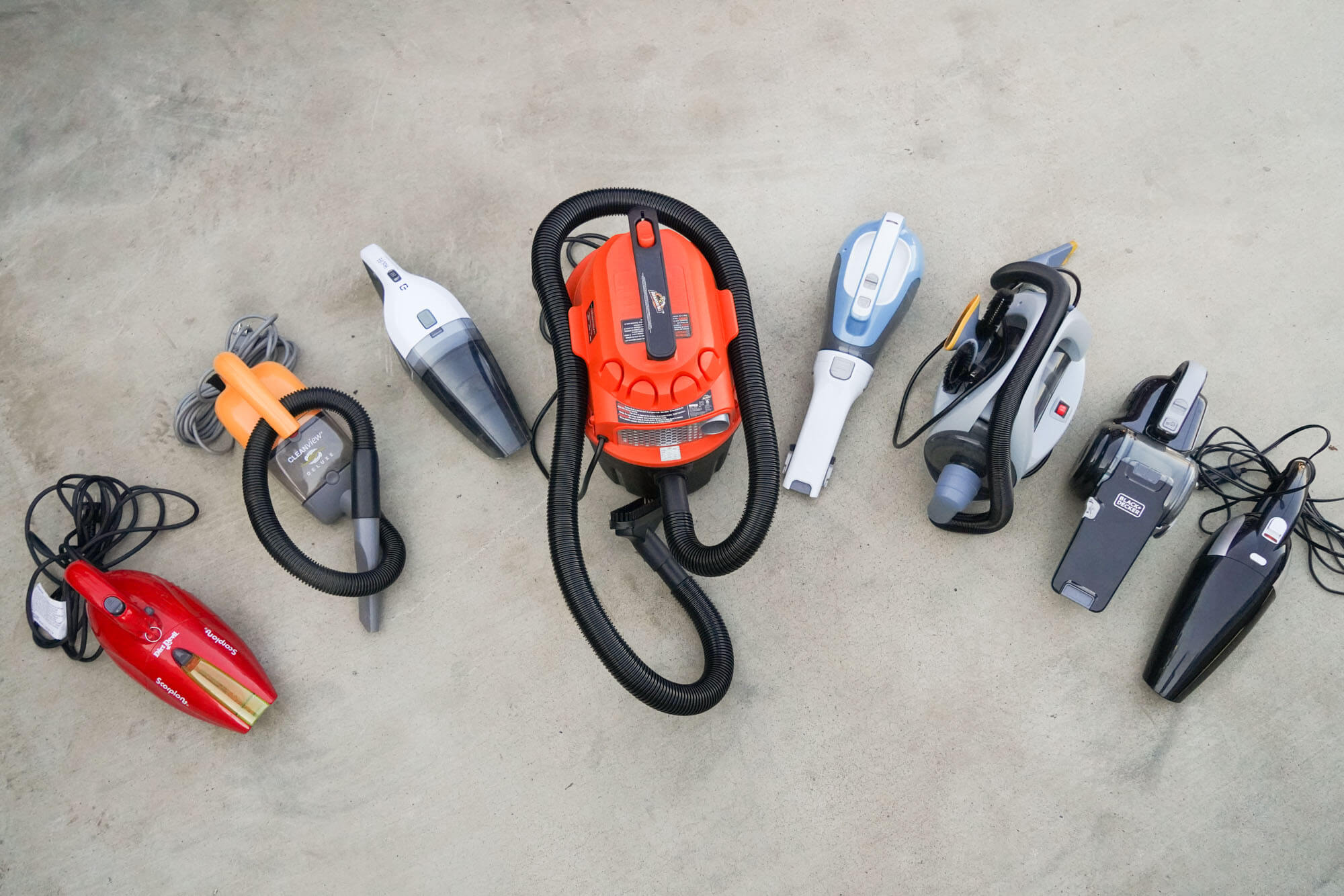 After six weeks of research and testing car vacuums on sand, crumbs, dust and more in multiple cars, we feel confident recommending the Black and Decker – BDH2000PL Pivot as the best car vacuum. This vacuum offers the power, convenience and attachment tools you need to keep to keep your car interior spotless both at home and on the go.
After six weeks of research and testing car vacuums on sand, crumbs, dust and more in multiple cars, we feel confident recommending the Black and Decker – BDH2000PL Pivot as the best car vacuum. This vacuum offers the power, convenience and attachment tools you need to keep to keep your car interior spotless both at home and on the go.
Table of contents
Compare the best car vacuums
1. Best overall: Black and Decker – BDH2000PL Pivot
By the time we finished our testing, the leader of the pack was quite clear. The Black and Decker – BDH2000PL Pivot had the strongest suction at 35 air watts and did the best job on tough dirt and sand.
Its wide mouth was effective on car seats and mats, while the attached crevice tool and brush allowed us to conveniently get into the smallest crevices in the car. The pivot design made it so that the vacuum could clean at odd angles, which minimized the craning and stretching we had to do. We found it much more comfortable to clean with than the fixed nose of the Black and Decker – CHV1410L model.
We love that the crevice tool and brush, which can get to hard-to-reach spaces, is attached to the machine. You can also purchase an additional Car Accessory Kit, which includes a flexible hose that stretches up for 4 feet, large brush attachment and storage bag. While the vacuum itself has an attached brush attachment that we found more than adequate, these extra attachments might come in handy for the most fastidious car owner.
This model is a battery-powered product, which in the end, we felt was most convenient for cleaning a car. The vacuum's power stayed strong for about 20 minutes before it needed a recharge. This was plenty of time to clean the car effectively without feeling the need to hurry.
While this vacuum boasts strong power and convenience, it also has a three-stage filtration system to help trap allergens. The Black and Decker – BDH2000PL Pivot also boasts a translucent bagless dust collector so that you can see the dirt you have captured, and how much space you have left before needing to empty it. We found that the dust collector had plenty of space left over after we finished our vacuuming sessions.
When we cleaned out the vacuum's collection bin, the process was straightforward. You can simply empty the contents into the trash, or depending on the mess you just cleaned up, you can also wash the plastic in the sink to get it fully clean. Once you are done, the vacuum can also be folded in half for convenient storage.
Key takeaways:
The pivot design on the Black and Decker – BDH2000PL Pivot helped us get into corners and odd angles of a car. The vacuum was also ergonomic and comfortable to use.
It cleaned sand and other dirt with the least amount of passes, thanks to its powerful suction.
The battery lasted as long as we needed it and did not lose power along the way.
The machine has plenty of capacity for dirt, was easy to clean out and has a triple filtration system to ensure that you aren't breathing the dirt and dust you are trying to clean.
2. Best corded option: Bissell – Cleanview Deluxe
Our favorite car vacuum with a cord was the Bissell. It provided strong suction with a 4-amp motor and effectively cleaned up the sand we spilled in just three passes. It was the only vacuum we tested with a rubber attachment, which makes capturing pet hair easier.
We loved that the Bissell is effective in cleaning all parts of a car. Its wide suction area is great for car mats and seats, while its hose and attachments allow you to get into the nooks and crannies. This is unlike some of the other vacuums we tested, like the Black and Decker – CHV1410L, which has a narrow opening, making it take much longer to thoroughly clean the mats and seats in a vehicle.
The cord on this model is 18 feet, which makes a significant difference in accessing all areas of the car. It is significantly longer than the other options we tested, including the shortest cord of the pack, on the Armor All, measuring in at only 10 feet. If you have a garage with an AC power outlet that is accessible to your car and you don't want to have to worry about charging your car vacuum before using it, this model is an excellent option. It also has a cord wrap system for convenient storage.
Not only is it powerful with a conveniently long cord, but the Bissell also has a large collection bin so that you can clean your car multiple times without having to empty it. The section of the vacuum that collects the dirt is clear, so you can see when it is getting full. It pops off easily for emptying. This vacuum also boasts a HEPA filter, which is important for cutting down on allergens that you may breathe in while vacuuming your car.
At 4.7 pounds, this model is a little heavier than some of the other options, including our top pick, the Black and Decker -BDH2000PL Pivot, which is only 3 pounds, but it still felt comfortable to hold while we cleaned. Because this model has a hose that attaches to the vacuum body, you can use the hose with attachments throughout your car, without having to constantly move the base of the vacuum.
Key takeaways:
The Bissell – Cleanview Deluxe provides strong — and consistent power — to take care of even the biggest messes or the most stubborn dirt.
The wide suction area is great for seats and mats in your car, while the attachments do a good job in the hard-to-reach areas.
You don't need to worry about charging the battery before use.
The collection bin was roomy enough to handle several cleaning sessions without having to be emptied.
A HEPA filter helps minimize allergens.
3. Budget pick: Rytek
Editors note: The item we originally tested was the Vacplus, which has been out of stock since November. We found an identical rebrand of it from a company named Rytek, which we've replaced mentions of Vacplus throughout the article with.
At a budget-friendly price, we liked the functionality of the Rytek , which plugs into the 12V power outlet in your car. This was one of the more compact vacuums of the group we tested, but it packed plenty of power to clean sand, crumbs and more. If you experience wet and dry messes in your car, this is a great option for you, as it will seamlessly handle either type of spill.
We found the power on the Rytek adequate to get the job done and because it plugs into a 12V outlet in your car, you don't have to worry about periodically needing to charge it. In addition to trying this vacuum on sand, we cleaned wet mud from the car and found that it did well on wet messes, which makes it a good option for those who often find themselves at the beach, on hiking trips or those with children who are spilling milk or juice. If a spill or mess happens while you are away from your home or on a road trip, you can still use the vacuum without needing a wall outlet or battery charger.
In addition to offering consistent suction, this vacuum has several attachments that are very effective in reaching between car seats and capturing dust in car consoles. All the attachments fit with the vacuum in a nylon zipper bag, making storage of this model in your car or trunk simple and convenient.
We found one user that had a problem with the attachments staying attached, but he reported back later on that the company saw the review and replaced his defective unit.
Cleaning the machine — even with wet messes — was straightforward. The collection bin pops off and can be rinsed with water and soap when needed. The collection bin is not clear, on some of the other models like the Black and Decker – BDH2000PL Pivot, Holife or Bissell models, so you do have to check from time to time to ensure that you haven't filled the vacuum with dust.
A drawback of this machine is it can only be powered by a 12V outlet. If you want to use your car vacuum for other spills from time to time in your garage or elsewhere, you may want to consider a traditional corded vacuum model or one with a dedicated battery charger.
As our budget selection, this vacuum is priced around $20. It offers a great bang for your buck if you wish to keep a dedicated car vacuum in your vehicle.
Key takeaways:
The Rytek provides strong and consistent power to clean your car, using the 12V outlet in your vehicle.
It cleans up wet/dry messes.
A convenient nylon bag comes with the vacuum for storage.
It is the most budget-friendly option at around $20.
Other finalists we tested
Carrand – Auto Spa
We loved the Carrand for its attachments, which were very clearly designed for the car — more so than any of the other car vacuums we tested. It even has an attachment to buff the console. It also has several attachments to clean cup holders, air vents and the console without leaving scratches.
This vacuum had very strong suction, taking care of our sand test in just two passes. The Carrand is bulkier than some of the other options. The vacuum itself sits on the ground, with a hose to reach into your car for cleaning. Since this is a corded model, you are tethered to your garage's AC outlet. The length of the cord is on the shorter side at 12 feet, so an extension cord might come in handy depending on how close you can get your car to your power outlet.
The machine blows warm air, which the company describes as a minimal resistance design that allows air to flow more freely for more cleaning power. We didn't have any problem with the air flow — it did not seem to cause allergies, but those who are very sensitive to dust might want to take this feature into consideration.
The main drawback we found with this particular model is the storage for the attachments, which is at the side of the base of the vacuum. As we reached into the car to vacuum a seat, the movement of the hose knocked the attachments loose onto the garage floor. Even despite the attachment storage issue, anyone who is concerned about getting every possible nook and cranny of their car will still want to consider the Carrand.
Holife – Hand Vacuum Cleaner
The Holife – Hand Vacuum Cleaner is a strong contender in the car vacuum arena. It is easy to use and picks up all kinds of dirt with ease. We were able to tackle the sand we spread out as part of our testing, as well as cereal crumbs and even a few stray chips in the car, thanks to the large suction opening. The large opening also made it possible to vacuum our car mats and seats efficiently.
The attachments for this model are not connected to the vacuum itself but they are easy to connect and they allow you to reach the smaller spaces of the car. The machine is relatively light, so it made maneuvering through the car easy.
The dirt and debris that you pick up shows through the clear collection bin so that you can see when you need to empty it. Emptying the bin took a little bit of figuring out with several pieces to disconnect, but once we figured it out, the process wasn't too cumbersome. The Holife can handle wet and dry messes and the collection bin can be washed out with soap and water to clean up after cleaning wet messes. The vacuum comes with two washable filters, which is great because you can reuse them over and over.
While the vacuum picked up all kinds of dirt effectively, we did notice that that the Holife seemed to lose some of its suction as the collection bin filled up and the battery wore down.
Armor All – 2.5 Gallon Utility Wet/Dry Vacuum
The largest of the models we tested — the Armor All — will hold plenty of dirt and grime in its 2.5-gallon container. During our testing, it proved powerful enough to aptly pick up dirt, cereal and dust in the car. The attachments also allowed us to dirt in between our car seats effectively. It also handled wet spills like water and mud.
This vacuum is significantly larger than most of the vacuums we tested, with the exception of the Carrand. The garage where we tested this machine is tight on space and we found it difficult to move the vacuum around the car in the limited space. It was easier to pull the car out into the driveway and use an extension cord (the cord that comes with his machine is quite short at only 10 feet long).
While we found this hard to use in tight spaces, if you have a large garage or need a small shop vac that will double for cleaning your car, this is a great option. If you are only looking for a convenient car vacuum, there are other smaller options, such as the corded Bissell or the cordless Black and Decker – BDH2000PL Pivot, which we felt were easier to maneuver and had just as strong suction. If you need a small wet/dry vacuum, the Rytek or Holife are also solid contenders.
While we found that this works well to clean wet and dry spills, you have to switch out the filter for wet versus dry material, which can be a bit of an inconvenience. It is something to be aware of because if you forget to swap the filter before cleaning up a wet spill, you risk shorting the motor.
Dirt Devil – Scorpion
The Dirt Devil – Scorpion is one of the more budget-friendly options in the group of car vacuums. It has a streamlined design which is comfortable to hold, though the machine felt heavier than some of the others. It is also very loud.
The power of this vacuum was acceptable. Because it is corded, you don't need to worry about ebbs and flows of power. The cord measures 16 feet, which is long enough, though we had to do some maneuvering at times during our testing. In terms of suction, it took about four passes to collect the sand we spread out and did a good job on crumbs as well. The crevice tool worked in between the seats, and we liked that it was connected, so we didn't have to go looking for the right attachment.
After some use in our car, however, we turned the vacuum back on and it sprayed out a burst of dust that hit us in the face. While we liked other aspects of this car vacuum, this turned us off to this model entirely. We checked to see if other reviewers experienced the same and we found several who wrote about this problem, blaming a poorly constructed filter.
Black and Decker – CHB1410L
We expected the Black and Decker – CHV1410L to be one of the easiest vacuums to use and liked that it was light and compact. However, we were disappointed with its power and overall effectiveness in cleaning a car. The long "nose" of the machine made it more difficult to get at different angles in our car. Also, because the nose doesn't have a wide opening, it takes longer to clean the larger sections in our car, such as seats and mats.
While some of the other machines took care of the sand we spilled in the car in just two to three passes, we found that this model was not as effective. Despite repeated passes of the vacuum, we could never quite get all the sand out of the floor mat with this model.
While the power was lacking on this model, we did like that the Black and Decker – CHV1410L has an attached brush to easily clean the console and dusty areas of the car without scratches. Still, it was just not as effective as the other machines actually capturing all the dust.
Another feature on this model that we liked is that the lithium battery charger automatically shuts off when the battery is charged. This is a great safety feature and it also allows you to conveniently store the machine on the charger without worrying about draining the battery. But in the end, the lack of suction and design flaws for cleaning a car made this our least favorite of the car vacuums we tested.
Handheld vs. car vacuums
Car vacuums are similar to handheld vacuums in terms of portability, but they are specifically designed to clean the interior of a car effectively. You can use any handheld vacuum to clean your car, but car vacuums are specifically designed to allow you to get into tight spaces, with specialized attachments for spaces between and underneath your seats, behind your pedals and in door pockets. Plus, most car vacuums will come with brushes to clean dust in the air vents and console spaces without leaving scratches.
Car vacuums also need to be powerful enough to get all kinds of dirt. Think stubborn sand from the beach, mud and rocks from hikes, ground up crumbs compliments of your toddler or hair left behind by your beloved pet. We chose to test dedicated car vacuums or handheld vacuums that have attachments specifically designed for your vehicle.
So who can use a car vacuum? If you have kids or pets, a car vacuum is a must-have. If you clean your own car, or want a handy instrument to keep your car spotless in between professional cleanings, a car vacuum is for you.
How we selected finalists to test
There are many car vacuums available, so we spent hours narrowing down the best on the market.
We checked out subreddits, considered the findings from reviewers like Wirecutter and automotive websites, as well as vacuum specialty sites. Once we had input from the car and vacuum professionals, we were able to determine which features consumers value the most in a car vacuum. We found that consumers and car detailers alike consider power to be the most important factor in choosing a car vacuum. Other considerations are battery life and run time (for cordless models), and ease in reaching narrow spaces in a vehicle.
Based on our research, we looked for car vacuums that met our key metrics, such as a powerful suction, thanks to a strong motor and adequate air watts, strong battery and useful attachments to get to hard-to-reach dirt. For cordless vacuums, we looked at models with lithium-ion (Li-ion) batteries (as opposed to NiCd batteries) because Li-ion batteries have higher power density, resulting in longer lasting power. We also considered customer feedback on the vacuums and filtered out any models that seemed to have recurring issues.
With these details in mind, we selected eight finalists to review. Over the course of six weeks, we put them through a series of tests to judge their performance and ease of use.
How we tested
Suction
The suction of a car vacuum is key. To test each one, we spread an eighth of a cup of sand on the same car mat and counted how many passes it took to clean up the mess. We also tested cereal crumbs with each machine and then generally worked around the car to suck up residual dirt and dust on and in between the seats, on the floorboard, behind the gas and brake pedals, and in the console and air conditioning vents.
We found that all the vacuums were able to tackle the messes pretty well, but some just did so more efficiently. We found that sand was the most challenging debris for the vacuums to fully clean, so this became our key comparison test. The Black and Decker – BDH2000PL Pivot cleaned sand in just two to three passes, whereas some others took five to seven passes to fully get the sand up from the car mat.
Attachments
We also tested the attachments on each vacuum to see how well worked in a car. All the vacuums we tested had brush and extension attachments, which are essential to fully clean your car.
Several of the machines including the Black and Decker – BDH2000PL Pivot, the Black and Decker – CHV1410L and the Dirt Devil have the crevice tools and brushes attached. This means that you don't need to go searching for attachments, which adds to the machines' convenience. You can just flip the tools up or down depending on what area of the car you need to clean.
Several other vacuums we tested have hose attachments that connect with the body of the vacuums and then stretch into the car for cleaning. These vacuums are effective as well, though it sometimes takes a little more maneuvering to get the body of the vacuum situated in a place that allows you to get the hose and connected attachments where you need to clean in the car.
Ease of use
Ease of use can mean a lot of things — for example, how comfortable is the vacuum to use and how convenient are the attachments to use? How easy is it to get to the spaces you needed to clean — sometimes at awkward angles?
Based on our testing, we found that cordless vacuums are easiest to navigate in and around our cars. The cords on the corded vacuums can get caught on the car tires and in the doors as you reach into our car.
With that said, we found that vacuums with the longest cords provide a better cleaning experience than those with short cords. At 18 feet, the Bissell has the longest cord, which makes a huge difference in allowing you to access all the places you need to vacuum in a car. The Armor All has the shortest cord of the group (only 10 feet), which means that in most cases, an extension cord is needed.
We also looked at how the collection bins and filters worked on each of the vacuums and determined which were the most difficult to disassemble and clean. Most were fairly straightforward once we figured out how the vacuums opened. We had a bit of concern about the Armor All. While it worked well to clean spills — including wet and dry messes — you have to switch out the filter for wet versus dry material. It's not difficult, but if you forget to switch the filter out, you can short out the motor.
Cordless vs. corded car vacuums
Considering whether you need a cordless or corded vacuum? It really all depends on your circumstances. If you are cleaning your car in a garage with an AC outlet nearby, a corded vacuum may be for you. You don't need to think about charging the vacuum, nor do you have to worry about the vacuum losing power as the battery loses its charge (this is a complaint many consumers have voiced about battery-charged vacuums). Corded options often (but not always) boast more powerful suction. Corded versions come in sizes small and large (like the Armor All), whereas cordless models tend to be more compact.
If being tethered to an electrical outlet sounds like an inconvenience to you or you plan to use your vacuum on the go, a cordless model may be more suited to your needs. You can use the cordless vacuums essentially anywhere, but unlike the corded option, you do need to remember to keep it charged. In our testing, we found that cordless vacuums made it easier to get into the deepest places in our cars without a cord getting caught in the car door or on a tire. The cordless options we tested gave us plenty of time to clean one car. With close to 20 minutes of running time, the Black and Decker – BDH2000PL Pivot allowed us to get most of the way through cleaning a second car before we needed to recharge it.
As a third option, some car vacuums, such as the Rytek, plug into the 12-volt outlet in your car. This makes the vacuum super convenient for cleaning your car and offers a consistent power source. However, 12V outlet functionality limits you to using the vacuum only in your car.
Important features to consider
Suction power
Power is key to ensuring that you have enough suction to get the job done in a timely manner. Who wants to vacuum the same mess over and over again to get it cleaned up? Different manufacturers measure power in different ways (amps, air watts and/or air flow). We looked at cordless vacuums that ranged from 15 to 35 air watts, which refers to the amount of watts it takes to carry a unit of air through the vacuum, as well as corded vacuums with motors that boasted at least 4 amps.
Attachments
Consider all the nooks and crannies in your car, from between the seats and the door side pocket to the heating/air vents that collect dust. You need a vacuum that can get to all of them.The attachments on a car vacuum are very important since you need to clean many different areas and materials — from plastic and burl wood, to leather, fabric and carpeting. Did each vacuum have a tool to get in between seats and a brush clean the console without leaving scratches?
Wet/Dry vs. dry
Wet cleaners have a trap for water so that you won't damage the electrical components of the vacuum while sucking up wet messes. Standard (dry) vacuums don't have that protection, so they can short-circuit if you try to suck up moisture. Whether to select a wet/dry vacuum or dry-only vacuum depends on your needs and what kind of messes you deal with on a day-to-day basis.
Tank capacity
Tanks will vary in size, meaning that you may need to empty the tank more or less often. We found that all the car vacuums we tested had sufficient tanks to clean your entire car, even with significant dirt, sand and food crumbs. If you have a space for a larger machine like the Armor All, it boasts the largest tank of all the vacuums we tested (at 2.5 gallons).
Weight/Size
It's important that car vacuums are lightweight and convenient, so we considered whether any of the vacuums were too large, heavy or unwieldy. The vacuums we tested ranged from the light Rytek, weighing in at 2.5 pounds, to the heaviest of the group, the 7-pound Armor All.
Battery runtime
For cordless vacuums, how long can you run the vacuum before you need to recharge? Most batteries will power the vacuum consistently for about 10-15 minutes total, so will that be enough to get through cleaning your entire car before it turns off? With turning it on and off as we worked through our cars, we found that this is typically enough time to get the job done. Our top choice, the Black and Decker – BDH2000PL Pivot, lasted closer to 20 minutes and it didn't lose much power. That's because it is powered with a 20-volt lithium battery.
The bottom line
There are many variables when it comes to choosing a car vacuum. Do you want a cordless or corded model? Do you need a vacuum that can also work on wet spills? These decisions will depend on your garage set-up and what messes you'll typically be cleaning up.
After testing eight of the top car vacuums, we feel that the cordless models are the most convenient to use in a car. While the batteries don't last forever, we found that most of the models we tested last long enough to get the entire car clean before needing a recharge.
The Black and Decker – BDH2000PL Pivot is our favorite model when it comes to power, ergonomic design and effectiveness in picking up even the most ground-in dirt. During testing, the pivot design allowed us to comfortably get to dirt in hard-to-reach spaces. It has a crevice and brush tool attached, which is convenient as you are working through your car, and both tools did a good job getting at dirt and dust. In addition, if you want additional attachments, you can purchase them as add-ons, giving you the best of both worlds.
We also feel confident recommending the Bissell if a corded car vacuum fits your needs. This model is sturdy and powerful. Its wide mouth is effective on seats and mats, while its attachments do a great job with dirt in the deepest crevices of a car.
And last, the Rytek , which plugs into a car's 12V power outlet, is our budget pick, which as a bonus, can handle both wet and dry spills.