We tested six top-selling diaper pails over six summer weeks, filling them with disposable diapers from two toddlers and seeing how they contained odors with minimal ventilation. After hours of diaper dropping, lid flipping, bag changing and room sniffing, we concluded that the Munchkin – STEP Diaper Pail is the best diaper pail overall. Its superior odor-containment, easy hands-free operation and sturdy design gave this diaper pail an edge above the rest.
Our runner up is the Ubbi Diaper Pail. While it's the most expensive pail we tested, at about $20 more than the Munchkin, you're paying for superior materials and design. It's very sturdy and attractive, easy to open and close and uses a standard kitchen trash bag.
Diaper pails are nearly always on the list of necessities for expecting parents. With dozens of varieties on the market, it can be hard to know what features are the most important and which pail will best meet your needs. The six diaper pails we tested each use different methods to minimize odors, with varied results. Some contained odors terrifically, while others performed surprisingly poorly.
Since diapering is a necessary part of caring for young children, it is best handled with as little stink as possible. While a diaper pail can seem like a redundant purchase why not just use a regular trash can? — odor containment is worth its weight in air freshener. We braved the olfactory challenge to bring you a breakdown of the best diaper pails from today's top-selling brands.
Table of contents
How we selected finalists to test
First of all, we limited this review to diaper pails for disposable diapers, since disposables make up an estimated 90-95% of the diaper market. Although some of our finalists are adaptable for cloth diapers, the differences between the two types of containers are significant enough that we chose to focus only on functionality related to disposable diapers.
We began our research by seeing which diaper pails people were talking about most in 2017. We considered diaper pail reviews from only real testing review sites such as Babygearlab. There were many other lists out there from big baby brand sites but we put much less weight on their choices since they didn't do any testing. A survey of a moms' Facebook group helped to pare down the results even further and provide direction for our selection. Finally, we headed over to Amazon to check out the top sellers, read reviews and add to our set of finalists to test. These reviews and user comments also helped us learn what features are most important to folks shopping for diaper pails.
When we updated our research in 2018, we didn't find much in the way of new products on the market. The update we did test, the Diaper Genie – Expressions isn't an especially new model, it's been around since 2016, but our old standby budget pick was only recently discontinued.
The six best diaper pails
Important features to consider
Our research revealed that caregivers and gift-givers are concerned about the following when selecting a diaper pail:
Odor containment: Above all other concerns, a diaper pail should contain odors; this is its primary function and sets it apart from regular trash cans.
One-handed or hands-free operation: Diaper pails that are easy to open one-handed or hands-free are especially convenient, since one hand is usually occupied with the baby.
Easy bag changing: The plastic liners that hold the diapers inside the diaper pail should be easy to remove and change, to minimize the unpleasantness of the task as much as possible.
Diaper capacity and unit size: The pail should be compact, yet large enough not to merit daily emptying.
Keeps out kids: Lid locks and other deterrents can help keep curious toddlers (and pets) away from the contents.
Cost: Consider not only the one-time cost of the diaper pail, but also the ongoing cost of purchasing the appropriate liners.
Design and longevity: Some shoppers may consider whether the pail has an attractive design that blends in with baby's deécor, and if it has potential for a life after diapers.
Diaper pails vs. regular trash cans
But why buy a dedicated diaper pail at all? Can't you simply throw the diapers away in a regular trash can? Or toss them in the outdoor trash or down the garbage chute one at a time? While these are certainly options, many caregivers prefer a dedicated bin specially designed to minimize odors that they can keep close to the diaper-changing area.
The sealed-lid design of diaper pails is what sets them apart from regular trash cans. In addition to sealed lids, some diaper pails also have built-in odor-masking features, such as the baking soda sachet in the Munchkin – STEP and the deodorizer disc in the Safety 1st – Easy Saver. Others feature two barriers to keep odors at bay, such as the lid-plus-trapdoor design of the Dékor – Plus and the flip-top/push-and-lock opening of the Diaper Genie – Expressions. Still others are made of materials that won't absorb odors, such as the Ubbi. For the most part, all of these features are relatively effective in keeping odors at bay.
Some diaper pails feature a child lock that helps keep little hands out. Of the models we tested, only the Dékor – Plus and the Ubbi have dedicated child locks — although neither one was any trouble for our 20-month-old and 3-year-old testers, who figured them out in minutes. None of the diaper pails we tested claim to keep out pets, and we didn't specifically test for this. However, it would take a very clever and dexterous dog to work its way into any of the pails we tested. A possible exception is the Safety 1st – Easy Saver, which opens if pushed over with enough force.
How we tested
Diaper pails get daily use in homes with small children, so we knew our testing needed to reflect the realities of caregivers' lives. We looked at how easy it was to unpack each one from its shipping packaging, how simple it was to assemble and start using, and how nice it looked in the nursery. Our practical testing included all the concerns we identified in our research phase, including one-handed operation, changing the liner and keeping the kids out. We also considered each one's diaper capacity, how well it contained odors and how they stacked up to in a price comparison.
Out of the box
For the most part, all of the pails we tested were easy to remove from their packaging. The Safety 1st – Easy Saver was the easiest, in fact, with absolutely no packaging inside the shipping box. The Ubbi and Dékor – Plus each had more packaging than the rest, including packing foam and plastic bags, which is logical considering their emphasis on attractiveness.
The Safety 1st – Easy Saver and the Munchkin – STEP were the only models that required any assembly. They each include odor-masking features that need to be attached inside the lids. Safety 1st – Easy Saver has a deodorizing disc and Munchkin – STEP has a baking soda sachet. Both were very simple to install.
The Dékor – Plus, Diaper Genie – Expressions and Munchkin – STEP each have a proprietary "continuous liner" that comes already loaded in the diaper pail. (See below for more on the continuous liner system.) The others all use standard kitchen trash bags, which we needed to insert before testing. For our practical testing, we elected to use unscented trash bags to keep the playing field even with the unscented proprietary liners. However, there are no unscented liners available for the Dékor – Plus, so in our testing we used the lightly scented liners that came with the diaper pail.
In a physical side-by-side comparison, the Dékor – Plus and the Ubbi are more visually appealing than the other models we tested. They are colorful — both models offer several color options to match your nursery scheme — and have sleek, modern shapes that seem more likely to blend into a well-designed nursery than the other models. Diaper Genie has taken a step in a different direction with the new Expressions update to the budget-friendly Essentials model: you start with a plain plastic pail, but you can add spandex slip covers in five different patterns. The Munchkin – STEP is solidly middle-of-the-road design-wise, with their tall, bright white plastic exteriors. The Baby Trend – Diaper Champ Deluxe has a large blue (or pink) handle that adds an interesting visual element, but overall doesn't either blend in or stand out in a stylish way. And the Safety 1st – Easy Saver simply looks like a plain, rather small trash can, not particularly appealing on any level beyond practicality.
Practical testing
In our hands-on testing, we rated each diaper pail for odor containment, ease of one-handed operation and simplicity of changing the liner. We also considered each one's effectiveness at keeping the kids out, its diaper capacity and how they stacked up to one another in a price comparison.
We tested each diaper pail for two weeks in a home with two diaper-wearers, ages one and three years, each wearing size-four diapers. The pails were kept in two interior rooms — one in a child's room and the other in a bathroom — and both were in locations where the resident kids had easy access to them. Each pail was used several times per day and emptied at least four times in the course of testing.
Odor containment
Hands down, the number one most important quality in a diaper pail is its ability to contain odors. Otherwise, why bother with a special container? Odor containment was foremost in our minds during testing and was given the most weight in our rankings.
In fact, the other characteristics of diaper pails are simply less important than odor containment. If you buy a standard-bag diaper pail hoping to save money on liners, but you can only put in five diapers before it starts to stink up your nursery, you'll be changing bags too often to see any cost savings. An attractive design quickly becomes unappealing and inconsequential if odor drives you to store it out of sight. Odor control is absolutely essential.
The Munchkin – STEP and Diaper Genie – Expressions pails were both tops in this category, reaching bag capacity before the smell became troubling. The Ubbi was a distant third place, releasing odor upon every open, but containing odors exceptionally well when closed. The Dékor – Plus is next best, allowing odor to escape every time a diaper was inserted, but not smelling after five days with a full bag. Baby Trend – Diaper Champ Deluxe and Safety 1st – Easy Saver had abysmal results in our testing, releasing odor upon opening to insert a diaper and leaching stink after only a couple days with only a few diapers inside.
One-handed operation
One-handed operation is a top concern of reviewers, because one hand is usually on the baby while the other hand disposes of the diaper. All of the models we tested are relatively easy to open with one hand:
Changing the bag
It's not difficult to change out the liner in any of the diaper pails we tested. Half of the models we tested use proprietary liners and the other half use standard kitchen trash bags. The process for changing the bags in all of them is intuitive and self-explanatory, but we discovered that the models with proprietary liners have a distinct advantage over those that take standard bags.
Reviewers and manufacturers alike often claim the benefits of being able to use standard trash bags, which potentially saves you money because you don't have to buy more than one kind of trash bag for your home. However, we found that the models with proprietary bags were much more pleasant to change, because their contents are never open to the air during the changing process. This is thanks to the continuous liner design used by the Munchkin – STEP, Diaper Genie – Expressions and Dékor – Plus.
The continuous liner is a long tube-shaped roll of plastic liner that hangs down into the diaper pail and is tied off at the bottom to create a bag. Once full, the bag of diapers is cut off the roll using an included child-proof cutter and tied off at the top to create a sealed "sausage" of diapers. Because the full bag is removed through a door on the side of the diaper pail and not by opening the lid, the liner can be tied off without exposing the contents to the air. When the roll cartridge is empty, it is removed and replaced with a refill. While this process is a bit involved to describe, changing the liner on these three diaper pails is not difficult, and is significantly more pleasant than replacing the bags on the other models.
Note that the Munchkin – STEP and Diaper Genie – Expressions use interchangeable "continuous ring" proprietary bag cartridges. The Munchkin – STEP can also accommodate a different, but similarly odor-containing bag design, called the "snap, seal and toss," which has a snap-top that allows it to be sealed without exposing the contents to the air. The Dékor – Plus has its own continuous ring design.
The Ubbi, Safety 1st – Easy Saver and Baby Trend – Diaper Champ Deluxe use standard kitchen trash bags. While relatively straight-forward in all of these models, the process for changing the bag in the Safety 1st – Easy Saver requires the top of the bag to be open to the air for as long as it takes to remove the bag from the pail. This can be a very unpleasant few moments. The Baby Trend – Diaper Champ Deluxe and the Ubbi have similar clever methods for bag changing that keep the bag from opening when you remove it (see more under Runner Up and Other Finalists, below).
Keeping kids out
Generally, kids are fascinated by anything they're not supposed to touch, and even more so if the off-limits item is something regularly used by their parents. Our tester kids were predictably drawn to all of the diaper pails we tested, and gave us good insight into how accessible the germy contents are to curious little hands.
The Safety 1st – Easy Saver, Baby Trend – Diaper Champ Deluxe and Diaper Genie – Expressions were easiest to access. Our 20-month-old tester figured out the push-button open on the Safety 1st – Easy Saver and was thrilled to open and close the hatch repeatedly, letting out the diaper smell in small bursts. And the Baby Trend – Diaper Champ Deluxe, with its fun handle revealing a hidden compartment, was the best toy in the house during its testing weeks. Countless small items were fished out of the diaper pail after they'd had a toddler-assisted ride down the chute.
The child locks on the Ubbi and the Dékor – Plus were minimally effective at keeping the kids out, but they provided enough discouragement to keep these models from becoming objects of play. Similarly, the lid-control pedal of the Munchkin – STEP was fun for the kids to step on, but they were put off by the self-sealing diaper hole. Neither kid was able to even budge the lid of the old Diaper Genie – Essentials (which is discontinued).
Diaper capacity
All of the models we tested had similar capacity, even considering their size differences. Each will hold about 15-20 size four diapers (according to our testing), or about 30 newborn diapers (according to their marketing), although Ubbi and Baby Trend's marketing claim their models can hold closer to 60 newborn diapers. For testing purposes, we defined the diaper pail as "full" if the bag could not hold any more diapers.
In addition to testing diaper capacity, we also wanted to see how well each model contained odors overnight, when full, with the lid closed. In this test, only the Munchkin – STEP and Diaper Genie – Expressions didn't stink up the room. The Ubbi and Dékor – Plus leaked enough odor to be detectable, but not gag-worthy. For the other models, the results of overnight testing were so stinky we couldn't stand to let subsequent bags fill up because the odor became too unpleasant.
This is a meaningful result to highlight, because diaper capacity means very little if the diaper pail starts to stink with only a few diapers in it. The added convenience and cost-savings of having a diaper pail you can fill to capacity could significantly improve your diapering experience.
Price
We saw a significant difference in quality and odor-containment based on price. Our top picks are the two most expensive models, with Munchkin – STEP at around $56 and Ubbi at about $80. Dékor – Plus is around $40 and Baby Trend – Diaper Champ Deluxe is around $30. Diaper Genie – Expressions, our pick for best lower-cost diaper pail, costs under $25. And our bottom-rated model, Safety 1st – Easy Saver, is the least expensive at about $16.
Something to keep in mind when considering cost is how much you'll spend on bags. Ubbi, Baby Trend – Diaper Champ Deluxe and Safety 1st – Easy Saver all use standard kitchen trash bags. Munchkin – STEP and Diaper Genie – Expressions take only proprietary bags and Dékor – Plus can use either its proprietary bags or standard trash bags.
The proprietary refills do cost a lot more than standard trash bags, and that's a cost that adds up. You could spend $70 more per year on bags for the Diaper Genie, for example, than on standard bags for the Safety 1st – Easy Saver. If cost is a primary driver for you, consider one of the models that takes non-proprietary bags.
Best overall: Munchkin – STEP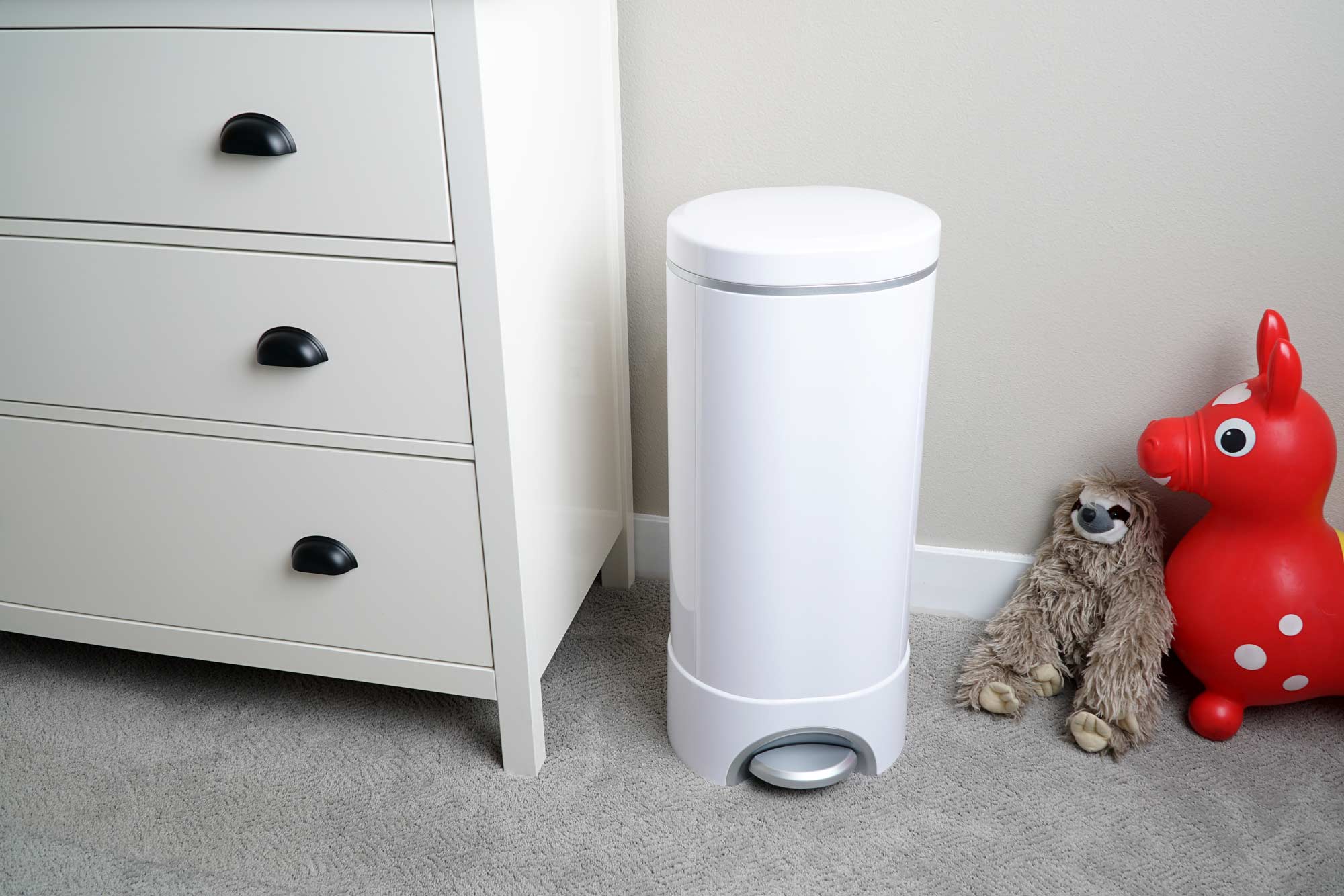 Our favorite diaper pail was the Munchkin – STEP diaper pail. This easy-to-use, sturdy diaper pail contained odors, kept kids out and was a breeze to empty.
The continuous bag design provides superior odor containment. The bag refills for the Munchkin – STEP (and Diaper Genie – Expressions) keep the odors in very effectively; diaper smell isn't even detectable when sniffing the outside of a full bag. The Munchkin – STEP also includes a deodorizing baking powder sachet that helps keep a nice smell at the opening of the pail. It's easy to change the bag cartridge (or the single use snap, seal and toss bag) and not at all unpleasant to remove full bags.
Design-wise, the Munchkin – STEP has a neutral look of white plastic offset with chrome-like accents. It's tall enough that we could insert a diaper without having to bend down. Additionally, not only is it sturdy enough that there's no fear of it tipping over, having a foot pedal gives it an extra level of stability.
Our tester kids liked opening the lid with the foot pedal and even trying to throw away diapers, but weren't able to push the diapers all the way through the opening. We saw this as a good thing that meant there was no way they could access the mess inside the liner.
Changing the bag is as simple as opening the door on the side of the pail, pulling down on the bag to make slack at the top, cutting the bag on the child-proof cutter and tying it off. It's fast, stink-free and intuitive. The Munchkin – STEP even has a recessed push-button release for the side-access door, so it's pretty difficult for kids to get into.
The one drawback about this diaper pail is the need to push diapers through an opening that has a valve-style seal. There is an element of "squish" here, and there was one time in our testing that mess escaped from a diaper and got on the liner. This was easily resolved, however, by pulling more liner from the cartridge down into the pail, hiding the mess inside. One other note is that condensation from inside the bag can get onto your hand as you're pushing the diaper in, but it's our regular practice to wash hands immediately after changing diapers anyway, so that wasn't a big deal.
Key takeaways:
The Munchkin – STEP diaper pail features superior odor control when closed and full of diapers, and also doesn't allow odors to escape when inserting a diaper.
Easy to use with one hand, and foot pedal provides extra stability when disposing of diapers.
Simple, intuitive, stink-free bag changing procedure.
Runner-up: Ubbi
Our second favorite diaper pail was the Ubbi. Its sleek design, quality materials and ability to contain odors when closed make this a very compelling choice, especially if you want a diaper pail that coordinates with your nursery.
The Ubbi is a sturdy diaper pail with a lockable sliding hatch in the lid. We never worried it would stay upright upon opening — this was an issue with some of the more lightweight models — and the door for depositing diapers opened easily. It was awkward to try to unlock the lid and slide open the hatch while holding a diaper all with the same hand, but it was doable once we got the hang of it.
The stainless steel construction seals in odors exceptionally well. With the hatch closed, the diaper pail did not smell at all, even on hot days, and only the faintest of smells escaped overnight when the bag was completely full. It also repels odors, so even the interior of the pail didn't smell too bad after our testing weeks. It may be temping to use baby wipes for cleaning up odors, but a quick wipe-down with a disinfecting wipe removed the minimal lingering odor.
This diaper pail is available in 13 colors and five (limited-edition) patterns, so you'll probably find one to match your baby's décor. And the powder-coated steel is easy to wipe clean and looks as high-quality as it feels.
Our main gripe with the Ubbi is how it smells when it's not sealed shut. There's a puff of diaper odor that's released every time the hatch is opened to insert a diaper. If you're quick, it'll be a short puff, but it's still a yucky several moments while the smell dissipates. When you're changing the bag, opening the lid releases all the odor that steel case has been containing so well. There is a bag-holding ring that helps a bit, so at least you don't have to come face-to-face with the contents. But it's a shame that such an otherwise well-designed diaper pail still requires a good amount of breath-holding when changing the liner.
Finally, the Ubbi came in at the very top of the price range for all of our selections, over $20 more than the next most expensive model. As we've noted, it does seem like you are getting a higher quality product for that price, so depending on your priorities in a diaper pail, the higher price might be worth it to you. This diaper pail may also have a life beyond diapers, most likely as a pet-waste trash can, since the opening in the lid is a little small for a wide variety of household trash.
Because it did allow odors to escape upon opening, this model couldn't compete with our top pick, the Munchkin – STEP, in odor control. However, we liked the Ubbi very much, and would recommend it especially to folks who care a lot about the quality and design of their diaper pail.
Key takeaways:
The Ubbi diaper pail features easy one-handed operation, although occasionally tricky to unlock and open while holding a diaper
High-quality, well-designed exterior available in a variety of colors and patterns
Allows odors to escape when inserting diapers and when changing the bag
Highest price of all the models we tested
Lower-cost pick: Diaper Genie – Expressions
There is a lot of gear to buy when you're having a baby, and budget is certainly an issue for most families. Our pick for the best lower-cost diaper pail we tested is the Diaper Genie – Expressions diaper disposal system.
With its snap-top/push-and-lock design, the Diaper Genie – Expressions was on par with our top pick, the Munchkin – STEP, regarding odor control. Smells were minimal or non-existent when inserting a diaper. And even better, the continuous cartridge design allows the bag to be changed without ever allowing those trapped odors to escape.
The old entry-level Diaper Genie, the Essentials, was the only model we tested that kept the kids out. The updated Expressions model has a push-button-opening lid, which does mean you're going to have to be more vigilant with toddlers. On the plus side, the new pail is a bit more stable that the tall-and-slender Essentials was.
The Diaper Genie – Expressions Diaper Pail is customizable with fabric wraps (sold separately) in five colors and patterns. If you weren't interested in matching a pastel hue to your decor, don't worry, it also looks better-than-average without the wrap.
Finally, we have to address the "squish" issue. The Diaper Genie push-and-lock design functions exceptionally well as an airlock, but it does require you to forcefully push diapers through a pretty tight opening. In our testing, we did not have any instances of diaper contents erupting during the "squish," but online reviewers frequently cite this as a concern — and the competitors like to highlight how their models do not require a "squish."
Playtex does sell a new hands-free model, the Diaper Genie – Complete, but every time we read about the potential failings of the pedal-activated clamp system we're happy we went with the spring-loaded basic model.
Overall, the Diaper Genie – Expressions is an elegant, lower-cost diaper pail with superior odor containment. This option is a good choice for those more concerned with budget than design.
Key takeaways:
Diaper Genie – Expressions offers superior odor containment when disposing of diaper and when changing the bag
Easy one-handed operation, with lid that keeps the kids out
Requires you to squish diaper through tight opening
Other finalists we tested
Dékor – Plus
The Dékor – Plus Diaper Pail is functional and attractive. We loved its foot pedal for easy one-handed operation, and it's nice and tall so there's no need to bend down to toss diapers. The lid opens to reveal a trapdoor to drop diapers through, making this a truly "hands free" diaper pail, since you don't have to touch any part of the pail with your hand when using it.
If you want to use the child lock, however — which we discovered we definitely needed to do, since that foot pedal and trapdoor combo are so fun for kids to explore — you lose some of the hands-free appeal. Twisting the knob of the child lock while holding a diaper can be tricky, especially if the diaper isn't a tidy package. Our answer to this dilemma was to place the diaper on top of the trapdoor, then turn the child lock knob and hope the diaper would be heavy enough to force open the trapdoor and fall down inside. This worked about half of the time.
The other major drawback of this model was the stink factor. The trapdoor opens directly into the bag of diapers, letting out smelly air with every diaper deposit. The proprietary continuous liners that come with the Dékor – Plus are lightly scented, but the diaper odor was still very noticeable with every trapdoor open.
As we noted with the Munchkin – STEP and the Diaper Genie models, the continuous bag design is terrific for odor control when changing out the liner. Open the side door, pull the bag down to let out some slack, slice the plastic with the included safety cutter, tie off the top. No need to inhale the full degree of accumulated aroma in that bag. In our opinion, it truly is worth the money for the proprietary refills if it saves us a face full of diaper stink every time we change the bag.
The Dékor – Plus could have a life after diapers, especially since the trapdoor insert is removeable from the lid casing.
Baby Trend – Diaper Champ Deluxe
We were surprised by the poor odor containment of the Baby Trend – Diaper Champ Deluxe, especially considering the positive reviews both on Amazon and various blogs. After only a couple days, it began to smell up the room, and airing it out didn't solve the problem.
With its airlock-style design, you pull up the handle, place the diaper in the compartment and push the handle down to deposit the diaper into the container. It is a great one-handed operation, especially if you steady it by standing on the little foot built into the front of the pail. However, the diaper-holding compartment is also an odor-holding compartment, so every time you pull the handle up, you're greeted by a puff of diaper smell. Even storing it with the handle in the "up" position didn't help as much as it should have. Odor leaked out of the container and had the room smelling bad within a couple days.
Additionally, our 1-year-old tester loved to play with the handle of this pail, inserting a toy into the compartment, pulling the handle down and then back up to find that his toy had disappeared! Because there is no child lock on this model, we had to keep it in a room with limited child accessibility.
The best feature of the Baby Trend – Diaper Champ Deluxe is the bag insertion and removal. This model takes regular kitchen trash bags or proprietary scented liners. There's a bag holder ring just under the lid that holds the bag in the pail. To change the bag, you can open the lid in a way that keeps the top of the bag held in the ring, so you don't need to open the bag to the air and get a face full of stink. This clever design somehow functions better than the similar set-up of the Ubbi, holding in more smell, although still allowing some to escape.
Overall, this is a sturdy, rather short diaper pail with an odor containment problem. Some online reviewers describe having luck with deep cleaning the pail every two or three bag changes, or treating the rubber seal with essential oils. But for our money, we'd rather have a diaper pail that requires as little cleaning and maintenance as possible.
Safety 1st – Easy Saver Diaper Pail
The Safety 1st – Easy Saver Diaper Pail is just a step above a regular trash can, the main difference being the diaper hatch in the lid. It takes regular kitchen trash bags that are straightforward to install and change, and looks like it could be a typical trash can.
At only 18.5 inches tall, this is the shortest model we tested and also the widest at 14 inches. For some spaces, these measurements can matter a lot; all of the other models feature a "space saving" oval shape, while the Safety 1st – Easy Saver is round. We noticed a difference in our testing spaces, where the Safety 1st – Easy Saver seemed not to fit as well as the others.
This diaper pail's deodorizing disc, which lives in the bulbous compartment on the underside of the hatch, did not have a discernable scent or a noticeable impact on odor control. In fact, the compartment holding the disc even got in the way as we tried to insert fuller diapers through the hole, so for us it was more hindrance than helper.
Because the hatch opens directly into the container, odors were released upon opening the hatch. But that wasn't all — the smells also escaped from the container when it was closed. Partially full of diapers and left in a poorly ventilated room for a couple hours, the Safety 1st – Easy Saver made a real stink. We had to air it out overnight twice in its two-week testing period, and we still needed to change the bag more frequently than the other models to avoid having a constantly stinky room.
With its squat, beige container, the Safety 1st – Easy Saver isn't likely to appeal to anyone setting up a designer nursery. And the push-button operation for the hatch was very fun for our tester kids to play with — opening and closing the hatch, inserting small toys into the hole — which was especially a problem when they opened it and walked away, leaving a pungent surprise for whoever entered the room next.
Overall, the Safety 1st – Easy Saver functioned as well as we would expect a regular lidded trash can to work as a diaper pail — not very well, unless you empty it every day. That being said, this would function just fine as a regular trash can, although you'd likely just lift the entire lid to throw away garbage, rather than using the hatch. It could also function reasonably well for pet waste, albeit with the same limitations we noted for diaper use. And at just $15.79, it's a bargain for either use, if you're prepared to deal with some stink.
The bottom line
Our pick for the best diaper pail is the Munchkin – STEP Diaper Pail powered by Arm & Hammer. The step-lid combined with the self-sealing system and continuous liner design offer excellent odor containment and easy one-handed use.
We also recommend the Ubbi if you're looking for a high-quality, designer diaper pail, and the Diaper Genie – Expressions if you want still-classy pail with a much lower price tag. Both contain odors when closed, offer effective means for keeping out little kids and are easy to use with one hand.
As with many purchases, price was a major identifier of the quality and functionality of the diaper pails we tested. In our opinion, odor containment is the most important consideration for any diaper disposal system, and the more expensive models we tested had the best odor control. Think about how much you value a clean-smelling room, and consider budgeting a little more for a quality diaper pail.