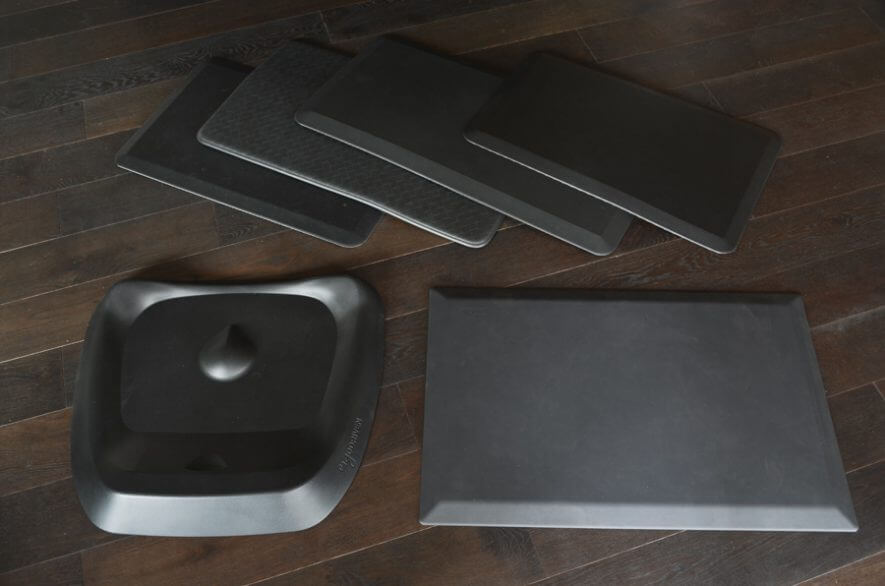 The 12 Best Anti-Fatigue Mats
Over the course of several weeks, we tested the top anti-fatigue mats to find those that provided the best support when standing at a standing desk or in the kitchen. For this 2023 update, we tested four new mats and have selected the HEALEG mat, which offers superior comfort and support for tired legs and feet. A very close runner-up is the ComfiLife mat, which is slightly less thicker but still provides excellent support.
Over the course of several weeks, we tested the top anti-fatigue mats to find those that provided the best support when standing at a standing desk or in the kitchen. For this 2023 update, we tested four new mats and have selected the HEALEG mat, which offers superior comfort and support for tired legs and feet. A very close runner-up is the ComfiLife mat, which is slightly less thicker but still provides excellent support.
Table of contents
(Editor's note: In 2023, we learned that three mats we previously tested had been discontinued. Imprint CumulusPro, Sky Solutions SkyMat, and the Royal – RYL-2039 are no longer available. We tested four new mats in their place.)
The 12 anti-fatigue mats we tested
Best overall: HEALEG
The HEALEG anti-fatigue mat was certainly the most comfortable of the mats we tested for this 2023 update, thanks to its 1″-thick memory foam. Most mats are 3/4″ thick, and initially, we didn't think that an extra quarter-inch would matter that much, but it actually did add a plushness missing from other mats we've tested.
It has a gently sloping 2″ bevel that prevents you from tripping, since it has a natural rise up from the floor. As we did in our previous testing, we laid the HEALEG mat, the ComfiLife mat, the FEATOL mat, and the SkyCloud mat side-by-side in four locations in the kitchen, covering the area in front of the oven, the food-prep countertop, and in front of the sink, so we could step from one to the next in shoes and bare feet and note the differences.
The HEALEG has no PVC coating, yet its smooth surface was impermeable to liquids. It also was extremely easy to clean; everything wipes off the surface as if nothing had been spilt onto it. The HEALEG isn't as firm as the FEATOL mat (see review below), but both testers enjoyed its cushiness, particularly when standing for a longer period of time while washing dishes and pans at the sink or during food preparation.
HEALEG claims that its non-PVC mat is more durable, but as all the other mats we've tested showed signs of wear and tear over time, only long-range testing will prove if that is indeed the case. On the downside, the HEALEG mat is only available in black, so it's not the best for blending in to different kitchen palettes.
Key takeaways:
The HEALEG anti-fatigue mat has the most cushion of any mat we tested.
It's easy to clean and impervious to all liquid.
The HEALEG only comes in black, so it can't blend in with other kitchen palettes.
Also great: ComfiLife
Our (very close) runner-up is the ComfiLife mat, one of the highest rated anti-fatigue mats on Amazon. Users praise the ComfiLife as perfect for both the kitchen and a standing desk. Its inner core is made of 3/4″-thick high-density memory foam, which gives excellent support. Like the FEATOL mat, the ComfiLife is a little firmer, so it doesn't have the plushness of our top pick, the HEALEG mat. However, it definitely soothed our tired feet and calf muscles.
The ComfiLife has a slightly ridged non-slip bottom that prevents slippage on any floor type or carpeted area. It has gently sloping bevel edges that make the mat virtually impossible to trip over. The mat has been treated with an anti-microbial, non-PVC coating that is also stain-resistant. We've been testing this mat for about three months, and despite daily use, virtually all day long and with dogs running to and fro, it still looks good as new with no staining or rips and tears.
The ComfiLife mat is available in three sizes – 20″ x 32″, 20″ x 39″, and 24″ x 70″, which can span the length of your kitchen sink and counter — and 13 colors, ranging from muted to bright tones. The ComfiLife is a bit more expensive than other anti-fatigue mats, but it's so well-made and durable we think it's a worthy investment.
Key takeaways:
The ComfiLife mat is made of high-density memory foam that provides support and relief to tired feet.
It has an anti-microbial, non-PVC coating that is stain-resistant.
The ComfiLife mat's non-slip bottom can be used on any floor type or carpet.
Best standing-desk mat: Ergodriven – Topo
Being a different style of mat altogether, and completely designed with the standing desk in mind, the Ergodriven – Topo was our top choice for standing desk mats.
The marketing on this product touts that the bumps, divots, and raised edges encourage movement. While we thought it sounded like a gimmick, we actually found it to be true during our testing. It works because putting your foot on any of these features becomes slightly uncomfortable from extra pressure over time. So we shifted, looking for new, more comfortable stances.
The teardrop shape in the middle can act as sort of a nice massage ball, and the extra raised back is useful for calf stretches while you're standing too.
Since we're not supposed to stand or sit without breaks for the entire day, we wouldn't say the shifting is meant to replace regular breaks from your standing desk. However, the bumps really did make us shift around when we may not have consciously thought of doing. While wearing shoes, the terrain was a little less muted, but it still made us shift around more than other mats did.
Designed to make it easy to slide, this 100-percent polyurethane mat is the only one we tested that has the same material on the bottom and top, which makes the mat somewhat slick, durable, and waterproof. The other mats have more of a grippy bottom to help stay in place, but the Topo's design was made so you can reposition or put the mat away with just one foot. This is a convenient feature, and despite the slick bottom, this mat didn't shift all that much while in use.
Let's not skirt around the price of the Topo though. Yes, it's durable and comes with a seven-year warranty, but it is priced much higher than most standing-desk mats. Given its unique design and benefits, you won't get from other mats, it's a bit difficult to directly compare. But if you spend even half your workday at a standing desk, the extra cost will quickly become worth it.
Key takeaways:
The Ergodriven – Topo's unusual design encourages shifting on your feet while at a standing desk.
It's durable, waterproof, and slightly slick so it can be easily repositioned with one foot.
The Topo comes with a seven-year warranty, but it's much more expensive than other standing-desk mats.
Other products we tested
FEATOL
Things weren't looking good for the FEATOL anti-fatigue mat when we removed it from its box. The mat was covered in white-ish splotches that resembled mold. Even washing the mat vigorously did not clean away the spots. We ordered a new one to see if this was an anomaly, and when it arrived, we were relieved to see that it was in perfect condition.
Like most anti-fatigue mats, the FEATOL has beveled edges to prevent tripping over it. Most mats have beveled edges that are usually about two inches. But the FEATOL's bevel is four inches at its highest, which decreases the actual mat standing space to 14″ x 26″, so it's really not as large as it appears. The high bevel is a result of the FEATOL's thick padding — 9/10″ — which gives excellent support. The FEATOL is a firm mat with slight give, and it's a matter of personal taste if you prefer a mat that's firm or soft, like our top pick, HEALEG.
The mat also has a different textured surface that resembles a matrix of tiny squares, and although this makes the mat skid-free, it was tricky to clean in between the squares. The FEATOL is certainly a good anti-fatigue mat, but we do recommend getting the larger size (39″ width) to compensate for the wide ridge.
KitchenClouds (Not recommended)
Many of the anti-fatigue mats we tested have a standard length of 20″ x 30″, but the KitchenClouds mat is substantially smaller at the odd size of 17.3″ x 28″. Other lengths are available — 39″ and 60″ — but the shorter width is the same. During testing this mat simply looked and felt puny in comparison to the other mats we tested.
Although the KitchenClouds mat is highly rated, we found it to be so thin that it provided no support at all, which was especially obvious when we stepped from one mat to another. There are definitely better options available — like our top pick — and cannot recommend the KitchenClouds mat.
Kangaroo – Commercial Grade Mat
(Editor's note: Over long-range testing, we had to replace the Kangaroo – Commercial Grade Mat three times because small fissures and cracks developed, which indicates that this mat cannot hold up to a heavy-traffic area. Consequently, we've downgraded the Kangaroo mat.)
The Kangaroo – Commercial Grade Mat is very similar to the Gorilla Grip mat we had previously tested, and differences were minimal. In fact, the Kangaroo mat, the Ninja mat, and the Gorilla Grip mat all make the same claim of being the "original" anti-fatigue mat. We also found out that the Gorilla Grip company distributes Kangaroo and Ninja.
Like other mats, the Kangaroo has a slightly textured, beveled top that prevents you from tripping over it. But the Kangaroo's topside is made of PVC (polyvinyl chloride) leather (the leatherette you'd find on a car's console), which makes it durable and very easy to clean.
The middle layer is 3/4-inch-thick polyurethane foam, and the bottom layer is a synthetic rubber that prevents the mat from slipping. The Kangaroo comes in various sizes and colors that could match most kitchen palettes.
Besides the comfort factor, we also noticed that the Kangaroo isn't as porous as other mats. The leatherette top is impervious to liquids, so we tested the mat's rubber underside. We doused it with four cups of water; miraculously, it beaded up into little puddles that we mopped up with kitchen towels in a few seconds.
Oil and honey proved to be the major antagonists to the other anti-fatigue mats. But the Kangaroo was again the champ. We poured oil and bacon grease onto its topside and underside, and both wiped up easily and left no greasy residue. Honey was a cinch to clean off with a sponge on the top side, and though the underside also withstood the honey, we had to wipe it down a couple of times before it was completely clean.
Ninja
The Ninja anti-fatigue mat has a medium-soft foam core that has a springy, spongy feel when you're standing on it. We did find that it was more comfortable, however, when we wore shoes because of the rigid topside that somewhat diminishes the foam's bounce.
The Ninja has a rubberized bottom so it's not porous and won't soak up any spills. The hard topside, however, although attractive, was tricky to clean because the diamond pattern traps food or liquid in its ridges. During testing, we had to scrub the topside a couple of times before we were able to release the trapped food particles. Our honey test was especially difficult to clean.
Although the company warns that the mat is not slip-resistant if liquid seeps underneath, we did not find that to be the case. The Ninja had just as good traction as our top picks even when wet. The Ninja is about the same price as the SkyCloud mat but is a much better product.. If you prefer an anti-fatigue mat that has a design to complement your kitchen, then the Ninja is worth your consideration.
Other brands
We liked the Imprint – Cumulus9 (now discontinued) the least, and surprisingly it was not the lowest price mat we tested. This mat measured a standard 20-inch width and was 36-inches long, an average-sized mat overall.
The Cumulus9 was the only mat that left actual imprints of our feet in the mat throughout use. The foam is moderately firm, but as we shifted position, feet imprints compounded and gave the mat a cratered appearance. More importantly, it took a while before the mat recovered and provided support again.
Overall the Cumulus9 mat felt the cheapest made and had a top cover that could easily be cut in our durability test. We can't overlook the fact that it performed the best when soaked with water, so if you can withstand its downsides, this mat could be a good fit.
The Sky Solutions, Royal (discontinued), and Gorilla Grip mat are very similar in many ways. They're all ¾-inch thick, 20 inches wide, and two are 32-inches long, except the Sky Solutions, which is 39-inches long. All of these mats come in a longer variety, so this length did not factor into our review. They all have a slightly grippy foam bottom and a top coating that feels a little slick and tougher to withstand wear. They all performed relatively well in durability and cleaning tests too.
They all have a beveled edge to provide a transition from floor to raised surface, which helps prevent tripping and better integrates the mat into the environment. The Royal and Gorilla Grip actually shifted more underneath our feet in traction tests, so if you want one that stays put, this seems to be the only edge the Sky Solutions mat has over the others.
Imprint – CumulusPRO (Discontinued)
At a quick glance, the Imprint – CumulusPRO Commercial Grade mat looks deceivingly like the other mats, but the experience on this mat is on another level.
It's also important to know that the manufacturer, Imprint, also has a non-commercial version of this mat called the "CumulusPRO Professional," which we did not test. This anti-fatigue mat is the only one we tested that's sold as a "commercial" product. And for what it's worth, all products from the Imprint brand are tested and certified by the National Floor Safety Institute and a partner of the American Chiropractic Association. This particular product comes at an extra cost, but the differences were easily spotted during testing.
If you use this standing mat indoors and barefoot, you'll immediately notice the difference in texture on this one. The CumulusPRO features a one-piece construction of polyurethane — with a texture similar that's grippier, more like silicone or rubber than any of the other mats. The CumulusPRO Commercial mat simply feels more premium than any that we tested.
Like most (not all) of the other mats, its edges are beveled to help reduce the chances of users tripping over the mat when walking by. And it was one of the few mats that didn't shift beneath our feet during testing — saving you the trouble of having to reposition every so often.
This mat is ¾-inch thick, the same as most other mats available on the market. But likely due to its commercial-grade rating for more foot traffic, the material is firmer and less springy than other mats. Much like when choosing a bike seat meant for longer-term comfort, we actually preferred this denser option.
The 24-inch width on this standing mat is a little wider than most, which may be something to consider if you're using it in a small kitchen or office. However, it works and looks great in both settings in our testing. The CumulusPRO is well made and, in our opinion, well worth the cost. Having four or five of these throughout the house would be great.
How we selected
We spent many hours reading through forums, review sites, and retailers to discover the most loved brands and types of anti-fatigue mats. Only one mat that we chose to test was specifically made exclusively for standing desks, while the other mats can be used in both the kitchen and at a standing desk.
There are dozens of brands that have mats available but only a handful of established companies. We narrowed much of our list by leaning on Amazon's popular products that had a four-star or higher rating and filtered out products with excessive negative reviews.
Some review sites we found helped us discover new brands we may have missed, but many of them have not actually tested the mats and just publish stock images and review specs of the products.
How we tested
Standing test
Over the course of several weeks, we used these mats in a normal home setting and rotated where they were used. Three were in use at any given moment: one at a standing desk (where we stand for half of the workday), one at the kitchen sink, and one in front of the stove.
The Topo mat was not used in the kitchen since its bumpy design is strictly made with standing desks in mind — you'd easily trip on this mat in your kitchen.
We considered doing a timed standing test on these mats, but after a short while, we realized it made more sense to have this measured more informally or qualitatively. It didn't really make sense to measure this quantitatively because many factors could throw off the data. These include fatigue based on the order it was tested, strength/tolerance built up over the weeks of testing and accurately measuring severity and location of pain points from using each mat.
We tested them all with and without shoes on in case there was any noticeable difference. Wearing shoes added more cushion and masked the texture and cushion of all the mats we used. If you plan to use these standing mats in a setting with shoes, you can get away with using a lower-end or lower-priced product.
Durability test
All of the anti-fatigue mats we tested were pretty durable and showed no signs of wear other than dust and dirt. We expect all of these models to last for many years before needing to be replaced.
As the second stage of durability testing, we sliced into each of these mats with a box-cutting blade to see how it would withstand the accidental drop of sharp objects. All mats were sliced through with some effort and with more force than would be exerted by dropping anything on the mats with normal use. The Sky Solutions, Gorilla Grip and Royal anti-fatigue mats were pretty durable and sit in the mid-range of this test. On the low end, the top coat of the Cumulus9 was easily pierced. The two anti-fatigue mats that fared best were the Topo standing desk mat and the CumulusPRO. The CumulusPRO required extra effort and dragging to cut into the material.
Traction test
We measured how slippery the mats were when soaked and how much they shifted on the floor over time. First, we tested how slippery the dry mat was, then we sprayed a few mists of water on the mat, and finally, we sprayed enough for it to be completely soaked to see how much traction was lost. Lastly, we tested how much the mats themselves shifted under our feet during use, making you reposition mats over time. Both tests were done barefoot since shoes add their own grip and affect the test in other ways.
Surprisingly the Cumulus9, with its slightly odd-feeling mat, performed the best in the spray test. When soaked, the CumulusPRO was ranked second best, also maintaining its unique grip feel and making us feel confident to use this in slippery situations. Tied for third place were the Sky Solutions, Royal, and Topo mats. It definitely was better than standing on a wet tile floor and helped with traction but you can still slip if you're not careful. The worst performer in this test was the Gorilla Grip mat, providing the least traction when soaked.
We shifted our weight, twisted and turned our body, and purposely tried to move the mat. The Topo, Gorilla Grip, and Royal mats moved enough when we forced them; however, the Topo didn't shift around much during actual use despite its more slippery bottom. The Sky Solutions mat, CumulusPRO, and Cumulus9 shifted the least during this test, which means you won't have to reposition them as often.
Cleaning test
Only some of these mats advertise that they're easy to clean, but they all have similar material on the top coating so we wanted to test for ourselves.
Each mat was subjected to three food items to simulate real-world stains: flour, oil, and honey. We chose flour to test a dry substance commonly used in the kitchen and one we could test with a vacuum.
Next was oil. If you're cooking in the kitchen or eating lunch at your standing desk, oil splatters or dropping oily food onto the mat is bound to happen.
Finally, we wanted to test honey. We thought this would simulate any sweet or sugary spills from drinking beverages, cooking, or stuff you can track inside with your shoes.
The difficulty of cleaning oil was fairly consistent across all the mats. We could vacuum flour from all the mats easily and even wipe off the honey easily. Oil proved to be the difficult one to properly remove, requiring multiple cleanings no matter which mat it was.
Who needs an anti-fatigue mat?
Since an increasing number of studies about 'sitting disease' is being published, there's been a rise in the popularity of standing desks — one of the main reasons (aside from kitchen use) that people buy a standing mat.
Anyone who stands for prolonged periods of time in the same place can benefit from an anti-fatigue mat. Prolonged standing is tiring, and standing on bare floors puts pressure on your feet, legs, hips, and back, causing both muscle and joint fatigue. An anti-fatigue mat can help relieve these issues, and those who are looking for further relief at the end of a workday can check out a foot massager too. People stand the most in the kitchen or at standing desks but also in laundry rooms, the garage, or the bathroom as well.
In the kitchen, these mats help a lot at the sink or the stove. They reduce pressure on your feet and body and also catch water and soap that splash while you're doing dishes, thus improving traction and reducing the chance of slipping. Kitchen mats also catch oil and food splatters when used near the stove. People who have added wood floors to their kitchens will appreciate the extra safety as well as prolonging the life of floors in those areas.
Some people will stand at a standing desk for most of a workday, which can be taxing on the body, and a mat will reduce muscle fatigue and stress.
Both sitting or standing for prolonged periods of time is generally not recommended, so it's suggested that we switch off or incorporate activity in between stretches of sitting and standing. Studies suggest that trying to balance out prolonged periods of inactivity with an hour of gym time doesn't cancel out the day's sedentary behavior, even though it does suppress it.
Of course, we don't want to be standing around all day long. If you're looking to relax inside your home check out our bean bag chair review. Entertaining friends outdoors, or just want to catch some rays? Look into a zero gravity chair for your backyard. And finally, if you're outdoors but not at home, nothing improves rough unpadded seating of bleachers or park benches like a padded and portable stadium seat.
If you're often on the move or have issues with shoe comfort, look into shoe insoles to improve walking, running, and standing comfort.
The bottom line
For this 2023 update, the clear winner is the HEALEG mat for its extreme comfort and support due to its springy inner core. This reasonably priced and well-made anti-fatigue mat has a durable design and isn't as porous as other mats, so it won't absorb the accidental spills that are bound to happen in a kitchen. If you work at a standing desk, the HEALEG will help relieve tired feet and legs from standing too long.
Our runner-up, the ComfiLife mat, has a dense foam core so it's somewhat firmer and more durable than other mats and can handle more traffic than competitors.
The Ergodriven – Topo has a unique design for standing-desk mats that sets it above the rest. It easily stores away and sets up by using just one foot, since the bottom is designed to be a bit slick, but it doesn't shift while you're standing on it.