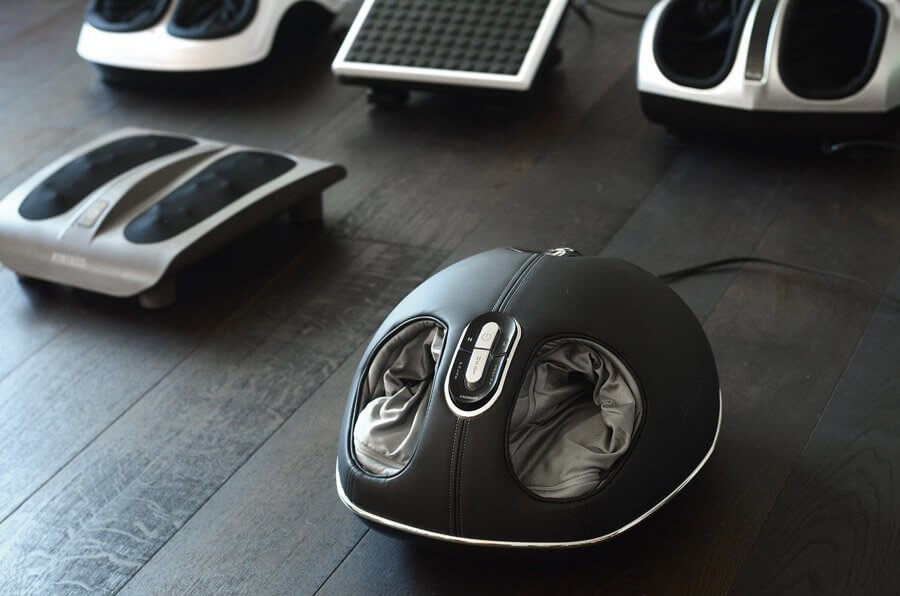 We spent more than 60 hours conducting focus groups, testing our finalists and speaking with doctors (including the nationally recognized Dr. Mark Rapaport) to determine that the RENPHO – Shiatsu is the best foot massager on the market. It combines effective shiatsu-style massage techniques with adjustable air compression for the most personalized experience. If you're interested in improving circulation in your feet and legs, we also recommend the MedMassager – MMF06 11-speed foot massager.
We spent more than 60 hours conducting focus groups, testing our finalists and speaking with doctors (including the nationally recognized Dr. Mark Rapaport) to determine that the RENPHO – Shiatsu is the best foot massager on the market. It combines effective shiatsu-style massage techniques with adjustable air compression for the most personalized experience. If you're interested in improving circulation in your feet and legs, we also recommend the MedMassager – MMF06 11-speed foot massager.
Table of contents
(Editor's note: In 2019 we learned that Brookstone had discontinued our previous top pick, the Brookstone – F4 Shiatsu foot massager, which is still available on Amazon. For our 2019 update, we researched and tested three new foot massagers, the reviews of which are below.)
The 7 foot massagers we tested
Best overall: RENPHO – Shiatsu
When choosing products to test for our 2019 update, we knew we wanted at least one finalist with features similar to our original top pick. The RENPHO – Shiatsu effectively combines Shiatsu-style rollers with air compression and heat to relax the muscles in your feet and remove tension that built up during the day.
The RENPHO ranked nearly equal in comparison to the Brookstone by our panel of testers. They liked the RENPHO's customizable experience that allowed our testers to find their own "sweet spot" after experimenting with the varying modes.
The touch buttons are large enough and spaced far enough apart that you can easily control them with your feet. However, our testers preferred using the remote control. The programmable settings –low, medium and high–are straightforward and easy to understand.
When you combine the variables of kneading intensity and air compression, the RENPHO caters to all users. Those who prefer a strong massage might combine a high intensity with high air compression, while those who are more sensitive might prefer low or medium settings.
At only 8 pounds, the RENPHO is easy to move from room to room. Our testers liked the aesthetics, saying they would be willing to leave it out in the living room if they were having company over. It's easy to clean, with a hard plastic shell that can be wiped down.  The cloth cover (where you insert your feet) is detachable and machine washable.
The massager itself is rated to fit individuals with shoe sizes up to 12.5, however, two men in our focus group had a size-12 shoe and mentioned that it felt a little too snug.
Aesthetics
The RENPHO is priced moderately compared to our other finalists and consistently scored high across the board in our focus group. In fact, the average score of 8 was far ahead of the rest of the pack, with Relaxzen coming in second place with an average score of 7.8, and the overall average for the seven massagers coming in at 6.9.
Our testers agreed that while the size might necessitate putting the RENPHO away before guests arrive, the design was attractive enough to leave it out and the massager could seamlessly integrate into any room.
User-friendliness
When researching products, we found that some had needlessly complicated controls and functionality. While customizability and flexibility are valuable, overdoing it on something relatively simple like an electric foot massager adds more difficulty than benefit.
Operating this machine was fairly straightforward, with clearly marked low, medium, and high settings for kneading and air intensity. Heat is as simple as turning on and off, and the time setting is color-coded to easily determine which setting (15 or 30 minutes) is on. The remote control corresponded exactly to the settings on the massager, with LED lights to see which setting is active.
Comfort
The lining is fairly comfortable, although the polyester fabric isn't as plush as the Relaxzen. You can feel the massagers underneath your feet before you turn it on, but they aren't knobby. Our testers used it without socks for a fair comparison with other finalists; however, the manual recommends wearing socks (which does make it more comfortable). The massager as a whole received a score of 8.1 out of 10 for comfort. While that seems slightly low for a top pick, it was the best scoring massager overall and was well above the average of 7.0.
Pain relief
Pain relief is one area where this machine particularly shined and was one of the primary factors in our naming it the winner. After all, the purpose of a foot massage is to make your feet feel better.
Our team's consensus was that the air compression and the Shiatsu-style kneading massage worked particularly well to improve blood flow and relax the muscles. After about 5 minutes of using this machine, we felt pretty great.
Want to use it again?
With all four of the other metrics ranking so high, it came as no surprise that everyone in our focus group wanted to try it again. Before conducting the focus group, we already had this foot massager marked as our likely top pick based on our own testing and assessment. However, with a total score of 43.7 out of 50 in our focus group, the RENPHO's place as our top pick was solidified.
Things we didn't like
Overall, we found this massager to be the best option available. While it was relaxing, there were a couple of issues we noticed while testing that are worth mentioning.
The most significant issue is that it takes a while for the heat to fully activate. It took about 30 seconds to start heating up and another minute and a half (for a total of two minutes) before the heat was significant enough to have a positive impact.
A foot massage might only last five to 10 minutes, so this was somewhat of an issue. Our solution was to let the massager heat up for about a minute before putting our feet in, which was an effective workaround.
While we would have preferred that the massager heat up more quickly, it is reasonable to expect the heat to take some time to turn on, and none of the other massagers we tested were any better.
Key takeaways:
The RENPHO – Shiatsu foot massager was our top pick thanks to its effective foot massage technique.
The massager is easy to use, with clearly marked buttons.
The only significant downside is the size limit, fitting only up to a men's size 12.
Best for circulation: MedMassager
The MedMassager is very popular online and is frequently recommended by doctors as a way to improve circulation in the feet. Unlike the other massagers we tested, this device uses oscillations instead of Shiatsu-style kneading massage with rollers. This results in a distinctly different foot massage experience.
This device has 12 settings that can be adjusted by simply twisting a knob to the desired intensity. According to the manufacturer, the MedMassager's lowest setting operates at 1,000 RPM and the highest operates at 4,000 RPM. This means there is a significant variance between each of the settings, making it easy for anyone to choose one that is right for them. We initially found the oscillations to be a little intense, but once we got accustomed to this sensation, the MedMassager relaxed our feet and lower legs as well.
One feature that is often overlooked is the "Arch Bar" located across the top of the massager. The doctors we consulted explained that this bar is used to directly stimulate the tendon in the arch of the foot — known as the plantar tendon. For individuals that have periodic or frequent foot and leg cramps, the stimulation of this tendon can provide significant relief, and our testers reported that the arch bar felt great.
The MedMassager's contact information is on the top of the massager, and although it won't earn style points, it's especially useful information that's readily available for questions about operation or issues with its performance.
Finally, this device has excellent build quality, which means it will last for many years. It has a robust one-year warranty, and the company offers an additional three-year or lifetime warranty at an additional cost.
Things we didn't like
While there are plenty of positive things to say about the MedMassager, there are a few negatives that stood out to us during our testing and focus group.
The first, and perhaps most significant, issue is primarily limited to people who live in apartments (or anywhere else that your floor is someone else's ceiling). Since this device works by oscillating at a very rapid rate, vibrations are also transferred to the floor, which we could feel 15 feet away. If you live in an upstairs apartment, the oscillations could be prohibitively loud and irritating for your downstairs neighbors.
Another design feature the MedMassager lacks is a handle: At 11 pounds, it's a bit heavy to carry without one. Finally, because it lacks a heat function, the MedMassager can't be used as an all-purpose foot massager.
Focus group results for MedMassager
This one came in second place, with a final score of 38.5 out of 50. The areas where it was weakest were in aesthetics and comfort, with a score of 6.8 and 6.1 respectively.
Aesthetics
With its utilitarian appearance and somewhat-tacky large-font phone number printed on top, the MedMassger looks like it would be better suited for a doctor's office rather than a living room. The MedMassager has indeed been used by doctors, physical therapists and other medical professionals for years, and it's only recently that it's been marketed to consumers.
While this led to a somewhat weak aesthetics score, it's worth noting this device's appearance is also a reflection of the trust medical professionals have placed in it over the years.
Comfort
The MedMassager isn't as comfortable as the other foot massagers we tested. Rather than allow you to sit with your feet flat, the MedMassager is set up at an angle. This is again a reflection of the MedMassager's primary role as a medical device in the past, so it's worth taking the 6.1 comfort score with a grain of salt. That said, if you're looking for a purely relaxing, spa-like foot massager, the MedMassager might not be the way to go.
User-friendly
One area where this device particularly stood out in our focus group was its user-friendliness, scoring  9.1 out of 10 with our focus group —  the highest of all the massagers we tested — including our top pick.
This rating matches our own assessment of the MedMassager. Operation is straightforward, with a single knob for adjusting a wide range of degrees of intensity.
Pain relief
Despite its simple operation, the MedMassager proved to be effective at pain relief; as reflected in its scoring 8.2 out of 10. One frequent comment from our focus group was that the pain relief from the MedMassager was mostly noticed after the massage was done. This stands in contrast to the other massagers, which provided pain relief right from the beginning.
The MedMassager is an excellent — if somewhat specialized — foot massager. If you're looking for a foot massager that improves circulation, this one should be at the top of your list.
Key takeaways:
The MedMassager is the best for improving circulation.
The massager doesn't have certain important features, such as a carrying handle, a heat function or a kneading massage.
This device is the most specialized of the massagers we tested, which means it is ideal for those who need its specific features, but it won't be right for everyone.
Other products we tested
The three other foot massagers we tested all had one thing in common: They were decent, but not outstanding, products. There wasn't anything glaringly wrong with them, but they didn't excel either.
Relaxzen
The Relaxzen was our second-highest-rated massager in the aesthetics category; it looks like a pair of soft slippers and all our testers agreed they would feel comfortable leaving it out in a living room or bedroom. If you're looking for a foot massager on a budget, this would be our recommendation.
The mechanics are more simplistic than our other finalists. The only variables it offers are a change of direction and the choice of adding heat. Our focus group gave it only a 6.75 rating for comfort, but it rated slightly above average with a score of 8 for pain relief.
Best Choice Products
Our focus group testers jokingly referred to the Best Choice Products – Shiatsu as "Darth Vader" due to its sleek black appearance. Its heavy weight and large size made it less aesthetically appealing than our top pick, although one tester pointed out that it would fit right in with a modern nail salon. It rated average for all categories, with most scores of 7 across the board. It has an open toe design, meaning that you don't have to place your toe in an enclosed space as with some of our other finalists.
One issue we noted was that the remote control needed to be held very close to the panel in order to change the settings. The terms on the remote control and the control panel don't align; it took some deduction to figure out that "personality" on the remote control was the "custom" setting on the device.
Overall, the Best Choice offers a decent massage and is easy enough to use, but our focus group was relatively lukewarm about this model.
uComfy
The uComfy did an all-around decent job. Its appearance is fine but feels somewhat dated, and the foot massage itself was close in quality to the Brookstone. However, the controls on this device didn't work great, and there wasn't much variation between the settings.
In our focus group, the user-friendliness score was 6.8, which was towards the bottom of the list. It performed in the mid-seven range for the rest of the metrics and was the closest of the remaining three to be considered an "honorable mention."
Homedics Deep Kneading
Despite its positive online reviews, we were disappointed with the Homedics massager. It was the simplest and most straightforward device we tested that had Shiatsu-style kneading massager rollers. We found the quality of the massage, however, to be underwhelming, as did our focus group who rated it 5.1 for comfort and 5.5 for pain relief.
3Q
The 3Q was similar to the uComfy in that its controls didn't offer much variation. Features are basically limited to kneading, air pressure and heating with no options for changing intensity. There are also two programs to choose fro, without any description of how they differ.
In the focus group, the 3Q received a score of 6.5 out of 10; the lowest of all our finalists.
Discontinued
Brookstone has discontinued our original top pick, the Brookstone – Shiatsu, although it is still available on Amazon. In addition to looking the best, it was easy and straightforward to operate and provided the right amount of pressure and intensity on pressure points on our feet. Shiatsu-style rollers, air compression and heat work together to knead out muscle tightness in the feet and promote overall relaxation.
How we selected
When we first started researching electric foot massagers, we discovered that there were lots of products available, but relatively few were highly regarded. This meant that the first step was eliminating products that had significantly negative reviews on Amazon.
We also limited our focus to foot massagers that were mentioned positively on forums, professional reviews, and Reddit threads. Finally, we spoke with Dr. Rapaport — a nationally recognized doctor with experience in psychology, behavioral science, and the benefits of massage therapy — as well as other doctors who helped us determine which electric foot massagers (and neck massagers as well) were best suited to have a positive impact on health.
We also strongly prioritized massagers with heating functionality. However, we did make an exception for the MedMassager, both because of its significant number of positive reviews that it is designed to work differently than Shiatsu and heat-based foot massagers.
Since we published and updated this article, we've consulted other health specialists and massage therapists for our reviews of the best percussive massage guns, back massagers, leg massagers, foam rollers, neck and shoulder massagers and handheld massagers. If you're suffering from chronic pain or minor injury, you might find relief with these recommended products.
How we tested
Once we had our list of finalists, we assessed them individually based on a number of criteria: ease of use, effectiveness and features offered. We also took weight, portability, and power usage into account.
In general, we were looking for foot massagers that were easy to operate, comfortable on our feet and had a substantially positive impact on how our feet felt after five to 10 minutes in the massager.
Secondary metrics included the power usage of each foot massager while in use, the weight of each massager, whether the massagers had a handle for easier portability and whether there was a built-in automatic shutoff.
While these features did have an impact on our selection of finalists as well as our top picks, they were secondary to the actual operation and benefits of each electric foot massager.
Foot-massage focus group
During testing, we realized that massaging preferences can be fairly subjective. Some people prefer intense ones that really get the knots out, while others prefer a more gentle and soothing massage; possibly with some heat to relax their muscles.
While we did our best to assess each machine as objectively as possible, ultimately we realized that having a larger sample size, which included a wider range of people, would help us find the best possible product.
We came up with five different metrics and asked 10 people to rate each of the electric foot massagers on a scale of one to 10 using those metrics. We also made sure each person had walked a lot that day and felt like they could really use a foot massage.
Aesthetics
For this category, we asked each member of the focus group to rate the appearance of the foot massager. If they were to own the massager in question, would they put it somewhere visible in a living room or bedroom or hide it away when not in use?
User Friendliness
For the user-friendliness rating, we asked each member of the focus group to describe how easy it was for them to figure out how to use the massager. This included turning the massagers on and off as well as adjusting the massager to their desired settings.
Comfort
We distinguished "comfort" from the "pain relief" metric. For comfort, we asked our focus group to limit the rating to their comfort without the massagers turned on.
Pain Relief
This is the key measurement and was used to compare how each person felt before and after they used the foot massager.
Want to use it again?
We used this metric as a way to gauge the overall score each member of our focus group gave to the massagers. We specifically asked them not to consider the cost when providing this rating.
The results of the survey made it clear that the RENPHO – Shiatsu was the favorite when taking into account all categories. Our testers found it to be the most attractive looking massager, the most comfortable, and very user-friendly.
The Relaxzen was a close runner-up, ranking as well as the RENPHO in terms of aesthetics and pain relief. It ranked the highest of our finalists in terms of being user-friendly. However, our testers found it less comfortable than our top choice and were less likely to use it again.
The MedMassager also stood out for the significant pain relief it offered — even if the aesthetics were rated lower than average by our panel of testers.
2019 update
When we learned that Brookstone had discontinued its foot massager (our former top pick) we once again read through professional reviews, Reddit threads and Amazon reviews to find an additional three products to test.
A focus group of four testers of varying ages (one of whom had completed a 5k run the same day) provided us with their impressions and numerical rankings of the additional products. We compared these with the scores of our original models to determine our new top choice, the RENPHO – Shiatsu.
Important features to consider
If you decide to purchase a foot massager, you should first determine the massager's primary purpose for you. If you're seeking relief from a specific medical condition — such as diabetes, high blood pressure or an inflammatory disease like arthritis — there are certain features you'll want to make sure your choice includes.
If, on the other hand, you simply want a foot massager as a way to relax after a long day, you can be a bit more flexible about which massager you choose. You may want to consider an anti-fatigue mat for all-day standing relief. Insoles may help relieve the source of your pain too. See our insoles review to see if its something else you should add.
The next step is to find a foot massager that offers the features you want, such as:
Does the massager heat up?
Are there intensity settings?
Is the massager easy to carry?
How noisy is the massager?
You'll also want to decide whether you want a foot massager that's designed to improve foot circulation or more of an all-purpose option. If your top priority is improving circulation, the MedMassager – MMF06 is hands-down the best massager on the market. This one uses a design that oscillates a platform to massage instead of Shiatsu-style rollers.
If you want more of an all-purpose massager, it's worth looking into the specific features and settings of each machine. In general, a product that provides heating, variable levels of pressure, and a shiatsu-style massage will be effective for general wellness.
It's also worth considering the weight and portability of the foot massager as well — particularly for the elderly or people with health conditions.
Another consideration is the challenge of using the MedMassager in an apartment, a hotel or anywhere else that your floor is someone else's ceiling. The MedMassager works by creating fairly strong vibrations, which can potentially be felt, and heard, from the floor below.
The health benefits of massage
We consulted with Dr. Mark Rapaport, the Chairman of the Department of Psychiatry and Behavioral Sciences at Emory University School of Medicine to learn more about the benefits of massage. Dr. Rapaport has more than 180 articles published in peer-reviewed publications and has received grants from nationally recognized organizations, including the National Institute of Mental Health.
Dr. Rapaport gave us great insight into the significant and wide-ranging impact of massages on mental, physical and psychological health.
General benefits
According to Dr. Rapaport and the research studies he has published, massages have a number of substantial health benefits. These range from reductions in anxiety and irritability to a decrease in unhealthy levels of cortisol. Massage can also modulate immune function and increase levels of the "feel-good" hormone oxytocin.
Massage therapy is increasingly recognized as a powerful medical treatment, with benefits for everyone from cancer patients to reducing post-pregnancy discomfort. Even if you're in great health, massage can significantly increase your quality of life.
According to Dr. Rapaport, massage in healthy individuals can decrease allergic responses and potentially harmful inflammation in the body and can even improve temporary bouts of depression in otherwise healthy individuals.
Medical benefits
For individuals who have particular medical needs, massage can have an even more profound impact. For example, women who have recently given birth by Cesarean section can experience significantly lowered levels of anxiety and pain.
Individuals with severe flu and other systemic infections benefit from massages due to an increase in lymphatic flow, which helps to flush out the disease more quickly. This is also the case for terminally ill patients who are receiving palliative care.
Perhaps the most interesting impact that massage can have is on cancer patients. According to the doctors we spoke to and several peer-reviewed studies, massage has a statistically significant impact on the vital signs of cancer patients.
According to Dr. Rapaport, an NIH study studying fatigue in cancer survivors also indicated a marked decrease in fatigue and other symptoms. Those studies are being followed up with a more detailed look into how massage might improve inflammatory markers as well.
The bottom line: Massage has been unequivocally proven to have health benefits for healthy individuals, as well as those with a wide range of medical conditions.
The health benefits of foot massage
One question that people ask about foot massagers is whether a mechanical option can effectively do the job of an actual massage therapist. While there are certainly benefits associated with having an actual person performing the massage, the doctors we spoke to said that many of those translate to some mechanical foot massagers as well.
In fact, since the specific massages are complex, and the shiatsu/oscillation is so well programmed in certain mechanical massagers, in some cases individuals can be even better off with a mechanical option.
That said, a highly trained massage therapist will always be better than a mechanical massager. But when comparing the one-time cost of a foot massager to a massage therapist, it is certainly more cost-effective to have a mechanical foot massager — if nothing else than to supplement relatively infrequent massages from a licensed therapist.
The bottom line
The health impact of foot massagers is significant and scientifically proven. Whether you are an average healthy adult or you're recovering from a pregnancy or even a chronic illness, foot massagers can improve your blood pressure and circulation, reduce unhealthy levels of cortisol from your body and provide you with a general sense of well-being.
Three of the new products we tested for our update were performed acceptably. However, if you're going to spend $100 or more on a foot massager, we think it's worth getting a product that will perform well for many years.
The RENPHO – Shiatsu falls in the middle price range of the massagers we tested. Given its high ratings in every category we considered, we think it is more than worth it. This is especially true given the RENPHO's adjustable settings, which allow you to personalize your massage experience.
If you want a more medically focused product and aren't as concerned about getting the "spa treatment," the MedMassager – MMF06 is a proven product that has been used by doctors and physical therapists for years to improve circulation.