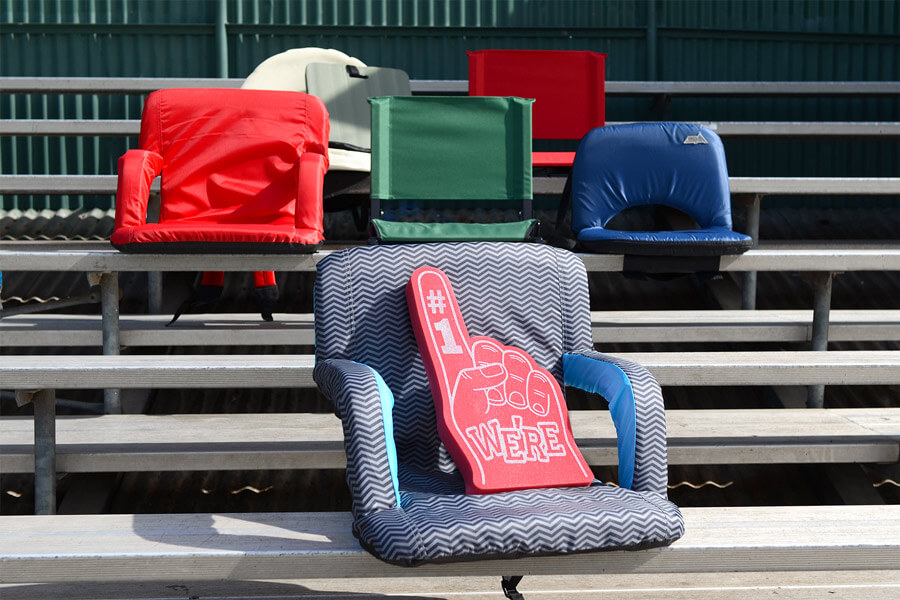 The 14 Best Stadium Seats
Our team of testers spent 150 hours sitting on 14 of the highest-rated stadium seats for game-length durations, and we selected the Picnic Time – Portable Ventura as the best stadium seat. It's comfortable, includes armrests, has good back support, and is easy to lug around. If you're big and tall, we loved the Brawntide – Wide Stadium Seat, which gives you more elbow room and thick, plush padding.  A great lightweight option is the Cascade Mountain Tech – Folding Stadium Seat, a quality product with excellent design. If you don't want to spend more on a seat than a ticket to the game, the Northeast – Therm-A-SEAT is a decent budget option.
Our team of testers spent 150 hours sitting on 14 of the highest-rated stadium seats for game-length durations, and we selected the Picnic Time – Portable Ventura as the best stadium seat. It's comfortable, includes armrests, has good back support, and is easy to lug around. If you're big and tall, we loved the Brawntide – Wide Stadium Seat, which gives you more elbow room and thick, plush padding.  A great lightweight option is the Cascade Mountain Tech – Folding Stadium Seat, a quality product with excellent design. If you don't want to spend more on a seat than a ticket to the game, the Northeast – Therm-A-SEAT is a decent budget option.
Table of contents
(Editor's note: For 2021 update, we tested three more stadium chairs, and for 2023 we added 3 more stadium sets to the review.)
The 14 stadium seats we tested
1. Best overall: Picnic Time – Portable Ventura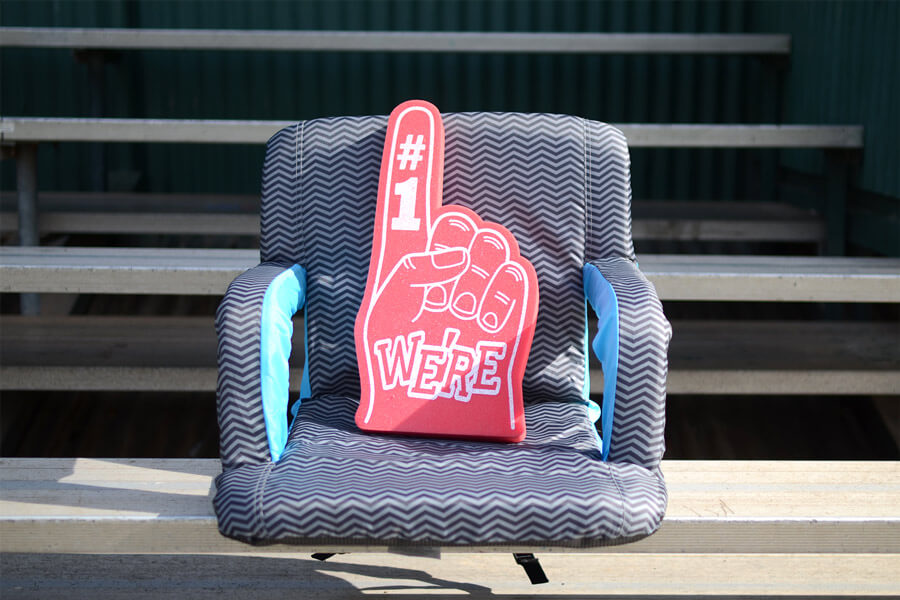 For season ticket holders or frequent users, the Picnic Time – Portable Ventura is the best stadium seat. It's comfortable for the longest duration of time, is easy to move around given the backpack functionality, and comes in many different colors, so you can match the design to your favorite team.
The features the Picnic Time come equipped with definitely come with a price, as it's one of the most expensive units we tested. For most games where you won't have a back, you'll be paying more for the chair than the game. But if you're going to use it over several years, you will definitely get value for the price.
One thing to consider about the Picnic Time is its adjustable arms. For a few people in our office, it was a bit snug: the 220-pound reviewer was pretty firm in the chair, and a couple of extra hot dogs might make you want to take down the armrests. However, the seat can be adjusted so the armrests are lowered, which adds a few more inches of width.
It makes more sense though to use the armrests, and if you're unsure if you'll fit,  sit in a chair and measure the width of your legs from end to end when in a comfortable position. If your leg-to-leg width measures greater than 17 inches wide, the Picnic Time will be too narrow.
We tested the Picnic Time again for this update, and although our tester is slim, he found it constricting. Also, the first Picnic Time we ordered was defective: The mechanism for adjusting the seat's position broke after four tries. We returned it, and the second one performed better.
2. Best for big and tall: Brawntide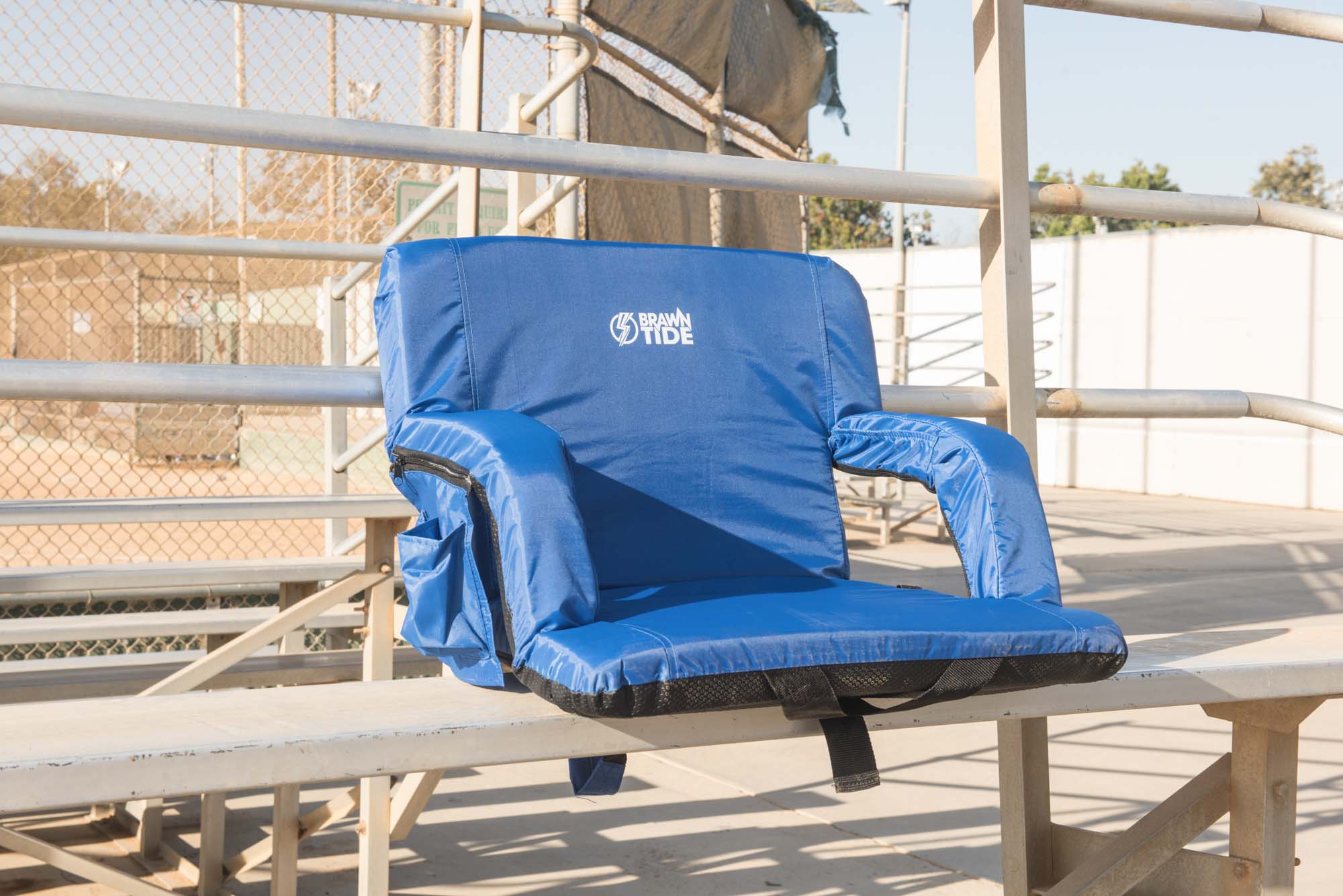 In 2019 we tested one of the newest stadium seats, the Brawntide – Wide Stadium Seat. In fact, we preferred it over the Picnic Time, because it's a full 5-inches wider without armrests, and its cushioning is much more plush and comfortable. However, at the time of our initial review, the Brawntide was often out-of-stock on Amazon. For this 2021 update, we checked on its availability, and the stocking problems seem to be resolved.
If you're big, tall, or big and tall, this is the stadium seat for you. It's 2-inches taller than other stadium seats, so if you're over six feet tall, the back of the chair will reach the top of your shoulders, which gives you plenty of support in your lower back. The armrests are longer, extending to the wrists, so you don't need to sit with your arms pinned back, as you would with most stadium seats.
This item is not just for big and tall though. It also comes in a regular size, which is two inches narrower at 20.5″ wide when the armrests are down.
The Brawntide has three layers of foam, so it's ultra-comfortable; it's like sitting in an easy chair. It has four pockets: a large zippered rear pocket for storing snacks or a sweatshirt or sweater, a side left pocket for a cell phone, and two removable right pockets for water bottles or beverage cans. Like Picnic Time, the Brawntide has straps for attaching the seat to bleachers.
The Brawntide is about $10 more expensive than Picnic Time, but the extra width and thick padding are worth the cost. The company also sells standard-width seats and the standard and wide-size in two-packs.
3. Best lightweight: Cascade Mountain Tech
Of the three newer stadium seats we tested for 2021, the Cascade Mountain Tech – Folding Stadium Seat is, by far, the best and the lightest. At only 5.6 pounds, you can carry this stadium seat from the parking lot to the stadium or to the beach without breaking a sweat. The Cascade Mountain Tech is also one of the better-made stadium seats that practically shouts "quality" when you take it out of the box.
It has a sturdy aluminum frame with a canvas back and seat, which you might think is uncomfortable after three hours of sitting on a bleacher. But this is where the design of the Cascade Mountain Tech differs from other seats. The canvas seat is bound with a bungee cord that's laced through grommets, so when you sit, the canvas stretches a bit to conform to your weight (up to 250 pounds). The seat has about a quarter-inch of padding that contributes to comfort level, but the way that the canvas seat buoys weight, it's hardly noticeable.
The Cascade Mountain Tech unfolds to one upright position, which keeps you sitting erect, but because it has a stabilizer bar, you can lean backward (without tipping over), and the canvas back gives good support to the middle of your back. We found the seat hook (for clipping the seat to the bleacher) very stiff, so you'll need a bit of strength to pull it out into position. The Cascade Mountain Tech has a rubber grip wrapped around the handle for easy carrying, and a shoulder strap is also included. It comes in six colors with removable backs that can be stitched with your team's logo.
The Cascade Mountain Tech is comparable in price to the other stadium seats we reviewed, so if you don't want armrests and foam padding and yet it's still comfortable, this stadium seat is the one you should look at.
4. Budget pick: Northeast Products – Therm-A-Seat
The Northeast – Therm-A-Seat is our budget option because it's lightweight and affordable. It's made of Softek closed-cell foam that gives you a dense but comfortable seat. This no-fuss cushion is 13 x 0.75 x 14 inches and can easily fit into a backpack, or you can use the hand loop to carry it to an outdoor game. It comes in many colors to suit your preference and is under $10.
We tested this cushion on indoor benches, cafe seats, and bleachers, and our comfort level stayed relatively the same even after three hours in the same seat. Compared to the Guidesman foam seat, we preferred the Northeast cushion because it was more comfortable and better priced.
You can place them directly on cold or wet bleachers, and your clothes will stay dry and warm. We also like the versatility of this seat because you can also use it as a knee cushion for gardening. If you want an affordable seat option that is easy to transport and versatile, we recommend the Northeast – Therm-A-Seat.
5. Flash Furniture – Grandstand Comfort Seat
Another well-made stadium seat is the Flash Furniture – Grandstand Comfort Seat. It has a sturdy steel frame with a built-in carry handle, and though it weighs 7.6 pounds, it feels heavier. The Grandstand has a 3-inch padded seat, which is quite firm and will probably need some breaking in to feel really comfortable. Similar to the Cascade Mountain Tech, it has just one upright position and no armrests.
The Grandstand has an easily manipulated seat hook, but adding to the seat's security, there are also rubber strips on either side that prevent slippage. Our complaint with the Grandstand is its canvas back, and although marketing materials claim it's padded, in actuality it isn't. The back provides little support unless you lean back into it, meaning you can't secure it to the bleacher. The Grandstand is a bit more expensive than other similar style seats, and we prefer the Cascade Mountain Tech, which is less expensive.
6. Jauntis – Stadium Seat
The Jauntis – Stadium Seat is one of the heaviest cushions we tested at 7.8 lb. It's made of stainless steel and supports up to 330 lb. If you want a more comfortable seat for outdoor games, this three-inch foam cushion and 1.2-inch thick foam backing is a nice way to enjoy sitting. The dimensions of this seat are 17.7 x 14.6 inches with a 15.9-inch backing.
We like the hooks and the rubber straps at the bottom of the seat to prevent the seat from moving around too much when sitting on bleachers or slippery surfaces. It feels very durable, and you can't tell you're sitting on the bleachers because of the relaxing cushion and backrest. This makes watching outdoor sports much more comfortable for long periods.
This is a great option if you don't mind carrying a heavier load to get a comfier seat. We wish the straps were thicker to accommodate the weight of the seat and ease the pressure on our shoulders, but it also has a more comfortable foam handle to make it easier to transport the seat.
7. Alpcour – Folding Stadium Seat
We tested the Alpcour – Folding Stadium Seat for this 2021 update, which has a cushioned seat, cushioned back, and armrests. With all of the padding, it's no surprise that the Alpcour was quite comfortable though narrow.  It weighs only 7 pounds and has backpack straps so it's easy to lug around. Although described as having six adjustable positions, it actually has five, and only two of them are usable on a bleacher because the other three are for reclining.
The Alpcour's seat hook is pretty flimsy and needs to be unzipped from the front of the seat, which causes foam padding to pop out. It has three pockets: a large pocket divided in half and a narrow side pocket for a cell phone, although it proved too small for an iPhone. Unfortunately, the Alpcour's stitching was shoddily done, and straight out of the box, threads were already loose and popping out. (We checked out Amazon reviewers, and many had the same issue.)
The Alpcour is pretty expensive, and if you want a padded stadium seat, then stick with our top pick, the Picnic Time – Portable Ventura.
8. Nova Microdermabrasion – Stadium Chair
Another recent release that we tested for this 2019 update is the Nova Microdermabrasion – Stadium Chair. Although you might think this is a skin-care company, Nova Microdermabrasion manufactures office chairs, beauty-salon chairs and equipment, and a variety of home goods. It's similar in size to the Picnic Time but not nearly as stylish.
Armrests and seat are well-padded, but the chair itself is too short and narrow, and since the armrests are not adjustable, you're really need to squeeze yourself in. This stadium seat has a single, sewn-in pocket for a beverage can, and that's about it for any extras. This is a bit of a bargain-basement stadium seat, but if you're budget-conscious and slim-hipped, it could be an option.
9. Stadium Chair
The Stadium Chair has the brand name to match its intent and is a quality chair with good comfort scores, especially at the beginning of the sitting period.
However, it was just below the Picnic Time in overall comfort, equal in price, and also is a bit harder to lug around, making it a second-best choice. It's also the only model tested with a weight limit: if larger than 350 pounds, it's recommended you go with another unit as the spring base may not be able to support you properly.
10. Naomi Home – Venice
The Naomi Home – Venice has a similar build and price as the Picnic Time chair but isn't quite as comfortable. It also has fewer color customization options, making it more difficult to match the chair to your favorite team.
On the positive side, the Naomi was the only chair we tested that had armrests in a large-sized option, so if you've got a wider frame, it's probably the best option for the cost.
11. Coleman – Portable Stadium Seat
We were enticed by the design of the Coleman – Portable Stadium Seat because it's easy to carry and had back support. This cushion has a ribbed design that allows you to roll it up and sling it over your arm for easy transport. Coleman states that even if you need two cushions, you can unhook the straps and lay the seat flat for two people.
After testing the Coleman – Portable Stadium Seat for several hours on bleachers and indoor benches, we quickly realized it wasn't as comfortable as it boasts. The thin cushion didn't offer much comfort and quickly numbed our bottoms within the first hour. Our backs also didn't feel supported by the seat, and the seat backing dug into our shoulder blades. We noticed if your bench or bleachers are shallower in depth than the Coleman cushion, you may end up slouching because the cushion doesn't offer much structure. We wouldn't recommend using the Coleman – Portable Stadium Seat for an extended period of seating.
12. Guidesman – Seat Cushion
The Guidesman – Seat Cushion was the cheapest model we tested but barely performs better than the bench itself. The cushion didn't feel at all more comfortable than our plastic bench, although it did seem like a slight upgrade over the above bleacher we also sat on.
It may make your backside feel a bit better at the end of the three hours, but it's not a purchase we can recommend unless you plan to use the seat one time only.
13. RIO Gear – My Pod (hard to find/discontinued)
This was one of our previous top picks but it has been discontinued or is phasing out–it's incredibly hard to find in stock.
If you don't want to spend $45-$60 for a stadium seat with back support, the RIO Gear – My Pod Sports Chair is a good option.  It has worse back support, no armrests and slightly less padding, but overall is a serviceable option for someone who wants a backrest for the occasional game or event. It scored significantly better than the other seats in a similar price range.
It also includes a helpful under-seat strap, pictured below, that makes it the most reliable seat for not falling back on unsteady bleachers. The RIO was also the only unit which had a "strap-in" feature like this, which is an extra plus for anybody who's especially wild when cheering on their favorite team.
In addition, the RIO comes with two heating packs and includes pockets on the front of the chair for storage, an extra benefit for those who find themselves in colder temperatures. And at only 3.5 pounds, the seat is light and the attached strap makes it easy to carry from your car to the game.
14. Trademark Innovations – Recliner Picnic Seat (not recommended)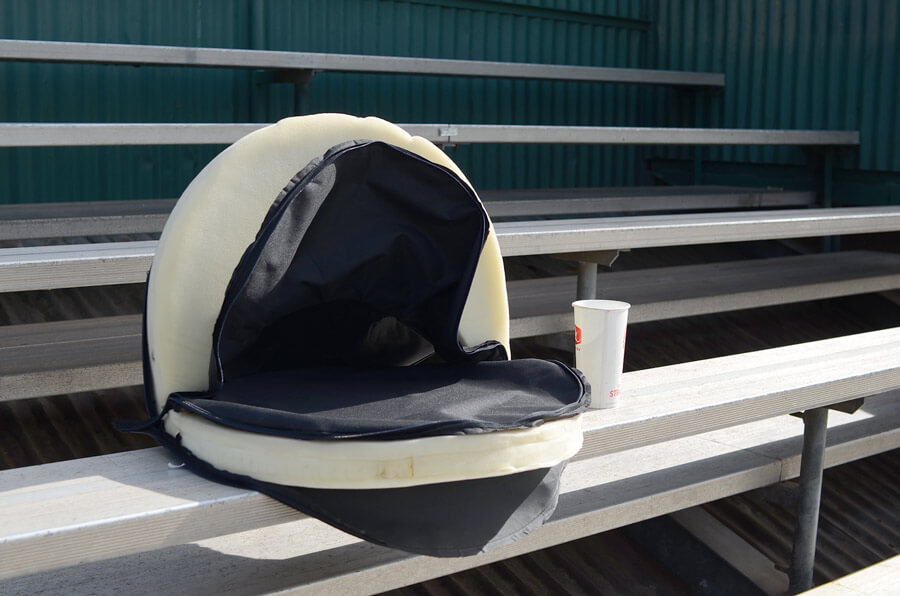 The Trademark Innovations – Recliner Picnic Seat didn't survive the first minute of testing, scoring near the bottom in overall comfort. Even worse was that the zipper confused our second tester, who opened the seat and then tried to close it and broke the material on the first try. Overall, that put it pretty low on our totem pole.
How we selected
We spent a day combing online reviews, comparing models, and considering the use case for these seats. We looked at the bad reviews as well as the good ones in order to evaluate not just what made people happy about the cushion they sat on: but also what made them upset.
In the end, these were the factors that weighed into our choices and decision making:
Comfort
Whether or not they had armrests
Durability
Portability (both in weight and design)
Price
Size: Would the seat work for most body types and weights?
After considering the options and evaluating hundreds of online reviews, we made our selections, narrowing our choices to a final few seats across price and potential user types.
How we tested
To best replicate how people would really use these bleacher seats, we had to replicate a true game-going environment. So we tailgated for hours before each use, grilling some tasty game-day food on the trusty gas BBQ, consumed frosty-cold beers from our favorite cooler, soaked up some sun, and then tested the chairs…
…or not. Unfortunately, we couldn't justify doing that, but we dreamed of doing that, and hope you do similar when using these seats. Instead, we only replicated the seating environment, buying a plastic bench we could use for three hours, the average duration of most sporting events, inside our office.
We set up the benches and recorded a comfort "score" of 1-5 at the start, and then every subsequent hour thereafter, in order to see how the seats performed from a longevity perspective.
We treated the seats just like we would at a game, taking short breaks to run to the bathroom or stretch our legs, but we made sure to always reserve a three-hour window for sitting in order to best replicate a true game environment.
In order to save our backs, if a bench got an initial score of less than four, we immediately vetoed further testing. (And headed for our massagers instead.) An uncomfortable seat is an uncomfortable seat: it's not suddenly going to get better, only worse.
In addition, we always tested first thing in the morning, spaced out tests over several days, and tested three times each, in order to reduce the bias back fatigue or simply feeling bad one day might create.
The Picnic Time – Portable Ventura performed best, with a strong initial comfort score and best maintenance of that score, given great back support and armrests that provide additional comfort throughout.
The Stadium Chair also performed well but had no armrests and slightly more give in the back area that created fatigue over time, putting it in second place.
On the low end of the scale, the Guidesman and Portable Recliner Picnic Seat were each subpar and not worth testing for the full duration. The Portable Recliner felt slightly better than just the bench, but the Guidesman hardly made a difference.
It's the cheapest model, so that's somewhat to be expected, but you want to see some kind of difference in comfort when buying a seat, or why even buy one?
Next, we looked at the portability of the seats. Weight matters, but if the seat gives you a method of carrying the seats that distribute the weight, it's not as big of a burden.
The Picnic Time and Naomi Home seats came with a helpful backpack strap that made lugging them around a breeze, even if you look somewhat ridiculous when doing so. These seats were two of the heavier models we used, so the backpack functionality was a nice-to-have that makes carrying them around feasible for any age or strength level.
The Guidesman, RIO Gear – My Pod,  and Portable Recliner Picnic Seat all came with small straps that connected on two points of the seats, offering something you could either grip with your hand or swing around your shoulder when carrying.
All on the lighter side, these loops do the job but will take up a hand or two if you're thinking about carrying anything else into the game or lugging some things into a tailgate area from a far-away parking spot.
The Stadium Chair seat, while comfortable, was also by far the heaviest seat, and also required you hold onto it by a bar. It's not unmovable by any means but could become a bit of a pain if lugging it from far away or trying to juggle a toddler. In terms of overall portability, it was the worst of the units we tested.
The bottom line
The point of a stadium seat is to provide superior comfort over the duration of a ballgame: not leave you in pain at the end. If that's the goal, then you'll do your back and butt a favor investing for the long term. Overall, the Picnic Time – Portable Ventura is the best choice for a stadium junkie. It's comfortable and will give you solid, reliable back support over a three-hour duration.
A slightly more expensive stadium seat, the Brawntide – Wide Stadium Seat, is even more comfortable than the Picnic Time, thanks to its triple layer of foam and 22.5-inch width. If you're a big and tall person, you won't feel constricted as you do in narrow seats.
The Cascade Mountain Tech – Folding Stadium Seat is a well-designed quality seat. At only 5.6 pounds, it's one of the lightest seats we tested and the easiest to lug around.
If you're not willing to pay $40+ just to feel comfortable, the Northeast – Therm-A-SEAT is a good option. This dense, closed-cell foam is small enough to fit into an average-sized backpacks or totes and won't break the bank for a cushioned seat on the floor or on bleachers.