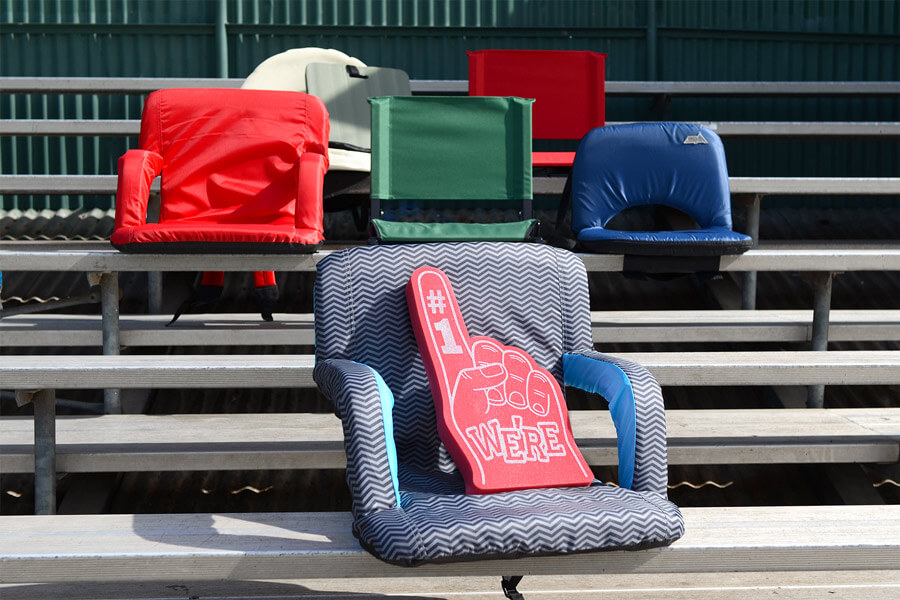 Updated
The Best Stadium Seats
---
After having multiple people spend 45 hours sitting on six seats on top of a plastic bench for game-length durations, we're confident the Picnic Time – Portable Ventura is the best stadium seat on the market. It's comfortable, includes arm rests, has good back support and is easy to lug around. For those who don't want to spend more on their seat than a ticket to the game, the RIO Gear – Adventure is a solid second best choice.
After having multiple people spend 45 hours sitting on six seats on top of a plastic bench for game-length durations, we're confident the Picnic Time – Portable Ventura is the best stadium seat on the market. It's comfortable, includes arm rests, has good back support and is easy to lug around. For those who don't want to spend more on their seat than a ticket to the game, the RIO Gear – Adventure is a solid second best choice.
Table of contents
How we selected finalists to test
We spent a day combing online reviews, comparing models, and considering the use case for these seats. We looked at the bad reviews as well as the good ones in order to evaluate not just what made people happy about the cushion they sat on: but also what made them upset.
In the end, these were the factors that weighed into our choices and decision making:
Comfort
Whether or not they had armrests
Durability
Portability (weight/design)
Price
Size: Would the seat work for most body types and weights?
After considering the options and evaluating hundreds of online reviews, we made our selections, narrowing our choices to a final few seats across price and potential user types.
Compare the best stadium seats
How we tested
To best replicate how people would really use these bleacher seats, we had to replicate a true game-going environment. So we tailgated for hours before each use, BBQed, had six beers, soaked up some sun, and then tested the chairs.
..or not. Unfortunately, we couldn't justify doing that, but we dreamed of doing that, and hope you do similar when using these seats. Instead, we only replicated the seating environment, buying a plastic bench we could use for three hours, the average duration of most sporting events, from the comfort of our office.
We set up the benches and recorded a comfort "score" of 1-10 at the start, and then every subsequent hour thereafter, in order to see how the seats performed from a longevity perspective.
We treated the seats just like a game, taking short breaks to run to the bathroom or stretch our legs, but we made sure to always reserve a three-hour window for sitting in order to best replicate a true game environment.
In order to save our backs, if a bench got an initial score of less than four, we immediately vetoed further testing. (And headed for our massagers instead.) An uncomfortable seat is an uncomfortable seat: it's not suddenly going to get better, only worse.
In addition, we always tested first thing in the morning, spaced out tests over several days, and tested three times each, in order to reduce the bias back fatigue or simply feeling bad one day might create.
The scores were the following:
The Picnic Time – Portable Ventura performed best, with a strong initial comfort score and best maintenance of that score, given great back support and armrests that provide additional comfort throughout.
The Stadium Chair also performed well but had no armrests and slightly more give in the back area that created fatigue over time, putting it in second place.
On the low end of the scale, the Guidesman and Portable Recliner Picnic Seat were each subpar and not worth testing for the full duration. The Portable Recliner felt slightly better than just the bench, but the Guidesman hardly made a difference.
It's the cheapest model, so that's somewhat to be expected, but you want to see some kind of difference in comfort when buying a seat, or why even buy one?
Next, we looked at the portability of the seats. Weight matters, but if the seat gives you a method of carrying the seats that distribute the weight, it's not as big of a burden.
The Picnic Time and Naomi Home seats came with a helpful backpack strap that made lugging them around a breeze, even if you look somewhat ridiculous when doing so. These seats were two of the heavier models we used, so the backpack functionality was a nice-to-have that makes carrying them around feasible for any age or strength level.
The Guidesman, RIO Adventure Blue and Portable Recliner Picnic Seat all came with small straps that connected on two points of the seats, offering something you could either grip with your hand or swing around your shoulder when carrying.
All on the lighter side, these loops do the job but will take up a hand or two if you're thinking about carrying anything else into the game or lugging some things into a tailgate area from a far-away parking spot.
The Stadium Chair seat, while comfortable, was also by far the heaviest seat, and also required you hold onto it by a bar. It's not unmovable by any means but could become a bit of a pain if lugging it from far away or trying to juggle a toddler. In terms of overall portability, it was the worst of the units we tested.
To compare all of the above attributes side by side, we also included the following chart that shows the weight of each unit and how you'll probably carry it.
Best overall: Picnic Time – Portable Ventura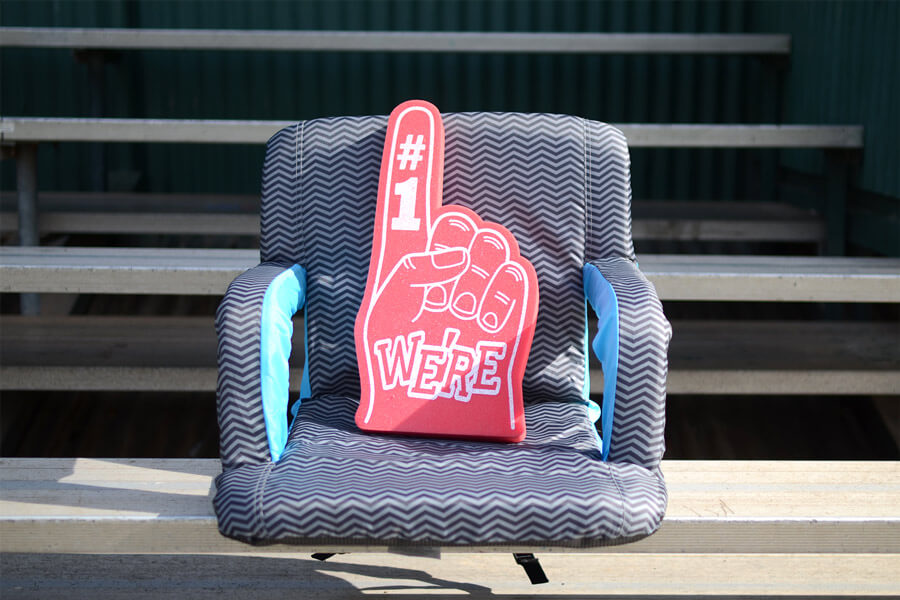 For season ticket holders or frequent users, the Picnic Time – Portable Ventura is the best bleacher seat. It stays comfortable for the longest duration of time, is easy to move around given the backpack functionality, and comes in many different colors, so you can match the design to your favorite team. The above unit is definitely not the only design option, so don't let its ho-hum look bias you against an otherwise great product.
The features the Picnic Time come equipped with definitely come with a price, as it's one of most expensive units we tested. For most games where you won't have a back, you'll be paying more for the chair than the game. But if you're going to use it over several years, you will definitely get value for the price.
One thing to consider about the Picnic Time is its adjustable arms. For a few people in our office, it was a bit snug: the 220-pound reviewer was pretty firm in the chair, and a couple extra hot dogs might make you want to take down the armrests.
Thankfully, you can adjust the armrests to be used or shift down to make for a bigger seat, making the unit flexible for differently sized users. It's a nice feature if you're planning to rotate it around the family.
However, if you're paying this much for the Picnic Time, you probably want to use the armrests. If you're unsure, sit in a chair and measure the width of your legs from end to end when in a comfortable position.
If your leg to leg width measures greater than 17 inches wide, you should know you're not going to get the max value from this unit.
Unfortunately, there isn't another unit that's heads and shoulders better than others for people with larger legs. But not using the arm rests puts this close to the Stadium Seat in overall value.
If you've got wide legs and must have an arm rest, the Naomi Home has a Grande size in the $60 range that's 31.5 inches wide, that can also support more weight. Conservatively, you'll probably get 26.5 inches or so of leg-to-leg when removing the arm width. The Naomi scored slightly worse than the Picnic Time in overall comfort, but was otherwise a solid seat.
Budget pick: RIO Gear – Adventure
If you don't want to spend $45-$60 for a stadium seat, the RIO Gear – Adventure is the suggested next-best choice.
It has worse back support, no armrests and slightly less padding, but overall is a serviceable option for someone who wants a backrest for the occasional game or event. It scored significantly better than the other seats in a similar price range.
It also includes a helpful under-seat strap, pictured below, that makes it the most reliable seat for not falling back on unsteady bleachers.
The RIO was also the only unit which had a "strap-in" feature like this, which is an extra plus for anybody who's especially wild when cheering on their favorite team.
In addition, the RIO comes with two heating packs and includes pockets on the front of the chair for storage, an extra benefit for those who find themselves in colder temperatures. And at only 3.5 pounds, the seat is light and the attached strap makes it easy to carry from your car to the game.
Other finalists we tested
The Stadium Chair has the brand name to match its intent and is a quality chair with good comfort scores, especially at the beginning of the sitting period.
However, it was just below the Picnic Time in overall comfort, equal in price, and also is a bit harder to lug around, making it a second-best choice. It's also the only model tested with a weight limit: if larger than 350 pounds, it's recommended you go with another unit as the spring base may not be able to support you properly.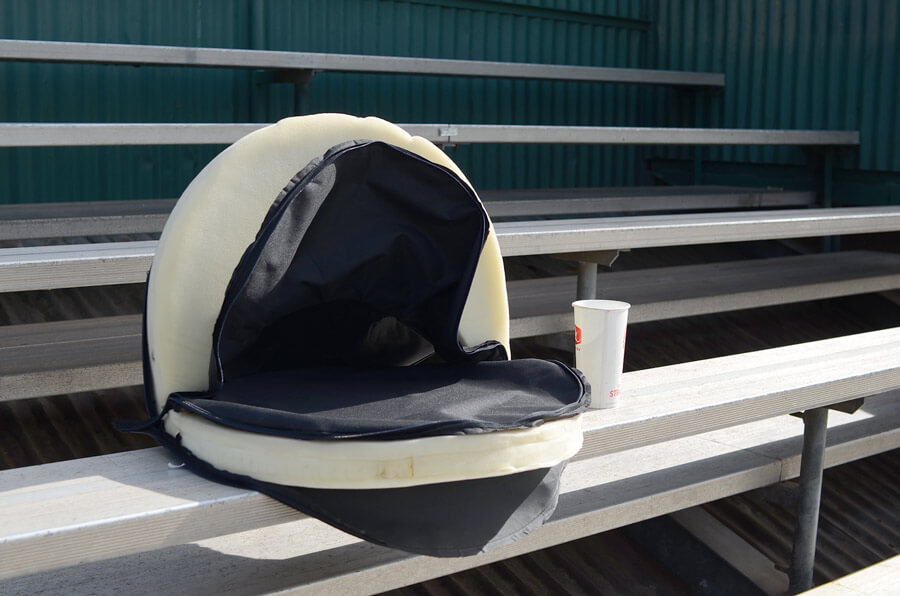 The Trademark Innovations portable didn't survive the first minute of testing, scoring near the bottom in overall comfort. Even worse was that the zipper confused our second tester, who opened the seat and then tried to close it and broke the material on the first try. Overall, that put it pretty low on our totem pole.
The Naomi Home – Venice has a similar build and price as the Picnic Time chair but isn't quite as comfortable. It also has fewer color customization options, making it more difficult to match the chair to your favorite team.
On the positive side, the Naomi was the only chair we tested that had armrests in a large-sized option, so if you've got a wider frame, it's probably the best option for the cost.
The Guidesman stadium seat was the cheapest model we tested but barely performs better than the bench itself. The cushion didn't feel at all more comfortable than our plastic bench, although it did seem like a slight upgrade over the above bleacher we also sat on.
It may make your backside feel a bit better at the end of the three hours, but it's not a purchase we can recommend unless you plan to use the seat one time only.
The bottom line
Overall, the Picnic Time portable is the best choice for a stadium junkie. It's comfortable, easy to lug around, and it's going to give you solid, reliable back support over a three-hour duration.
It's a bit on the pricey side, so if you're not willing to pay $40+ just to feel comfortable, the RIO Adventure is a next-best option. You can buy a cushion for $10, but it won't do much besides providing mental relief.
The point of a stadium seat is to provide superior comfort over the duration of a ballgame: not leave you in pain at the end. If that's the goal, then you'll do your back a favor investing for the long term and going with Picnic Time.