The Best Laptop Backpacks
After our four testers used six backpacks for two months, we've determined that  The North Face – Mainframe is the best laptop backpack for less than $150. With great organization features and a sleek design, the Mainframe is a perfect bag for commuters. If you're looking for something even more budget-friendly, we also loved the compact REI – Ruckpack, and the Targus – Work + Play Fitness pack is a great option if you have a bigger laptop and extra gear to keep track of. If those picks don't have the look you're after, check out the Rip Ruck from Mystery Ranch.
After our four testers used six backpacks for two months, we've determined that  The North Face – Mainframe is the best laptop backpack for less than $150. With great organization features and a sleek design, the Mainframe is a perfect bag for commuters. If you're looking for something even more budget-friendly, we also loved the compact REI – Ruckpack, and the Targus – Work + Play Fitness pack is a great option if you have a bigger laptop and extra gear to keep track of. If those picks don't have the look you're after, check out the Rip Ruck from Mystery Ranch.
Table of contents
How we selected products to test
Backpacks for carrying laptops are everywhere, and there are tens of thousands of designs to pick from. The essential features are pretty obvious: A laptop backpack has to carry your laptop and other daily essentials in a comfortable and secure way, but should also give you easy access when you need your most frequently-used items.
We're gear enthusiasts at Your Best Digs, with a team that's mostly made up of remote contributors. We all have bags we love, and most of us have owned bags we loathed.
After writing down a list of features that we consider absolutely essential, we started our research by collecting data about what influences the preferences of backpack buyers. We polled the gear nerds in the office and the digital nomads on our remote teams about the qualities they consider essential to a perfect laptop bag.
Access to a laptop and the accessories that come with it were (predictably) top of the list, but the other priorities were split. When we broke down our results into groups of people with different budgets, the preferences were more consistent.
It was pretty clear that the more you spend, the more important the aesthetic of a backpack becomes. Those willing to spend big bucks on a backpack also prioritized waterproofing.
Of our survey-takers who didn't want to spend as much money on a backpack, the biggest priority was functionality. Features like sunglasses pockets and bags that don't fall over started filtering to the top in this group.
Our lead researcher for this review has owned a Tom Binh bag for a decade, and he spent some time searching the Tom Binh official forums for opinions about what makes a particular bag best for certain scenarios. (People on the Tom Binh forums like to talk about bags a lot.)
We considered all the recommendations from websites that actually tested for specific qualities, like Outdoor Gear Lab, as well as sites that focused on summarizing the strengths of different bags, like PackHacker, TheBrokeBackpacker and Wirecutter.
We took the priorities from our research and started searching retailers for high-quality backpacks with essential features and good design. We also checked out budget-friendly bags with high review counts and good overall scores from people who had purchased them.
We scoured subreddits like r/bifl, r/onebag and r/digitalnomad for recommendations from people who aren't paid to review bags, and we also spent a long time watching YouTube reviews, mostly from the travel-focused "one bag" minimalism crowd.
We also spent some time away from computer screens and looked at bags in person at local retailers like REI and Best Buy. We're happy we did, because we would have missed all our top picks if we had only looked at Amazon.
After we put together a list of 30 top-rated backpacks that fit our criteria, we had to cull the herd to a short list that really hit our core priorities. We found six bags with all the essential features plus some key perks that made them stand out.
We decided to test bags that were mostly in the $50–$100 price range. We did test one $130 bag, however, to see if our testers noticed the difference high-end materials can make.
We skipped the really cheap bags we researched after reading too many accounts of bad zippers, bad stitching and uncomfortable straps. If you just want something cheap that will carry a laptop, you can use nearly any backpack and even get decent protection with a padded sleeve.
What about premium bags?
We like a lot of bags in the $200-and-up price range that we didn't test. From the nine premium bags we researched in-depth, the Incase – Icon, the Black Ember – Citadel, the Tom Binh – Synapse and the GoRuck – GR1 came the closest to making the grade.
When we talked to our friends and coworkers about expensive bags, they all had very different ideas about what they wanted. Some people want a leather briefcase that will make a good impression at business meetings, while others want a pack with adjustable suspension for comfortable all-day trail use.
We decided not to try picking just one or two of these "ultimate upgrade" bags to test, but we hope that the testing we did with less expensive bags can help you find out about the features that make a great bag.
Compare the best laptop backpacks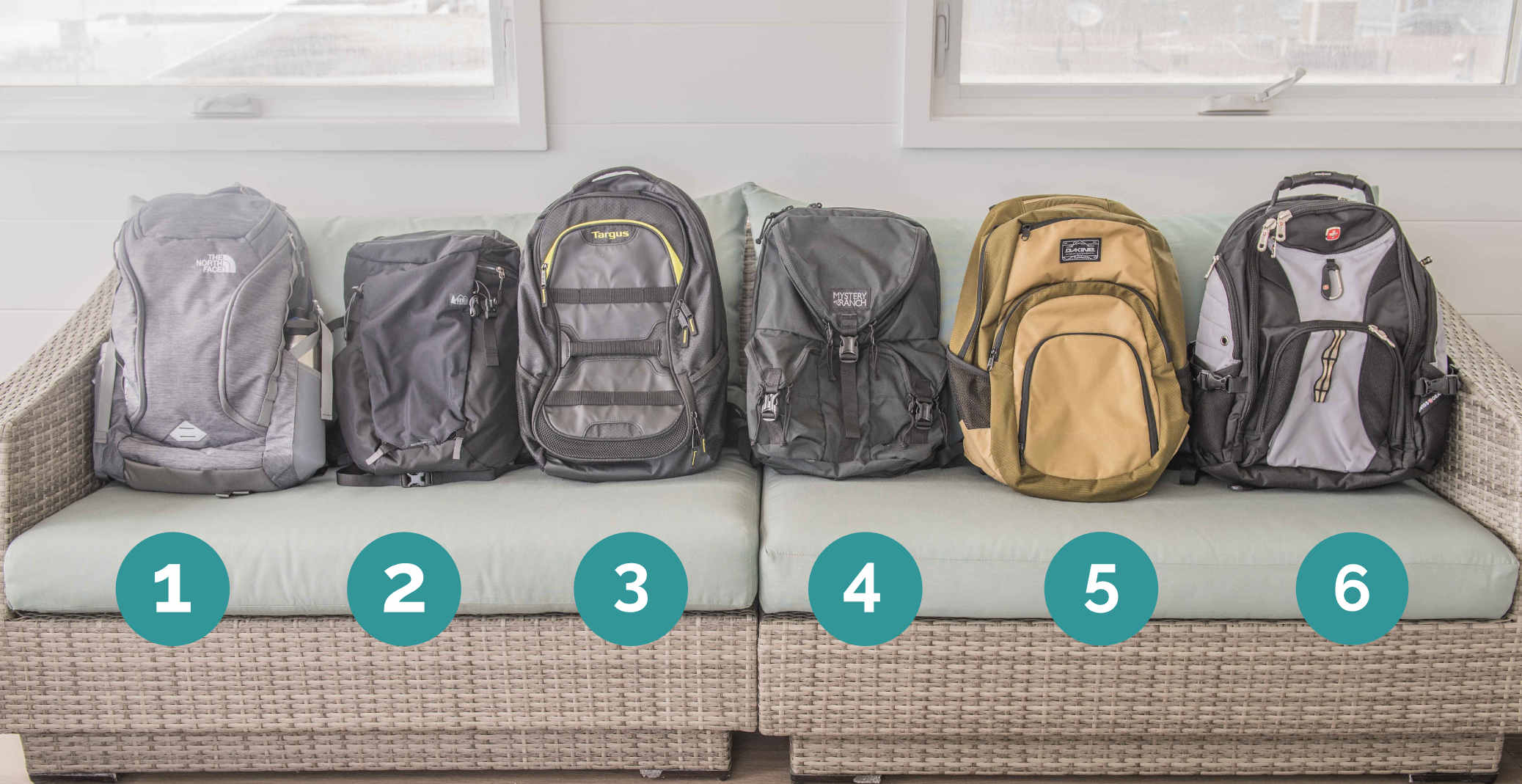 Important features to consider
Internal capacity: Typically listed in liters, this is a measurement of how much space a pack has to hold bulky items. A 20-liter backpack is just big enough for a laptop and a few books, 25 liters gives you room to stash a sweater, and a 35-liter bag can usually replace a carry-on suitcase for weekend trips.
Fall protection: There are three ways a good backpack can keep your computer safe from falls. First, the laptop pouch can be sewn so that its bottom is higher than the bottom of the bag. Second, the pocket can include foam padding to absorb shock and pressure. Finally, a pouch that holds your laptop tightly means there's less room for it to knock around inside when your bag is bumped.
Fabric weight: Fabrics are graded by weight in "deniers," and 1000-denier nylon yarn is the extra-rugged stuff woven into the canvas-like materials used for suitcases and outdoor gear. The 500-denier yarn most bag manufacturers use is still resistant to abrasion and rips, but it's significantly lighter and more supple. As saving weight becomes even more important, manufacturers are more likely to use thin 200-denier fabric in a "ripstop" weave that won't fall apart if you get a hole.
Fabric type:
Nylon is the gold standard for a tough, light-weight polymer that resists wear, heat and stains. The main downside to nylon is that it absorbs water, which makes it more difficult to dye and can lead to soggy-feeling fabric if you're caught in the rain.
Polyester is sometimes substituted to allow colors or textures that aren't possible with nylon. It's not as tough as nylon, but it's very slightly more heat resistant and the fabric itself won't get soggy.
Dyneema, Spectra and Kevlar are extra-tough filaments (like fishing line) that are sometimes woven into the ripstop pattern of lightweight nylon to make it stronger.
Waterproof treatments: Most fabric used in bags is given at least a quick spray with a durable water repellent ("DWR") treatment. This coating will keep water in droplets and help it roll off your bag instead of soaking in. If your bag is sitting in the water or puddles form on the top of the bag, you need a fabric with a heavier waterproof backing and sealed seams to keep your gear dry.
Specialized pockets: We looked specifically for bags that had some way to carry a water bottle or travel mug in an easy-to-reach place while you're wearing it. Glasses don't demand as much specific space, but a convenient pocket that will protect them from scratches is a nice bonus.
TSA checkpoint-friendly features: Since 2008, the Transportation Safety Agency has had a specific set of rules that allows you to keep your laptop inside some kinds of bags while clearing security checkpoints. Bags that meet these guidelines have a fold-out laptop sleeve or pouch that gives an unobstructed view of the laptop to the X-ray machine. The advantage is that you don't need to pull your laptop out and put it in a bin, but sometimes these bags are actually less convenient for everyday laptop use.
Anti-theft features: The most common and functional security feature we saw is a set of rings on some bags' zippers that lets you lock them together with a small padlock. Other features like embedded cut-proof steel mesh tend to add a lot of bulk and weight, so we discounted bags that included them.
Sternum and waist straps: Even the best shoulder straps can only do so much for keeping a heavy load balanced and in place. A connecting strap across your chest or an extra strap around your waist will keep a backpack from slipping, shifting and flopping, which is especially important if you're on a bike or running to catch a bus.
Ventilated back panels: All of the backpacks we tested feature some kind of sweat-wicking material or ventilation-friendly sculpting to keep your back cool and comfortable on long, hot days.
How we tested
We gave our six top bags to four testers, each with their own personal taste and set of needs. Two of our digital nomads are remote-working editors for Your Best Digs, and they rely on an Ogio backpack and a Tom Binh messenger bag, respectively.
One tester is a regional account manager who carries his laptop in a Timbuk2 backpack to different cities every week, and he gave us some perspective on the suitability of bags for air travel and on-the-road organization.
Our last tester is a biomechanical engineering PhD candidate who carries her laptop all over the University of California Irvine campus every day. She normally uses a North Face – Recon backpack, and she's an avid hiker, so she provided some insight into the way laptop-focused bags compare to trail gear.
Our testers took these bags on planes, trains and motorcycles. We carried laptops ranging from 12-inch ultralights to full-size 15-inch models. We loaded each bag with our everyday complement of things like chargers, headphones, books, water bottles and lunches.
Fit for different laptop sizes
| Backpack | Fit 17" MacBook Pro | Laptop Pocket Width (inches) | Laptop Pocket Thickness (inches) | Padded | Elastic for Security |
| --- | --- | --- | --- | --- | --- |
| The North Face - Mainframe | Barely | 12 | 0 | Yes | Yes |
| REI - Ruckpack | No | 9.75 | 1.25 | Bottom only | No |
| Targus - Work + Play Fitness | Yes | 11 | 1 | Yes | No |
| Mystery Ranch - Rip Ruck | No | 10.5 | 1 | Bottom only | Yes |
| Dakine - Campus | Yes | 12 | 1 | Yes | No |
| SwissGear - 1900 | Yes | 11.5 | 1.5 | Yes | No |
While the average laptop is thinner and lighter than anything we could imagine a few decades ago, those of us with big desktop-replacement machines need their bags to be just as supportive and protective as ever.
It's not as simple as saying that a bigger backpack will be better for more people, though. Our testers with slim or compact laptops felt much happier when using bags that kept their computers from flopping around.
The Swissgear – 1900 has, technically speaking, the biggest laptop pocket. That pocket is really a full-size section of the backpack, though, and it only has a velcro strap to keep a laptop from flopping around. If you keep your laptop in a neoprene sleeve and value the checkpoint-friendly design that might be totally fine, but most of us worried about how much our machines clunked around in the Swissgear bag.
The REI – Ruckpack had the opposite problem: While this slim and utilitarian bag will technically hold a 15-inch MacBook Pro, such a wide laptop will push out on the Ruckpack's side pockets and make the bag much less usable than it should be.
Comfort and stability
After carrying laptops, lunches and other day-to-day loads for four weeks, our lead tester tried wearing each pack with 20 lbs of weight inside for ten minutes at a time while working at his desk and walking around the block. By the time he circled back to his first pack for a second try, it was clear which designs were actually comfortable under a bigger load.
The trail-born pedigree of The North Face – Mainframe and Mystery Ranch – Rip Ruck made them easy choices for comfort. The surprise was the Targus – Work + Play pack, which was still surprisingly comfortable with a full load.
Waterproofing
Our team is fortunate enough to live in a climate without much unexpected rain, so none of our testers had to use these bags in a real downpour.
But we did test for waterproofing anyhow. We put a paper towel into each of the pockets and compartments of the six bags and then thoroughly drenched them with the soaker head from our garden hose nozzle review. Next, we blew the remaining water off the bags with a leaf blower to simulate the worst conditions for waterproofing, like cycling in the rain.
All of the bags have some kind of water repellent coating to help shed water. If you just get caught in a quick downpour while you're walking to your car, you probably won't have to worry about any of these bags letting water in.
Under a sustained downpour, though, most bags will let you down. Only The North Face – Mainframe was able to keep any water from seeping in, undoubtedly because it features a flap that covers the main zipper and backing trim behind the other zips.
The Mystery Ranch – Rip Ruck is a close second in this category, with its beefy water-resistant YKK Aquaguard zipper that has a polyurethane coating to minimize leaks. We still saw some drips seep through under the full blast of our test downpour, but the fabric on the Rip Ruck absorbed less water overall and dried out more quickly than the Mainframe.
Top pick: The North Face – Mainframe
Our testers all preferred the look, feel and features of The North Face – Mainframe mid-size laptop backpack. With 24 liters of storage capacity but only one main compartment, this bag strikes a great compromise between carrying enough gear and keeping a sleek, minimalist profile.
The North Face is a top manufacturer of sporting goods, with a devoted following among those who use their gear on the trail and those who just want to look like they do. The Mainframe is based on many of the best features of the big 30-liter Surge travel pack, cut down to the size of smaller daypacks like the Recon and Jester. The Mainframe has only one main compartment and a clean, no-nonsense set of accessory pockets.
Materials and style
Despite being a bag designed for sale at Best Buy exclusively, The North Face didn't cut any corners with the build quality. The Mainframe uses heavy YKK coil zips with cast metal pulls all over. The fabric used is mostly 210-denier ripstop Cordura nylon, with a heavier Oxford-weave polyester-nylon bottom panel to help with long-term wear.
This was easily the most-loved style among our testers, too. The outside zips, loops and straps are just enough to indicate a serious piece of gear without making you look like you got lost on your way to a campsite. Best Buy only buys this in gray, but the fabric has a nice texture and pattern that goes with basically everything.
The waterproofing on the Mainframe, as mentioned above, is excellent. Water won't get in through the flap-covered zippers, even after a thorough soak and a blast of wind. It's not a dry bag, though: The Nylon fabric will soak up water if you leave it sitting in the bottom of a kayak. If you do get caught in a downpour, make sure to empty the bag, and let the fabric dry out.
Not as good for 17-inch laptops
While the Mainframe is technically just big enough to hold the old 17-inch 2011 MacBook Pro (which is 10.51 inches wide and just under an inch thick), it's not going to help you with a massive gaming laptop. For example, the new 17-inch chassis from Clevo (customized and re-packaged by specialty brands like Sager and Falcon Northwest) fills up 11.6 inches in pocket width and more than 1.6 inches in thickness.
The Mainframe doesn't make any allowance for thickness in the cut of the pouch; the pocket panel is cut about a half-inch wider than the back panel of the pack so it puffs out, and the stiff padding materials will bend around a laptop to allow a thicker laptop to fit. Even an old 14″ Thinkpad is a tight fit when you slide it in.
That's a good thing on the whole; modern laptops tend to err on the side of slimness. When we were carrying a Surface and a MacBook Air, they practically disappeared in the bigger laptop pockets and moved around a lot when we walked with them, but the Mainframe keeps slim laptops snug.
In addition to the main laptop compartment, the Mainframe also has a padded tablet pocket, at 8 by 11 inches it'll hold a mid-size tablet like the 10.5-inch iPad Pro or Surface Go.
Useful organization for essentials
The big, vertical zippered pockets on the Mainframe are a great compromise between a second full-size compartment and a smaller set of handy outside pockets. These pockets are just right for easy access with the bag slung over one shoulder and pulled in front of your chest.
A fleece-lined glasses pocket is great for fragile and scratch-prone items, but it's big enough to nestle a full-size pair of folding headphones.
For hydration on the go, the side water-bottle pockets are also basically perfect. They're stretchy elastic mesh, so they don't look baggy when empty, and they can secure anything from a compact 12-ounce water bottle to a 32-ounce insulated monster like our beloved Klean Kanteen. The side compression straps also make these bottle pockets great for lugging a compact tripod.
One thing this bag doesn't do well is keep your lunch separated from your books. With only the one main compartment and a slim profile, stuff gets squished together when you start walking with this pack on.
Of all the bags we tested, the Mainframe was the model everyone loved most. It's a great backpack for small to mid-size laptops up to 15 inches, and organization features are ideal for keeping accessories handy during a day at work or the library. It can't carry enough clothes for a weekend trip, but for bombing around town it won't slow you down.
Key takeaways:
The North Face – Mainframe is a stylish and sleek but fully capable backpack.
Great materials make this bag durable and waterproof.
Organization pockets keep the essentials handy, but with only one main compartment, it's not much of a travel bag.
Given the style and compared to the other offerings from this brand, the price is right.
If you want to carry a massive gaming laptop or more than a couple of textbooks, look elsewhere.
For small laptops: REI – Ruckpack 18

If the Mainframe is still too big for your minimalist setup, the 18-liter Ruckpack from REI impressed all of our testers with its thoughtful design that gets the maximum possible utility out of a tiny bag.
Let's get the drawbacks out of the way: The Ruckpack is not very waterproof, and the thin ripstop nylon doesn't inspire as much confidence as the heavier fabric on other bags. The zippers on the Ruckpack are also the smallest in this lineup of packs.
If you fill up the laptop pouch completely with a 15-inch laptop (or even a clunky older 14-inch) you'll lose most of the functionality of the side organizer pocket and the water bottle pocket. This bag really only shines if you're carrying a laptop that's 13 inches or smaller.
REI sells a 28-liter version of this back that's an inch wider and should be better for carrying a full-size laptop, but it's not any less expensive than the higher-quality North Face bag.
The real selling point of the Ruckpack is the organization features. One zippered side pocket can hold pens, a wireless mouse, every day carry tools and pocket-sized notebooks. There's even a dedicated glasses pocket tucked inside. Access to essentials couldn't get much better than this.
This is a top-loading bag, and it's small. If you only need to carry a small laptop and stuff a sweater and a paperback in the main compartment, the design is fantastic. Even loading up headphones, spare chargers and notepads, we were impressed at how well it carries.
If you want to get your laptop in and out of a backpack as quickly as possible, the zip-around shape of this top flap isn't ideal. You basically need two hands to open and close this backpack easily.
The shoulder straps on the Ruckpack are fully featured, with an adjustable-height sternum strap and a waist belt you can tuck away or remove altogether. The padding on these straps is good for the amount of gear you could reasonably pack inside.
If you find yourself carrying jugs of water or bags of flour, you'll definitely want to use the extra straps to take as much weight off your shoulders as you can.
For a slim and budget-priced bag, we were impressed to find a full-size water-bottle pocket that's not just floppy netting. The cinch strap does a good job of adjusting for different bottles, and the cinch strap can make this side pouch a good spot for long and bulky items as well. There are even elastic loops and hidden ladder straps if you want to attach pouches or trekking poles.
The only problems we had with the Ruckpack are excused because of the compact size or the price constraints. For a budget-priced bag carrying a compact laptop, the design sensibility on offer here is top-tier.
Key takeaways:
The REI – Ruckpack is a compact and budget-friendly bag that doesn't skimp on smart features.
Side-zip top flaps like this need two hands to open and close.
REI won top marks for their convenient outside organizer pocket.
Waterproofing on this bag was below average.
Sternum and waist straps help keep loads stable, though this bag won't hold enough to make them essential.
For 17-inch laptops: Targus
The Targus – Work + Play Fitness is our pick for the best 17-inch laptop backpack. With ample space for a large laptop, but not so many random pockets that you'll lose your wallet and keys, this is a big bag that's also smart.
Our testers didn't rate this bag highest for any one factor, but when we went back and compared bags for how they looked and how well they helped us carry stuff, a few of us gave Targus major bonus points.
This Targus laptop bag carries well. It's a bag that feels smaller than it really is, and that's almost always a sign of great bag design. The straps are comfortable, and there's a sternum strap to keep it from slipping off your shoulders on a long trek or bike ride.
The perfect application for this bag is for anyone who hits the gym mid-day or on the way to work. For those people, the shoe compartment, laundry bag and toiletry organizer are excellent features that set this bag apart.
Note that the shoe compartment at the bottom of this bag is vented, which makes it better for the stated application but hurts the water resistance of the bag.
There is a small coat-hanger style hook that peeks out of the top of this backpack and attaches to a strap that runs all the way down to the bottom seam. For accessing toiletries and the laundry bag in a locker room, that's a really great feature. In some offices, it might also work, but we can't see it being useful in a coffee shop.
One downside to a full-zip main compartment design like this is that you might accidentally open the bag farther than you intend. If you just want to get your laptop out and wind up dropping books on the floor, that's annoying.
It's not clear if this laptop pocket qualifies as TSA-checkpoint friendly. If you have anything in the laundry bag ,and you don't separate the velcro-attached shaving kit, it certainly wouldn't be. But with the right load-out and an understanding TSA crew, you might be able to keep your laptop in the pouch going through security.
Even if you don't use all of the features as they were designed, the pouches and pockets are great for keeping your giant laptop and accessories in order.
Compared to the Swissgear and other full-size backpacks we tested or researched Targus hit a good balance of size and function. Some large bags have too many pockets and pouches, and that makes it hard to remember where you stashed seldom-used accessories.
This isn't a giant backpack that will replace your suitcase, but it is a great bag to carry large laptops and bulky items in a sensible way. Many people could probably get away with using this as a weekend carry-on.
Carrying big laptops
If you've got a giant laptop, there are two ways to carry it in a backpack. You can find a bag like the Targus with a built-in sleeve or pouch that will cradle your big-boned device and keep it from moving around, or you can forget about trying to find the perfect bag and just throw it in a full-size compartment.
Targus made this bag with a pouch that's 11-inches wide and an inch thick when empty, which makes it big enough to hold most modern 17-inch desktop replacements. It's far more secure than the giant flip-out compartment SwissGear uses, though some bigger laptops won't fit.
The pocket features a flap that completely encloses the laptop, which mostly gets in the way when you want to quickly insert or remove your machine. Most bags just use a simple strap for this kind of extra security. Fortunately, you can tuck the flap inside the pocket and mostly forget it's there.
If you're carrying a tablet with your giant laptop, there's also a padded tablet pocket in the second compartment.
Materials
The quality of materials on the Targus bag is less impressive overall than on the Swissgear or Dakine packs, but comparable to the REI. The mesh padding on the back is ample, but a few of our testers raised concerns about how it will hold up over time.
Despite the lack of recognizable zipper brand names or over-sized coils, the zippers on this bag were actually some of the smoothest-zipping we found. Dakine gets points for using YKK zippers on a backpack that costs less than $60, but Targus seems to have found a supplier that gives even better bang for the buck.
Key takeaways:
If you have a 17-inch laptop, the Targus – Work + Play Fitness gives you carrying capacity without forcing you into a giant bag.
Open-flat design is great for travel or even the locker room, not ideal at a coffee shop.
The organizer pockets in this bag are aimed at gym use, but they work for organizing other accessories too.
If you change shoes at the office, definitely check out this bag.
Targus bags are easy to find, but are priced fairly high.
For adventure: Mystery Ranch
If you're tired of stretched-out water bottle pockets and broken zippers, and if you take one look at the latest trendy fake rucksacks and shake your head, Mystery Ranch offers the Rip Ruck.
For laptops up to 15 inches, this backpack includes a great carry pouch with elastic bands at the side to keep the fit snug. It'll take thicker models than the Mainframe, since the main restriction here is the width of the pack rather than the size of the pouch. There's a tablet pouch integrated into the laptop pouch, and there are also document sorters in the laptop compartment which are great for large books, notepads and magazines.
The laptop compartment in this backpack is nearly perfect. It's the rest of the bag that was polarizing.
Materials and comfort
This is a bag made from 500-denier Cordura nylon, which is an industry standard for rugged durability. It's coated on the inside for good water resistance, and this worked very well to keep this bag from feeling soggy after a good dousing.
Mystery Ranch has built their brand around beefy YKK Aquaguard coil zips in surprisingly versatile configurations, and these are very good at keeping out water without relying on flaps. This is the fastest bag to get gear in and out of, and it only let in droplets of water in our simulated downpour.
Padding on the shoulder straps of the Mystery Ranch makes the bag cushy above all else. The thick padding has enough contouring and a functional adjustable-height sternum strap. There is no waist belt.
The fit and stability of this pack when it's weighed down mostly feels like a half-baked version of the fully-adjustable suspension system that Mystery Ranch uses on bigger bags. That said, if competition for this bag is supposed to be the Kanken or other classic leather-and-canvas rucksack designs with skinny or un-padded straps, the Rip Ruck is pure joy.
One of our testers was quick to note that he was very disappointed that the so-called "black" Cordura nylon was an inky-green and didn't match the black straps and zippers. The other styles available make that contrast look less accidental, but this is not a bag for people who are picky about aesthetics.
Too many zippers
Mystery Ranch is probably best known for the three-zip design they use on hiking and hunting backpacks, and the Rip Ruck gives you a sample of that utility. The zip on the biggest compartment opens and closes on each side independently, but not up and down for duffel-style packing like other Mystery Ranch bags.
We love the design philosophy of Mystery Ranch, and we love the convenience of opening the one part of a pack you need access to. Most Mystery Ranch bags don't offer a quick and easy way to get a laptop out of the suspended pouch, though.
The Rip Ruck is one of the company's few designs to separate the main compartment from the laptop pouch (which can also hold a hydration bladder). They've also included two outside pockets, which are a good size for water bottles or other accessories.
The let-down of the Rip Ruck is in all its fasteners. The comment we heard most from testers was "too many zippers." We think it's important for a laptop bag to have easily accessible pockets so you don't need to dump out your backpack just to find a charging cable or wireless mouse, but the dual-zip-plus-buckle design makes these pockets almost less convenient than an inside pouch.
The dual zippers on the outside pouch pockets help keep a water bottle or travel mug more secure than we expected, but a side-mount elastic water bottle pouch would have been far better.
Who is this bag for?
If you need a bag for hiking, Mystery Ranch has some full-suspension designs like the Scree that help you keep your load stable and comfortable while still allowing quick and easy access with the three-way zip. The Rip Ruck is close to that kind of utility, but the straps aren't part of an adjustable suspension system. The Urban Assault is a much better daypack for hiking, but there's an extra zipper and a giant flap between you and easy access to your laptop.
If you want a quality, rugged daypack that also has a laptop pocket, this isn't even the best of both worlds. It's a compromise, and it leans heavily on using buckles for fashion's sake to justify itself. There's nothing you can't do with this backpack compared to the others we tested, but we expected better organization features.
So, if you want a bag like a classic alpine rucksacks with updated materials, comfy shoulder straps and room for a thick 15-inch laptop, this is a pretty great backpack. The Rip Ruck is much easier to use than one with a traditional design and leather cinch-straps.
The rest of the materials and construction quality make this a good value if you like the look and attitude. This is one of those buy-it-for-life bags that you can use for decades without seeing any obvious signs of wear.
Key takeaways:
The Mystery Ranch – RIp Ruck is a laptop-friendly entry in a lineup of smart, rugged backpacks.
The styling of this bag leans heavily on extra buckles, like a classic canvas rucksack.
Cordura nylon and YKK Aquaguard zips are just a few indicators of build quality.
Not many organization features are included, but the few that are work very well.
The other finalists we tested
Dakine – Campus
Dakine is a company with established credibility in the surf-and-skate scene, and the Dakine – Campus 33 liter is their entry-level backpack. As the name implies, this is a student-targeted bag, but it has some features that could make it a good value for anyone toting around a laptop.
Dakine uses good materials in this bag, and it's offered in a wide array of patterns. For build quality, Dakine uses the good stuff, like real YKK-branded coil zips. They're not the smoothest zippers we tested, so the low price is a reflection of cheaper materials.
Waterproofing on this bag is almost non-existent. Your stuff won't get soaked in a brief shower, but this bag let in the most water of all we tested.
Note that Dakine makes the Campus line in a variety of fabrics, so if you love the style but want more waterproofing you can get this bag in the "squall" color with waterproof Cordura fabric. The big zips are still going to be the primary source of leaks, though.
The waxed nylon bottom panel used for the "tamarindo" colorway we tested is a nice touch, with just the right amount of creasing and patina from daily use.
When it comes right down to it, this is a basic backpack with a giant laptop pouch. It's definitely the least comfortable backpack if you intend to fill the big main compartment with books or anything else heavy.
If simple and low-cost are what you want, browse the colorways on offer and see if there's a style you like. Our testers were most dissatisfied with the minimal laptop support provided by the gigantic pouch. It's suspended and padded, but smaller laptops just flop around. The most interesting thing about the bag is probably the smallest outside pocket, which is insulated for carrying a small lunch.
SwissGear – Scansmart 1900
SwissGear laptop backpacks are some of the best-selling laptop and school bags of all time, and the SwissGear – ScanSmart 1900 is one of the most reviewed laptop bags on Amazon. It's a giant backpack with some travel-oriented features that might make it good carry-on luggage.
The association between SwissGear and Swiss Army knives is hard-earned, and the brand represents affordable utilitarian bags. The 1900 is really missing a clear purpose behind its design features, though; like a pocket knife with a corkscrew, we're not really sure what this is best used for.
The biggest failing of the SwissGear is the laptop compartment. It's TSA-approved checkpoint friendly, which means you can unzip the laptop compartment from the rest of the bag and fold it onto the x-ray machine belt without waiting for someone to restock the trays you would need to put your laptop into otherwise.
The Scansmart feature works, but after using these features a few times, our testers agree that it's almost quicker to pull the laptop out of a well-designed bag.
The real drawback of Scansmart is that your laptop is mostly bumping around in its giant pouch with only foam padding around the edges to protect it. If your laptop is smaller than a 13-inch model, you'd probably wind up putting it in an inside compartment.
The SwissGear laptop bag does have a lot of pockets, though. If you're diligent about always putting your stuff in the same place so you don't lose it, this is a bag that can organize your laptop-toting life.
For the rest of us, the sheer number of pockets is just a liability: This bag will help you lose your keys, your wallet, your passport and your boarding pass on the same layover.
The bottom line
After surveying our friends and coworkers, we came to the conclusion that a laptop backpack doesn't have to be overly complicated, but it should help keep your laptop secure and your accessories organized.
In testing, the bag that accomplished that task best for laptops up to 15 inches was The North Face – Mainframe. This bag strikes a balance between elegant and nerdy and offers just enough room to keep track of the stuff most of us need. It's not a cheap laptop backpack, but The North Face uses top-grade materials for durability, waterproofing and comfort.
If you only want a slim and affordable bag to carry a small laptop, REI's house-brand Ruckpack gets you some of the same great functionality for about 35-percent less money.
If you need to carry a 17-inch behemoth, the Targus – Work + Play Fitness backpack impressed our testers with sensible organization features that help you carry things most backpacks are just not good at carrying, like shoes.