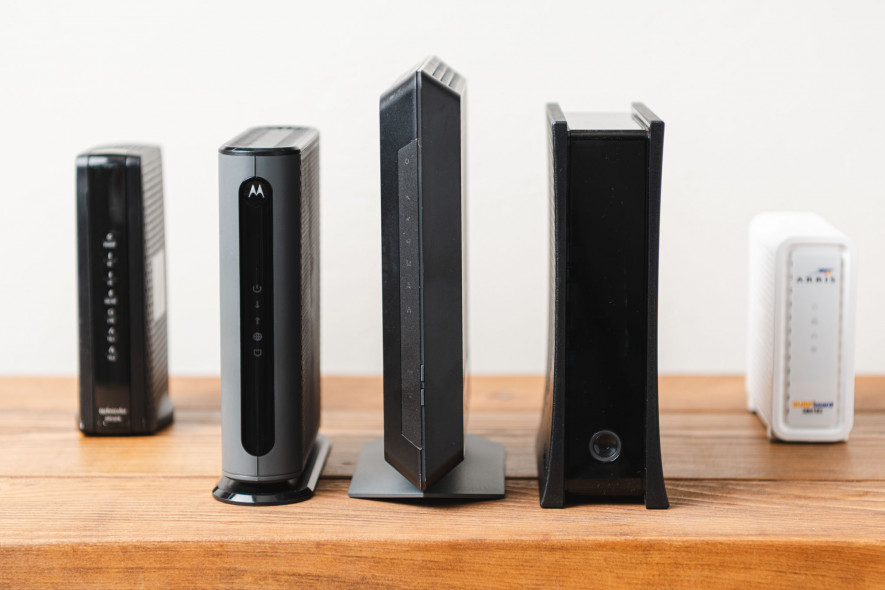 The Best Modems for Spectrum
Our resident networking guru spent three weeks researching chipset versions, known bugs and security vulnerabilities, and trying to get a straight answer from Spectrum's regional communications team about their policy toward customer-owned modems. We tested the new DOCSIS 3.1 modem they provided to us, the Technicolor – E31T2V1, and it's a great modem running a reliable chipset that does exactly what it's supposed to do. But if you get one of the Intel-based modems instead and you notice problems with latency and jitter, we think the Netgear – C7000 modem-router combo or the modem-only Motorola – MB8600 are the two best offerings on the list of modems that Spectrum approves.
Our resident networking guru spent three weeks researching chipset versions, known bugs and security vulnerabilities, and trying to get a straight answer from Spectrum's regional communications team about their policy toward customer-owned modems. We tested the new DOCSIS 3.1 modem they provided to us, the Technicolor – E31T2V1, and it's a great modem running a reliable chipset that does exactly what it's supposed to do. But if you get one of the Intel-based modems instead and you notice problems with latency and jitter, we think the Netgear – C7000 modem-router combo or the modem-only Motorola – MB8600 are the two best offerings on the list of modems that Spectrum approves.
Table of contents
Compare the best modems for Spectrum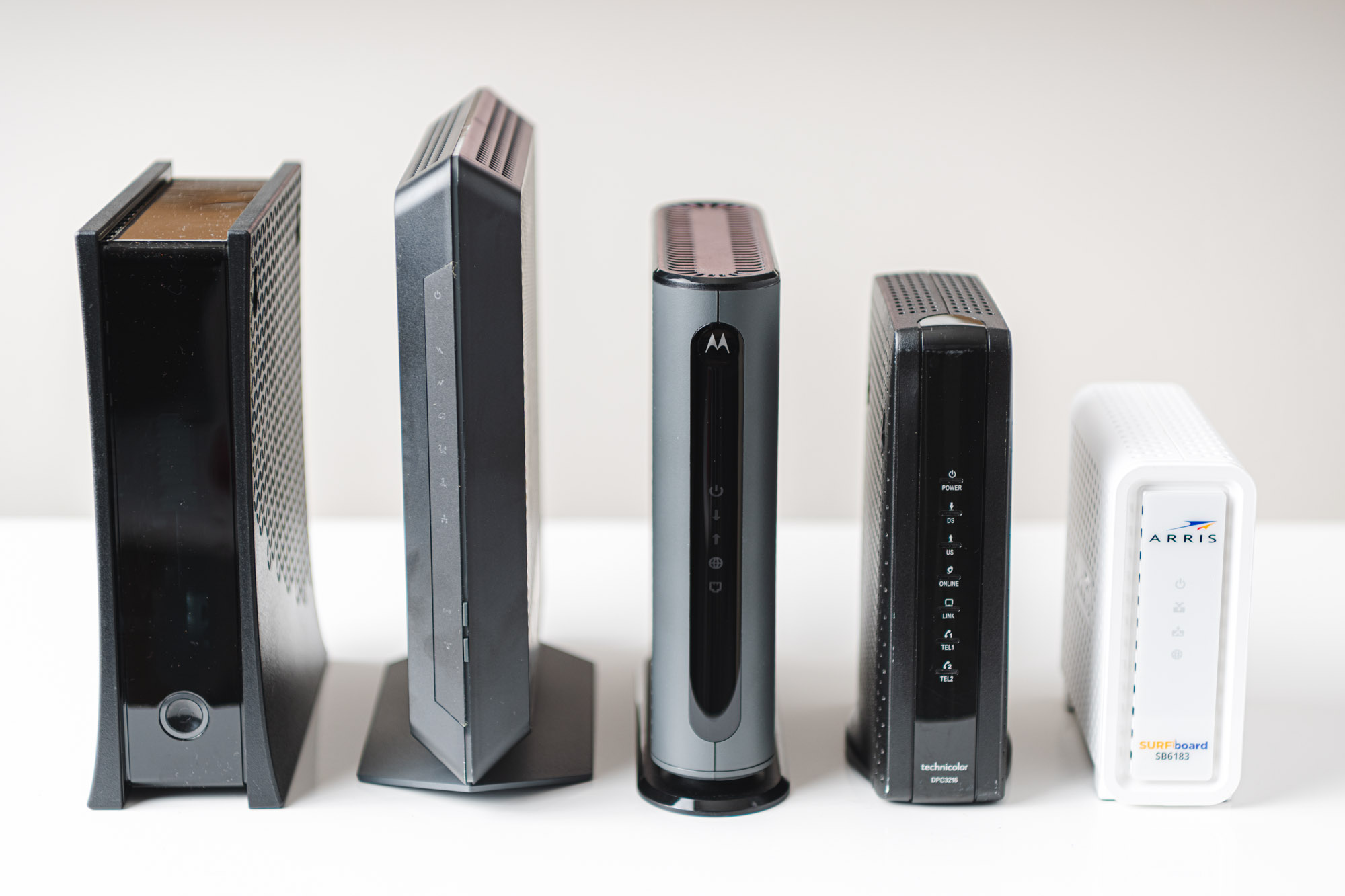 1. Spectrum's Technicolor – E31T2VI
The Technicolor – E31T2V1 is one of the modems Spectrum provides to new subscribers getting Ultra (400 mbps) speeds or faster. This and the related modems provided by Spectrum are currently the only hardware that's certified to work for the fastest "Gig" speed tier, up to 940 mbps. This modem supports the new DOCSIS 3.1 protocol on 32 channels, so it will be able to work at even faster speeds if Spectrum chooses to beef up their network infrastructure.
Spectrum buys modems from at least three suppliers: The Technicolor – E31T2V1 and Ubee – E31U2V1 both use the Broadcom 3390 chipset, while the E31N2V1 model from Hitron uses the dreaded Intel PUMA 7 chipset. Intel's modem chipset line has been plagued with issues ranging from packet loss to security vulnerabilities. Our tester was provided with the Technicolor as standard equipment when he upgraded his internet speed.
If you're trying to keep on top of security concerns, the Technicolor – E31T2V1 has a slight edge over the Ubee – E31U2V1 since someone along the development chain decided to disable access to the spectrum analyzer. Some networking nerds still like to be able to see signal strength analysis, so they preferred the Ubee when these modems first rolled out. After the team at Lyrebirds discovered that you can execute commands on the modem using this tool, it seems prudent to pick a modem that's had it blocked.
We weren't able to acquire all of the Spectrum modems for comparison ourselves, and that's the tricky part. Your local Spectrum warehouse may only have the Hitron modems. If that's the case, you can live with the downsides of PUMA chipset latency, or you can buy one of the other modems below. If you use a non-Spectrum modem, you'll either have to settle for the 400 mbps speed tier (which is still more than fast enough for most users) or beg the technician on the other end of your service call to please provision the full 940 mbps speeds on a not-technically-approved-but-fully-capable DOCSIS 3.1 modem like the Motorola – MB8600.
Spectrum's own modem is also your best choice if you are subscribing to telephone service; there are other modems with phone jacks, but none that work at the high-speed tiers.
Key takeaways:
The modem Spectrum provides for their high-speed service is one of the few that's approved for maximum speeds.
Spectrum is managing your modem no matter what, and they provide this modem for no extra charge.
If you're having difficulty with your connection, using Spectrum's hardware helps ensure technicians don't blame a non-standard modem for problems.
This modem comes with support for running Spectrum's telephone service.
The only downside to this modem is that it doesn't have a built-in Wi-Fi access point or router, so most homes will need an extra box.
2. Best router combo: Netgear – C7000
If you really want one box to handle all of your home internet needs, the Netgear – Nighthawk C7000 has your bases covered for Basic and Ultra speed tiers on the Spectrum cable system. With AC1900 Wi-Fi compatibility and Netgear's extra routing features to help keep your wireless devices connected, this is the best modem router combo for Spectrum.
With four gigabit ethernet ports and a USB port for sharing files or a printer, the Nighthawk is a fully-featured hub that will sit at the heart of your network. Netgear's control panels give you extra features like guest networks and port routing that you might not get from the Wi-Fi router that Spectrum wants to rent you for $5 per month.
We're happy to say that the C7000 we tested is not vulnerable to the Cable Haunt exploit, as many Netgear modems on Spectrum's networks are reported to be.
What's missing
There are plenty of other Wi-Fi routers you could plug into a free cable modem that will cover the C7000's features and more. The newest Wi-Fi hardware can deliver higher theoretical maximum speeds between devices, though AC1900 is more than fast enough to serve internet content — the bottleneck for downloads and streaming video is always going to be your connection through the modem itself.
Wi-Fi signal coverage is one area that's seeing innovation every couple of years, and the C7000 uses "beam-forming" antenna technology to provide excellent signal strength in our informal tests. But the newest trend is toward using "satellite" access point hardware to build out a "mesh" of Wi-Fi radio signal over your home — that kind of hardware could be better if you have an especially large home or lots of Wi-Fi-blocking walls and floors.
Not for top speeds
For internet connection speeds, the C7000 is the newest modem/router combo that has been certified by Spectrum for 400 mbps "ultra" service, but the C7800 is a newer non-approved Netgear modem-router combo that supports the more efficient DOCSIS 3.1 protocols.
That's a catch-22; Spectrum will support DOCSIS 3.0 modems for a long time to come, but the lack of future compatibility makes buying older modems less of a win. If you want to subscribe to the fastest "Gig" speeds, the C7000 won't work, so you're better off using Spectrum's modem and a separate Wi-Fi router or mesh system of your choice than trying to use any combo system we found.
What's coming for Wi-Fi on Spectrum
When the new Netgear – CAX80 is finally released sometime in 2020, it will feature all of the same benefits as the extra-fast RAX80 Wi-Fi 6 Router and also be approved for Spectrum's fastest speeds. This is a major leap ahead of the C7000, but expect at least a $400 sticker price. If you're using a cable provider that charges $10 per month for modem rentals and extra for a Wi-Fi router rentals on top of that, maybe you can justify the cost, but eight channels of 6 gbps data transfer isn't needed for anything short of a video production studio.
When Spectrum is giving you the modem for free there's not much reason to even think about this kind of hardware, and at that price all our network administrator friends say they'd look at plugging in separate, more robust Ubiquiti or Cisco Wi-Fi solutions anyhow.
Key takeaways:
The Netgear – Nighthawk C7000 Cable Modem and Wi-Fi Router is the fastest combo box that's on Spectrum's approved list, but it's not future-proof.
Spectrum doesn't give you Wi-Fi router hardware for free, so buying your own can save you about $60 per year in rental fees.
Most users would be better off sticking with Spectrum's modem and buying a less-expensive separate Wi-Fi router.
Using a 2-in-1 box reduces clutter and simplifies your network setup.
Netgear's hardware is reliable and easy to get support for.
3. DOCSIS-3.1 pick: Motorola – MB8600
If you want a future-proof modem that's on Spectrum's approved list, the Motorola – MB8600 is the only one that meets all of our qualifications. It's not using the latency-plagued Intel PUMA chipset, and the manufacturer and Spectrum have patched it so it isn't vulnerable to well-known exploits.
There's a hitch, though: The 8600 hasn't actually been approved for full 940 mbps speeds it should be capable of, only the "Ultra" tier at 400mbps. Many users on sites like DSLreports and Reddit report that they've been able to convince Spectrum's support staff to provision full-speed access with DOCSIS 3.1 modems that aren't on the list. But if you want top speeds you may be forced to use what Spectrum provides.
If Spectrum is only providing you with a E31 — N — 2V1 instead of a E31 — T — 2V1 (the initial indicates manufacturer), you might have some luck getting less jitter or lower latency with this Motorola modem, without technically giving up Spectrum-approved status.
Motorola modems have a long history of being some of the best in the business, but it's important to note that the Motorola modems of today aren't made by the same company that made the incredibly successful "SURFboard" models. Those were designed and built by the company formerly known as Motorola Home, which was acquired by Arris in 2013. While the old Motorola cable modem team is still with Arris, their rights to use the Motorola name expired in 2015, and the new licensee is Zoom Telephonics.
Zoom's work with this model checks all the right boxes, and for whatever reason, they've had more success than Arris getting security patches rolled out to customer hardware by Spectrum's support team — the Arris modem with the same specs, the SB8200, is still vulnerable to the Cable Haunt exploit.
When Spectrum does approve other DOCSIS 3.1 modems and makes higher speeds available, this modem should be ready to go. In the meantime, it's keeping up with the best of the competition from Arris, Netgear and others at 400 mbps speeds. It doesn't do anything the better Spectrum modems don't do for free, but if we were stuck with a Hisense Spectrum modem, and they wouldn't replace it with a different brand, this is what we'd buy.
Key takeaways:
The Motorola – MB8600 Cable Modem supports the new DOCSIS 3.1 protocol, and it's on Spectrum's approved list for 400 mbps "Ultra" speeds.
The MB8600 doesn't have the bugs or vulnerabilities many other DOCSIS 3.1 modems suffer from.
If you're subscribing to the fastest 940 mbps "Gig" speed tier, Spectrum may not agree to provision the full speed this is capable of and force you to use their modem instead.
The other finalists we tested
Note on the Cable Haunt vulnerability
The one flaw we found in the less-expensive modems listed below is a security vulnerability common to modems more than a few years old: The built-in signal analysis tool can be called up from a web browser without a password, which means that clicking on any URL could potentially launch a "buffer overflow" exploit to run commands on the modem. This is known as the "Cable Haunt" exploit, and while it's well-known among security researchers Spectrum doesn't seem to be paying much attention to it.
Spectrum seems motivated to turn off access to the signal analysis tools on newer modems anyhow, since according to the technicians we talked to they never use it. Netgear has confirmed that they've written a patch for their modem hardware, but it's up to the cable company to deploy it. Since these less-expensive modems are using older hardware, it looks like Spectrum has just decided to stop providing updates. If they give us more specific information we'll update here, but for now users of these modems will have to take steps to close the loopholes themselves.
Spectrum-provided modems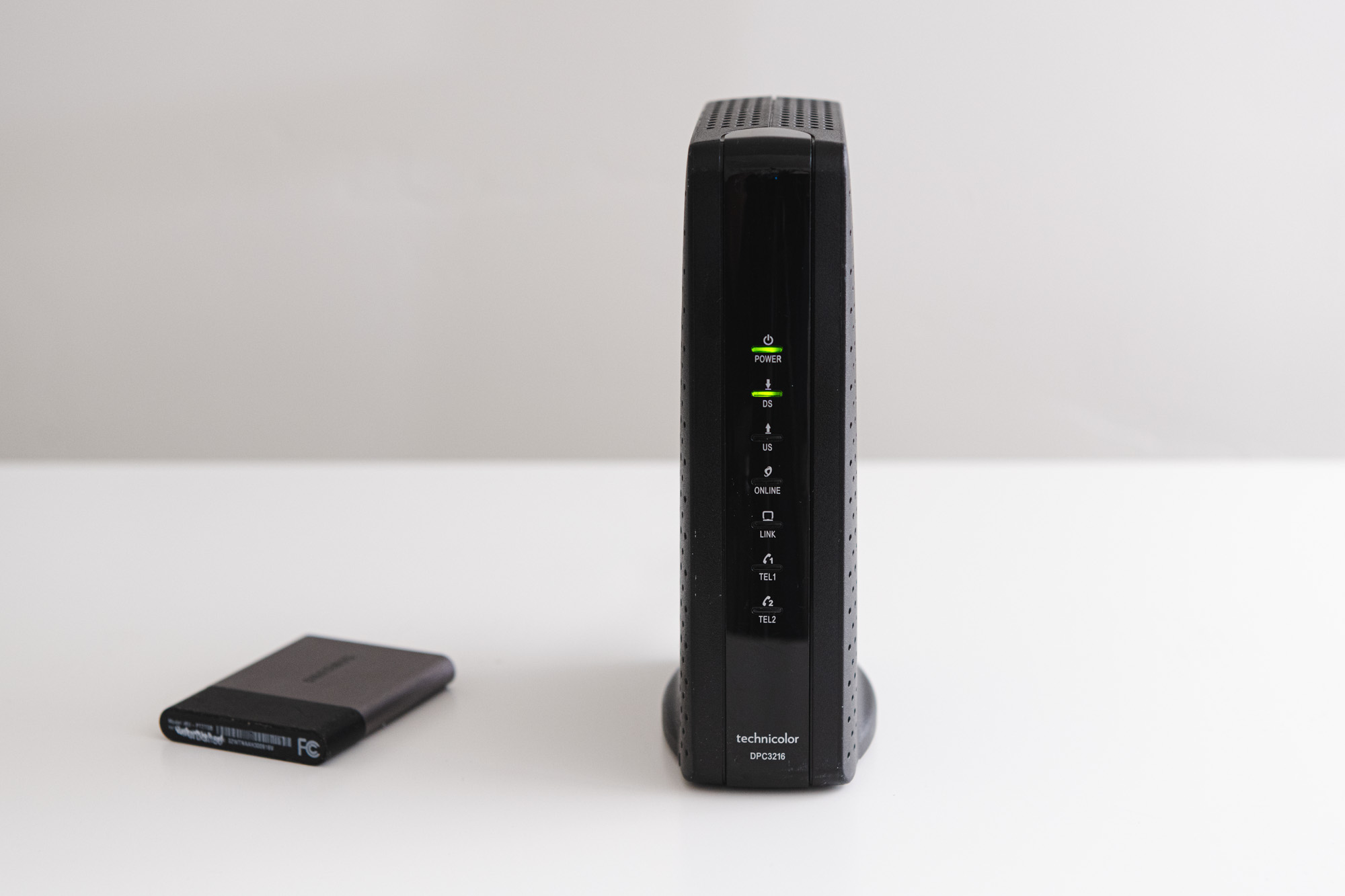 If you're a Spectrum subscriber on a lower speed tier like 100 mbps, you may get a good, reliable modem like the Technicolor – DPC3216 that Spectrum provided to us. This one is standard-issue for new subscribers in our area, and works well in almost every way. It's only capable of using 16 channels of downstream data, so it won't work on Spectrum's 400 mbps "Ultra" tier, but it doesn't have any latency or packet-loss issues like some cable-company-provided modems do.
The biggest flaw we found in the DPC3216 is the Cable Haunt security vulnerability common to modems more than a few years old, which we detail below.
If you're not as lucky, you may get a modem with a PUMA chipset. The most common seem to be the TM1602, but here's a longer list of the notorious PUMA 6 modems. If you have one of these and notice inconsistent speed (latency spikes), you can ask Spectrum to mail you a DOCSIS 3.1 modem. If they won't do that, or if you're unlucky enough to get a PUMA 7 modem in exchange for your old PUMA 6 modem, you can check out the other option below.
Arris – SB6183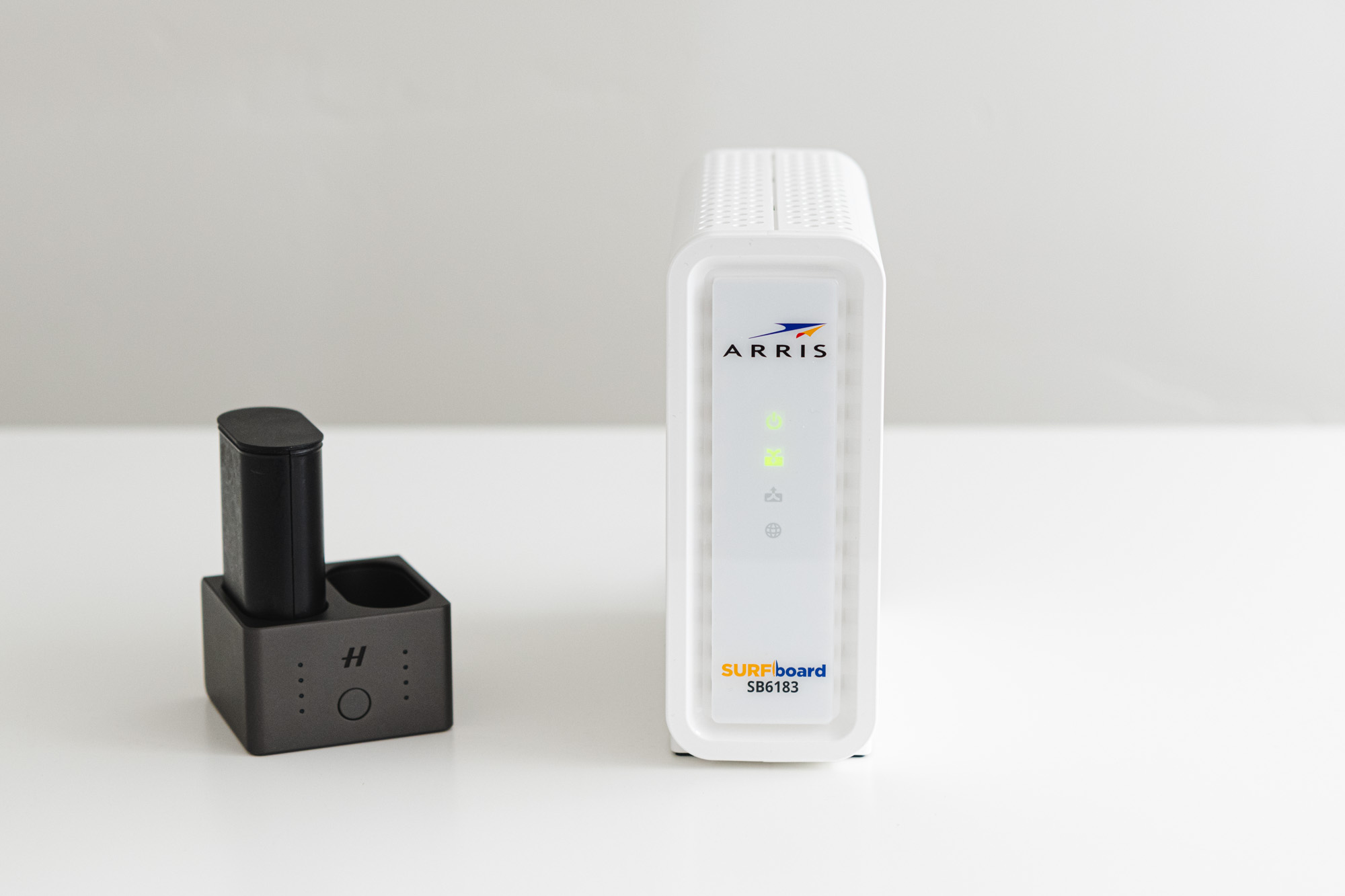 The Arris – SB6183 is a venerable standby from the era of DOCSIS 3.0 modems. It works very well at speeds up to 400 mbps on Spectrum's network, and it doesn't have any of the vulnerabilities of other modems that are popular in this price range.
Comparing the Arris and Netgear – CM600, there's very little reason to choose one of these less-expensive modems over the other, since they use the same Broadcom BCM3384 chipset. If you get a PUMA-based modem from Spectrum and want a reliable middle-speed-tier modem, you can pick whichever of the two models is less expensive.
Netgear – CM600
Like the Arris – SB6183 above, the Netgear – CM600 is a great example of a reliable modem that's been able to hit "Ultra" speeds of up to 400 mbps since 2014. Also like the Arris, this modem isn't certified by Spectrum to bond more than 16 channels or use DOCSIS 3.1 protocols, and as of the time of our testing, it's vulnerable to the Cable Haunt exploit.
You'll find the newer Netgear – CM700 for about the same price as the 600, and it is capable of bonding more channels, but that model switched from a reliable Broadcom chipset to the newer PUMA 6 chipset. PUMA modems have been plagued by reliability issues, so we don't recommend them. Spectrum doesn't officially certify the CM700 for any faster speeds than the CM600 can transmit anyhow, so we didn't find any advantage in buying the newer model.
How cable modems work
Compared to DSL internet service, which sends data directly from a server to your computer over a telephone line, cable TV and internet service sends hundreds of "channels" of data on one distribution path — optical fiber to a hub, then copper cable into your house — and shares that bandwidth among all the subscribers attached.
When you've got the network to yourself, cable service is much faster than DSL. When connecting 24 channels (new modems could potentially bond up to 32 channels) Spectrum can send data in some areas at more than 900 million bits per second ("mbps"), compared to the 25 mbps limit from DSL providers where our tester lives.
The hitch with cable internet is that fewer than 200 of those channels are shared among you, your neighbors and the TV and telephone services that your cable company provides. Sophisticated algorithms decide which users get priority when all of your neighbors are trying to stream movies and download game updates at the same time, but it can be slower than DSL.
Another quirk with cable modems is that you really don't have any control over them: The Data Over Cable Service Interface Specification ("DOCSIS") standard specifies that your cable company has complete control over modem software updates, troubleshooting steps, even resetting the modem.
So, if you're looking to buy a modem, remember that if you're not using hardware that's on Spectrum's list of approved modems, you might run into trouble. Spectrum will only test and deploy software updates and bug fixes for approved modems. Even if you want to, you can't install security updates or patches yourself.
Important features to consider
Spectrum approval: If your modem isn't on Spectrum's list, you might not be able to get the speeds you pay for. You almost certainly won't get security or bug patches unless Spectrum has your modem on their list of priority hardware.
DOCSIS 3.1 support: These newest protocols allow a cable company to connect you at peak speeds of a gigabit or better. Spectrum isn't using the newest protocols in all areas, and when it rolls them out, an older modem will still work at slower speeds. But if you're going to purchase a modem, you should consider getting something that will work if you upgrade your service.
Broadcom chipsets, not Intel: As of the time we're writing this review, if you see the "Intel Inside" logo on a modem, don't buy it. Broadcom is the other major developer of modem hardware, and all the modems we recommend use their chipsets. Intel's PUMA chipset line is used in many modems, but it has a flaw in the hardware design that causes significant, intermittent latency ("lag" or "jitter") as well as lost packets of data and even some security concerns. There's an ongoing class-action lawsuit against one cable modem manufacturer because of the speed issues, and software updates have not fully resolved the problems even after years of complaints.
How we selected finalists to test
We checked reviews of cable modems on prominent computer hardware sites like Tom's Hardware and Wirecutter, but after reading comments and looked for patterns of problematic behavior among users on DSLreports and Reddit, it was pretty clear that a one-size-fits-all cable modem is tricky to recommend. Most of the recommended modems we spotted on lists will work fine, but they're fairly old.
Since Spectrum now leases modem hardware for free, recommending one to purchase is a tricky proposition. There's got to be a pretty specific reason to make it worth shelling out $100 or even $300 for a top-of-the-line modem.
After reading the discussions about new modems at DSLReports and the Spectrum Community Forums, two persistent issues started to stand out. First, modems with Intel PUMA chipsets have consistently delivered inconsistent speed and even dropped packets for many users. Secondly, the latest batch of Intel chips has new bugs with even more dramatic vulnerabilities. We decided to test only non-PUMA modems. If you've got an Intel-Inside modem, and you don't have any trouble with your internet connection, you shouldn't worry about it. But when a device is as simple as a cable modem we don't want any compromises with a device we recommend for purchase.
We found some evidence that Spectrum has only patched certain modems in the wake of a newer bug discovered by a team of Danish security researchers dubbed "Cable Haunt." We reached out to Spectrum to get a conclusive response on their approach to dealing with vulnerabilities like this (detailed below), but we only recommend modems that have been patched against this exploit for our top picks.
Security updates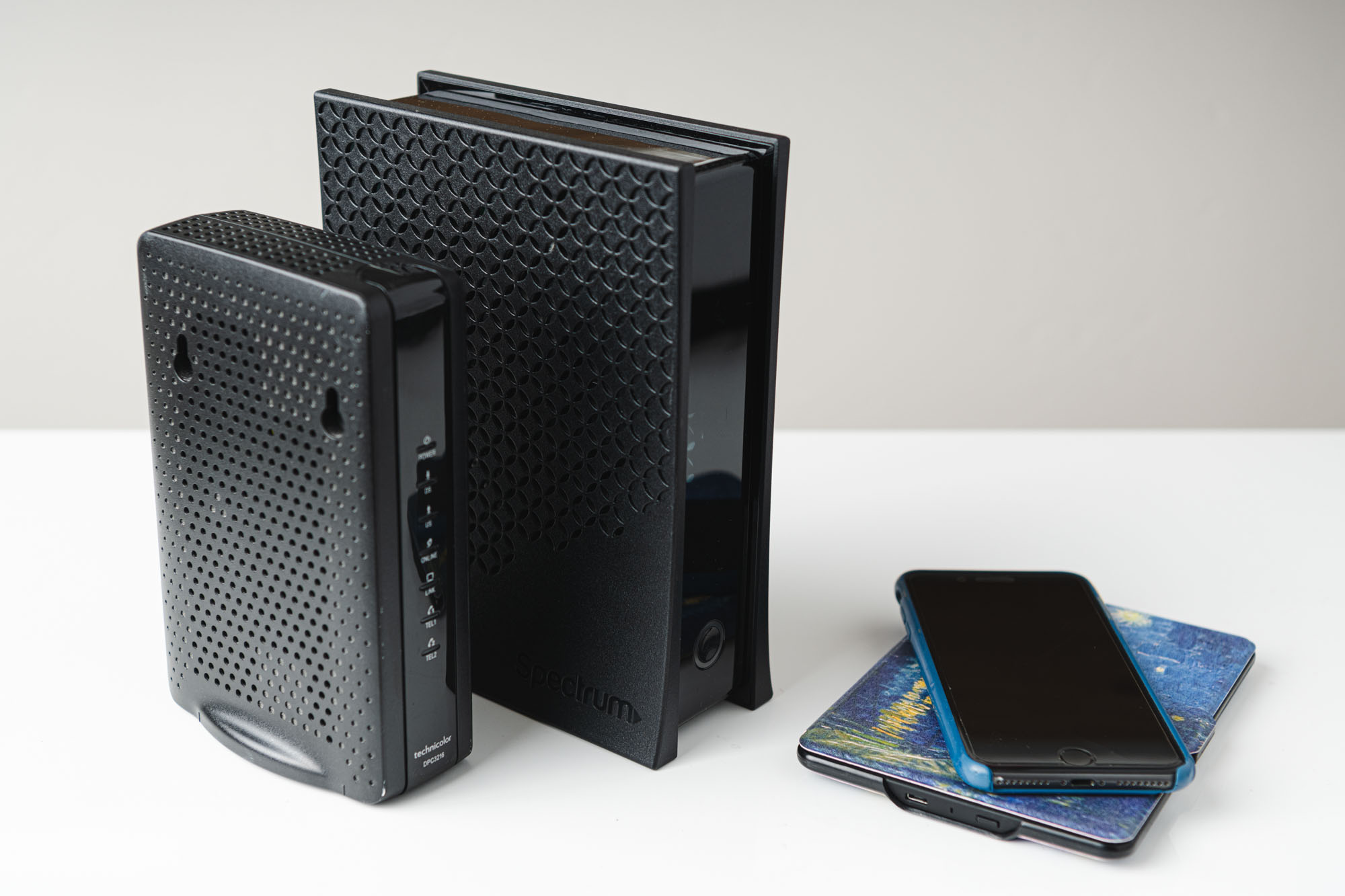 In contrast with so many devices on your computer network that require you to be diligent and perform maintenance steps to get the best and most secure performance, the cable company has complete control over updating software or changing settings on your cable modem.
The modem only does one thing: connecting your home network (usually through a router) with the cable company's servers over a set of provisioned channels on your neighborhood's cable feed. There's not much about that process that changes, so patches and updates are infrequent. That simplicity means letting a cable company manage updates is preferable for the most part — they'll probably be aware of any issues before you are, and they definitely want to catch problems before you call to complain about them.
A test case: Cable Haunt
| Cable Modem | Cable Haunt Vulnerable? | Chipset | DOCSIS Compatibility |
| --- | --- | --- | --- |
| Technicolor - E31T2V1 | No | Broadcom BCM 3390 | 3.1 |
| Netgear - C7000 | No | Broadcom BCM3384 | 3.0 |
| Motorola - MB8600 | No | Broadcom BCM3390ZR | 3.1 |
| Cisco / Technicolor - DPC3216 | Yes | Unknown | 3.0 |
| Arris - SB6183 | Yes | Broadcom 33843D | 3.0 |
| NETGEAR - CM600 | Yes | Broadcom BCM3384 | 3.0 |
When it comes to security updates, some vulnerabilities get a low priority or just slip through the cracks. The "Cable Haunt" vulnerability, which allows hackers to send commands to the modem, is not on Spectrum's priority list.
To be fair, there's currently no known use of this vulnerability in the wild, but there's the potential for bad actors to hijack your network traffic, even silently redirecting your web browser to clones of websites or using your cable modem as part of a "botnet" of devices shutting down servers all over the world.
To close the hole Spectrum would only need to turn off a diagnostic tool that their techs never use, but they've decided not to deploy even ready-to-go patches from manufacturers that would fix the problem.
We didn't get an official technical response from Spectrum, but a regional director of communications said that their engineers are aware of the vulnerability, and they don't consider it a risk for most users since it requires an attack from inside the local network — Spectrum is counting on us not to accidentally launch web pages that hijack our modems.
We contacted Lyrebirds, the team of Danish security researchers who discovered this vulnerability in most older modems used around the world. We asked specifically if cable subscribers should be worried if they're using a vulnerable, un-patched modem, and Lyrebirds member Kasper Terndrup says "If there are no plans [for a patch or update from Spectrum], I would suggest that they worry, as an attack is not only a real possibility, but that a lack of updates is also a signal about how Spectrum deals with security."
As far as the risk level, a modem that's vulnerable to Cable Haunt is not the same risk as exposing a hackable device like a printer or webcam on a public-accessible IP address, but with the number of "smart" devices connecting to our local networks the risks posed by any vulnerability get higher all the time. The Lyrebirds team cautions that "any place where running code can reach an IP on the local network can be used to exploit Cable Haunt."
We tried to get a sense of how Spectrum handles updates for vulnerabilities like this, specifically asking if Spectrum had any plan to eventually roll out a patch that Netgear has released for the CM600. Spectrum declined to comment on specific patches. Calls for comment on Spectrum's user web forum haven't been answered, either.
Kasper Terndrup says that, generally speaking, using a modem provided by the cable company should be safer: "renting might be a safer option, as this should ensure some level of regular updates, although not guaranteed. If you buy, you should at least try to make sure that this model will be supported with updates by your ISP." Given the fact that Spectrum is not even deploying a fix for the Cable Haunt vulnerability on their own base-model Technicolor modems, though, it seems like users are on their own to take additional steps if they want extra protection.
Fixing Cable Haunt
At the end of the day, even if you can't apply a patch there are steps you can take to mitigate this one specific vulnerability. If you know your way around a router control panel, you can simply block ports. All the cable modems we tested use 192.168.100.1 as a default address, so if you block traffic on port 8080 (or whatever port your particular modem uses for the "spectrum analyser" tool) you'll shut down the potential for an exploit through your network.
If you're using a Wi-Fi router with your modem, see if you have the option to broadcast an isolated "guest" network. Using that network for smart devices (We've tested smart garage door openers, internet-connected video baby monitors, electricity usage monitors, and air conditioners) allows them to see the internet but keeps them separate from one another and your networked computers.
The bottom line
Spectrum no longer charges for modem rentals, which is great news for subscribers. Some of the hardware they give out is reliable and fast, and perhaps more importantly, Spectrum tech support should know exactly how to troubleshoot any problems with their own modems.
If you're subscribing to Spectrum's top-speed "Gig" service, using the modem they give you will probably make the most sense, since they're currently the only modems approved for full 940 mbps speeds. But if you get saddled with a E31N2V1 made by Hitron, you might find the latency and dropped packets caused by flaws in Intel's PUMA 7 chipset a disappointing upgrade.
If you're looking specifically for a cable modem and router in the same box, the best that Spectrum has on their approved list is the Netgear – C7000. It works great at up to 400 mbps (Spectrums middle "Ultra" speed tier) and has most of the home Wi-Fi features we were hoping for, though newer Wi-Fi 6 routers will someday offer better transfer speeds between new devices.
The best modem for sale that can be provisioned at full speeds — if the Spectrum techs are extra nice — is the Motorola – MB8600. If you can't get a non-PUMA modem from Spectrum directly, that's your best bet. Arris makes a similar model, but it's still vulnerable to a known hack.