The Best Gym Bags with Shoe Compartments
Our team of testers took 12,000 steps and 12 trips to the gym in pursuit of the best gym bag with a shoe compartment. After a week of side-by-side testing, we determined that the best overall is the Boost – Sports Gym Bag. It's inexpensive yet sturdy, water-resistant and provides the most enjoyable day-long carrying experience. Close behind was the roomy, durable Adidas – Team Issue, best for athletes and outdoor exercisers.
Our team of testers took 12,000 steps and 12 trips to the gym in pursuit of the best gym bag with a shoe compartment. After a week of side-by-side testing, we determined that the best overall is the Boost – Sports Gym Bag. It's inexpensive yet sturdy, water-resistant and provides the most enjoyable day-long carrying experience. Close behind was the roomy, durable Adidas – Team Issue, best for athletes and outdoor exercisers.
Table of contents
How we selected products to test
The market for gym bags is filled with great products in wildly varied size and price ranges. To narrow our testing field, we set our budget at 50 dollars and only looked for bags with excellent average review ratings at the usual online retailers.
From there, we checked lists from Men's Health, Wirecutter and NY Magazine. When we found a bag that was on multiple lists and met both our buyer-rating and budget criteria, we added it to a shortlist for testing.
Finally, we talked to our gym-going colleagues and friends to find out which bags they use and love. Our final list is made up of high-quality, inexpensive, well-loved bags that have the features to make your trips to the gym more productive and maybe even less smelly.
Compare the best gym bags
Important features to consider
Size
We chose gym bags specifically with shoe compartments to test, and that distinction naturally lent itself to at least medium-sized bags. Our goal was to find a bag comfortable enough to carry, but big enough to fit not only our shoes and gym outfits, but also toiletries and cosmetics, a change of clothes, a full water bottle and one specialty equipment item (we chose boxing gloves). If walking to the gym, you may want a smaller bag like the gym-friendly pick in our Laptop Backpack review. If transporting large equipment, you'll want to check out larger bags.
Weight
Depending on the weight of the equipment you're carrying and the distance you have to travel with your gym bag, you'll likely want as lightweight a bag as possible. If you're opting for a heavier bag for either style or sturdiness, you'll want to make sure the bag's straps are adequately padded. All the gym bags we tested are two pounds or fewer, with the exception of the Everest.
Material
We looked for a bag that we were confident could last and remain fresh for a long time. We considered material type (body of the bag and zippers included), which influences how much weight a bag can bear, how susceptible it is to tearing and its breathability.
Generally, gym bags with shoe compartments are made of nylon (often laminated and less breathable), polyester (more breathable), or some combination of the two. The strongest bags in our bunch were blends. In the case of our top pick, different weaves are added to the mix, but a backing is still present to keep out water.
You should also note that breathable fabric also allows water in. Nylon technically gets soggy more than polyester if you let it sit in the rain, but it's the rubbery backing that keeps your clothes dry inside.
To mitigate the effect a waterproof bag might have on the smells trapped inside, find a bag that includes a vented shoe compartment.
Functionality
Most gym bags with a shoe compartment will do a fairly decent job of holding everything you need. What sets the great apart from the good is a bag's ability to organize. The amount, size and arrangement of pockets can make a huge difference in how functional a gym bag is. When working out under a time constraint, digging for the items you need can be incredibly frustrating. Check for pocket numbers and layouts that will make your life easier, not harder.
| Gym Bag | Material | Features | Size (inches) |
| --- | --- | --- | --- |
| Boost | Oxford fabric outside, Nylon interior | Wet towel pouch, ventilated shoe pocket, water-resistant exterior | 20 x 10.24 x 9.86 |
| Adidas | Nylon, Polyester, Elastane | Ventilated shoe pocket, waterproof exterior | 26.00 x 12.50 x 13.50 |
| Coreal | Nylon | Water-resistant exterior | 21 x 11 x 12 |
| Everest | 600D Polyester | Ventilated shoe pocket, waterproof exterior | 18 x 11.15 x 10.5 |
| G4free | Nylon | Convertible | 23 x 10 x 12 |
| Mier | Nylon | Ventilated shoe pocket | 19.3 x 9.4 x 11 |
How we tested
Over the course of a week, we tested six different bags  on our commutes and in our gyms. We standardized our packing lists to include sneakers, clothes for working out, a change of street clothes, cosmetics, a water bottle, electronics, keys and a pair of boxing gloves.
Packing and functionality
Our picks ranged from four pockets to nine (with the shoe compartment included), with the Mier – 20 inches Sports Gym bag at the lowest end and the Everest – Gym Bag with Wet Pocket at the highest. The latter became our organizational favorite, but still wasn't our top pick overall.
As we packed for each of our trips to the gym, we used our standardized packing list to establish a preference for one gym bag over another. We wanted to know which bag was the best organizational help and which felt like a bottomless pit. Packing and using the same gear for our trips gave us a clear indicator which bags we liked to use best.
| Gym Bag | Functionality Rating (1-4) | Comfort Rating | Waterproof Rating |
| --- | --- | --- | --- |
| Boost | ★★★★ | ★★★ | ★★ |
| Adidas | ★★ | ★★★★ | ★★ |
| Coreal | ★★★ | ★★★ | ★★★★ |
| Everest | ★★★★ | ★★ | ★ |
| G4free | ★★★ | ★★ | ★★★ |
| Mier | ★★ | ★ | ★ |
Comfort
Each gym bag accompanied our team members on their individual commutes, but each bag was also taken for a roughly 2,000 step journey to compare comfort levels. We rated the comfort level of each bag on a star system, where one is " too uncomfortable to use again," two is "became very uncomfortable quickly", three is "pretty comfortable"  and four is "no discomfort at all."
Because different testers can comfortably carry different weights, potentially influencing this test, we also made a more direct assessment of strap padding.
Durability
We left each bag hanging with 30 pounds inside for one hour to test the strength of straps, buckles and zippers. Next, we applied a scratch test. For the scratch test, we took a key and scraped the outside and the lining of each bag with varying degrees of pressure (first soft, then firm, then as hard as possible) and recorded any tears or permanent scratches.
Breathability and smell
To test how well our bags dealt with moisture and smell, we performed two tests. For the first test, we kept our dirty gym clothes in the bag for a full eight hours, and after taking the clothes out, noted how long the bag retained its dirty smell. We unzipped each bag but did not fully open them, and checked in at the half hour, hour and two hour mark.
For the second, we muddied an old pair of sneakers and put them into the designated shoe compartment. Then, we checked back in an hour to see if the mud was dry. We also checked to see if we could smell the shoes from the outside of the bag from both a foot away and right next to the bag.
Our goal was to find a gym bag that resisted odors entirely, but it became clear that this was unrealistic, so we placed greater emphasis on the second test and the breathability of a bag's shoe compartment.
Water resistance
We also poured a cup of water directly onto our bags to test claims of water resistance or waterproof-ness. For bags claiming to be only water resistant, we accepted damp clothes as a result, but not wet ones. Waterproof bags needed to keep clothes inside completely dry.
Cleaning test
If you're carrying specialized equipment that sees a lot of outdoor use, you'll want a gym bag with a shoe compartment that cleans easily. As a final test, we gave each of our gym bags a thorough cleaning with wipes to compare maintenance effort.
We counted how many wipes it took to clean each bag, checked to see if mud remained in nooks and crannies after a single cleaning pass and gave extra kudos for machine washable bags.
Best overall: Boost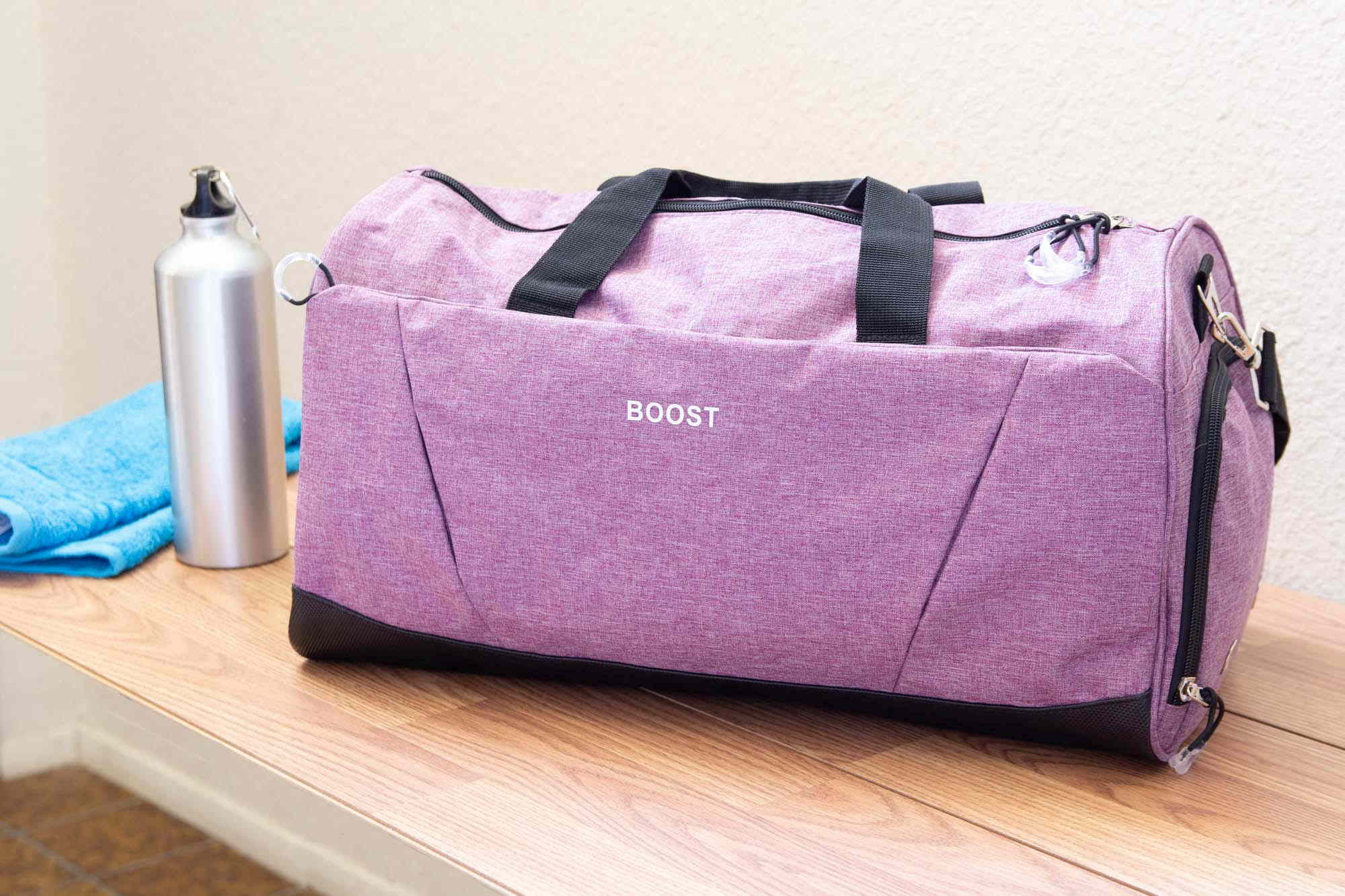 Our tests to find the best gym bag with shoe compartment confirmed our initial intuition; many of these bags are excellent, and this was a tough race. Ultimately, Boost proved itself as our favorite with its attention to detail, overall functionality and affordable price.
The Boost gym bag was near the top of our list for functionality thanks to its structure and layout; it has five total pockets (including the shoe compartment), and one is meant specifically for holding wet clothes or swimsuits. It has no designated place for toiletries, but our team was satisfied storing those in the front pocket. On the side is a mesh bottle pocket we found perfect for holding the full range of sizes we've tested in our water bottle review, and the shoe compartment was vented, which helped it perform well in our breathability and smell test.
In terms of comfort, we loved the Boost gym bag for its comfortable straps, and for the way its shape helps it stay easy to carry on long trips. The unique (among this group of bags) textured material – a nylon-blend oxford weave – made the bag feel more luxurious.
Performing well on our durability test was an absolute must, and the Boost gym bag did not disappoint. We thought its unique fabric texture might rip easily, but no amount of pressure in our scratch test damaged the bag. In the weighted hanging test, we found that the reinforced seams and metal clasps held the load without trouble. The added reinforcement on the bottom of the bag and its water-resistant (though not waterproof) outside ensure this bag will last a long time.
Key takeaways:
The Boost – Sports Gym Bag excels in combining versatile functionality with subtle style.
If you need a fully waterproof gym bag, you'll need to look elsewhere (like the runner-up from Adidas), but this bag can handle a bit of water, and can keep wet clothes separate.
The relatively low price and high durability of this gym bag make it ideal for long term use without making a big investment.
Runner up: Adidas
The Adidas – Team Issue came highly recommended not only by a number of review websites, but also by some trusted friends and colleagues who swore by its longevity and spaciousness. Our team found that it lived up to its reputation, but fell slightly short in terms of functionality.
The main pro of the Adidas bag is that it combines lightweight comfort with durability. We knew from other tests that this bag would be durable, but from the way the fabric blend (nylon, polyester and elastane) felt in our hands, and considering the bag weighs less than two pounds, we were surprised by how well it stood up to abuse.
In our durability tests, this bag performed extremely well. The straps barely strained holding 30 pounds for an hour, and no amount of scratching (on any of the distinct fabric types) left a lasting mark. It comes with a lifetime guarantee, but we don't think you'll need to use it.
It's the elastane in the fabric mix that gives this bag its stretch and lightweight feel, and the nylon provides a fair degree of water resistance, especially on the reinforced bottom. We found too that the lining of this bag was great at repelling moisture — lugging around wet clothes or swimsuits won't be an issue, nor would setting this bag down in a puddle on the locker room floor.
Our Adidas gym bag was slightly quicker to clean than our top pick and also included a vented shoe compartment, which we liked for our muddy shoes and sweaty clothes. Even with five total pockets, though, its spartan functionality (or lack thereof) knocked it to number two on our list.
Despite a small toiletries section, the main pocket felt way too disorganized. With almost no structure (and no water bottle pocket), we found that our items continued to slide around in transit, knocking our attempts at organization further out of alignment.
Key takeaways:
The Adidas – Team Issue is a great bag for athletes because of its easy cleanability and cavernous design.
For a busy, everyday gym-goer, this bag's lack of structured organization made finding things too difficult.
The mix of durability and light weight this bag provides makes it a comfortable way to lug your gym gear that will last a long time.
The other finalists we tested
Coreal
The Coreal – Sport Gym Bag is another gym bag that makes great use of its pockets. High functionality combined with a fully waterproof shell almost earned it a top spot.
We found this bag to be spacious yet organized and especially liked the side pockets. A dedicated water bottle pocket seems like it should be a prerequisite for a good gym bag, but not all of our picks had one, so we appreciated Coreal for including theirs. This bag passed our packing functionality test easily.
The most fully waterproof of all our finalists, we felt so confident in this bag's impenetrability that one of our testers took it into a torrential downpour. It protected the contents inside and proved its worth even further.
A completely waterproof shell does come with one main drawback, however, and that is the Coreal gym bag's complete lack of breathability. The bag is mainly waterproofed ripstop nylon, and the shoe compartment has no vent. During our testing, we noticed that our muddy shoes were not dry after an hour and that the Coreal bag retained the smell of our sweaty gym clothes overnight.
If you live in an especially wet climate, or favor swimming as your exercise of choice, this orderly, highly waterproof bag is perfect. If, on the other hand, you aren't keen on at least wiping down your gym bag after every use, more breathable designs on this list may serve you better.
Everest
The Everest was the top of Wirecutter's list of best gym bags for a while before they reconsidered due to durability issues. Likewise, a number of other sites and friends suggested giving this bag a try, and it performed well until our durability test, where it ultimately failed.
Nine pockets (including shoe compartment) make it very easy to put everything in exactly the right place when using this bag; there is even an extra water bottle pocket, which would be great for bringing coffee or tea during a commute to an early morning workout. The inside compartment of the Everest gym bag is smartly divided and we especially liked that it included both a wet-item pocket and a pocket for toiletries and cosmetics. We felt that this bag could have easily held double our packing list and remained high in our functionality ranks; there really is a place for everything.
This bag may not be waterproof and is barely water resistant – our clothes were definitely damp after we did our water test – but it did a great job at not holding onto odors. While the lining of the main compartment was a little more difficult to clean than others, we had no trouble wiping the shoe compartment of its mud thanks to its more water-resistant material.
Where the Everest gym bag lost our testers was in its durability testing; even before applying full pressure, we were able to tear the polyester canvas on the outside of the bag. During the hanging test, we also saw that the seams were straining and were worried they might pop; our top three gym bags with shoe compartments performed much better.
Our testers also found that the sub-par straps on the Everest bag less comfortable to travel on their shoulder than most other bags on this list. Though Everest provides padding for the long strap, we found it to be insufficient. This gym bag will serve you really well for a while, but if you have to walk far with the bag or expect to have it for a long time, you may want to reconsider.
G4free
A few of our testers prefer backpacks over duffels, so were excited to give the G4Free – 3-Way 40L convertible backpack a try, thinking it would be more comfortable.
While we found this bag to be high on our functionality list – it's convertible and has lots of organization features – we were disappointed to find that the padding for the duffel strap was much more substantial than the padding for the backpack straps. This makes carrying the G4free less comfortable as a backpack than it should be.
When performing the weighted hanging test with this bag, we did separate tests for the duffel straps and the backpack straps. The duffel straps performed well, but the backpack straps did not. Though it's likely the backpack straps were made thinner to make sure they tuck into their pocket during conversion, we thought a bit more reinforcement wouldn't hurt. Our key also made some faint marks during the scratch test portion of our durability investigation.
Pluses of this bag include its lightweight design and its waterproof shell; like the Coreal gym bag, though, the shoe compartment was not vented and made for wet, muddy and smelly sneakers. We appreciated the addition of a toiletries pocket, but missed the water bottle pocket.
Mier
Our testers might have marked the Mier – SPO002 higher if other products on this list hadn't been so excellent. As a gym bag with shoe compartment, it's perfectly adequate, but has nothing to set it apart from the rest.
We were excited by the structure in this bag, a factor which usually makes packing easier, but with only four total pockets, we felt like some of our smaller items had nowhere to go where they wouldn't get lost. This alone doesn't make this bag our least favorite, but combined with its poor performance during other tests, it didn't quite live up to expectations. There is almost no padding on the straps (which struggled as a whole throughout testing) to provide comfort and we quite easily put marks in the nylon material of this bag during our scratch test. Other gym bags jumped ahead quickly in the rankings.
The bottom line
During our testing, we looked for a gym bag with excellent features that could be had for under 50 dollars, and the competition was quite close.
Our top pick, the Boost – Sports Gym Bag, earned its number one spot by passing all of our durability tests and particularly wowing our testers in packing functionality and comfort.
We placed Adidas – Team Issue in a very close second place, and it's a great choice for sports equipment. The high quality of this bag means you may never have to replace it.