We consulted style professionals, scoured through hundreds of money clips, and then group tested 20 of the top-rated clips over the course of two weeks. We found that the Storus – Smart Clip is the best money clip. If you're in the market for a card holder and money clip hybrid, we found the Viosi is the best wallet style clip. Or check out the Prägres – Carbon Clip for a less traditional option.
We consulted style professionals, scoured through hundreds of money clips, and then group tested 20 of the top-rated clips over the course of two weeks. We found that the Storus – Smart Clip is the best money clip. If you're in the market for a card holder and money clip hybrid, we found the Viosi is the best wallet style clip. Or check out the Prägres – Carbon Clip for a less traditional option.
Table of contents
The 20 money clips we tested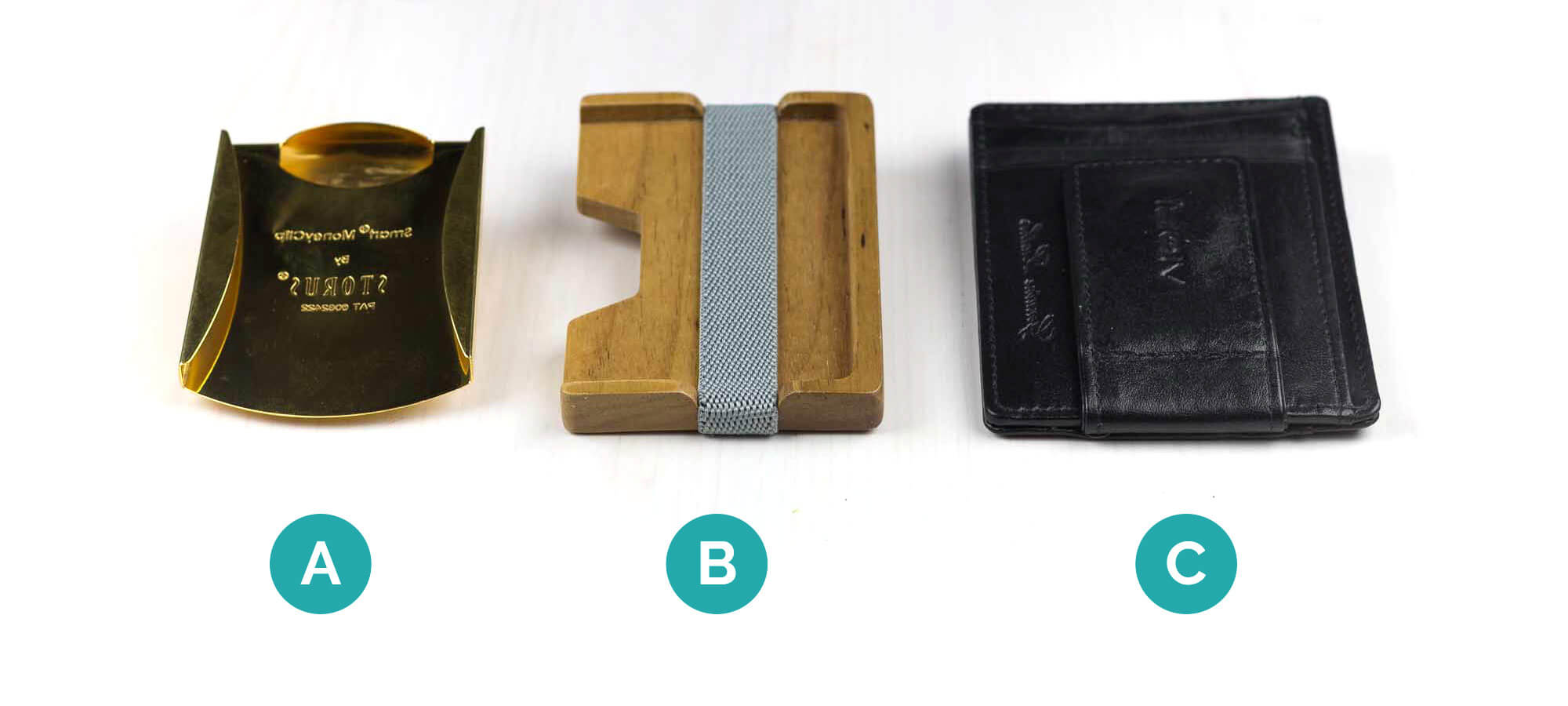 Best overall: Storus – Smart Clip
Storus, a division of Mosaic brands Inc, makes innovative and unusual "personal storage solutions" that you don't see on your average trip to the department store (think dual-sided money clips and jelly wallets.) We ordered their Smart Clip, which costs between about $20 and $40 depending on the finish you choose. But regardless of the color, it's secure enough to hold money and cards tightly, while still retaining enough room for a good deal of cash and cards.
The dual-sided holders, an anomaly in the money clip world, mean that you can keep cash on one side and cards on the other. The Storus' durable metal material also stood up well to getting knocked around by keys and purse contents.
Upon receiving all of the money clips that we ordered, the Storus immediately stood out for its unique design. Its curved edges, wave-like aesthetic, and double-sided clips make it a stand-out in a sea of rectangular clips. We ordered it in the gold color and found that the finish didn't look chintzy or scratch easily. Reviewers on Amazon also noted that the finish did not wear down after extended use. Plus, our tester shared that this clip even garnered a few compliments when they pulled it out to pay.
The only downside of this clip is that it holds five cards maximum on one side, with our tester noting that (in their experience) it could handle no more than four. Keep in mind though that this clip does have two sides, so you could technically store cards on both. The final verdict from our tester? They'd "definitely continue using it."
The minimalist pick: Adamant
One of the most common responses to our money clip testing was "who carries cash anymore?"
It's true, there's no doubt that we are in the digital age, and many of us rely almost exclusively on credit cards for our transactions. If that's the case for you, you may want to skip the Storus' dual carrying capacity and head straight for the Adamant instead.
With its cost coming in at just under twenty bucks, this clip's design is evocative of a bygone era. Its black finish and metallic stripes feel like a vintage car. However, its functionality takes a cue from the modern minimalist movement. The Adamant is best for carrying ID, debit, a couple of credit cards, and nothing else; and it holds onto them with an iron grip. Yet despite its tight hold, our tester noted that it was "arguably the quickest and easiest card experience" he'd ever had when it was time to grab a card to pay.
The only downside? According to our tester, this clip's tight clasp isn't all that convenient for inserting and taking out flimsy dollar bills.
The best wallet options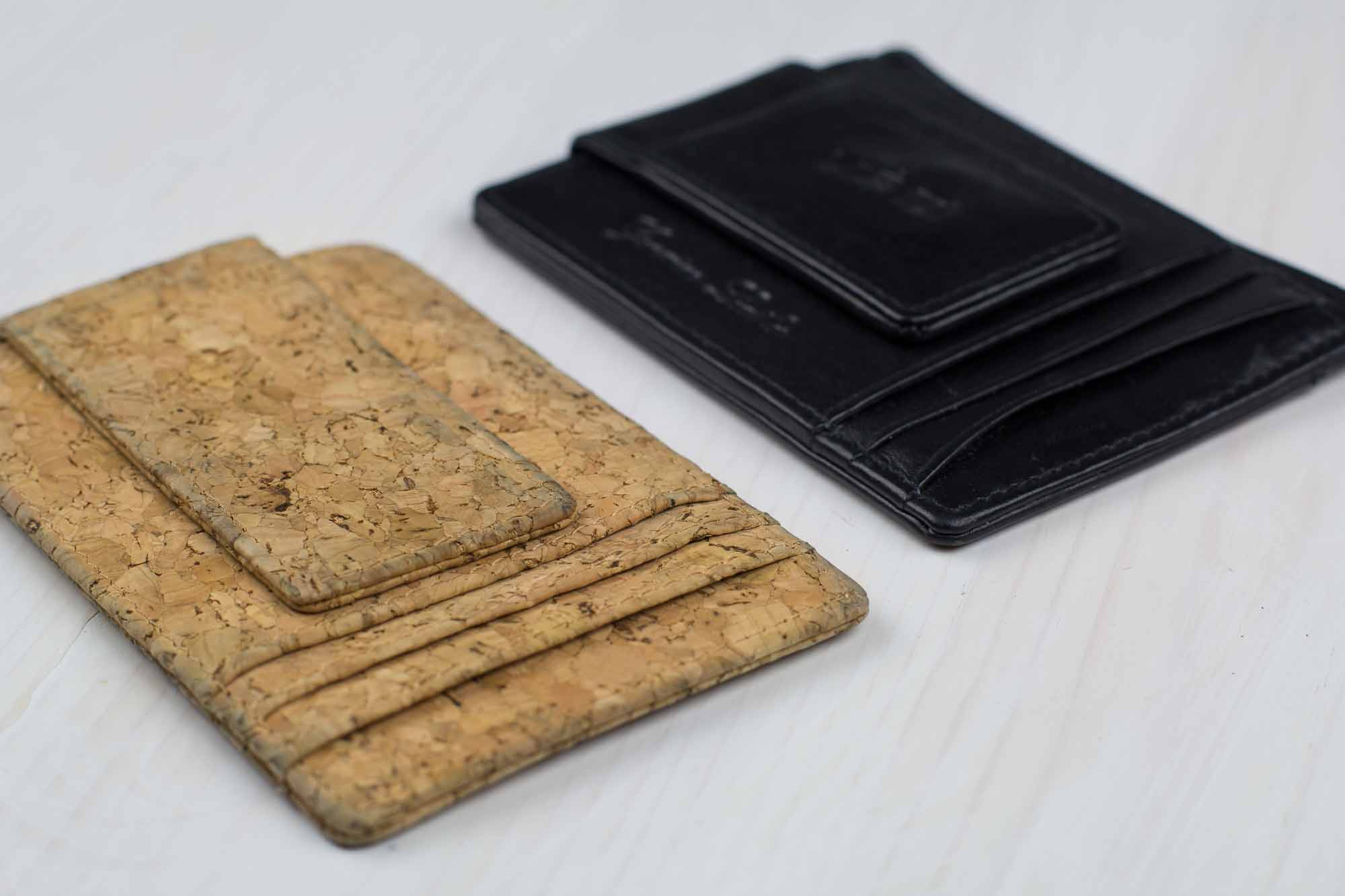 With nearly 2,000 Amazon reviews, a 4.7-star rating, and a sub-20 dollar price point, we knew we had to give the Viosi a try. Luckily, this money clip wallet didn't disappoint, earning rave reviews from our focus group.
This genuine leather wallet is simple in appearance, with an ID window, several large slots, and a magnetized clip on the outside. Our tester noted that it was convenient to use, with the outside clip making it easy to grab cash. Despite relying on a single magnet, this clip gave us no concerns about security. It held on to money firmly until it was time to be removed.
The three card slots and two larger slots in the Viosi also mean that you don't have to totally convert to minimalism to carry this wallet. There's plenty of room in it for cards and receipts.
Looking for something even more budget-friendly? The folks at Kinzd say their goal is to offer "slim wallets at extremely affordable pricing," and they seem to be doing just that.
Depending on the color in which you purchase it, the Kinzd money clip wallet can cost as low as $13 (at time of publishing). That's a great value for a wallet that earned a cumulative 4.5 stars from nearly 1,400 reviewers on Amazon.
This wallet was a favorite among our testers, so much so that others requested to try it even after testing was complete. Our tester noted that everything stayed put in this wallet, and its slim profile made it easy to tote around. Plus, the attached clip held cash safely in place.
The Kinzd wallet is also durable, surviving a skirmish with some books and workout shoes at the bottom of our tester's bag.
The only downside? The magnetized feature on this wallet clip has a tendency to adhere to other items, like keychains. Though, this may not be a downside if you're looking to pull all of the essentials out of your bag at once!
The best banded options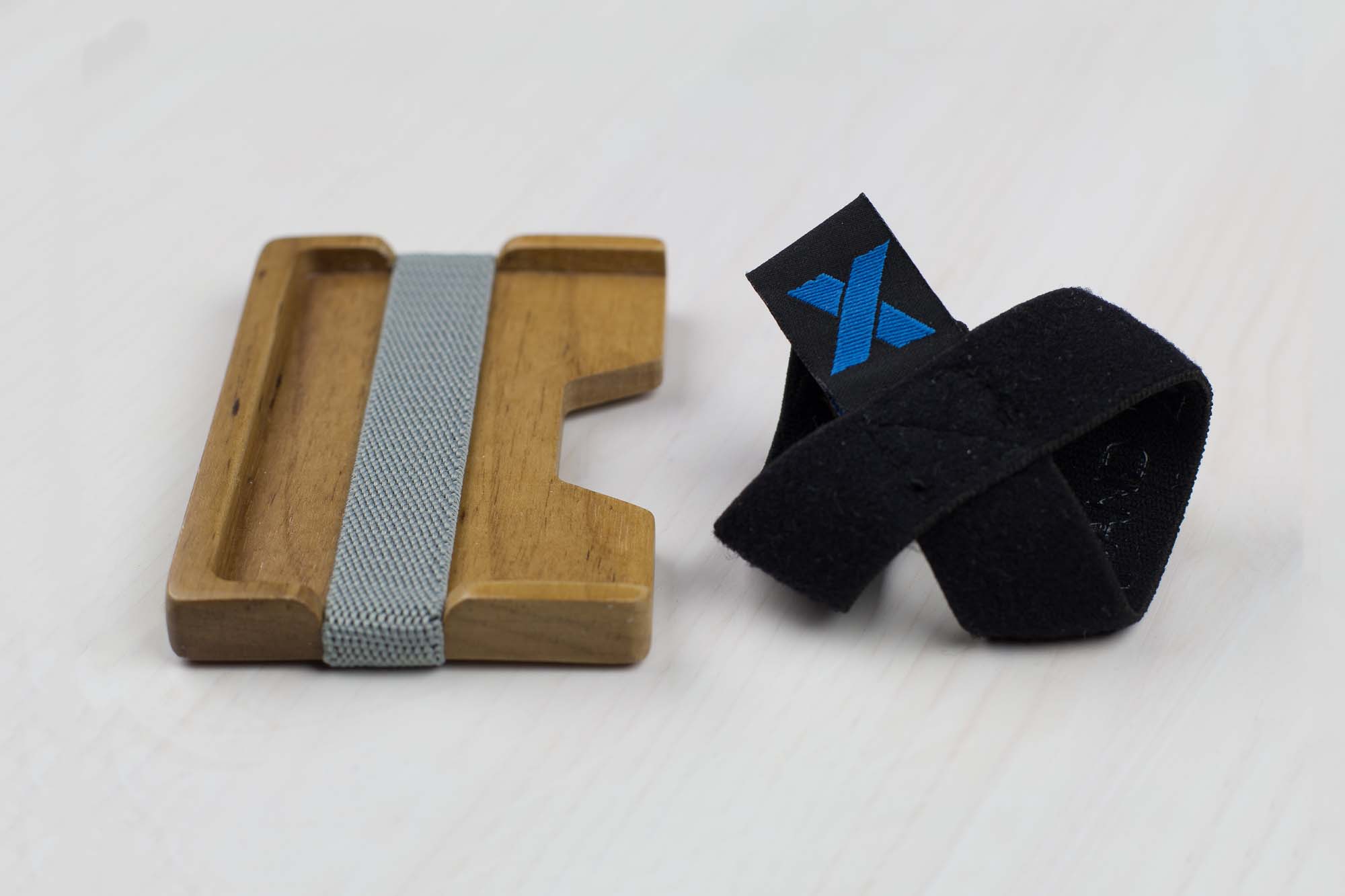 If you're looking for an alternative way to store your money that's not a traditional wallet and not quite a money clip, consider the Prägres wood-front wallet. Costing about $14 at time of publication, this contraption is hard to confine to any one money-carrier category.
Our tester was pretty skeptical about this wallet, yet by the end of the week, they were asking if they could keep it permanently. They loved the Prägres' light weight and slim design, which allowed them to carry it in their front pocket. They also traveled with this wallet and found that whipping it out at the airport to retrieve their ID was easy.
The people at Prägres pride themselves on "wallets that make a statement," and this one will certainly garner some attention. It has a hard, wooden construction that acts as a sort of frame for your credit cards. A band wraps around the entire frame to keep money and cards in place. On the back side of the wallet, you can slide your paper money under the band. A fun add? The wallet comes with three different colored bands to swap out as desired.
Perhaps most importantly, it kept our tester's credit cards secure, yet allowed for easy removal when it was time to use them. And just in case you plan to do any cannonballs into the nearest pool, the reviews also state that this wallet will float.
Editor's Note: The wooden version of this wallet is currently sold out, but Prägres makes a convenient and sleek carbon fiber alternative that comes with a built-in bottle opener.
Looking for an even lower-priced banded alternative? The Xband is our budget pick. Costing under $10, the Xband is minimalist in both price and composition. Simple in design, it has two nylon strips in the shape of, you guessed it, an "X," that hold your money in place. Reviewers loved the simple functionality of this money carrier, and so did our tester. They noted that it was "super convenient," and they liked that it stayed securely in their back pocket.
More high praise for this simple band? The Xband was easy to put cards and cash in and made it relatively easy to take cards and cash out. Its description claims that you only need to remove one strap to remove your cash, while the other strap keeps the rest of your contents secure.
The only complaint? Much like traditional money clips, the Xband makes it hard to pull just one bill or card out. It's easier to remove everything, shuffle through it and then clip or band it all back together.
Other products we tested
Money clips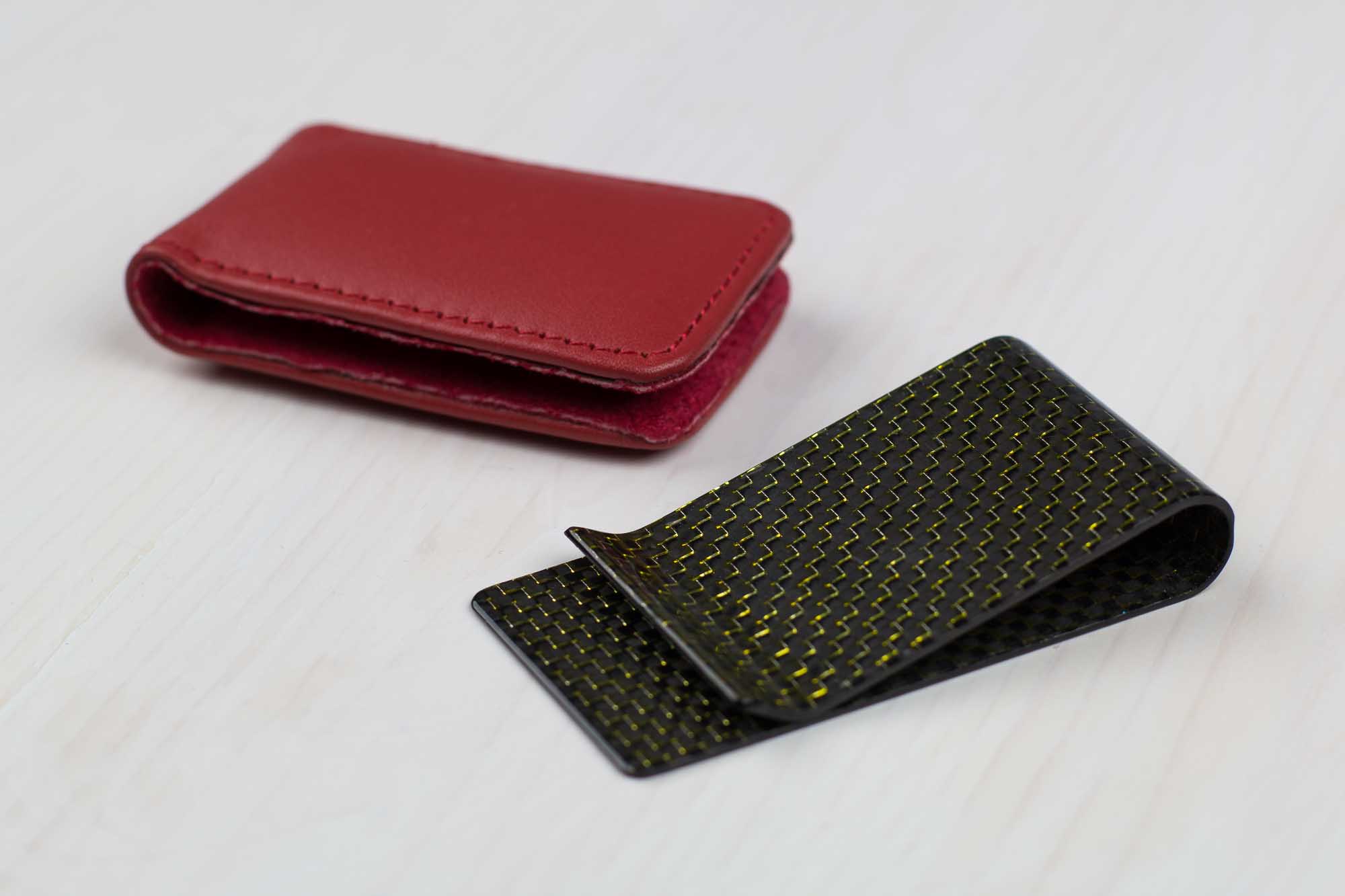 Royce – Leather Magnetic money clip: While the Royce clip didn't make our top picks, it's still a quality choice for under $20. Its simple leather construction makes it classy and gender-neutral in appearance. Plus, our reviewer liked that it was "small enough to fit in a women's pocket, but not too small to misplace." The biggest downfall of this clip? Our tester didn't feel the magnet was strong enough to hold more than a couple of cards.
Serman Brands – Real Carbon Fiber money clip: The Serman clip feels well-constructed and extremely lightweight in your pocket or bag. It has RFID-blocking technology and doesn't scratch easily. What didn't our tester like about this clip? Its looser grip meant the clips' contents got knocked around easily, and it's also not the most visually attractive option on the market.
Money clip wallets
idclipz – Slim Carbon Fiber money clip wallet: Though the idclipz wallet clip didn't make it into our top picks, our tester had rave reviews for it. They loved that it was slim enough to carry in their front pocket and that the magnetized clip was strong enough to feel secure. The only downside? A common complaint among our money clip testers: it's hard to pull one bill out of the clip without everything else coming with it. For another magnetized choice, try the Viosi.
MUTBAK – Bunker: Our tester loved the MUTBAK for its slim profile and secure clip. It's also one of the trendier-looking wallet clips on our list, with a worn-in leather look. The only major drawback to the MUTBAK is its overly deep credit card pockets, which make it hard to retrieve your plastic quickly. Still, if you need a slimmer wallet for a quick vacation, the MUTBAK would be a good choice.
Clips we don't recommend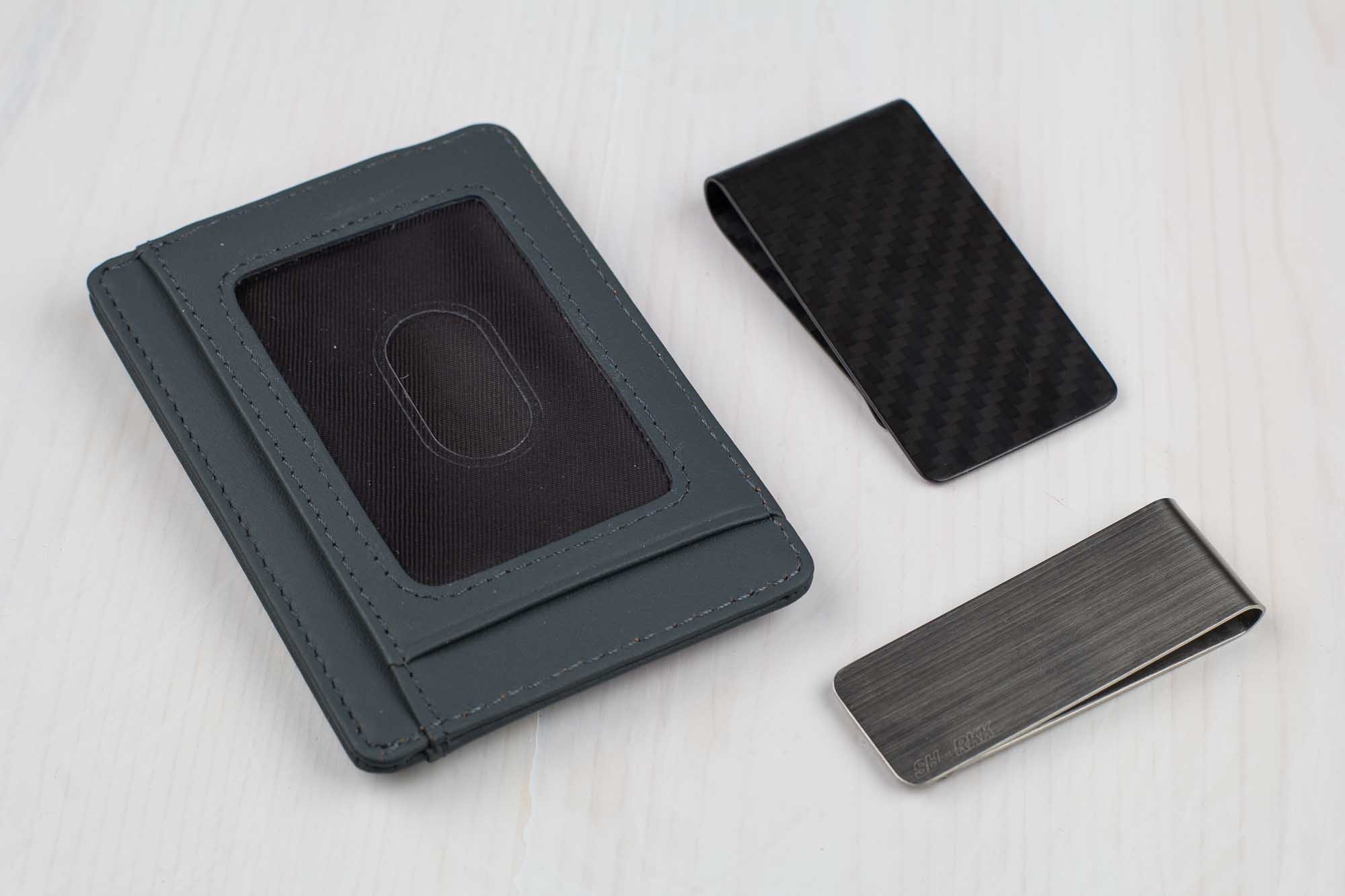 CL Carbonlife – Carbon Fiber Money Clip: Though reviewers on Amazon loved the CL Carbonlife, our tester found that the material was too rigid and made getting money out a difficult experience. In our experience, the Storus is a better pick for your money.
Sharkk – Stainless Steel Clip: We think our tester put it best: "the good news about this clip is that the metal is incredibly sturdy and will NOT release your plastic cards. The bad news is that it will NOT release your plastic cards." They found that the Sharkk was too stiff, would not budge, and even scratched their credit cards when they tried to yank them out. For a similar design that won't damage your plastic, we recommend the Adamant.
NapaWalli – Front Pocket Clip Wallet: The NapaWalli has great aesthetic appeal, and our testers liked its small, slim size. However, its downfall was its pockets. Our testers found them so stiff that getting cards out "was a chore." We recommend the Viosi instead.
Some more luxurious picks
Like any accessory, appearance matters. So we decided to share some top-shelf picks that have serious visual appeal. We didn't test these clips, but they get high style points from an aesthetic perspective. We like the Craighill – Square and Wave money clips for their unique shapes, and the Maxx and Unicorn – brass clip for its geometric appeal. And we also have our eyes on these aluminum money clips.
How we selected
When it comes to choosing a money clip, there are two primary factors: fashion and function. We aimed to choose clips that had both. We also know that money clips aren't complicated. At their simplest, they're just a bent piece of metal. But even so, there are some distinctions you can make about which are higher quality and will serve you better over time.
So, we combed through Amazon reviews to find clips that users loved for their function and efficiency. Then, we consulted trendy sites like HiConsumption and The Coolist to find clips that fashion-forward folks would want to own. Since these sites focus on curation rather than testing, we were sure to thoroughly test every money clip on this list.
In our research, we found that while many people were looking for traditional money clips, many others were also looking for money clip wallets. Money clip wallets are simply cardholders with money clips attached. Most lack the traditional "pocket," for cash, which many reviewers note cuts down on bulkiness. Still, others liked money bands, which, while not truly a "clip," performed a similar purpose of holding cash and cards together without the bulk of a wallet.
We decided to test all three of these "clip" types for our review, dividing them into the categories of money clips, money clip wallets, and banded money clips.
How we tested
Group testing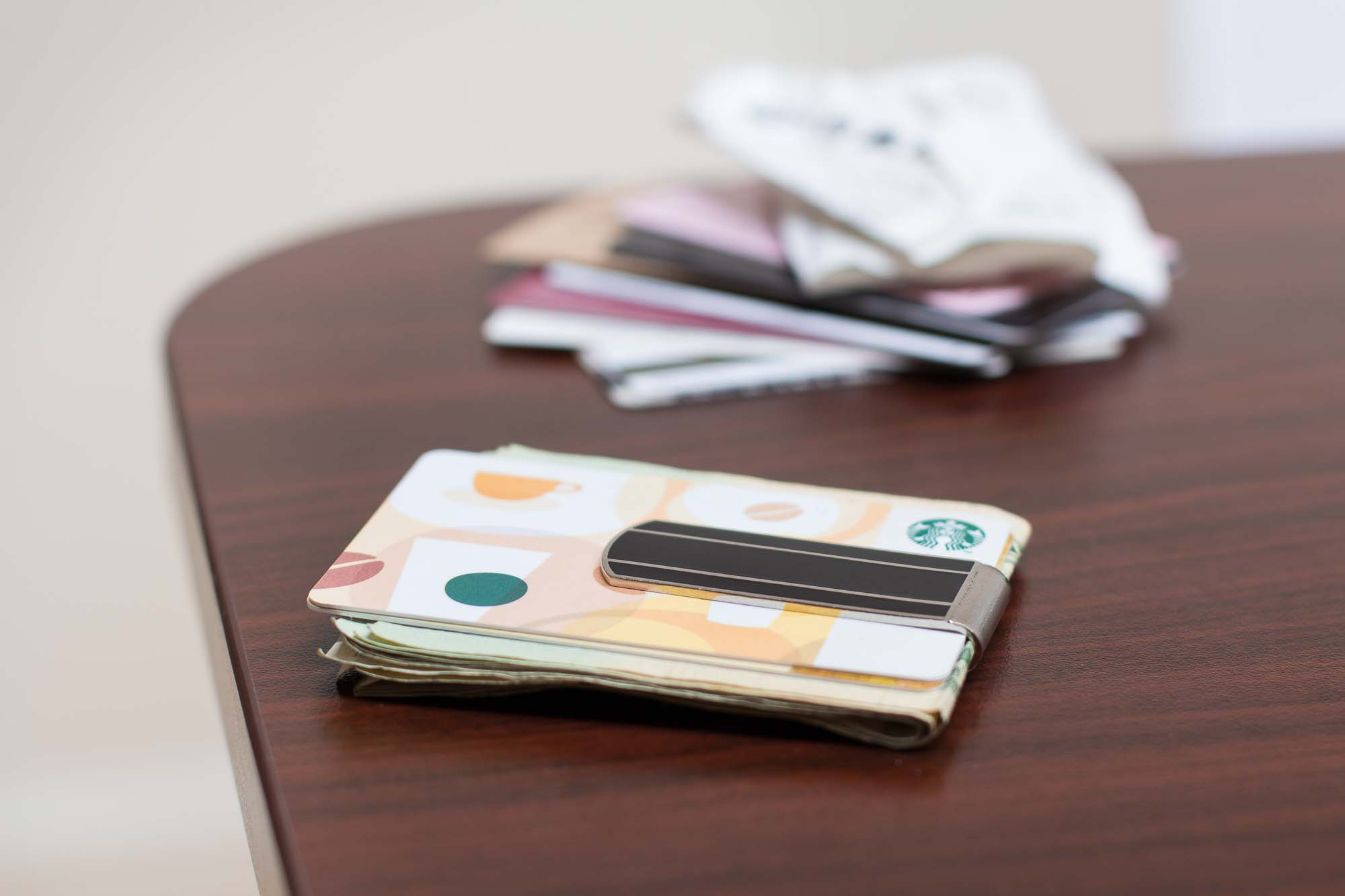 For a product as simple and straightforward as a money clip, we figured the best way to test it was to get it into the hands of everyday users. So, we rounded up ten co-workers (both men and women) and gave them a few simple rules:
Ditch your wallet and carry all of your cash and cards in a money clip (or money clip wallet, or banded money clip) for one week.
Use it everywhere you go, as you would a normal wallet.
No cheating with an auxiliary coin purse, money pouch, or card carrier.
Our testers did as they were told. Because of the clips' slim profiles, many of our testers were forced to ditch the old gift cards, outdated IDs and crumpled receipts they'd been carrying. Many saw this as an unforeseen benefit of switching to a clip.
After our testers finished out their week, we asked them a series of questions:
Was your money clip convenient to use?
Did your money and cards stay securely in the clip?
How easy was it to both add and remove cash and cards to and from your clip?
How did you carry your clip? (Front pocket? Back pocket? Purse?)
Would you continue to use your money clip after testing?
After our testers answered these questions, they repeated the process again with a second money clip (or wallet or band).
Once we had our answers, we did a qualitative analysis to decide which clips were worth testing further. We eliminated the clips that testers found egregiously difficult to use or otherwise problematic.
Quality check
Once we had only tester-approved clips remaining, we examined their quality. Did the clips have sharp edges that were likely to scratch a phone screen? Did they feel like they would snap when bent past their natural angles? Did they spring back into place each time they were opened? We noted our observations, then used all of this information to determine the top clip in each category.
Should you be using a money clip?
The answer to this question depends largely on your habit and preferences. If you're of the minimalist persuasion (or think that you could be), then a money clip is a natural choice. It forces you to cut back to the bare essentials. As one of our money clip testers put it:
"It was difficult to pare down my wallet to my ID, two credit cards, and cash, but it finally accomplished something that I've been wanting to do for a while — get my big fat wallet out of my back pocket."
If you're dedicated to carrying several forms of ID, your coffee shop rewards card, and a picture of your sweetheart everywhere you go, a money clip may not be right for you.
It's also worth considering that a money clip, not unlike cuff links or a tie bar, can be an accessory for a special occasion. We spoke with men's fashion and style blogger, Adam York of Your Average Guy who noted that "when the situation demands it…unleashing a bundle of crisp bank notes tightly clasped together within a stainless steel money clip will always have a timeless appeal."
Still undecided? Let's take a look at some pros and cons of carrying a money clip:
Pros:
Most clips are sleek and unobtrusive, so they won't ruin the look of an outfit. The Art of Manliness points out that "often underrated, [money] clips are even slimmer than wallets and can be eye-catching if you find a good one."
Most clips will fit in your front pocket, eliminating the need to sit on your wallet.
Money clips force you to stop carrying unnecessary items (like old gift cards) everywhere.
From a style perspective, money clips have a classic, vintage appeal.
Cons:
Most clips cannot hold as many items as a conventional wallet.
Some are so lightweight that users say they wouldn't know if the clip fell out of their pocket.
Some may consider money clips to be an "outdated" accessory.
Poor-quality or too-tight clips could potentially scratch your credit cards.
One last note; there's no doubt that in the modern age, many of us no longer carry paper money. In fact, according to the Washington Post half of Americans carry less than $20 in cash each day, and 9 percent of Americans carry none. Happily, many clips are just as effective at holding only a few plastic cards. (We're looking at you, Adamant.)
How to use a money clip
If you've decided that a money clip is a good option for you, you may be wondering how to use one. Don't roll your eyes; we know the obvious answer is "you clip your money together!"
However, there actually is some strategy to using one effectively. First, if you have paper money, you should fold it in half. Fold smaller bills on the outside to discourage people from stealing your money. Keep in mind that if you only carry large bills, you'll likely end up with more change. Once folded, place the money into the clip, folded side first. Then, slide your credit cards in on top of the cash.
If you are using a magnetic money clip, you may want to avoid using it to carry credit cards. There is some concern that doing so will mess with the chip reader on your card. However, reviewers of the magnetic money clips that we tested didn't find any issue with this.
Important features to consider
Type of clip: There are a few different types of clips from which you can choose. If you're planning to carry primarily cash, choose a money clip or band. If you have several cards to carry as well, you may want to consider a money clip wallet.
Aesthetics: At the end of the day, all money clips essentially do the same thing: clip your money. So the biggest difference between any money clip is how it looks. There are clips available in everything from carbon fiber to leather to sterling silver, so do some browsing (and set a budget) before you decide. Also consider the weight and width of the clip, since you'll likely be carrying it most places you go.
Quality: Does your money clip spring back into place after you open it? Does it seem like it will break if it's a little overstuffed? Does it have sharp edges that'll damage your phone screen? Or does it have a cheap finish that'll show scratches from its scuffle with your keychain? Keep this in mind when selecting one.
Capacity: Some of the more poorly designed clips that we tested could barely open wide enough to fit one bill. Others could probably hold a paycheck's worth of cash, no problem.
Cost: Based on our assessment of user reviews, there wasn't a whole lot of quality difference between the cheaper and more expensive money clips. Some reviews claimed that the $20 clips (like the Storus) lasted them a decade, while more expensive ones looked worn-down after a year. So again, this really comes down to aesthetics. If you want something in solid aluminum or something gold-plated, prepare to pay a lot more.
RFID blocking: Many of the money clip wallets that we tested came with RFID blocking technology, which is supposed to stop thieves from stealing your credit card data. Does your wallet actually need this feature? It's debatable. You can also achieve the same RFID-blocking effect with a piece of aluminum foil.
The bottom line
There's no doubt that minimalism is having a moment, and a money clip ensures that decluttering begins in your pocket (or purse). It should be an item that you buy once and don't have to think about again for a long time. It should be simple, functional and of course stylish. For our top pick, we think the Storus – Smart Clip achieves all of those goals. If you're looking for the best wallet style clip, the Viosi – front pocket money clip gives you great value at a low price, and for the best banded money clip, the Prägres has our vote.