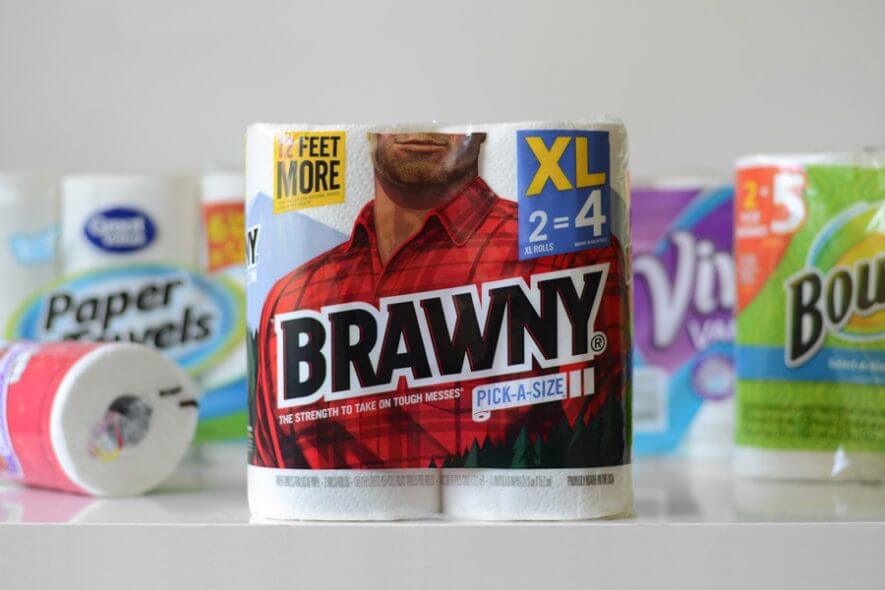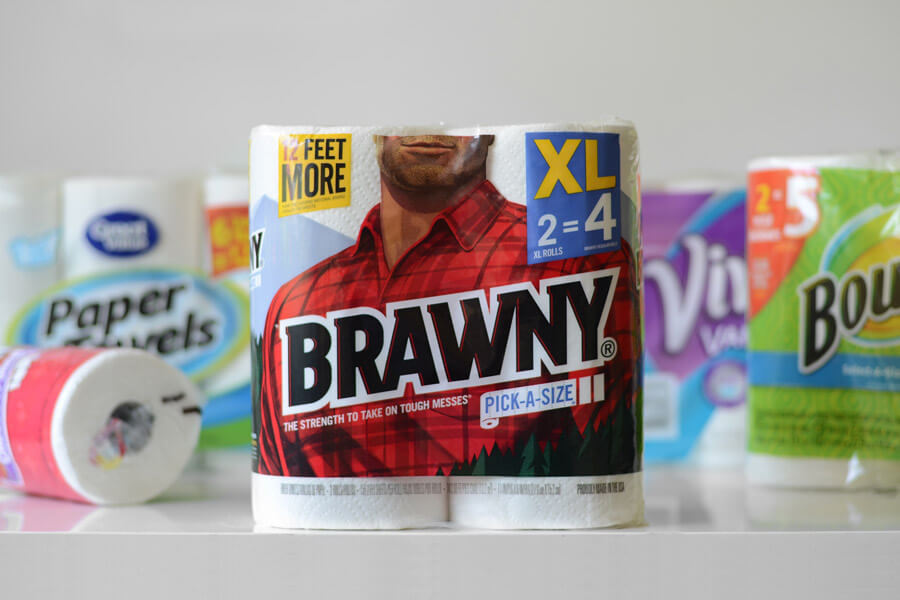 The Best Paper Towel Brands
After researching for over 30 hours and performing eight tests, we have determined that Brawny – Pick-A-Size stands out as the leader among best paper towel brands on the market. We tested six of the top paper towel brands for strength, durability, absorbency and overall usability, and Brawny was the best performer overall. We found Bounty – Select-A-Size to be a strong runner up.
After researching for over 30 hours and performing eight tests, we have determined that Brawny – Pick-A-Size stands out as the leader among best paper towel brands on the market. We tested six of the top paper towel brands for strength, durability, absorbency and overall usability, and Brawny was the best performer overall. We found Bounty – Select-A-Size to be a strong runner up.
Table of contents
Compare the best paper towels
Originally, we intended to include Seventh Generation – Natural Unbleached paper towels in our analysis of the best products. However, after trying out the sheets in a couple of simple preliminary experiments — cleaning windows, scrubbing floors and holding weight while wet — we decided that they didn't perform well enough to be included in our list of recommendations. They are, however, a popular choice for a 100-percent recycled, unbleached product.
Each of our top brands has the option to tear off a small sheet, about half the size of a standard paper towel, which helps reduce unnecessary waste. They also are easy to tear, function as sponges and can hold weight when wet. Of course, if you want to reduce even more waste you can consider using a washable kitchen towel instead of a disposable paper towel, but some messes you just don't want to run through your washing machine.
As an added bonus, while all sheets are assumed to be single-use, the top six were easy to rinse, wring out and reuse after wiping down a countertop.
From our final list of six brands, we started the testing process to bring you our favorite.
1. Best overall: Brawny – Pick-A-Size
Two brands stood out as top-of-the-line products after assessing the quantitative and qualitative data: Brawny – Pick-A-Size and Bounty Select-A-Size. They were tougher, absorbed more water, cleaned up messes easier with less sheets and distinguished themselves as better than the rest overall.
We give the narrowest edge to Brawny for its soft feel, durability and absorbency — for a price that beats Bounty.
Brawny feels cloth-like, which helps when washing floors and cleaning windows. It rarely wears thin, even when repeatedly scrubbing a stain. In our test of strength using sandpaper, it outlasted the competition, holding strong at 13 swipes across the rough surface. This just beat out Bounty and more than doubled the performance of other brands.
The combination of strength and softness is unique. It's a great tool for a variety of household functions and cleaning tasks. It even works well as an alternative to napkins and tissues.
But the real tipping point is the absorbency. A sheet of Brawny retained 0.1 ounces (by weight) more than Bounty — 0.7 ounces to Bounty's 0.6 ounces. At $.04 per square foot, Brawny is half a cent cheaper per square foot than Bounty. That may seem small, but, combined with the higher absorbency, it becomes pretty significant.
In fact, over the life of a roll, Brawny collects nearly half a pound more liquid than Bounty and costs less.
Key takeaways:
Brawny – Pick-A-Size is our choice for best paper towel due to its strength, absorbency and scrubbing power.
Brawny also costs less per square foot than our second-best pick, Bounty.
Since it's a leading brand, the cost is higher than a generic brand, but you're paying for better performance.
2. Runner-up: Bounty – Select-A-Size
Bounty is the clear runner-up, joining Brawny in substantially outperforming the other brands. When we soaked the towels in water and subjected them to weight, Bounty held just under 20 ounces, an impressive show of strength that surpassed the others and nearly doubled the weight held by all brands except Brawny.
Bounty also tied Brawny in the volume absorbency test, needing just two and a half sheets to pick up two ounces of water.
Bounty finished either just ahead, just behind, or exactly even with Brawny in every test we conducted. In the overall user experience, the two products are very similar and perform tasks around the house with an almost-equal result. It is only with careful scrutiny of the data and consideration of price that Bounty is our second-best pick.
Key takeaways:
Bounty – Select-A-Size performed at or near the top in each household test.
It's the strongest sheet, holding nearly 20 ounces of weight when wet.
However, because it's a high-quality product, Bounty is the most expensive one we tested, at $.045 per square foot.
3. Honorable mention: Viva – Vantage
If there is a second tier in the paper towel market, Viva – Vantage Choose-A-Sheet is in it. In our tests around the house, Viva — which uses a mix of paper from responsibly managed sources — was a much closer rival to Bounty and Brawny than the other products.
Although it's advertised as one ply, Viva sheets are constructed with the trademark V-weave technology that functionally seems to operate as a second layer. It picked up stains as efficiently and left windows just as clean as both of our best picks. The grooved texture helps it remove dirt, grime, and grease easily and reliably.
In the test of volume absorbency, Viva equaled both Bounty and Brawny in collecting two ounces of water with just two-and-a-half sheets. It also retained 0.6 ounces of liquid by weight, tied with Bounty and just behind Brawny.
While it may not be as soft or as tough as our two favorites, it shines brighter than the rest of the field. And at a similar price as Brawny and Bounty — $.05 per square foot — Viva is a good value.
Other finalists we tested
White Cloud GreenEarth paper towels are Rainforest Alliance Certified and sourced entirely from 100% recycled paper. However, the recycled material clearly impacts the effectiveness of the White Cloud sheet. It absorbed half the water of our favorite brands and held less than half the weight. It also shredded quickly in our home tests, like scrubbing floors and swiping over sandpaper.
Scott – Mega Roll Choose-A-Sheet also suffered from a functionality standpoint. Scott towels consistently failed to match the performance standards of the top three brands while being priced about the same as Brawny, Bounty and Viva.
If you're making a decision solely on price, Great Value – Ultra Strong  is a reasonable option. Its performance in our tests was about equal to White Cloud and Scott, but at just under $.02 per square foot, it's the cheapest. In fact, it's less than half the price of Brawny, Bounty, Viva and Scott.
How we selected finalists to test
During our research stage, we looked at the metrics used by reviews of the most popular and highest-rated paper towels. We read consumer reviews, finance blogs, environmental websites and home publication recommendations to narrow down our list of paper towels to the six best.
Our top six brands are all rated four stars or higher on Amazon.com and Walmart.com, and some — like Brawny Pick-A-Size, Bounty Select-A-Size and Viva Vantage – Choose-A-Sheet — were recommended in product reviews from publications like Good Housekeeping and Real Simple.
We read blogs, like Lifehacker, to find out what people look for in their paper towels. We also reviewed the findings in Consumer Reports, which tested 18 different products in its search of the best one.
After several days of research, we found that the key characteristics people look for in paper towels include:
Strength
Scrubbing power
Absorbency
Affordability/value
Next, we found products that rated highly in these categories and selected our finalists:
Why you should trust us
We're not the first people to test and rate paper towels. There are dozens of articles, forums and review sites that have produced really useful information. We know; we spent hours combing through them.
After considering the content that is already available, we were able to design tests that yielded new quantitative data to measure just how strong and durable these products are. It was important to us to create numbers that were an accurate measure of the claims printed on the packaging.
We put the top products through five days of home testing to bring you numerical data. Using the paper towels for a variety of tasks — from cleaning windows to prepping food — our eight household tests rated the products for water and grease absorbency, strength, durability, glass cleaning ability, softness and scrubbing ability.
Single-use paper towels vs reusable cloth towels
Paper towels were introduced as a replacement product for traditional cloth towels in the early 1900s. In comparison with cloth towels, the disposable varieties are more convenient, don't need to be washed and are always dry when you need them.
The more significant appeal of paper towels, however, is that they don't spread bacteria or chemicals around your house.
With cloth towels, once they have come into contact with chicken scraps, chemical-based cleaner, or even the hands of someone with a cold, they act as a vehicle to spread germs. Single-use paper towels trap these germs and take them to the trash can when they're tossed out.
Why should you use paper towels?
Because paper towels eliminate the spread of germs, they can be a helpful tool for your cleaning and cooking routine.
We understand the ecological and environmental impact of disposable paper products. In fact, for many tasks around the house, we encourage you to use reusable cloth towels. They don't eliminate other essential tools like the sponges from our kitchen cleaning sponge review. However, when you're preparing meals with raw meat or using common cleaning products, single-use paper towels are the safest and most hygienic option.
They can also be used for the following household functions:
Scrubbing built-up grit and grime off surfaces
Cleaning up spills and pet accidents
Rinsing and drying fresh fruit and vegetables
Soaking up grease from bacon and fried foods
Covering microwaved food to prevent splatters
Polishing furniture
Wiping down the car
Disinfecting bathroom and kitchen surfaces
Cleaning windows and mirrors
Important features to consider
Packaging advertises a range of features and levels of thickness, absorbency and strength: "ultra absorbent," says White Cloud; "the strength to take on tough messes," says Brawny; "scrubs like cloth," says Viva.
But how does this language translate to real-world performance?
While you can't judge a product's performance based on packaging when you're shopping in a store or online, you can calculate its value with a few other metrics.
Pricing
For the most basic value calculation, first look at the total cost and, using your phone's calculator, divide it by the number of rolls in a package.
However, rolls come in various sizes, so figuring out the price per square foot is a more meaningful figure. Each of the six brands that we analyzed listed the total square footage on the packaging. Divide the total cost of the package by the total square footage to find the price per square foot, and you can easily compare two or three brands while you shop.
Ply
The ply is the number of layers in each sheet. Two-ply — meaning two layers of paper — is typical for effective single-use towels. Check the packaging to see if the rolls are one ply or two. Of our top six, only Scott Choose-a-Sheet and Viva were one ply.
Sheet size
Look for packaging that says, "choose-a-size" or "choose-a-sheet," as an indicator that the product has additional perforations so you have more control over the size of the sheet you tear off.
Standard paper towels are 11-by-11 inches, but the sheets in this style are around 6-by-11 so you have the option of using a small sheet for a smaller job — or double up and use two sheets when you need to. This eliminates waste and helps you save money by ensuring your rolls last longer.
Environmental impact
If a brand takes any extra steps to be environmentally friendly, they'll typically let you know on the packaging.
Some brands use paper that comes from responsible sources, like Viva; some are made from recycled paper, like White Cloud; and others even come unbleached, which allows them to be composted. Keep in mind that it might not be worth choosing a green brand if you end up using more paper towels to get the job done.
Remember that if you have a compost system in your backyard or live in a city that collects compost, your paper towel tube will be a welcome addition. When you're finished with the roll, you could simply recycle it, or shred the inner core and throw it in the compost.
How we tested
With our top six finalists selected, we developed a series of tests to compare them. We looked at the following quantitative and qualitative performance metrics to find the strongest in each category and, ultimately, to bring you our top choice.
Price per square foot
Water absorbency
Strength
Durability
Glass cleaning ability
Softness
Grease absorbency
Scrubbing ability
Quantitative analysis
Test 1: Absorbency

To measure absorbency, we conducted two separate tests — one for water weight and one for volume.
Weight: First, we weighed a dry sheet of each paper towel. We then saturated the sheet with water, held it up until the water stopped dripping from the bottom edge and weighed it again to see how much of the water remained within the sheet.
Brawny came out ahead in this test, holding 0.7 ounces of water per sheet. Close runners-up were Bounty and Viva, each with 0.6 ounces.
Volume: Our second test determined how many sheets each brand needed to completely absorb two ounces of water by volume. We poured the two ounces onto a wide plate and used a consistent motion for each brand to drag quartered sheets until the plate was completely dry to the touch.
Brawny, Bounty and Viva all completed the task using just two-and-a-half sheets, pulling ahead of the other three brands.
Using this sheets-per-ounce data, we were able to calculate the cost per ounce of liquid absorption for each paper towel. Even though Great Value finished near the bottom of the pack in absorption per sheet, it actually works out to be the cheapest in terms of cost per ounce of liquid absorbed at $.013 per ounce — because a roll of it is larger and cheaper than most other brands.
White Cloud comes in at $.018 per ounce of absorption. Brawny just edged out Bounty at $.023 and $.026, respectively. The single-ply products — Viva and Scott — were the most expensive in terms of cost per ounce of liquid absorption.
Test 2: Strength
Next, we wanted to test the strength of each brand by seeing how much weight it could support before breaching. We saturated each product with water, stretched it tight, and started piling on the pennies until the sheet broke under the weight.
Bounty earned first place in this test, holding 224 pennies or 19.9 ounces. Brawny was the next strongest, holding 205 pennies or 18.2 ounces. The other four brands were substantially weaker, all breaking under the weight of 104-116 pennies or 9.25-10.3 ounces.
Test 3: Durability
Finally, we wanted to discover which brand could hold up to tough jobs the longest. Using medium-grade, coarse sandpaper, we tested how many swipes a sheet could handle until it wore through.
After folding each sheet three times, making eight layers of the paper towel, we dragged a sanding block across each sheet, using consistent speed and force to drag the sanding block with a string. We then checked for tears after each swipe.
Again, Brawny and Bounty distanced themselves from the competition, withstanding 13 and 12 swipes, respectively. Viva shredded after six strokes, White Cloud and Great Value lasted just five, and Scott wore through after four.
Qualitative analysis
The experience of using a paper towel involves much more than just measurable data. To evaluate overall user experience, we cleaned windows, used them as napkins and facial tissue, soaked up bacon grease and scrubbed dried red wine off the kitchen floor.
Test 1: Glass cleaning ability

With the mid-afternoon sun shining in, we cleaned sliding glass doors using glass cleaner and one sheet of each product. We wanted to see how easily each towel removed dirt, how it held up under wet cleaning solution and if visible streaks were left behind on the glass.
In this first test, Viva joined Bounty and Brawny in the top tier, performing better than the other three products. These top three towels, Viva in particular, have more texture than the others, with grooves and divots, making it easier for them to pick up dirt, grime and grease from surfaces. All three stayed strong and left the glass free of streaks.
Scott and Great Value are thinner than the other brands and, therefore, absorbed less of the glass cleaner.
Test 2: Softness
In addition to wanting a strong and absorbent sheet to handle the dirty work, it's nice to know that a paper towel is also soft. To analyze the overall softness of the products, we used each sheet as a napkin and tested the feel of each on skin.
Bounty and Brawny are by far the softest and feel most pleasant, and they don't irritate or scratch. With eyes closed, it's easy to distinguish Bounty and Brawny from the other brands, but they feel very similar to one another. In a pinch, both paper towels can comfortably replace napkins and facial tissue.
Test 3: Grease absorbency
Next, we fried bacon in a hot pan pulled out two strips with a slotted spatula and placed them on a sheet of paper towel, which was directly on the kitchen counter. After folding the sheet over the bacon to blot the grease, we checked out the absorbency.
As we removed the folded sheets from the counter, there was clearly grease where the sheets of Scott and White Cloud had been. There was a fainter remnant of grease under the Viva and Great Value towels, which could be felt but not seen. There was also a trace bit of grease left on the counter by the Brawny towel.
A sheet of Bounty appeared to trap the most grease from the two strips of bacon, and the spot on the counter under it was dry to the touch.
Test 4: Scrubbing ability
For this test, we "spilled" red wine on the kitchen floor and let it sit for eight hours. We then tackled the six dried stains with one sheet of each brand.
Viva, Brawny and Bounty each remained strong. These sheets didn't shred or wear thin as we repeatedly scrubbed the stain.
In fact, all three picked up the wine relatively quickly and easily without having to exert much pressure. Again, the more textured surface of these three towels probably explains their superior performance in this test.
The other three brands did eventually succeed in removing the spots, but only after increasing the pressure and number of swipes across the spill. Our hands went right through the Scott and White Cloud sheets as they thinned and shredded during the cleaning.
The bottom line
We feel confident recommending both Brawny Pick-A-Size and Bounty Select-A-Size paper towel products, but we believe Brawny is slightly better for use all around the house at a better value.
Brawny and Bounty clearly established themselves as the favorites, often doubling the performance of the other products in our countable data. Both brands proved to be strong enough for the toughest of challenges, yet soft enough to be sensitive on more delicate surfaces, like glass and even skin.
In the end, Brawny pulled ahead on the merits of its higher absorbency combined with lower price, making it not only the best towel for the job but also the best value.