The Best Personal Blenders
We tested Amazon's top-rated personal blenders for 50 hours and analyzed 20 additional models before selecting the best one. The NutriBullet – Pro 900 Series is our pick for the overall best personal blender. It blends with lightning-fast ease, is fun to use, and delivers good value at a sub-$100 price point. Our under $30 pick is Black+ Decker – PB1002 Fusion Blade, which has a surprisingly powerful motor for such a compact unit. For this 2021 update, we tested four more personal blenders and selected the Ninja – QB3001SS as our also-great pick and the Sboly as another great personal blender under $30.
We tested Amazon's top-rated personal blenders for 50 hours and analyzed 20 additional models before selecting the best one. The NutriBullet – Pro 900 Series is our pick for the overall best personal blender. It blends with lightning-fast ease, is fun to use, and delivers good value at a sub-$100 price point. Our under $30 pick is Black+ Decker – PB1002 Fusion Blade, which has a surprisingly powerful motor for such a compact unit. For this 2021 update, we tested four more personal blenders and selected the Ninja – QB3001SS as our also-great pick and the Sboly as another great personal blender under $30.
Table of contents
The 11 personal blenders we tested
1. Best overall: NutriBullet – Pro 900 Series
The NutriBullet Pro 900 is the best combination of every nice-to-have feature in one package — and at a price much more affordable than the Vitamix S30, which comes in at 3x the cost: $375 to the NutriBullet's $91 at the time of this writing.
The bullet's blending speed, at 12.47 seconds, is almost five times better than the group average of 58 seconds. The power makes blending fun, too — it might not make you healthier by default, but if it's more enjoyable to do, it may make you more likely to reach for a smoothie than a sandwich.
The wide base also makes it easy to make shakes without mess and also clean up without pain. It's a bit loud, but nothing out of the ordinary for such a powerful blender.
2. Also great: Ninja – QB3001SS
The Ninja – QB3001SS performed the best of the four personal blenders we tested for this 2021 update. With 700 watts, it also blended everything to the smoothest texture in just 8 seconds. Two blender jars with sip lids are included, each 16 ounces. The jar's mouth is 3 inches in diameter — compared to the Nutribullet's 3-⅞ inches — but we had no problem adding ingredients as we did with most of the other personal blenders we tested.
The Ninja's slim design won't take up much countertop real estate and can be stored in a cabinet if you don't want to keep it out on display. It's a snap to clean with a quick rinse or you can pop it into the dishwasher. The Ninja is about 20 bucks less than the Nutribullet, and if you don't mind the smaller cup size, it's a great alternative.
3. Best under $30: Black+Decker – Fusion Blade
If you don't want to throw down $90+ for a blender, the Black+Decker – PB1002 Fusion Blade is the best bang for your buck, performing solidly at right around $25. Powered by the most powerful motor of the lower-cost models at 275 watts, the Black+Decker blended our difficult concoction in just under one minute.
In addition, the Black+Decker has a two-year limited warranty, a year longer than the rest of the cheaper models. On the downside, its 2 ½ inch opening made making shakes a little bit messier to clean up on average — but that opening shouldn't be enough to shy you away from a purchase decision if you're looking for a solid, reliable blender you can use day in and day out.
4. Also great under $30: Sboly
A real contender for besting our under $30 pick, the Black + Decker – Fusion Blade is the Sboly personal blender. It's just a couple of books more than the Black + Decker, but it has slightly more power (300 watts) and blended our smoothie in a mere 10 seconds.
Dimension-wise, the Sboly is virtually identical to the Fusion Blade, but the big difference is that the jar is made from Tritan, a BPA-free plastic that resembles glass, but it doesn't shatter and holds up its appearance after frequent dishwashings. The only downside is that the jar's 2-¼ inch mouth prevented us from simply adding ingredients directly from a measuring cup. Still, the Sboly is a solidly built personal blender that's worth your consideration.
5. Magic Bullet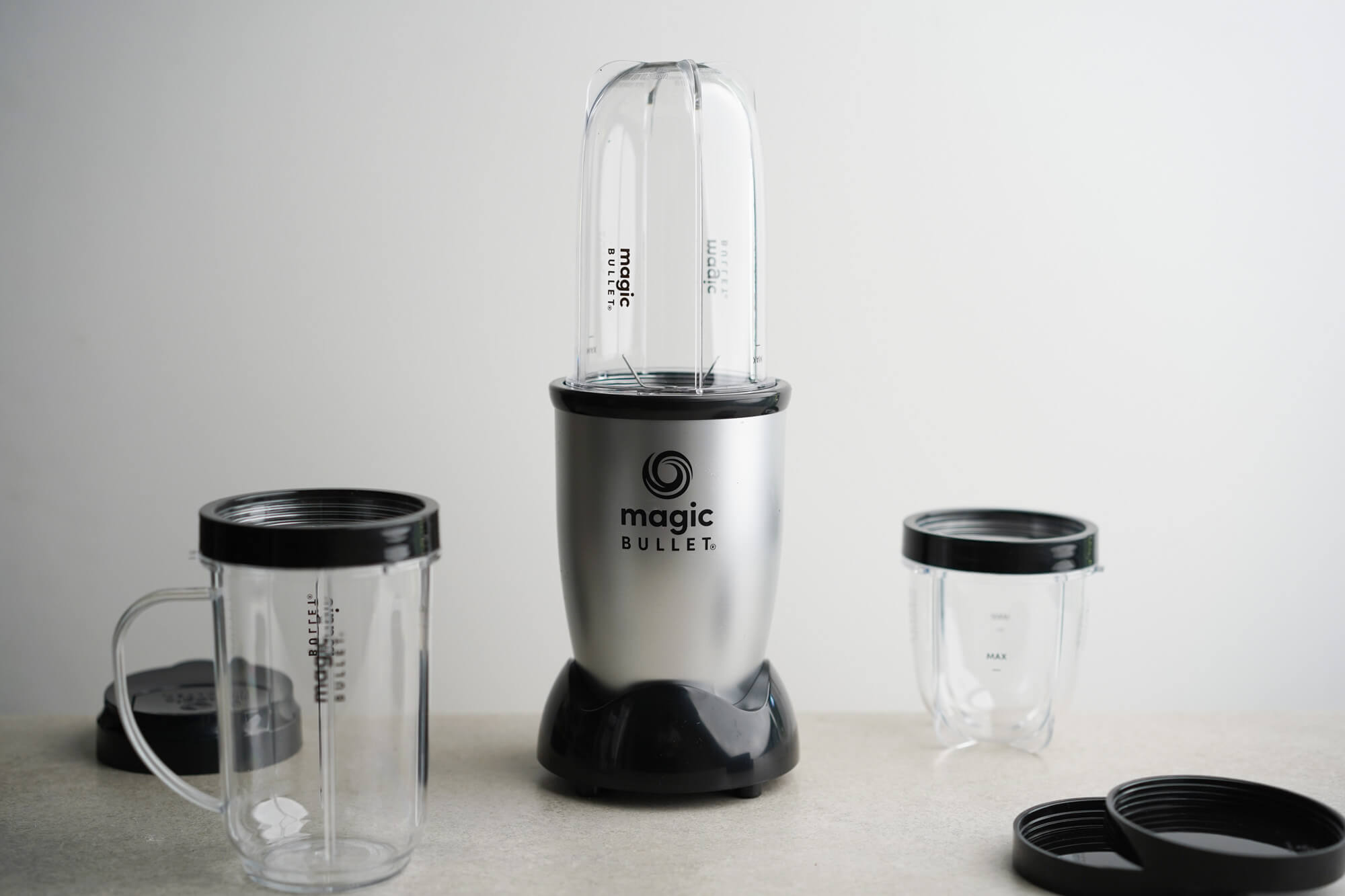 For this 2021 update, we tested the Magic Bullet and found there's nothing magical about it. It's under $30 and comes with a lot of stuff: three different-size jars, two screw-on lids, and one sip lid. The 15-ounce jar is on a par with other personal blenders, but the 12-ounce "party" jar (a party of one, maybe), and 10-ounce jar are too small to process a smoothie.
The Magic Bullet has 250 watts, which is comparable to other personal blenders we tested, but it's not very well-engineered, as we had to shake the blender several times to get the ice and almonds pulverized in over a minute. Lastly, the Magic Bullet was the loudest of the blenders we tested for this 2021 update, and you'll need a good set of earplugs while using it.
6. Popbabies
Also for this 2021 update, we tested Popbabies, and despite its high ratings and swoony reviews, it didn't even come close to living up to the hype. The company claims that Popbabies takes three to five hours to charge via USB, but in reality, it's closer to six hours.
Laughably advertised as "powerful" at only 175 watts, Popbabies couldn't handle the ingredients in our smoothie recipe. It whirled for a second or two, then stopped. We don't believe the unit we tested was faulty; Popbabies can only handle 8 ounces at most, even if its jar size is 14 ounces. It's also substantially more expensive than the Black + Decker and the Sboly, so pass this one up.
7. Vitamix – S30
The Vitamix – S30 blender was the most expensive model we tested, with an average price of around $350. While the Vitamix performed nicely on every point, very little about it warranted making it an expensive recommendation for the average personal blender user.
Unlike the other models, it also has a 40-ounce compact container that makes family blending possible. But if you want a personal blender, you probably don't care about that use case for the most part.
Similarly, it has speed options and also a pulse option, giving you more precision. Yet again, though, that level of precision is rarely needed for the on-the-go smoothie. These options also make the Vitamix the biggest personal blender we tested — taking up considerable shelf space, which may come at a premium depending on where you live.
8. Hamilton Beach – 51101AV
The Hamilton Beach – 51101AV had been a constant in our kitchen for years, and at around $15, it's great value for the price. You won't go wrong with a blender like this, but you won't go right, either. I used it consistently for 18 plus months and consistently went with my go-to of mixed fruit, protein, and maybe a banana.
Enter these product reviews, and within the first five minutes with the NutriBullet, I realized what the Hamilton Beach was missing: power, fun, and ease. Even compared to its low-priced comparable, the Black+Decker, it comes up short in several key areas: motor gusto, cup size, warranty, and ease to clean.
9. Tribest – PB250
The Tribest – PB250 was one of our least favorite models. It had the second-fastest blending speed, but was also priced at $70, had a narrow opening, and was the loudest model we tested. Very little about it seemed to warrant the $70 price point. If it had priced in the $30 range, it might be a different conversation.
10. Oster – BLSTPB
The Oster – BLSTPB was another well-rated, low-priced model at right under $20. It had some positive attributes, but it tested at the bottom of our time-to-blend list, taking 83 seconds to fully mix our recipe concoction. The narrow opening/bottle size was a likely contributor and said size also made the Oster difficult to clean.
11. Bella – 13330
Bella – 13330's brought it in the middle of the pack with a solid blending speed, opening circumference, and ease to clean. However, it was slightly beaten by Black+Decker in speed, cup size, and noise level, making it the 2nd best choice in that price range.
How we selected
In doing our research, we had to make a decision about where personal blenders ended and where regular blenders began.
There are several great blenders out there, but they aren't "personal". Bigger blenders tend to offer the ability to blend for much bigger families and also more advanced features like the ability to make hot soup or deliver churn-free ice cream.
On the negative, they also tend to be much larger than average, take up a lot of space on your shelf, and run at much higher price points. We define personal blenders as single-serve units that allow you to blend and also consume your smoothie in the same container.
A personal blender is ideal for protein shakes, using the best-tasting protein powder and best protein powder for women. (If you're looking for more ways for bumping up your protein, check out our reviews of the best protein bar and the best beef jerky.)
Bigger blenders almost always require you pour from a bigger container into a smaller one, and for this reason, are harder to clean, more expensive, and a better model for a cooking professional or family than someone looking for that on-the-go boost with little maintenance and also, less-than-egregious cost.
Some of the models we considered had hybrid setups — a blending container that also doubled as a to-go cup, while also including a bigger base for family-sized smoothies.
We passed on reviewing most of these options in this round because they didn't fit the "personal" archetype we aimed for, which most of the time meant little-to-no frills to allow for the most convenience at the lowest cost. However, we did do a test of all blender options in our more general blender review.
The exception to this in our blender set was the Vitamix – S30, a $300+ blender that received such high marks in the personal blender category that it was worth considering despite containing additional attachments and a bigger price point.
How we tested
In addition to pure blending power, the most obvious attribute of a quality blender, we also tested and indirectly came upon several other differentiating qualities that contributed to a seamless, quality experience… or didn't.
First, the circumference of the blender bottle opening made getting some powders and fruits into the bottle difficult. My scooper for protein would have splashed protein all over my kitchen floor on the Oster Blue or Black+Decker models, which meant I needed to use a spoon, creating more dishes, or waste some of my expensive protein powder down the kitchen sink.
A wider opening means getting your favorite ingredients into the glass without a problem. Too wide and you're impacting on the usability/portability of these bottles. Thankfully, none of the personal blenders really fell in that range. However, some did fall in the difficult-to-pack range, which added some annoyance to the process in terms of additional cleaning or wasted ingredients.
The next functionality aspect we looked at before we started blending was actual cup size. While we did want a personal, single-serve blender, we also wanted the option to blend a meal from these blenders… and not just a snack. If you only use personal blenders for a snack or small meal, the Hamilton Beach (14oz cup), Bella (16oz) and Tribest (16oz) models may work for you.
In addition to their inability to generate a full meal, smaller cups, on average, made blending more difficult for the motor and caused all three of these models stress when compressing several bigger fruits in a smaller area. Even if you don't care about making a shake of 16 ounces or more, a bigger cup size is preferable for an improved blending experience.
Another characteristic worth thinking about is the sheer size of the blender. One reason people buy single-serve blenders is that they take up little counter space on average. However, this isn't always true.
The Vitamax S30, although high powered, will take up a sizable amount of space in a small kitchen. Comparatively, Hamilton Beach's inexpensive model takes up very little and would be a worthy companion of any 300 square feet New York apartment.
We next looked at the noise levels of each blender. On average, each blender hovered around 100 decibels (dB) when we ran them against an average assortment of ice/frozen fruit and etc using a noise meter. For context, ambient noise is around 45 dB.
Tribest's model screeched to the loudest levels, ringing in at 106 dB, while the expensive and efficient Vitamix came in at an efficient, less noisy 96 dB. In addition, the Vitamix, unlike the other blenders, has a speed setting, which means you can significantly reduce the noise of the blender at lower levels. Blending slower at the 4th level on the Vitamax brought the noise level down to 85 dB.
If you don't want to wake a baby (or a roommate who will cry about it), but you still desperately need your breakfast smoothie, the Vitamix is your best option.
Once we had thought through all the main functions, it was time to start measuring blending efficiency. To best control amongst the seven, we used the exact same ingredients in each blender, and put them in in the exact same order against the blade — a pretty normal but fairly difficult test for each blender to run against, with several different ingredient types to challenge it.
From there, we timed how long it took to get to an even blend. An even blend was defined as the visual point at which the smoothie reached an even consistency with a single, common color and no uneven chunks.
The ingredients for the seven smoothies we blended were:
In general, the blenders performed in line with motor power, with the 250 watt and below models, the Oster Blue, Tribest, and Hamilton Beach all taking one minute plus to blend the concoction.
The Oster Blue technically also required an extra ingredient shake in order to get it to perform, which likely had something to do with its narrow opening contributing to a less-than-optimal blending experience despite being on the highest end in wattage of the lower-end models. Over the long term, this is a common occurrence for lower-wattage blenders.
The NutriBullet dominated the competition in terms of time to even blend, managing an impressive even blend time of 12.47 seconds, 18 seconds better than the next-closest result. As mentioned previously, the pure power of the NutriBullet's 900-watt motor made it not only effective, but fun to use, too.
Depending on your want, time to blend might not be overly important. It's nice to be able to blend in 12 seconds, but if you've got a minute, you can live with the Hamilton Beach or Black+Decker models.
However, it's going to be a pretty common occurrence for the Hamilton Beach, Bella, and Oster Blue models to struggle out of the gate, which means more than just a slow smoothie — there are also some implications on the durability of the motor, as I've had one Hamilton Beach blender break in the past year after wearing it out from repeated uses and struggles to blend.
Comparatively, the higher-powered motors of the Vitamix and NutriBullet models feel sustainable (and the Vitamix has a five-year warranty), so there's a sense that you are also getting a better investment in the higher end, more powerful motors, too.
It's not totally fair to rate the Vitamix exclusively on blend speed, either — of the models we tested, the Vitamix was the only one with blending speeds and a pulse option, giving you more flexibility in your end product if you're looking for finesse in your personal blender.
My guess, if you're the typical personal blender user, is that you aren't, but in case you someday imagine that scenario, it could be something to look into investing in.
Finally, once the smoothie is enjoyed, you also have to worry about the fun part — cleaning. The wider mouth personal blenders made this the easiest process, allowing you to clean out the hard-to-get areas of the cup easily and without struggling if you happened to leave it on the table overnight.
Comparatively, the Hamilton Beach made it hardest given the blending cup and blending blade fit within the same apparatus, making it difficult to clean hard-to-get-to pieces of the blade if you forget to wash it out immediately.
For both cleaning purposes and convenience when building your smoothie, wider mouth openings are superior.
Why trust us?
Our main tester has owned a Hamilton Beach personal blender for almost two years, and also fits the archetype of the most common personal blender user. That is, they want a good tasting smoothie, but want it fast, and also don't want to have to work too hard for it… or have to work too hard afterward in cleaning it.
In addition, nobody in our test group had kids (or additional cooking wants), so there wasn't much need for a much bigger or fancier blender.
We spent 40+ hours in total researching and testing personal blenders, comparing research from Consumer Reports, CNET, WIRED, and more in order to come up with our own criteria and conclusions from a starting point of existing, reputable data sources.
We also consulted with two team members with years of experience cooking and contributing to their own cooking blogs, Shef Sherry and Hungry Huy, for their opinions of what makes a personal blender stand out from the pack.
In our research, there were several high rated blenders that emerged, which made selecting the best of the best difficult. We ultimately ended up going with a final seven.
Side-by-side feature comparison
When you put everything together, your blender choice comes to a few decision points: budget, use case, and need to have control (or power) when blending. To make comparison easier, we've drafted this chart highlighting the main points of our tests in addition to the blender features of the top seven models, so you can make that decision for yourself.
Given we compared so many products, this image might be a little hard on the eyes. Click the image to enlarge and see it full width.
Long-term testing notes
We originally published this post in July of 2016. Although we had been using personal blenders for years, it was the first time we had used the NutriBullet Pro. We had read some reviews with concerns about the long-term durability of the product, so were interested to test it on a long timeline to see if we experienced the same problems.
Now three years later, we haven't run into issues with durability. We've been running the NutriBullet almost daily, and are still in love with its power and usability. Cleaning is a cinch, it easily blends through difficult mixtures, and there have been no signs of wear and tear. In fact, at one point we started filming a video of the NutriBullet, and because of that, stopped using it daily and instead substituted the Oster. It was a nightmare in comparison, getting clogged almost every single time, causing spills, and in general, clearly showing why he had made the NutriBullet our first choice in this post.
Another member of the Your Best Digs team has been extensively using our under $30 pick, the Black+Decker – PB1002 Fusion Blade, and is still happy with the choice. She mentioned having to be cognizant of not overfilling the cup given the unit's less impressive motor, but that's to be expected for a cheaper unit. Overall, we're still confident in that pick.
That said, if the Nutribullet or the other blenders on this list still don't catch your fancy, we highly suggest you check out our larger blender review for additional blending options.