After spending 40 plus hours testing the NutriBullet Pro 900 Series, Vitamix S30 and also comparing both against five of the other blenders on the market, we're confident the NutriBullet is the superior blending option for most buyers. The NutriBullet has a more powerful motor, is more enjoyable to use, and is a third the price of the Vitamix S30.
When testing both models, we looked at several factors that differentiate one blender from another. Most importantly, we first looked at blending power. To create a controlled environment, we measured out the exact same ingredients for both blends, and also added them to both blenders in the same order.
These were the ingredients we used:
The NutriBullet blended the ingredients in 12.47 seconds, compared to the Vitamix S30's 37.68 seconds. To be fair, the Vitamix recommends a "slow ramp up" where you start at the 1-2 speed intervals, and then ramp up to 10.
Despite this, it was considerably slower — but by no means slow, as it still blended the concoction 26 seconds faster than the average speed of the other five non-NutriBullet blenders we tested.
The NutriBullet's 900 watt motor just happens to be incredibly powerful, and a step-up from Vitamix's 790 watt motor. Check out this GIF of the NutriBullet, which showcases a typical blending process:
The NutriBullet was slightly louder than the Vitamix, at 102 decibels (dB) when blending the mix. However, compared to the group of five other great personal blenders we tested, it was right on par — loud, but nothing crazy, which is impressive for a model with a 900 watt motor.
The Vitamix was one of the quieter models we tested, at 96 dB and 85 dB on a lower setting. For context, ambient noise tends to sit around 40-45 dB.
One of the Vitamix's more trust-inducing features is its warranty. Despite costing $300+, the five year warranty can help you rest easy in case anything breaks.
The NutriBullet's one year warranty, comparatively, is pretty mediocre — meaning that if we're realistic and can assume the NutriBullet breaks at least once in five years, you're assuming a true cost of around $180.
Here's our breakdown of the NutriBullet vs the Vitamix S30 on every major attribute:
The biggest place the Vitamix excels is in feature set. The blending speeds and pulse option give you more flexibility with your mix in case you're planning to blend more delicate ingredients.
It also comes with a bigger, 40 ounce blending jar, allowing you to feed more than one person a nice-sized smoothie. The NutriBullet's 32 ounce jar can fill two solid appetites, but you may be stretching if you hope to make smoothies for a family of four.
Who Should Buy the Vitamix S30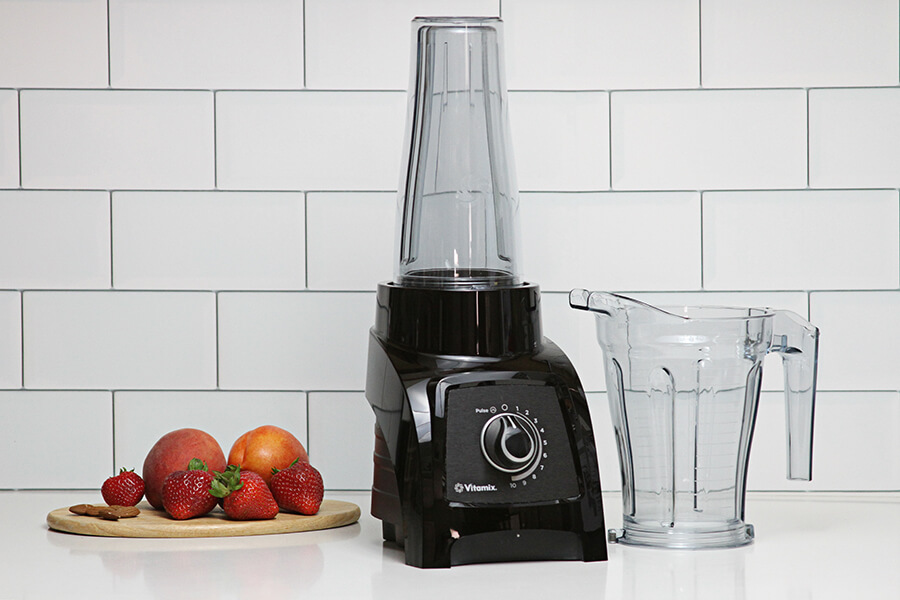 The Vitamix S30 is a solid choice for a blending connoisseur with a family, that still wants the power and portability of a single-serve blender. Said connoisseur should have a healthy wallet, though, in order to justify a cost that's 3x more expensive than the NutriBullet. If that sounds like you, read our full Vitamix S30 review to learn more.
Who Should Buy the Nutribullet Pro 900
The NutriBullet Pro is a great option for pretty much anyone else that still wants to make smoothies, while also making the process fun and easy. It's a high powered, single-function blender that does a job, and does it amazingly well.
At around $90, it's still one of the more expensive personal blenders on the market, but it's well worth the value if you're willing to invest. If you want a more in-depth take, read our full NutriBullet review.
Other Vitamix vs NutriBullet Considerations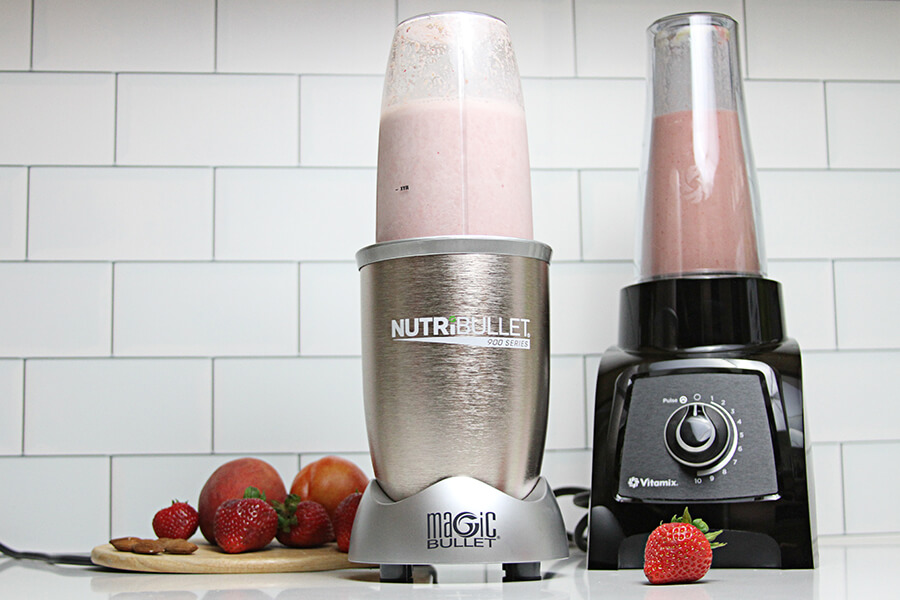 If you're reading this article, it's possible you may also be considering the other ranges for both of these models, such as the Vitamix S55, or any of their other Classic Models. Vitamix also has a 600 watt and 1700 watt option.
At the personal blender level, the NutriBullet wins. The 600 watt version is pretty much as advertised — around $20 cheaper than the 900, but with a weaker motor that makes blending a little less fun (and consistent). When we tested the best personal blenders, the 900-watt model not only beat the Vitamix S30, it beat five others, too.
On the other side of the spectrum, the NutriBullet Rx, with a 1700 watt motor, takes things to an extreme. It's louder, around $80 more expensive, and a definite powerhouse. But realistically, this isn't a level you need unless you really want to geek out. At 12 seconds to blend our difficult blending mix, the NutriBullet 900 was more than capable of blending in a blink.
If you're thinking about blending for your family or getting more advanced with your blends, Vitamix offers superior (and far more expensive) options in their Classic and Next-Generation blenders. But if you're looking for something smaller and more reasonable from a price perspective, the NutriBullet Pro 900 series is definitely the route we recommend.
Our Pick: The NutriBullet Pro 900
Winning on power and also on price, the 900 series brings you every must-have attribute at a fraction of the Vitamix S30's cost.