The Best Immersion Blenders
We logged over 50 hours combing through reviews, running tests and consulting with a local culinary expert. After churning out our own puréed soup and smoothie tests with seven highly regarded products, we flagged the Bamix – Pro-1 as the best immersion blender. With a unique open-cage design, the Bamix proved the most compact yet still delivers the greatest immersion depth. As our runner-up, the elegant Breville – BSB510XL Control Grip offers precision ergonomics and a unique non-scratch head design.
We logged over 50 hours combing through reviews, running tests and consulting with a local culinary expert. After churning out our own puréed soup and smoothie tests with seven highly regarded products, we flagged the Bamix – Pro-1 as the best immersion blender. With a unique open-cage design, the Bamix proved the most compact yet still delivers the greatest immersion depth. As our runner-up, the elegant Breville – BSB510XL Control Grip offers precision ergonomics and a unique non-scratch head design.
Table of contents
The 7 immersion blenders we tested
(Editor's note: We learned that KitchenAid has discontinued our former budget pick, the three-speed KitchenAid – KHB2351. Currently, only the two-speed KHB1231CU model and the cordless KHB3581CA Pro Line five-speed are available. Our review of the KitchenAid – KHB3581CA Pro Line follows below.)
1. Best overall: Bamix – Pro-1 M150
Bamix was founded in the 1950s by Roger Perrinjaquet, the very man who invented and patented the first-ever immersion blender. Derived from the French term "battre et mixer," which translates to "beating and mixing," Bamix only manufactures immersion blenders. For 60 years they've concentrated on engineering this one type of product, which helps explain why they do it so well.
Though it may not flaunt as much sleek stainless steel as our other contenders, the Bamix – Pro-1's outstanding performance convincingly pushed it to the top. Unlike most other cages that form a solid dome over the blade, the Bamix has a unique four-pin cage that is open at all sides. This design allows food to easily be drawn across the blade. We credit this design as the reason why the Pro-1 outperformed the competition. What impressed us most was how well it sustained a consistent, strongly defined vortex during our control test.
The Bamix not only performs well, but it's also pleasing to operate. When we first powered up, we found ourselves awed by the low hum of the precision motor — it really does purr like a fine European sports car. We found the ergonomic grip fits nicely to the palm, and both speed buttons are properly located for a comfortable finger position. The Pro-1 comes with only two-speed settings, but its low and high speed are really all you need. At an inch-and-a-half under the next tallest model, it's the most compact blender of the lot, making for efficient drawer storage.
It's interesting that our top-pick Bamix is the only finalist not to come with a detachable shaft, meaning it needs to be cleaned by hand and cannot go in the dishwasher. Bamix has stayed with this same fixed-shaft design that has proven successful since its inception. On the plus side, this sealed shaft also allows the motor unit to be partially submerged, giving the Pro-1 the greatest immersion depth. It's a bit more awkward to clean the head due to the motor being attached, but it's certainly not a deal-breaker.
And though the Bamix is our only finalist with a fixed shaft, it's also the only product that features interchangeable blades. Each blade fits onto a piston located at the end of the shaft. Removing the blade actually simplifies cleaning. The Pro-1 package comes with four blades total, each with a specific function: chopping, blending, slicing, and aerating. For our tests, we used the four-pronged chopping blade, which has an irregularly shaped blade so that it can better connect with food particles.
Given that most brands offer only a one-year warranty, with a few rare two- or three-year exceptions, the Bamix 10-year warranty is pretty extraordinary. In fact, we called their support team just to confirm 10 years wasn't a typo. Their rep explained that over the past 60 years Bamix has focused their efforts on engineering a reliable AC motor, and they're confident in offering a longer warranty. Additionally, should a repair or replacement part ever be needed, Bamix provides service in both the United States and Europe.
Key takeaways:
The Bamix – Pro-1 generates a powerful yet controlled vortex that effectively blends and purées.
Unique cage design efficiently pulls ingredients to blade without inducing any suction to the bottom of the pot.
The Bamix's comfortable grip fits naturally in the hand and provides easy access to both speed buttons.
Its 10-year warranty is five times longer than the next longest warranty and ensures its long lifespan.
Also great: Breville – BSB510XL Control Grip
With its brushed stainless steel and elegant lines, the Breville – BSB510XL Control Grip inspires confidence right out of the box. Not only does its design look great, but the Breville also provides the most comfortable, natural-feeling grip of all our contenders. The rubberized grip contours right to the hand and has a single-button trigger. After a day of testing, we really appreciated this simplicity, because it prevents fumbling with multiple buttons or accidentally hitting a turbo button (which was easy to do with some other models).
The Breville offers 15 variable speeds, the most of any of our models. You adjust the speed setting from a top dial. Unfortunately, you can't change speeds while in operation because you need one hand to press the trigger and the other to hold your mixing container. Even though you need to pause blending if you want to adjust speed, it's nice to have that many settings.
At 16.25 inches, the Breville stands out as the tallest of our finalists. This extra length provides a full 8-inch immersion depth, second only to the Bamix. And when you're done dipping deep, its quick-release side buttons let you detach the shaft in the sink with a simple two-finger pinch. In terms of weight, the Breville feels substantial but not at all cumbersome. Its build quality is top-notch.
The Breville's head design is the only model to integrate a scratch-guard for protecting cookware and the only model to come with a blade-guard for safer drawer storage. We also noted that the Breville's head geometry is much more oblong than standard circular-shaped cages. That means you need a wide-bottom cup for making smoothies directly in the container, though you can of course just use the beaker.
Finally, regarding performance, we held higher hopes for the Breville based on all the positive reviews we had read. However, though the box claims the head is anti-suction, we experienced quite a bit of pull when set on the highest speed. And for whatever reason, the head also yielded slower purée and blend times than others. The Breville is indeed a solid product, but these test results held it back from earning our top pick.
Key takeaways:
The Breville – BSB510XL Control Grip has a soft-touch rubberized grip, comfortable trigger, and balanced weight that make it our ergonomic winner.
Brushed stainless steel combines modern style with easy-rinse washability.
The Breville allows up to an 8-inch immersion depth and comes with a quick-release shaft design.
Other features include a non-scratch head design and a blade guard for safe storage.
Upgrade pick: KitchenAid – KHB3581CA
KitchenAid phased out the three-speed KitchenAid – KHB2351 that we reviewed, and currently, only the two-speed KHB1231CU model and the cordless KHB3581CA Pro Line five-speed are available. The five-speed is certainly an upgraded model: It has four attachments — three for chopping/blending and a whisk — two blending arms, 8-inch and 13-inch, and operates on a rechargeable lithium-ion battery (the battery charger is included). It also comes with a 4-cup BPA-free blending cup, a 2.5 cup chopper, and the entire kit can be conveniently stored in its hard-plastic carrying case.
The KitchenAid Pro Line has a sleek, modern profile, and like the older models the rubber-covered power button is high up on the handle, rather than on top, so the blender's body fits comfortably in your hand. The power button is actually an indentation, so it's easy to start and stop and pulse.
The Pro Line has a super powerful motor that can grind through just about anything in seconds. Also, because it creates such a strong vortex, the Pro Line pulls up all the ingredients in the bottom of the blending cup, so there's no need to add ingredients gradually, for example, when making mayonnaise.
One feature that is pretty remarkable is the chopper. If you want to chop garlic or herbs, once you've added the ingredients to the cup, you attach the blender's body to the top of the cup, and it motors the chopper. The KitchenAid Pro Line is the Mercedes of immersion blenders; it's also about triple the price of other blenders and double the price of the Bamix, our top pick. But if you want an all-around high-end kitchen tool, then the KitchenAid – KHB3581CA is an excellent choice.
Key takeaways:
The cordless KitchenAid – KHB3581CA Pro Line has three easy-to-attach stainless steel blades for quick blending of vegetables and fruits for smoothies, soups, and sauces.
Its powerful motor can liquify just about anything in seconds.
Ergonomically designed to fit into your hand for quick stop, start, and pulse functions.
The Pro Line is three times more expensive than other immersion blenders.
Other products we tested
KitchenAid – KHB2351 (discontinued)
Since this review was published we learned that KitchenAid has discontinued this model. It had been our budget pick because not only was it under $50, it consistently performed much better than the other similarly priced immersion blenders we tested.
The KitchenAid was our only finalist not to feature a trigger-like grip shaped to the hand. This wasn't a dealbreaker for us: The rubberized grip, monolithic in how the rubber seamlessly incorporates the power button, indented more than enough to offer a firm grasp. Other blenders had the grip at the very top, while the KitchenAid's grip was located about 80% up its total length. We found that this position provided great leverage for stirring ingredients.
Our one gripe with the KitchenAid was that its blending shaft was difficult to attach and remove.
Braun – MultiQuick 9
Of all our contenders, the recently introduced Braun – MultiQuick 9 blender offers the most unique feature: the shaft is designed with a slip joint that allows the blade to move up and down. This vertical movement is just under 3/8 inch and is intended to provide a more optimized grind. To be honest, we didn't notice a significant improvement over our fixed-blade models. However, the adjustable blade does have the benefit of reduced food clogs and easier cleaning.
The Braun boasts lots of nice features: a pressure-adjust speed trigger, ergonomic grip, and nicely balanced weight, plus a two-year warranty. It comes with the most attachments, but also the highest price tag. While we did appreciate its anti-suction performance during testing, we're not big fans of the top safety button which is awkward to operate and only stays active for a couple of seconds. Still, the Braun is a worthy choice if you're willing to spend the extra money for its full set of gadgets.
Philips – ProMix
A newcomer to the scene, the Philips – ProMix was designed as a joint venture with a leading ergonomics company in Sweden. Like the Braun, the Philips features a pressure-adjust speed control, and it can also trigger a turbo boost when squeezed all the way. It's the most slender of our finalists, though still nicely weighted, and our only model with a titanium-coated blade. We appreciated the look and feel of the ProMix; it's performance didn't quite measure up to that of our top pick. The Philips is a great option if you're drawn to a pressure-adjust trigger but don't want to splurge for the Braun.
Hamilton Beach – 59766
The Hamilton Beach – 59766 includes a rubberized grip and well-designed detachment mechanism. During testing, it aggressively powered through foods and produced a very consistent purée. The Hamilton Beach features three speeds (low, medium and high) adjusted by a slider switch on the side. It has two power buttons, one for basic power, plus one for turbo — and this is where our main complaint lies. These two buttons are located very close together, and because the turbo button is larger than the standard power button, it's way too easy to unintentionally press the turbo boost.
Epica – Heavy Duty
The Epica – Heavy Duty made it in our test lineup due to its high number of positive reviews across online retailers. Right out of the box, we noticed the Epica has the most plastic parts of all our contenders and is the only model without a rubberized grip. Yet it has a nice substantial weight in the hand, and the stainless steel cage has a larger diameter and thicker gauge than our other two midrange models. Oddly, the Epica fell short not because it lacks power, but rather it has too much power that isn't sufficiently harnessed. During testing, it sucked tight to our pot on all speed settings, and its high-energy vortex kicked up the most splatter.
How we selected
To narrow down our top immersion blender finalists, we undertook an exhaustive research process. Our team began by looking at top-reviewed products on Amazon, in which we analyzed standout features, price point, and warranty. We expanded that search to sweep across other major retailers, including Best Buy, Home Depot, Walmart, Target, and Macy's. On each company's website, we dug through customer reviews to find out which features are most important to people and what types of problems are most common.
Going beyond retail analyses, we read up on important differences between immersion blenders and other types of countertop mixers. To prepare for our testing, we watched videos from Sur la Table and chef Laura Kumin that described how to properly use these nifty devices.
Finally, to pull in some crucial professional insight, we reached out to the local culinary experts at Decker Brothers Gourmet, a maker of delicious all-natural soups in San Diego, California. Founding partner Chris Decker and chef Jeremy Wilcox shared that three speeds (low, medium and high) are plenty sufficient for an immersion blender. They prefer to stick with name brands (the commercial-grade Waring 16" Heavy-Duty is their product of choice), with cost and size being other top considerations.
As we compiled our findings, it became clear that customers hold many different opinions. Among review sites, no one seems to agree on which immersion blender reigns as the undisputed champ. However, we did find agreement on these two issues:
Wattage is not a critical factor for effective performance.
Two speed settings — low and high — are plenty adequate. More variable speeds than that are unnecessary.
Taking all things into account, we refined our list down to seven contenders — four at a higher price range but capped at a reasonable $150— and three midrange models priced at under $50.
How we tested
Two factors guided the type of tests we conducted. First, to maintain a level playing field, we decided not to do any tests that required attachments beyond the main blending arm and beaker common to most packages. That basically meant no testing with a chopper cup attachment.
Second, we learned during our research that immersion blenders have no problem whipping (pastry frosting, whipped cream) or emulsifying (mayonnaise, salad dressings). The real challenge is grinding solid foods. Therefore, we focused on purée and blending tests.
Soup purée test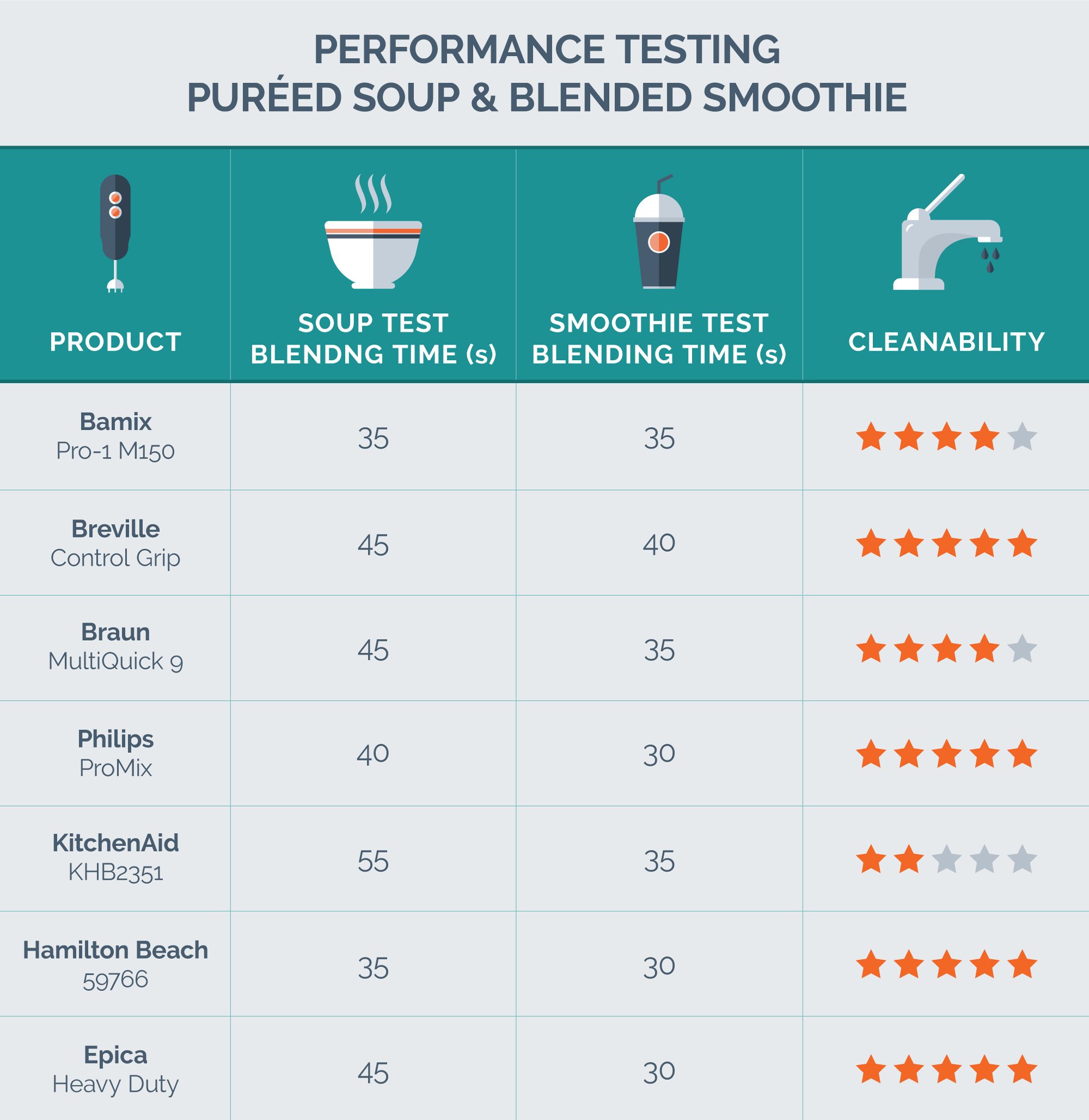 For our purée test, we made seven batches (one for each finalist) of butternut squash soup using 16 ounces of squash and 8 ounces of onions in a medium-size, 2.5-quart pot. Following a 20-minute simmer and just prior to blending, we noted that the squash remained at the bottom of the pot while the onions floated to the surface. This test challenged our seven contenders to draw all ingredients to their blade to deliver an acceptable purée.
We began our blending process by placing the immersion-blender head close to the bottom center of the pot. Starting at the slowest speed, we gradually increased to mid-high speed over the first 10 seconds. During this initial main grind, we moved the blender head up and down while slowly tracing a circular pattern around the pot. The squash and onions quickly blended into a rich brown soup.
A preliminary test indicated 30 seconds was an appropriate point to stop and check for solids. Using that 30-second benchmark, we stopped blending and passed a slotted spoon (with 3/16" wide slots) back and forth to inspect for remaining food chunks. If the slotted spoon caught up partially ground veggies, we ran the blender for additional 5-10 second intervals (depending on residual amounts) until no solids were trapped by our spoon check. We then drained the soup in a stainless steel colander and measured the residual solids.
All of our contenders produced a well-puréed soup in under a minute, which seems perfectly acceptable for most home chefs. Completion times ranged from 35 to 55 seconds. Of our higher-end models, the Bamix – Pro-1 blender performed the fastest and yielded the least residual solids. Surprisingly, the Breville – BSB510XL Control Grip, which ranks high among many review sites, produced the least favorable results. We actually tested the Breville twice just to be sure, and both efforts showed the Breville struggled to attract and shred that one last remaining chunk.
Turning to our lower-priced models, the Hamilton Beach – 59766 hand blender got its work done quickest. Its blade yielded an exceptionally consistent purée. It's worth noting that both the KitchenAid – KHB2351 (discontinued) and Epica – Heavy Duty did a fine job holding their own in this group of high-end and mid-range products.
Smoothie blending test
While our soup purée test challenged finalists to grind ingredients in a large open pot, our smoothie blending test aimed to assess how well they could process solids in a narrow container. Our smoothie recipe combined one cup of frozen blueberries with half a cup of frozen bananas, plus some milk and yogurt. We allowed the frozen fruit to thaw in a beaker for five minutes, then put a stopwatch to the blend time. Similar to the purée test, we checked for residual solids at the 20-second mark; if fruit chunks remained, we continued to blend in 5-second bursts until all were removed.
Each of our contenders delivered a strong performance, producing smoothies that were thick and creamy. Unlike grinding in the large-diameter pot (eight inches), the small-diameter beaker (four inches) helped the blenders efficiently trap and blend the fruit. None of our products left any measurable solids.
All seven immersion blenders completed the smoothie test within 30-40 seconds. Allowing for a margin of error, plus a bit of subjective judgment, our contenders performed at near-equal level. The Philips – ProMix along with the Hamilton Beach and Epica models performed fastest, churning out thick smoothies in just 30 seconds. Each features a turbo boost, an advantage that pushed all three to the top. At the other end, we were surprised to again see the highly reviewed Breville finish with the slowest time (though at only 5-10 seconds difference, that's really not much to complain about).
Cleanability test
To be honest, this wasn't much of a test. All of our contenders rinsed off easily from both our soup and smoothie tests. That said, we did notice a few subtle differences.
The Breville's brushed stainless-steel finish rinsed off easiest, with almost no scrubbing required. The Braun – MultiQuick 9 allowed clear access above its adjustable blade, but we docked it a point because fluids can seep into its slip joint when submerged. We also docked a point from the Bamix, simply because it's our only finalist without a detachable shaft. But to its credit, the Bamix's removable blade does help with washing, whereas our fixed-blade models can make it tough to clean the topside of the blade (mainly because you can't see it).
KitchenAid received our lowest cleanability rating only due to its troublesome detachment mechanism that proved particularly difficult to unlock with wet hands.
Suction and vortex control test
Speed is an important quantitative measure, but we also wanted to study our finalists' qualitative performance. Specifically, we wanted to see how well each immersion blender could build and sustain a consistent vortex — and one commensurate with the speed setting. We also wanted to test for head suction, a critical factor that can greatly hamper performance and also damage cookware (see "anti-suction head" topic above).
Given that our soup purée test was timed for speed, it didn't afford us much opportunity to study suction or vortex control. The chunky brown soup also obscured a clear view of the head. So for this test, we used the same 2.5-quart pot, but this time with only water. We filled the pot to 80-percent capacity (64 ounces), which set the waterline an inch-and-a-half below the rim. Placing heads close to bottom center of the pot, we then ran each immersion blender at low, medium, and high speed, observing results for both suction and vortex control.
This performance test proved more telling than we expected. By taking time to closely observe each vortex, we gained a better understanding of which models could hold a controlled, swirling current. The test also revealed which blenders create suction; we really can't place enough value on this second quality, because when the head sucks tight to the bottom of the pot, it completely throws off your momentum.
For sustaining a controlled vortex, all of our high-end models performed well. All four generated a vortex with appropriate power for the speed setting, and none caused splatter or overflow. The Bamix produced the most consistent vortex, creating a well-shaped funnel without any splatter.
By contrast, our lower-priced models did not perform nearly as well. The Epica churned up a vigorous, frothing whirlpool at all three speed settings. In fact, its high speed was so powerful that it started to push water up and over the pot. The Hamilton Beach performed only slightly better, also too powerful for its speed settings, but the KitchenAid formed and held a decent shape.
For our suction test, the Bamix again shined through as our standout winner. This appears to be a function of the four-pin, open-cage design that allows fluids to efficiently circulate while also preventing the rotary blade from sucking down. Braun's hand blender also performed very well, though we're not exactly sure why because the MQ-9 has a solid cage similar to most other products; still, it exhibited only minimal suction at high speed.
None of our other finalists fared so well. For our high-end models, suction mainly occurred at the highest speed. This includes the Breville that claims its bell-shaped base reduces suction. Of our lower-end models, KitchenAid was the only product not to create suction, but that was only at the lowest speed.
Why use an immersion blender?
Immersion blenders are frequently referred to by different terms. "Hand blender" or "handheld blender" are most common, with "wand blender" and "stick blender" also coming into play. These terms all hit the mark. At its most basic level, an immersion blender is an electric motor that drives a shaft that spins a razor-sharp blade.
The primary reason to own an immersion blender is for convenience. Immersion blenders let you blend ingredients right in the pot rather than having to transfer to an upright blender or food processor, a task that can be extremely messy and unsafe when working with hot soups. These devices can also quickly blend up your morning smoothie directly in a cup. The main point is that immersion blenders are highly flexible and can eliminate the need to pull out more cumbersome appliances.
On top of that, hand blenders are super compact. And unlike personal blenders, also relatively small, these devices readily slide into a drawer.
Another major benefit is quicker and more effortless cleanup. With an upright blender or food processor, you need to disassemble and wash each component. That alone can be enough to discourage you from using it. With an immersion blender, you simply detach the shaft and give it a quick rinse. It's a big time-saver, and the minimal effort means you don't need to hold back from whipping up the tasty foods you enjoy.
With their convenience and versatility, immersion blenders pack a lot of bang for your buck. Low-end models start around $25-$30. Higher-end models are priced closer to $100, which can bump up to $150 when packaged with attachments, and can range over $300 for commercial-grade units. But you certainly don't need to spend that much — you can find plenty of midrange options that balance function and style for less than $50.
What they do
The first immersion blenders were developed in Europe in the 1950s. Although features have modernized over the years, these handy kitchen gadgets still perform the same tasks they were originally designed for. Here are their four basic functions:
Purée vegetables for soups, stews, and sauces.
Blend ingredients such as frozen fruit and yogurt for smoothies.
Emulsify liquids to create salad dressings, mayonnaise, and hollandaise sauce.
Whip desserts like meringue, mousse, and — of course — whipped cream!
What they don't do
While versatile, an immersion blender can't completely replace your countertop appliances. For one thing, most are not intended to grind ice; you'll still need an upright blender to whip up a pitcher of frozen margaritas. And although you may see immersion-blender recipes for nut butter, be aware that a chopper cup attachment (not available with all models) is required.
Important features to consider
First, since different manufacturers use different names to describe their parts, we'll stick with the following terms for this article. The basic components of an immersion blender are:
Motor Unit: This housing forms the upper half of the device.
Grip: Located at the top of the motor unit, this is typically an ergonomic handle with a power button.
Shaft: This is the stainless-steel blending arm that connects motor to head.
Cage: Sometimes called a "guard," this is the dome-shaped shield that covers the blade.
Blade: This is the rotary blade that cuts and dices.
Head: This term is usually used to refer to the cage and blade as a single element.
Now that we're on the same page, here are the features our research steered us toward as we selected our finalists. With those immersion-blender terms in mind, let's check out which features are most essential.
Blending effectiveness
A good immersion blender generates enough torque to create a powerful vortex within a mixing container. This movement circulates food through the blender's rotary blade, ideally passing through the blade multiple times. For a silky smooth purée, you want a steady vortex that produces consistent particles. If too powerful, you may find the device unwieldy or experience significantly more splatter. If not powerful enough, you'll be left with residual solids that require additional passes.
Stainless-steel head
After blending power, this is the next most important quality. Avoid less-expensive models with plastic cages, which can deform in very hot liquids. Stainless steel provides much better long-term durability due to its protective coating that resists scratching and corrosion as well as staining. Unlike plastic, stainless steel is inherently BPA-free and also less porous, so it resists bacteria and remains easy to clean. Plus, a  strong, rigid steel cage lets you really power down on pesky solids that resist your blade.
Anti-suction head
With the powerful torque created by their rotary blades, immersion blenders tend to suck the cage tight to the bottom of the mixing vessel. This is less a problem when blending in a narrow container, such as a tall cup or beaker. But for blending in a pot, suction can make it incredibly difficult to control the head's path as you move it up and down while trying to sweep a steady, circular pattern. When the head becomes suddenly sucked to the pot bottom, you essentially need to stop, reposition and start again. If you don't power down and instead try to pull free of the suction, it typically jerks the head clear of the surface and causes a splattery mess.
Strong suction — which frequently occurs at high speeds — can also cause metal cages to damage Teflon-coated cookware. A nylon-coated guard that lines the base of the cage will prevent such scratching and gouging. Unfortunately, such designs are rare, and only our Breville product includes this thoughtful protection.
When you use your immersion blender for the first time, try testing it in a pot of water — and probably not your favorite pot! This lets you get a feel for how it handles. If you hold the wand at a slight angle, it will help prevent suction; take care though, as this angle can also kick up more splatter.
Ergonomic grip and speed controls
You want the handle to provide a comfortable, natural fit to your hand. Better models come with a textured rubber grip that not only feels more welcoming than plastic but also helps prevent slippage.
Immersion blenders are intended to be operated with one hand, as you usually need to hold the mixing container in place with your other hand. That means you want easy finger access to the power button, which activates the blade (for clarity, immersion blenders do not have an on/off switch — once plugged in, the unit is "hot" and ready to go). Some models come with two power buttons, typically for low/high speed or for regular speed plus a turbo boost. For either setup, you want to be sure your fingers can comfortably reach both buttons.
Newer products, such as our Braun and Philips models, are designed with a pressure-adjust trigger. By slowly squeezing the trigger, you can cycle through low to high speeds. Sounds great, but it can prove challenging to maintain consistent pressure and speed while also wrangling a pot of ingredients. That's not to say pressure-adjust triggers are poor design, just that they take some practice to master.
Lastly, two more ergonomic factors, both interrelated, are weight and grip location. For weight, the unit should feel balanced in your hand, neither too heavy nor too light and insubstantial. Most high-end models achieve this. For grip location, you want the handle positioned at a point that offers firm, stable control. If located too high on the motor, the leverage can feel awkward.
For each of these ergonomic concerns — and especially if you plan to order online — your best bet is always to first visit a brick-and-mortar retailer and compare the feel of different products in person.
Detachable shaft
Motor units should not be submerged in water; you need to wipe that component down with a dry or damp cloth. The stainless steel shaft and head, however, need a thorough cleaning. Fortunately, most immersion blenders come with a detachable shaft that can be placed directly in the dishwasher. For the detachment mechanism, you want a design that easily disengages the shaft (usually by a button), so you can deposit it in the sink right after use. Also, be sure the shaft forms a rigid connection when attached to the motor as a single unit.
The good news is that cleaning stainless-steel parts is often effortless. Sometimes a quick rinse will do the job, with barely any scrubbing required. Of course, if you have a dishwasher, it's always a good idea to power wash your blender shaft every few uses for guaranteed sanitization.
Immersion depth
If you plan to make a lot of soups or other recipes in deep containers, then you'll want to pay attention to immersion depth. This is the height the shaft can submerge below fluids without reaching the motor. Most manufacturers set this at the joint between motor unit and detachable shaft. Pay attention to that joint because you want to avoid products with joints that can trap food and make cleaning difficult.
Reliable warranty
As we pored over customer reviews, it was surprising to read more than a few complaints about motors burning out, some within just the first couple of months. We have to wonder if some of these complaints are due to people not following manufacturer instructions, such as exceeding recommended run time or trying to dice items covered on the "do not chop" list.
Still, whether those reported motor burnouts were due to user error or not, you want to make certain your immersion blender comes with a solid warranty. In our research, we found most manufacturers offer a one-year warranty covering repair parts and labor; some offer product replacement but at the company's discretion.
For our seven contenders, most warranty language includes the phrase "free from defects in material and workmanship." They do not cover user negligence. So take time to read your manual, or you might have a battle on your hands if you fry your motor by going beyond the recommended run time.
Less-important features
If you browse immersion blenders online, you'll find that most brands tout multi-speed models as well as varying attachment packages. Don't be swayed by these two factors, as neither is critical. Two to three speeds are all you need. As for attachments, while this is more a matter of personal desire, you shouldn't let it drive your decision on which blender is best. It's also wise to look at the amount of storage space those attachments will take up.
A few safety tips
The instruction manuals for our finalists each include a hefty set of safety protocols. Here are the more critical guidelines:
Never put your fingers near the blade when the unit is plugged in.
Know your product limitations (for example, do not grind ice cubes).
Before mixing hot ingredients in a pot, remove the pot from the burner and place it on a stable countertop.
Respect the manufacturer's maximum run time, which is typically about one minute.
After use, briefly run head in a bowl of water, then unplug and wash with a scrub brush.
The bottom line
Immersion blenders offer the convenience of direct, in-the-pot blending without taking up a lot of kitchen storage. A quality immersion blender feels comfortable in the hand, generates a strong yet controlled vortex, and comes with a reliable warranty that ideally extends beyond one year.
The Bamix – Pro-1 ticks all these boxes and serves as a perfect example of what the Bamix company continues to do best: produce high-caliber immersion blenders with Swiss precision engineering. Best of all, the Pro-1's open cage avoids any suction whatsoever, giving you optimum control in either a stewpot or a smoothie cup.
For a quality alternative, consider the Breville – BSB510XL Control Grip that combines exceptional ergonomics with a sleek brushed-aluminum finish.
The KitchenAid – KHB3581CA is another high-end choice, pricing at more than double of the Bamix, but you get a lot for the money. It comes with three different attachments, a chopper, a blender cup, and blade guards for protecting your pots.
Immersion blenders let you bring the blade to the food to chop and puree ingredients in your recipe, allowing you to avoid another clean up with your blender. From homemade soup, to fresh applesauce, there are endless ways to use use your immersion blender to impress your guests.
With fall in full swing, we created six recipes using our immersion blender and flavors of the season. To make it easier for you to make them yourselves, we created printable recipe cards that you can download and print. Save them for your next gathering or give them to the guests that request your recipe!
Immersion Blender Recipes for Fall
Nothing tastes more like fall than using pumpkin in your cooking. Even if you're unfamiliar with cooking with pumpkin, it's incredibly easy to incorporate in your next meal. On a cool fall day, it only requires eight ingredients to make a comforting meal that everyone will love.
Whether you just returned with bags full of apples from apple picking, or you can't resist the varieties available in your local grocery store this time of year, there is nothing better to do than make a fresh batch of applesauce. Fill your kitchen with the scent of sweet apples and cinnamon to create a warm welcome for your family and friends.
Whether you're hosting the next football game, or simply want to have a little get-together just because, a spread full of fall flavors are a must. Squash is a fall staple, so using it in hummus makes for the perfect combination. Serve it alongside pita chips and roasted vegetables to provide options for your guests!
Cranberry sauce on Thanksgiving isn't the only way to eat cranberries during the fall — they're a perfect way to add sweetness to baked goods, salad dressings and spreads. One of our favorite ways to utilize the berry is in a relish. It's a great flavor to top toast, add to a parfait, top on baked brie topping, or use as a sandwich spread.
What's better than digging into a warm, fresh loaf of bread? How about slathering rich and creamy herbed butter? Compound butter has endless flavor possibilities and can be added to almost any dish — think roasted vegetables, grilled steak or chicken, or bread. We chose savory fall flavors for our compound butter, but you can easily swap the recipe out with your favorite herbs for your next meal.
Making apple butter is a must in the fall, so it's time to break out your slow cooker! With just a few simple ingredients, you can make a staple that you can either keep in your refrigerator, or gift to friends and family!
Consider making a recipe book with our recipe card printables by clicking the download all recipes button below and printing them out. Then, use a hole punch to create holes in the corner of each card and tie them together with a ribbon or twine.