The Best Electric Kettles
After more than 45 hours of research and testing, we determined that the new Hamilton Beach – 41020 is the best electric kettle. This attractive brushed stainless-steel kettle has six accurate temperature settings that are easy to program and safety features other kettles don't have.  Our runner-up, the  T-fal – BF6138 has a low, compact profile and is one of the fasting heating kettles we tested.
After more than 45 hours of research and testing, we determined that the new Hamilton Beach – 41020 is the best electric kettle. This attractive brushed stainless-steel kettle has six accurate temperature settings that are easy to program and safety features other kettles don't have.  Our runner-up, the  T-fal – BF6138 has a low, compact profile and is one of the fasting heating kettles we tested.
Table of Contents
(Editor's note: We revisited this review of electric kettles and learned that our top pick, the Hamilton Beach – 40996 has been discontinued and replaced with a newer model, Hamilton Beach – 41020. We decided to test the new model along with two new Proctor Silex kettles. The Hamilton Beach – 41020 performed just as well as its predecessor, and we now select it as our top pick.)
How we selected finalists to test
We spent 55 hours researching and testing electric kettles. This testing included one month of daily use for each of our six finalists in order to determine which one really is the best pick for typical, day-to-day use.
We read through more than 80 articles, forum and Reddit threads, and expert opinions from coffee and tea enthusiasts to determine which brands were most respected and offered the most value. While there wasn't an overwhelming consensus, we were able to find that certain brands and products seem to have the most consistently-positive feedback.
Since there are literally thousands of electric kettles on the market, our first step was to narrow down the field. During our research, we found that there are a few features that consistently ranked as the most important to users, including:
No harmful materials
Easy to clean
No potential rust issues
Automatic shutoff
Sufficient water capacity (at least 1 liter)
Ability to quickly heat water
A safe and comfortable handle
A large and easily accessible opening for water
These metrics made it possible for us to significantly narrow the field. From there, we researched dozens of brand names and models to determine which were most likely to perform the best during our in-house testing.
While there are electric kettles available in the $100+ range, we found that there was little to no difference in the features they offered. Often, the differences were cosmetic or there was a premium paid for a brand name.
During our testing, all of the kettles consistently heated up water to the boiling point in minutes. However the new Hamilton Beach – 41020 and the T-fal could also be programmed to lower settings, which is important for brewing different teas and French press coffee.
Once our finalists were selected, we ran them through a number of metrics-driven tests which helped us determine which were the best at the sole function — heating water quickly and safely. We also took into account factors such as the ergonomics of each kettle and extra features offered by each product, along with several other factors to ultimately select our best pick.
Compare the best electric kettles
Important features to consider
Build quality
When looking for an electric kettle, the first thing you should consider is the build quality of the kettle itself. While these gadgets are fairly simple from a technical standpoint, it does incorporate several elements that, if unreliable, will render the kettle essentially useless.
For example, an unreliable heating element will cause the kettle to heat to unpredictable temperatures if it heats at all. Similarly, if the interior of a kettle is prone to lime build-up or "scaling," the effectiveness of the kettle can be negatively impacted.
Heating efficiency
When choosing an electric kettle you should consider how efficient the kettle is in heating water.  One of our tests was measuring  "degrees per minute," which presented a clear picture of each finalist's heating capability.
Ergonomics
The ideal kettle will be easy to pick up, carry and pour. This is particularly important, given that the kettle will be holding boiling-hot water. Ergonomics are difficult to quantify numerically; however, for a kettle to be ergonomic, it should be easy to hold in one hand. Ideally the handle would be made from a heat resistant material that protects your hand from the hot kettle.
Minimum and maximum water capacity
The maximum water capacity will determine the number of hot drinks that an electric water kettle can make at one time. In general, the larger the maximum water capacity, the more versatile the kettle.
However, one metric that is considered less often is the minimum water capacity the kettle can support. With some of the higher-capacity kettles, as much as 1 liter of water at minimum is needed to safely run the kettle.
Programmable temperature
Programmable water temperature isn't a necessary feature for everyone. However, if you want to heat water to the optimal temperature for certain types of tea, then a kettle with temperature settings that can be programmed is your best option. As we discussed in our review of the best tea maker:
Black and herbal teas should be brewed at the full 212° F boil.
Oolong teas are best steeped in water ranging between 180° and 190°.
Both white and green teas should be steeped in water no hotter than 185° (or as low as 170°) to maintain their flavors and prevent bitterness.
Temperature readout
While a temperature readout is an essential feature on an electric kettle, it is nice to  glance at a  readout and see how close the water is from being fully heated.
How we tested
The first thing we looked at was the general build quality — which kettles were built to last? During our research, we found that many of the complaints about electric kettles online was that they were prone to rusting, chipping or otherwise deteriorating with regular use. We tested all of our finalists over the course of a month to ensure that they did not show any early signs of deterioration.
Since the rapid heating of water is one of the primary draws of an electric water kettle, we also took the speed at which each kettle could heat water as a major factor in ranking each finalist. To do this, we measured how long it took each kettle to heat 1 liter of room temperature water to 212°.
| Electric Kettle | Starting Temp (°F) | Ending Temp (°F) | Time Elapsed (min:sec) | Temp Change (°F) | Degrees Per Minute (°F) |
| --- | --- | --- | --- | --- | --- |
| Hamilton Beach - 41020 | 67.3 | 212.2 | 4:02 | 144 | 34.9 |
| Aroma - AWK-115S | 65 | 212 | 5:37 | 147 | 26.2 |
| Ovente - KS88S | 65 | 211.5 | 5:39 | 146.5 | 25.9 |
| Sunbeam (discontinued) | 68 | 211.5 | 4:49 | 143.5 | 29.8 |
| VonShef (discontinued) | 65 | 211.5 | 4:55 | 146.5 | 29.8 |
| T-fal - BF6138 | 67.5 | 211.5 | 3:57 | 144 | 36.5 |
We also tested temperature accuracy. For the non-programmable kettles, this simply meant measuring how close to 212° the kettles got before shutting off. For the programmable kettles, we tested each of the settings to see how close to the stated temperature the water actually was.
We strongly considered the ergonomics of the kettle. Since both the kettle itself and the liquid inside are boiling hot (or close to it), it's important that the kettle be comfortable in your hand, both when moving it around and also when pouring.
Some of the kettles we tested have a feature which keeps the water at a specific temperature for as long as one hour. The advantage of this is that you don't have to keep reheating water each time you refill your cup.
It's imperative that kettles turn off automatically if and when all of the water inside has been dispensed or boiled off. We tested each kettle for a reliable "auto-off" feature.
Finally, we tested for early signs of scaling and rust over the course of our one month testing period and then over the next six months checked periodically for any signs of deterioration.
Preventing rust and scaling in your kettle
During our research, we found that one of the best ways to prevent rust and scaling issues is to perform basic maintenance. This can be as simple as emptying out unused water, and for some kettles, an equal combination of white vinegar and water can be boiled in the kettle.
Electric or stovetop?
While there's nothing inherently wrong with using a stovetop kettle, there are several advantages to using an electric kettle that are worth considering — particularly if you've never owned one before.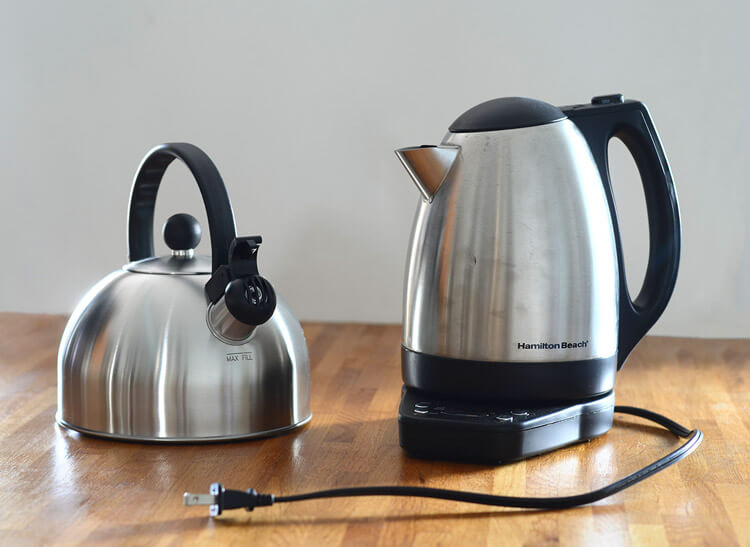 First off, electric kettles can be used in more places since they don't require a stovetop to heat water. This is particularly valuable in situations such as a college dorm room or for a traveler staying in a hotel, but it's useful even in a full-sized kitchen as well.
Electric kettles also heat up water faster than a stovetop kettle, and several models we tested could maintain the heated water temperature for up to one hour. Another advantage is that most electric kettles automatically shut off when the water level is too low or boiled off.
Best overall: Hamilton Beach – 41020
The Hamilton Beach – 41020 is the upgraded model of our former top pick, the Hamilton Beach – 40996, and with its precise temperature controls and more user-friendly features than the prior model, the 41020 easily wins our top pick.
The new Hamilton Beach kettle has been completely redesigned. The older model sat on a programmable base, which we previously found somewhat tricky to learn to use. The new model still sits on a base, but i's programming has all been integrated into the kettle's handle. Setting a heating function is now simple: you push a preset button, and then press start.
The Hamilton Beach has five programs for different types of teas and a separate program for heating water to 200° for a French press coffee maker.
The programs' heating times range from 2 minutes 45 seconds (160° to 4 minutes 26 seconds (full boil). When the water hits the desired temperature, the kettle beeps six times to alert you it's ready. We tested each program with an instant-read thermometer, and the programmed temperature was hit every time. As with the older model, the 41020 has a helpful "keep warm" function, which keeps the water hot at the desired temperature for 30 minutes.
The kettle is made of an attractive brushed stainless steel, which does get very hot. However, its large handle is curved enough away from the kettle so your fingers won't ever get burned. An "open" button on the handle automatically opens the lid, and a nice touch is the silicone "close" button that prevents your touching the hot lid. Other features we like are the automatic shut-off when water gets too low and its mesh filter that easily slides in and out of the kettle's spout.
The only thing we didn't like about it is that the clear window that shows water level is directly behind the handle and hard to see. The window is illuminated with blue light when the kettle is plugged in, but we would prefer if the window was positioned on the side of the kettle, so we wouldn't need the light to discern the water level.
This kettle is about $10 more than the older model, but with its smart redesign and easy-to-use programming, it's superior to all of the less-expensive kettles we previously tested.
Key takeaways:
The Hamilton Beach – 41020 is an updated model that's been completely redesigned with easy-to-use features.
The kettle's settings have been integrated into the large, curved handle, which can be programmed by simply pushing one or two buttons.
Its 6 preset temperatures for different types of tea and French press coffee are spot-on accurate.
It's slightly more expensive than other kettles, but it's superior to all of the electric kettles we tested.
Runner-up: T-fal – BF6138
If you would prefer something other than a stainless steel kettle and don't mind a 1-liter maximum capacity, the T-fal – BF6138 is our runner-up.
The T-fal has a slightly-quirky design tailored for college students and young adults, however, the black and green color scheme can also work in most kitchens, while the functionality of the kettle makes it an option worth considering. It's short stature and small footprint make it ideal for situations where space is limited.
The T-fal offered the fastest heating of all the finalists we tested. It took the kettle just under four minutes to heat one liter of water from 67.5° to 211.5°, for a rate of 36.46°  per minute. It has three different heat settings: a low of 160°, a mid-range of 190° and a high of 212°.
The T-fal makes it nearly impossible to accidentally burn your hand while using it. The sturdy handle makes pouring easy and controllable, while the outside of the kettle remains fairly cool to the touch.
Many plastic electric kettles had a heating element that was inside the water reservoir itself. This means that the heating element is directly exposed to the water, ultimately leading to lime buildups or other residues. Conversely, the T-fal has a heating element that is located entirely separate from the water. The inner bottom of the kettle is metallic, which allows for safe and efficient transfer of heat.
The biggest issue we had with the T-fal kettle was that it doesn't have auto-on and auto-off options. Once the water is fully heated, the kettle turns off and doesn't keep the heated water hot. While it's not a deal breaker, we would have preferred if the T-fal had specific temperatures for each of its three settings.
Finally, the 1-liter maximum capacity is somewhat limiting, especially if you're trying to serve multiple people at the same time. However, if you're just heating up water for one or two people, the T-fal works just fine.
Key takeaways:
Because of its compact size, the T-fal – BF6138 is a great budget option for small kitchens or college dorm rooms.
It has three temperature settings that heat up faster than all of the kettles we tested.
Although the T-fall doesn't have as many functions as more expensive kettles, its smart ergonomic design prevents burns and makes pouring easy.
Other products we tested
Proctor Silex – K2070Y
The Proctor Silex – K2070Y is very similar to the discontinued Sunbeam that we reviewed, and we tested it to see how it compared. The Proctor Silex – K2070Y is a 1-liter-capacity plastic kettle that feels very lightweight and not well put together. Its wobbly plastic lid is connected to the kettle with two small screws, and the mesh filter fits into the spout by two plastic tabs, which could easily snap off.
On the plus side, the kettle has a wavy blue window on one side that clearly shows the water level. The kettle brought room-temperature water to a roiling boil in 6 minutes, although it took another 16 seconds for the kettle to automatically shut off. The Proctor Silex – K2070Y is very inexpensive, and if you don't mind its cheap construction, it will certainly boil water, but we can't predict for how long.
Proctor Silex – 41007
The Proctor Silex – 41007 is the company's most recent model. It's a plastic 1.7-liter kettle that sits on top of a plastic base. Like the K2070Y, it has a side window to show water level, but because it's uncolored, you can't really see how much water you've poured in unless you look closely. When it's heating, the kettle gets very hot, but its handle is curved enough so you won't get burned when pouring.
The 41007 has a chrome-colored plastic dial for changing the four settings programmed for green, white, oolong and black teas. The dial doesn't click into place, but rather slides between settings, so you need to be careful that you've turned it precisely to the desired setting or the temperature won't be accurate.
It took from 3 to 5 minutes for the water to heat to the programmed temperatures ranging between 160 °F to 210 °F. If you're unsure what temperature water should be heated for a particular type of tea, you'll need to find that information elsewhere, because it's neither on the kettle nor in the instruction manual.
Overall, the Proctor Silex – 41007 is a decent kettle, and it's half the price of our top pick. But if you are a tea lover and want accurate temperatures, the Hamilton Beach – 41020 will better meet your needs.
Ovente – KS88S
The Ovente – KS88S is another good choice for brewing different types of tea.  It holds 1.7 liters of water and can be programmed with five temperature settings for up to two hours. However, we found its handle to be a bit small and awkward to use, and the water pours from the spout erratically.
Aroma – AWK-115S
The Aroma – AWK-115S is another basic kettle, which doesn't have any programming settings. If you prefer an aluminum look over the VonShef's glass sides, it is a viable option. However, for the money, you're better off spending a few dollars less for the T-fal.
Hamilton Beach – 40996 (discontinued)
The Hamilton Beach – 40996 had been our previous overall top pick, but it's been discontinued and replaced by 41020.  The classy Hamilton Beach – 40996 is primarily made from stainless steel, with solid black plastic on the base, handle and opening for water. The inside of the kettle is solid stainless steel as well and the heating element is located entirely on the base pad.
Although the base is made of plastic, it does function well, although programming its five temperature settings does take a bit of a learning curve. Follow the instructions manual carefully, and before long you'll get the hang of it.
The Hamilton Beach kettle heated one liter of water from 67.3° to 212.2° in 4 minutes and 2 seconds, for a rate of 35.93 degrees per minute. By comparison, the T-fal heated one liter of water from 67.5° to 211.5° in 3 minutes and 57 seconds, for a rate of 36.46 degrees per minute.
While the T-fal kettle is slightly faster, it's important to also consider that it's limited to heating no more than one liter at a time. The Hamilton Beach kettle can heat nearly twice as much.
The Hamilton Beach has an automatic shut-off function.  Once the water hits the programmed temperature, a one-hour timer starts counting down on the base display. Like the other programmable kettles, it shuts off when the water level is below its internal sensor or one hour later, whichever is first.
One notable issue that we took into account was consumers complain that the Hamilton Beach breaks down in six-months' time. We used the Hamilton Beach for nine months after our initial testing, and we had none of the mechanical issues that were previously reported.
VonShef – 13/140 (discontinued)
(Editor's note: In 2019 we learned that VonShef — a U.K. company — has updated the model we reviewed. However, although it's available for purchase on the VonShef website, it's not yet sold on Amazon.)
The VonShef – 13/140 kettle came the closest of the remaining four electric kettles to be listed as one of our picks. It is a good-looking kettle that heats water comparable to the rest of our finalists. That, in conjunction with its glass siding and blue lighting, makes it a classy addition to any kitchen. However, because of its high price point, we can't recommend it over the Hamilton Beach.
Sunbeam – SEK17 (discontinued)
(Editor's note: Since our review, the Sunbeam – SEK17 was discontinued, and Newell Brands, the company that owns Sunbeam, is no longer making electric kettles under the Sunbeam brand name.)
The Sunbeam – SEK17 kettle simply boils to 212°, and if you're willing to regularly clean the exposed heating element with white vinegar and water, we found it to be a reliable option for the budget-conscious.
The bottom line
Ultimately we found that for less than $50, you can get an electric kettle that does more than just boil water. If you're a tea or coffee lover, our new top pick the Hamilton Beach – 41020 is an upgraded and attractive stainless-steel kettle that will work with any kitchen decor. Its six  precise temperature settings have been integrated into the kettle's handle and  can be easily programmed at the touch of a button.
Our runner-up, the T-fal – BF6138, has three temperature settings and can only hold one liter. However if you've got a small kitchen or you're a college student in a dorm or traveler in a hotel room, the T-fal is great space-saving electric kettle.