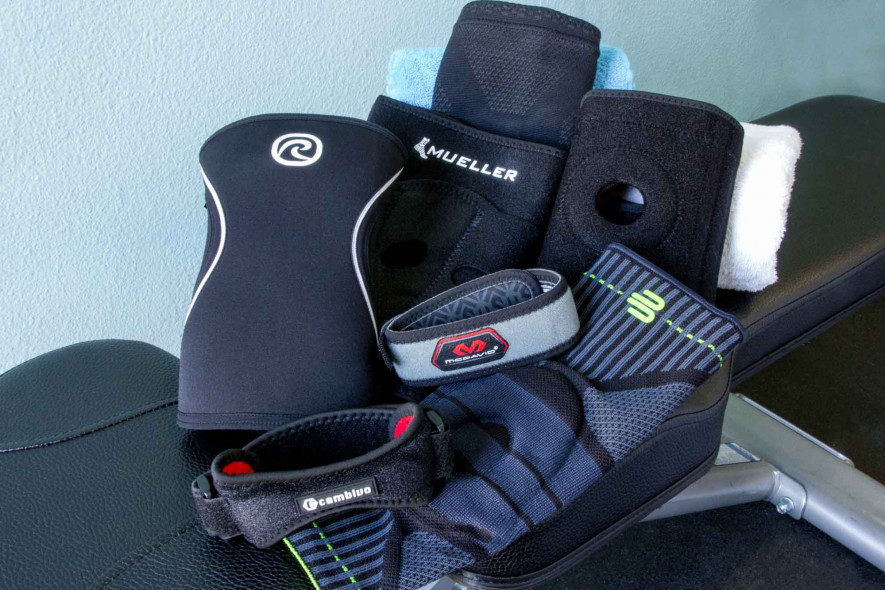 After consulting with an orthopedic surgeon and physical therapist, we tested seven top-rated compression sleeves, wraparound knee braces and knee straps, and settled on three clear winners.
Our pick for best compression sleeve is the Bauerfeind – Sports Knee Support, which wowed testers with its solid, slip-proof, breathable support. The hands-down-favorite wraparound knee brace is the Mueller – Adjustable Knee Support, which provides strong, customizable support. And with its simple yet effective adjustable design, the McDavid – Knee Strap won the strap category.
Table of contents
How we selected products to test
After interviewing an orthopedic surgeon and physical therapist and reading through running blogs and articles from trusted review sites like Wirecutter, we compiled a list of features that makes for a standout brace:
Excellent support to effectively reduce pain or discomfort
Comfortable fabric
Relatively breathable materials
Design that allows for a reasonable range of movement
Uncomplicated and fairly easy to put on
With these requirements in mind, we selected seven highly rated compression sleeves, wraparound braces and knee straps—and then assigned each one to seven highly active testers to try them out during their regular workouts.
Note: For this review, we chose to test compression sleeves, wraparound knee braces and knee straps, all of which provide light to medium support. For more heavy-duty support, we strongly recommend consulting your doctor to determine the right one for you.
The knee braces covered in this article are meant to temporarily ease pain or provide light compression or support. Because there are many different kinds of knee injuries that each require a specific type of knee brace, sleeve or strap, it's essential to talk to your doctor to determine the right one for you.
1. Best Compression Sleeve: Bauerfeind
Out of the compression sleeves we tested, the Bauerfeind – Sports Knee Support was the clear winner, and can be used to apply light to medium pressure to ease a variety of injuries and conditions. Though its price point is more than triple that of the other sleeves in our lineup, this is one case in which you get what you pay for.
Made of stretchy knit fabric, this sleeve has thinner, aerated sections over the legs and the back of the knee for breathability, as well as ribbing along the top and bottom edges to help keep it in place. The sleeve's knee is heavily cushioned, which makes it a bit bulky. However, our tester raved that he felt no knee pain either during or after his very vigorous workout.
The Bauerfeind brace is easy to put
on—our tester simply pulled it on inside out up to his ankle, and then rolled it onto his leg. Strategically placed silicone patches inside the brace hold it in place on the leg; our tester noted that it stayed firmly in place and didn't slide. Though the brace is tight at first, it quickly warms to the body to provide firm yet comfortable compression and support. The only downside was a noticeable tightness behind the knee.
Key takeaways
The Bauerfeind – Sports Knee Support brace is made of comfortable, stretchy knit fabric that's well-aerated for breathability.
This brace does not budge during activity, warming to the body and providing excellent knee support.
Though higher priced, the Bauerfeind is superbly designed and well worth the price tag.
2. Best Wraparound Knee Brace: Mueller
The Mueller – Adjustable Knee Support wraps around the leg and then is held in place with several strong Velcro straps, allowing for plenty of adjustment and customization. Though braces with straps can be confusing, the Mueller brace includes clear instructions and even features a diagram printed on the interior of the brace that shows how to strap it into place. Our tester reported that the adjustability made a difference—the brace's level of support was strong, and being able to tweak the angle of the compression noticeably alleviated impact on her joints.
This brace is made of soft neoprene, with a pleasant thickness that feels supportive and durable. Due to the brace's thick material, multiple straps and firm support, our tester was definitely aware of it during wear; however, she could move well in the brace, and reported that the support it provided was well worth it and ideal for those who need more rigidity while recovering from an injury. Because of the customizable straps, this brace doesn't slide; however, you may need to tighten the straps more if you tend to sweat a lot.
Key takeaways
Made of soft, thick neoprene, the Mueller – Adjustable Knee Support wraparound brace delivers firm, customizable support for the knee.
This brace features diagrams on its interior to simplify application.
Though the Mueller brace is on the stiff side, the strong support it provides is worth the firm feel.
3. Best Knee Strap: McDavid
Our tester was pleasantly surprised by the McDavid – Knee Strap, which provided excellent support for such a thin, simple band. The inside of the strap has a soft yet firm roll of foam that lies comfortably against the patellar tendon to stabilize the patella, making it perfect for treating patellar tendonitis, runner's knee and jumper's knee. The McDavid's adjustable Velcro straps allow you to tighten it to your liking. Our tester found it best to tighten the strap snugly, which also ensured that it didn't fall down during exercise.
The McDavid strap is made of thin yet durable neoprene that breathes well and is very comfortable to wear overall; our tester felt that she could do anything while wearing this brace. Easy to put on and take off, the strap was only slightly irritating on bare legs when worn for an extended period of time.
Key takeaways
The McDavid – Knee Strap features an interior roll of foam that puts gentle yet firm pressure on the patellar tendon, stabilizing the kneecap effectively.
Except for the slight irritation we felt on our bare legs after wearing it for a while, the brace is extremely comfortable overall.
The breathable Velcro-and-neoprene McDavid strap is easy to put on and take off.
Other knee braces we tested
Powerlix
Combining a healthy dose of firm compression and breathability, the Powerlix – Knee Compression Sleeve is a good budget alternative to the Bauerfeind brace. Though the Powerlix felt restrictive around our tester's legs, he also noted that he forgot he was wearing it at one point, and his knees didn't feel as tense as usual for a few days after wearing it. The Powerlix is stretchy and slim enough to wear under clothes, if a little on the warm side.
Rehband
With a cushy thickness that rivals the Mueller brace, the Rehband – Rx Knee Support compression sleeve is well-padded and very comfortable, but feels stuffy and sweaty after a while under clothes. On the plus side, the Rehband stayed firmly in place on our tester and never felt like it was slipping down during exercise.
Cambivo
The Cambivo – Patella Knee Strap is more complicated than the McDavid, with two plastic buckles on either side that our tester found a little confusing to adjust at first. The Cambivo has a soft, plush front cushion and provides a wide range of movement, but unfortunately grew itchy after a while and was not as supportive as the McDavid strap. The Cambivo may work for lighter activities like walking, but not for running or vigorous sports.
Techware
The wraparound Techware – Pro Knee Brace felt clunky to our tester, who reported that it felt less breathable than other braces he'd worn. Though he didn't feel any pain in his knee after wearing this brace, it did slide during his run. Despite the brace's interior silicone strips, we had to tighten it quite a bit to get it to stay in place. Because he needed to tighten it so much, it felt stiff and wasn't comfortable to wear during exercise.
Who needs a knee brace?
"If you're having a lot of knee pain that you didn't have before, it's like the check engine light has come on in your car," says orthopedic surgeon and founder of Easy Orthopedics Daniel Paull. "It's worth seeing your orthopedic doctor so you can get an accurate diagnosis—and if you need to wear a knee brace for temporary support until you see your doctor, there's nothing wrong with that."
Knee braces work by stabilizing the knee to restrict its range of motion, to prevent injury or stop a current injury from worsening. Some knee braces help keep your knee cap in alignment, while others can prevent you from bending your knee too much and risking further injury.
"A knee brace or sleeve also provides improved awareness and support of your knee while you remain active," says Michael Hildebrand, physical therapist and owner of M3 Physio. "If there's no improvement after two to three weeks, see your doctor or physical therapist for an evaluation to determine the best course of action for your knee pain."
How can you prevent a knee injury in the first place? Both Daniel and Michael recommend strengthening the muscles around the knee to provide more stability and lower your chance of getting hurt. Runners should cross-train with exercises like squats, deadlifts and both seated and standing calf raises to build the hip, knee and ankle muscles. For runners, Daniel also recommends investing in a good pair of running shoes (and insoles, if you need them) and replacing them regularly—every 500 miles or so.
Important features to consider
Compression sleeves
Compression sleeves are stretchy cylinders of fabric that are pulled over the knee and surrounding leg area. Because they aren't adjustable, it's vital to measure your leg and knee to determine correct sizing (see the "fit" section below).
Used for a variety of injuries and conditions, sleeves apply light to medium compression throughout the knee area, which not only helps redistribute harmful pressure on the knee joint, but also eases pain and provides the wearer with extra support and stability. Compression sleeves also help keep the knee warm, which increases circulation to the area and relaxes the surrounding muscles and tendons.
Wraparound knee brace
Just as its name implies, wraparound knee braces wrap manually around the knee area, and then are secured in place with Velcro. More supportive than compression sleeves, wraparound knee braces are fully adjustable and can be tightened to the user's exact preference. Wraparound braces are best for those recovering from injury, who need more rigid support to keep the kneecap firmly in place.
Knee strap
While compression sleeves and knee braces cover the entire knee and usually the area just above and below it, knee straps wrap tightly around the patellar tendon specifically, which is located just below the patella (kneecap). Applying pressure to the patellar tendon in this way stabilizes the kneecap, eases strain and reduces patella tracking (which is when the kneecap shifts too far out of place). Knee straps are especially good for treating patellar tendonitis, runner's knee and jumper's knee.
Open vs. closed patella
The difference between open and closed patella braces is straightforward: Open patella braces have a hole over the kneecap, which provides support while relieving pressure on the knee specifically.
Fit
After choosing which type of knee brace you need, the next most important factor is the fit. This will make all the difference in whether a brace stabilizes your knee effectively. If the brace is too loose, it won't provide the compression you need; if it's too tight, you won't be able to wear it for long before you start losing blood flow below the knee.
Here's the rule of thumb: If your brace or sleeve is moving around during activity, it's too loose. If it feels painful or is cutting off your circulation, it's too tight. The ideal balance is a snug fit that isn't uncomfortable or so restrictive that you can't move. If a knee sleeve is offered in different sizes, don't guess at which size you need. Measure yourself so the brace fits you accurately under your running shorts or sweats, so it can stabilize your knee effectively.
Breathability
Knee braces come in a variety of fabrics, the most common being neoprene, knit, polyester and nylon-spandex. Neoprene tends to be the heaviest and least breathable of the three options; however, if you need a stiffer sleeve that will keep your knee warm and extra stable, it may be your best bet.
Nylon-spandex, polyester and knit are best for sweat-wicking, and choosing between the three will come down to personal preference; polyester and nylon-spandex have the feel of standard workout clothing fabric, while knit tends to be softer and slightly thicker. Knit braces may also feature aeration panels—a plus if breathability is a priority for you.
The bottom line
To determine the best knee braces, we took the recommendations of an orthopedic surgeon and physical therapist and put seven top-rated knee straps, wraparound knee braces and compression sleeves to the test.
The best-performing compression sleeve is the well-aerated, nonslip Bauerfeind – Sports Knee Support, which is admittedly more expensive than the other contenders but well worth the price. Our pick for best wraparound knee brace is the fully adjustable Mueller – Adjustable Knee Support brace, which provides strong, customizable knee support. Finally, the best knee strap is the superbly designed, easy-to-use McDavid – Knee Strap, which delivered excellent support for such a simple, streamlined strap.