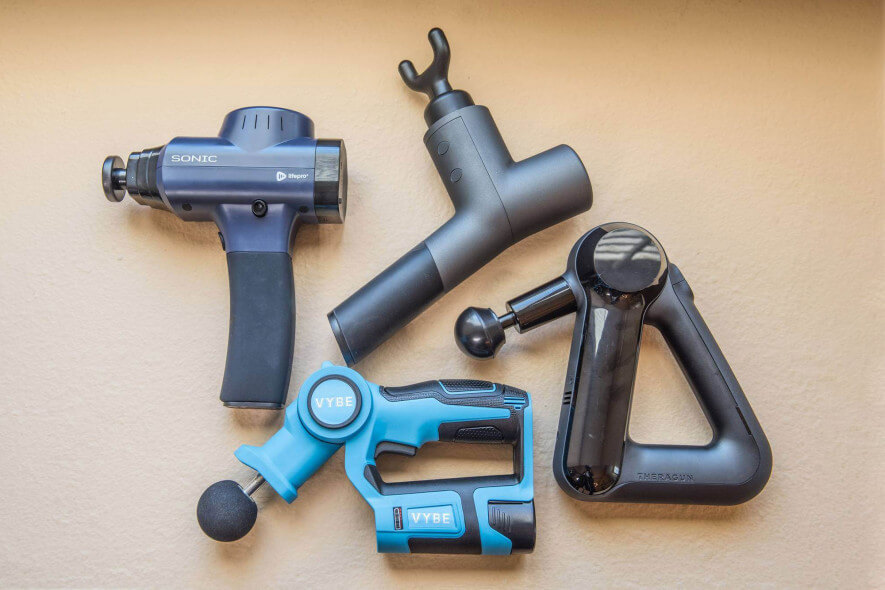 We worked with a professional massage therapist to test the five best massage guns and determine which one gives the most relief to muscle strain and minor injury. We selected the No Cry – Cordless because of its ergonomic design that helps you apply pressure to various muscle groups without tiring your hand. For our runner-up we chose the Exerscribe – VYBE as a much less expensive alternative to Theragun. We found it to be just as effective and easier to use.
We worked with a professional massage therapist to test the five best massage guns and determine which one gives the most relief to muscle strain and minor injury. We selected the No Cry – Cordless because of its ergonomic design that helps you apply pressure to various muscle groups without tiring your hand. For our runner-up we chose the Exerscribe – VYBE as a much less expensive alternative to Theragun. We found it to be just as effective and easier to use.
Table of contents
How we selected massage guns to test
We've worked with professional massage therapist Vincent Bennett in testing various self-massage products. A massage gun can be used to relieve pain on soft-muscle groups. We've reviewed other tools for different muscle groups, such as the best back massager, best leg massager, best foam roller, best neck and shoulder massager, best foot massager and best handheld massager.
When Vincent begins with a new client, he first diagnoses the client's issues by palpating the injured area. He initially works with his hands, and if the client feels comfortable enough, he then uses a percussive massager, which, as he told us, works much faster in opening up congested or blocked tissue.
The first Theragun was introduced in 2016, and its main competitor, the Hyperice – Hypervolt, was launched two years later. Both Theragun and Hyperice devices are very popular with physical therapists and athletes. Other than aesthetics, the main difference between the two is that the Theragun is strictly a percussion massager; the Hypervolt combines percussive therapy with vibration massage, which is gentler and smoother over more sensitive parts of the body.
Vincent had previously used the Hypervolt on clients before finding the No Cry Cordless, which he now prefers for its better ergonomic design. We decided to test Theragun – 3G, Hypervolt, No Cry and their competitors.
Almost all guns that are sold on Amazon are copies of the Hypervolt. We selected the LifePro – Sonic — because it was the highest-rated Hypervolt copy and reasonably priced under $200. We also wanted to test a massage gun that had Theragun's technology; there are only a few, but we chose the affordable Exerscribe – VYBE to see if it was a viable alternative to Theragun.
Compare the massage guns we tested
How to use a massage gun
Massage guns and many handheld massagers are massage devices that apply rapid percussive tapping to soft-tissue areas. At their highest setting, these devices can deliver up to 3,200 percussive beats per minute to any part of the body. Percussive therapy loosens and opens up knotted muscle and increases circulation, which helps the injured muscle heal.
All percussive massagers have three or four attachments, each used for a particular muscle group:
Ball head: Made of hard foam, this is the softest attachment and can be used on any part of the body, but it's best for tender areas around the neck and spine. For first-time users, this attachment will feel the least uncomfortable.
Flat head: This disc-like attachment is made of smooth, hard plastic, and it's best for larger muscles, like quads, glutes and pecs. The flat surface gives direct contact to the muscle and feels more intense than the ball head.
Bullet or finger head: This attachment is for targeting a specific tight or painful area.
Two-prong fork: The fork is used for working the trapezius muscles along the neck and upper shoulders. It's also good for working back muscles on either side of the spine.
If you've never used a massage gun or other percussive device before, the intense percussion and vibration may initially be an unpleasant sensation for you.
Vincent advises that beginners should start working on larger muscles — quads, hamstrings, biceps — using the ball head at the lowest setting, until you get a sense of what intensity level you can tolerate. From that point, you can experiment with the other attachments for pinpointing specific problem spots.
There are many instructional videos online you can access for learning the basics. Vincent adds these professional tips:
Begin by moving the massage gun slowly. When you find a tight or painful spot, hold the gun to it for 30 seconds, then release it and move on. If you feel like you can handle more intensive pressure, change the ball head for the flat or bullet head.
For larger muscles, move the gun in a circular motion.
If you've hit a particularly sore area, and the percussion is too intense, put a towel on the muscle as a buffer.
Important features to consider
Percussion vs. percussion-vibration: There are two types of massage guns: percussion, like Theragun, and percussion-vibration, like Hypervolt. A percussion massage gun delivers fast, aggressive pounding up to 3,200 beats per minute. Percussion massage rapidly breaks up congested or blocked tissue and increases circulation. Percussion-vibration is less aggressive; the vibration allows the massage head to glide over skin rather than bounce. Percussion massage can only be used on soft tissue, whereas percussion-vibration can also be used on bony areas.
Angled handle: The majority of percussive-vibration massage guns have straight, vertical handles with the massage head at a 90-degree angle. During our tests we found that massage guns with an angled handle — like our two top picks, No Cry Cordless and Exerscribe – VYBE — required less pressure and were easier to hold for a longer period of time. An angled handle also allowed us to reach hard-to-reach places, such as the mid-back muscles.
Weight: The massage guns we tested ranged from 2.2 pounds (No Cry Cordless) to 2.8 pounds (Theragun – G3). Theragun tries to compensate with its unusual triangular design, which allows the user to grip it from three angles, but our testers still found it nearly as heavy as a hand weight and tiring to hold when using it on their backs.
Noise: If you're sensitive to loud sounds, you'll find the percussive-vibration devices less irritating. Massage therapists often prefer using a percussive-vibration device because it's less intrusive to the calming massage experience.
How we tested
Our three testers worked with massage therapist Vincent Bennett in testing each massage gun at least three times on different muscles. Vincent demonstrated to all testers how to properly use each massage gun.
Each tester had a chronic ache in a particular muscle group, such as the neck and shoulders, glutes and hip abductor, and spent more time using the massage guns on these areas. The testers tried each attachment and speed level and reported which were more effective in general and also which ones relieved muscle aches in their specific trouble spots.
All three testers thought the quieter percussion-vibration massage guns were better for a relaxing massage. But they were also unanimous in choosing the percussive massage guns as better for a deep, penetrating massage.
Best overall: No Cry Cordless
The No Cry Cordless is very similar to the Hypervolt, but what makes the No Cry a better massage gun is its ergonomic design. The Hypervolt is shaped like a sci-fi ray gun with a vertical handle; the No Cry's handle is at a 15-degree angle. Our massage-therapist expert explained that this unusual angle makes the No Cry feel like an extension of his hand and arm. It's easier to apply pressure with the No Cry, so his hand doesn't tire while using it.
We couldn't agree more. Each of our three testers found the No Cry much easier to use than the Hypervolt. The 15-degree angle of the handle allowed us to massage hard-to-reach spots, like mid-back between the shoulder blades, simply by dangling the No Cry over the area.
At 2.2 pounds, the No Cry is 3 ounces lighter than the Hypervolt. Our testers, however, thought the Hypervolt felt much heavier because the vertical handle required them to push down more on the area they were massaging.
The No Cry has a lithium-ion battery that charges in about two hours, and its charge will last through many massage sessions, approximately six hours. It has five speeds, ranging from 1400 to 3200 beats per minute. The percussion of the lowest speed felt too bumpy along the hip and spine, but the second speed increased the percussion enough to feel smooth on those bony areas.
No Cry uses Hypervolt's Quiet Glide technology, which allows for power without generating much noise. At its lowest settings, the No Cry emits a low buzz, and these quiet settings are what massage therapists use because they don't disrupt the calming massage experience. Our testers all commented that the gentle buzz contributed to the the soothing effects of the No Cry's percussion.
The No Cry has the four usual attachments and a sturdy and compact carrying case that can be taken anywhere. The most attractive feature for most people will be its price; at about $200, the No Cry is 43% less expensive than the Hypervolt. It's affordable, performs better than the Hypervolt, and if you're considering buying a massage gun, the No Cry is the best one we tested.
Key takeaways:
The No Cry's ergonomic handle makes it the easiest massage gun to use.
It's similar to competitor Hypervolt, but it's much less expensive.
Using Hypervolt's technology, the No Cry's gentle buzz won't disrupt a calming massage experience.
Best Theragun alternative: VYBE
The Exerscribe – VYBE has the same technology as the better-known Theragun, but it has a massage head that can be adjusted to three angles, making it more ergonomic, and two lithium-ion batteries.
Priced at only $150, it's a fantastic value and viable alternative to Theragun. The VYBE may not be sleek and sexy like the Theragun, and we admit it looks more like a power tool than a massage device, but all of our testers found it just as powerful and effective.
The VYBE's two batteries are shipped fully charged, so you can use it straight out of the box. The batteries pop into the gun's body like a cordless-drill battery pack, and pulling the handle's trigger starts it up. A dial on the opposite end of the handle is used for adjusting intensity levels. All of the other massage guns we tested had coarse level settings controlled by a switch, but with the VYBE's rolling dial, intensity level can be increased or decreased very gradually.
The VYBE's instruction manual is minimalist; but its creator, physical trainer Kusha Karvandi, has put together detailed instructional videos in which he explains brain-muscle connections and best practices for using the VYBE on particular muscle groups. The videos are somewhat like an online college course, but we found them interesting and helpful in understanding why and how percussive therapy works.
The VYBE's default position has the massage head vertical; a side button releases the head and snaps it up into a 45-degree angle and a 90-degree angle (horizontal). Similar to the No Cry, when the massage head is adjusted to the 45-degree-angle position, you don't need to press down — the VYBE floats over the muscle — so your hand doesn't get tired from holding it.
One drawback to the VYBE: it's even louder than the Theragun. One tester was startled when he first turned it on, but after he began using it, the noise didn't bother him. All of our testers and our expert, however, forgot about the VYBE's angry-beehive buzz because it gave such an effective, relaxing and penetrating massage.
The highest level — and loudest — is 2,400 beats per minute, which is exactly the same as Theragun. Some people might not be able to ignore the noise, but if you can, you'll get the exact same massage as you would from a Theragun.
The VYBE comes with three attachments — large and small foam balls and pointed tip — and carrying case, which also has inserts for the two batteries and the charging dock.
Our testers tried each massage gun several times and kept coming back to the VYBE as the one that gave them the most relief. As stated earlier, the VYBE is much cheaper than even Theragun's least-expensive model. The VYBE isn't better than the Theragun, but it's definitely an affordable alternative that performs just as well.
Key takeaways:
The Exerscribe – VYBE has the same technology as the Theragun, but it's much less expensive.
Its massage head can be adjusted to three positions, which makes the VYBE easy to hold onto for longer.
The VYBE emits a loud buzzing noise, which may annoy some, but at 2,400 beats per minute, it gives a powerful massage that equals Theragun's.
Other massage guns we tested
Theragun – 3G
The Theragun – 3G is certainly an impressive device, but its unique triangular shape limits where you can be massaged unassisted. Theragun's design allows you to grip the gun in three different positions, but our testers found one position — gripping around the gun's body, just beneath the massage head — awkward to hold. It's also quite heavy — slightly less than 3 pounds — so it's tiring to hold for more than a minute or two.
The Theragun has two speeds: 1,740 beats per minute and 2,400 beats per minute. Our testers preferred the slower speed, which was smoother and bounced off muscle less. The higher speed was too intense and just made our testers' teeth grate.
Online reviewers complain how noisy Theragun is, and all of our testers commented that it sounded like a jigsaw. But Theragun isn't marketed as a soothing massage tool; it seems solely intended for athletes' warm-ups and post-workouts. In this regard, Theragun works: One tester commented that it made his muscles feel tingly, warm and stimulated.
Theragun has four attachments: a large, flattened, soft rubber ball, a smaller flattened ball, a thumb and a pointed tip. Theragun's app has a helpful guide for which attachment to use for specific muscle groups. An attractive, lunchbox-size carrying case is also included.
Theragun is one of the most expensive percussive massagers, and its new 24K gold model (999 in existence, as Theragun's website boasts) is ridiculously priced for what it is: a Theragun with a laser-engraved gold disk. We can't deny that the Theragun is an effective tool for athletes, but the Exerscribe – VYBE will perform just as well and at a fraction of the cost.
Hyperice – Hypervolt
The Hyperice – Hypervolt is Theragun's main competition, and the two are often compared in online Theragun vs. Hypervolt smackdowns. For all of the hype, we were let down by the Hypervolt, since it performed no better than our top pick, No Cry. We also found it to be more difficult to hold because of its bulky handle.
Hypervolt combines percussion with vibration, so it delivers a less aggressive massage. Hyperice claims that the percussion-vibration technology breaks up congested tissue and increases circulation faster than solely percussion devices. Our testers noted that they experienced an internal buzz often felt with vibration massagers, but they did not feel any difference in results between the Hypervolt and the VYBE or Theragun.
Hypervolt has three intensity levels, and we found the highest (3,200 beats per minute) to be too intense, and despite Hypervice's patented Quiet Glide technology, it was just as loud as the Theragun. Four attachments are included, but it all comes in a cardboard box rather than in a carrying case. Even the cheaper knockoffs of the Hypervolt come with a case, so its omission is perplexing.
LifePro – Sonic
The LifePro – Sonic is one of the highest rated and affordable Hypervolt copycats on Amazon. It has five attachments that all fit into a compact, hard-plastic carrying case. The Sonic has five speeds, ranging from 1,200 to 2,800 beats per minute, and was noticeably quieter than the Hypervolt. Overall our testers found the first three speeds too low and ineffectual, but the two fastest speeds were similar to Theragun's two speeds.
The Sonic weighs 3 ounces less than the Hypervolt, and in hand it does seem more lightweight, and its handle is less bulky. But it has Hypervolt's same design issues, so it's tiring to hold in position for longer than a minute or two. It's not a bad massage gun; but for $10 more, our top pick, the No Cry Cordless, is a better buy.
The bottom line
The massage guns we tested were all effective in relieving muscle fatigue and minor strains. Unlike the other massage devices we've reviewed, massage guns are designed more for athletes than for people who have occasional aches and pains. This doesn't mean they're not for home use. Our testers have active lifestyles, though none are athletes per se, and they agreed that the percussive massage guns were the best massage device they tested for soothing chronic muscle ache.
Our choice for the best massage gun overall is the No Cry Cordless. Its angled handle allows you to work hard-to-reach spots with minimal pressure so your hand and wrist don't get tired. We found it to be the easiest massage gun to use.
The Exerscribe – VYBE is our choice as the best alternative to Theragun. The VYBE has the same technology, though admittedly it's loud buzz might put off some people. However, the VYBE's massage head can be adjusted into three positions and, like the No Cry, you can hold it for longer periods without getting tired. It's one-third the price of Theragun and gives an equally powerful massage.