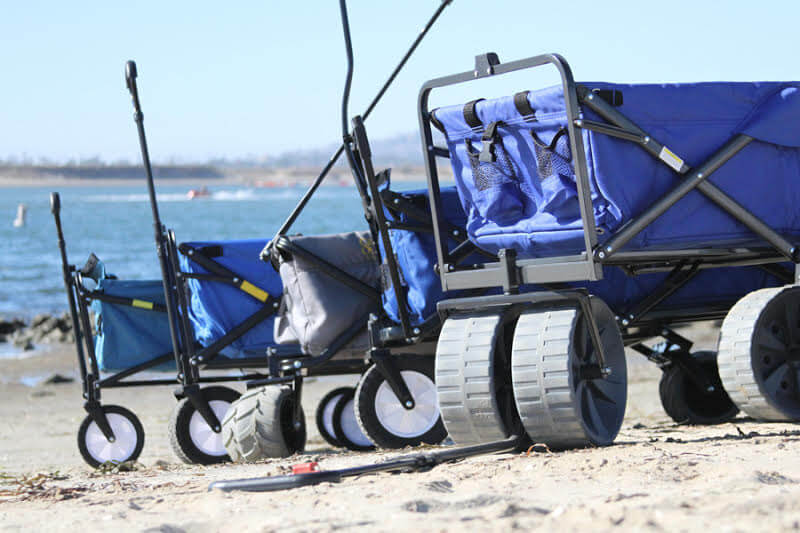 We took six top competitors over sandy beaches and rocky hills to determine that the Mac Sports – Heavy Duty Collapsible Wagon is the best folding wagon. Its durability and solid construction, combined with oversize wheels that allow it to easily handle tricky terrain, make the "heavy duty" description well-deserved. The runner-up Mac Sports – Utility Wagon comes at a lower price and is suited for light-duty uses like grocery shopping, and the Radio Flyer – EZ Fold with Canopy is our top pick for pulling around your kids.
We took six top competitors over sandy beaches and rocky hills to determine that the Mac Sports – Heavy Duty Collapsible Wagon is the best folding wagon. Its durability and solid construction, combined with oversize wheels that allow it to easily handle tricky terrain, make the "heavy duty" description well-deserved. The runner-up Mac Sports – Utility Wagon comes at a lower price and is suited for light-duty uses like grocery shopping, and the Radio Flyer – EZ Fold with Canopy is our top pick for pulling around your kids.
Table of contents
Compare the best folding wagons
Best overall: Mac Sports – Heavy Duty Collapsible
After using all of the wagons extensively over a one-month period, we determined that the Mac Sports – Heavy Duty Collapsible Wagon was the best among our finalists for use on mud and sand. If you're moving it over tougher terrain or carrying bigger loads it'll meet your demands without complaints.
While all five of our finalists worked fairly well in our more general tests, The Mac Sports wagon also stood out as an overall winner because it combined durability and weight capacity with a tight turn radius and general ease of use.
Before we even started testing the wagons, the Mac Sports – Heavy Duty stood out as a premium product. Both the metal frame and the fabric are sturdy and capable of handling more than 100 pounds of cargo. In our month of heavy testing, we saw no signs of wear and tear, which indicates that the wagon should last for years without any issues.
Best beach wagon
While there was plenty to like about the Mac Sports – Heavy Duty, one thing that quickly stood out from the rest of the field was dramatically-better steering, courtesy of the large wheels and sharp turn radius this wagon is capable of.
The more we tested the five finalists, the more we came to appreciate just how much better the steering is on the Mac Sports wagon. While it might seem like having four wheels in each corner would be more efficient, our testing found that having the two front wheels close to each other and, most importantly, directly connected to the steering handle, worked significantly better than the alternatives.
The width of the wheels was noteworthy as well. The wheels are significantly wider than they were on the other wagons, which made them far more capable of traversing sandy beaches and other rough and uneven terrains.
That's even more important if you're carrying anything heavy. Even if you're only weighed down with a couple of big kids, wide wheels won't sink as quickly in sand or mud.
The thing we liked most about the wheels, however, was the sharp turn radius they offered. Unlike the other four collapsible wagons we tested, the handle of the Mac Sports – Heavy Duty wagon is directly attached to the wheels themselves, giving the user direct control over the direction without needing to pull the wagon itself.
Finally, the oversized plastic wheels were also easier to clean than the other finalists. While rubber might seem like a more durable choice, the sturdy plastic used by the Mac Sports wagon showed essentially zero damage during our testing, and was also significantly easier to clean – a major plus for those who'd rather not track mud and dirt through their home.
Handle
The telescopic handle, while featured to some extent on all of our finalists, was best executed on the Mac Sports wagon. The telescoping handle was flexible enough for both a 5-foot-2-inch individual and a six-foot individual, and the handle itself is easy to pull, turn, and maneuver.
In addition, the handle fits into a "dock" when not in use so that you don't have to pick it up from the ground, or snap it into place every time (as was the case with other finalists).
Design and ergonomics
One of the added benefits of having two of the wheels front and center came when folding the wagon for storage and transportation. The wheels are able to line up with the outer wheels, reducing the folded footprint and making it easier to pull the wagon even when folded.
The volume, or capacity, of the Mac Sports wagon cart was solid as well – however all of our finalists were able to carry considerable cargo, so if this is the only factor you're considering, the less expensive Mac Sports – Utility Wagon might be a better option.
Finally, the two mesh cup holders make the Mac Sports wagon just a bit more useful, both for tailgating and going to the beach – as well as any other situation where you might want a place to put your beverages.
Weight capacity
Mac Sports claims that their wagon can carry up to 150 pounds of cargo. We put that weight to the test, and found that the wagon didn't start groaning under the pressure until there was about 170 pounds of cargo inside.
That being said, in practice you should be carrying less than the maximum weight in this wagon. We found that up to about 80 pounds was very easy to carry, but there started to be minor maneuverability issues around 130 pounds. While you could technically carry 150 pounds in this wagon (and we did) we don't recommend it.
Some minor issues
There was plenty to like about the Mac Sports wagon. However, there were a couple of issues we noticed during testing.
The first and most significant issue is the tipping risk we noticed when carrying heavy loads, and loads that went more than two feet over the top of the wagon. More specifically, we found that the Mac Sports wagon would tip if we turned the wheels to a 90-degree angle and pulled moderately hard on the handle.
While not ideal, the solution to this is to simply be careful when carrying large loads in the wagon. The tipping risk is essentially non-existent when carrying lighter loads, and was only an issue when turning tight corners quickly. Our final assessment was that this is a minor issue and a fair trade-off for the improved turn radius of the wagon.
Key takeaways:
The Mac Sports – Heavy Duty Folding Wagon is a durable and versatile wagon that is both easy to use and efficient.
Large wheel treads make this the best beach wagon for pulling through sand and mud.
The design of the front wheels gives the wagon an exceptional turn radius while also somewhat reducing stability on sharp turns.
The wagon offers an excellent ratio of cargo capacity to folded size.
Runner-up: Mac Sports – Utility Wagon
When we started researching folding wagons, we weren't aware of any brand that was synonymous with this particular niche market. While we still wouldn't say that there is an overwhelming dominant brand for folding wagons, it became clear through our testing that Mac Sports knows what they are doing.
While the Mac Sports Heavy Duty Wagon was our top pick overall, the Mac Sports – Utility Wagon was a respectable runner-up for garden wagon use. While it doesn't have the versatility of the heavy-duty variant, this wagon is a strong option for those who aren't planning to travel over rougher terrain. That, in conjunction with a considerably lower price point, makes the Mac Sports Utility Wagon a strong contender for second place.
Things we liked
Many of the things we liked about the Mac Sports – Heavy Duty are also present in this utility wagon. The durability was the most readily apparent of these, along with the telescoping handle. The cargo capacity for the Mac Sports wagon was impressive as well, with 3.62 cubic feet of cargo space inside the compartment itself (not including anything stacked above).
This wagon was also very easy to fold and unfold – much like its "big brother".
The price was a significant factor as well. At the time of publishing this article, this wagon was about half the cost of the Heavy Duty variant (about $60 versus about $120). This is a significant difference, and those who are looking to save some money should absolutely consider this version before going for the heavy-duty variant.
What we didn't like
Overall, this version of the Mac Sports wagon is worthy of serious consideration. However, the wheels are significantly less versatile when compared to our top pick. In addition, while Mac Sports does claim that the maximum weight is 150 pounds, we found that the wagon became fairly difficult to maneuver with about 80 pounds of cargo.
Realistically, we wouldn't want to transport more than 50 or 60 pounds in this wagon – except for short distances or when absolutely necessary. It will work with 100+ pounds of cargo, but it really shines at lower weights.
Key takeaways:
The Mac Sports – Utility Wagon is a less expensive alternative to our top pick, the Mac Sports – Heavy Duty Wagon.
The maximum useful weight capacity caps out at around 60 to 70 pounds.
This wagon is best suited for lighter functions, such as transporting groceries or as a garden wagon.
Best for kids: Radio Flyer
The Radio Flyer – 3-in-1 EZ Fold Wagon with Canopy is the best wagon for big kids and littles spending a day at the park or at the mall. It doesn't have all the rugged features of our other top picks, but the canopy and seat belts make it an easy win for parents.
Radio Flyer is an iconic brand in the world of wagons, so a successful new fold up wagon design needed to pass all our major tests in order to be worthy of the name. Fortunately, this is a great folding wagon for kids.
The 3-in-1 EZ Fold version of the folding Radio Flyer wagon comes with and without a canopy, or in an "ultimate" model with elevated seats to make long rides slightly more comfortable for kids older than two. The bigger seats make the bed of the wagon less versatile, though, and there's a hefty price premium for a pretty limited improvement in comfort.
The lap belt restraints were just enough to keep our tester's nine-month-old baby and three-year-old child seated on walks. It's not a five-point harness, and if you've got a car seat around that will fit inside (like our top pick for best infant car seat) that's the best way to keep a curious baby from climbing out.
This was the only folding wagon we tested with a canopy, and it makes all the difference on a sunny summer day. When we tested during a 4th of July parade, we quickly found nearby friends scooting their folding chairs closer to take advantage of the shade.
The canopy supports slide into the four corners of the wagon for folding or when you don't want the obstruction, and the canopy itself neatly packs into a pocket on the back of the wagon. The folded size is about the same as other models we tested, quite a bit smaller and easier to pack in the car or van than a folded stroller.
Another unique attribute is that one side of the wagon bed unzips, turning your wagon into a bench. You wouldn't want to pull it around with legs dangling, but if you're parked (as we did at a parade) the bench mode is quite comfortable for three bigger kids who just need a place to sit.
The Radio Flyer isn't as easy to roll around when folded as our top pick. And despite the advantages of a built-in canopy on a sunny day, we still prefer the Mac Sports – Heavy Duty if you want to have your kids in the wagon while it's going over surfaces that aren't paved.
That said, the corner-mounted wheels on the Radio Flyer are more stable if you make a sharp turn while you're moving quickly. That's a safety benefit most parents will probably want to take.
If you really want to go all-in on a folding wagon for your kids, there are premium options available from companies like Keenz and Veer, but at prices around $400 or $600 these wagons aren't offering much more than the Radio Flyer or the Mac Sports wagons. We've also tested the best double strollers, and they're more economical and far more comfortable for everyone involved, though it is wider.
Key takeaways:
Radio Flyer lives up to the legacy of classic kid wagons with the two-seater EZ Fold 3-in-1 with Canopy.
A built-in canopy is quick to attach and provides great shade for summertime walks.
Maneuverability under load isn't as good as the Mac Sports – Heavy Duty.
The price is about the same as our beach wagon pick, so you're trading big wheels for seatbelts and shade.
Other finalists we tested
The other three wagons performed the basic functions reasonable well. However, all three were the same price or more when compared to the Mac Sports duo – while also being less effective.
Seina – Collapsible Folding Utility Wagon
The Seina wagon is more or less comparable to the Mac Sports Utility Wagon, both in terms of size and wheel type. However, we found the material to feel notably less "premium", and in fact the material started to fray a bit towards the end of our testing period.
At the time this article was published, the price of the Seina was about the same as the Mac Sports Utility Wagon, so if that's your budget we think you're better off with the Mac Sports wagon.
Creative Outdoor Distributors – Folding Wagon
The Creative Outdoors Wagon is made from a durable fabric that is comparable to both versions of the Mac Sports Wagon. In addition, the heavy duty wheels were able to traverse sand and other rough terrain easily.
However, the maneuverability of this wagon was challenging, particularly when going up and down hills. At the time this article was published, the Creative Outdoor wagon was slightly more expensive than the Heavy Duty Mac Sports wagon. For the price, you're much better off going with the Mac Sports version.
EasyGoWagon – Folding Collapsible Utility Wagon
Since publishing our post, EasyGoProducts has released the EasyGoWagon 2.0 (which we did not test) and completely removed traces of their old wagon we tested from Amazon, but we'll leave our notes below so you have an idea of our test results on version 1.0.
The EasyGoWagon 1.0 was the most expensive wagon we tested, and the most disappointing. The wheels on the EasyGoWagon made it difficult to traverse any terrain other than sidewalks and streets, and the material started to wear out about halfway through our testing period.
This wagon is stable, and the metal frame is certainly durable, but the overall experience of using this wagon simply did not justify the price – especially when there are better options for less money.
How we selected finalists to test
Unlike many of the other products we test at Your Best Digs, there was very little information available online regarding folding wagons. In addition, there are very few established brands that we could use as a reference point.
With that in mind, we dug deep into the Amazon reviews of the most popular folding wagons and read through blog posts and articles that mentioned specific folding wagons as standout options for consumers.
From there, we narrowed our list of products to those that could comfortably carry enough cargo for a day at the beach or for a group of tailgaters.
This left us with a list of five finalists. We ordered the finalists and tested them extensively over the course of one month.
How we tested the wagons
We used each of the outdoor utility wagons in a series of everyday situations. These included walking to and from our downtown office to the car, as well as carrying cargo at the beach, along gravel and dirt roads, and up and down hills.
In addition to real-world testing, we looked at several different features and metrics to compare each of the finalists against one another.
Folding wagons are used to carry anything from tailgating gear (some will fit your favorite cooler!), to pets, and sometimes even your little ones. This means that one of the most important aspects of any wagon is the quality of materials used and sturdy construction.
For each of the five finalists, we looked at how sturdy they were, how easily the material stretched and ripped, and whether there were any early signs of wear and tear that could indicate problems down the line.
We also looked at the general stability of each wagon, including how easy or difficult it was to expand and collapse.
The size and type of wheels used by each folding wagon were considered as well. Our top pick, the Mac Sports – Heavy Duty, has oversized wheels that made movement over tough terrain significantly easier.
Next, we measured how much weight each wagon could comfortably hold. While each of the wagons had a recommended "maximum weight", we were more interested in practical weight limits, not "technical maximums".
Put another way, we wanted to know how much weight each wagon could reliably carry without tipping or otherwise becoming cumbersome to use. We also measured the volume inside each wagon (length x width x height).
We also tested each wagon to see how easy or difficult it was to tip over. We tested this by turning the wheels at a 90-degree angle and pulling sharply. This process was repeated with the wagons empty, with 20 pounds of cargo, and at each of their maximum weights.
Uses for folding wagons
If you ever had (or saw) one of the red Radio Flyer wagons as a child, you understand how useful (and fun!) having a wagon can be. Folding wagons incorporate many of the benefits of a wagon like the Radio Flyer while also being lighter, more portable, and capable of reliably carrying more cargo.
If you enjoy tailgating, or simply need a way to transport supplies to and from the beach, lake, etc, a folding wagon can simplify the process significantly.
Wagons are great for running errands as well. Whether you're bringing groceries into the house or starting a gardening project in your backyard, a folding wagon can help get everything from the car to wherever it needs to be.
A reliable wagon can help ensure that all of your food, drinks and anything else you need get from point A to point B gets there safely, and without anyone needing to carry everything in your arms.
If you have tired children (or pets) that need a break from walking, putting them in a folding wagon is a fun way to bring them along for the ride – just make sure to pay attention to weight maximums.
Folding wagons vs strollers
In 2019 we compared the best double strollers with wagons. There are a few advantages wagons have over strollers.
For one, wagons fold flatter, so they're easier to store and transport in your car. Folding and unfolding is also easier than on most strollers.
Another perk is room: a collapsible wagon for kids is basically a small playpen on wheels. You can even get oversized four-seat wagons like the Wonder Fold XXL that carry more kids than any stroller we've seen. Even strollers with lay-flat seats or bassinet attachments don't have as much extra room as a wagon.
The sacrifices you'll make moving from a stroller to a wagon are fairly serious, though. For one thing, sitting in a wagon with your legs stretched out isn't very comfortable, so most kids will prefer riding around for hours in a sit-up stroller seat.
Car seat adapters are also tricky: yes, you can pull a carseat around loose in a wagon, but it's not secure. Think very carefully about how you intend to use a wagon with a small infant in it. The best infant carseats like the group we reviewed are all designed to be safe when secured to a stroller, and manufacturers will issue recalls if they find out about ways infants might be in danger. With a wagon, you're on your own to make sure that a car seat doesn't roll around.
Wagons are also far less maneuverable than strollers. You can still get them most places if you're careful, but it's like trading a minivan for an 18-wheeler. Since the beginning of 2019, a Walt Disney World and Disneyland wagon ban explicitly prohibits bringing a wagon into the parks to prevent traffic jams; most double strollers are still within the new size limits. Other parks and malls still allow wagons, but it's not hard to see how hundreds of them in the same footpath have caused problems.
On the whole, if you have multiple kids but don't need a double stroller every day, a wagon is a cost-effective and versatile way to let your older child take a break on your longer mall trips. It'll also help you carry your shopping.
Important features to consider
The first thing you'll want to think about is what the wagon will be used for. If you frequently go to the beach, you'll want to make sure that the wagon you choose can handle sandy (or other rough) terrain. If, on the other hand, you are using the wagon in tight hallways or other areas where there isn't much room to maneuver, it will be useful to have a wagon with a smaller turn radius, which is where the Mac Sports – Heavy Duty Wagon is without question the leader.
It's also worth considering how much cargo space you'll need. If you're just transporting some groceries, a smaller wagon is probably enough. If, on the other hand, you plan on transporting a child (or pet), or if you need to carry a lot of cargo, a larger wagon makes more sense.
The terrain your wagon will traverse is important to think about as well. If your wagon will be rolling over sidewalks and driveways for the most part, smaller and thinner wheels — like the wheels on the smaller Mac Sports – Utility Wagon — can be easier and more efficient.
If you plan on going over gravel, sand or anything else difficult to traverse, a more rugged wheel will get the job done, while still being easy enough to use on flatter terrain as well.
Finally, consider the amount of easy storage space you have available for your wagon. One of the most significant advantages of using a folding wagon is that it takes up less space when it is not in use. Folding wagons also fit more easily into smaller vehicles, so getting them to and from wherever you plan to use this is more practical than a "fixed" wagon.
If you have limited storage space (e.g. you live in an apartment), a folding wagon that folds significantly smaller than its unfolded size is particularly useful as well.
The bottom line
Folding wagons are incredibly useful in a number of situations (they're perfect for nearly all outdoor activities — some even like to use them as garden carts!), most will fit in the trunk of your car, and the Mac Sports – Heavy Duty Wagon is the best we tested. The durable materials used and the wide range of situations this wagon is capable of taking on makes its price point well-worth it in our opinion.
However, if you only need a lighter-duty wagon, the less expensive Mac Sports – Utility Wagon can save you some money for a quick beach trip or picnic.
And if you're a parent, the best wagon for kids (or pets!) is the Radio Flyer – 3-in-1 EZ Fold Wagon with Canopy. The canopy makes all the difference, whether you're facing a blazing hot afternoon at the beach or a long walk in the rain.