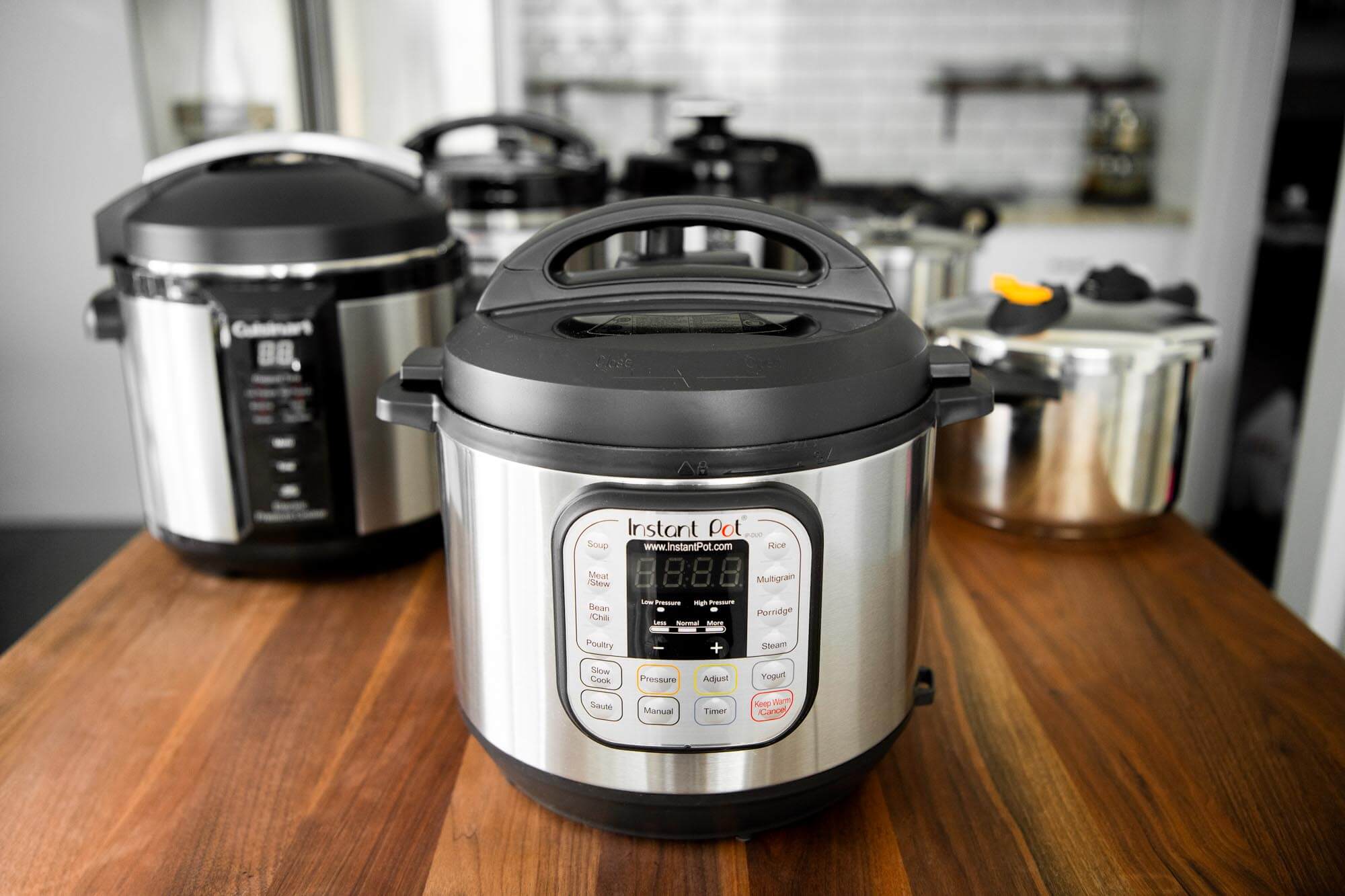 The Best Pressure Cookers
We tested four top-rated electric pressure cookers, one of the hottest kitchen appliances on the market. After 30 hours of cooking 50 pounds of meat, vegetables, beans and grains, we chose the Instant Pot – DUO60 as the best electric pressure cooker for its user-friendly interface, plus both high- and low-pressure settings. Also, for a stovetop option, the heavy-duty T-fal – P25107 delivers excellent heat conduction.
We tested four top-rated electric pressure cookers, one of the hottest kitchen appliances on the market. After 30 hours of cooking 50 pounds of meat, vegetables, beans and grains, we chose the Instant Pot – DUO60 as the best electric pressure cooker for its user-friendly interface, plus both high- and low-pressure settings. Also, for a stovetop option, the heavy-duty T-fal – P25107 delivers excellent heat conduction.
Table of contents
Pressure cooker features comparison
Best electric: Instant Pot – DUO60
It became clear during our testing that the Instant Pot – DUO60 was the one to beat. It's the only pressure cooker we tested that gave us exceptionally luscious meats and perfectly cooked rice, beans and eggs with almost no learning curve. All of the other pressure cookers had either too many or too few buttons, and even though we followed their instruction manuals precisely, food was often over-cooked or, more problematically, under-cooked.
The Instant Pot does exactly as advertised: an entire meal can be prepared in one pot. The saute function sears at three heat levels (221 ℉, 320 ℉ and 338 ℉) for light to dark browning, the meat/chili function pressure cooks and tenderizes the toughest cuts of meat, and the automatic "keep warm" function kicks in when the programmed cooking cycle completes.
Cooking results
We used the meat/stew, bean/chili, poultry, rice and saute functions for our tests. Each pre-programmed setting can be adjusted to add more time or pressure, but we found that generally, the settings were spot-on accurate. The chicken was very juicy, flavorful and tender in 20 minutes; after an hour the pot roast sliced easily and held together and unsoaked beans were perfectly cooked in 50 minutes.
Instant Pot's claim that it replaces a number of kitchen appliances, like a rice cooker, has merit. Instant Pot's rice function produced excellent rice, each grain individual and only slightly sticky. Every other pressure cooker gave us rice that was soft and very sticky, similar to Chinese take-out rice.
Food expert and chef Alton Brown recently wrote about the science behind easy-to-peel hard-boiled eggs from a pressure cooker. It's somewhat tricky to get them just right in a stovetop pressure cooker since you need to continually monitor the pressure and timing.
However, cooking eggs in the Instant Pot couldn't be easier. We manually programmed Instant Pot to 3 minutes for soft-boiled eggs, 5 minutes for hard-boiled eggs with soft, almost jammy, yolks and 6 minutes for a fully cooked hard-boiled egg. Each test gave us perfectly cooked eggs at the desired consistency.
The Instant Pot has other functions that we didn't test: multigrain, porridge and yogurt. These unique functions allow you to cook wild rice, steel-cut oatmeal and make a large batch of yogurt from scratch.
Features
A feature that we like is how easily the Instant Pot seals. Once you've inserted the sturdy stainless steel inner pot, you lock the lid in place, by clicking it clockwise. The Instant Pot emits musical tones to let you know you've sealed it securely. For the other pressure cookers, we needed to carefully align arrows on the lid and casing, which was less foolproof.
The other pressure cookers we tested hissed and spat a little steam during cooking. The Instant Pot, however, was completely silent, a testament to the efficacy of its sealing.
The Instant Pot's inventor, Robert Wang, took years to experiment with and test his invention, and his research and development are evident in the Instant Pot's user-friendly functionality and thoughtful design. The other electric pressure cookers we tested were either the same price or a little cheaper than the Instant Pot, but none of them proved to be as reliable or easy to use. We recommend spending a few dollars more for this superior kitchen appliance.
Key takeaways:
Instant Pot – DUO60's exceptional user interface and accurate pre-programmed functions make pressure cooking easy and stress-free.
Dual pressure settings allow you to select high pressure for tenderizing and cooking tough cuts of meat or low pressure for delicate foods and vegetables.
Unique to Instant Pot, ten safety mechanisms safeguard lid closure, pressure build-up, overheating and vent blockage.
Instant Pot was the only electric pressure cooker we tested that cooked meats, rice and beans equally well.
Runner-up: Cuisinart – CPC-600
The Cuisinart – CPC-600 doesn't have Instant Pot's "bells and whistles," but its much simpler functions still gave us great results. The Cuisinart has only three buttons: Menu, Time and Start/Cancel. The Menu button allows you to select high or low pressure, browning, saute, simmer and keep warm.
We found Cuisinart's instruction and recipe booklets to be the best of all the pressure cookers we tested. The instruction booklet is written clearly with easy-to-follow step-by-step instructions. The flip side of the booklet is a collection of recipes and cook times for meats and vegetables. The recipes are not only interesting (for example, "Veal Shoulder Roast Stuffed with Sage Mushrooms" and "Not The Same Old Three-Bean Salad") but very detailed as well.
The pressure value needs to be installed, and admittedly, we had trouble with the Cuisinart coming to pressure at the first try. We reinstalled the pressure value and discovered that it was quite sensitive and occasionally needed to be nudged to retain pressure. Other than this minor issue we had no problems operating the Cuisinart.
For all of the tests, the Cuisinart came to pressure quickly, usually between four and 12 minutes.
Chicken, beans, eggs and rice turned out almost exactly as they had in the Instant Pot.
The recipe book calls for pressure-cooking pot roast for a substantial 99 minutes (the longest time that the Cuisinart can be programmed). As instructed, we allowed a natural release, but the beef was somewhat under-cooked. We set the roast for an additional 15 minutes, and this time, it came out fork-tender.
The Cuisinart has an excellent browning function. It's hotter than the saute function, and it gave the beef and chicken a rich golden-brown color that we didn't get with the other pressure cookers, including the Instant Pot.
The Cuisinart isn't as expensive as Instant Pot, and if you don't think you'll need all the extra functions and just want a reliable pressure cooker, then the Cuisinart is an excellent choice.
Key takeaways:
The Cuisinart – CPC-600 has a simple interface and the essential functions for simple and accurate pressure cooking.
It has a unique browning function for meats and poultry that most other pressure cookers lack.
Cuisinart's instruction and recipe booklets are the best of all pressure cookers we tested. Instructions and recipes are clearly written with detailed easy-to-follow step-by-step instructions.
Best stovetop: T-fal – P25107
The T-fal – P25107 stovetop pressure cooker is constructed of heavy-gauge stainless steel, which proved very efficient in rapid pressurizing and evenly distributing heat. Despite its terrible user's guide, the T-fal stovetop is a viable option if you prefer a more hands-on method for pressure cooking or don't want to incur the expense of an electric pressure cooker.
The T-fal is outfitted with an accurate operating valve that controls pressure. It's labeled 1 (low pressure) for delicate foods and vegetables, 2 (high pressure) for meat and frozen food, and it has a steam symbol for slow release. As with other stovetop pressure cookers, running a stream of cold water over the pressure cooker causes a rapid release.
The user's guide has a single page of two skimpy tables for cooking times, mostly for vegetables, rice and beans. In keeping to our test conditions, we followed the guide's recommendations and crossed our fingers.
Our first test was cooking rice. During the build-up of pressure, condensation appeared around the handle joints and dripped onto the cooktop. The user's guide recommends 5 minutes for rice, and although we were initially uncertain that it had come to full pressure, we got the hang of waiting for the bobbin to hiss and pop up before beginning timing.
The rice was an unqualified success, slightly sticky with individual grains, and the most like rice cooked in a saucepan.
The T-fal didn't leak condensation in subsequent tests, and pressure remained constant (with our continual monitoring of the heat).
We had excellent results using the recommended times in the user's guide: chicken (16 minutes) was cooked through and juicy, beans (4 minutes, pre-soaked) were soft with a perfect bite to them, the eggs (5 minutes) were tender with slightly jammy yolks and the pot roast (40 minutes) held together with minimal shredding.
The T-fal – P25107 is well-priced for such a quality product. If you're looking to buy a traditional stovetop pressure cooker, we recommend you consider purchasing this one.
Key takeaways:
The  T-fal – P25107's heavy-gauge stainless steel construction is efficient in rapid pressurization and even heat distribution.
The user's guide recommended cooking times are accurate and produced excellent results in all of our tests.
It's a terrific price for such a high-quality product.
Others we tested
Power Pressure Cooker XL
The Power Pressure Cooker XL  is manufactured by Tristar Products, a company better known for exercise and beauty products "as seen on TV." Despite the substantial number of complaints posted on Amazon, there is a higher proportion of excellent-to-good ratings for this pressure cooker. Generally, we found it performed well, but there are several negatives about the Power Pressure Cooker that don't justify its high price.
From the outside, it physically resembles Instant Pot. But that's where the comparison stops. The Power Pressure's stainless steel inner pot has a non-stick coating, which comes in contact with food. Undoubtedly this will wear down from repeated high-heat use, and when chipped, it's hazardous.
Before first use, the manual instructs running the cooker through the canning cycle. (We weren't ever sure why, as no other pressure cooker manual advises doing this.) To do so, the manual instructs filling the inner pot two-thirds full of water; the pot, however, is marked in fifths. Right from the start, it's a matter of guessing, a pattern that continues with the recipes.
The manual's recipe for chicken was unnecessarily confusing. According to instructions, the chicken should be browned using the chicken/meat button, then covered and programmed for 30 minutes with the soup/stew function. The cooker's timer immediately counted down with no indication that pressure was building, and in fact, after 30 minutes, there was no pressure to release. We were unsure whether the chicken had been pressure cooked or stewed instead.
The chicken/meat function browned both the chicken and beef well, but although the chicken turned out tender and juicy, the pot roast was dry, stringy and inedible.
Another negative factor is that the pre-programmed times for each button can't be adjusted upward or downward. The least amount of time is 5 minutes, using the Rice/Risotto button, so it was impossible for us to complete the egg test (cooking them for 3, 5 and 6 minutes). As it was, the yolk of the 5-minute egg was overcooked and rubbery.
Unlike the Instant Pot, the Power Pressure has a special canning feature and separate instruction manual. We experimented with the canning function and found that it works as advertised. However, this additional feature doesn't justify the Power Pressure's price, which, depending on where you purchase, is the same as (or even higher than) the Instant Pot.
The Power Pressure Cooker simply isn't as well designed as the Instant Pot and could easily discourage a first-time user from cooking with it on a regular basis.
T-fal – CY505E (not recommended)
The T-fal – CY505E is loaded with features and functions that none of the other electric pressure cookers have. These include oatmeal (identical to the Instant Pot porridge function), baby food, bake, reheat and DIY Chef, a function that supposedly allows you to program time, temperature and pressure.
All of these would seem to be excellent additions, except that T-fal doesn't include any instructions for how to program them. This was especially irksome with the DIY Chef function since it would be the only function that allows manual programming.
Many consumer complaints cite the uselessness of T-fal's instruction booklet; some people get quite bitter about it. We researched online, and other than a duplicate of the print version, we found no documentation for explaining how to use T-fal's additional features.
T-fal made an odd design choice in permanently attaching the lid to the body of the unit with a hinge, presumably to ensure sealing. However, not only did we find it awkward and troublesome to shut securely, the lid was also impossible to clean thoroughly.
Since there were limited instructions for use, we had to guess what might work for each test. We began by browning the chicken, but an error message kept popping up. We checked the troubleshooting page of the manual and learned the message meant the lid isn't shut. We triple-checked the lid, but the error message still flashed.
We decided to program the pressure cook function for 30 minutes. It took over 15 minutes to come to pressure. Once the program completed, we unlocked the release valve for a quick release. However no steam was emitted, and the lid still wouldn't budge until 25 minutes later.
Regarding test results, the chicken was juicy and tasty, but the dark meat was under-done. We tried rice twice, and both times (9 minutes and 6 minutes), it stuck together in clumps.
We used soups/stews to brown the pot roast and cooked it using the pressure cook function. The beef turned out dry, stringy and tasteless.
Since 5 minutes was the lowest time we could program, we couldn't complete the three tests for eggs. The five-minute eggs had chalky yolks and chemical-tasting whites.
The only food to be well-cooked was the beans, which came out soft and flavorful.
If T-fal improved the instruction manual, they might have a viable product. But as the T-fal CY505E costs only slightly less than the Instant Pot, we recommend going for the Instant Pot instead.
Presto – 01365 Stovetop Pressure Cooker
The Presto – 01365 required minimal assembly before we could begin testing. Unlike T-fal, Presto offers detailed instructions for operation, maintenance and cleaning. It's made of stainless steel, but it seems light-weight, and during our tests, we found that heat distribution was uneven.
The Presto is easy to seal by simply pushing down on the lid until air is forced out and clamping it shut. The Presto came to pressure quickly, between 4 and 8 minutes, but it was necessary to continually regulate the heat to sustain pressure. As food cooks, steam is released through a pressure regulator, which bobs on top of a valve and indicates high or low pressure. It takes some practice to figure out whether heat needs to be lowered or raised.
As we did with all the pressure cookers, we followed the cooking time recommended in Presto's instruction and recipe booklet. Unfortunately, the recipes aren't as accurate as the operating instructions. Rice was soft but gummy. The beans were only half-cooked at the recommended time, so we brought them back to pressure and cooked them an additional 3 minutes.
The recipe instructed cooking a 3-pound chicken for 16 minutes, which proved insufficient time, as both the inner chicken breast and thigh were raw. For the pot roast, the manual recommends 45 minutes and a natural pressure release (which added 10 minutes to cooking time). The beef shredded too easily and was dry and stringy.
There's only a few dollars' difference between the Presto and the T-fal stovetop pressure cooker. The T-fal, however, is a better product that gave more consistent results.
How we selected
We began our research by reading many websites and blogs devoted entirely to electric pressure cookers and viewing YouTube videos that demonstrated their functions and recipes. The reasons that most consumers cited for purchasing an electric pressure cooker are:
Fast cooking time
Ease of use
Safety
Capacity
Ease of cleaning
Since 2015, Instant Pot has emerged as the dominant electric pressure cooker brand. Introduced in 2010, Instant Pot now has well over 25,000 reviews on Amazon and nearly 1 million followers on Facebook, Instagram and Pinterest.
There are now many different electric pressure cookers to choose from, each claiming to have new features and improved functionality over the Instant Pot. We avoided testing those that had a high proportion of low ratings and repeated customer complaints.
Generally, pressure cookers have a 6- or 8-quart capacity. We read comments that people chose to buy a 6-quart model that could cook smaller portions but also have the capacity to accommodate a whole chicken. People who bought an 8-quart model wanted to cook larger portions for freezing and canning.
We decided to test a range of food — from eggs to pot roast — in portion sizes that a family of two or four might actually cook. So, we only tested cookers with a six-quart capacity.
Our criteria for selecting stove top pressure cookers was different. Stovetop models are made of aluminum, stainless steel or a bi-metal composite. Aluminum tends to easily dent and ding, so we opted for the heftier and more durable stainless steel. We also decided to test the pressure cookers that could be used on gas, electric and induction cooktops.
How we tested
We wanted our tests to cover a variety of typical foods people might cook with a pressure cooker. So, we tested cooking:
A whole 3-pound fryer chicken
A 3-pound beef pot roast
1 cup of black beans
1 cup of long-grain rice
Hard- and soft-cooked eggs
Except for the eggs, each product was minimally seasoned with salt and pepper and cooked in the recommended liquid (usually one cup) for the time instructed in each user manual. Because many people are new to using a pressure cooker, we followed each recipe in the manuals precisely to determine how accurate they were the first time we tried them.
We took a different approach with the eggs by cooking them at 3 minutes (soft), 5 minutes (cooked with jammy yolks) and 6 minutes (firm yolks). However, the shortest cooking time that both the Power Pressure Cooker XL and T-fal – CY505E could be manually programmed was 5 minutes, so we couldn't test them for the 3- and 6-minute eggs.
We considered the following questions while testing each of the pressure cookers:
Ease of use:
Were programs/functions clearly designated?
Could we figure out how each program worked without consulting the user manual?
Did the user manual provide sufficient instruction for each program?
Were recommended cook times and recipes easy to understand?
Safety: We examined the cooker's lid, silicone gasket, lid-locking capability and pressure-escape valve to ensure safety when the cooker was turned on. For the stovetop pressure cookers, we experimented several times with securing the lid to ensure that it was properly and tightly sealed.
Performance: We recorded how long it took for each pressure cooker to come to pressure.  Once the cooking time completed, we checked how well the food was cooked, its consistency and taste.
Convenience: Manufacturers claim that you could replace your slow cooker and rice cooker with their multi-function electric pressure cooker. We determined whether their claims were viable. (In almost all cases, we would not recommend throwing your rice cooker in the trash.)
Why buy a pressure cooker?
The pressure cooker was invented in the mid-17th century. Since then, chefs and home cooks worldwide have used pressure cookers to transform tough cuts of meat into tender, juicy morsels in half the time. Beef stew, for example, which in an oven or stovetop takes three hours to be edible, takes less than an hour in a pressure cooker.
There are several reasons why you might want to purchase a pressure cooker:
Pressure cookers cut cooking time for everything by about two-thirds. So you could easily come home from work, toss a chicken into the pressure cooker, and have dinner ready 30 minutes later.
Nobody wants to cook roasts in summer. A pressure cooker doesn't heat up the kitchen, and if you use an electric pressure cooker, you can set it and forget it.
Imagine you get home and you've got a family to feed, but you forgot to defrost the pork chops. You can put those rock-solid chops into a pressure cooker, and by increasing the cook time by 10 minutes, you'll have it on the table in no time.
Beans are a fiber-rich and nutritious addition to our diets, but the traditional method calls for soaking them overnight. You can combine dried beans and a few cups of water in a pressure cooker, and 50 minutes later, they're done perfectly.
How does pressure cooking work?
A traditional pressure cooker works somewhat like a covered pot when you increase the temperature of the liquid to cook the food inside. However, a pressure cooker has a heavier lid equipped with a rubber gasket that clamps onto the top of the pot.
Once heat is applied, the trapped steam builds pressure to approximately 15 pounds per square inch (psi), thus increasing the temperature of the liquid in the pot above the boiling temperature of water 212 ℉ to 250 ℉. The higher temperature cooks the food faster.
The increased pressure also infuses moisture and liquid into the food, which softens the fibrous or connective tissue (in beef chuck, for example) and tenderizes it.
Once cooking time is completed, and before the lid can be opened, pressure must be released in one of two methods. For softer foods, like vegetables and eggs, the pressure valve on top of the lid is unlocked, which releases the built-up steam inside the cooker in a geyser-like rush. For meats and beans, the pressure valve is kept locked, which allows the pressure to decrease naturally on its own in about 20 minutes.
Important features to consider
Electric vs. stovetop
The electric pressure cooker was invented in 1991, and since then, three generations of it have been introduced to the public, each of which has newer technology. Mechanical timers, delayed cooking features and advanced programmability have all made each generation a little easier to use. Since Instant Pot's launch in 2010, electric pressure cookers have become extraordinarily popular.
Most of the electric pressure cookers on the market today are multi-functional, and you can easily program the cooker for stews, beans and rice by simply pushing a button. The electric pressure cooker is programmed to automatically set the amount of pressure and cooking time, so you can truly set it and forget it. Also, once the cooking was completed, all of the pressure cookers we tested automatically shifted to a "keep warm" mode, which comes in handy if you're not ready to eat.
Stovetop pressure cookers are just as fast and efficient as an electric model, but heat and pressure levels must be manually maintained throughout the cooking. It still takes only about 30 or 40 minutes for a pot roast to cook in a stovetop pressure cooker, but you need to watch over it while it cooks.
User-friendly programmable functions
We tested electric pressure cookers that had multiple pre-programmed functions for both pressure cooking and slow cooking. At first look, you might assume you can do more with a 12-button model than one with seven buttons. However, two of the electric pressure cookers we tested — the Power Pressure Cooker XL and the T-fal – CY505E — had terrible user manuals, rendering it difficult to figure out what their extra buttons did without a lot of experimentation.
On the other hand, the Instant Pot and the Cuisinart – CPC-600 had excellent step-by-step instructions for each of their features. We decided that more buttons don't necessarily make a better pressure cooker.
Another important feature is the ability to change the pre-programmed function before or during the cooking. For example, this would be helpful when the meat/stew function may be pre-programmed for 20 minutes, but the piece of beef you're cooking only needs 15 minutes.
All of the pressure cookers enabled us to cancel one program and restart a different program. But we could change cook time and pressure levels only with the Instant Pot. The other pressure cookers locked the program in place once the function button was pressed.
Speed to pressurize
All of the electric pressure cookers we tested claimed that they could turn out a fully cooked meal in 20 or so minutes. That's only half true. It may take 20 minutes to cook, but it could take another 20 minutes for the cooker to build up pressure, or "come to pressure" as it's commonly called. If you're using the natural-release method (letting the pressure dissipate without opening the release valve) you need to add 20 minutes more.
The speed with which the cooker pressurizes depends on the volume of the contents in the cooker's inner pot. For example, a 3-pound chicken will generally take approximately 15 minutes to come to pressure, while dried beans or rice will take half that time.
We timed how long it took for each pressure cooker to pressurize for every test. Stovetop pressure cookers were fastest; they took between 3-½ and 7 minutes. Timing varied with the electric pressure cookers, but Instant Pot had a substantial lead over the others by pressurizing several minutes sooner.
Ease of cleaning
The majority of stovetop pressure cookers are made of stainless steel (for durability) or aluminum (for heat conduction), but unless they have a ceramic coating or a bimetal base, scorched or overdone food particles can be difficult to clean off.
Generally, electric pressure cookers are a lot easier to clean. Each electric pressure cooker we tested had an inner pot made of stainless steel, which, even after repeated uses, maintained its sheen. We did take exception with Power Pressure's inner pot, which seemed to be lesser-grade stainless steel with a non-stick coating. This one did begin showing signs of wear.
The inner pot is the only piece of the electric pressure cookers that is dishwashable. The main body of the cooker, the lid and the lid's inner silicone gasket must be manually cleaned after each use to maintain a secure seal. The T-fal-CY505E is the only model we had trouble cleaning, because of an odd design choice: its lid is attached by a hinge to the cooker body and cannot be removed, which limited how well we could clean it.
The bottom line
A pressure cooker can definitely change the way you cook. By cutting cooking time by half or even two-thirds, a pressure cooker gives you the opportunity to enjoy a favorite, long-simmered dish in an hour or less.
Electric pressure cookers are certainly more convenient than stovetop models, but we found that many on the market have extra functions than unnecessary. There's always a learning curve with a new appliance, but with too many bells and whistles, it will take a while to learn how to use them.
Our top pick, the Instant Pot – DUO60, is an affordable and extremely user-friendly electric pressure cooker. It turned out perfectly-cooked food in all of our tests. For performance, functionality and convenience, Instant Pot can't be beat. Our runner-up, Cuisinart – CPC-600, has far fewer functions, but it has all the essentials.
If you want an electric pressure cooker that's just for pressure cooking, then the Cuisinart is a great and somewhat less-expensive choice. If you prefer a traditional stovetop pressure cooker, then we recommend the T-fal – P25107 as the most efficient, well-priced and easy to use option.