After consulting with a local expert technician and running a month of tests on engines, emissions components, braking and airbag systems with 13 top scanners, we found the Lemur – Bluedriver Bluetooth adapter is the best OBD2 scanner. With impressive features like ABS and airbag system access usually only found on more expensive specialty tools, the BlueDriver smartphone app has a great interface that makes diagnostic data much easier to work with. If you prefer not to use a smartphone, look to the Launch – CReader V.
After consulting with a local expert technician and running a month of tests on engines, emissions components, braking and airbag systems with 13 top scanners, we found the Lemur – Bluedriver Bluetooth adapter is the best OBD2 scanner. With impressive features like ABS and airbag system access usually only found on more expensive specialty tools, the BlueDriver smartphone app has a great interface that makes diagnostic data much easier to work with. If you prefer not to use a smartphone, look to the Launch – CReader V.
Table of contents
The 7 OBD2 scanners we tested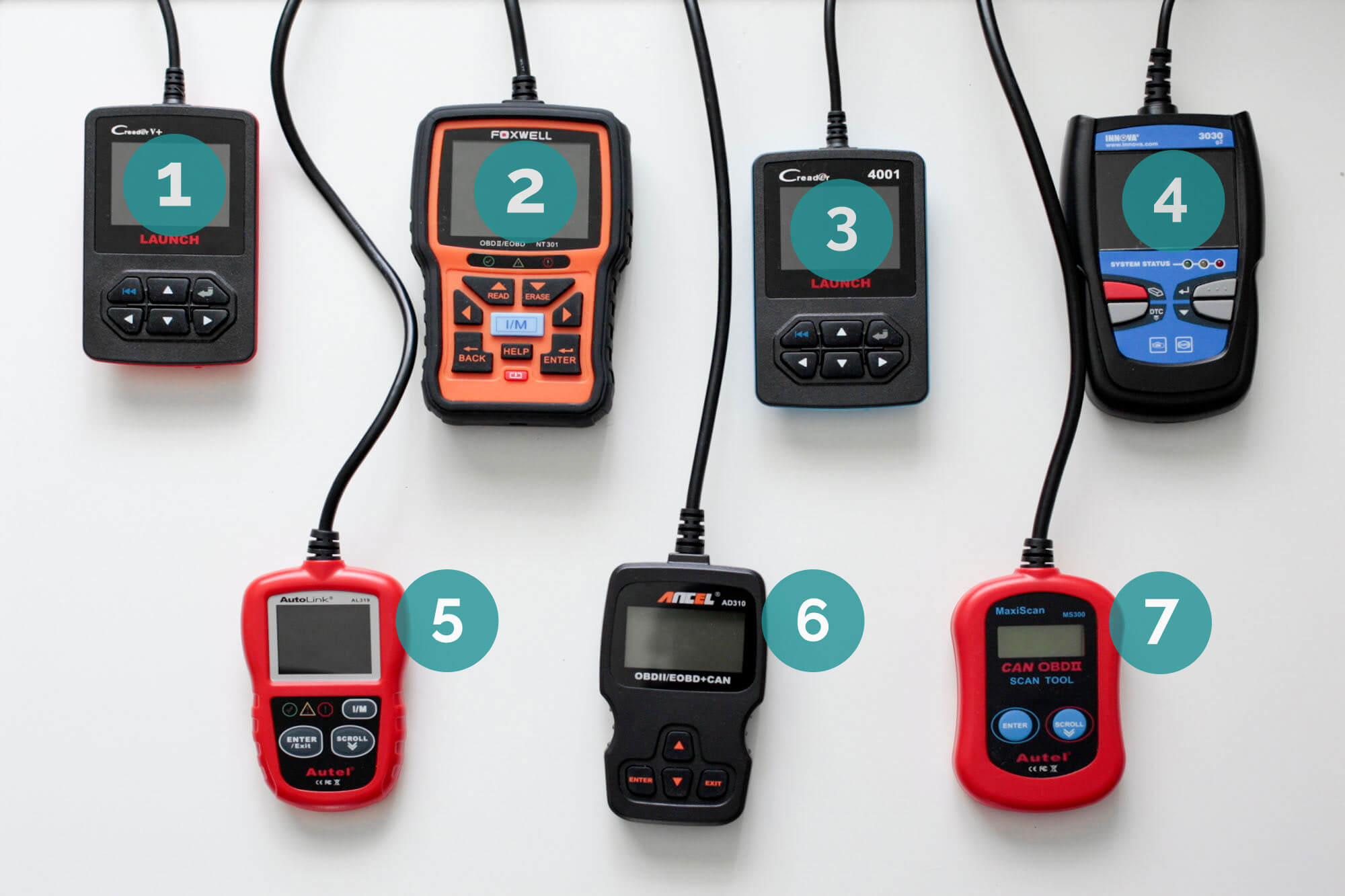 The 5 Bluetooth OBD2 adapters tested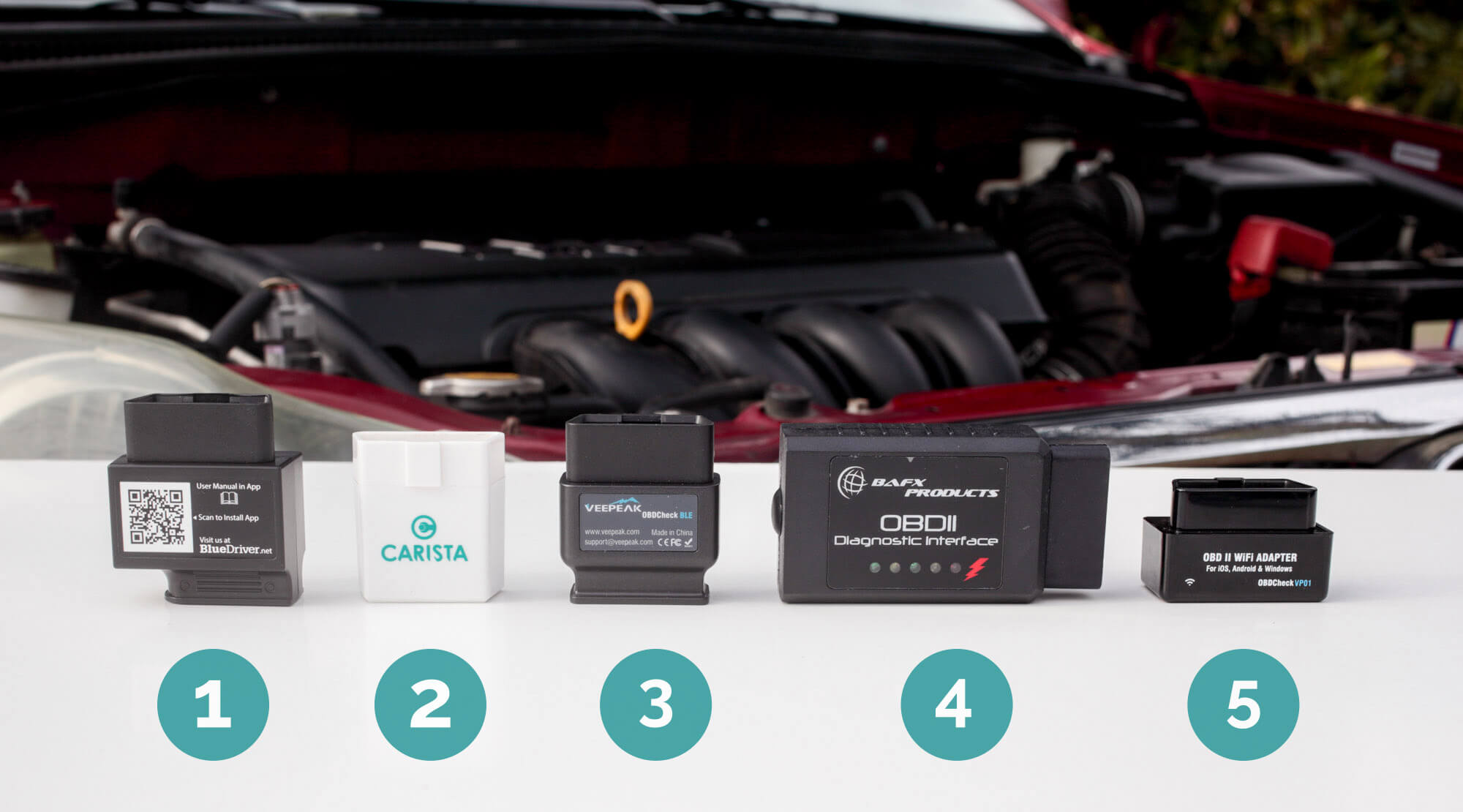 Best Bluetooth scanner: Lemur – BlueDriver
Lemur Vehicle Monitors is a tiny company located on the tiny island of Newfoundland off the eastern shore of Canada, but their BlueDriver app and Bluetooth adapter is one of the biggest things that's happened to automotive diagnostics in decades.
It's not that BlueDriver is a revolutionary idea; plenty of other companies are selling Bluetooth adapters that work with a specific smartphone app. Some of those other solutions are even offering similar features. What's big about BlueDriver is how simple and well-integrated it is.
Where other companies will sell a limited app with add-on modules that open up enhanced diagnostics, or a subscription-based app that means you'll pay over and over again to keep using the hardware you've bought, BlueDriver is a one-time hardware purchase. You can install the app for free on as many devices as you want, and the adapter will unlock all the functionality, service bulletin and recall databases and vehicle-specific modes.
It's a solid adapter, too. This system uses the new Bluetooth 4.0 protocols, so it's compatible with both Android and Apple's iOS devices so long as they'll run Android 4,0 or iOS 7.0 or higher. (That's pretty much every device made since 2012.)
The fact that this is a one-app adapter is a disappointment since there are some other apps like Carista and Torque that have interesting features BlueDriver doesn't cover, but the disappointment fades when you see that the app and adapter connect right away and work seamlessly with each other.
Lemur has good info on what data their app can and cannot see for a specific vehicle on this compatibility list. This is the kind of detail we like to see. Definitely check out your car on a compatibility list before you invest in a tool like this to see what you will or won't get. We checked against a list of the top-selling cars in the U.S., and the only top-ten omission was Chevrolet airbag and tire-pressure compatibility.
This isn't going to replace a $5,000 scan tool, but it might replace one that cost you $500. It doesn't include a tablet, so if you don't already own or want one then a tablet-style scanner from Autel or Launch might be a better purchase for serious diagnostic work. There's a pretty good chance you do own a compatible device, though.
In use, the fact that this scanner found and reset every code we tried to generate on our 2007 Toyota Corolla was very impressive. Airbag codes are notoriously difficult to read and reset, and just unplugging the occupant sensor or seatbelt sensor cables on your front seats will trigger them. If you work on car stereos or upholstery, this is a killer app.
We were also impressed to see the way BlueDriver keeps a record of every car you connect it with and logs the date, time and any trouble codes it finds.
The one feature of the better stand-alone scanners that didn't show up in BlueDriver is a trigger for the mode $08 evaporative system test. This isn't an essential feature, since it's a test your car will do automatically after a certain amount of time (specific conditions to trigger the test vary), but it would make this a more valuable tool for someone fixing a problem right before taking a car in for emissions testing.
That said, the most impressive feature of this system is the updates that Lemur has rolled out. They've added more and more vehicles to the extended diagnostics compatibility list, and if some breakthrough new feature or mode comes along it's quite possible that BlueDriver will be updated to support it.
Key takeaways:
The Lemur – BlueDriver turns your smartphone into a top-notch scan tool with a long list of essential diagnostic features.
Extended diagnostic functions for many popular cars make the price tag easier to swallow. Not every car is included, but for $99 it's an impressive list.
The flashlight button on the main screen is brilliant.
There are a few features we'd ask for, and compatibility with universal-adapter apps like Carista or Lap Timer would also be nice.
Best wired scanner: Launch – CReader V+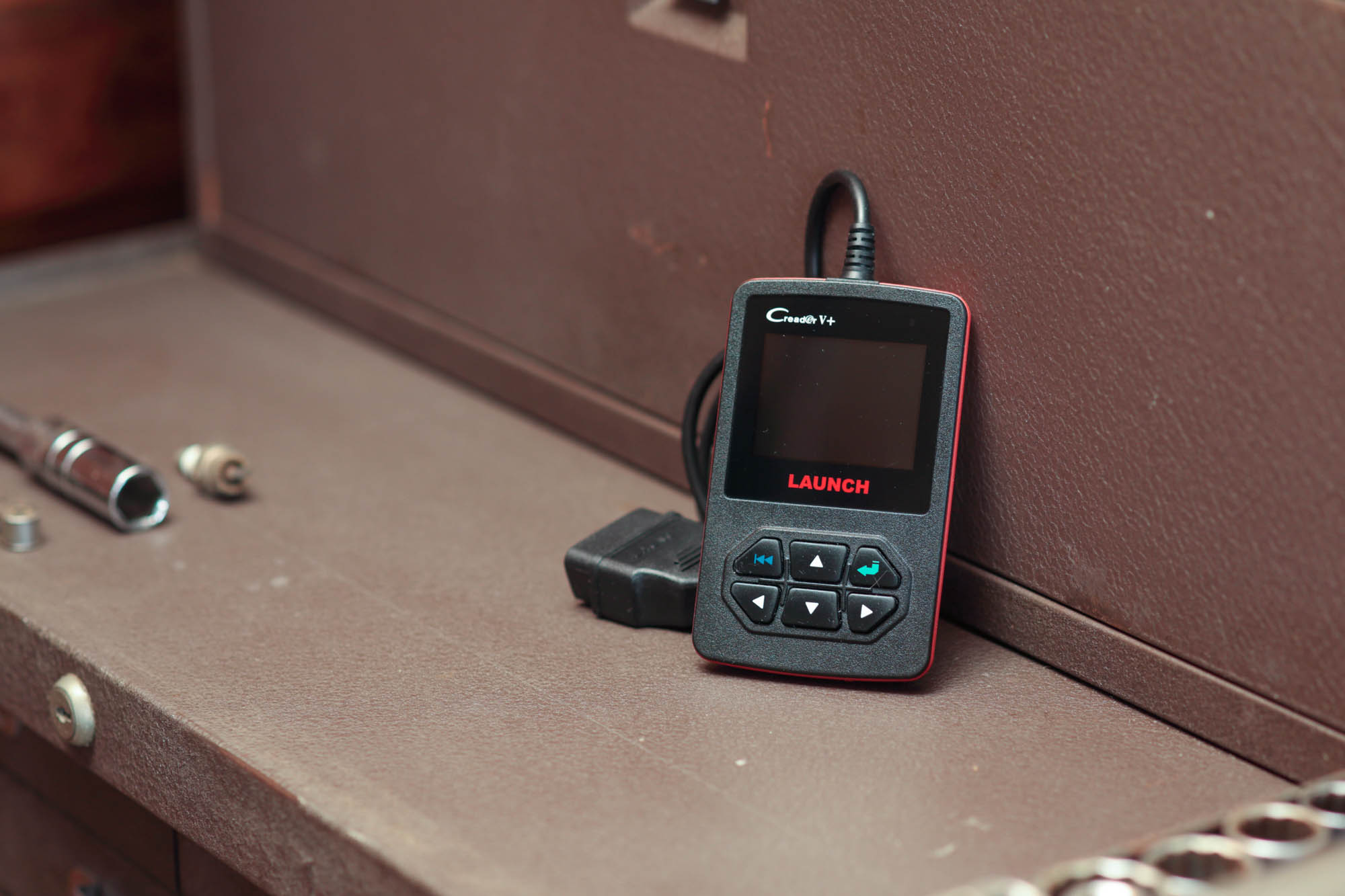 Of all the handheld scanners that don't need a smartphone, the Launch – CReader V+ isn't the most feature-complete we tested, and it's also not the least expensive. When we asked our expert diagnostic tech which of the seven handheld scanners he'd take, though, he went for this one.
This scanner is built on the same hardware platform as some of Launch's more expensive scanners, as well as the slightly cheaper CReader 4001. There are a few upgrades that bring the price up to $12 or so from the 4001 (which we also tested.)
The basic functions are all here: freeze frame data and code-reading with basic definitions, of course, but also a color graph that can display two parameters simultaneously.
The bonus features offered on the V+ that set it apart from the other scanners include:
On-board monitoring readouts, including Mode 6 (Mode $01, $02, $06 and $08 data were visible for our test car)
O2 sensor test reports
A dedicated evap test system ($08) trigger command
These screens might be very helpful to some owners, and might never get activated by others. Scott McLain, the service technician who helped us test these scanners, noted that he'd always pay a few dollars more to get the evap test commands: it's the kind of function that really comes in handy if you ever have to work on related parts.
We'll note than the CReader V+ is listed on the LaunchTechUSA website as a USA-sold product, and you might get slightly more traction with their service department if you own a V+ rather than a grey-market 4001. The update available from LaunchTechUSA's website applied to our V+ scanner without a hitch.
Key takeaways:
The CReader V+ packs all the features you can ask for into a fast, powerful budget-priced scanner.
You can save a bit of money with cheaper scanners if you don't think you'll ever do more than scan and reset codes, but graphing live data on the big color screen is well worth an upgrade.
There aren't any extended features like ABS or airbag compatibility, but the universal functions included are all top-notch.
Other products we tested
Apps
OC Tech – OBD Fusion
OBD Fusion from OC Tech is a really, really close competitor for BlueDriver. Available for iPhone and for Android, this app is a bargain if you want OBD scan functionality on your phone or tablet.
The place that BlueDriver really breaks away from OBD Fusion is in compatibility and extended diagnostics. OBD Fusion has support for things like airbag and ABS codes on a few cars, but even if the cars you work on are supported, you need to purchase those modules for each model year you want to work on.
Our test car is included in the listed range, but when we checked in the app we were disappointed to learn that none of the extended features would work. Score one for BlueDriver.
OBD Fusion was one of the first OBD scan apps (once known as Touchscan, which is still the name of OC Tech's Windows software) and is still one of the best. The real strength it has over BlueDriver is that it will work with almost any OBD-II adapter: Wi-Fi, Bluetooth or even USB. There are some great adapter hardware companies making products based on the ELM327 circuit, and OBD Fusion supports basically all of them.
The "universal" compatibility is both a feature and a curse. Connecting to your adapter requires jumping through a few hoops, and if you buy a faulty adapter that has problems or spotty compatibility with the extended diagnostic options, it's hard to know where to start looking for a fix.
OCTech recommends and sells OBDLink hardware, which will give you pretty much guaranteed compatibility (these adapters are modified to support extended diagnostics on SW CAN & MS CAN systems from Ford and GM). The new OBDLink MX+ even works with Apple's iOS devices, unlike older versions. The downside to this route is that you're not saving anything over the pay-once BlueDriver package once you start adding extended diagnostic upgrades to OBD Fusion.
The case where we'd recommend OBD Fusion and an adapter like the Carista – Bluetooth adapter over BlueDriver is if you want to use a Bluetooth adapter for other apps, like Harry's Lap Timer for track-day telemetry or Carista for modifications and extended diagnostics on a car that's supported by that app. A combination of all these adapters and apps will let you do things that BlueDriver can't, but it can be a headache trying to figure out exactly what works and how.
Torque Pro
Torque Pro by Ian Hawkins is another old standby in the world of car-diagnostic apps, this one for Android only.
If you want the very least expensive way to do scary things with your car's diagnostic system, Torque lets you ask for display of custom Parameter IDs, which means you can set up a display of things like a gear position or transmission temperature or battery monitors for your Prius.
That flexibility is partly dependent on the fact that Torque isn't just an app designed for people doing automotive diagnostics; it's an app designed to give you access to everything that your Bluetooth OBD adapter can possibly do. There isn't much novice-friendly information available, but there are programming wizards developing plugins for the app that can do crazy things with bi-directional control of your engine systems. (This is a list of some available plugins, but it's not complete.)
Torque's built-in OBD scan function spotted the ABS code that even the Innova ABS scanner and OBD Fusion's extended diagnostic module weren't able to read, so it's not software that's easy to dismiss. The fact that the interface is programmed to give you control of everything rather than being designed by someone who knows what makes a good diagnostic scanner is hard to overlook, though, and if you don't own an Android device there's not much incentive to go buy one just so you can use this app.
Smartphone adapters
Carista – Bluetooth OBD2 Adapter
For a universal smartphone adapter that checks all the boxes, the Carista adapter is basically your only choice. Designed to be an adapter that works flawlessly with Carista's companion app (which also supports many of the less-expensive ELM327-based adapters), this adapter opens up nearly universal compatibility.
Unlike BlueDriver's proprietary system, this adapter will connect with Touchscan on a Windows PC or Harry's Lap Timer on an iPhone, and it's compatible with Carista's modification and service tricks.
On our test car, Carista wasn't able to do anything but basic OBD diagnostic scans, so BlueDriver still has an edge for compatibility, but if Carista does include features for your car you might be able to do things (like reset oil-change reminder or calibrate climate control settings) that BlueDriver just can't do. This adapter works very well with OBD Fusion, and that's probably your best bet for adapter/app combinations if you don't want to be locked in with BlueDriver.
Veepeak – OBDcheck BLE
The OBDcheck BLE is the latest and greatest from Veepeak, adding iPhone compatibility over Bluetooth by upgrading to a Bluetooth Low Energy transmitter.
Despite to promise of expanded compatibility, this adapter is actually pretty disappointing, since Carista refuses to work with it. We tried a number of permutations of pairing and power-up sequences, but Carista seems to be blocking this adapter.
This adapter works fine in OBD Fusion, and if running that or some other broadly compatible app is your goal then this is an affordable adapter that works with iPhones. It's not really cheap enough to make it the winner over the Carista adapter, though, when that app represents such a dramatic expansion of features.
BAFX – 34t5
The BAFX – 34t5 is one of the most popular adapters you can find, and while we were initially skeptical about its quality it turned out to be the second-most compatible.
BAFX uses Bluetooth 3.0 protocols, so it's only going to be useful with Android or Windows software. It worked flawlessly with Carista running on a Samsung Galaxy S5, though, and it was the fastest hardware to return a diagnostic report in our tests.
So long as you're not using an Apple device, this is an economical and speedy choice.
Veepeak VP01
The Veepeak – VP01 is one of the older smartphone adapters, from before Bluetooth 4.0 protocols opened up the world of easier iOS compatibility. The Wi-Fi transmitter means it works with nearly any software platform you can imagine, even older laptops without Bluetooth.
Sadly, Wi-Fi transmission of OBD diagnostic data means that this adapter will kill your internet connection while you're scanning your car, since your phone assumes you'll get internet over Wi-Fi. (There are workarounds to use cell tower data and Wi-Fi at the same time, but it's not simple.) That's not the end of the world for diagnostic work, but if you were thinking about using this adapter to set up a virtual dashboard to monitor everyday engine performance, it basically kills any streaming music or navigation functions.
This adapter also seems to be blacklisted by the Carista app, and it's by far the slowest hardware we tested.
Stand-alone OBD scanners
Foxwell – NT301
The Foxwell – NT301 only offers graphing one data value compared to Launch's two, but there are a few features that might get you to consider spending the $25 extra it'll cost.
For one, the NT301 allows recording and printout of the live data it reads. There are three recording slots, and recording can be triggered manually or set to automatically start when a diagnostic code shows up in the OBD system. Some mechanics will prefer more graph options over recording, but there are situations where it would be nice to have a scanner watching for values when you're busy with some other part of your troubleshooting.
The NT301 also scores points for an easy-to-navigate interface, with a few more buttons that don't ever leave you wondering which one to press. An I/M (smog check) readiness hotkey is a nice touch.
Foxwell lost some points, though, for speed. This scanner took 25% longer to complete a scan than our top pick, and it's also one of the most expensive scanners we tested.
Still, if you want to print a graph, trigger evap tests, and keep your scanner separate from your smartphone, Foxwell's NT301 does come in at $30 less than BlueDriver.
We upgraded this scanner to version 2.22 using the NTWonder Windows-only software from Foxwell's website. This software also allows you to print out freeze frame data or any values you've recorded.
Launch – CReader 4001
The CReader 4001 seems to fit in a bit of a grey area in the Launch product lineup. It's not a model officially sold in the US by LaunchTech USA (the only authorized distributor if you're buying something you want US warranty coverage for) and it isn't on CRecorder.com either. That means no updates, even though there's a USB port on the bottom of the scanner.
This isn't a big disappointment, though, since the 4001 doesn't offer much in the way of specialized functionality. Software upgrades are always nice if they're offered, but for OBD-II code reading an update is unlikely to change anything. At worst, you might miss out on new definitions for codes that get added as the system evolves, and you could always look those up online.
We wondered if the V+ might be faster or show more detailed graphing information than the 4001, but it really does appear to be exactly the same hardware with a few more features enabled or disabled by the software they run.
The fact that this is the second-cheapest scanner we tested makes it an easy value recommendation, but the V+ is probably worth another $12 for many shade-tree mechanics.
Innova – 3030 g2
Innova's software suite that connects to the 3030g2 (often just listed as "3030g") has probably the most sophisticated workflow we tested. Sadly, that also means it's the most tied to an internet connection and a Windows computer (sorry Mac users.)
Innova's PC software is called RepairSolutions, and after you're finished running the code checks with the handheld scanner, that's where almost all the magic happens. This is a web service, so you'll need a PC with internet access to do anything more than a basic code check.
Once you've created a RepairSolutions account and installed the drivers for your scanner, Innova allows you to do some basic paperwork: you can view and print reports for vehicles you've scanned and access technical service bulletins or recalls for those vehicles. This also lets you log miles between check-ups if you're buying a scanner for vehicles you take care of, and it gives some "preventative maintenance" recommendations based on the age of the vehicle.
An upgraded subscription account ($9.99 per vehicle, or $39.99 for five cars) gives you access to recommended diagnostic and repair instructions from Innova's database. (Pro accounts even let you print itemized repair costs.) This is less than the cost of a subscription on ChiltonDIY.com or buying a hard copy of a manual, and having repairs matched to specific codes is a real plus. It's still going to cost more than using a library subscription to a Haynes or Chilton database and using RepairPal.com to look up codes and fixes, though.
The fact that Innova ties the diagnostics to VIN instead of car type also means that you can't double up your investment the way you can when buying a service manual and sharing with a friend who owns the same car.
The real killing blow for our opinion of the 3030g2 was that it failed to even scan for the ABS code in our test. ABS features command a price premium, generally only showing up in $150+ tools, and our car was listed as compatible on the Innova compatibility checker. If you get lucky and this tool can scan an ABS code for you, its value goes up, but without a live readout, the diagnostic utility is still less than it should be at this price.
The 3030g2 makes sense as a purchase for a maintenance completionist who likes to have stand-alone tools that create neat, organized reports. Paying extra for repair walkthroughs doesn't make this a great value, but it does make it more like an entry-level shop computer than just a diagnostic reader.
Autel – AutoLink AL319
The Autel – AL319 is a simple scanner that presents basic OBD-II information without any other fluff. There are only two real interface buttons (scroll and enter) and a hotkey that will take you directly to an emissions pre-test report. If you just want to test cars for problems before you go to a "smog shop," this scanner will give you the goods.
The fact that you can read freeze frame and live data will help if you ever need to do any real troubleshooting, but this is definitely not a feature-rich solution like the graphing scanners from Launch.
Autel offers updates for the AL319 as separate download packages that require the use of their MaxiLink II Toolkit PC software. This installer needs to be run from an administrator account, but the download was relatively easy to find.
The availability of updates means that this scanner has a thorough list of diagnostic trouble codes and you won't be as reliant on looking those up somewhere else, but in the age of smartphones and RepairPal.com that's not as important as it once was.
Ancel – AD310
The interface for the Ancel – AD310 is not the worst we used, but the monochrome LCD definitely reminds you that you're working with a 1990s-era tool. The fact that the "back" button is on the right-hand side of the arrow keys is also something that annoyed us on a few occasions.
This was the only scanner featuring a USB port that doesn't come with a Mini-USB-B to USB-A cable in the box. Fortunately, we have plenty on hand from the other scanners.
Ancel was also one of the few manufacturers that requires registration — verified by email — in order to download an update. The form on their site gave an error when we tried to register (and we haven't heard back from their email support staff), so we tested with the software version that shipped on the scanner.
The fact that the Ancel has up and down arrow keys almost gives it an edge over the nearest-rival Autel – AL319, and it's 14 seconds faster than our top pick to run a scan, but on the whole, we'd rather have the easy-reading color screen and an update tool we can actually use. Fortunately, the better-equipped Launch – CReader 4001 is cheaper than either of these.
Autel – MaxiScan MS300
The MaxiScan MS300 is, in a word, spartan. The only things this scanner can do are:
Tell you what code triggered a check engine light
Reset the check engine light
If you don't know what a P0440 code is, you'll have to look it up yourself; there's a booklet and a CD included with code definitions just in case you're stuck in 2004 and can't use Google to check any codes you find.
How we selected
We're a hands-on kind of people at Your Best Digs, and our lead editor for this project has worked on his own cars for as long as he's been driving.
Automotive diagnostics is a wide and complicated field, though, so we also worked with a local expert. Scott McLain is the owner and manager of Temecula Accurate Auto Care, and he helped us narrow down the long list of scan tools and asses their value for real diagnostic work.
We focused on scanners with essential functions like live data readouts and graphs. We capped our budget at $100 per scanner, which eliminates the upper tier of scanners with built-in oscilloscopes and security system programming. However, we still found some impressive features that will help you complete a fix without investing in features most car owners won't ever need.
As always, we prioritized models with good review scores on sites like Amazon and brands that have a good reputation among enthusiasts on Reddit and other car forums above those that were as cheap as possible. Warranty support is also a consideration, and we looked for tools that can download firmware updates when new features or fixes come along.
The flexibility and power of a smartphone or PC-connected diagnostics is amazing, and we took a long, hard look at what's available for the enthusiast mechanic who wants to get maximum flexibility and power. We chose a variety of Bluetooth-connected OBD-II adapters and prioritized compatibility and simplicity in our picks.
How we tested
Working with expert diagnostic technicians, we built a battery of tests that cover the functions of diagnostic scanners.
First, we unplugged a set of sensors on our test car to trigger error codes and test the ability of these scanners to read and reset codes.
Don't try this at home unless you're confident you know what you're unplugging and what it might break.
Unplugging the oxygen emissions sensor tripped a P0031 emissions system code, which triggers a check engine light. This is the kind of code that you can read and reset with any functional OBD-II scanner,
Unplugging an airbag-related seat occupancy sensor triggered the airbag warning light on the dash and generated a B1650 "body code". This is a special code that's not included in the ODB system and is only read and reset by scanners with manufacturer-specific programming.
We also unplugged a brake system fuse under the dash to trigger a P0504 code for the anti-lock-braking system. Again, this falls outside of generic compatibility and requires a specialized tool to spot.
We ran the car for a few minutes with all these sensors unplugged, then turned off the engine. We scanned for codes with the engine off and the key in the on position, as most guidelines suggest for diagnostic scanning of stored codes.
Interface

Beyond using the scanners to look up a controlled malfunction code, we explored other functions of the scanners by running live readouts (where available) and exploring the other menu functions.
We took points away for scanners that are hard to use or confusing, and added points when we found the menu options and buttons intuitive. Hotkeys for frequently-used functions are a nice feature that gave a few scanners a leg-up here.
Note that we scored the interface usability separately from the number of features available. For example, the Innova – 3030g2 scored fairly high since it tells you what it can with minimal menu-searching and makes it relatively easy to check and clear codes. The Autel – MS300 is also a simple scanner, but the dim one-line-at-a-time readout did not fill us with joy.
Speed
We recorded how quickly the scanner reported the trouble codes, timed from when we plugged in and turned the key until a code identification or definition was displayed.
For the universal Bluetooth and wifi adapters, we used the OBDFusion app to test scanning time.
We also used Torque's adapter information page to find the average update speed after one minute of connection time running a live graph.
What is ODB-II?
OBD-II is the second generation of a government-mandated "On-Board Diagnostic" communication system for automobiles. This standard has been in place in the U.S. since 1996, and since 2006 international systems are nearly 100% compatible.
The system is built around the emissions monitoring and testing systems that are required by many states in the U.S. If you've ever been offered a "pre-test" at a smog shop before you pay for the official test that's sent to your state registry office, OBD-II is the system that says "this car should pass an emissions test" or "this car has a problem." Any OBD-II scanner can show you these "emissions readiness" details monitored by your car.
While it doesn't cover everything, OBD-II has grown to include data on most of your engine's vital systems. It monitors electronic controls and sensors, and will trigger the "check engine light" (technicians call it the "malfunction indicator lamp" or MIL) if there's a serious problem.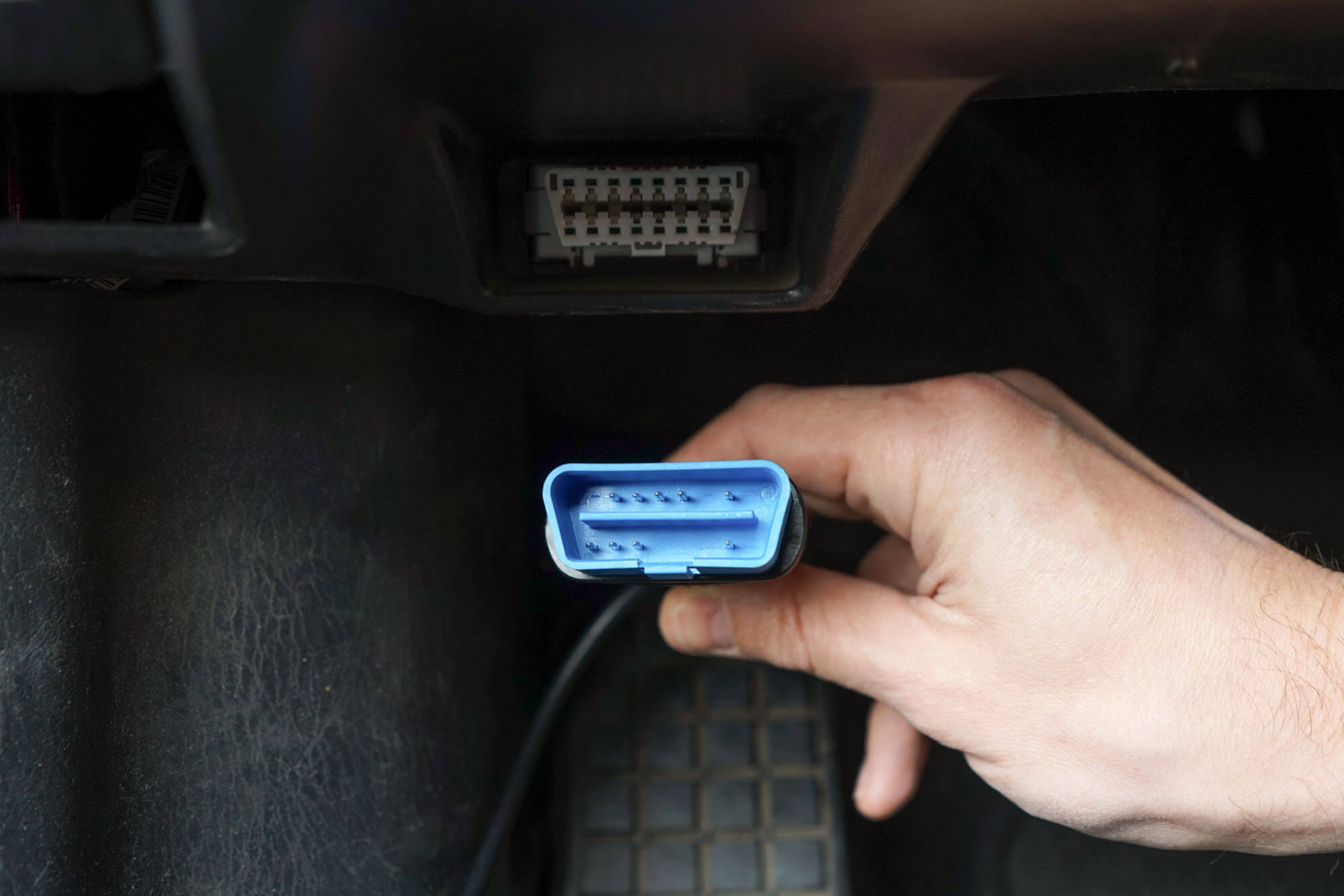 There's a 16-pin connector in your car, always located somewhere near your steering wheel, that lets an OBD-II scanner connect to the onboard system. In addition to the emissions-test readiness report and details on what code triggered a warning light, some scanners can also listen in on the data being sent from the sensors to give live readings or a graph of those values over time.
Our expert, Scott McLain, emphasizes the tricky balance a scan tool represents for a DIY-er. "It comes back to knowing what's good data and what's bad data; you can see what happens [looking at graphs of conditions in a malfunctioning car], but you've got to know what the data means."
Scott warns that there's also a false sense of economy that can come with owning a scan tool. "People come to me sometimes and say 'this code means this is the problem, here's a part I bought, put this in for me.' Sometimes it's that simple, but weird stuff happens on cars. Rust damage… rodent damage… a lot of people don't want to pay to do real diagnostic work, but there might be nothing wrong with that part. Instead, there might be a computer error because of a broken ground wire in the trunk."
A scanner can definitely point you in the right direction, though. Scott acknowledges the value of an OBD scan tool for someone who wants to find out more about what's going on inside their car: "A check engine light on your car is like your car is running a fever; it's a symptom. A mechanic needs to find out what's behind that. With a graph, you can actually see what the computer sees; sometimes you can watch the voltage sweep on a control signal and see if there's a glitch."
After you successfully diagnose and correct a problem on your car, the OBD-II scanner's most essential function for a do-it-yourself mechanic is to reset the system by clearing the trouble codes.
Most scanners can also access the "freeze-frame" data that's recorded when a code is first set, so you can replicate the conditions from the initial fault (speed, engine temperature, etc.) and make sure the problem doesn't come back under some certain conditions that you didn't see when you were working on it.
Extended diagnostics and compatibility
If you're working on a project car or if you want to avoid trips to the dealer at all costs, you may want a way to read codes for other systems that aren't covered by the OBD standard.
Other systems include anti-lock braking, airbag, and tire pressure monitoring. These systems almost always use the same network for communication as OBD, but with different protocols and proprietary codes that won't show up on a generic scanner. If you buy a scanner designed to read, for example, Ford's brake-system diagnostics, then you'll have an extra menu option that shows you those codes.
Three of the scanners we tested included some extended diagnostic access. BlueDriver comes with an impressive compatibility list, while the OBD Fusion app only has modules for some Ford, Mazda, and Toyota/Lexus vehicles and requires in-app purchases for each model year you want to scan. The Innova 3030g2 lists ABS support for some models, but in our tests, it didn't read one of the popular cars it was supposed to support.
Compatibility is the trickiest part of picking a tool for extended diagnostics. Generally, shop tools your mechanic buys are expensive because they guarantee compatibility. A repair shop will probably have tools like a Snap-On Verus or OTC Genisys, and those manufacturers make their money on specific compatibility modules and updates for new cars every year.
PC software is typically the cheapest way to get access to all the hidden programming the manufacturer codes in the various networks and controllers. The realm of brand-specific control and diagnostic software is a scary place, though, full of eBay-sourced USB cables and (often) pirated software. There's some good software and quality equipment out there for many brands of cars, but be careful, and don't expect miracles to be cheap.
Types of scanners
Stand-alone scanners
This is the most common type of tool used for OBD code-reading, a handheld computer that reads your car's diagnostic data and gets power through the car's data port.
This is the type of reader you've probably seen at a parts store, and we tested models that cost less than $70. Screen sizes, button layouts and features vary.
Smartphone connected scanners
This is a fairly new type of OBD scanner, but they're becoming very popular. Most Wi-Fi or Bluetooth scanners are based on an integrated circuit made by Elm Electronics, called the ELM327. The adapter itself is just an interpreter between your car and your smartphone; the display, logging and resetting of diagnostic data is handled by an app.
That said, not all adapters are created equal.
On the bargain side of things, there are cheap adapters all over Amazon, eBay and pretty much everywhere else you can find cheap electronics. These are mostly Bluetooth adapters that only work with Android and Windows platforms, though there are USB and WiFi-connected adapters as well.
Cheap adapters are almost all based on the ELM327 design, but Elm charges $15 just for the chip in bulk, so it shouldn't be surprising if a $9 buy-it-now-bargain doesn't use a genuine chip.
Specialized designs from companies like Carista, PLX Devices, and OBDLink are designing circuits around new, 100% legitimate versions of Elm's chip, which means lower power draw and a larger buffer for data transmission, along with a few new commands. These adapters are more likely to use the new Bluetooth Low Energy and Bluetooth 4.0 standards, which also brings iPhone compatibility. (Older iPhone adapters needed to set up a Wi-Fi network, which means you can't use your OBD adapter and a Wi-Fi internet connection at the same time.)
Other manufacturers, like Lemur, Bosch and OBDEleven use their own proprietary chip (so they don't work with universal apps like OBD Fusion or Carista) that reads extra codes like the airbag systems, ABS, central locking and security controls, and whatever else these wizards can coax out of your car's systems. These adapters are generally also keys to unlock their respective apps, making the app a free download and the adapter more expensive.
Compatibility and feature sets run a huge gamut in the smartphone world. Some apps, like FORScan (Android only) and Carista, will give you an immense amount of power over certain cars with a good universal adapter. Others, like Automatic or Verizon's Hum, focus more on value-added features like Onstar-style roadside assistance services. Still others, like OBDEleven, will give you a very specific set of features for one brand of cars and require both a proprietary adapter and software purchases to unlock features.
Fortunately, nearly any adapter/app combination will give you access to emissions readiness and engine diagnostics codes, just like a good stand-alone scanner.
The scanner gave me a code, now what?
If you decide to go with a scanner that only gives you the name of a trouble code (let's say you get code P0100) and doesn't offer any built-in interpretation, you're still on your way to finding a fix. You can plug the code into a web database like OBD-codes.com or Repairpal.com and find out that there's a problem with a mass airflow sensor.
For this example code, Repairpal.com has a good amount of information, and might even tell you more than a high-end diagnostic tool. OBD-codes.com also includes pictures and a more thorough description of the part, though the diagnostic steps are terser. DTCsearch.com gave us much less general information about the MAF system, but it does describe the exact conditions that would trigger a code among a few different makes.
If you're a wrench monkey who enjoys pulling covers off to see what's happening, these sites are more tools in your toolbox that can help you diagnose how severe the problem is and can help you decide what to do next.
It never hurts to have a service manual on hand for a vehicle that you want to work on yourself. If you're okay with reading pages on a tablet or laptop you should check to see if your local library has access to Chilton or Haynes online manuals, it's not uncommon to get free access with your library card.
More expensive scanners, like the BlueDriver or Innova's 3030g2, include access to a repair database. Innova will make you pay per-vehicle for access to repair guides through their RepairSolutions PC application and website, while BlueDriver gives you in-app access to the Identifix database through their app. We haven't done a direct comparison of all these manuals, but Identifix sells their Direct Hit subscription service for $179 monthly, so the fact that BlueDriver includes access for an unlimited number of cars in the $99 adapter purchase makes it a value leader.
Important features to consider
These are the top features that we checked for and tested on each scanner:
Freeze frame data: This is a special memory area in your car's diagnostic system that will record the precise conditions of the car when a fault code triggers the check engine light. All but the most basic readers (like the Autel – MaxiScan MS300) should be able to show you this data.
Live data: This function will let you see engine performance information, either as a real-time update of numbers or as a graph. We gave half-points in this category for numerical readouts, and a full point for a graphed plot of the data.
Save data: This an option that lets you record and playback a readout or graph. This is useful if you have an intermittent problem that doesn't generate a code. The option to save data also comes with ways to print, download, or otherwise share the data your scanner finds. On a smartphone diagnostic app, this feature is almost always available with a GPS overlay, so you can see what's happening at specific locations in a test drive.
Mode 6: Often labeled mode $06 or "Onboard Monitor," this is one of the ten modes programmed into your car's diagnostic system. Mode 6 functions are related to live data readouts, but these are the specific internal tests that your car is doing to decide whether things are okay or if it should notify you via the check engine light. This system wasn't originally designed to be readable by humans, but some scanners include a translated readout of the hexadecimal-coded values. It's a popular way to find out if the engine has any misfire or compression problems on a particular cylinder, or other data that might indicate a problem but isn't severe enough to trigger a check engine light.
Evap test: This is a specific mode $08 command that tells your car to start a test of the "evaporative emission control system" (mechanics call it "evap" for short) that prevents fuel from evaporating out of your tank and contributing to smog. Triggering this test won't fix anything by itself, but once you do fix a problem with the fuel system it's nice to be able to manually trigger a test. This way you can verify your fix right away, without waiting a few days (or longer) for your car to run it automatically.
Troubleshooter functions: These give you a set of recommended fixes for problems detected by the scanner. This feature is tricky to score since the advice given is only valuable if the diagnosis is precise enough to pinpoint a specific problem. We gave the Innova scanner a half-point here since it will only look up fixes in Innova's database if you pay a subscription fee.
Airbag codes:  These are only visible to a scanner that's looking for them, and we were pleasantly surprised that BlueDriver was able to see and reset our test code without any issues. OBD Fusion was not able to see any airbag codes on our test vehicle, even with the $9.99 optional diagnostic module that's available for matching model-year Toyotas. We gave it a half-point because it might be able to read codes for your car.
ABS codes: These are also proprietary and sometimes tricky to read. Innova's 3030g2 is supposed to read ABS codes for Domestic and Toyota vehicles, and OBD Fusion has an in-app purchase for 2007 Toyotas, but neither tool was actually compatible with our test car. We only gave those scanners half a point. BlueDriver, once again, was the only scanner to see the test code.
Firmware updates: These aren't required for a general-purpose scanner, since the OBD-II system is a written-in-stone specification and any scanner should be able to read the check engine light of any car that's compliant. Still, it's nice to know that a manufacturer can fix bugs. The possibility of support for a new feature that comes along in a few years is also encouraging, though it's not likely you'll see any major revisions on a sub-$100 tool.
Smartphone extras
There are some tricks and hacks available through a newer car's electronic control systems that might be accessible with the right combinations of adapter hardware and software.
For example, take the Volkswagen "hatch pop mod." With parts from an enthusiast parts supplier like ECS tuning and the Carista or OBDeleven app, you can add a hatch open remote to a VW Golf that didn't come with that feature from the factory.
Generally speaking, this kind of non-diagnostic programming is only going to be available with a software package running on a smartphone or computer connected by a USB or Bluetooth adapter. Software exists for nearly every modern vehicle type (since the dealership has to program your vehicle when they set it up or it works on it) but the cost and complexity of that software package varies.
Going back to our Volkswagen example, Rosstech LLC sells the famous VCDS software and USB interfaces that unlock all kinds of programming control, but at a $199 starting price, it's definitely not an impulse buy. Carista represents a new generation of enthusiast modification software, using a modern smartphone interface and low-cost Bluetooth adapter hardware.
We tested the Carista app on a recent-model Toyota minivan and found that it gives an interesting array of programming options for things like lights, key remotes, and climate control. Carista didn't do anything beyond basic OBD-II reporting on our primary test car, a 2007 Corolla. Other than the Carista-branded Bluetooth adapter, only the Android-only BAFX adapter worked with the Carista app.
From online comments, it looks like Carista is blocking compatibility with adapters like those from Veepeak because of possible problems with a non-genuine ELM327 interface chip; the fact that the less expensive BAFX adapter is not blocked makes the situation a bit baffling. The Carista-branded adapter is the only one we tested, then, that offers both iPhone compatibility and the extended Carista "mod" functions. The other adapters work very well for OBD-II diagnostic work in apps like OBD Fusion.
The bottom line
If you own a car long enough, you'll see a check engine light. There are people, probably most people, who when faced with that inevitable scenario should immediately call a mechanic. (Hopefully one you already trust; if not, there's Yelp.)
Then there are the other people. The other people want to know. The other people want to be sure that the problem really is something that only a professional can handle, and these people (admire or pity them, they won't mind) need an OBD-II scanner.
If you're in this second group and you love the way your smartphone connects you to more information than you ever imagined, then the BlueDriver app and Bluetooth adapter from Lemur Vehicle Monitors is definitely the scanner you should check out. The compatibility list for extended diagnostics (ABS, airbag codes, tire pressure monitors…) doesn't include every car, but it probably includes yours.
For that even smaller set of people who do their own fixing but also sneer at smartphones, the CReader V+ from Launch doesn't depend on Bluetooth or cell phone batteries. This scanner gives you access to basically every feature that falls under the universal OBD-II standard, so if there's a check engine light you're more than covered.
Once your check engine light is solved, continue your car care with our review of the best car vacuum.