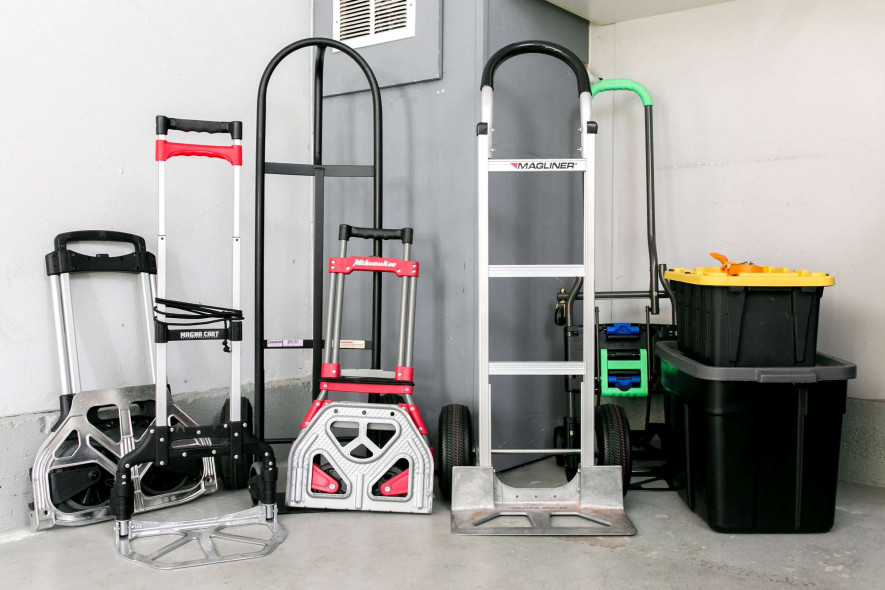 After moving appliances and testing weight capacity and handling with 150-pound weights in an obstacle course, we think the best hand truck is the Magliner – HMK119UA4, a full-size model with 10-inch tires. If you only need to move items that weigh less than 80 pounds, we also liked the Magna Cart – MCX extra-compact collapsible hand truck and the Cosco – Shifter 2-in-1 folding hand truck and cart. Both of these will fit easily in a car trunk and are popular with delivery drivers.
After moving appliances and testing weight capacity and handling with 150-pound weights in an obstacle course, we think the best hand truck is the Magliner – HMK119UA4, a full-size model with 10-inch tires. If you only need to move items that weigh less than 80 pounds, we also liked the Magna Cart – MCX extra-compact collapsible hand truck and the Cosco – Shifter 2-in-1 folding hand truck and cart. Both of these will fit easily in a car trunk and are popular with delivery drivers.
Table of contents
Compare the best hand trucks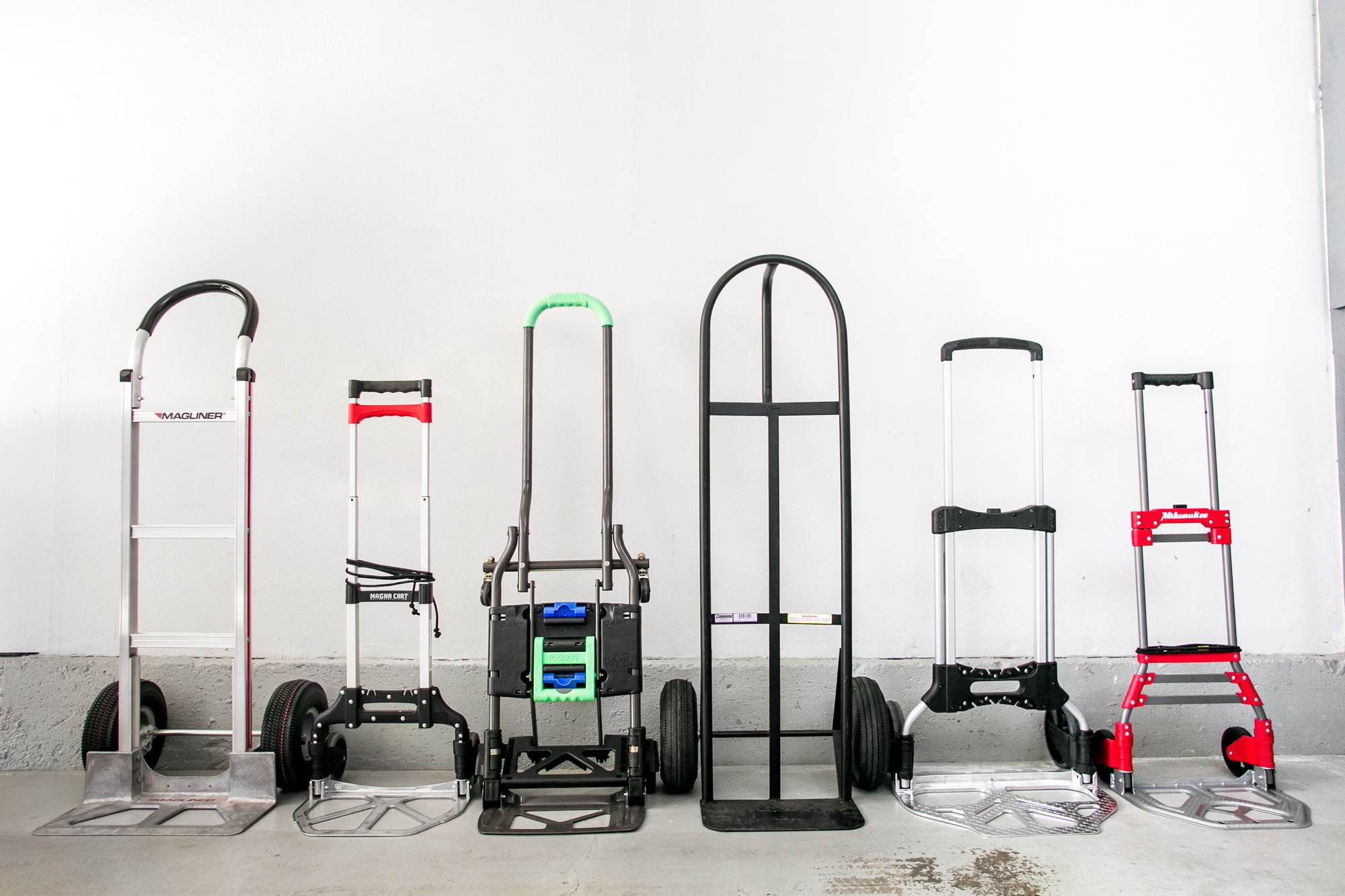 The best full-size: Magliner – HMK119UA4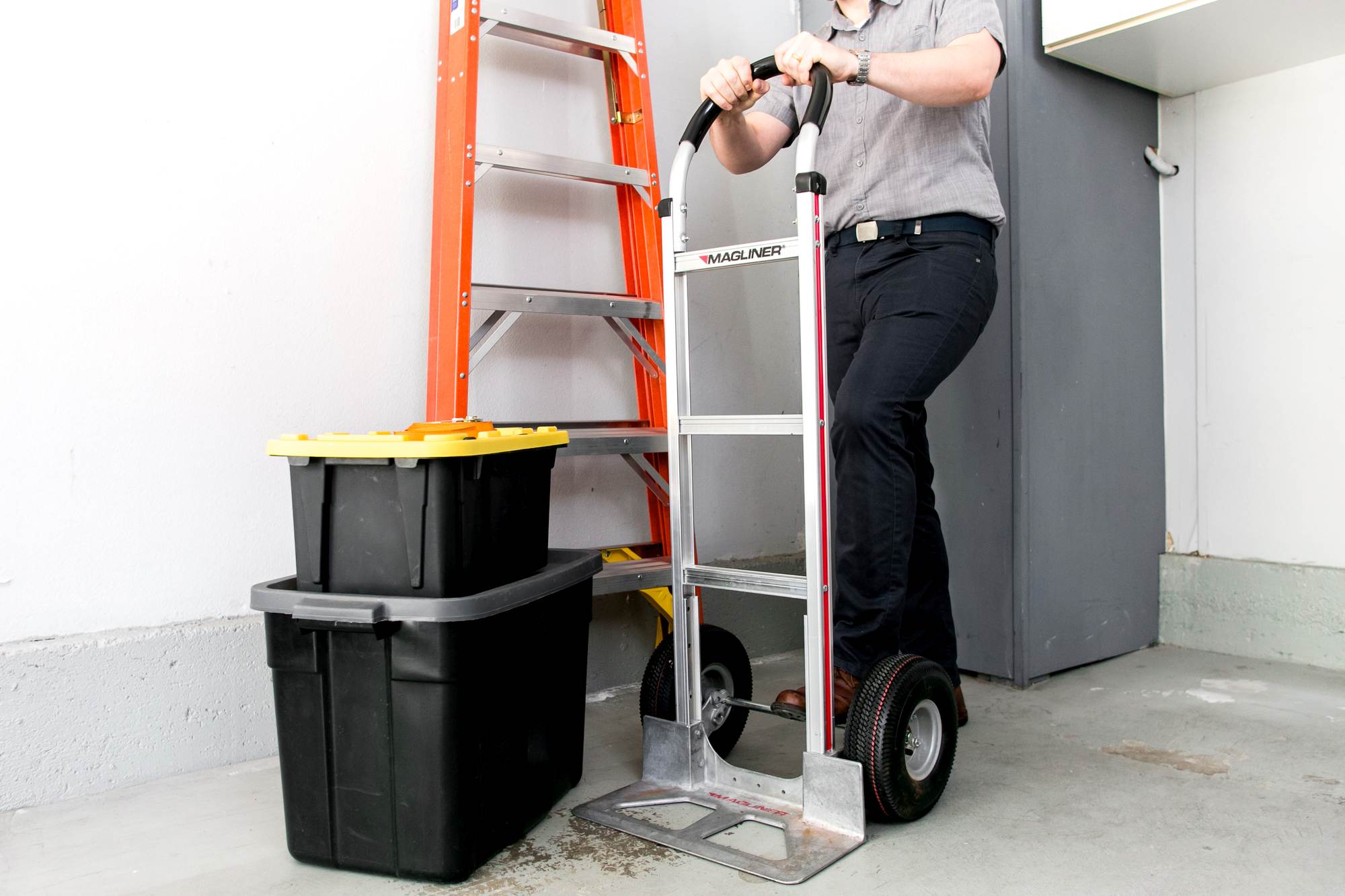 If you want a top-quality full-size hand truck to move loads heavier than 150 pounds, we think the Magliner – HMK119UA4 hits the sweet spot for price, features and quality.
The Magliner wheels and tires are a step up from what you get with less-expensive brands, and if you're handling close to the rated capacity of your hand cart that should be a top priority. The last thing you want is a tire that will give way just as you start moving a heavy load.
The frame, nose-plate and handles on this hand truck are also top notch. The one drawback is that to save money, the hand truck is shipped in pieces. It's simple to put together if you're handy with a ratchet set, but we know that isn't a job for everyone.
The Magliner's frame is stiff, strong and looks great. It's not a full-size appliance dolly, but we used it to move a washing machine for repairs, and it handled the weight and even got up the stairs admirably.
You have a lot of options when you buy a full-size hand truck like this. You can get a different handle if you like individual grips or a grip that sticks out for loads that block a hoop handle like ours. For wheels, you can get foam-filled or solid tires for maintenance-free reliability on smooth floors. For a general-purpose hand truck, though, we think air-filled tires and a hoop handle are the most versatile.
If you don't want to assemble the hand truck yourself, and you want to save some money, the Milwaukee full-size carts will do almost as well for about half the price. But if you're using a hand truck often enough that you want to purchase one instead of renting or borrowing one, we think the quality and modular upgrades make the Magliner worthwhile. This is a tool you can be proud of, not something to hide in a dark corner.
Key takeaways
The Magliner handles loads up to 300 pounds with ease.
Its light aluminum frame is impressively rigid.
Smooth-rolling tires and bearings are a clear step up from budget-priced options.
Tools are required to assemble this hand truck.
The most compact: Magna Cart – MCX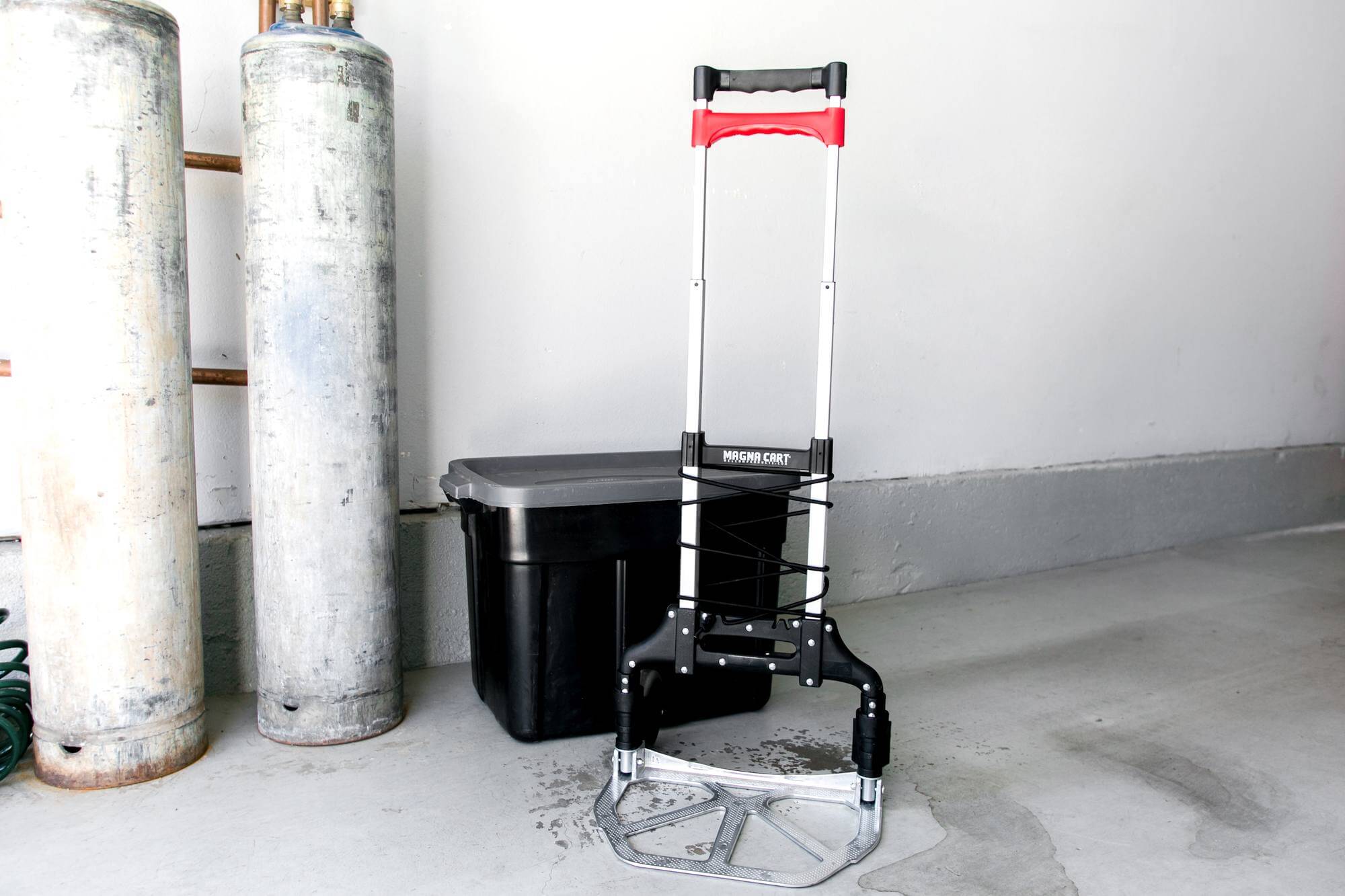 The smallest hand truck we tested is the Magna Cart – MCX, and we think it's the best buy for someone who only needs a small hand truck for a short trip — for example, moving a few cases of water bottles from a parking garage into a building and up an elevator.
This hand cart is popular with drivers for Doordash and Instacart, since it basically disappears in your trunk until you need it. The handle telescopes down like a rolling suitcase handle, from 39 inches to 25 inches tall when closed. The wheels are also spring-loaded to fold in when you fold up the nose plate.
The capacity of this cart becomes quickly apparent when you load it with more than 80 pounds. We tested with our favorite heavy-duty storage containers filled with water, and it was difficult to lift the tubs and wheel them around with the short handle.
We didn't see any signs of strain on the wheels or nose plate when lifting a full 150-pound load, but the wear and tear on these tires would be pretty extreme if you tried to do that frequently.
The Magna Cart – MCI and the very-similar Milwaukee – 73777 (see below) are slightly less expensive, but they use steel tubing instead of aluminum so they're a bit heavier. Their handles also don't collapse down quite as small as the MCX.
When we extended and collapsed the handle on the Magna Cart, we thought its large easy-to-grab release bar was more convenient than the push buttons on Milwaukee and Wesco collapsible carts. The drawback to this design is that you might accidentally lift the collapsed hand truck with your fingers on that red release bar, causing the handle to extend as you lift.
We would recommend this hand truck for use at trade shows or anywhere else you need to move a small pile of awkwardly shaped boxes. When everyone else is waiting for the convention-center loading-dock crew to loan out their one or two closely guarded delivery carts, you can just walk in with your compact hand truck and be ready for cocktail hour when everyone else is still setting up.
Key takeaways
The Magna Cart – MCX fits neatly in a small trunk.
Unfolding this cart is easy to do with only one hand.
The rubber-covered wheels roll smoothly under reasonable loads.
No easy parts-replacement options are provided.
The best folding hand truck: Cosco – Shifter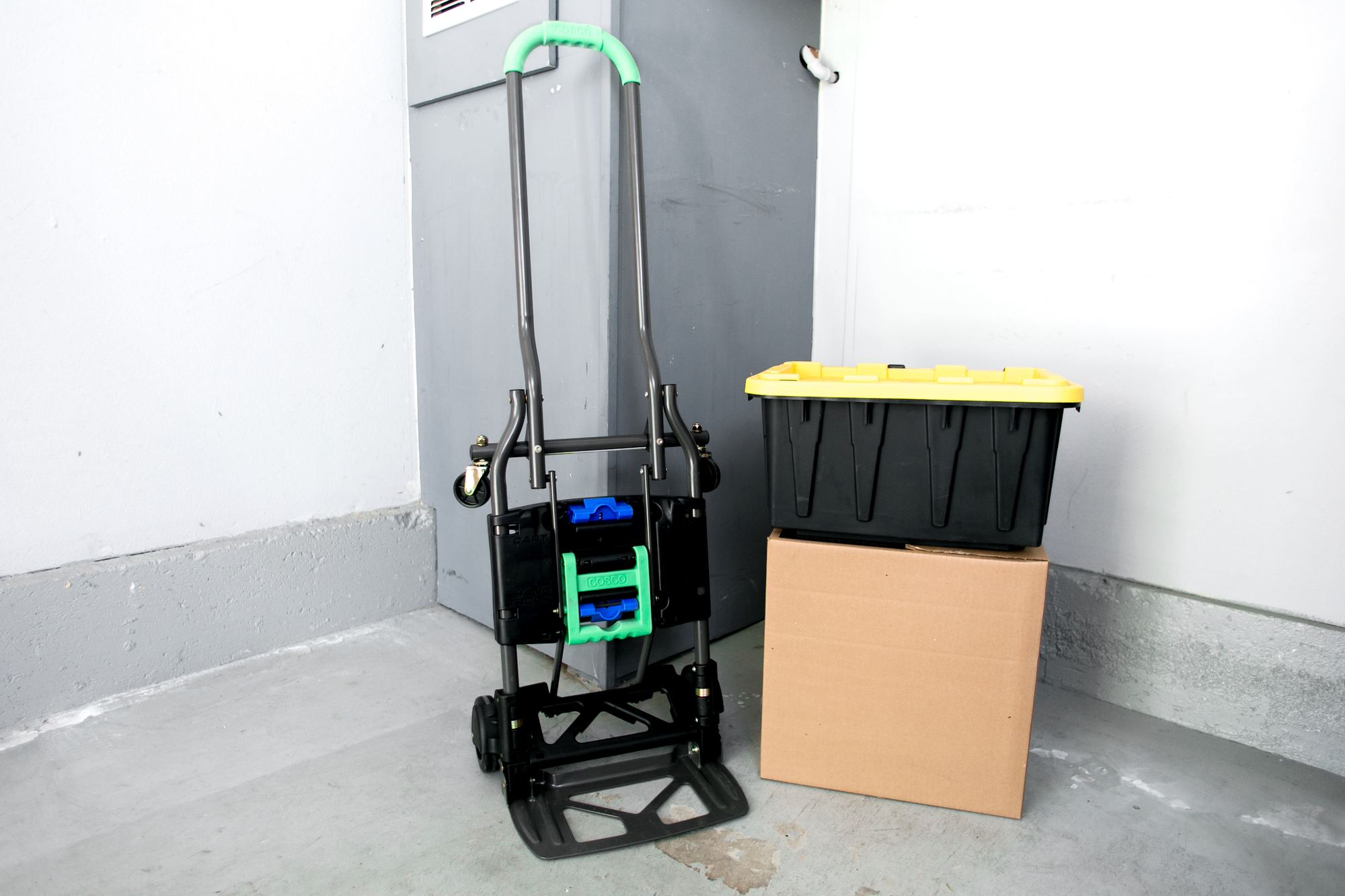 Some people need a flat-deck cart once in a while in addition to a hand truck, so the Cosco – Shifter offers you both. What's more, it folds down into a very compact package for easy storage and transport.
Compared to the Magna Cart and other collapsing designs we tested, the Cosco takes slightly more work to unfold — a firm tug to get the handle unfolded into cart mode, then press a button and unfold the rest of the way into hand-truck mode.
The big advantage of this design is that when it's fully unfolded, you have a nearly full-height handle for better leverage when you're carting around heavier loads. The rated capacity of 300 pounds is more than we'd want to load it up with on a regular basis, but we'd definitely pick it over the more expensive Wesco – Maxi Mover for handling heavy objects.
The drawback to this design is that, while it's handy to have both a hand truck and a cart sometimes, it's not a very good cart: The caster wheels are small, the "bed" has holes in it and the handle is too short in this mode. If you're moving a few boxes or a small crate around it's pretty good, but then so is a regular hand truck, if you can strap the boxes so they don't fall off.
The other competition for this type of hand truck is from full-size 2-in-1 models, like the Milwaukee – CHT800P. This type is basically the same as a Milwaukee – 30019 (see below) but with an extending handle and casters so it can roll around on its back. In comparison, the Cosco folds much smaller, costs half as much and doesn't require you to fidget with cotter pins to lock it in place.
The "nose" plate on this hand truck is also pretty shallow, which isn't a huge problem with reasonable loads, but it made us a bit nervous when moving bags of dirt and sand. For objects that might fall off in the upright mode, the cart mode works well, but that lovely long handle is shortened.
Looking over the range, this 2-in-1 design is a good fit for someone who needs to move objects that wouldn't fit on the Magna Cart, but the wheels are too small for really big loads. Moving an appliance like a refrigerator is too much weight and bulk for a cart like this.
Key takeaways
If you don't know what kind of cart or dolly you need, consider the versatile Cosco – Shifter.
The Cosco has a smaller nose than most folding hand trucks, but a much longer handle.
For bigger items that don't balance well, flat-bed mode is excellent.
You can easily fit the Shifter in your trunk when it's folded.
Its small wheels are a bad fit for anything over 150 pounds.
The other finalists we tested
Milwaukee – 30019
If you want to purchase a hand truck rather than renting one, but can't spend more than $75, the Milwaukee – 30019 is a reliable choice.
This hand truck is similar to the dozens of other mid-range hand trucks our tester has used in warehouses over the years. It has a few key features that we looked for specifically: large, air-filled tires for a smooth ride and metal hubs that won't crack under a heavy load. You can save some money with plastic-wheel versions of this hand truck, but don't expect them to be any more rugged than a compact folding hand truck.
If you're buying a less-expensive hand truck like the Milwaukee, it's a good idea to order for pick up at a local hardware store rather than having it delivered — that way you can double-check the tire inflation and wheel tracking before you take it home.
Wesco – Maxi Mover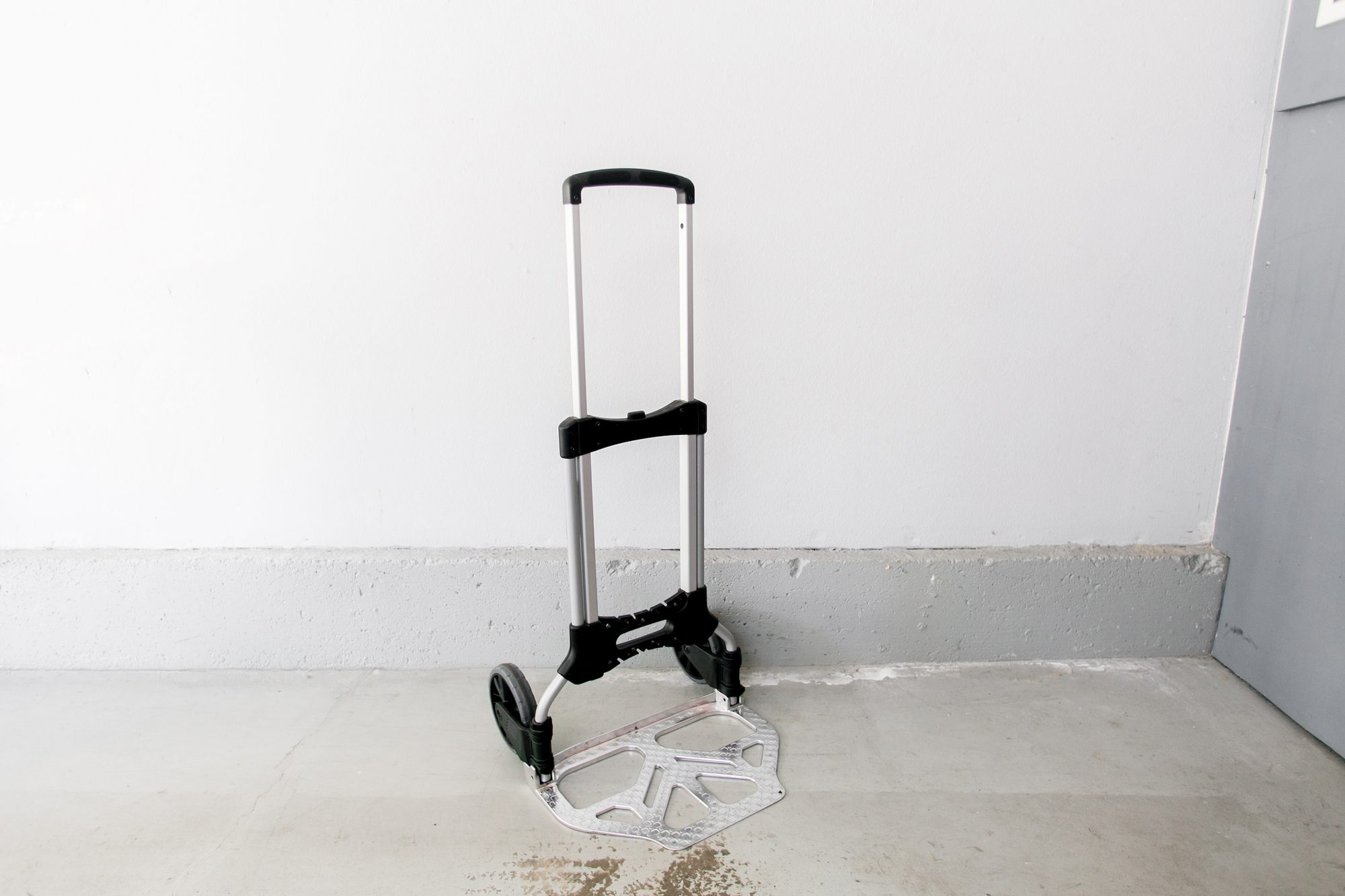 For a folding hand truck, the Wesco – Maxi Mover has an impressive 275-pound load rating. Compared to the Magna Cart, the wheels are 7 inches instead of 5, and the handle is a few inches longer to give you better control of big loads.
Ultimately, we ranked the Wesco lower on our list because the handle is still shorter than the Cosco – Shifter, and that model is still smaller when folded. Wesco charges more than $100 for this collapsible hand cart, which might be worth spending if you're looking for bigger wheels on a compact cart, but we wouldn't ever pick it over the standard-size hand trucks when given the choice.
Milwaukee – 73777
It was a tight competition between the two most compact folding hand carts we tested, but the Milwaukee – 73777 was 5 inches when folded than the 25-inch Magna Cart. If you're looking to spend as little as possible, the Milwaukee usually sells for about $10 less.
Other than the folded size and release-button location, the biggest difference is that the Magna Cart has a cast-alloy nose plate where the Milwaukee uses bent and welded steel. That adds up to 9.6 pounds compared to the 6.6 pounds with the Magna Cart.
How we selected products to test
Our lead researcher for this post has used hand trucks, platform trucks and pallet jacks at work for most of his life, for moving everything from construction supplies as a contractor to speaker systems as a sound engineer. He's usually been able to borrow a hand truck from a friend when moving appliances or furniture, and he's had to replace wheels on cheap hand trucks he's used at work.
Hand trucks are a fairly narrow category, and we'd be surprised if there are more than a few factories making the majority of the products you find in big-box hardware stores and on Amazon.
We read the most testimonials about hand trucks from delivery drivers on reddit, who frequently noted that a reliable folding hand truck can make all the difference when you're trying to find an apartment building entrance while carting around a stack of water-bottle  cases.
We narrowed down our list to the most popular folding hand trucks by checking those testimonials against review scores, but for full-sized models where the number of reviews is so low we looked for distribution networks instead. Magliner isn't the only top-tier hand-truck manufacturer, but they're in more stores and typically are the best bang for your buck in the price bracket.
We chose to test two full-size carts with air-filled tires rather than solid tires, since in our experience this type is best overall. We made sure that the models we picked are also available with solid and foam-filled tires if you decide that will suit you better.
Important features to consider
Handle height: The taller your hand truck, the more leverage you have when lifting heavy objects off the ground. Even if you're moving a small load, a handle that's too short means you'll be stooping over to push. For a short trip from your car to your door a compact design is usually fine, but think carefully about how you're going to use a cart before you buy it.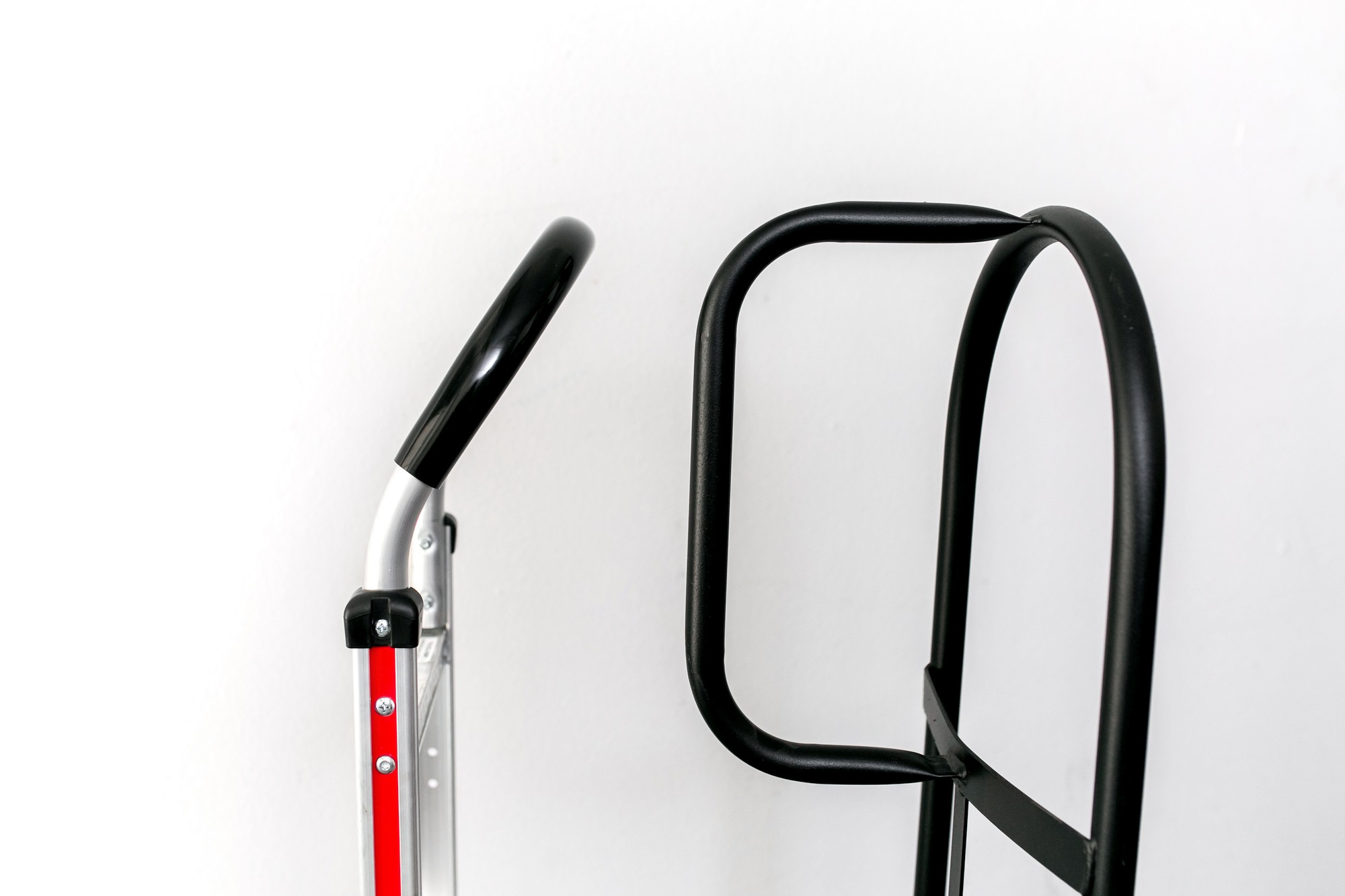 Handle type: If you're stacking boxes all the way up to the handle, a "p-handle" or other handle that sticks out from the back will give you more knuckle clearance so you can still push. A centered handle also makes it easier to lift your load onto the wheels with one hand while you steady the load with your other hand. If you're not loading the truck that high, a larger hoop-shape or dual-handle design makes steering a bit easier.
Collapsible or folding designs: If you don't need to lift anything heavier than about 80 pounds, a hand truck that folds up is easier to store and move around in the back of your car.
Nose plate shapes and other accessories: Most of us don't need anything special when it comes to the "nose" platform that a load is stacked on. Even if the nose is short, it only needs to support the corner of the load while you tip the rest, ideally with a strap for security. But some bulky loads or tricky shapes like barrels or reels benefit from a specialized platform or attachment. For a big brand like Mag Liner, you can buy all sorts of add-on features like frame sliders and nose extensions to make your hand truck better for specific jobs.
Pneumatic tires vs. solid tires: Tires filled with air provide a cushion for your load when you're going over bumps, and they also make getting up stairs and over curbs a little bit easier. The downside is that air-filled tires don't roll as well under a full load on hard surfaces, and you need to make sure to keep them at the rated pressure. Check out our review of the best bike pump and the best air compressor to see our recommendations for handy ways to top up a low tire.
Good wheel hubs: If you're getting a full-size hand truck for moving big loads, you should pay more for well-made wheels. Even cheap plastic should be strong enough to hold the rated capacity of a hand truck at first, but in the long run, sun exposure and seasonal temperature cycles can cause it to weaken. Welds on cheap steel wheel hubs are also a weak point in cheap hand trucks.
How we tested
Mobility tests
We ran all of these hand trucks around an obstacle course to see how smoothly and evenly the wheels roll. The hand trucks were all good at maneuvering with light loads; once the smaller collapsible designs were loaded to capacity the short handles were a definite drawback.
The ball bearings on the Magliner definitely made for easier rolling and smoother tracking. We liked the smooth rolling of the air-filled tires when rolling across broken sidewalks and over stair edges, but of course an inflatable tire needs a bit of maintenance. If you've got a bike pump or air compressor you shouldn't hesitate on that count, the drawbacks became evident in our next set of tests.
Weight capacity
The listed weight capacity on the smaller hand trucks seems accurate — that is, we loaded up the manufacturer-rated 150 pounds using storage containers filled with water, and the hand trucks didn't break while wheeling that load around.
That said, if your load isn't balanced so the weight can be distributed over the wheels after you tip it back, it won't work well. We also wouldn't count on the plastic wheels surviving for long if you load up more than 80 pounds every day and roll them on hard surfaces.
The full capacity of the bigger hand trucks is trickier, since they're rated for hundreds of pounds. To get that much mass loaded up, the item you're moving has to be very dense or incredibly tall. The nose-plate of the truck would likely bend when trying to pry the full rated load up off the ground, even if the wheels were capable of rolling under the weight.
If you're looking to actually move around hundreds of pounds of scrap metal or carefully balanced 50-gallon drums, the wheel bearings and hubs on the Magliner would definitely be our choice.
Air-filled tires are better for smooth rolling on rough surfaces, but they'll also start to deform as you get closer to the rated load, at which point they're actually harder to roll. Solid-rubber wheels are usually a better choice if you plan to load up to the maximum capacity, but they'll get stuck more readily on soft ground.
Folding and extra features
We tested the fold and unfold mechanisms of the smaller hand trucks to find the quirks and drawback to the different designs. The handles on the collapsing hand trucks are nearly identical to handles on a rolling suitcase — they're easy enough to use, but sometimes sticky. The bigger Cosco 2-in-1 design took more effort to use since it uses clips and levers to secure the different parts once folded. It's a more versatile design to have around, but it's not nearly as easy to fold.
The bottom line
A hand truck gives you the most useful two principles of mechanical advantage when handling bulky or heavy loads: You get a lever to lift, and wheels to travel. So long as you can steady or strap the load to the hand-truck body and balance the weight over the wheels, even big barrels and crates can be easy to maneuver.
For one-off jobs like moving into your new apartment, it's probably not worth buying a new hand truck; just rent one along with your moving van. If you're moving deliveries around a shop or warehouse, or even if you're frequently moving large items around your backyard, a sturdy high-quality hand truck will make your job easier. We think the Magliner – HMK119UA4 is the best place to start; it's stocked widely and has lots of optional accessories for specialized jobs.
If you're more interested in a small hand truck for carrying a trunk-load of boxes, the Magna Cart – MCX is as capable as it is compact. For mid-sized loads or longer walks around a delivery location, though, the longer handle of the Cosco – Shifter definitely makes life easier.