After spending over 40 hours and crushing close to 1,000 soda cans we determined that Easy Pull's auto dispensing can crusher is the best overall device for crushing cans. The Easy Pull proved to be quick and simple to use while remaining very affordable. Additionally, it has a design to crush cans in away to virtually eliminate the risk of cutting your fingers on a crushed can.
Our runner up was the Basic Industries International – Multi Crush, which we found to be a compelling option. We liked its ability to load up six cans within its wire frame to prep for crushing. The MasterCrush is worth considering also, especially for people who are looking to crush cans larger than 12 ounces.
Table of contents
Why we are qualified
While conducting our research on can crushers, we found that there was a notable lack of high-quality articles and reviews on this particular product category. Of the few sources we could find, the majority lacked detail, and many were written by people who hadn't actually tested the can crushers themselves.
In addition to reading through many of the articles, reviews, forum threads, and subreddits we could find on the subject, we conducted testing on six can crushers we determined to be the best on the market.
In order to test all of these can crushers, we needed to source around 1000 uncrushed cans. To find all of those cans, we used a couple different methods: The first was to buy lots of soda for our office, which we drank over the course of about a month.
The other method was to go to recycling centers and ask people if they would be willing to sell their uncrushed soda cans to us. While we did get more than a few sideways glances, ultimately we were able to get the cans we needed using these two methods.
How we picked our test products
In order to narrow down our list of can crushers to test, we first searched for expert articles written on the subject. Unfortunately, there wasn't much of this content to be found, so we turned to recycling forums, and subreddits such as r/recycling and r/frugal to find out which products seemed to be the most popular.
When researching can crushers, we were able to determine that there are several key characteristics that most people want in a can crusher. These characteristics include:
Ease of use
Reliability
Crushing the can as small as possible
Overall ergonomics
Once we had our list narrowed down to the following six, we put each of them through a series of tests designed to measure each against one another and determine a winner.
The six best can crushers
Who should buy a crusher?
Anyone who buys aluminum cans of soda, beer, or other beverages can benefit from a can crusher. This is particularly the case for anyone who wants to recycle those aluminum cans instead of throwing them away, which, given the immense recyclability of aluminum cans, should be just about everyone.
Can crushers significantly reduce the amount of space an aluminum can takes up in your recycling bin. Based on our testing, can crushers can reduce the amount of space aluminum cans take up by 45% to 75%.
Put another way, can crushers can reduce a can from about 23.3 cubic inches to an average of either 10.398 cubic inches (for the Easy Pull) or an average of 5.66 cubic inches (for the Basic Industries Multi Crush). This means you can store more than double the number of cans in the same amount of space.
Buying a can crusher is great for those who care about the environment as well, particularly since you'll need to take fewer trips to the recycling center — saving you time and fuel.
Even if you're just putting the crushed cans into a curbside recycling bin, recycling trucks will have space for more cans (and other recyclables), making them more efficient and compounding the environmental benefits of recycling.
However, you don't have to be an environmentalist to benefit from a can crusher. The simple fact that aluminum cans will take up less space is reason enough to consider a can crusher for your home or office.
Why recycling aluminum cans is so important
There's a good reason why so much emphasis is put onto the recycling of aluminum cans — namely, the lifespan of recycled aluminum is essentially "endless". In other words, there is no limit to the number of times an aluminum can is able to be recycled, and the energy and capital equipment required to recycle is significantly lower than it is for the production of new aluminum.
In fact, according to the U.S. Energy Information Administration, recycled aluminum requires about 90% less energy and capital equipment than newly-process aluminum. This efficiency explains why about 75% of the 800 million metric tons of aluminum produced since the late 19th century are still in use today.
Today, around 35% of global demand for aluminum is supplied from recycled material. However, by increasing the number of people who make a point of recycling their aluminum cans, this number can grow much higher in the foreseeable future.
What to look for
If you're interested in buying a can crusher, there are a few characteristics that you should prioritize:
First off, you'll want to make sure that the can crusher is made from materials that will last for many years, and that the crusher has a build quality that will ensure its reliability for the duration of its lifespan.
It's also important that the can crusher is easy to use. This means that operation is straightforward, and also that the mechanics of the crusher are designed to make it easy for everyone — including children and the elderly — to use the device. Remember, if the can crusher is hard to use, it probably won't be used at all.
Another important, but often overlooked, consideration is how much the can crusher actually reduces the volume of the can itself. Ultimately, the purpose of a can crusher is to compact cans so that more can be stored in less space. This particular metric can be hard to measure, which is why we calculated the volume of cans after being crushed during our testing.
Is there really a difference between can crushers?
Believe it or not, there is actually a lot that goes into making an effective can crusher, and the best products on the market are notable improvements on their competition. Even amongst our six finalists, our best picks were significantly easier to use, and able to crush considerably more cans per minute.
How we tested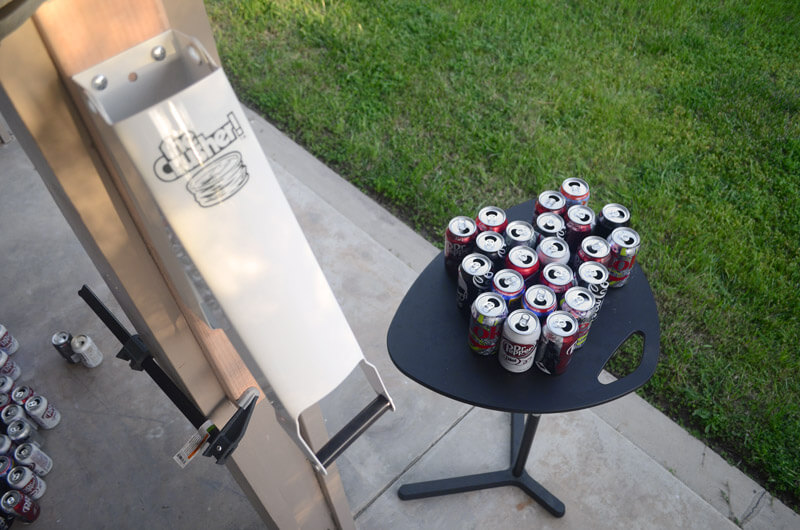 After receiving our can crushers, the first step in assessing them was to inspect their build quality. Specifically, we were interested to see how durable the materials were, and how smooth the "crushing" action was when there was nothing in the crusher itself. We also looked at the hand grip on each can crusher — particularly its usefulness in extended can crushing sessions.
Next, we mounted each of the can crushers to a plank of wood to see if any were particularly easy or difficult to set up. Fortunately, all six finalists were simple and straightforward, which means that we were able to judge each of the finalists based on metrics outside of the initial setup.
Once we had the can crushers ready to use, we compared them using a few metrics, which included:
Dimension of crushed cans – The length, width, and height each can takes up after being crushed
Volume of crushed cans – The number of cubic inches each can takes up after being crushed
Average number of cans crushed per minute – After 10 one-minute trials, the average number of cans that were crushed each minute.
We also made note of the largest can that would comfortably fit inside each can crusher, and whether the cans were manually or automatically removed after being crushed.
The best overall crusher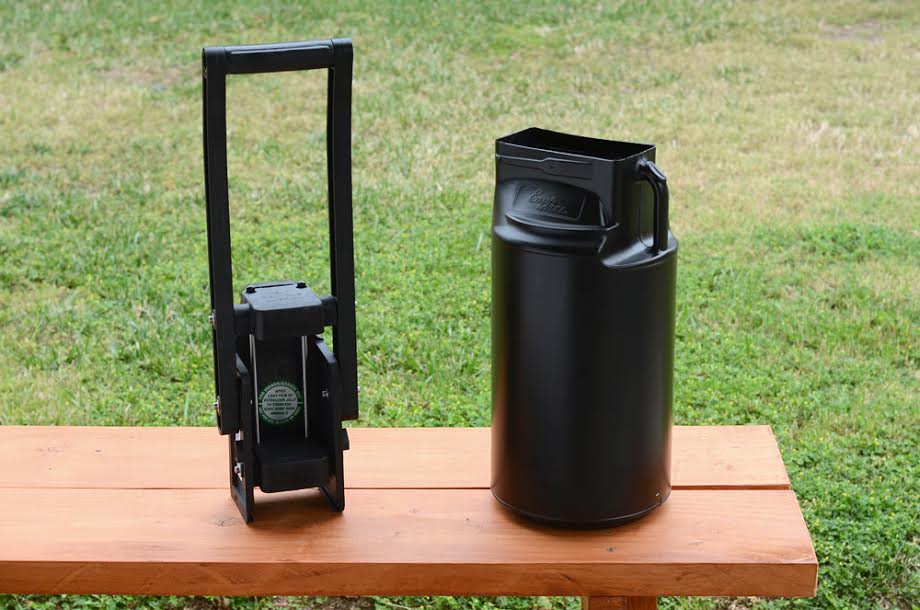 When we first analyzed our finalists, we did not expect the Easy Pull can crusher to top the list. At first glance, we weren't particularly impressed with the appearance of the product itself — more specifically, the plastic didn't strike us as particularly sturdy. However, after mounting and testing the Easy Pull can crusher, we were blown away with it's ergonomic and innovative design.
The Easy Pull makes it incredibly easy to crush cans. The handle operation is smooth, and the automatic removal of the crushed cans into a container (or the optional collection bin available with the Easy Pull) places this can crusher far ahead of the other finalists when comparing average cans crushed per minute.
More specifically, we averaged 19 cans per minute with the Easy Pull — an impressive 58% faster than second place, the Basic Industries International Multi Crush (with 12 cans per minute).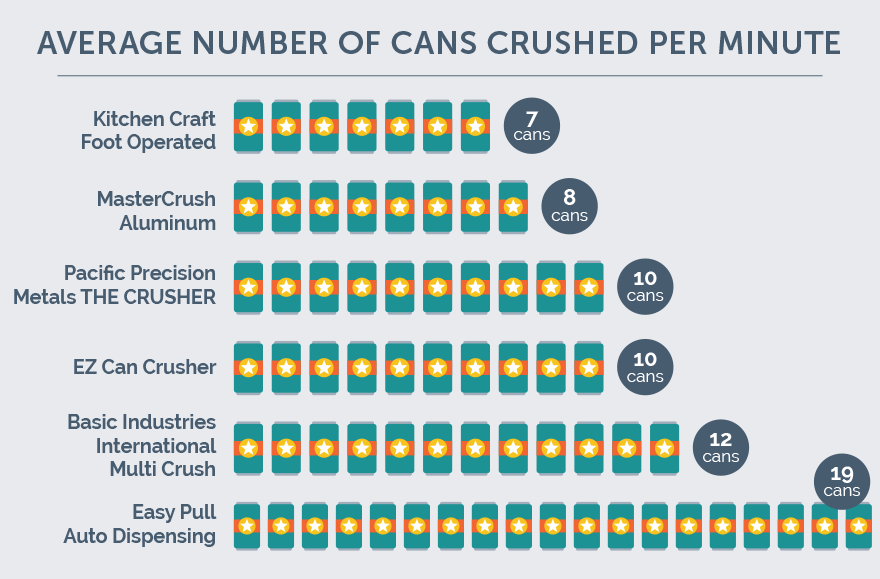 In actual use, the design of the Easy Pull can crusher stood out as well. The automatic disposal of the crushed can into the bin below made operation significantly easier, and faster as well. More importantly, eliminating the need to touch the crushed can meant that the risk of cutting our finger on one of the can's jagged edges was essentially eliminated as well.
Along with the automatic dispensing of each crushed can, the Easy Pull has a rotating grip. This is particularly useful for quickly crushing cans without straining the palm of your hand, and was a significant contribution to the 19-can average.
Overall, the Easy Pull Auto Dispensing can crusher provides excellent value at a sub-$30 price point (however you do need to add between $10 to $20 if you want the fitted collection bin as well). It is fast, surprisingly sturdy, and shouldn't rust even if left in a garage or in a backyard.
Things we didn't like about the Easy Pull
While there's plenty to like about the Easy Pull can crusher, there were a couple of minor yet undesirable details we noticed during testing.
The first (and most important for some) is the fact that the Easy Pull can only crush cans in the 12 oz size or smaller. Fortunately, the vast majority of cans are the standard 12 oz size, but if you're looking for a can crusher that can handle cans up to 32 oz in size, you'll want to look at the MasterCrush can crusher.
The other metric we weren't thrilled about was the size of the crushed cans. During testing, we averaged a crushed size of 2.75 by 2.75 by 1.375 inches, or 10.398 cubic inches. While this is certainly sufficient, it is notably larger than the 5.66 cubic inches of our #2 best pick, the Basic Industries International Multi Crush.
Nevertheless, the overall value offered by the Easy Pull places it firmly at the top of our finalists.
Key takeaways
The Easy Pull can crusher is our top pick largely thanks to its ergonomic and innovative design.
Crushed cans automatically fall into the bin below, reducing the risk of dangerous cuts.
The Easy Pull is limited to 12 oz aluminum cans.
The best multi-can crusher
The other can crusher that stood out to us was the Basic Industries Multi Crush. Unlike most other wall-mounted can crushers, the handle of the Multi Crush leverages a large 180° arc to make cans particularly easy to crush.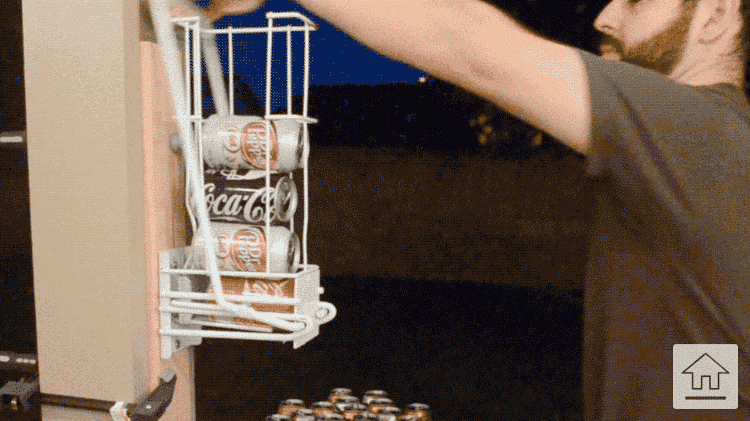 The design is functional as well. Since the Multi Crush can hold as many as six pre-crushed cans at a time, the large arc of the handle make crushing six cans in succession easy for anyone — including children and the elderly.
This design contributed to the rate of cans we could crush per minute, which averaged 12 can during our testing. Interestingly, we tested the Multi Crush starting from a "fully loaded" position (with six cans loaded before starting the timer) and a "one at a time" process yielded the same rate of crushed cans per minute.
While this is slower than the 19 per minute of our top pick, the Easy Pull can crusher, it is still faster than every other can crusher we tested, and suggests that a Multi Crush with six cans loaded into it can be fully crushed in about half a minute.
The Multi Crush really stood out to us with its ability to crush cans smaller than any of other finalists we tested. In our measurements, we calculated the average size of a 12 oz crushed can to be 2.875 by 2.25 by 0.875 inches, for a volume of 5.66 cubic inches — almost half of the Easy Pull and slightly smaller than our Honorable Mention, the MasterCrush.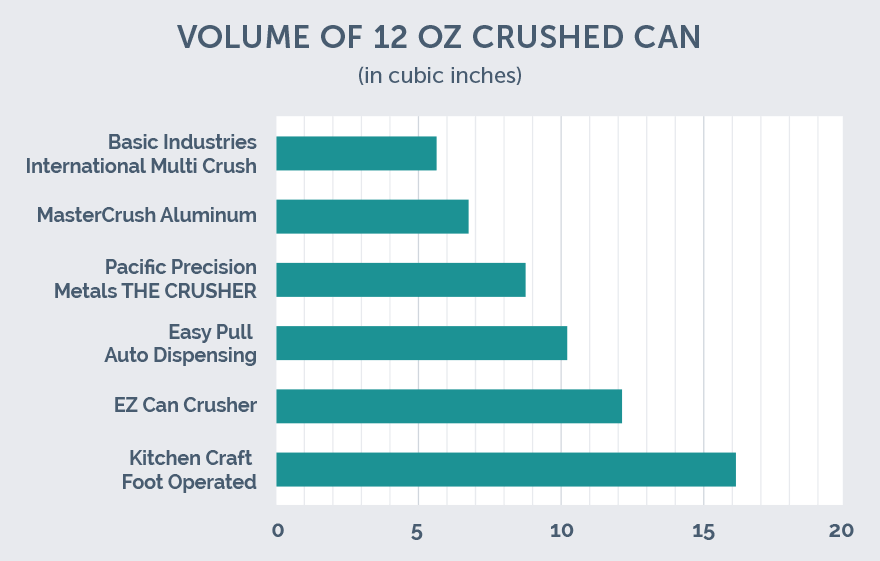 One element that surprised us on this otherwise-impressive can crusher was the lack of grip on the handle. When we first set up the Multi Crush, we were concerned that the lack of a grip would cause problems from an ergonomic perspective.
However, when we were actually using the can crusher, we found that the handle worked perfectly fine, and didn't prevent us from crushing 12 cans per minute into the smallest volume of all the finalists that we tested.
What we didn't like about the Multi Crush
While there is plenty to like about the Multi Crush, there were a few problems with it as well.
The first problem we noticed was that the paint had a tendency to chip off fairly easily. Just during our testing period alone, we noticed that several areas were already losing some of the white paint, particularly in the areas that moved while we were crushing cans.
While chipping paint is primarily a problem of aesthetics, there is reason for concern for those who have pets or young children who might accidentally eat paint from the floor. Keep this in mind before choosing this particular can crusher.
Another potential downside is the fact that the Multi Crush is only designed to work with the standard 12 oz cans. While we were able to squeeze a 16 oz can into the Multi Crush, it is not designed for that purpose.
One minor problem we had during testing was that cans would occasionally slip out of the sides. This was only really a problem when the can crusher was empty, and even then it only happened a couple of times.
Overall, the Basic Industries Multi Crush is a worthwhile investment if you're looking to crush lots of cans into as small a size as possible. It is easy to use, the six can storage capability is convenient, and you can quickly crush lots of 12 oz aluminum cans.
Key takeaways
The Basic Industries Multi Crush is easy to use and functional — holding up to 6 cans at a time.
The Multi Crush was able to crush cans smaller than all others we tested — averaging just 5.66 cubic inches.
The Multi Crush is limited to 12 oz aluminum cans.
The best crusher for 32oz cans
If you are looking to crush 32 oz aluminum cans, this is the can crusher for you. This is one of the most popular can crushers on the Internet, which is evident if you happen to check out Amazon reviews or recycling forum threads where can crushers are discussed.
The MasterCrush is a well-built piece of equipment, in large part due to it's powder-coated steel framework. Based on our testing, the MasterCrush shows essentially zero wear and tear, and we expect that it should easily last for years under typical conditions in a residential — and perhaps even commercial — setting.
The MasterCrush is also the only can crusher we tested which can crush aluminum cans up to 32 oz in size. While many potential buyers of a can crusher won't actually need to crush cans of this size, for those who do expect to have 32 oz cans, we think the MasterCrush is the best option on the market.
The MasterCrush also lived up to its name, crushing 12 oz cans to an average of 2.75 by 2.75 by 0.75 inches, for a total volume of 5.67 cubic inches — just slightly larger than the Basic Industries Multi Crush (5.66 square inches).
Despite the positive attributes just described, we were somewhat disappointed with the operation of the MasterCrush. While mounting the can crusher was simple enough, we found that actually operating the MasterCrush wasn't as smooth or ergonomic as we had hoped. One metric that illustrated this was the fact that we were only able to average eight crushed cans per minute.
The other consideration is price — the MasterCrush is about $20 more than both of our top picks, with an price hovering around the $50 level.
All that said, despite the flaws in the MasterCrush, if you are looking for a can crusher that can reliably crush cans as big as 32 oz, the MasterCrush is a worthwhile investment.
Key takeaways
The MasterCrush is the only can crusher we tested that can handle 32 oz aluminum cans.
The powder-coated steel framework will help this can crusher last for years of regular use.
The ergonomics of this can crusher, while sufficient, were not nearly as strong as our top two picks, the Easy Pull and the Multi Crush.
The other finalists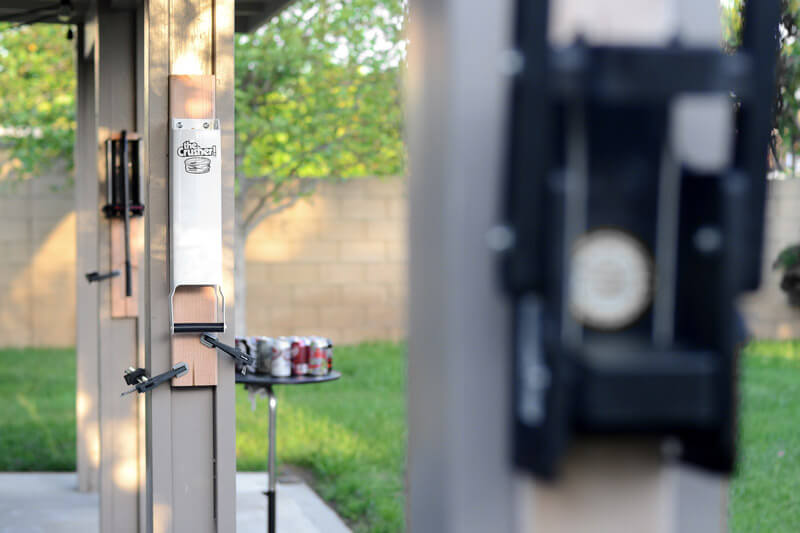 Pacific Precision Metals The Crusher
The Crusher, by Pacific Precision Metals, is a sturdy can crusher with a comfortable rubber grip. During our testing, this can crusher was able to crush cans to an average of 8.859 cubic inches at a rate of 10 cans per minute.
The most distinguishing feature of The Crusher is the fact that it is the only can crusher we tested, other than the MasterCrush, that is rated to crush 16 oz cans. If you are looking for a can crusher that can handle 16 oz cans, and want something sturdier and less expensive than the Multi Crush, The Crusher is worth consideration.
Kitchen Craft Can Crusher and EZ Can Crusher
We tested both the Kitchen Craft Can Crusher and the EZ Can Crusher because we found several sources during our research that spoke highly of both. However, during our testing we found both of them to be underwhelming and difficult to use. Unless you have a specific reason for buying one of them, we strongly recommend steering clear and sticking with one of our other finalists.
The bottom line
For most people, the Easy Pull Auto Dispensing can crusher is the best option on the market. It is easy to use, affordable, durable, and prevents hazardous cuts from crushed cans by automatically dispensing the can into a bin below.
The Multi Crush offers many of these same benefits, with an even better ratio of crushed to uncrushed size. However, this does come at the cost of somewhat lower build quality.
For those who need to crush larger cans (up to 32 oz), the MasterCrush is a worthwhile option, however you pay for the larger capacity in build quality and ease of use.
Remember, essentially all of the aluminum used in aluminum cans is fully recyclable. Any products that make it easier for existing aluminum to be recycled will help reduce our dependence on producing newly processed aluminum which is both costly and (in many cases) unnecessary.
Ultimately, any of these can crushers will make it easier to recycle your aluminum cans, and make it easier for you to save money and help conserve Earth's natural resources.