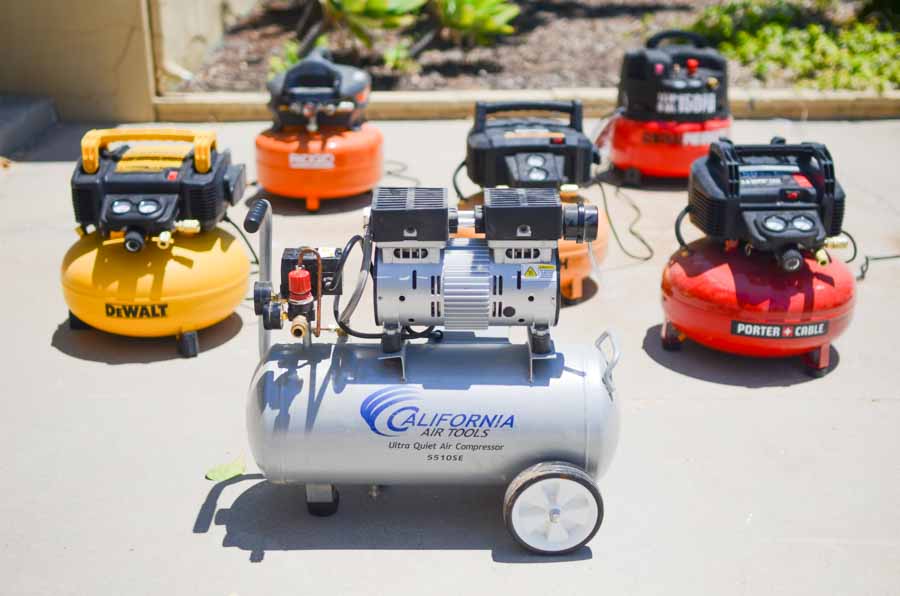 Our chief tester for this article was an experienced woodworker, who spent a week hunting down the top air compressors and subjected them to comparison tests to find the best.  For folks looking for a six-gallon size, we recommend the California Air Tools – 5510SE as the best air compressor overall. It provides consistent, convenient performance, runs much quieter than the competition in the same price range. For a bit more power, the Dewalt – DWFP55126 impressed with a higher PSI capability than others in the same class, plus a rugged design and quality components throughout.
Table of contents
The 6 air compressors we tested
Best overall: CA Air Tools
The California Air Tools stands out from the competition with its convenient wheeled design, one-handed hose connection and its low noise output. Whether you're using it in a stationary position in a shop, wheeling it around the house or transporting it from jobsite to jobsite, all of its characteristics put it head and shoulders above the rest.
Inventory for the 5.5-gallon model is very spotty on Amazon and Home Depot so we've replaced links throughout the article with their the larger 8-gallon model is and around the same and sometimes even lower price. The 8-gallon model appears to have the exact same motor mounted, with the specs such as the low max decibels rating and the same tank recovery time from 90 to 120 psi.
At 5.5 gallons, the CA Air Tools holds a half-gallon less than the others, but this is a small price to pay since you won't mind the noise when it switches on to refill. Its 120 max PSI may be an issue for users expecting the performance of a large stationary compressor, but it's more than enough to power the majority of tools you'd use with a six-gallon compressor.
The CA Air Tools is designed with user experience in mind. While most compressors in this range use the same tested design and aim for more PSI and a slightly bigger tank, the CA Air Tools breaks away from these priorities. Instead, it focuses on lowering the noise of the unit while incorporating the wheeled horizontal tank design to keep the unit portable.
We found these differences made for a better compressor than a few more PSI or an extra outlet for a second air hose. For one, if a second air hose was important, we could easily buy a splitter for a few dollars and attach it. Again, buyers should research the PSI requirements of the tools they're going to use before choosing a compressor. 120 PSI is enough for most uses, but double-check any equipment you might be running just in case.
Most buyers will recognize the other names on our list: Dewalt and Ridgid are particularly well-known in most circles. California Air Tools (as the name implies) focuses heavily on pneumatic equipment which shows with their innovative approach to compressor design. This pays off for the consumer looking for a solution that genuinely is a step-up from the competition in the ways that are likely to matter most.
Key takeaways:
The CA Air Tools is much quieter than every other product we tested. The other compressors required us to wear hearing protection to prevent hearing loss. Conversely, we were able to maintain a conversation while the CA Air Tools filled up.
A wheeled design makes it easy to move the CA Air Tools from place to place, although the additional weight is something to consider if you need to get it off the ground regularly.
The connection for an air hose is quick and can easily be operated with only one hand.
The drain valve is easy to find in the center of the tank and only requires a quick turn of the handle to open fully.
Runner-up: Dewalt – DWFP55126
The Dewalt holds its own in the competition as well, just barely beating out the Ridgid due to a higher PSI rating and a little less noise. If you're looking for a compressor that pushes the upper limits of the six-gallon range, this one is it. The additional PSI can give you that little bit of extra capacity for those jobs where the other six gallons can't keep up.
The Dewalt impressed us on the sander test by running considerably longer than the other compressors. That being said, if you need that additional power, we'd recommend looking into larger stationary compressors as even the additional PSI won't completely make up for the tank size. Our sanding test showed the Dewalt is a powerhouse, but still too small to run air hogging tools.
The few decibels difference we found from our noise test were noticeable to the testers, but the motor is still loud enough that ear plugs or hearing protection is recommended. Along the same lines, the ergonomics of the Dewalt are a step up from the others, but similar enough that different users may prefer one of the other competitors over the Dewalt.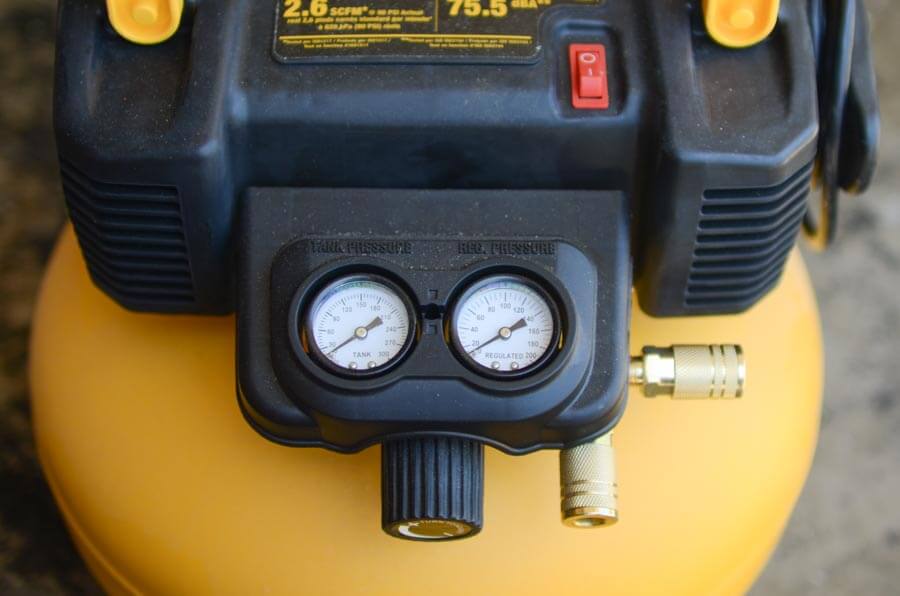 The DWFP55126 comes set up to run two outlets, though, Dewalt opted to use the outlet design with a sleeve that more or less requires two hands to operate. The drain valve is convenient and well-placed so as to avoid damage or getting caught on anything.
Overall, the Dewalt is a solid choice in this range. Despite its extra power, it feels light in the hands due to the smart design of the large, curved handle and provides most of the benefits of the other compressors. As with many Dewalt tools, the quality and attention to detail separate it from less expensive alternatives.
Key takeaways:
The Dewalt offers more CFM than any other model in our test. This ensures you get the most air-delivery possible in this class.
It is noticeably quieter than the competition except for the California Air Tools model but still requires hearing protection if you'll be exposed to it running for more than a few minutes.
The smart design of the handle makes the Dewalt easy to carry and feel lighter than it is.
Other products we tested
Ridgid – OF60510HA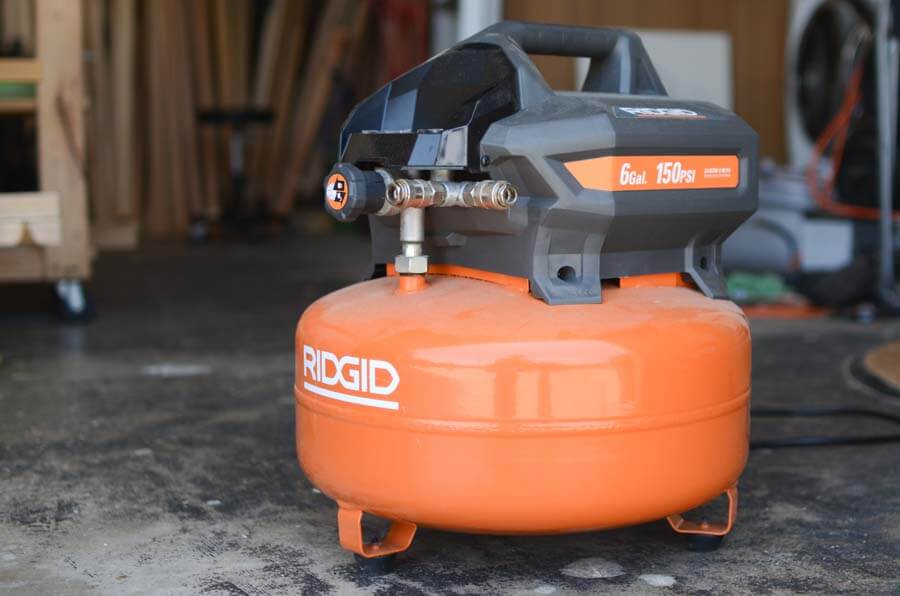 The Ridgid compressor is a solid unit that gives the Dewalt a run for its money in the runner-up category. It has a smaller handle than most of the others but it is still comfortable to carry. The thick molded plastic of the motor housing seems durable and is finished nicely. A pair of one-handed connections for your air hoses is a convenient feature that separates it from the competition.
The drain valve is conveniently tucked just under the rim of the tank to avoid catching on anything but is readily accessible when the user needs it. Lastly, a unique design for the regulator knob allows the user to lock the regulator at a certain PSI by pushing the knob in to lock and requires a simple pull to unlock and allow the knob to turn. This feature isn't critical for most users, but it is a nice touch.
Overall, we'd still recommend the Dewalt model for its slightly lower noise output and especially its higher PSI capacity. The hose connections of the Ridgid are the only thing that gives it a true advantage over the Dewalt, but we didn't find this to be as big of a deal in the testing we performed.
Bostitch – BTFP 02012
The Bostitch does the things you expect of a compressor in this category. Being able to connect two tools at once is convenient if you have two people working or two different tools you don't want to have to keep connecting and disconnecting. Additionally, if you keep the compressor in a permanent spot and run lines around your shop, two outlets give you more options.
The Bostitch was the only model that positioned the connections for an air hose on either side of the unit. It's a small touch, but none of the other compressors use this design. An outlet on each side can keep you from getting two hoses tangled or dragging the compressor when a hose gets caught because you and your partners are working on opposite sides of the room.
One of the major downfalls of the Bostitch is the screw-style drain. Operating this style is just enough of a hassle compared to turning a handle that you'll continue to get more and more frustrated with it the more you use the unit. The difference seems minor at first glance, but the screw-style requires you to grasp the small plug for the drain and unscrew it while air shoots out at the piece you're unscrewing.
Additionally, the lever handles have very clear open and close positions that are not only clearly visible from afar (if the handle is at a right angle you know the valve is closed, if it's anywhere else, you know it's open) but require no time, effort or thought to use. Screw-style valves require you to keep turning the plug until you hit a positive stop, which, on the Bostitch takes a surprisingly long time.
Porter-Cable – C2002
The Porter-Cable model has a noticeably cheaper feel to it than most of its competitors: from the plastic of the motor housing, the connections for the air hoses, and the welding on the tank. All that said, it still gets the job done if you're looking to run a couple of nail guns or fill up some tires. It shares the Bostitch's screw-style valve that we dislike, however, the Porter-Cable's is slightly larger and not quite as irritating to operate as the Bostitch's.
Most importantly, the Porter-Cable vibrated noticeably more than its competitors. This may not seem like a big deal, but the vibration was enough that the unit itself moved freely across a concrete floor while the motor was running. If you set the compressor in the wrong place on a table or shelf, the vibration and movement could potentially cause it to fall off.
Central-Pneumatic – 62380
The Central-Pneumatic has a small handle on the top that makes it uncomfortable to carry and feel cheap in the hand. It has a better valve system to drain the tank, but the fact that the valve protrudes from the tank in such a way that it can get caught on the person carrying it adds to how unpleasant it is to carry around. It also only has a connection for one air hose, though it is a one-handed connection which is a nice characteristic of an otherwise unimpressive design.
How we selected
You may be wondering if on-site work is possible with a smaller six-gallon compressor and the answer is yes. Despite being smaller, these compressors fulfill so many needs that even a more casual user would have no desire for a larger tank or more PSI. The portability and relatively low prices also prove to be tremendous assets for any user.
With this knowledge we still needed to do what any well-informed buyer should do: look through retailers like Amazon, Home Depot, and Harbor Freight to research the different products available. These retailers provide plenty of online reviews which helped narrow down the options.
We also read up on users' experiences via Subreddits like /r/woodworking and /r/DIY. These communities offered insight into what a first-time compressor buyer would be looking for. We even came across questions someone new to crafts like woodworking would have about finding a compressor that would meet their needs.
After deciding which products to test and what characteristics to look for, we got to work and used each compressor to give you a detailed breakdown of what to expect. This information is valuable since it's rare to find a store that will let you fire up a chorus of compressors to compare noise levels or test out their ergonomics in the store.
Our testing involved running each compressor in a controlled space to measure how loud each one was with a decibel meter, as well as going through the common tasks a person would perform with a compressor. Lastly, we pushed each compressor beyond its limits running a pneumatic sander.
How we tested
The noise test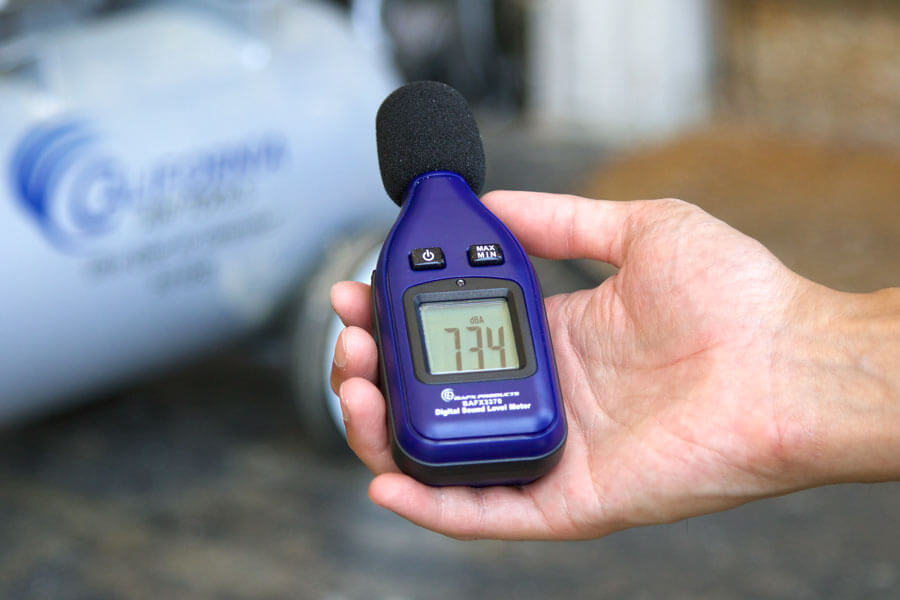 The National Institute on Deafness and Other Communication Disorders (NIDCD) reports that repeated or prolonged exposure to noise greater than 85 decibels can cause permanent hearing damage. We used a decibel meter positioned five feet from the compressor to measure how loud each one got while the tank filled from empty.
As you can see, most of our compressors stick right around this 85-decibel area on the scale. You may not always be five feet away from your compressor, but even subjectively, the noise is more than loud enough to be a distraction and annoyance in addition to being damaging to your hearing.
Donning earplugs or hearing protection every time you use the compressor is an option, but, even so, do you want to fire up something as loud as a lawnmower when you're leaving early in the morning for work or a bicycle ride and need to fill up a tire? Your neighbors probably won't want you to, either.
California Air Tools makes it a focal point of their advertising just how quiet their air compressors are. Our test also finds this to be true. The California Air Tools was so quiet that you can maintain a conversation even standing only five feet away from it. This also eliminates the need for hearing protection.
The portability/usability test
Depending on how you intend to use it, the portability of the air compressor can make or break your experience with it. We picked the compressors up, carried (or wheeled) them around in a 20 ft by 20 ft square, set them down, inserted an air hose, unwrapped the cord, plugged it in, started the compressor to fill the tank, unplugged the cord and stowed it and then drained the compressor. This gave us an idea of the everyday experience of operating a compressor.
Five of our six compressors are based on a "pancake" design while only one has the design commonly referred to as "hot dog." The pancake is popular because it allows the user to grasp a handle at the top of the compressor and carry it down at the side almost like a suitcase. For these compressors, the design of the handle is critical. The Ridgid, Dewalt, and Bostitch all had ergonomic handles that made them comfortable to carry.
The Central Pneumatic and Porter-Cable handles felt cheap and uncomfortable by comparison. The most critical piece to note, however, is that the Central Pneumatic's drain valve protruded out from the tank in a way none of the others did, allowing it to catch on the user or anything you pass by while carrying it, depending on which side you grasped. None of the others had this issue.
The California Air Tools once again distinguished itself with the hot dog design and a pair of wheels. The wheels are well-designed and made it easy to pull around the test course. This compressor does weigh a notable 20 lb more than most of the others, though, and you'll probably run into a situation like loading it into a truck where you have to pick it up.
There's a handle on the side opposite from the one you use with the wheels that allows you to hold it from both sides. This made the compressor fairly easy to carry despite its weight, but you'll still feel the extra pounds and need to use both hands any time you're getting it off the ground.
The Central Pneumatic, California Air Tools, and Ridgid models had convenient connections for the air hose that only require one hand to push the hose in to connect while all the others required two hands, one to insert the hose and the other to draw the sleeve back on the connection.
If you're running multiple tools at once, the Porter-Cable, Dewalt, Ridgid, and Bostitch all come with two connections for air hoses while the others only had a single connection. Lastly, the Bostitch and Porter-Cable use a drain valve that the user has to unscrew while all the others simply require a 90-degree turn of a small handle.
The sander test
We wanted to really push our compressors to their limits by giving them a task we knew they weren't equipped for: running a pneumatic sander. So we set all the regulators for the recommended 90 PSI, let each tank fill to its max capacity, and went to work on some 10" x 11" pine plywood scraps.
We made identical patterns on each piece of plywood with a pencil to create a visual record of how long the sander ran, as well as using a stopwatch to time how long it took before the sander slowed from its required operating speed. Due to the nature of sanding, the test pieces looked fairly similar, but the stopwatch told the real story.
The results were in line with our expectations: the Dewalt kept the sander running at its operating speed considerably longer than the others, but none could quite keep it running for even a full minute. The California Air Tools unit powered the sander for the shortest time, highlighting the difference those few max PSI can make.
Depending on what kind of work you plan on doing with your compressor, the extra little bit of power the Dewalt has over the others may make a difference. You can extrapolate these results to other tasks: the Dewalt will also provide more consistent delivery for tasks like spraying. All that said, most tasks like running a nail gun, using air for clean up and inflating equipment, will barely benefit from a few extra PSI in the tank.
Why you should trust us
Our testing staff worked closely with an experienced woodworking professional to thoroughly research and test these compressors. Our consultant focuses on furniture building with two years of owning a custom furniture business also with some work in larger carpentry projects like built-in cabinets. He has also dabbled in more craft-oriented activities like woodturning and pyrography.
Additionally, he spent the past 15 years doing hobby and personal work on cars, trucks, boats, and motorcycles. Most of that time was spent on basic repairs and maintenance, with occasional custom modifications and aesthetic changes including structural and finish work.
All of these fields use air compressors for everything from cleaning to running air-demanding tools like pneumatic sanders and spray systems. Although they're dominated by heavy, bulky compressors that are permanently installed in a professional shop, he has quite a bit of experience using six-gallon air compressors in his home shop. Like most users, he has to carefully plan out the space usage in his shop, making a giant compressor tankless of a priority.
Why use one?
DIYers have several uses for air compressors including powering pneumatic equipment/air tools and spraying paint or finish. These are the two most demanding tasks for this type of air compressor, but there are several more that the average homeowner may have. This includes inflating tires or recreational equipment as well as using compressed air to clean tough-to-reach places (like a grungy keyboard).
That being said, one of the most common uses for air compressors of this size is to run a pneumatic nail gun or two. Nail guns are commonly used for furniture making, repairs or installing molding or baseboards in your home. This usually doesn't require a compressor with a gigantic tank, but six gallons is about the minimum you'll want if you're on a time limit and need consistent performance. Six gallons also works if you plan on running two nail guns at once.
What size tank do I need?
Two and three-gallon compressors are available at home centers and even department stores. They're inexpensive and don't take up much space. They're convenient for the average homeowner just looking to inflate a few tires. Any other task may prove to be too much for the compressor.
You could nail a few baseboards with a two-gallon compressor, but if you're moving along with any kind of quickness, you may find yourself waiting for the tank to fill or firing a nail that doesn't hit the desired depth. Additionally, using a splitter to run two tools with these tiny compressors will drain them fast, leading to a tremendous amount of downtime while the tank fills.
Larger compressors aren't as readily available as their smaller counterparts. They're also much more expensive and can take up a considerable amount of space. Large compressors are more likely to require oil changes as well, making them less convenient than the small compressors that rarely require maintenance. Lastly, most compressors above about eight gallons are far from portable.
The six- to eight-gallon range tank is the sweet spot for a majority of consumers. This lets you perform nearly any task you'd need to without spending a fortune. Compressors this size are also small enough to stow away when not in use and are easy to move around.
Six-gallon compressors are capable of running two nail guns at a rapid pace without breaking a sweat, as evidenced by the fairly common two-outlet design of compressors in this class. These compressors also focus on convenience and ease of use because they're targeted at more casual users. This leads to easy to access drains and no oil changes.
Care & maintenance
Compressors are pretty low maintenance items these days. The clunky, unreliable and oil-guzzling compressors of yesteryear have largely been replaced by sleek, reliable models that require little-to-no maintenance. That being said, you do need to drain your compressor each time you use it for best results.
Each time you fill the tank of your compressor with air, there's a chance some of the moisture will also enter the tank. This can cause rust, depending on the tank material. This is problematic for a few reasons. Moisture in your airlines can cause many finishes to cloud or have other issues if you're using a spray gun hooked to your compressor to apply them.
In the most extreme cases, the tank can even rupture if it is damaged by long-term exposure to moisture, rust, and corrosion, causing very serious (potentially even fatal) safety concerns. Needless to say, draining the compressor tank is critical and you want it to be as convenient and painless as possible.
All of the compressors we chose are equipped with a drain valve that allows the compressor to go from full to empty in less than a minute, but the two different styles we encountered (screw-style as well as lever-operated ball valves) can give the user fairly different experiences that can lead to aggravation or a simple, easy experience.
We overwhelmingly preferred the lever operation over the screw-style after numerous cycles of filling the tank and draining it. This is obviously down to preference, but there's no denying that flipping a lever is quicker and takes some of the guesswork out of the procedure. Small differences like this can be critical to the user experience with items like compressors.
Important features to consider
Tank size: As we mentioned above, two and three-gallon tanks are sufficient if you plan on only driving a few nails on a rare occasion or filling up a bicycle tire. A six-gallon tank is more convenient for nearly everything else. Larger than six-gallon tanks start to make the compressor unwieldy if you expect to move it around at all.
Noise: If you've never heard an air compressor before, you may not understand how loud they can be. The majority of our compressors averaged in the mid-80 decibel range measured from five feet away. This indicates they're only a few decibels quieter than your average lawnmower.
Pounds per square inch (PSI): This is the max pressure the air compressor can produce. You'll want to ensure your compressor is capable of producing more than the minimum PSI required for your most demanding tool. Additionally, a compressor capable of higher PSI can perform as though it has a slightly bigger tank than an equal-sized compressor capable of less PSI.
CFM: Cubic Feet per Minute: indicates the mass of airflow at a given PSI. Again, look at the manufacturer's stated requirement for your tools to determine which is the most demanding. Make sure your compressor can provide at least that CFM at a minimum. Additional CFM capabilities will keep you working long before the tank needs to start refilling, but meeting the minimum requirements is most important.
Weight/Portability: In this class, all of the compressors are intended to be portable. However, the compressor's overall weight, as well as the ergonomics of the tank and motor housing, make some compressors more of a chore to move than others. If you're planning on moving the compressor around a house while installing molding or dragging it out every time the kids' bikes need air, this can be a critical factor.
Ease of care: We chose all oil-free compressors as most of the industry has moved this way for portable models. This avoids the occasional hassle of replacing oil. However, you will need to regularly drain the air tank on your compressor to keep water vapor from collecting and causing rust. Compressor design can make this painless or a real nuisance.
The bottom line
Six-gallon air compressors fulfill the needs of most homeowners and avid DIYers. They're convenient, take up little space, and deliver enough CFM to power nearly any tool you would use outside of a professional setting and we feel confident recommending the California Air Tools unit for folks looking for something in this size range.
Smaller two and three-gallon compressors can become a source of frustration due to their lack of air delivery for anything but the smallest tasks. Larger compressors, on the other hand, tend to be difficult to move and occupy a large space in a garage or shop.
Regardless of the size, a compressor is a useful tool to have on hand for just about everyone. Even the average homeowner will find uses for it to replace more annoying tools like bike pumps and hammers. Beyond that, the compressor expands your capabilities for DIY in a tremendous way.
Have some crown molding that's starting to droop in the corners? A few seconds with a nail gun can have it looking like a professional repaired it. Replacing your white picket fence? You can spend all afternoon bent over driving nails with a hammer. Or, just break out the compressor and a nail gun to have it done with such little effort that you fool yourself into thinking you're having fun.