After over 100 hours of testing seven top-rated air mattresses, we found that the Lazery Sleep Air Mattress was the best for durability, comfort and convenience. The Lazery Sleep was the only air mattress we tested that consistently maintained air pressure, and thanks to its automatic internal pump with seven settings, it allows you to increase or decrease firmness in a matter of seconds.
A close runner-up is the Insta-Bed, which withstood our testing with only minor loss of firmness. The Insta-Bed boasts two built-in pumps, one for inflation/deflation and the second to silently maintain pressure during the night.
We also tested air mattresses that are intended for camping, and the three mattresses we tested had issues with deflation during the night. However, we found that the Lightspeed Outdoors Two-Person Air Mattress was the best for relatively fast inflation and deflation and easy fold-up and storage.

Table of contents
How we selected products to test
For in-home
We began our research by reading hundreds of reviews posted by consumers on websites that sell air mattresses, such as Amazon, Target, Walmart, sporting goods stores, bed stores and air mattress manufacturers. We surmised from our research that a surprisingly large percentage of people who purchase air mattresses are unhappy with the product they bought. The majority of consumer complaints focused on the mattresses losing air pressure during the night, so they found themselves waking up on a nearly flat piece of vinyl in the morning.
The second-most cited complaint is that air mattresses simply don't provide the same back support as a standard bed. Third, air mattresses seem to be notorious for emitting a strong odor that can't be masked even with bedding.
Finding the best air mattresses on the market is a daunting challenge, but we persevered, and after a week's worth of research and calling manufacturers, we narrowed our choices to 17 twin-bed air mattresses. We then reduced the selections to the seven mattresses that consumers praised highly for:
their ability to sustain air pressure during the night
no leaks or seam breaks after multiple inflations
an efficient air pump
weight capacity (300 to 350 pounds)
comfort
convenience
lack of vinyl (PVC) odor
For camping
Almost all of the air mattresses on the market are intended for indoor use only. Few manufacturers recommend their product for both indoor and outdoor use, so we narrowed our choices down to air mattresses that are made specifically for the outdoors, provided comfort and warmth and when inflated, could fit in a tent.
A major factor that's different for camping air mattresses is how much weight it will add to your backpack. Since an air pump is needed to inflate the mattress, its weight also had to be taken into account.
A few of the air mattresses we researched included electric air pumps. We decided that in most cases electricity wouldn't be available at a campsite, and so we focused on air mattresses that used a battery-operated pump. We did include one exception to review, the AeroBed Classic, for instances where electricity might be accessible.
Another important consideration was if the air mattress was easy to inflate, deflate and roll up efficiently and quickly for backpacking.
The seven best air mattresses
Who needs an inflatable air mattress?
Air mattresses were originally designed for camping and travel. They were initially made of rubber and stored on cruise ships for fast inflation in times of emergency and lightweight for easy packing and carrying in a backpack. Most air mattresses today are made of PVC (polyvinyl chloride), which makes them more durable – and somewhat heavier – than the first camping and lifeboat air mattresses.
Today's air mattresses are greatly improved, offering better body support and comfort, and since many have internal electric pumps, they are also convenient and easy to use. Two of the seven air mattresses we tested – Lightspeed Outdoors and Coleman SupportRest – are specifically intended for camping. The AeroBed Classic is the only air mattress we tested that could be used indoors and outdoors.
There is no specific set time for how long you should keep an air mattress inflated. However, almost all air mattress companies strongly advise that as durable and heavy-weight their product is, it won't hold up if it is used as a permanent bed. (As evident from a good number of Amazon reviewers, this advisory is often ignored.)
Few air mattress companies offer a warranty (usually it's very limited and only for one year), which is a sore point for most people who purchase one, since they had hoped the air mattress would last longer than a year.
Anecdotal evidence suggests that an air mattress could last for up to four years. But again, the mattress' longevity depends on how it is used, maintained and stored by the consumer.
So why would you need an air mattress for anything other than camping? Air mattresses are ideal for overnight guests and kids' sleepovers or when you've moved into a new home or apartment, and you're waiting for furniture to arrive. To increase comfort during colder months you could even pair it with an electric blanket. An air mattress would also be great when you're traveling and you need an additional bed in a hotel room or even in the back of a car.
Important features to look for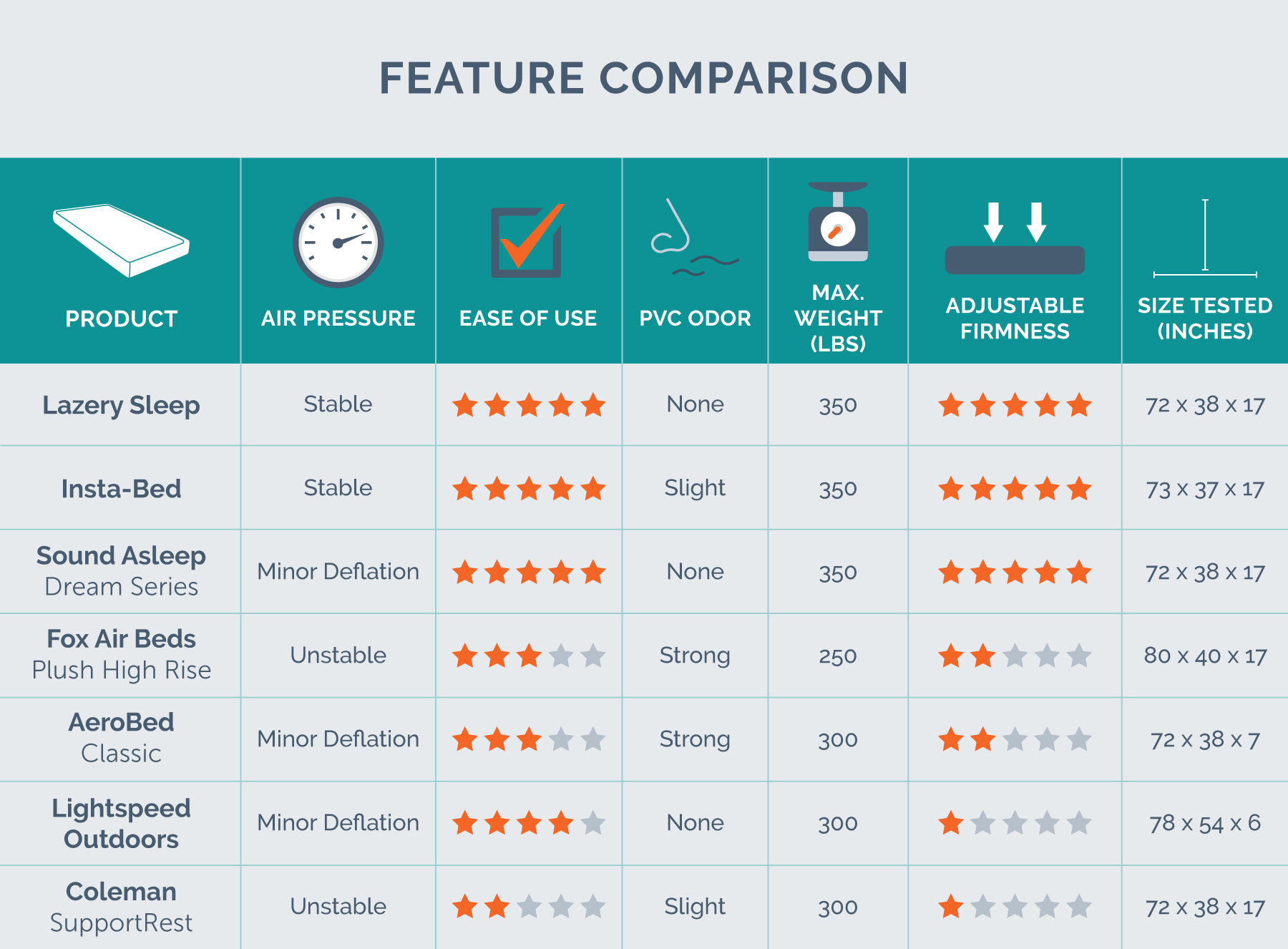 Our research and testing determined a number of important features for you to consider when you're purchasing an air mattress.
Durability – almost all of the air mattresses we tested were made of heavy gauge PVC, which prevents air leakage, seam splits and tears.
Comfort – an air mattress should provide full-body support like a standard bed mattress.
Height – double-height air mattresses (17-to-24 inches tall) are preferred for ease of lowering onto and lifting your body from the bed.
Maintains air pressure – the majority of air mattresses we tested had slight-to-moderate deflation over a test period. The Insta-Bed Raised Twin Airbed, however, did not deflate, thanks to its patented "neverFLAT" dual-pump system.
Adjustable firmness – depending on your preference for a firm or plush mattress, you should be able to control the inflation and deflation. Several of the air mattresses we tested had this feature, and it afforded them superior comfort.
Internal electric air pump – the best air mattress will have a powerful built-in electric pump that efficiently inflates and deflates. Whereas we didn't find it was essential for the pump to rapidly inflate the mattress, we did appreciate a pump that deflates by vacuuming out the air, which made folding and storage easy.
Weight support – we tested twin-size mattresses that supported 300-350 pounds, which is sufficient for a twin bed. Queen mattresses are intended for two people and should support 500-600 pounds.
Storage – ideally an air mattress should be easy to fold and store in a small space. Most of the air mattresses we tested came with a sturdy storage bag that was large enough to hold the folded-up mattress.
Lack of odor – PVC is sturdy, but it also has a prominent "shower-curtain" odor that doesn't always dissipate with continued use. Two of the air mattresses we tested – Lazery Sleep and Sound Asleep Dream Series Bed – had almost no odor.
How we tested
Air pump
All of the electric air pumps included with the air mattresses, both internal and hand-held, were 120 volts, and they were generally efficient in quick inflation and deflation.
Our first test was timing the inflations and deflations 10 times for each mattress with and without 200 pounds of weight and recorded the time to determine whether or not there was a difference. We evenly distributed the 200-pound weight to approximate a person's weight (heavier in the middle than at the head and foot of the bed). The majority of air mattresses inflated and deflated in two minutes and under. The Sound Asleep Dream Series and Fox Airbeds were slightly more than two minutes.
Almost all of the companies warn that an infant or young child could suffocate on an under-inflated or deflated mattress. However, we surmised that an older child or teenager might try inflating/deflating while they were on the bed, and so we decided to test it out. As expected, inflation time increased by several seconds, and deflation time decreased by several seconds.
Another factor we considered was how well the pump vacuumed the air out of the mattress and whether we needed to manually press down on the mattress to squeeze out remaining air. The Lazery Sleep, the Sound Asleep and the Insta-Bed were the most efficient; however Lazery Sleep and Insta-Bed's automatic turn-off pump had the edge over Sound Asleep's manual pump.
Powerful pumps are not quiet pumps, and although most reviewers claim that the pumps were about as loud as a hair dryer, we found the majority to be more on par with a vacuum cleaner. The only air pump that we would say was quiet is the hand-held, external pump for AeroBed Classic, which was actually quieter than a hair dryer.
Durability
Since air mattresses are generally used as temporary beds over a long period, we wanted to devise a test that simulated repeated use. Frequent complaints about the air mattresses we tested were leaks at the seams or air valve that are a result of the material stretching.
Three of the seven instruction manuals advised that it's normal for the bed to lose air pressure after a few inflations due to the elasticity of the vinyl. We decided to test the air mattress stretching by inflating and deflating each mattress 10 times before applying weight.
After the tenth inflation, we brushed around the seams and valve with a soap-and-water solution and pressed down on the mattress to see if the solution bubbled, which would indicate a leak. None of the air mattresses showed signs of air leakage.
We then applied the 200-pound weight on the inflated mattress for 48 hours, deflated the mattress and then inflated again. We brushed the seams and air valves, and again, no leaks were detected.
All the air mattresses we tested, except for the Lightspeed Outdoors, have an internal 21-coil system, which is designed to provide support, prevent sagging and stabilize the mattress . Throughout our testing period, we did find that the coil system generally works well, but only for the center of the mattress. Although we could not find air leakage, the sides and corners of most of the air mattresses were "squishy", which indicated some deflation.
Comfort
Regular standard twin bed mattresses are approximately 75-inches long and 38-inches wide, so a six-foot-tall person could lie on the mattress without his or her feet hanging over the edge of the bed. The majority of twin air mattresses we tested were slightly shorter at 72 inches, which means that a six-foot-tall person would need to sleep on the diagonal. Depending on your sleeping habits, this may or may not be comfortable.
The Lightspeed Outdoors mattress was longer at 78 inches and wider at 50 inches, which gave plenty of room for one person; however, at only 50 inches side-to-side, two people might feel cramped. The Fox Airbeds was 80 inches in length and 40 inches wide, which makes this mattress ideal for a tall person.
Standard twin-size fitted sheets fit all of the air mattresses we tested, however, it was a struggle with the Fox Airbeds and the Lightspeed Outdoors, which are both wider and longer than a twin bed. Full-size sheets could fit, but there would be substantial overhang.
All of the mattresses (except for the Lightspeed Outdoors) have a flocked, suede-like top to prevent sheet slippage. Some reviewers add a mattress pad or topper for additional protection and comfort, but we found neither was really necessary.
Since air mattresses are not intended for a bed frame, it takes some getting used to lowering oneself onto the mattress, even the double-height air mattresses, which measure approximately 18 inches in height. Almost all of the air mattresses we tested deflated somewhat, so rising up out of the bed wasn't easy either as we had to push ourselves up from the center of the mattress.
The central internal coil system does provide good back support and for each of the air mattresses, the center section of the air mattress maintained pressure and stayed firm. Three of the air mattresses – Lazery Sleep, Insta-Bed and Sound Asleep – have controls to adjust firmness, which we found to be a real plus for comfort.
Odor
Almost all of the air mattresses we tested are made of vinyl. The exception, Lightspeed Outdoor, is made of PVC-free plastic. The process used to manufacture vinyl results in its having an unpleasant chemical odor.
Several of the air mattresses had overpowering PVC odor when we unwrapped them from their boxes. Before putting sheets on the mattresses, we allowed them to air out for several days to hopefully release the PVC gasses. In most cases, the odor did dissipate and was nearly undetectable when the beds were made up. However, when the mattresses were deflated by opening the air valve, the PVC odor emitting from the released air was still strong.
Our top choice, the Lazery Sleep, had virtually no odor from the get-go, while the Aerobed's and Fox Airbeds' PVC odor didn't dissipate even after being aired outdoors.
Convenience
Since air mattresses are intended as temporary beds, we wanted to find out if they were convenient to use. Out of the box, each air mattress was a compact square or rectangle. We measured the mattresses to determine whether it was possible to fold them back into its tight shipping state. In short, it wasn't. However, once completely deflated and with a bit of practice, most of the air mattresses could be folded and rolled to fit their ample canvas storage bags that are included.
Deflating the air mattresses did present a couple of problems. Two of the electric internal pumps did an excellent job of vacuuming out every bit of air from the mattress, which made folding and rolling a snap. Insta-Bed's pump needed assistance in our manually pressing out the air around the edges and corners.
Interestingly, the most inconvenient of the air mattresses were the camping beds. Lightspeed's battery-operated pump worked fine for inflation, but it was less successful at deflating the mattress, and we spent considerable time pressing out the air. The Coleman air mattress was more difficult to completely deflate, and then folding and rolling it into the attached storage bag tested our patience.
A good night's sleep
Scientific testing aside, the real test for any air mattress is whether it gives you a good night's sleep. Due to loss of firmness throughout the night, several of the mattresses lost enough stability that we were afraid we might fall off the mattress in our sleep. For example, the Fox Airbeds lost enough air pressure to waken us every time we moved. By morning, we could virtually roll out of bed, since the sides of the mattress were so soft.
We experienced the same issues with the Sound Asleep mattress. It also deflated during the night, so consequently we rocked back and forth any time we shifted.
The Lazery and the Insta-Bed air mattresses were, by far, the most comfortable and stable. Their internal support systems kept the mattresses firm, so there was no movement when we turned on our sides, and they were easy to stand up from without extra assistance.
The best air mattress
The Lazery Sleep scored an almost perfect 10 on all of our tests. It is the only air mattress we tested with an internal pump that has seven settings for controlling firmness, ranging from "plush" (soft) to "extra firm". Another feature we liked is the pump automatically shuts off when the mattress reaches the desired setting (in about one-and-a-half minutes) and when it is fully deflated (in under two minutes).
The pump's settings allow you to select how firm or soft you want the mattress to be and make incremental adjustments to increase or decrease air pressure. In a nutshell, you can set the mattress to inflate to "extra firm" and if it's too firm for your liking, you can gradually decrease the air pressure to a softer level.
The "extra firm" setting was certainly the firmest of any of the air mattresses we tested. The "plush" setting was a bit too soft for us and slightly destabilized the mattress so it rocked when we shifted from side to side.
The Lazery Sleep is well-made and durable, and even though it is vinyl, it didn't have the characteristic PVC smell. The Lazery Sleep maintained air pressure and showed no deflation in our initial 48-hour testing period with 200 pounds applied. When fully inflated, it was almost as high as a regular bed mattress, incredibly comfortable and easy to get into and out of.
Since the efficient pump completely vacuums out the air, the mattress flattens perfectly for folding and rolling and fits easily into the included canvas bag for storage.
Key Takeaways
The powerful internal electric air pump of the Lazery Sleep inflates and deflates quickly and efficiently.
Seven pump settings allow firmness control from "plush" to "extra firm" and automatically shuts off when the mattress reaches the desired setting.
The mattress is made of heavy-duty vinyl with no characteristic PVC odor.
The mattress maintains programmed air pressure with no deflation.
Fits twin-sized sheets.
Easy to fold and store in its spacious canvas bag.
Good value for such a high-quality product.
The runner-up
It was neck-and-neck between the Insta-Bed and the highly rated Sound Asleep Dream Series for runner-up, but we decided that Insta-Bed's automatic twin-pump system put Insta-Bed ahead of Sound Asleep.
Insta-Bed's patented "neverFLAT" system has one main pump for rapid inflation and deflation (under two minutes) and a second internal pump that maintains air pressure during the night. The mattress' sensor monitors the selected air pressure and automatically re-inflates if there is any deflation. Unlike the primary pump, the secondary pump is nearly silent – it's a slight whir – so you won't be disturbed from sleep.
We tested the mattress with and without the secondary pump engaged, and by morning there was only minor deflation along the sides and corners when the secondary pump wasn't on. The pump has three firmness controls: "plush", "medium" and "firm".
We found "medium" and "plush" to be firmer than other air mattresses, while "firm" was actually too firm and somewhat uncomfortable. Insta-Bed was stable throughout the night and absorbed any movement when we were asleep.
Automatic deflation is a little uneven and benefits from manually pressing out any remaining air to flatten the mattress for folding. The secondary pump inhibits a neat fold-up, but the storage bag is large enough to hold the mattress.
The only real negative is that the mattress' vinyl has a noticeable PVC odor, which eventually dissipated but only after repeated airings outdoors.
Key Takeaways
Insta-Bed's patented "neverFLAT" dual-pump system monitors and maintains air pressure during the night.
Three pump settings with an automatic shut-off when the mattress reaches desired firmness.
Comfortable back and full-body support for the "medium" and "plush" settings.
Fits twin-size sheets.
The best air mattress for camping
You could certainly use any of the the three air mattresses we tested for camping purposes indoors. They were designed, however, for outdoor use, which means they are lightweight yet durable and need a separate pump, preferably battery-operated. Electric pumps for camping are available, which you could use if electricity is accessible at your campsite, or if you purchase an adapter for your car's cigarette lighter.
We tested three camping air mattresses: AeroBed Classic, Lightspeed Outdoors and Coleman SupportRest Double High Airbed. Of the three, we found that the reliable and backpack-friendly Lightspeed was the best option.
The Lightspeed Outdoors mattress is a slightly longer (78 inches) full-size mattress (54 inches in width). Weighing in at only six pounds, it was the lightest of the three camping air mattresses we tested. (The Aerobed is seven pounds, and the Coleman is ten pounds.) It's only six inches high, so for colder weather, some sort of insulation underneath the mattress is necessary.
A battery-operated air pump (4 "D" batteries not included) is included with the mattress, and it works decently in inflating the mattress in about five minutes. We found it best to over-inflate the mattress since the air valve hisses out air once the pump nozzle is removed. The pump wasn't as effective in deflating the mattress, so we found it easier and faster to manually press the air out of the mattress.
The mattress was comfortable, if perhaps a bit soft, and it rocked back and forth like a waterbed when only one person was on it. Since the mattress was designed for two people, the second person's weight kept it more stable. The mattress lost a small amount of air pressure, but it kept us buoyed overnight.
Once we got the hang of rolling and squeezing the deflated mattress, it fit neatly in its storage bag that can also accommodate the pump and three nozzle attachments.
The Lightspeed Outdoors is the only mattress that we tested that is a PVC-free plastic, so it has no odor. Lightweight, durable and affordable, the Lightspeed Outdoors Two Person Air Mattress is an excellent choice for camping trips.
Key Takeaways 
Lightweight at only six pounds and backpack-friendly, the Lightspeed Outdoors is an excellent choice for camping.
Extra wide and long, the mattress is designed for two people.
The mattress is the only one we tested made of odor-free, PVC-free plastic.
Other products we tested
Sound Asleep – Dream Series
One of the most highly rated air mattresses on Amazon is the Sound Asleep Dream Series, and it certainly has all of the features of our top pick. Its powerful internal pump inflates and deflates the mattress in a little over two minutes, and fully inflated, it provides solid back and body support. The internal 21-coil (for twin beds) system keeps the mattress stable and comfortable.
The air pump completely deflates the mattress so it's easy to fold and store in its large canvas bag. The mattress is made of vinyl, but it has no PVC odor. Finally, it's slightly less expensive than our favorite, the Lazery Sleep.
However, with all of these pluses, the Sound Asleep was brought down a notch for two reasons. First, the pump is not automatic, and so we had to listen for a high-pitched whine, which designated that the mattress was fully inflated or fully deflated.
Second, and more importantly, during our test period, the sides and corners lost air pressure and were squishy, which made it difficult to get up from the mattress. As the manufacturer advises, some deflation is to be expected as the material stretches. But our tests gave ample time for the material to stretch, which suggests that the mattress will further deflate with repeated use.
Fox Airbeds – Plush High Rise
The Fox Airbeds – Plush High-Rise has a couple of nice features, but overall, we found this air mattress doesn't maintain air pressure. At 80 inches in length, it is by far the most comfortable for a person six-feet and over. Inflation and deflation were good, a little longer than the other air mattresses we tested, but times were still speedy at two-minutes thirty-seconds.
On the negative side, the mattress showed signs of losing firmness after the sixth time we inflated it. We attempted to determine where it was leaking air, and when we pressed down on the foot of the bed, short puffs of air emitted from the mattress' air valve. As long as we remained in the center of the bed, the mattress provided decent support. But once we shifted to either side, the mattress sagged considerably, making it difficult to get out of the bed.
The mattress' vinyl isn't as sturdy as the other air mattresses we tested, plus it was the heaviest at 20 pounds. Outdoor airing didn't entirely eliminate the vinyl's PVC odor, and with all of the factors combined with its higher price, we cannot recommend the Fox Airbeds Plush High Rise.
Aerobed Classic
If you have access to electricity on a campsite, or if you have a car cigarette-lighter adapter, the AeroBed Classic air mattress is a viable option. An efficient exterior air pump is included, and it quietly inflates the mattress in 30 seconds. It also has a patented quick air release valve that deflates the mattress in a whoosh.
However, we did have considerable difficulty in opening and closing the air valve to insert the pump, and we had to continually add more air since it was leaking out of the tricky valve. We also noticed there was some deflation around the valve by simply pressing down on the mattress.
The Aerobed is nine-inches high, and even though it provided good support for sleeping, it wasn't easy to get up from since it's so low to the ground.
Coleman – SupportRest Double High Airbed
Coleman is a well-known company that manufactures camping equipment, most notably tents. The SupportRest Double High Airbed was the most inexpensive of the air mattresses we tested, but we found it to be quite inconvenient for camping.
The mattress has features similar to the other mattresses we tested, but its pull-out, push-in air valve was reminiscent of a pool toy. An air pump is not included (they can be purchased inexpensively online), and we found it awkward and time-consuming to hold a manual air pump in place so it doesn't pop out of the valve.
During the night, the center of the Coleman remained firm, but by morning, the sides of the mattress had deflated substantially and were "mushy". Despite the Coleman's double height (17 inches), we had to push ourselves up from the center of the mattress.
Deflation was time-consuming. The air must be manually pressed out of the mattress and rolled in stages, while continually squeezing out air, and the process took nearly 15 minutes.
The Coleman doesn't have a separate storage bag; instead, two pieces of canvas material are attached with heavy-duty cord. Once the mattress is rolled up, you tie it together into a bulky log-shaped package with a handle.
We concluded that we wouldn't want to be caught in a sudden rainstorm with this air mattress since it takes so long to pack up.
The bottom line
The majority of the mattresses we tested were well-made and mostly survived our barrage of tests. The real challenge, however, proved to be whether they provided comfort and support for a good night's rest.
The Lazery Sleep rose to the top as the best of the lot with the Insta-Bed coming in at a close second. The Insta-Bed is slightly more expensive than the Lazery Sleep, but both air mattresses are an excellent value and high quality.