The 7 Best Pillows for Neck Pain
Over the past several weeks, we researched, snoozed and snored our way through seven finalists to determine that the best pillow for neck pain is Coop Home Goods – Eden. This gel-infused shredded memory foam pillow offers down-like comfort and had our testers waking up the next morning refreshed and pain-free. We also liked our two runners-up: the Nature's Guest supportive microfiber pillow and Perform Pillow's contoured memory foam.
Over the past several weeks, we researched, snoozed and snored our way through seven finalists to determine that the best pillow for neck pain is Coop Home Goods – Eden. This gel-infused shredded memory foam pillow offers down-like comfort and had our testers waking up the next morning refreshed and pain-free. We also liked our two runners-up: the Nature's Guest supportive microfiber pillow and Perform Pillow's contoured memory foam.
Table of contents
Compare the 7 pillows we tested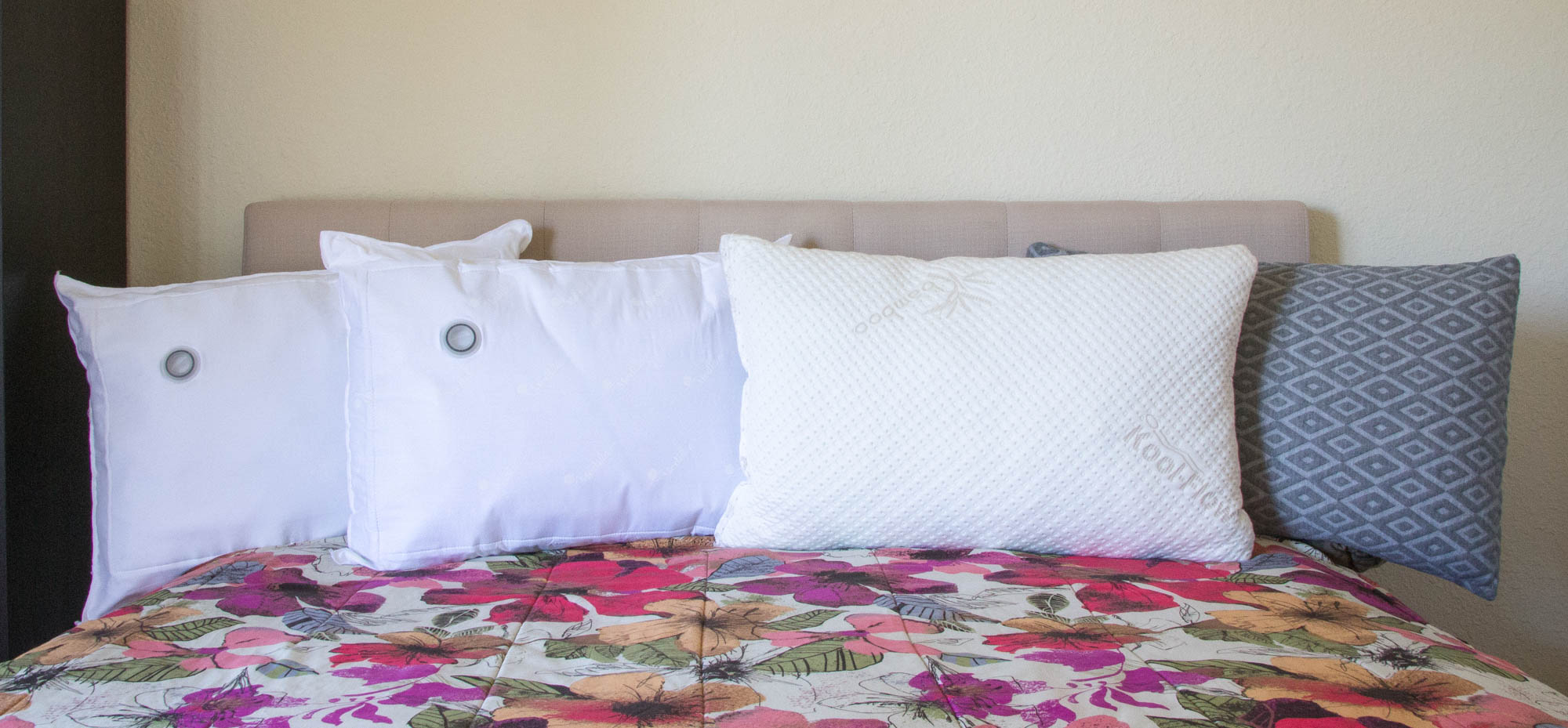 Best pillow for neck pain: Coop Home Goods
All of our pillow testers agree that Coop Home Goods – Eden is the best pillow for neck pain. This cross-cut, gel-infused memory foam and microfiber pillow is luxuriously comfortable, customizable and — most importantly — cradles your head and neck perfectly so that you remain pain-free and get a good night's sleep. (Not surprisingly, Coop Home Goods was also picked as the best pillow for side sleeping!)
The opulent experience begins when the Eden arrives on your doorstep. It comes beautifully packaged in a custom box, with a slogan announcing "A pillow as unique as you are." As instructed, we prepared our pillow by placing it in the dryer on low for 10 minutes. Although there was a very slight off-gassing odor from the foam when we first received the product, this dissipated quickly.
The pillow comes complete with an extra bag of filling, which was a nice touch for anyone desiring additional support. Coop Home Goods suggests that side sleepers try the pillow as-is before adding foam. Back sleepers are encouraged to remove about a quarter of the foam from their pillow, and stomach sleepers to remove a third of the foam. Free customization assistance is also offered via a phone support line. Our testers felt that the Eden came with the right amount of filling right out of the box.
The filling is made from a combination of 80-percent visco-elastic foam (memory foam) with infused gel beads and 20-percent polyester fiber, which sounds sort of goopy, but in actuality feels very soft and down-like. The combination of foam and fibers is designed to prevent clumping and promote airflow, which keeps you both cool and comfortable. This particular foam is cross cut into very small pieces, which also helped avoid lumps.
The soft outer cover has gusseted edges, which help distribute the filling evenly regardless of your sleeping position. You can opt to sleep directly on this cover or use a traditional pillow case on top. It is made from polyester and viscose (derived from bamboo) and is nicely breathable and soft to the touch. The pillow has a zippered polyester inner cover which holds the filling when washing the outer cover.
The pillow feels heavy and firmer than a traditional poly-fill or down pillow, but it is still soft enough to welcome you to bed. We liked that the Eden was more fluffy than runners-up from Nature's Guest or Perform Pillow without compromising neck support.
The best thing about the Eden was how well it held its loft under the pressure of one's head and neck. We were pleasantly surprised by how such a cuddly, cloudlike pillow could also provide such strong support to keep our heads, necks and spines in alignment throughout the night.
To maintain the pillow, instructions state to place it in the dryer on low for 10 minutes every six months. Both the pillow and cover are machine-washable, but the agitation isn't good for the foam.
This product is made in the USA. The manufacturer offers a 100-night trial, satisfaction guarantee and a 5-year warranty.
Key takeaways:
The Coop Home Goods – Eden offers cloudlike comfort while also providing excellent support for the head and neck region.
The pillow's cross-cut gel-infused memory foam filling is down-like, evenly distributed and lump-free.
The luxuriously soft, bamboo-derived outer cover is huggable, breathable and washable.
A 100-night trial and five-year warranty are provided by the manufacturer.
Runner-up: Perform Pillow
Like the Coop Home Goods – Eden, the Perform Pillow – CSP-03 Memory Foam Neck Pillow managed to be both soft and welcoming while also supporting the neck in all the right places. While not technically customizable, this contoured memory foam pillow can be used in one of four positions to adjust to different sized individuals and/or a variety of sleeping positions.
This pillow offers a very different sleeping experience than Coop Home Goods. Unlike our shredded memory foam winner, Perform Pillow's single piece of foam can't be manipulated and shaped around your bumps and curves; instead, you need to rely on its pre-formed shape. We tried the medium profile option though it also comes in thick or thin variations. While we found the contours worked well for us, some people may find that it takes a little getting used to.
The product states that it can take up to 2 weeks for your neck to fully adjust. Our testers were pleased to enjoy comfortable, sound sleep from the first use.
Made from Certi-PUR certified polyurethane foam, Perform Pillow comes ready-to-use right out of the box. Unlike some of the other foam pillows tested, it didn't put off any unpleasant odor. Both long sides of the pillow have a different shaped contour, so you can choose which way you place it for the best fit. Alternatively, you can turn the pillow upside down and use either edge for two more positioning options. Two of our testers preferred using the contoured side up, with the higher shaped contoured edge supporting the neck; the other preferred the lower contour shape.
Perform's soft and removable zippered cover is made from Kool-Flow, a bamboo-and-polyester fabric with a "micro-vented" texture. The cover is machine-washable in cold water and can be dried with low heat. If you choose to use the pillow in the inverted position, we recommend replacing the outer cover with a standard pillow case, since the zipper runs along the middle of the back side and would be uncomfortable to sleep on.
Key takeaways:
The Perform Pillow – CSP-03 Memory Foam Neck Pillow provides contoured support to prevent and alleviate neck pain.
The pre-molded foam design can be placed in a variety of positions for personal comfort.
Its' bamboo-derived cover is soft, eco-friendly and washable.
Perform sells medium, thick or thin variations.
Some users may experience an adjustment period when they start using contoured pillows.
Best contoured support: Nature's Guest
Like the Perform Pillow, this contoured, microfiber-filled Nature's Guest – Support Pillow takes some getting used to, but is well worth any adjustment period for the excellent cervical support it offers. Unlike the Perform or Eden, the unique shape allows for a specific sweet spot in the middle of the pillow that gives Nature's Guest a particularly high-level of support.
This unusually shaped pillow — which boasts a patent-pending doctor-recommended design — provides the perfect resting place for your weary neck and helps maintain proper head, neck and spinal alignment while you sleep. Nature's Guest is notably heavier and firmer than our other finalists and as a result, we weren't expecting to find it particularly comfortable. We were wrong!
We found this pillow particularly beneficial for sleepers who move around a lot, such as when shifting from a side to back position. We liked that we could rest our head either in the center indented portion of the pillow, or along one of the higher, outer edges. This gave some flexibility through the night as sleeping positions shifted.
The pillow arrives vacuum-packed. You can opt to either fluff it by hand or place in the dryer for five minutes to inflate to normal size. The Nature's Guest, which uses polyester fill, can then be customized by either removing some filling or putting extra inside. Like Coop Home Goods, Nature's Guest ships their pillow with a bag of extra filling so there's no need to send it back for customization.
The cotton cover is satin-trimmed with gusseted sides, which are particularly helpful for side sleeper support. Zippered openings on both ends make customization simple.
Perhaps our biggest complaint is that this pillow requires hand washing. A customer satisfaction guarantee allows returns within 30 days for a full refund, no questions asked.
Key takeaways:
The Nature's Guest – Support Pillow has a uniquely shaped, contoured design that provides excellent cervical support.
Although heavy and firm, the well-designed shape allows for an extremely comfortable night's rest.
The pillow can be customized by adding or removing microfiber fill.
Unlike most of our other finalists, this product is not machine washable.
Chiroflow – Water Pillow
We were excited to try out the concept of an adjustable water pillow with Chiroflow. The experience was somewhat different than anticipated. While we found the pillow reasonably supportive of the head and neck, we didn't have any obvious sensation of sleeping on water — other than a nagging fear that the pillow would leak in the middle of the night and we'd wake up in a puddle. (Don't worry, that didn't actually happen!)
The water bladder was located beneath a comfortably soft, thick layer of polyester fill and provided adjustable firmness. The water lent a hefty weight to the pillow, which helped keep it in place through the night.
We did notice a vague shifting sensation of the water redistributing when we moved around, but because it was below the padded layer, this sensation didn't resemble anything like sleeping on a waterbed. So if you are prone to seasickness, don't worry, we don't think using this pillow will be a problem.
Initially customizing Chiroflow was a challenge. The detailed instructions recommended adding varying amounts of water based on your preferred sleeping position. A small plastic funnel is provided to assist this process and pouring in the water was simple. You can add any amount you like — the more water added, the firmer the pillow. Exact measurement recommendations are provided.
The challenging part was removing the remaining air pocket, which involved squeezing air out of the water bladder while simultaneously capping the opening and (hopefully) not getting water everywhere. If you don't successfully remove the entire air pocket, you can hear (and feel) the water sloshing around, which interferes with a good night's rest. Preparing the pillow properly required an extra set of hands.
Chiroflow, along with Mediflow — the other water pillow manufacturer whose pillow we tested — were the only finalists that proved their designs in clinical testing. An independent clinical study by Johns Hopkins ranked Mediflow "best" for how quickly subjects fell asleep, how few times subjects woke up, their perception of sleep compared to normal, overall quality of sleep and reduction of neck pain.
While Chiroflow wasn't our top choice pillow for neck pain, the combination of comfortable fill and a responsive, supportive, adjustable water base make it a good option for neck support. Also, the entire pillow can be machine-washed and dried and comes with a 30-day satisfaction guarantee.
Mediflow – Waterbase Pillow
The Mediflow – Waterbase Pillow is almost indistinguishable from the Chiroflow – Water Pillow. The only difference involves the material of the outer cover. Mediflow's is made from 100-percent cotton as opposed to Chiroflow's 65-percent polyester and 35-percent cotton.
Overall, we ranked the Chiroflow slightly higher than the Mediflow for its noticeably softer cover. Both pillows are the exact same design, involve the same customization set up and provide equally effective neck support.
Snuggle-Pedic – Kool-Flow
We don't recommend purchasing the Snuggle-Pedic – Kool-Flow to avoid or alleviate neck pain. This pillow was too tall and stiff for comfortable neck support in any sleeping position. Instead, it placed the neck at an uncomfortable angle that resulted in all three of our testers abandoning it in the middle of the night.
We tried the queen size, though there are also king and standard size options.
Snuggle-Pedic is made from shredded polyurethane foam. Although it held its loft well, there was simply too much of it to sleep on comfortably and there is no zippered access to remove the excess. Beyond that, it felt lumpy and had a strong, unpleasant, chemical-like smell. The smell did not entirely dissipate even after airing out for a couple of weeks.
The micro-vented cover, made from bamboo viscose, polyester and lycra, was soft and breathable — but not removable. This is a plus for anyone who wants to avoid zippers, but a negative for anyone who wants the ability to wash the cover solo. You can opt to wash the entire pillow in cold water either by hand or via machine with minimum agitation, then squeeze out excess water and dry with high heat.
Although the product states you can gather and reshape the pillow to allow it to contour to your head and neck, we did not find this to be the case. No matter how we tried to reshape it, in the end it simply wasn't comfortable.
While the company claims free customizations during an 120-day sleep trial (which may have helped by removing some of the excess foam), the fine print states this benefit will only apply if you purchase the product directly from Relief-Mart, Inc. The same goes for the offer of free return shipping and their 20-year warranty.
Even if you did purchase direct, who wants to deal with shipping their entire brand new pillow back to the manufacturer for customization? Not us.
Brooklyn Bedding – Talalay Latex
We were not fans of Brooklyn Bedding – Talalay Latex for proper neck support, either. We tried the plush version, which does not hold its loft at all. It was similar to sleeping on a giant sponge that compresses under the weight of your head and then quickly springs back to its original shape when you get up. This didn't do our necks any favors.
Brooklyn Bedding is molded from 100-percent latex rubber foam and has a soft, zippered, removable and breathable cover which is machine washable. The cover is very nice.
Perhaps this pillow might be a better option for stomach sleepers who are not concerned with neck pain. It also comes in a firm variety which may offer better cervical support than this one did.
Important features to consider
Support When it comes to addressing neck pain, your pillow's primary job is to place your neck into a neutral position and hold it there while you sleep. Whether this support comes from contoured memory foam or a customizable water base, be sure that your pillow properly aligns your head, neck, shoulders and spine — in whatever your preferred sleeping position may be.
Adjustable loft It is becoming increasingly common for pillow manufacturers to offer customization options that allow the user to add or remove filling at home. In some cases, pillow customization requires sending it back to the manufacturer. Water based pillows use varying amounts of water to adjust the pillow's overall firmness and height.
Firmness/softness: We recommend you choose a pillow that is firm enough to provide enough neck support, but soft enough that you enjoy the feeling of laying down to sleep. After all, you will (hopefully!) spend at least seven hours a night with your pillow. See "Materials" section below for more info.
Size: Common sizes are standard, queen and king, which correspond to the size of the similarly named mattresses. Sheet sets often include pillowcases for corresponding pillows. Your preference will likely be affected by your own size, the size of your bed and how much you move around at night.
Materials:
Filling: Some common pillow fills are:
Feathers and down – This fill is, warm, malleable, and breathable— but provides little neck support.
Memory foam – This man-made material will mold and contour around the head and neck. It offers good support and is durable. Memory foam retains heat and can have an unpleasant scent.
Shredded memory foam – Like standard memory foam pillows, these pillows are supportive and durable. They are also more moldable to contour around the head and neck.
Polyester gel fibers – A gel pillow is not actually filled with any liquid-like substance. Instead, the gel is infused into solid polyester fibers. The resulting fibers feel similar to down, but offer more support. This material is often used for its cooling properties.
Microfiber – This used to be the primary filling for pillows, but memory foam and latex pillows are now more popular since they tend to offer better support. Polyester is one common type of microfiber.
Latex – This material is breathable, soft to the touch and springs back quickly. It does not hold its loft as well as memory foam products do.
Covers: A range of both natural and synthetic materials are used to cover pillows, including cotton, polyester and blends. Products derived from bamboo are popular recently and offer a soft, silky feel.
Consider whether the pillow cover is removable and machine-washable.
Allergies: Many of the products we tested were hypoallergenic. Pillows containing materials like feathers or latex may cause issues for some sensitive individuals. People who are prone to dust allergies might also want to consider removable covers or machine-washable pillows for ease of laundering when making their decision.
Trial period: Many pillow manufacturers offer trial periods. Some of these periods are advertised for as long as a year, but be sure to read the fine print. In some cases, the manufacturer only honors the trial period if you buy directly from them. Amazon typically offers a 30-day return policy.
How we selected
We began by reading up on causes of neck pain and the importance of sleep in general. Next, we explored pillow recommendations from a variety of blogs and articles written by sleep experts. We took into account our previous experience with pillows in our review of the best pillow for side sleepers and our research on how to relieve neck pain by massaging your own neck. We also investigated pillow ratings and user reviews from major retailers like Amazon, Bed Bath and Beyond, Target and Walmart.
While keeping in mind that choosing the right pillow involves a certain amount of personal preference, we ultimately selected seven pillows noted for their ability to provide strong cervical spine support and therefore prevent and/or resolve neck pain. (The cervical spine refers to the seven vertebrae that form the neck.) Our selections are primarily designed for side and back sleepers — side and back are usually the best sleeping positions for reducing neck pain — and represent a range of materials and price points.
How we tested
Before testing, we unpacked our seven finalists and followed individual product instructions to prepare each pillow. Several came vacuum-compressed and needed time in the dryer to fluff up. The two water pillows required adding a measured amount of water via funnel and removing remaining air pockets. Others were ready to use right out of the box.
Next, we recruited three product testers to sleep with each of the pillows over a three week period On a scale of one to 10, they rated overall comfort levels each morning, and ranked pillow preferences based on how well they supported the neck region. All of our pillow testers identified as alternating between side and back sleeping positions and have experienced intermittent neck pain.
Finally, we closely inspected each pillow to assess its loft, overall support, lumpiness, thickness, softness, contour shape and any other features that caught our attention. We also explored customization options and overall ease of care.
What causes neck pain?
Neck pain can be the result of a variety of causes, but the most common one is injury. Neck strains and sprains can be caused by sports, repetitive motions, poor posture (particularly from time spent at the computer or looking down at a phone), whiplash or sleeping in the wrong position.
Age is another factor that can contribute to neck pain as joints become worn out over time. Certain diseases that we are more prone to in our elder years, like arthritis or cancer, can also be contributing factors.
Other causes include stress and anxiety, being overweight or obese and, unfortunately, lack of sleep.
Your favored sleep position also plays an important role. Of the three common sleep positions — back, side and stomach — back or side sleeping are most recommended to avoid neck pain.
Stomach sleeping is not advised because this position requires the head and neck to twist to the side, which places pressure on delicate nerves. Changing your sleep position to either your back or side, while challenging for habitual stomach sleepers, may help resolve chronic neck pain issues.
Spine Health advises that sleeping with the right type of pillow for your sleeping position can help your neck pain. Sleep experts recommend choosing one that contours to the shape of your head and neck. Pillows that are malleable and/or adjustable can be helpful to achieve the desired contour. Harvard Health advises that you avoid pillows which are too high or too stiff.
Back sleepers are usually better off with thinner pillows and side sleepers with something thicker — but the right pillow thickness also depends on the width of your shoulders, size of your head and firmness of your mattress.
Pillows are made from a wide variety of materials, including feathers, down, down alternatives, memory foam, latex, gel fibers and polyester. Pillows that maintain their loft and don't collapse under the weight of your head are recommended to help alleviate neck pain.
Be sure to contact your doctor if neck pain is severe, lasts for several days without relief, spreads down arms or legs, or is accompanied by headache, numbness, weakness or tingling.
How sleep affects your health
Sleep, of course, impacts your overall health. Lack of sleep can negatively affect your physical health by causing weakened immunity, increased risk of heart disease, diabetes, weight gain and — we now know — neck pain. Cognitively, poor sleep can result in problems with concentration and memory. Emotionally, not getting enough sleep often leads to irritability, anxiety and even depression.
Tips for better sleep:
Adults should aim for at least seven hours each night.
Always go to bed and get up around the same time.
Exercise regularly.
Avoid caffeine, alcohol, sugar, extra water and large meals before bed.
Manage stress.
Be wary of daylight-tinted blue light, especially from electronic screens. Read more about light and sleep in our review of the best night lights.
Keep your bedroom cool.
For more information about how to optimize your sleep, check out these sleep resources from Johns Hopkins Medicine.
The bottom line
Overall, we believe that the Coop Home Goods – Eden is the best pillow option on the market for anyone experiencing, or who wants to avoid, neck pain. The cross-cut, gel-infused memory foam and microfiber fill is comfortable, adjustable and — most importantly — provides the perfect cushion to cradle your neck. It is designed to align your head, neck and shoulders into a neutral position for a pain-free, restful night's sleep.
We also slept well with our two runners-up: the Perform Pillow and the Nature's Guest.
The Perform Pillow – Memory Foam was soft and welcoming, while supporting the neck in all the right places. The contoured memory foam can be used in one of four positions to adjust to different sizes and preferences. Because the pillow can't be manipulated like the shredded memory foam of our winner, it might take users some adjustment to get used to it.
The fiber-filled Nature's Guest also performed well in our product testing. This adjustable, firm and heavy microfiber pillow offered good neck support with its unusual contoured shape. Due to this unique design, we found this pillow especially beneficial for sleepers who frequently change positions during the night.