We filled, drained, cleaned and tried to break 13 travel mugs for a month. Over and over, the CamelBak – Forge stood out as the best travel mug. Featuring a design that's easy to sip from and easy to clean, it proved nearly invulnerable to the stress tests we put it through. If you're looking for maximum heat retention instead of spill prevention, the Thermos – Sipp is a great alternative.
We filled, drained, cleaned and tried to break 13 travel mugs for a month. Over and over, the CamelBak – Forge stood out as the best travel mug. Featuring a design that's easy to sip from and easy to clean, it proved nearly invulnerable to the stress tests we put it through. If you're looking for maximum heat retention instead of spill prevention, the Thermos – Sipp is a great alternative.
Table of Contents
How we selected mugs to test
Our testers have used travel mugs daily for many years and while engaged in activities ranging from truck driving to theatrical stage management, so they had some long-standing demands and expectations. We sorted through countless published professional and consumer reviews and dove into enthusiast discussion boards to find our finalists. We've especially kept an eye out for online buzz about flaws and weaknesses, which we've tested for and noted. Value is an important consideration for items like this, and we've included mugs that ranged in price from $16 to $30 at the time we ordered them.
Compare the best travel mugs

Features to look for
There are a handful of usability factors that make the difference between your go-to travel mug companion and a dud you'd rather just leave at home. We've found the most important factors to be the following:
Leak and spill protection: You should be able to use a travel mug without fear of spills on your lap or in your backpack.
Ease of opening: If you want to enjoy a hot beverage while driving, one-handed operation is as much a safety feature as a convenience.
Mess avoidance: All spouts and lids will collect some liquid while you're drinking (flip-open lids tend to be the worst in this regard), so in our usability table we've rated how safe they are around white silk shirts.
Ease of cleaning: Nobody wants to use a mug they can't get clean.
Heat retention: Hot drinks like your coffee or tea should stay pleasantly hot.
Cup holder/single-brewer compatible: For those looking for compatibility with a single-cup coffee brewer, we've noted which mugs are seven inches or shorter (typical height for a single-cup brewer when the drip tray is removed; your machine may vary), and whether a "shorty" model (usually in 12 oz capacity) is available.
Durability: Drops happen. A winning travel mug can survive the accidental fall from the top of your car as you absentmindedly back down the driveway on a hectic Monday morning.
Notes for tea and pour-over brewing
If you want a built-in loose-leaf-infuser option: Contigo, Thermos, Stanley and Zojirushi all sell tea-steeping versions of the mugs we tested here (or snap-in accessories) that might help you out, but we've been happy with the convenience of drop-in or basket infusers.
Both loose-leaf tea drinkers and pour-over coffee geeks should note mouth-width before they buy: we found the necks of the Klean Kanteen, Thermos Direct Drink and Zojirushi – SM-SA48 were too small to take any but the narrowest tea infusers; the Hario V60 pour-over coffee brewer just fits the mouth of the Thermos.
Why are they all stainless steel?
Most heat from your mug (once you put a lid on it) is lost through conduction, and the material that conducts the least is nothing at all — hard vacuum. Keeping a vacuum inside the wall of a mug requires a material that's stiff and strong: steel is stiff, strong, easy to work, and economical. Most of the steel mugs tested specify "18/8 grade" steel or SAE/AISI "304 Stainless", which contains approximately 18% chromium and 8% nickel. 304 is one of the most widely used alloys in the world (for everything from cookware to the DeLorean to the Gateway Arch) because of its versatility and stain resistance, so there's a good chance the mugs that don't specify an alloy are using it or something very similar.
In a strong bath of citric acid, 304 will release slightly more chromium than other alloys do, but for beverage use 304 stainless is as inert as any other stainless alloy, and none of us tasted any unusual metallic flavors in these mugs (even after we left hot orange juice in our top picks for a few hours). If you're sensitive to trace amounts of nickel or chrome and you drink extra-acidic tea or coffee, consider the Zojirushi – SM-SA48 (which was nearly our favorite and is "non-stick" lined).
It's probably worth noting here: all these manufacturers specify that they use BPA-free plastics.
Non-steel mugs
We included one non-steel mug in our lineup, the Ello – Mesa double-wall ceramic mug. We looked at other popular 'reusable to-go cup' designs, but none of them had spill-proof lids or insulating properties that would make them competitive in this line-up. (Some issues, like reports of a smelly latex rubber lid on one popular brand, or lids that were difficult to snap on, made our choice not to test even easier.)
The Mesa does keep your drink hot three times longer than a conventional open-top single-wall ceramic mug (an hour above 140 °F instead of 15 minutes), but the sliding closure on the lid did not prevent spills.
While some manufacturers of the stainless steel mugs say you can put them in the dishwasher, the microwave is territory held securely by mugs like the Mesa: we microwaved water to a piping-hot 186 °F and were happy to find that the outside of the mug was only a pleasantly-warm 93 °F, unlike some ceramic mugs that get insanely hot on the outside when nuked.
So, if you are simply looking for slightly better insulation in a ceramic tumbler that can go in the microwave and the dishwasher, the Mesa is worth considering; if you want to stop spills and keep your drink hot for a long commute, read on.
How we tested
Well on our way to developing permanent caffeine dependence after our French Press and Single-Cup Coffee Maker reviews, we indulged another caffeine binge as we filled, drained, cleaned and tried to break 13 travel mugs for multiple weeks.
Leak test
The ability to put a travel mug in your bag without fear of making book-and-computer soup separates the best of the travel mugs from the rest. It's easy to say "this lid locks in the closed position so it won't leak!" but some locks are easy to defeat accidentally (Contigo West Loop, we're looking at you). To say without equivocation that the best mugs won't leak, we put all the mugs in a duffle bag that spent half an hour inside an industrial dryer.
The mugs were filled, dried carefully, weighed, wrapped in a towel and sealed in an individual bag. Then the seals on each mug were double-checked by shaking (all passed) and dropping them before we put them in the dryer. We started the spin-cycle, checked once at ten minutes, then again at the 30-minute mark. All leaks were clearly visible, and we weighed the mugs again after taking them out of their bags to see how much water had leaked out.
The Zojirushi – SM-SA48, the Thermos – Sipp, and the Klean Kanteen leaked nothing in the half-hour they were tossed around inside the dryer. The Forge, without any lock or back-up mechanism to keep the seal from opening, only let out a single drop that we could see on its towel-wrap at the ten minute mark, and we didn't see any more evidence of leaks at the end (nor could we measure the amount of water that had escaped.)
Spill test
Another important duty of a travel mug is stopping spills. Some of our testers have worked in locations where only spill-proof mugs are allowed, and far too many of us have experienced the tragic consequences of using unworthy mugs in moving vehicles or at desks covered with important documents.
We simulated a desk-spill by filling each mug halfway with a measured amount of water, then tipping it on its side (spout down). After 15 seconds, we picked up the mug and re-checked the amount of water to determine how much water spilled. We wanted to be sure we were simulating a real-world spill: a lid or seal you can manually close might be great for throwing in a bag, but the spills that matter are the ones that happen while the lid/lock isn't closed. (Note: we tested the Ello – Mesa both opened and closed. It spilled so much while it was supposed to be "sealed" we included that number on the chart.)
The self-sealing mugs practically cheat on the spill test, and that's why we like them. Of the mugs that spilled nothing when knocked over, also note that the Forge has a lid design which prevents it from rolling off your desk.
Clean-up test
Keeping a mug clean is one of those tasks that makes the difference between "buy it for life" and trashing an expensive mug in disgust. Our rating here is based on hand-washing with a sponge, scrubber or bottle-brush, but we've also noted if the manufacturer says you can put the whole mug in the dishwasher.
We tested how easy it is to effectively field-clean the mugs with a method similar to systems used by metallurgists looking for cracks in airframes: a (non-toxic, water-based) fluorescent paint was poured into the mugs and then out through the drinking spout. Next, the mugs were filled with soapy water, agitated, drained through the spout, and rinsed in the same way.
While the paint came out in our simple rinse procedure without any obvious dribbles or droplets remaining in most cases (there was a tiny drop left inside the Klean Kanteen's three-piece seal), we did spot some residue left behind on all the mugs under a UV inspection light.
The CamelBak – Forge gets top marks in this category: with all the trigger-activated convenience of the Contigo Autoseal but without immersing its springs and levers in your pumpkin-spice foam and nutmeg sprinkles, the Forge has a system that's quick to rinse and easy to scrub.
The hinged-lid Thermos and Zojirushi mugs are pretty easy to clean, too, with the Thermos Direct Drink taking an edge here because of a vent design that's a hole rather than a tube.
Some notes on dishwasher compatibility
All of the lids for these mugs (with the exception, inexplicably, of the OXO Good Grips) are guaranteed safe for top-rack dishwasher cleaning. Some also guarantee that the body of the mug will be okay on the top rack, but only if it's an unpainted stainless steel body — a mark against the Auto-Seal Transit's silicone grip design. Stanley and Bubba are both willing to back up their mugs in dishwasher use despite paint and plastic accessories; the hammertone paint looks OK, but the plastic rings on the Bubba seem destined to trap dishwater over time.
While we wouldn't recommend daily dishwashing of these mugs (the extreme heat expands and contracts the steel along the seams that keep the vacuum in, which is why many manufacturers say it voids their warranty). If you want to be able to throw it in the top rack every once in awhile for a deep-cleaning, though, it's encouraging to know that a company has your back even if the vacuum fails after ten or twenty years.
Heat retention test
We ran two tests to measure how well these mugs retain heat. The first test gives a broad overview of mug performance when starting with water at typical restaurant serving temperature; the second test shows how our favorite mugs performed when starting with a lower temperature.
High-temperature heat retention
In the first test we poured very hot water (it was a lot of pouring, so starting temperature varied, but we've normalized the differences to show loss from a 185 °F starting temperature) into all the mugs and checked the temperature after an hour. Results are in the main table above.
We found that all of the mugs, even the air-insulated Ello – Mesa, will keep your Starbucks coffee hot enough to be 'drinkable' after sitting around for an hour. Not only that, two of the mugs we tested kept beverages hot enough to burn you. We want to point out that this kind of test obscures some basic usability complaints that are frequently made in comments about award-winning mugs: they keep boiling-hot coffee so hot that you may need to take extra steps in order to drink it. Some mug-owners on Reddit suggest ice cubes — no, that's not a joke, ice cubes — to get your fresh cup of hot coffee or tea down to a drinkable temperature.
The Redditors were absolutely right: when we made tea with freshly-boiled water in either of the top two insulation performers (the Zojirushi – SM-SA48 or the Thermos Direct Drink Insulated Bottle) we found that it won't be cool enough for most people to drink (below 155 °F) until an hour later, even if you leave the lid off completely.
Mugs like these are great if you want to keep drinks hotter for longer. Just be sure you cool your coffee or tea before adding to the mug, or pour out your beverage to drink until temperatures inside the mug have reached a safe level.
Studies show that the severity of burns start getting significantly worse at temperatures above 175 °F, so temperature curves between 200 °F and 175 °F aren't showing anything but a danger zone. A study published in the Journal of Food Science shows that most people will mix cream/milk (or colder coffee) into their hot coffee to bring it down to around 140 °F if they're going to drink it immediately. Further, the Specialty Coffee Association of America cupping and tasting protocols recommend that evaluation of flavor should not begin until coffee has cooled to between 160 – 140 °F.
Commuter 'sip' test
With that in mind, our second test used water heated to only 167 °F. We filled five mugs: three top-ranked in our first heat test, the CamelBak – Forge, and a heavy, 18 oz-capacity open-top ceramic mug as a control.
After 30 minutes, 50ml of water was decanted from each mug into a 100 ml pyrex beaker every 15 minutes. With a bench thermometer and K-type probe, we took eight samples from each mug, leaving a slightly larger sample at the end. This controls for the way most of us drink away the specific heat capacity of the water in our travel mugs if we sip periodically over the course of a commute or while working at a desk.
The best and worst performance in this test still correspond roughly to what we saw the first test we ran, but it does show that even in this less-generous scenario the Forge can keep coffee in the "comfortably hot" zone all the way up to two hours, though it's 15 °F cooler than the Thermos. That's longer than any of us likes to keep the same mug of coffee around, so we're more than satisfied. (Any insulated mug is also far, far better than a ceramic open-top mug, which lost the same amount of heat in less than 20 minutes.)
Drop test
Other than falling off a desk, the most likely accident a mug will endure is falling off the roof of a car or truck. We subjected the mugs to a battery of drop tests to give a real-world worst-case assessment of what will happen when you forget which pocket your keys are in and set your mug on the car's roof "just for a second."
We included a drop onto a padded surface in our leak test earlier, and all of the mugs escaped that without damage (most didn't even leak).
In the first part of our (more destructive) drop test, nearly all the mugs also survived falling from desk height onto concrete with only some road rash. The exception is the the Zojirushi – SM-SA48, which cracked badly enough that the lock is only barely holding together.
We carried on dropping the mugs from higher and still higher heights, eliminating mugs that were too broken to be usable. The eight-foot drop cracked five of the remaining eleven mugs. After the ten-foot drop, one more (the Thermos Direct Drink) was eliminated. We've separated those mugs still working into "indestructibles" which look the same as they did after the first drop, and "juggernauts" which still do their jobs perfectly, but bear cracks or other deformation beyond scuffs or scrapes. The Forge, for example, shows obvious signs of fracture on one arm of the carabiner loop — it doesn't flex or bend, though, and the seal mechanism functions as before.
Best overall: CamelBak – Forge
The CamelBak – Forge is as smart as it is tough. The mechanism for opening and sealing the spout whenever you pull the "trigger" is simple and effective, and the Forge practically turns itself inside out for you when you need to clean it. (Even replacing the o-ring for the seal would be trivial.)
The Forge keeps your drink hot for a very long time; not as long as some of the mugs we tested, but well within the expected performance of a vacuum-insulated travel mug with a wide-mouth opening. Mugs with narrower openings (like our runner-up pick below) will keep the heat for longer, but that makes them harder to clean and fill.
In our leak test, the Forge did leave evidence that it had let out a single drop when we checked at 10 minutes into the half-hour spin-cycle test; no further leaks were found at the end of the test, and the amount lost didn't register on our electronic kitchen scale.
The Forge doesn't have a way to lock out its trigger the way Contigo's latest designs do, but CamelBak has shaped a loop at the back of the lid that totally protects the trigger from basically anything other than your finger. It's possible that some object of the right shape could press on it in just the right circumstances, but on the spin-cycle leak test the Forge was far more effective than the other self-sealing mugs (even the ones with locks).
What's more, the loop is a convenient way to clip the Forge onto a backpack, bike bag, or just to hook a finger through, and it also prevents it from rolling if it's knocked over. (That means it won't just stop you from spilling coffee: it'll also save you from that embarrassing conversation where you have to ask your coworkers if they've seen a mug rolling around on the floor.)
CamelBak has catered to the outdoor enthusiast crowd for decades, and has a great reputation for warranty work and customer service. They guarantee this mug for life against defects in the workmanship or materials, which doesn't strictly cover things like worn rubber o-rings or driving over it with a cement truck, but when we looked for comments on repair services we found that CamelBak is often very generous.
Key takeaways:
The CamelBak – Forge takes the spill-proof mug concept and perfects it, with a design that is easy to drink from and doesn't create any extra messes.
The Forge puts all the moving parts where you can easily get at them to make rinsing and scrubbing as easy as it could possibly be.
This mug can take a ten-foot drop onto concrete, and won't spill in your bag.
Best heat retention: Thermos – Sipp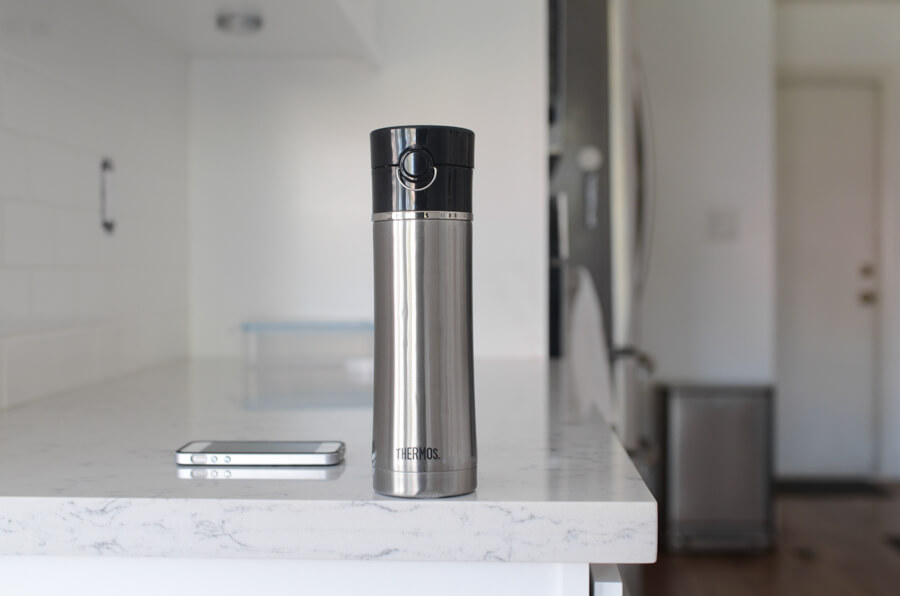 Two of the mugs we tested kept heat inside so well, they actually made it difficult to test what we considered "normal" use because we had to dump extra cold half-and-half or ice cubes in so that we could drink from them without suffering burns. Make no mistake, this almost-magical feat is surely appreciated by those who want to drink a hot cup of home-brewed coffee eight hours after they pour it.
We've picked the The Thermos – Sipp (sometimes called Direct Drink) bottle as our favourite for that kind of use, since it was slightly easier for us to clean and it didn't rattle around in our cupholders as much as the skinny Zojirushi – SM-SA48 did. Bloomberg called this "the best mug for heat freaks" and we concur with that assessment: this mug stayed 15 °F hotter than the CamelBak even when we were pouring the heat away in our 165-minute "sipping test."
The Thermos performed flawlessly in our leak test, sealing its lid tight and locking with a back-up mechanism. It doesn't seal itself every time you set it down, the way our top pick does, so you have to either close the top every time you sip or invite spills — but if you do knock it over with the lid open, it won't spill as much as most of the other mugs we tested.
The Thermos – Sipp started developing a crack in the eight-foot fall. While that's not nearly as durable as the CamelBak – Forge, the Thermos is much tougher than the other best-insulating mug, the Zojirushi – SM-SA48 (which probably won't close anymore if you drop it onto concrete). The Thermos is also entirely dishwasher-safe and easy to hand-wash, and has a handy loop on the back of the lid that makes it easy to carry around.
Note: This is one of the more confusingly-named products we researched — it's sometimes called things like "Sipp Stainless Insulated Drink Bottle" and is nearly identical to the "Commuter Bottle." Whatever the name, we liked it.
Key takeaways:
If you need your drink to stay hot for an entire day and you don't want to fill a giant thermos, the Thermos – Sipp is a fantastic mini-thermos you can drink from with one hand. It kept
Not as durable as our top pick, but seals up like a vault and will take a drop from desk height without any problems.
Dishwasher safe, but also easy to hand wash
The other finalists
Burnout
From a startup company founded by rocket scientists, the Burnout termperature regulating travel mug is one of the few new products that's trying something different. We bought this mug for our 2019 update.

Burnout pulls the heat out of your drink in the first minute after you pour. This neat trick is accomplished with a layer of wax that's inside the mug's stainless steel walls. Once the wax melts, it'll help keep all of that heat inside the vacuum-insulated chamber, even as you drink your favorite hot beverage away.


The problem with the heat-sucking material inside the Burnout is that it's too good at its job.  If the mug starts at around room temperature, hot coffee (at just below an ideal brewing temperature of 190-200 degrees Fahrenheit) will cool to 140 in fifteen minutes. If you like warm coffee instead of hot coffee, that's probably ideal.

You can get a bump in heat if you take the time to boil some extra water and dump that in the Burnout for a few minutes before you add your beverage. (Pre-heating with 110-degree tap water does basically nothing.)  Boiling extra water isn't such an inconvenience for pour-over, french press and tea drinkers, but it's a big hassle if you're relying on a coffeemaker like our favorite Keurig.

Sadly, pre-heating with boiling water also cancels out the safety goal of this mug, since the temperature is still at a scalding 172 after thirty minutes and takes two hours to hit our preferred 155. Yes, you can pre-heat for a shorter time and add milk to fine-tune the temperature, but you can do the same with our top heat-retention pick, the Thermos – Sipp, by adding an ice cube when you pour your coffee.

Even if a hot-ish 135 degrees sound perfect to you, the biggest problem with the Burnout is the lid. This design uses an internal stopper that seals a sippy-cup spout (very much like the Contigo Autoseal designs) but with a sliding, locking toggle switch instead of a push-to-drink system. This means you don't get automatic sealing when you stop drinking, but it's still difficult to clean out all of the springs and levers on the inside. It can also spit out drips when you close it.

Worse still, even when the stopper is in the closed position, it leaks. It'll keep dribbles from coming out if you turn it upside down, but as soon as you drop it on the floor or shake it around it'll let drips out. The slider switch is fairly easy to use, but it's also vulnerable to getting bumped open inside a bag; this mug did poorly in our tumble test.

Finally, there's the price. If you've been waiting and waiting for a travel mug that would give four-hour warmth without burning your tongue, maybe $100 doesn't sound like a lot. Compared to our other mugs, though, that's a pretty crazy price.

We love the idea of this mug, but the concept just hasn't been executed well enough to justify this price tag. If it were dishwasher safe and had a bomb-proof seal like the Thermos and CamelBak, maybe the price tag and fiddly work required to plan a perfect pre-heat routine would be worth it.
Zojirushi – SM-SA48 and YAE48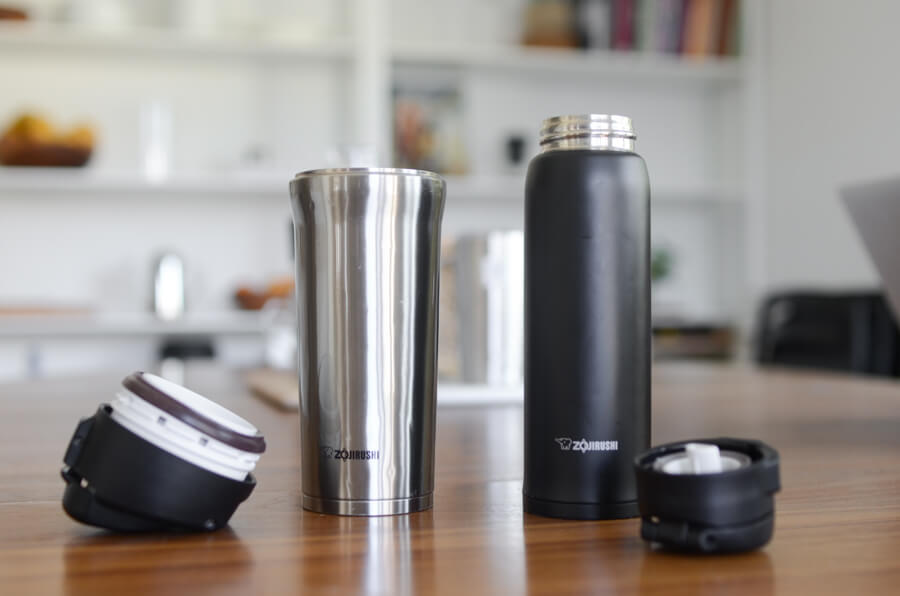 The Zojirushi – SM-SA48 has received so many accolades from reviewers, it's hard to imagine a review that excludes it. This mug is the state of the art in vacuum insulation performance from a company with a long history of designing great food and drink containers. That said, the diminutive SA48 was so narrow and tall that it rattled around in our cupholders (and was hardest to clean inside, even with a bottle brush).
We also included the SA48's sibling, the YAE48, which is specifically marketed as a "Travel Mug" and seems designed to address concerns about cup holder size and the height restriction imposed by single-cup coffee machines. The wide mouth means that the YAE48 is easier to get a kitchen sponge into when cleaning, but it sacrifices insulation and leak-proof performance with that giant lid (which actually unscrewed from the body during our spin-cycle bag-leak test).
Neither mug is especially durable; the SA48's lid shattered on a desk-height drop and the YAE48 wouldn't stay closed after an eight-foot drop split it across the lock. The warranty on these mugs is also limited to insulation performance for five years, which is disappointing when the lids and locks have this many intricate parts.
Contigo – Auto-Seal West Loop & Auto-Seal Transit
Contigo is now one of the most prolific brands in the travel mug market, and we've included the two models we think best represent what their line has to offer: version 3.0 of the Auto-Seal West Loop design (now easier to clean and with a lock button) and the Transit. These mugs represent what really has become the baseline for travel mug use: to beat Contigo at their own game, a mug must be easy to drink from with one hand while still preventing spills, must be easier to clean, stay hot for longer, and take more abuse. Our top pick managed all of that, with a few extra perks to boot.
The West Loop is a great mug, and the Transit is even better (though it sacrifices dishwasher compatibility because of the silicone grip) since it survived our ten-foot drop test with only a superficial crack in the spout-cover. Contigo lost ground to CamelBak in two ways: first, each of the Contigo mugs released some water during the spin-cycle test, and each is more difficult to thoroughly clean than our top pick because the springs and gaskets are on the inside, bathed in your drink.
Klean Kanteen – 16 oz. Wide-Mouth
We included the winner from our insulated water bottle review, the Klean Kanteen, but in a 16 oz. size to match the other mugs and with the manufacturer's leak-proof "café cap." (We did not include the Hydro Flask in our line-up; in our water-bottle test the 32 oz Hydro Flask didn't insulate as well as a 20 oz Klean Kanteen, and while the flip-cap lid on the Hydro Flask is easier to use with one hand, it has all of the problems of the other drip-flip lids we tested).
The Klean Kanteen is still a drink container we like, but it's not easy to open and close with one hand (and in fact took a fair bit of effort to open with two hands), and it has more parts to disassemble for cleaning than any of the other mugs.
Thermos – Stainless King Travel Mug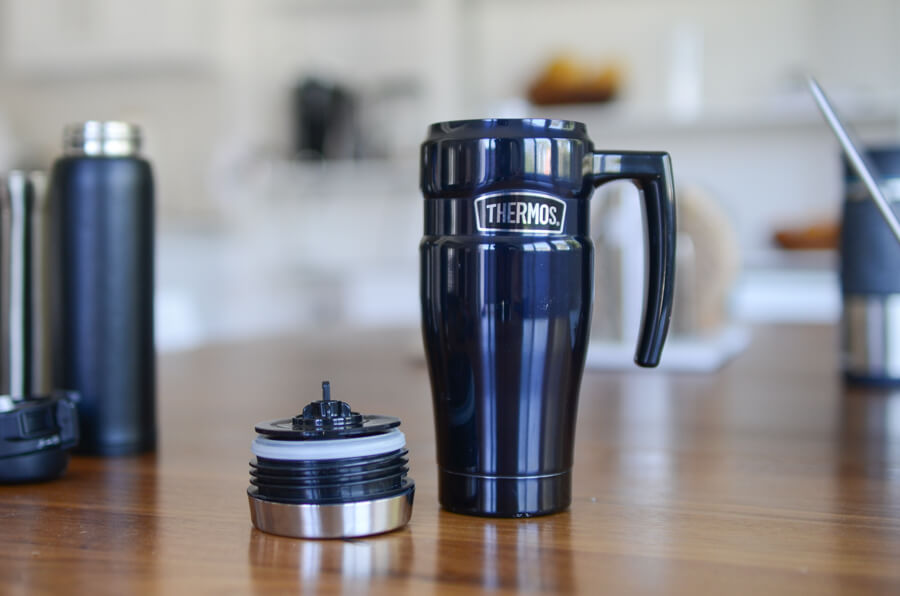 Thermos is the oldest and best-known name in insulated drink containers in the western world ("thermos" became such a prevalent word that US courts ruled it was legal to use as a generic term for insulated bottles in 1963). We tested the Thermos – Stainless King Travel Mug along with our runner-up, the Thermos – Sipp.
The King is available with a handle, which may appeal to those who keep a mug in the cold and pick it up with bare hands, but we found that a trigger-action mug like our top pick was even better since we could carry it and take drinks from it even with gloves on. The twist-action closure on the Stainless King wasn't really designed to open and close with one hand, and requires disassembly if you want to put it in the dishwasher.
Stanley – Classic
We've included this self-sealing mug, the Stanley – Classic, which only comes in their retro-lunchbox-style "hammertone" finish, as the only painted mug guaranteed dishwasher safe; the paint does seem thick and durable, and we haven't seen reports of it chipping or peeling the way the Contigo paint does. The functionality is generally good, but it wasn't even as leak-proof as the Contigo mugs were. The spring on the trigger-button of this mug was also much, much stronger than the other self-sealing designs, which was a big turn-off for some testers (and didn't keep it from leaking at all). The design also had more parts to keep track of than the other self-sealing mechanisms.
Bubba – Hero Elite
The Bubba was included because it has the highest price to consumer rating ratio of any of the mugs we found, and the ceramic liner is a unique feature. While on the whole this mug seems a decent value, that liner didn't prove to be an asset in any way we could find, and the way the lid collects drips and spreads them around is just annoying. The fact that the plastic ring which attaches the lid to the body just popped off in our eight-foot drop test makes us wonder how long it would take for grime and water to start collecting at that joint (even in normal use).
Timolino – Icon
The Timolino – Icon won top marks from Cook's Illustrated, and it performed well in our cleaning and drop tests, but the drip-flip lid is a serious annoyance that was also noted by Amazon reviewers. While it didn't break, this mug did leak around the seal every time we looked at it funny, so we wouldn't put it anywhere near a computer bag.
OXO Good Grips- SSDWTM
Bloomberg found this OXO mug quite difficult to destroy. Dropping it three times from ceiling height before giving up. We like its durability, but the push-button lid is the only one we tested that isn't dishwasher safe, and it traps a good quantity of fluid in the spout even after it's closed, which makes it messy to drink from.
The bottom line
Caffeine keeps us alert, awake, and energized. The CamelBak – Forge ensures that it will also go into your mouth, not onto your lap or computer, all with a mechanism that's easy to clean. The durability and security of the Forge's self-sealing design make it a clear winner for most people.
If you like your drinks at tongue-scalding temperatures, consider the Thermos – Sipp, which keeps boiling water too hot to drink for an hour, even with the lid off. It's not as durable as the CamelBak, and it will spill if you knock it over with the lid open, but when it's locked you can rest assured it won't come open in your bag.