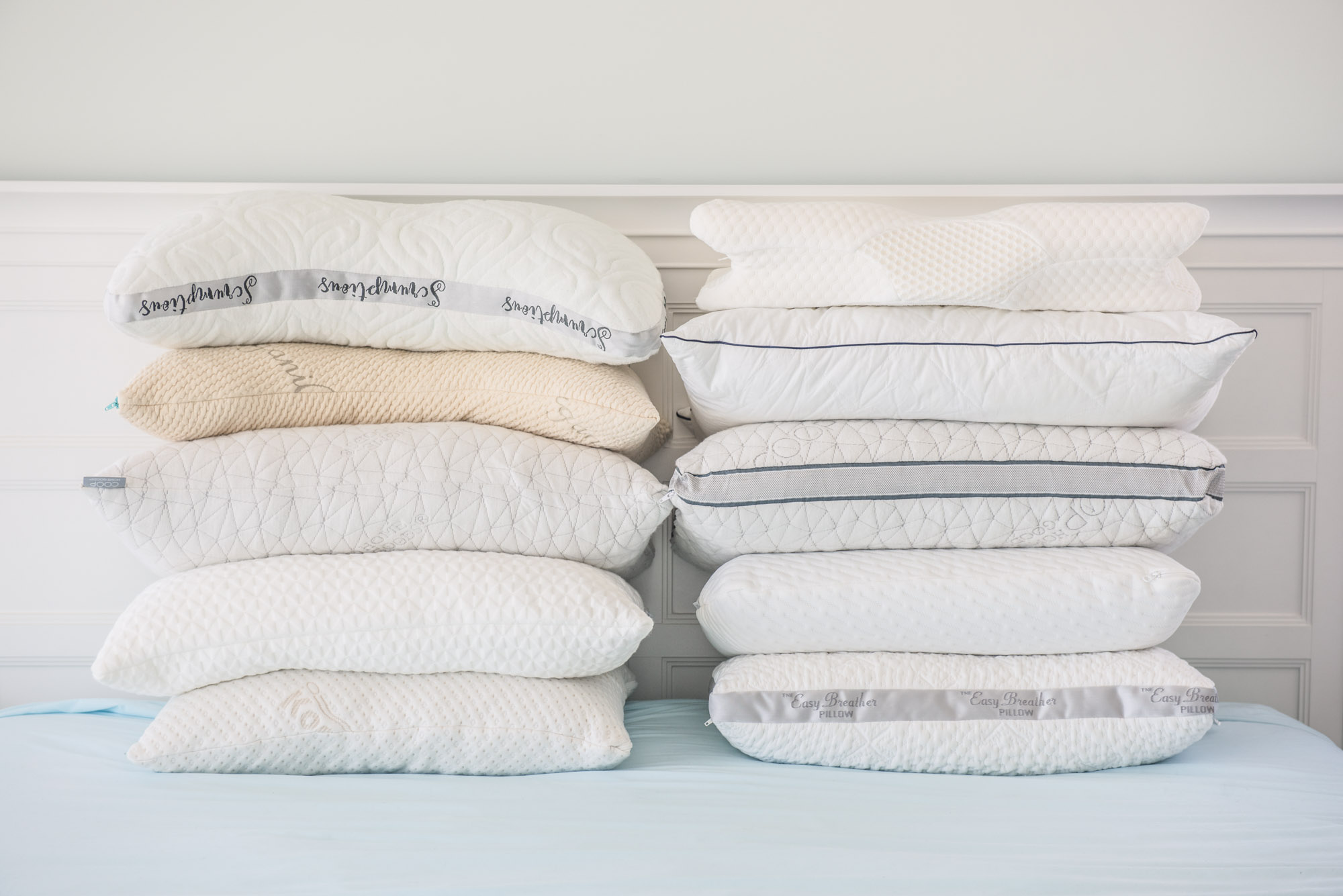 The Best Pillows for Side Sleepers
We tested ten top-rated pillows over a three-week period and chose Coop Home Goods – Eden as the best pillow for side sleepers. The Eden supports your head in cushy comfort and keeps your neck and spine aligned all night long. Another great choice for side sleepers is the Honeydew Sleep Company – Scrumptious. Its unique crescent shape fits snugly around your neck and bolsters your head on either side while preventing B06XVMJMSHa side sleeper from shifting positions.
We tested ten top-rated pillows over a three-week period and chose Coop Home Goods – Eden as the best pillow for side sleepers. The Eden supports your head in cushy comfort and keeps your neck and spine aligned all night long. Another great choice for side sleepers is the Honeydew Sleep Company – Scrumptious. Its unique crescent shape fits snugly around your neck and bolsters your head on either side while preventing B06XVMJMSHa side sleeper from shifting positions.
Table of contents
The ten best pillows for side sleepers
1. Best Overall: Coop Home Goods – Eden
After testing and retesting all of the pillows for three weeks, our testers agreed that the Coop Home Goods – Eden was the superior pillow for side sleepers. It has just the right amount of filling to bolster the neck and cushion the head and shoulders.
The Eden is Coop Home Good's most recent addition to their product line, which includes their top-selling Dawn pillow, body pillow, traveler's pillow and toddler's pillow. The outer case is made of bamboo-viscose rayon and polyester with geometric stitching. It's not cool-to-the-touch like a gel pillow, but the material never heats up because it's so breathable. You can squeeze the pillow and almost feel it exhale.
The pillow case has a strong, stretchable gusseted edge that prevents the pillow from pinching together and promotes even distribution of the filling. The gel-infused shredded memory foam has its own zippered inner casing, so the pillow case can be slipped off without foam flying everywhere. The gel infusion gives the shredded foam an ultra-soft, feathery texture, yet it's substantial enough to maintain a high loft all night long.
Our testers described the Eden as "comforting" and "cocoon-like." There's plenty of filling to stuff the queen-size pillow from corner to corner. The Eden is adjustable, but neither tester felt it was necessary to remove any filling. Other than Coop Home Good's original Dawn pillow, this was the only pillow we tested that had the right amount of filling straight out of the box. Coop Home Goods will also send more filling upon request, but we honestly don't think you'll need extra.
Another plus for the Eden is that it did not have the characteristic memory foam odor and did not need as much time to air outdoors as the other pillows (excluding the Dawn). We fluffed it up in the dryer for 15 minutes and slept on it that night. The pillowcase had a pleasant, light vanilla scent, which eventually wore off, and the foam had no scent other than just smelling clean.
The Eden has both Certi-PUR certification and Greenguard Gold certification, which ensures that the pillow is safe for use in schools and healthcare facilities.
At $80, the Eden is comparable in price to other memory-foam pillows. Choosing a pillow is completely subjective, but Coop Home Goods offers a 100-night trial period and full refund, so it's worth a try.
Key takeaways:
The Eden is filled with the right amount of shredded memory foam to keep your head cushioned and neck and shoulders supported.
The unique gel-infused memory foam keeps the pillow cool and doesn't have the usual chemical odor of memory foam.
The foam is stuffed into its own casing, so the pillow case can be easily removed and separately washed.
2. Runner-up: Honeydew – Scrumptious
Our testers enjoyed the contouring shape of Honeydew Sleep Company's Scrumptious. This pillow, specifically designed for side sleepers, fits snugly around the neck and shoulders and bolsters the head on either side of its unusual arc.
Honeydew is a small, California-based company, and they have sourced two types of Certi-PUR certified memory foam that are unique to their product. This means that they're not cutting off scraps from memory foam mattresses, as many pillow manufacturers do, but are actually making the shredded foam solely for their pillows.
Although the company claims that the Scrumptious is suitable for all sleepers, they really had the side sleeper in mind when designing it. There's plenty of foam inside, so you don't need to purchase additional foam from Honeydew. That said, they will provide it upon request. If you cut a doughnut in half, you'll get an approximate idea of how the Scrumptious is shaped.
The curve fits snugly around your neck and shoulder and the "wings" on either end support your head and face. One of our testers said that it prevented him from shifting out of the side-sleeping position by squaring up his shoulders and keeping his spine in alignment. Another tester, however, claimed that the shape forced him to sleep on his back.
Out of the box, the Scrumptious's velvety-soft viscose pillowcase had a pleasant aroma, but its memory foam interior had a slight chemical odor. We aired it outside overnight, and by morning the smell was mostly gone. Over the three-week testing period, Scrumptious still smelled fresh.
Our biggest complaint with the Scrumptious is that the filling is stuffed directly into the pillow case and does not have its own separate, washable casing. To clean the pillow case, all of the stuffing must be removed and then the pillowcase re-stuffed once it's been washed and dried. The company sells pillow cases for the entire pillow, but we wonder why they simply don't redesign the pillow so the stuffing has its own casing.
One of our testers said he could sleep on the Scrumptious for the rest of his life. But at $100, it's the most expensive of the pillows we tested. Honeydew Sleep has a 60-day trial period, which will give you the chance to decide if the Scrumptious is worth the price.
Key takeaways:
Scrumptious's contoured shape curves around your neck and shoulders while supporting your head and face.
The pillow prevents a side sleeper from shifting position by keeping your spine aligned.
It doesn't have a separate pillowcase, so the stuffing must be removed before washing the pillow case.
We also recommend
Coop Home Goods – Dawn
The Dawn is Coop Home Good's original memory foam pillow, and it has some of the features of the upgraded Eden pillow. There's plenty of filling provided, so the Dawn has the same plush and supportive loft. The Dawn's filling is enclosed in its own casing, so the velvety pillowcase can be easily removed and separately washed. The Dawn does not have the gusseted edging, so unlike the Eden, the filling doesn't reach the corners of the pillow.
The filling is a mix of shredded memory foam and microfiber and doesn't have the feathery texture of the Eden's filling. It also has the slight chemical odor of memory foam that didn't quite dissipate after outdoor airing for several days. Nevertheless, the Dawn was still one of our favorites.
Not right for side sleepers
Nest Bedding – Easy Breather
The Easy Breather scored high in our testing of cooling pillows, but our two side-sleepers agreed that although it's nicely made, it was somewhat too soft and pliable to hold a supportive loft. The Easy Breather had a gusseted edge that evenly distributes the memory foam, which had a slight chemical odor. The lyocell pillowcase mostly covered the foam's scent, but it wasn't as soft to the touch as the Eden's or Dawn's pillowcases.
Like other adjustable pillows, filling can be removed, but a storage bag isn't included. The Easy Breather does not have a separate casing for the filling, so it must be completely removed before you can wash the pillow. We found this to be too inconvenient for such a pricey pillow.
Tuft & Needle – PI003-S
Tuft & Needle's premium pillow is made of a single piece of their trademarked Adaptive Foam, which the company also uses for their mattresses. The Adaptive Foam is infused with gel and graphite that Tuft & Needle claims keep the foam cool. The foam is punctured with tiny holes and sewn into its own casing and has a pleasant scent. Although this pillow is advertised as a pillow for side sleepers, it has little loft and did not elevate our testers' necks. It's another well-made pillow, but it's better suited for back or stomach sleepers.
Snuggle-Pedic
Snuggle-Pedic is one of the companies that inaccurately markets their pillow as a bamboo pillow. In reality, it's a shredded gel-infused memory foam pillow with a 40-percent bamboo viscose pillowcase. The foam is trimmed from the company's mattresses, and although the gel adds a noticeable cooling and softening factor to the foam, the shredded bits feel coarse and chunky. The company takes great pains on its website to defend the purity of their foam, but unfortunately, even after three weeks, its odor hung on.
The pillow had a good loft, but the odor and rough-cut texture to the shredded foam disrupted our testers' sleep.
Sweetnight – SN-P001-K
The Sweetnight – SN-P001-K had a couple of the features our testers preferred: a separate casing for the filling and a soft-to-the-touch pillowcase. The filling's casing, however, could not mask the foam's overwhelmingly acrid odor. Sweetnight's shredded high-density memory foam had an odd texture. When squeezed, it squished into a clump, and so the pillow could not sustain a loft and went flat under the weight of each tester's head.
Infinitemoon – Everpillow
Marketed as the "world's most comfortable pillow," Infinitemoon offers the option of selecting the filling for the Everpillow: latex noodle, kapok silk or a blend of both. We ordered the blend, which is 90 percent latex and 10 percent kapok silk. The pillow arrived in a vacuum-sealed bag, and when opened, the pillow expanded to its full length and resembled a giant dog biscuit.
The latex-kapok filling had a pleasant, lemony scent and was soft to the touch. We can't criticize the pillow's cuddly texture, but it had no loft. The pillow seemed too long and narrow for the amount of filling included. Infinitemoon will send a pound of extra filling upon request (within 18 months of purchase), which might plump the pillow to the height a side sleeper needs.
Coisum – 4332456308
The Coisum – 4332456308 is an orthopedic memory foam pillow designed for alleviating neck and back pain. Its unique butterfly shape is curved for placement of the neck and arms. The pillow is a single piece of memory foam, similar to a Tempur-Pedic, and does not have the cooling properties of the other pillows we tested. Although it's marketed as a pillow for side sleepers, the Coisum had no loft, and the memory foam was too hard and uncomfortable for both testers.
Sable – SA-BD013
The Sable – SA-BD013 is a goose-down-alternative pillow that's stuffed with hypoallergenic polyester fiber fill. It has a 100-percent cotton pillowcase, which is soft and cool to the touch. Sable markets the pillows as adjustable, which is accurate, since the puffy stuffing can be removed. The stuffing was this pillow's downfall. Both testers complained that the pillow had no shape or substance, and even folded over two or three times, the pillow gave no support.
How we selected finalists to test
We began our research by reading articles written by sleep experts at the National Sleep Foundation, Spine-Health.com and John Hopkins Medicine. Of the three general sleeping positions — supine (or back), stomach and side — sleeping on the right or left side is the most common.
Experts agree that although each position has both positives and negatives, it's crucial to find the pillow that will provide the necessary support to your spine, neck, shoulders and head. Not all pillows are right for every sleeping position. Side sleepers need a pillow that elevates their head and cushions their neck and shoulders so their spine stays in alignment.
Finding the perfect pillow can be challenging since there are so many available. They come in different sizes and shapes and with a variety of fillings. There are thousands upon thousands of strongly held opinions about pillows, and from this commentary, we learned that pillow shopping is very personal; one pillow might be fluffy and comfortable for one side sleeper, and the same pillow might be hard as a rock for another side sleeper.
We selected a broad array of pillows that are recommended for and by side sleepers. Many pillows are marketed for people who sleep in any position, so we chose to test a few of those as well to determine whether they are actually suited for side sleepers.
Important features to consider
Shredded memory foam filling
Memory foam is composed primarily of polyurethane that's blended with chemicals to create a dense, heavy substance that softens under body heat. It's durable and provides excellent support when it's used in a bed mattress. A downside to memory foam is that it retains body heat, which makes it uncomfortably hot in higher temperatures.
The filling of the majority of the pillows we tested were shredded memory foam. As we discussed in our reviews about cooling pillows and mattress toppers, any foam used in the manufacture of the pillow should be certified by CertiPUR-US, a non-profit organization that rigorously tests polyurethane foams for ozone depleters, fire retardants, mercury, lead and other hazardous contaminants. If the filling is not CertiPUR-certified, you can't be sure where and what the foam came from or if you will be breathing in toxic gas emitted from the foam.
Shredded memory foam has the same moldable characteristic, but the smaller pieces move independently and can be easily shaped. Shredded foam is ideal for a pillow because it will fit the contours of your neck and, unlike a down pillow, will keep your head aloft.
Not all shredded memory foam is alike. The manufacturers of all of the pillows we tested made claims of a "proprietary blend" of memory foam. Basically this means that they didn't cut the foam from somebody's tossed-out recliner. In fact, some consumers do complain that shredded memory foam feels chopped up inside the pillow case.
Only one pillow in our testing had memory foam that felt rough cut, the Snuggle-Pedic. Snuggle-Pedic's website seems a bit defensive about it. They come clean that the memory foam for their pillows is leftover trimmings from their mattresses. But they also have a lengthy statement about the purity of the particular — and proprietary — foam they use.
Gel fiber
To add extra softness and flexibility to the memory foam, several manufacturers add gel fiber. Gel fiber is a synthetic fiber that has a silken feel to it and when blended with shredded memory foam, it softens the rough cut texture. Other benefits of gel-fiber-infused memory foam are that it's hypoallergenic and adds a cooling element to the heat-trapping memory foam.
Bamboo pillows
A current trend for manufacturers is marketing their pillows as "bamboo," which supposedly makes their pillows better than others. This is a case of false advertising. The pillow padding itself is not made of bamboo, only the pillowcase is made of a bamboo-derived viscose rayon.
The viscose rayon is a breathable fabric with a velvety softness that's similar to silk. Most of the pillows we tested were designed to be slept on without a traditional pillow case (one that matches your bed linens), so we preferred the bamboo pillows over those that had other polyester-blend or cotton pillowcases.
Loft
The amount of gel fiber blended with the memory foam will determine a pillow's loft. For a side sleeper pillow, loft should be approximately 5 or 6-inches high. Less than that, and your head will sink into the pillow and put pressure on the curvature of your spine.
Factors that contribute to how well the pillow's loft is maintained are the size of your head, your body's weight and the breadth of your shoulders. Ideally you should be able to test a pillow for several nights to determine the efficacy of its loft.
Several pillows we tested had a blend of memory foam and gel fiber. But not all of them retained their loft after repeated nights. The best was the Coop Home Goods – Eden. The loft of other test pillows had sagged somewhat (or entirely) by morning, but the Eden kept our testers' heads supported and elevated.
Adjustable filling included
All of the pillows we tested were advertised as being adjustable, and that's certainly true. Filling can be added or removed to raise or lower the pillow's loft. However, only two of the pillows we tested — the Eden and the Coop Home Goods – Dawn — actually included extra filling in a separate bag. The other pillows had stuffing that could be removed to lower the loft but none that could be added to increase the loft.
One pillow, the Sweetnight – SN-P001-K, included a nice cloth bag to store removed filling, but no additional filling for increasing loft was included. We checked the manufacturer and, similar to most of the other pillows, you can request extra filling, which they send free of charge.
Separate pillowcase
One of the most important features is a separate removable pillow case that could be washed. You might think that this would be a standard feature, but it's not. Almost all of the pillows advertised that their pillow cases had breathable, cooling fabric, and by and large, they did.
Naturally, over time, you will want to wash the pillowcase, and to do so, you'll need to remove every last bit of stuffing, unless the manufacturer states that the entire pillow is washable.
If a storage bag wasn't included with the pillow, then you'll need a bag or receptacle nearby to catch the flyaway fluff. Once the pillow case is cleaned, you have to re-stuff and re-fluff the pillow in the dryer. In our minds, this is just too much work for any pillow.
Only three of the shredded foam pillows we tested had a separate pillowcase: the Eden, the Dawn and the Sweetnight. The Tuft & Needle and Coisum also had separate pillowcases, but both are whole pieces of foam, which are easy to remove.
Trial period
During our research we discovered that pillows for side sleepers are a hot item. Naturally, every company that makes a shredded foam or gel fiber pillow wants to advertise that their product is the best one for side sleepers. So if you research buying pillows, you'll see manufacturers making claims that their one pillow will magically put you to sleep no matter what your preferred sleeping position is.
The only true way of finding out whether or not a pillow is right for you is to try it out. Almost all pillow manufacturers allow you at least 30 nights; others increase the trial period to 60 nights. The best will offer 100 nights or even longer, like Snuggle-Pedic.
A few of the pillows held their loft for the first two or three nights. But after that, their loft began to decrease and no longer provided the support they had on the first night. Several of the heavily hyped pillows went flat the instant we laid our heads down. If you spend $80 for a pillow, you want it to last for years. So take advantage of the longer trial period.
How we tested
First steps
All of the pillows are compacted to fit into shipping boxes, so we had to first allow the pillows to expand naturally, anywhere between one and five minutes. Next, shredded foam is notorious for its rank chemical odor, so before sleeping on them, we allowed the pillows to air outdoors for at least two days.
Finally, as recommended by the pillow manufacturers, we tossed each pillow into a dryer and spun it for 10 minutes at low heat. This last process fluffs the pillow to its highest loft. This step is also recommended for refreshing and re-fluffing your pillow after several nights' use.
Adjusting the loft
Side sleepers need a loft that lifts the neck to align with the spine while cushioning the head at the same time. Except for the Coisum and Tuft & Needle, all of the pillows were advertised as adjustable, meaning filling could be added or removed to adjust the loft. (Tuft & Needle will make an adjustment if you return the pillow to them.)
Many pillows also made claims that their pillows were stuffed with filling that most people find sufficient. This claim proved woefully inadequate in most cases, as the included filling was not enough to maintain a high loft.
As mentioned earlier, only the Eden and the Dawn provided a bag of extra filling in the box. Since all of the pillows stated that out of the box they were stuffed to full capacity, we stuffed both Coop pillows with the included extra stuffing. If the loft was too high, we could gradually remove stuffing until, like Goldilocks, we achieved just the right height.
It took us a lot of trial and error to finally get the right amount of stuffing for each tester. We were glad that there was enough filling included with the two Coop pillows so we could experiment at our leisure. Except for the Scrumptious, none of the other pillows had sufficient filling. We appreciate that Snuggle-Pedic and Nest Bedding will send additional filling upon request, but we question why not just include it when the pillow is shipped?
Sleeping
Inevitably, it came down to sleeping on the pillows. Both of our testers change positions during the night; one is a back/side sleeper, the other a stomach/side sleeper. Each tester slept on a different pillow for a minimum of three nights and in the morning recorded responses to whether the pillow:
Held its loft
Supported neck and head
Diminished neck, shoulder and back pain
Improved sleep
Sleep and health
In 2014, the Centers for Disease Control and Prevention (CDC) published their findings from a year-long study that 35 percent of American adults over the age of 18 suffer from sleep deprivation. The CDC has not done another study since then, but other research indicates that that number has increased to 40 percent. If you're one of the many millions of people who have lain awake at night, this probably comes as no surprise.
Sleep deprivation alters the normal functioning of the brain and weakens the immune system. The CDC and John Hopkins Medicine link insufficient sleep to chronic pain, type 2 diabetes, colorectal cancer, chronic heart disease, obesity and dementia.
Tips for better sleep
Some of the causes of sleep deprivation are health related and require medical attention. John Hopkins Medicine and the American Academy of Sleep Medicine state that adults require at least seven hours of sleep each night and make the following recommendations for sleeping better:
Remove all technical devices, such as a television or computer.
Turn off your cell phone or tablet. Research shows that late-night use of a mobile device stimulates the brain.
If you use a night light, get one with a warmer or yellower color. The research we did on our night light review revealed blue lights make it harder to sleep.
Dim your digital alarm clock, or turn it away from your face.
Turn down the thermostat, and keep your bedroom cool.
Make sure your mattress is comfortable and supportive. The National Sleep Foundation recommends that a mattress should be changed every seven to 10 years.
Switch your sleeping position.
Tips for finding the right pillow
Supine sleepers and stomach sleepers have different needs, because of the way their sleeping position aligns their necks and spines. A supine sleeper needs a pillow about 3- or 4-inches high with a firm center to support the head and neck, A stomach sleeper (only 8 percent of the population) needs a pillow with almost no height to keep the spine neutral and aligned. (Some stomach sleepers don't use a pillow at all.)
Side sleeping is the most prevalent sleeping position and considered the healthiest way to sleep. Side sleeping aligns the curvature of the spine and is often prescribed for alleviating neck and back pain. It also diminishes snoring and sleep apnea by keeping nasal and throat passages open.
If you're a side sleeper, you need a pillow that will make up the distance between your head and the mattress to keep your spine in a neutral position. This type of pillow can be an elongated capsule shape or curved to fit around your neck.
The side sleeper pillow is filled with a soft material that holds its shape and creates a thick "loft," which is the pillow's height when it lays flat on the mattress.
Pillows for side sleepers come in the usual standard, queen and king sizes. The size you choose will depend on your height, weight and width of shoulders. Most side sleepers prefer a larger pillow for maintaining head and neck support if they switch sides during the night.
The bottom line
Many pillows are marketed as the best for side sleepers, and we discovered from our testing that those claims just aren't accurate. What works for a stomach sleeper or back sleeper simply doesn't work for a side sleeper. If you're a side sleeper you need a pillow that fills in the gap between the mattress and your head and keeps your spine aligned.
Over a three-week period, our testers slept on 10 different pillows, and agreed that the Coop Home Goods – Eden pillow met their needs for support and comfort. The Eden's cooling gel-infused shredded memory foam bolsters the neck and cushions the head and shoulders. The Eden is filled with more than enough stuffing to keep the pillow's loft high or low depending on your preference. It's priced at $80, which might seem steep, but Coop Home Goods offers a 100-night trial period and full refund if you're not satisfied.
Our runner up is Honeydew Sleep Company's – Scrumptious, a pillow that was specifically designed for side sleepers. Its unusual crescent shape fits snugly around the curvature of the neck and prevents a side sleeper from shifting positions during the night.