Mattresses seem to get all the love, but pillows can make or break a good night's sleep. After testing six low- to mid-priced pillows that had popular and authenticated market approval, we found that the Nest Bedding – Easy Breather is the best cooling pillow for its shape, quality, pliability and lack of offensive odors. Some of our testers equated it to "sleeping on a cloud." Our budget cooling-pillow pick is the Sleep Restoration – 1800 Series Gel Pillow, which comes in packs of two and is a soft, moldable pillow that is versatile enough for any sleep position: side, back or stomach.
Mattresses seem to get all the love, but pillows can make or break a good night's sleep. After testing six low- to mid-priced pillows that had popular and authenticated market approval, we found that the Nest Bedding – Easy Breather is the best cooling pillow for its shape, quality, pliability and lack of offensive odors. Some of our testers equated it to "sleeping on a cloud." Our budget cooling-pillow pick is the Sleep Restoration – 1800 Series Gel Pillow, which comes in packs of two and is a soft, moldable pillow that is versatile enough for any sleep position: side, back or stomach.
Table of contents
How we selected finalists to test
There are a lot of pillows on the market, and the descriptive terms given to many pillows can seem bewildering to a consumer. Adjectives like cooling, comforting, relaxing, breathable and "iso" do little to convey the actual performance or specific attributes of a pillow.
We dug through Reddit, Amazon and consumer testing sites to cull a large list of available pillows on the market. We found that there are three pricing tiers for pillows that denote "cooling" benefits: These fall around $30-$40 at the lower range, $80-$100 at midrange and up to $150 at the very high range. Since very few of the pillows in the highest range had enough verifiable consumer reviews, we narrowed our focus on the low range, along with one pillow from the middle tier.
We further looked at which pillows were preferred for sleepers who identified themselves as back, stomach and side sleepers to ensure that we included the full range. For our four-person test group, we included sleepers who preferred at least one of these three positions for a significant portion of the night.
Compare the best cooling pillows
Who needs one?
Good pillows mean good sleep
The National Sleep Foundation maintains a database of sleep habits and preferences throughout the U.S. and is an excellent resource for learning about the fundamentals of getting a good night's sleep. In a recent National Sleep Foundation poll, 93% of respondents rated the quality of their pillow and mattress as being important to sleeping well.
In his book Sleep for Success!, Cornell University professor Dr. James Mass describes how sleep is an essential component for academic and physical performance. He notes that a lack of sleep correlates with many debilitating conditions, including depression, obesity, skin conditions, cancer and the lack of ability to think and perform well. So what's the trick to a solid night's sleep? A good sleep mask or white noise machine can certainly help, but a more direct "head-on" approach is to find a comfortable pillow.
Few people take their preferred sleep position into account when purchasing a pillow. Relative to the expense of buying a new mattress, a pillow is a far less expensive alternative to rebooting a poor sleep experience. Signs that you may need to change your pillow include feeling overheated during the night and waking up feeling sore or stiff. Changing out your pillow is the first thing you should do to see if it helps you get uninterrupted sleep.
Cool is better for sleeping
Some of the tips on the National Sleep Foundation website are surprising. One that jumped out at us was that the ideal bedroom temperature for sleeping is between 60-70 °F, which seems quite a bit cooler than is customary. If staying cool is a major factor in getting good sleep, then having a pillow that keeps you cool seems like a sensible choice for most people.
Important features to consider
Fill material
Down: Down is made from goose or duck feathers and is commonly found in high-end hotel pillows. It offers good neck support and durability. Two drawbacks for down are its relatively high cost and that many people are allergic to it.
Bamboo: Bamboo is a natural plant fiber. It's commonly found in pillows that are advertised as having cooling properties. Beware that many pillows that label themselves as bamboo actually use it only for the casing. Instead, they're typically filled with shredded memory foam.
Memory foam: Memory foam is a support material that is fairly economical and also hypoallergenic. It tends to retain heat and can be too stiff or too squishy for some people.
Latex: Latex is a natural material that is good for neck pain and is easy to maintain. However, it is not moldable, has a short lifespan and tends to have an odor.
Down alternatives: Down alternatives offer good head and neck support, are not derived from animals and are available at a lower price point than real down. However, synthetic down is less fluffy than regular down and requires more maintenance.
Buckwheat: Buckwheat is a plant with grain-like seeds. This type of pillow allows air to circulate between the seeds. The seeds are actually the hulls (outer casings) of the seed pods. Because buckwheat pillows are filled with tiny individual seed hulls, the pillows can easily conform to the shape of an individual's head and neck.
Cooling gels
Some pillows have gels running through the pillows in tubes or small pads. When you take the cover off a gel pillow, you can clearly see which face is the gel side. Other pillows incorporate gel into the fiber for the pillow filling itself.
Cover material
Most people use pillows with pillowcases, but some pillow covers are nice enough to use without a pillowcase as long as you wash them regularly. One thing to consider with cooling pillows is the way the pillow will be encased. A pillow will feel less cool if it is swaddled in a thick pillowcase or a decorative sham.
Design based on sleep position
Some pillows are designed for people who sleep in one particular position. Pillows with a deep indentation are designed for cervical support and are intended for people who experience chronic neck pain, as we discussed in our review of the best pillow for neck pain. Stomach sleepers will need a much shallower pillow than side sleepers since it is not desirable to have the spine pushed backward. If you sleep on your side, check out our review of the best pillow for side sleepers.
Allergies
Allergic sensitivities: Down and latex can trigger allergies for many people, while bamboo is generally a hypoallergenic material.
Hypoallergenic: The word "hypoallergenic" is not a scientific term, but a marketing term. Pillows do not actually block allergens, but certain materials, as noted above, are less likely to trigger allergies. For example, there are pillow covers that have pores so small that they block dust mites and other allergens from seeping through.
Price: You can get a good pillow for anywhere between $30 and $150, and when good pillows go on sale, there are bargains to be had. Based on our testing group and a review of other consumer testing sites, there are many high-quality pillows to choose from in the $40 range.
Certipur certification
Certipur is a nonprofit organization that tests bedding for the presence of toxins, including ozone, flame retardants, heavy metals, formaldehyde, phthalates and VOCs (volatile organic compounds). The evaluation committee is composed of scientists, academics, environmentalists and consumer advocates. A Certipur certification, in the form of a tag attached to a pillow, is evidence that none of the tested toxins are present.
Pillowcase
Any pillow's comfort and performance will be affected by the type of pillowcase you use. For cooling pillows, heavier pillowcases and shams can negate any cooling or circulation benefit that the pillow has. Most cooling pillow manufacturers recommend you use a waterproof, breathable pillowcase with their products.
How we tested
The same technology and fabrics that are found in mattresses are also found in pillows. So in researching the best cooling pillows, it is necessary to cut through a lot of marketing hyperbole to determine what exactly goes into that thing you rest your head on every night.
Whether you are a side, back or stomach sleeper, a good pillow can mean the difference between a great night of sleep and a sweaty, restless struggle to get comfy. The market is flooded with pillows that promise a cool night's sleep, and the price points vary a lot depending on materials and quality. Some pillows take it a step further and are tailored to sleep style: side (most common), stomach or back.
We focused on pillows that emphasized cooling properties. Actual cooling cannot be imparted by fabric, but the sensation of cooling can be experienced by promoting air circulation or from water. Water imparts a cooling sensation when it evaporates from the skin. Fabrics from companies like Techniche and its Hyperkewl line are soaked in water, which is released gradually during exertion.
One of our tested pillows, the Sleep Better – Iso-Cool, uses microscopic beads made from Phase Change Material (PCM) that is purported to have both cooling and heating capabilities. Its manufacturer, Carpenter Co., claims that the material — branded "Outlast Adaptive Comfort" — can adjust to a body's changing temperature throughout the night.
A panel of three adults and one 12-year-old participated in our qualitative sleep test. The panel consisted of one dedicated side sleeper, one sleeper who uses all three positions (side, back and stomach), one sleeper who primarily side sleeps, and one sleeper who primarily back sleeps.
Primary test criteria
To ensure a level playing field in terms of pillow covers, we used a thin, waterproof cover made by Mastertex. Our four testers were given all six pillows to use for two nights each, and they were asked to evaluate the pillows based on the following categories.
Texture: Texture relates to the feel and tactile properties of the exterior of the pillow (whether it is rough, smooth or in-between), along with how easy it is to feel the filling through the pillow cover. In the world of cooling pillows, there are two prevalent fillings: shredded memory foam and gel-type fillings. For the latter, the pillow can use actual gel or gel fibers.
Ability to conform: This is a big determinant of pillow comfort. Some people want a very firm pillow that supports the entire weight of their head, while others want a pillow that can only be described as "squishy" and conforms around their head. Many people also want to make slight adjustments to their pillow to support their neck or chin.
Coolness: All of our testers spent several nights with each pillow. Then we asked them questions like:
Did the pillow feel cool when you first lay down on it?
If you woke up during the night, did you feel that the pillow was warm, cool or in-between?
Did you feel that the pillow helped you sleep through the night because of its cooling properties?
Other test criteria
Support: Support relates to the overall sense of how the pillow props up the head and neck. We measured the resting and compressed height of each pillow, along with each pillow's width and length. Our testing corroborated other tests in that side sleepers prefer a pillow with more depth than stomach or back sleepers.
Firmness: We compressed our pillows under a 10-pound weight to see how firm they were. The more they flattened, the less firm the pillows were. We found that the firmest pillows were best for propping ourselves up and reading in bed. Check out our review of the best book light here.
Odor: There is a variety of natural and synthetic fabrics that go into pillows, and some of them have quite a pronounced odor. We lived long enough with our test pillows to determine which ones, if any, retained their initial odors and caused off-gassing.
Compression: For the compression test, we used a 10-pound barbell resting on a wooden board to apply even pressure on each pillow.
We then tallied the pre-compressed height of the pillow and the height after compression. This gave us a sense of how much each pillow would compress when a person sleeps on it.
Heat retention: In order to get a sense of whether a pillow retained heat, we tested with a heating pad applied for three minutes. We took the temperature of the pillow before (baseline temperature) and after applying the heating pad. Then we recorded how long it took for the pillow to return to its original "resting" temperature.
Cleanability: Finally, we evaluated how easy it was to clean the pillows and whether it was possible to wash both the cover and the pillow itself. Cleaning pillows thoroughly entail three steps: (1) airing them out in the sun, (2) putting them in the washing machine, and (3) drying them with towels to expedite the drying process. To maintain fluffiness, putting tennis balls in the dryer bin helps.
Manufacturers are quick to note that pillows are hypoallergenic and resistant to dust mites, but all still pillows need to be cleaned to ensure that they perform as advertised for their useful life.
A few of our test pillows, the Perfect Cloud – Double Airflow as well as the Snuggle-Pedic – Ultra-Luxury and its twin Xtreme Comforts – Kool-Flow Adjustable, have a removable cover that can be washed separately from the pillow itself.
Best overall: Nest Bedding – Easy Breather
Our overall pick for the best cooling pillow is the Nest Bedding – Easy Breather. Chosen in part because using it was described like "sleeping on a cloud," the Nest is light but firm to the touch. It provides a supportive but somewhat moldable form for side breathers and is compressible enough to appeal to back and stomach sleepers as well. Another nice thing about the Nest is that it did not come with any offensive off-gassing odors.
Our testing team's consensus is that the Nest fills the sweet spot between support and comfort. Why? Well, for one thing, the Nest is unusual in that it is adjustable. The Tencel cover has a small zipper that can be opened to remove some of the pillow's memory foam fill to create a custom height. We experimented with this and found that it worked perfectly. All it took was a bit of smoothing out to reduce the height of the Nest.
The pillow innards are made from shredded synthetic foam, and the cover is a combination of plant-derived lyocell and polyester. The Certipur-certified foam filling is made without ozone-depleting materials, flame retardants, mercury or lead, all of which can sometimes be found in other synthetic foam products.
The Nest scored particularly well for its overall feeling of luxury. Unlike a few of our other pillows, the Nest had no discernible odor. Although it was among the tallest pillows we tested before and after our compression test, the Nest molded nicely to our testers' heads.
Our testers also thought the Nest felt cool throughout the night, and it returned to its baseline temperature in the midrange of our test group standings. And while the Nest is more expensive than some of our other tested models, its cover feels quite durable, which likely extends its lifespan and justifies the additional cost.
The Nest offers a lifetime warranty that covers the fill, cover and zipper. If the fill sags by an inch or more, if the zipper fails or if there are physical flaws relating to the cover itself, Nest will repair or replace the pillow.
If we had to pick one thing that we did not like about the Nest, it's that the cover unzips only a little bit to remove the filling for adjustment, and the only way to clean the cover is to remove the filling entirely. For a relatively expensive pillow, we think that the cover should be designed so that it can be cleaned separately without so much hassle.
Key takeaways:
The Nest Bedding – Easy Breather scored high for feeling luxurious, moldable and not having any odor.
It tied for tallest pillow before and after our compression test.
It falls in the midrange for heat retention, returning to its baseline temperature in just under one-and-a-half minutes.
The pillow feels cool throughout the night and doesn't sag or require adjustment.
For support and comfort, the Nest hits a sweet spot by offering a nice balance.
Budget pick: Sleep Restoration – 1800 Series Gel
Gel pillows incorporate liquid that creates an evaporative effect, which in turn promotes air circulation and a consequent cooling effect. The Sleep Restoration – 1800 Series Gusseted Gel Pillow is made with a filling composed of 100% gel fiber. The gel fiber delivered one of the lowest baseline temperatures of all the pillows we tested, coming in at 74 degrees.
Gel fiber is made to feel like down and offers a plush material that feels luxurious when your head rests on it. Of all our pillows, the Sleep Restoration felt the most comfortable right away. The gel fiber makes for an extremely smooth feeling pillow. Our testers found the pillow to be the plushest in our test group, with one tester calling it "super plush."
Although the pillow is noted by its manufacturer as being stain resistant, we observed that it picked up smudges pretty quickly. It is also noted as being chemical-free, but this seems like a dubious claim based on the fact that its gel fibers are a manufactured synthetic material.
While the pillow is sealed, it is also breathable and easy to wash by putting the entire pillow in the washing machine. We machine washed the pillow on our EcoWarm cycle and put it in the dryer for 30 minutes, followed by another hour in the sun. Cleaning was fairly hassle-free.
The Sleep Restoration seems like a simple pillow at first, but it provides excellent, comfortable support and is the best option for stomach and back sleepers who need less height from their pillow. The compressed depth for this pillow measured 3-3/8 inches, the lowest in our testing group.
One potential pitfall with the Sleep Restoration is that a number of Amazon reviewers noted that their pillows arrived with mold spots. While these represent a small minority of the nearly 5,000 product reviews, it is something to be aware of.
Key takeaways:
The gel fiber filling in the Sleep Restoration – 1800 Series Gusseted Gel Pillow feels luxurious and seems the closest to pillows found in nice hotels.
The pillow does not have a removable cover but can put in a washing machine.
The Sleep Restoration has a low height, which tends to be most comfortable for back and stomach sleepers.
On the downside, in our heat test the Sleep Restoration measured the warmest and took the second longest to return to its baseline temperature.
Other finalists we recommend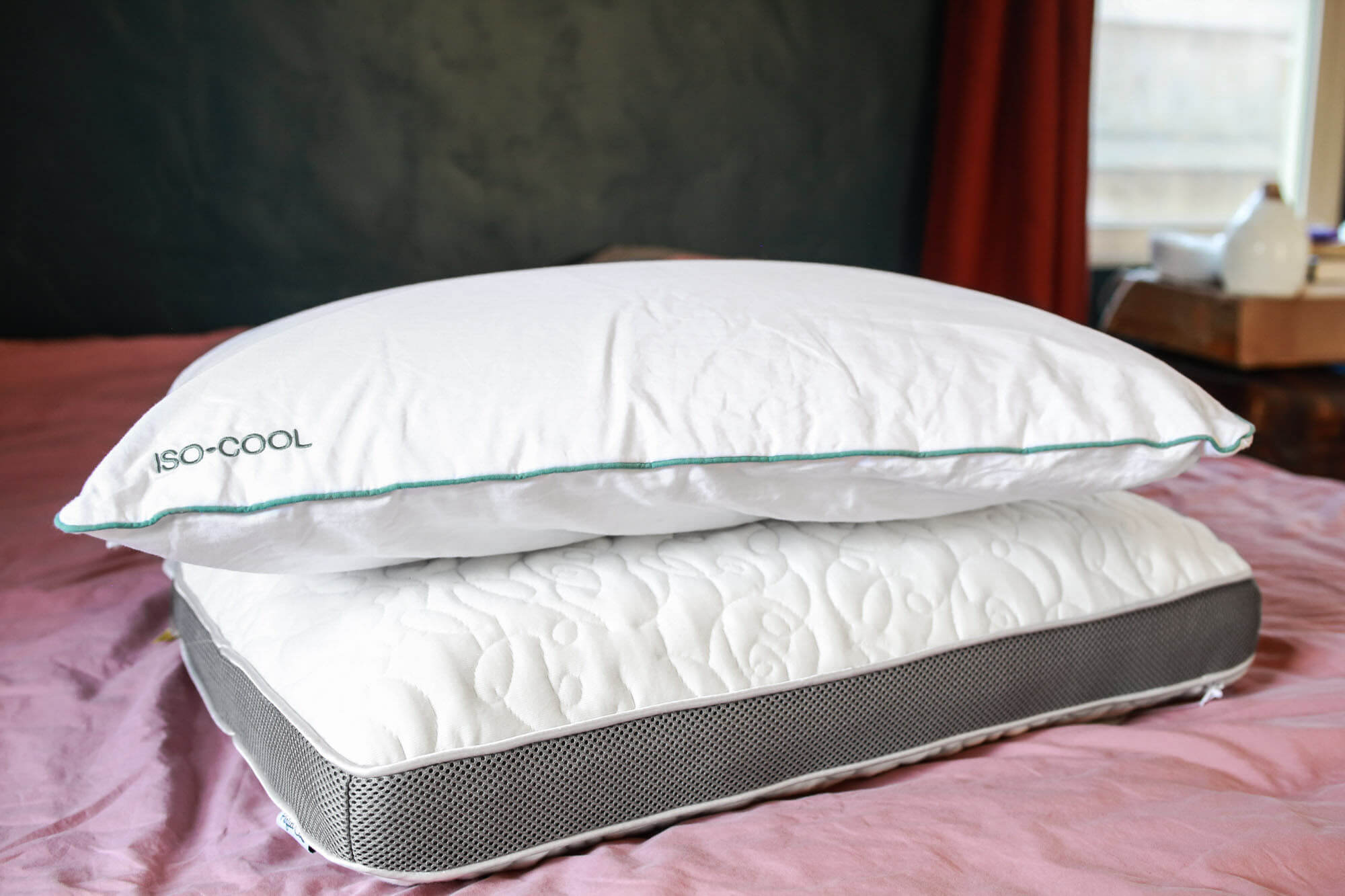 Sleep Better – Iso-Cool Traditional
The Sleep Better – Iso-Cool Traditional was the Mercedes Benz of our test group; nice but perhaps a bit overbuilt. None of our testers thought that it was moldable, and some of them thought it was a bit undersized. It did seem to keep cool during the night, and it has a supportive shredded memory foam filling.
The Sleep Better touts its Phase Change Material (PCM) with the brand name "Outlast Adaptive Comfort" that senses changing body temperature. The material is comprised of microscopic beads that are alleged to absorb heat when it senses that the body is too warm, and to perform in the reverse when the body is too cool. The Sleep Better was the least tall of all our pillows, but our testers downgraded it for not feeling especially luxurious.
In appearance, the Sleep Better had the smallest overall dimensions. Its resting depth was five inches, and its compressed depth was three inches. As expected, it rated relatively high with our back and stomach sleepers. But one sleeper who is a part-time stomach sleeper noted that, despite its relatively small size, it was not moldable enough for her liking.
In terms of temperature, the Sleep Better was the poorest performer, taking over two minutes to return to its baseline temperature. Overall, the testers noted its temperature as average for the group.
Perfect Cloud – Double Airflow
The Perfect Cloud – Double Airflow is a nicely made pillow; it's also one of our only finalists that has a fully removable cover that can be washed separately. This pillow is entirely synthetic with a 97% polyester cover and a filling made from 100% polyurethane foam. For at least one of our testers, this pillow struck a perfect balance between comfort and support.
The Perfect Cloud would have scored higher in our overall ratings if it was suitable for cleaning in the washing machine. The instructions recommend spot cleaning only, which seems odd considering the cover is easily removable. In overall design and sense of quality, the Perfect Cloud resembles our top-pick Nest pillow; and despite being almost an inch less in depth, it compressed to the same height when our 10-pound weight was applied.
Other finalists we do not recommend
Snuggle-Pedic – Ultra-Luxury
The Snuggle-Pedic – Ultra-Luxury Pillow has over 10,000 Amazon reviews that average 4.5/5. It is billed as an "ultra-luxury" pillow and is made with shredded memory foam filling combined with a bamboo cover. It was tied for being the tallest pillow at 6-1/2 inches. It did not perform all that well in our heat retention test, taking nearly a one-and-a-half minutes to return to its baseline temperature. Most of our review panel also agreed the Snuggle-Pedic was not very moldable.
The Snuggle-Pedic was one of our "double-identity" pillows — exactly the same as our Xtreme Comforts pillow. Both pillows had a sour odor that did not completely dissipate even after several days. On the upside, the Snuggle-Pedic cover can be taken off to wash separately.
Xtreme Comforts – Kool-Flow Adjustable
The Xtreme Comforts – Kool-Flow Adjustable Thickness Pillow is identical to the Snuggle-Pedic except for the labeling. Although the bamboo cover and memory foam materials of the pillow are exactly the same, the two pillows appear to be more fraternal than identical twins: The Xtreme comforts pillow was not quite as tall and performed a tad better in our heat retention test.
Our stomach and back sleepers noted that both of these pillows seemed too high and not suited to any position except side sleeping.
The bottom line
For an overall outstanding pillow that exudes quality and combines a high level of finish, support and comfort, the Nest Bedding – Easy Breather is our pick for the best overall cooling pillow. Along with the Perfect Cloud, the Nest exuded quality, especially in its brocaded cover. One thing to note is that the cover unzips only part way and is not intended to be removed and washed.
After testing our pillows, we concurred with the saying that there is no "best pillow" but rather a "best pillow for you." Within our test group, there was a lot of discrepancy among reviewers. For example, with the Perfect Cloud's pillow, there was one reviewer who rated it as their favorite and another who rated it their least favorite.
We were surprised to find that two of our pillows were exactly the same but branded differently: the Snuggle-Pedic and Xtreme Comforts. When shopping, it's prudent to look at the exact specifications, including the measurements and materials, to make sure that you know what you are getting.
For an outstanding budget pick, we like the Sleep Restoration – 1800 Series Gusseted Gel product. Two pillows come in each package, which is generally available for about $70. The Sleep Restoration pillows are similar to hotel pillows — smooth, plush and pleasantly cool throughout the night.
(P.s. if you're looking to up your comfort game even more, check out our review of the best bean bag chairs.)