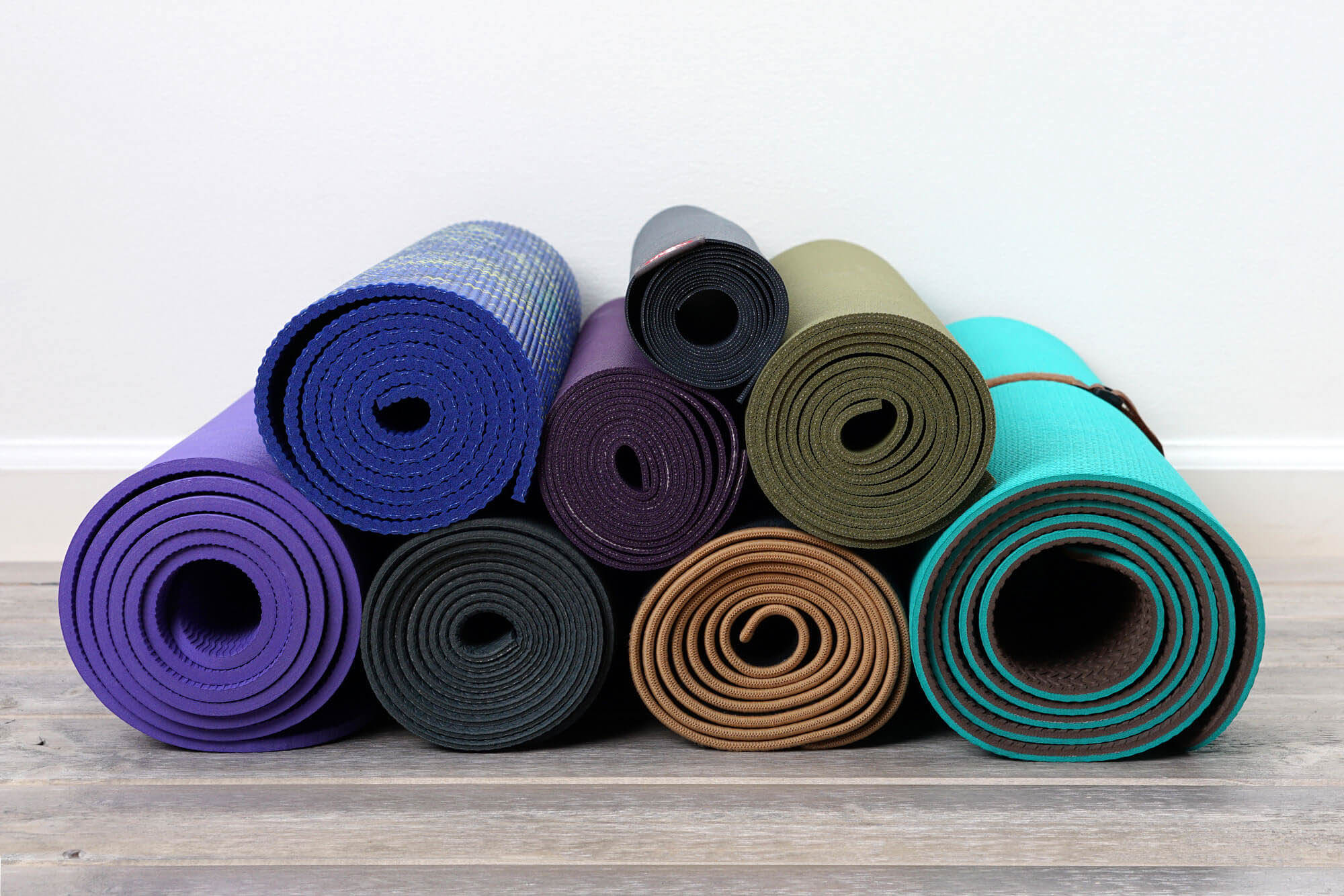 After hours of research and consultation with yoga experts, we enlisted seven yoga enthusiasts ranging in age, expertise, body type and height to test eight top-rated mats for two weeks to settle on winners in three categories.
With its handy alignment markings, grip and luxurious comfort, the HeathYoga – Non Slip Mat was a clear winner for best value. The Jade – Travel stole the show in the best travel mat category, offering superior stickiness and a surprising level of comfort for such a thin mat. Finally, the Aurorae – Synergy 2 in 1 Yoga Mat, featuring a unique built-in microfiber towel surface with unparalleled grippiness, is our pick for the best yoga mat for hot yoga.
Table of contents
How we selected products to test
We consulted with registered yoga instructor, Sarah Hollenbeck, about her recommendations for choosing a yoga mat. She also helped test mats and was indispensable in guiding us with this review.
Expert Consulted:
Sarah Hollenbeck
Certified Yoga Instructor
We also scoured yoga subreddits and surveyed various yoga devotees to find out what features they look for and value in a yoga mat. We then consulted trusted review sites to pinpoint the current top-rated mats. We narrowed our list down even further by reading through customer reviews on Amazon to weed out the mats that didn't live up to the hype and further define the features everyday yogis value in a yoga mat. With all of this information under our belts, we could define the key metrics to use for our mat selection and comparison.
We then chose mats to test from our list that best matched the most vital, sought-after features we'd discovered in our research, had a high number of customer reviews and were rated above four stars on Amazon. For the best affordable yoga mat category, we chose mats under $40; for the best travel yoga mat, we selected thin, lightweight, highly portable models to test.
Compare the eight yoga mats we tested
Important features to consider
"In general, it's best to look for mats that compliment your practice and lifestyle, as that's what will keep you coming back to yoga again and again," Sarah notes. "For instance, if you are new to yoga and have sensitive joints, it's best to go with a mat with greater cushion, as it will provide relief for your joints. If you have been practicing for some time, you may want to consider something with a bit more longevity. Body types should be taken into account as well, as someone taller will need a bigger mat to keep proper alignment in poses without trailing off the edge."
Thickness
In general, there are three yoga mat thickness levels to consider:
Thin (2 millimeters and below)
For classes that are more difficult or specifically focused on balance, like Bikram or Iyengar, thinner mats are the way to go. If you plan to use your mat while traveling, a thin, lightweight and/or foldable mat is a sensible option to fit in your suitcase or carry-on. Advanced yogis or those who practice on a soft surface (like carpet) may also prefer a thinner mat.
Medium (generally in the 3 millimeter range)
Medium thickness mats are often good for hatha and vinyasa yoga, which require a balance of cushion and grip.
Thick (about 5 millimeters and up)
If you have sensitive joints or plan to practice a type of yoga that requires you to hold poses for an extended period of time — yin or restorative, for example — a thicker mat will provide the padding you need to cushion your joints and the balls of your hands and feet, so you can hold those long poses with less pain. This is also a great option if you plan to practice on a solid surface, such as hardwood, tile or cement floors.
Props and other tools are also available as an alternative to buying a thicker mat, including yoga blankets, blocks, bolsters and straps to alleviate pressure on joints. Special yoga knee pads, gloves and socks can also be used for additional cushioning on a thinner mat.
"Props can be used on an as-needed basis if you are still experiencing pain in your joints," advises our mat expert, Sarah. "Over time, as your body gets used to practicing on a regular basis, you can upgrade to thinner mats, which provide more balance."
While thicker mats provide maximum comfort and cushioning, keep in mind that too much cushion tends to be tougher to balance on. A thick mat that isn't high quality can also be lacking in the "bounce-back" factor, leaving you with permanent dents and impressions on your mat after a session.
Of course, your selection will ultimately come down to personal preference. Do you like a harder or softer surface? Do you prefer the cushioned feeling of a thick mat, or do you want a solid surface that will deliver optimum balance and stability? If you're just starting out, we recommend beginning with a low-priced mat on the thicker side (such as the HeathYoga – Eco Friendly Non Slip, Clever Yoga – Better Grip or Gaiam – Print Premium) until you get a better idea of your thickness preference.
Traction
Another important factor to consider when buying a yoga mat is how much traction you need on the top of your mat. There are two types of traction you'll find on a mat's surface: "grippiness" and "stickiness." A grippy mat surface is textured to provide extra grip for your hands and feet, while a sticky mat surface is actually tacky to the touch and provides even more protection against slippage.
A non-skid bottom is an especially important feature to have in a yoga mat, especially if your practice involves a lot of movement, like vinyasa or ashtanga. If you practice any type of hot yoga, or if you tend to perspire a lot, you'll want a mat with plenty of traction all around — grippiness, stickiness and a non-skid bottom. Yogis who fall into this category may also want to consider anti-bacterial mats for their practice. Some mats are actually designed to become even grippier with moisture; these are ideal for hot yoga.
Materials
There are many different materials to choose from, and they all have their pros and cons, depending on the type of yoga you plan to practice.
"For those who don't like to upgrade their mats every few years, a plain yoga mat made out of rubber is the best bet," says Sarah. "Many brands are also coming up with manufacturing processes that reduce carbon emissions during creation, which can help make your practice more eco-friendly."
Here are the most common materials you'll find.
PVC
Pros: PVC is one of the most common materials used in yoga mats. (Those yoga mats for rent in your gym? Those are probably PVC mats.) Generally very durable, PVC usually features optimum cushioning for restorative poses and a nicely sticky surface. With lots of budget-friendly options to choose from, PVC mats can be a great choice for beginner yogis.
Cons: PVC can become slippery when wet, so we don't recommend it for Bikram and hot yoga enthusiasts. Also known as polyvinyl chloride (basically, vinyl), PVC is man-made and not eco-friendly.
(A note about PVC: There is speculation that too much exposure to PVC can actually be bad for your health. Not only is it non-biodegradable, it actually releases dioxin — a chemical that causes cancer — into the air when incinerated. To make PVC pliable for use in products, it must be treated with phthalates, which have had negative effects on reproduction when tested on lab animals.)
NBR
Pros: Nitrile butadiene rubber (aka NBR) is a non-toxic, budget-friendly option that tends to be very padded and comfortable. Because it's oil-resistant, it's also easy to clean.
Cons: While the cushiness of NBR certainly feels nice, it does mean less stability for standing poses. NBR also tends to stretch during poses like warrior or down dog, affecting stability even more.
TPE
Pros: Though thermoplastic elastomer (TPE) is a manmade rubber, it's actually biodegradable. Inherently antimicrobial, it's easy to clean and also UV-resistant, making it great for outdoor use. It also offers good traction.
Cons: TPE is not as durable as PVC and does not feel as cushioned as PVC either.
Natural rubber
Pros: Like TPE, natural rubber is biodegradable, anti-microbial and very grippy.
Cons: If you're allergic to latex, you'll want to avoid natural-rubber yoga mats like the plague. Natural-rubber mats can also be heavy to carry, have a noticeable odor and tend to run in a higher price range.
Polyurethane
Pros: Very grippy and durable, polyurethane (PU) mats are a good option for yogis on a budget.
Cons: Unfortunately, PU yoga mats aren't eco-friendly.
Cork
Pros: Cork is a great environmentally friendly "alternative" material that offers long-lasting durability and terrific grip that actually increases when wet, making it a good option for Bikram and hot-yoga practitioners.
Cons: If you're looking for an eco-friendly mat made purely out of cork, watch out for those that have a rubber backing (many of them do). Cork itself can feel very dense and hard on the joints, and cork mats tend to run in a higher price range.
Jute
Pros: Jute is another natural, environmentally friendly "alternative" option. It has a rough texture that provides great traction either on its own or when placed over a regular yoga mat. Lightweight and anti-microbial, jute mats tend to be cheaper than other eco-friendly mat materials.
Cons: Jute can be a bit rough on the skin and takes some getting used to. It's also quite thin and doesn't provide much padding for the joints.
Organic Cotton
Pros: Last but not least, organic cotton mats are another eco-friendly alternative that can be used alone or on top of your regular yoga mat. Because they absorb sweat well and grow more "grippy" with moisture, cotton mats are great for hot yoga and Bikram. They're also lightweight and easy to clean — simply throw yours in the washer after class.
Cons: Organic cotton mats provide barely any padding and can be slippery when dry.
Size
Yoga mats range in length from the standard 68 inches to the extra long 85 inches. As far as width goes, mats vary from a narrow 23 inches to a broad 36 inches. Body type and height are obviously factors when choosing the size of your mat; when lying flat on the mat, your entire body should fit on its surface. If you're an advanced yogi or especially flexible, you may prefer to have extra room to move around on your mat as well. It's also a good idea to consider how much space you have available to practice in, and then choose your mat accordingly.
Convenience
Convenience should also be a factor when choosing your yoga mat. Consider whether you need a mat that's lightweight (for example, if you commute to your class via public transportation or are going to travel frequently with your mat in tow). Does the mat fit easily in your bag? Is it compact enough to store easily? Is it easy to keep clean or a hassle to disinfect after each session? "Those who practice mainly at home can invest in something thicker and larger," says our yoga expert, Sarah, "but yogis on the go should look for a mat that's lightweight and easy to travel with."
Types of yoga (and matching mats)
Hatha
In the West, hatha yoga has generally come to mean a slow-paced, gentle form of yoga that's perfect for beginners. Because it's unlikely that you'll work up a sweat, we recommend starting with a basic low-priced, non-slip mat, and then upgrading to a more specific type of mat once you get a feel for your needs or branch out into a particularly yoga specialty.
Vinyasa
Vinyasa is a form of yoga characterized by its flow of continuous, dance-like movement and focus on the breath as the yogi transitions smoothly from asana to asana. Vinyasa's quick movements and continuous sequences require a dense, sticky mat on the thicker side with a non-skid bottom.
Bikram and hot yoga
Although both are practiced in 95°F to 105°F heat, Bikram and hot yoga are actually not the same type of yoga — while hot yoga is a broader term that refers to any form of yoga practiced in a heated room, Bikram is a set of 26 postures followed in an exact sequence with two specific types of breathing exercises. For both types, you'll want to invest in a mat with lots of grip and stickiness in the midst of sweat and moisture, such as jute or cork (which actually increase their grip when wet), or use in a non-skid yoga towel placed over your regular mat. We recommend an insulated water bottle for icy rehydration during a hot set.
Ashtanga
Linked to vinyasa yoga, ashtanga is a disciplined and rigorous practice that follows a series of challenging poses with no breaks in between. Since ashtanga will have you dripping sweat right off the bat, we recommend either a cork mat or a dense, sticky mat with grippy undersides, along with a yoga towel for extra slip support.
Iyengar
Iyengar yoga is all about achieving improving posture and achieving perfect alignment, usually involving blocks, straps and other props to help facilitate the poses, which can be held for a full minute or even longer. Alignment mats with good grip and stickiness in the midst of sweat are ideal for this type of yoga.
Yin and restorative
Restorative yoga is focused on deep relaxation of the body and mind, while yin stimulates specific meridians in the body and improves circulation around the joints with poses that are held for up to 10 minutes at a time. Because both yin and restorative yoga are slow-moving, meditative practices that involve holding poses for long periods of time, yogis will need mats with plenty of cushioning for maximum comfort and relaxation.
How we tested
The mats in our lineup were put to the test over several weeks by seven yogis of varying body types and heights, ranging in skill from beginner to advanced and in age from early 20s to 40-plus. Our testers used the mats during regular one-hour hatha, vinyasa, restorative, Bikram and hot-yoga sessions. Following testing, we asked our yogis to rate the mats on a scale of 1 to 10 (with 10 being the best) using the following metrics.
Traction
How "sticky" is the mat's surface? How "grippy" is the mat's surface?
How well does the mat maintain its stickiness and grippiness in the midst of sweat and moisture?
How effective is the mat's non-skid bottom?
How well does the mat maintain its integrity during use (as opposed to stretching during poses)?
Thickness
How comfortable is it to perform seated poses on the mat?
How stable/balanced do we feel on the mat?
Does the material bounce back after use, or are you left with dents and divots?
Materials
How does the mat's material feel against our skin?
Does the mat have an odor once out of the packaging? If so, does it fade at all with cleaning?
How easy is the mat to clean after use?
Size
How cramped or spacious does the mat feel?
How portable is the mat? Is it easy/hard to carry, roll up, store, etc.?
Design and color
How pleasing to the eye is the mat?
How well does the mat's color match what was advertised?
How would we rate the variety of designs and/or prints available for this mat?
If the mat has alignment markings printed on it, how helpful did we find those markings to be?
Does the mat have lasting marks or sweat stains on it after each session?
Price
After using the mat, would we say the mat is well worth its price?
Best value: HeathYoga – Eco Friendly Non Slip
The most budget-friendly yoga mat options are the rentable community mats at your gym or yoga studio. However, assuming you would prefer to forego an encounter with the bacteria and fungus left behind by other yogis and buy your own brand-new mat, we highly recommend the HeathYoga – Eco Friendly Non Slip Yoga Mat as our top pick for the best affordable yoga mat.
The HeathYoga mat is dual-layered, with a textured, non-slip top surface and a "tire tread" bottom for traction. Although we were skeptical at first that the "tire tread" was just for show, we were soon converted; the mat didn't budge throughout our yoga sessions. As for the textured top, while it doesn't offer much stickiness, it does provide excellent grip for the hands and feet (though the grip does decrease slightly when you start to sweat).
Our testers also reported that the mat's diamond-pattern texture is an unexpectedly pleasurable tactile bonus — a "mini massage for your hands and feet," according to one yogi. Made of environmentally friendly, anti-microbial TPE in a simple, tasteful design, the mat feels luxurious and expensive for its sub-$30 price tag.
The mat's 6-millimeter thickness is springy enough to provide nice cushioning for the joints and balls of the hands and feet, without compromising balance and stability. Our hatha and restorative yoga testers reported excellent comfort levels for seated and resting positions. Because the mat's bottom traction is so strong, it maintains its integrity during use and doesn't stretch out, and any dents that appear on the top of the mat quickly disappear again minutes later.
At 72 inches by 26 inches — four inches longer and two inches wider than the average yoga mat — our taller yogis appreciated the HeathYoga mat's larger surface area. Weighing in at 2.2 pounds, the mat is lightweight to carry, though slightly on the bulky side. It does come with a velcro strap and carrying strap, which helps with the load. The mat comes in five no-fuss color variations: turquoise, pink, purple, green and gray.
This mat receives bonus points for its alignment markings, which are meant to help yogis maintain proper alignment during their practice. Although our testers admitted that they didn't always pay attention to these marks during their sessions, the lines did serve as helpful reminders of where to place their hands and feet, especially during vinyasa flows. Because the markings are stamped into the mat's surface for a recessed effect, it is easy to achieve correct alignment without looking down too much; for example, if you're in child's pose or downward dog, you can feel around with your fingers to find the recessed line marking where your hands should be placed.
With its great traction, forgiving cushioning and low price point, the HeathYoga – Eco Friendly Non Slip Yoga Mat is the perfect eco-friendly starter mat for beginners. Its superior grippy, yet not too sticky surface also makes it an excellent option for vinyasa-flow practitioners, and hatha, yin and restorative yogis will appreciate its cushy thickness. We also recommend it for those who practice Iyengar yoga and put particular focus on alignment.
Key takeaways
With its winning combination of excellent bottom traction, surface grip and cushioning, the HeathYoga – Eco Friendly Non Slip Yoga Mat is our choice for best affordable mat for a variety of yoga practices, skill levels and body types, including yogis on the taller side.
The mat's alignment system is a helpful guide for beginners and a reminder for advanced yogis to maintain alignment.
The mat's eco-friendly, anti-microbial TPE material with a closed-cell surface is a hygienic win, making for an easy-to-clean and fresher-smelling mat.
Best for travel: Jade – Travel Yoga Mat
Travel yoga mats are usually designed to be extremely thin for maximum portability; however, this often comes at the cost of comfort and joint support. Unless you're an advanced yogi, travel mats tend to be quite taxing on the joints and balls of the feet and hands, especially in supine, seated and kneeling positions. At 3 millimeters thick, the Jade – Travel Yoga Mat offers about 1 millimeter more cushioning than most travel mats. Our testers gave it high marks for both balance and cushioning, noting that it is surprisingly comfortable for a travel mat.
Weighing in at just over 3 pounds, the Jade mat is admittedly on the heavier side for a travel mat. However, its outstanding performance with regard to our other criteria — comfort, traction, material, etc. — clearly outweighs the competition. This mat is streamlined enough for travel, but it's not so thin that you'll be suffering and wincing your way through downward dog and cat-cow. "It's the perfect amount of barrier between the floor and my body," says one of our testers. "It's a great buy."
Made of biodegradable natural rubber, the eco-friendly Jade Travel Yoga Mat features a subtle surface texture and open-cell construction, which gives it a nice grip and excellent stickiness, even in the presence of sweat. Although one tester noted that the mat could use a bit more traction on its bottom surface, the mat maintained its integrity throughout the yoga sessions with zero stretching.
The antimicrobial Jade mat had a slight rubbery odor at first, but the smell faded after the first cleaning. Because of its relatively smooth surface, the mat is easy to clean, with any smudging disappearing after a wipe-down. The mat's simple, rather plain design comes in four colors: purple, green, blue and black.
This mat's cushy comfort does have one negative trade-off: it is not as easily foldable as other travel mats often are. The mat may be rolled tightly or folded lengthwise, but due to its thickness, folding it into a square may lead to creasing. If you plan to pack this mat in a suitcase, we recommend checking to make sure your travel case is the same width or wider than the mat's breadth.
Surprisingly comfortable for a travel mat, the Jade – Travel Yoga Mat will make you actually want to practice yoga while you're on the road. With great surface and bottom traction, it's an excellent choice for yogis on the go, or advanced practitioners who desire a thin, easily portable mat. (Note: Advanced yogis who don't require cushioning and are looking for a super lightweight, extra-thin travel mat may want to check out the Jade – Voyager Mat, which is about 1.6 millimeters thick and weighs a measly 1.5 pounds.)
Key takeaways
Unlike most travel mats, the Jade – Travel Yoga Mat delivers both portability and cushioning for the joints, with a 3-millimeter thickness. It's a realistic travel option for a range of practitioners, including beginner and older yogis.
This mat is made of environmentally friendly, biodegradable natural rubber, which provides good grip and superior stickiness.
The mat's open-cell construction helps it maintain surface traction in the midst of sweat.
Best for hot yoga: Aurorae – Synergy 2 in 1
Seasoned hot yogis know that toting your equipment to a Bikram or hot yoga class can feel like a workout in itself; along with your water bottle and regular yoga mat, there's the full-size towel to place over your mat to reduce slippage once you start sweating, as well as a smaller towel to wipe yourself down after class. The Aurorae – Synergy 2 in 1 Yoga Mat helps lighten the load with a unique double-sided design that features a full-length microfiber towel already built into its surface. Bonded to a PER (polymer environmental resin) base, the built-in towel eliminates the hassle of a separate towel bunching up on top of your mat. "I like both the convenience and aesthetics of having the microfiber attached," says one tester. "It makes the mat super sleek."
Although our natural rubber and PVC contenders provided good surface grip at the beginning of our hot yoga and Bikram classes, the Aurorae mat climbed quickly to the head of the pack once our testers started sweating. "The more you sweat, the better its stability and balance," one tester says. "I tend to slip on rubber material. For someone who sweats a lot, this mat was perfect." The Aurorae mat also provides excellent bottom traction, staying intact and refusing to budge or stretch even when things start to get sweaty.
The Aurorae – Synergy 2 in 1 mat is so responsive to moisture that its manufacturers recommend misting the top of the mat with water before you even begin to sweat for increased grip. Our testers agree, noting that the microfiber material provides less traction when dry, and is even a little slippery before you start to sweat. So while this mat is the perfect companion for a hot yoga or Bikram experience, it may not be the ideal choice for less sweaty types of yoga.
The 5-millimeter Aurorae mat gets high marks for comfort; it feels great against the skin and leaves zero dents or impressions on the microfiber side after classes. And with a 72-inch by 24-inch surface area, it feels nice and spacious during your practice as well.
Because hot yoga and Bikram environments are breeding grounds for bacteria, it's vital to clean your mat after every session to keep things hygienic. Conveniently, the Aurorae – Synergy 2 in 1 mat can be thrown right into the washer after every class (it's compatible with front-loading machines or top-loading washers without agitators) and then simply air-dried before your next sweat session. If you have a top-loading washer with an agitator, the manufacturer recommends washing the mat with a coarse sponge instead.
The Aurorae – Synergy 2 in 1 Yoga Mat is a dream for hot yoga and Bikram practitioners, eliminating the need for a separate yoga towel and delivering excellent surface traction when wet. It's also a great option for arduous ashtanga classes and for yogis who tend to sweat easily. We highly recommend misting the top of the mat at the start of your class for optimum surface grip.
Key takeaways
With a built-in, full-length microfiber towel, the Aurorae – Synergy 2 in 1 Yoga Mat is unparalleled when it comes to traction under sweaty conditions.
Because the towel is bonded to the mat, you get excellent grip without having to worry about your towel bunching up during poses.
The mat can be put directly into the wash and air-dried after every class — essential for good hygiene in the face of sweaty, bacteria-heavy hot yoga sessions.
Best Grip: Scoria – Extra Thick Cork Yoga Mat
The Scoria – Extra Thick Cork Yoga Mat with 6mm thickness is our pick for individuals prone to extra sweaty hands and feet while working out. It measures 72" x 24" and is large enough for most yogis under 6'. Our testers used the Scoria cork mat during hot yoga and HIIT workouts and performed very well.
The cork absorbed excess sweat on our hands and feet, and there was no slippage, no matter how much sweat dripped and spilled onto the mat. We found we didn't need to carry an extra yoga towel for extra grip when the cork provided a supportive grip. The rubber backing also provided extra cushion and support for weak knees during specific positions. The mat didn't move from the floor even during HIIT workouts because of the rubber grip below.
This natural yoga mat gets extra bonus points for being made of cork and natural rubber. Cork is naturally antibacterial, so all you need to do to disinfect it is lay it on a flat surface to dry sweat spots between each use. There's a slight rubbery smell when you first unbox it, but it eventually fades once you lay it out for a few hours before your first use.
With such a thick yoga mat, you can expect it to be one of our heaviest mats. So we wouldn't recommend using this for travel because it's 8.8 lbs, but it does come with an adjustable cotton carrying strap that helps transport the mat to and from the car. The Scoria yoga mat is also one of the more expensive mats at $110. Still, we say it's infinitely worth the price because it provides such an amazing supportive grip for those who have issues slipping during yoga sessions and workouts.
Manduka – eKO Yoga Mat 5 mm, 71 inches
We also tested the Manduka – eKO Yoga Mat in 5mm and extra long at 79" x 24." This yoga mat differs from the lighter 1.5mm mat from Manduka because it offers more cushioned support and length. It's also considerably heavier at 7 to 8 lbs, depending on the size. Our tall tester (6 foot tall) liked the more extended mat option because it allowed us to stretch out during yoga positions and gave extra room to place belongings on the mat without touching the ground.
The Manduka – eKO mat is another nontoxic option for those who prefer sustainable and natural yoga mats. It's made of biodegradable rubber and safe from PVC or other harmful toxic materials. We noted that the material felt less porous than foam mats and that it was easy to use antibacterial wipes or spray to clean the mat.
The rubber also offers good grip during yoga sessions but doesn't fare too well during hot yoga and sweaty palms. Sweat can still pool; you should probably put a towel down to help reduce slipping. One issue we noticed was sometimes the rubber material would rub against the skin during some poses and produce a somewhat unnerving noise (like passing gas!) during sessions. We would have to place a towel over the mat to prevent these noises.
The Manduka – eKO 5mm yoga mat is also one of our more expensive mats, priced between $100-$110, depending on the length. While this is pricey, we think it's worth the price based on its performance and natural materials.
Clever Yoga – Better Grip Yoga Mat
Our runner-up in the best affordable yoga mat category is the Clever Yoga – Better Grip Yoga Mat which, with its 6-millimeter thickness, gets high marks for both comfort and balance.
"The mat was cushioned, but still firm enough to feel stable in standing balance poses," says our tester, who notes that it is especially good for yin, Iyengar or restorative yoga.
The Clever Yoga mat maintains its shape well and doesn't stretch out during standing poses — qualities that can be hard to find in a thicker mat. Its bottom traction is also excellent with surface grippiness and stickiness ratings slightly higher than average.
Thought it was a close race between the Clever Yoga mat and our top pick for best affordable yoga mat, the HeathYoga mat ultimately won out for its handy alignment system and for having slightly better surface traction.
Gaiam – Print Premium Yoga Mat
Also in the best affordable yoga mat category is the Gaiam – Print Premium Yoga Mat, which has a good overall design and fares well in our bottom and top surface traction ratings. "This is a solid mat," says one tester.
The mat loses points for being a bit stiff and difficult to roll up. At 5 millimeters thick and 68 inches long, the mat is also thinner and shorter than its competitors in the category, though it does come in a variety of lively patterns.
Manduka – Prolite Yoga and Pilates Mat
Our runner-up in the best yoga mat for hot yoga category, the Manduka – Prolite Yoga and Pilates Mat, gets high marks from our testers for its overall comfort and the stability they felt while using the mat (though one yogi notes that it felt a little thin to her). The 4.7-millimeter mat provides good cushioning, with a pleasant surface texture that helps prevent slippage. It's easy to clean and leaves no permanent smudges, and its 71-inch and 79-inch length options are great for tall yogis.
During hot yoga, however, the mat loses much of its surface grip once you begin to sweat; our hands began to slide forward during down dog. A towel would be required to use this mat for Bikram or hot yoga.
The Manduka Prolite is an excellent all-around yoga mat — but we don't recommend it for Bikram or hot yoga.
Jade – Harmony Mat
Another contender in the best yoga mat for hot yoga category, the Jade – Harmony Mat is very similar in quality to the Manduka Prolite, providing excellent stability, balance and bottom traction. Made from eco-friendly natural rubber, the mat is easy to clean, leaving no stains or smudges behind. One tester notes how sturdy and high-quality the mat felt during her session.
Like the Manduka Prolite, the 4.7-millimeter Jade Harmony had great initial surface traction — until we began to sweat in our hot yoga sesh. In the face of moisture, the Jade mat loses much of its surface grippiness and stickiness, causing our hands to slip forward during down dog.
Just like the Manduka Prolite, we recommend the Jade Harmony for regular, non-sweaty yoga practices.
Manduka – eKo Superlight Travel Yoga Mat (not recommended)
As much as we wanted to like the Manduka – eKo Superlight Travel Yoga Mat, it had several downsides that left us disappointed and a little sore. The 1.5-millimeter mat barely provided enough cushion to differentiate it from the floor underneath; we were counting down the seconds until we could shift our weight off of our knees, hands and sit bones and into the next pose. Even for a travel mat, it was quite uncomfortable.
The mat's surface grippiness was okay, with its stickiness faring a bit better. However, once our hands became slightly sweaty, we started slipping forward like crazy in downward dog. The combination of discomfort and a slippery surface made for an overall unpleasant yoga experience.
The mat does offer excellent bottom traction and doesn't stretch at all during poses. It also folds up easily for portability, and its minimal surface texture makes it easy to clean.
The bottom line
Your choice of yoga mat is determined by a range of factors — the type of yoga you do, the environment you practice in, your skill level, body type, past injuries, etc. The HeathYoga – Eco Friendly Non Slip Yoga Mat is an excellent affordable option for any yogi to start with, featuring a handy alignment system, excellent traction, 6 millimeters of cushy thickness and a luxurious feel that defies its price point.
For those looking to take their yoga mat on the road, we recommend the Jade – Travel Yoga Mat for its combination of portability and comfort. Made of eco-friendly natural rubber, the mat offers impressive stickiness and grip that endure through sweat and moisture.
The unique, double-sided Aurorae – Synergy 2 in 1 Yoga Mat is our pick for hot yogis. The mat's built-in microfiber towel provides unbeatable surface traction when wet with its truly non-skid base. Bikram and hot yogis will love that it's machine-washable — a major plus for keeping sweaty mats bacteria and fungus-free.