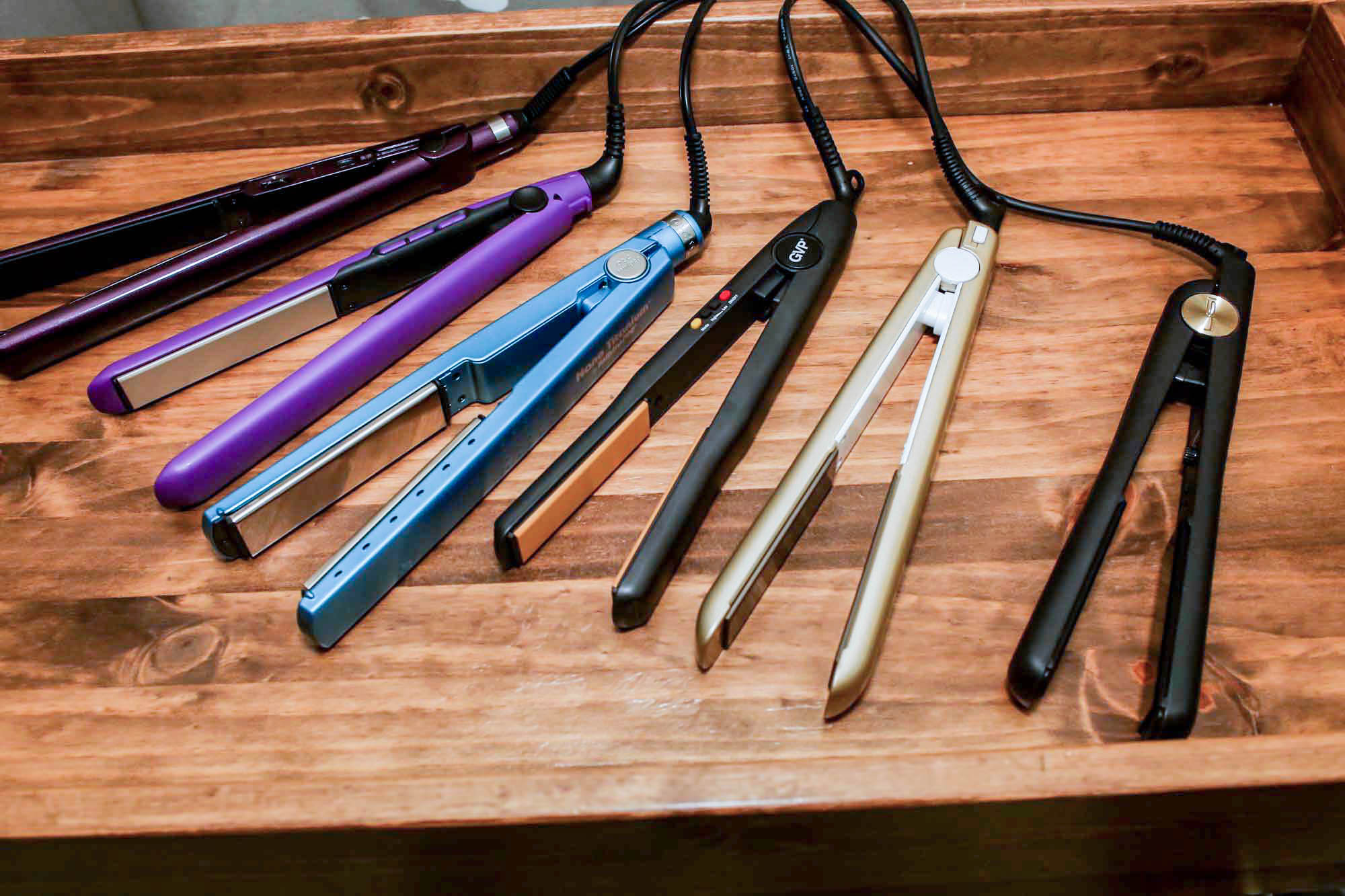 In our quest to find the best flat iron, we spent two weeks carefully researching plate types, consulting professional hairstylists, and testing six top products on five different hair types, ranging from thin and fragile to thick and curly. Ultimately, the GVP – Ceramic Titanium clearly distinguished itself as our top pick due to its accurate, easy-to-use digital temperature controls, comfortable grip, and ability to make hair shiny and sleek. For thicker-haired users looking to splurge, we recommend the BaBylissPRO – Nano Titanium.
In our quest to find the best flat iron, we spent two weeks carefully researching plate types, consulting professional hairstylists, and testing six top products on five different hair types, ranging from thin and fragile to thick and curly. Ultimately, the GVP – Ceramic Titanium clearly distinguished itself as our top pick due to its accurate, easy-to-use digital temperature controls, comfortable grip, and ability to make hair shiny and sleek. For thicker-haired users looking to splurge, we recommend the BaBylissPRO – Nano Titanium.
Table of contents
The 6 flat irons we tested
Top pick: GVP – Ceramic Titanium
Universally chosen as the favorite by our testers, the GVP – Ceramic Titanium isn't fussy and delivers top quality results without a top-tier price tag. The GVP's plates are titanium-infused ceramic, which heat up quickly, evenly and accurately. While the initial aesthetic impression of this flat iron is simple, its controls are smart.
The user-friendly buttons and digital screen can accurately control the plate temperature from 160°F to 450°F in 10-degree increments. The GVP clearly indicated when heating was done by pausing 'loading bars' on the digital display. The ease of temperature control for this flat iron made it very easy for all of our testers to find their ideal straightening temperature.
The GVP's small plates (1"x 3.5"), and well-designed handle were easy to fluidly glide through hair, minimizing potential hair damage. Its 9-foot cord also ensured that testers were able to easily handle the flat iron, without worrying about outlet proximity.
While the GVP doesn't have an overly exciting aesthetic, all of our testers cited above-average hair texture results after using it. It is our best flat iron for most consumers because of its simple design, user-friendly controls, and titanium-infused ceramic plates.
Also, the GVP is dual voltage, meaning you can use it easily while traveling. This flat iron manages to wow in performance, yet it remains below the price point of many luxury flat irons.

Key takeaways:
Our best flat iron, the GVP – Ceramic Titanium, is suitable for a wide range of hair types thanks to its large and accurate temperature range.
The titanium-infused ceramic plates of the GVP produce solid results, heat up quickly, and easily glide through hair.
The user-friendly controls set it apart from most flat irons, and make finding your personal ideal straightening temperature a breeze.
Offers a top-tier performance without top-tier prices.
Luxury pick: BaBylissPRO
While the BaBylissPRO – Nano Titanium's $130+ price makes it inaccessible to a portion of consumers, its performance rated higher than the GVP with our tester's with normal to thick hair. We also tested another version of the BaBylissPro which performed well on thick hair. The 300°F minimum temperature makes this flat iron unsuitable for thin, fragile or damaged hair. In particular, our testers all rated the BaBylissPRO's grip on hair as exceptional.
The bigger plate size (1.25″ x 4.25″), weight and the rectangular shape of the BaBylissPRO limit its overall versatility. However because of the great hair grip, the BaBylissPRO was effective even on highly-textured hair. The BaBylissPRO's controls are very simple to use, but offer a limited temperature selection with only five temperature settings (300°F, 340°F, 375°F, 410°F, 450°F).
The results the iron offers, and its titanium-coated plates make it worth recommending to a consumer with a big budget looking for serious straightening power.
However, for your average consumer, the GVP – Ceramic Titanium is a better overall flat iron.

Key takeaways:
The BaBylissPRO – Nano Titanium offers serious straightening power and leaves hair frizz-free.
The BaBylissPRO is suited for thicker hair types. It is not a flat iron for those with thin, fragile, or damaged hair because of its limited high-temperature selection.
The $130+ price tag seems excessive, but the BaBylissPRO offers good results for those looking for a powerful flat iron.
Budget pick: Conair – InfitiPRO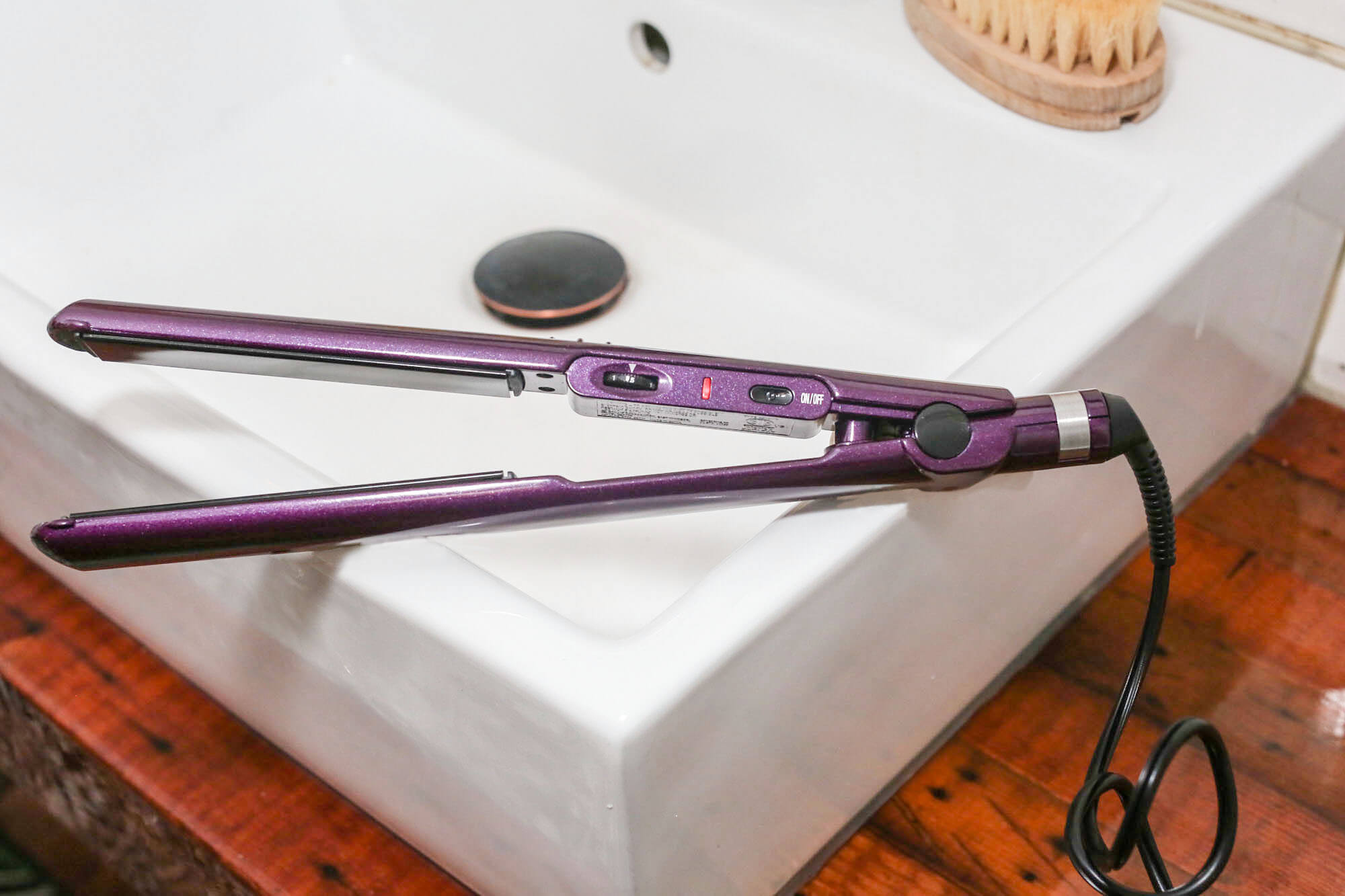 The Conair InfinitiPRO – 1-Inch  offers quality straightening results and good usability for under $30.00. While all of our testers ranked the Conair as an above-average straightener overall, most cited frustration with the Conair's temperature dial.
The Conair's dial uses an increment system that is simple to operate. However, the flat iron only lists the maximum temperature in the manual, meaning that, unless you have access to an infrared thermometer, finding your perfect temperature requires a rough approximation. Luckily, we measured the plate temperatures at each setting for you.
| Dial Number | Temperature (°F) |
| --- | --- |
| 1 | 250 |
| 5 | 270 |
| 10 | 300 |
| 15 | 350 |
| 20 | 370 |
| 25 | 400 |
| 30 | 460 |
Despite the ambiguity of the controls, the Conair provides solid results in hair texture. Four out of five of our testers listed the Conair's hair results as above average, while our thick and curly hair tester listed its hair texture results as average.
This flat iron's plates are made of ceramic-coated tourmaline, which results in hair with more shine and less frizz. In particular, our testers commented on hair looking shiny after using the Conair.
The Conair is also lightweight and sleek, making it easy to glide through hair. Its long plate length, 4.75", was unnecessary for most of our testers.
However, it could be useful for those who like to work with bigger hair sections at a time.

Key takeaways:
The Conair InfinitiPRO – 1-Inch is a great budget flat iron that offers solid hairstyling results.
The Conair's lightweight and easy-to-hold handle makes it easy to glide through hair.
While the Conair's temperature control dial is a bit ambiguous, you can use our infrared thermometer test results to get close to your ideal flat-iron temperature.
Other products we tested
Remington Pro – 1" Flat Iron
Our least expensive straightener, the Remington Pro – 1″ Flat Iron, lost points with our testers because of the 'burning plastic' smell it emits while heating up. The flat iron's lightweight was a plus, but the iron was seen as lacking in overall quality by our testers. The Remington Pro's controls were simple to use, but its plates often measured higher than the set temperature.
The Remington's floating ceramic plates are supposed to be easier to glide through hair. However, the consensus from our testers was that the Remington's plates did not sufficiently grip hair. Overall, the Remington is lightweight and simple to use but does not deliver on quality or performance. For only ten more dollars, it is worth opting for the Conair.
HSI Professional – Glider Ceramic Flat Iron
Aesthetically, the HSI Professional – Glider Ceramic Flat Iron was ranked highest by our testers. Its sleek black look and textured grip are very appealing. However, this sleek look is partly achieved by placing the temperature and power controls on the inner side, next to the hot ceramic plates. While a glove was included with the flat iron for hand protection, our testers were bothered by the control's perilous location.
Four out of five of our testers ranked the styling results of the HSI as below average or average. Ultimately, the stylish aesthetic of this flat iron was not enough to make up for its lackluster styling results and poorly designed controls.
KIPOZI – 1 Inch Pro
At first glance, the KIPOZI – 1 Inch Pro Nano-Titanium Flat Iron appears to be the height of flat iron technology. It has a touchscreen temperature interface and floating titanium plates. However, all of our testers cited great frustration with the KIPOZI's touch screen. Many had trouble with the screen's automatic lock feature, which often locks during temperature adjustment. Most struggled just to turn the KIPOZI on and off.
Some of our testers complained about the styling results of the KIPOZI, and had to adjust the heat higher than normal to get desired results. This was corroborated by our infrared thermometer, which revealed at times a 20°F discrepancy between its displayed and actual temperature. Once the correct temperature was found, good results could be achieved. However, the KIPOZI seems to unnecessarily complicate your straightening routine.
How we selected
We began our research by consulting online reviews from respected retailers like Amazon, Sephora, and Ulta. These user reviews were used to understand what features consumers find important in a flat iron, and to determine which brands were leaders in their field. We read subreddits like r/TheGirlSurvivalGuide, and reviews from Wirecutter.com, and Reviews.com.
Before deciding which flat irons to test, we researched important technical components to consider in each flat iron, such as plate material, plate size and temperature controls. We also consulted a professional hairstylist with nearly six years of experience, Amy Nedderman. Amy gave us practical information about proper flat iron usage, and what she looks for in a flat iron.
You may be wondering — where's the Chi? Despite the recognizability of the Chi brand, we did not include a Chi flat iron in our six finalists because of lackluster reviews from consumers and professionals alike.
How we tested
Hands-on testing
All of our finalists promised the smoothest sleekest hair, but we had to test them with regular consumers to see if they really delivered. We had five different testers, each with a different hair type (silky and thin, wavy and fine, curly and fine, wavy and thick and curly and thick), try out each of our straighteners.
All of our testers had some experience with flat irons. Our testers with thinner, finer hair typically used straighteners less frequently, while our testers with thicker, curlier hair typically used flat irons more often. Each of our testers had a different ideal temperature range for straightening hair.
The ease of turning on and setting the temperature of our final six flat irons varied. All of our tester's cited great frustration with the KIPOZI – 1 Inch Pro's touch screen controls, which made even turning on and unlocking the flat iron a struggle. The HSI Professional controls also ranked very poorly with our testers, as they were located very close to the flat iron's plates. This flat iron came with a glove for protecting your hands from heat, but our tester's preferred a less perilous location for the controls. The GVP – Ceramic Titanium's controls ranked highest among our testers because of their simplicity and the large temperature range they covered.
The Remington Pro lost marks with all of our tester's while warming up, as it emits an odor of burning plastic. Our experience was backed up by multiple Amazon reviews that mention the unpleasant smell. Though this flat iron was our most budget-friendly option, the Conair was only ten dollars more, and greatly outperformed the Remington.
Drawing from their past experience using flat irons, all of the testers naturally looked for plates that had a solid grip on hair without pulling, or having to squeeze your straightening hand too hard. Three of our testers gave the BaBylissPRO  top scores for its ability to grip hair while straightening. However, the BaBylissPRO's weight and boxy design outweighed the benefit of the plate's grip for others.
The BaBylissPRO delivered quality hair results for our testers, but it does not seem worth the expensive price tag — particularly since our testers disliked the flat iron's clunkiness, lack of ready light indicator, and aesthetics.
To test the versatility of each iron, our testers also used each to create a wave or curl in their hair. The results of these tests were mixed, but generally, our testers had the most success with the smaller, more rounded flat irons, such as the GVP, HSI, and Remington Pro.
Overall, our tester's were happy with the results from all of our flat iron finalists but noted major differences in ease of use and design.
Temperature ranges
To determine the highest and lowest temperatures of our flat irons, we employed an infrared thermometer to measure the plate temperature at different settings. Our infrared thermometer had a 12:1 distance-to-spot ratio, so to test a half-inch spot on the flat iron's plate we held the thermometer 6 inches away and pointed it directly at the center of the plates. A caveat for all of our infrared thermometer readings — in order to point the thermometer at the center of the flat iron plates we had to angle the thermometer, which may have affected the accuracy our readings. The infrared thermometer is also not accurate on very shiny, reflective surfaces, so we were unable to rely on the readings for the BaBylissPRO that had very reflective plates.
Most of our finalists reached over 420°F, the highest temperature needed by our tester with the thickest hair. Temperatures above this are unnecessary for most and using the top temperature, 460°F achieved by the Conair InfinitiPRO is inadvisable for most, as it can do real damage to hair. Our tester with silky thin hair was unable to use the BaBylissPRO, or Remington Pro – 1″ Flat Iron as their lowest heat temperatures were 300°F and 310°F respectively.
The KIPOZI measured a bit lower than the displayed maximum and minimum temperatures (450°F, and 170°F respectively), with its maximum temperature coming in at 445°F and it's minimum at 150°F. This discrepancy was also noticed by our testers, who often had to set this flat iron's temperature higher than they normally would.
Heating speed
To test the heat time of our flat irons, we again employed the infrared heat thermometer along with a stopwatch.
We found that the KIPOZI had the fastest heating time, taking only 35 seconds to reach its maximum temperature. The GVP  was second fastest, taking 53 seconds to reach its max.
The slowest to reach its maximum temperature was the HSI, taking 1 minute and 48 seconds. However, with all of our finalists reaching temperatures over 400°F in less than two minutes, heat time was not a deal-breaker for any of our finalists.
Usability
Our lightest flat irons were the InfinitiPRO and Remington Pro. However, the Conair's longer plates, 4.75", were a bit more unwieldy in practice. Our tester's seemed to prefer the handling of the 1" x 3.5" plates offered by HSI Professional.
The BaBylissPRO and GVP had the longest cord length, both 9 feet in length. The Conair and Remington had the shortest cords, which still measured a healthy 6 feet. You certainly won't be tied to your outlet while straightening your hair with any of our finalists.
How do flat irons work?
Flat irons straighten hair by removing water from hair strands. This leads to "additional internal structuring" which allows the hair to stabilize in a desired style. (When the hair absorbs enough moisture, it will return to its normal state.) This process of direct heat and water evaporation leads to hair damage, as it breaks down the amino acids naturally present in hair. The damage caused by flat ironing hair can also lead to the darkening of bleached or naturally light hair.
If you are able to straighten your hair using a hairdryer (check out our hair dryer review here)you should, as it is a much less damaging process for hair. However, the short-term styling benefits of a flat iron are often desirable enough to consumers to outweigh the damages associated with long-term flat iron use.
How to use a flat iron
Simple measures can be taken to promote hair manageability and prevent hair breakage when flat ironing hair, such as preconditioning hair with a heat protectant. We used Moroccanoil – Perfect Defense on all of our testers, per the advice of professional hairstylist, Amy Nedderman. However, while these products are described as "heat protectant" they cannot completely prevent the damage caused by using direct heat to style hair.
After using a heat protectant, Amy recommends detangling your hair, sectioning it off into clean sections then using a comb "in front of your flat iron to keep things clean as you work your flat iron toward your ends." A flat iron that is set to the correct temperature for your hair should straighten hair in one fluid pass. Flat ironing hair too slowly or using multiple passes to straighten one section of hair can lead to unnecessary damage.
It is also important to avoid unnecessarily high temperatures when flat ironing hair, since it greatly damages it as we mentioned earlier. If you are unsure about which temperature to use, start at a low temperature and slowly increase it until you achieve the desired straightening results in one fluid pass. There is no 'one-temperature-fits-all' solution to flat ironing hair, as the right temperature will vary based on a person's hair texture and thickness.
Important features to consider
Plate size: Flat iron plate widths typically range from 1 to 2 inches. We opted to test all 1-inch plates (with the exception of the BaBylissPRO that is 1.25") because smaller plate widths are recommended for a wider variety of hair types. Very curly/textured hair should be straightened in smaller sections, meaning a smaller plate width is recommended. These smaller plates also can create more versatile styles. However, 2" plates are preferred by some because they straighten more hair at once, which speeds up your straightening routine. Plate length should also be taken into consideration, as it determines how much hair can be straightened at a time, and affects your ability to comfortably wield the flat iron. Average plate lengths from 3.5" to 4.25" are comfortable for most people.
Temperature range: Flat irons are often advertised by highlighting the incredibly high temperatures they reach — often up to 450°F. However, temperatures above 400°F are not necessary for most people. It is important to check a flat iron's minimum temperature, to ensure that the flat iron can be set to your ideal straightening temperature. You can find your perfect temperature by setting your flat iron on low, and gradually increasing the temperature until you are able to straighten hair in one fluid pass.

Ionic technology: Ionic irons produce negative ions to attract the positive water ions found in hair. The result is frizz-free, smooth hair. All of the flat irons we tested promoted ionization, although they were different plate types.
Ceramic plates: Ceramic plates heat up quickly and evenly. They're also smooth, which means hair won't snag or get caught. Check if a particular flat iron uses pure ceramic plates or ceramic-coated metal plates since coated plates may chip over time and catch hair, or damage hair with contact to the exposed hot metal.

Titanium plates: Titanium plates become extremely hot quickly. They also emit more negative ions than ceramic plates, which helps to combat frizz. Titanium plates are also very lightweight. Flat irons with pure titanium plates are among the most expensive flat irons on the market.
Tourmaline-coated plates: Tourmaline is a semi-precious gemstone, which is crushed and used to coat flat iron plates. This material is sought after because it also increases the negative ions produced by the plates — more negative ions means hair has less frizz and more shine.
Automatic shutoff: Many flat irons include an automatic shutoff feature, so your flat iron is not left on for more than thirty minutes to an hour. This feature is an important safety consideration and prevents amateurs and professionals alike from burning counters.
Usability: Remember the importance of "one fluid pass" when straightening hair? If a flat iron is too heavy or unwieldy, it may prevent this fluid motion, and cause heat damage/breakage. This overall usability also takes into account the length of cord and logic of controls.
Aesthetics: If you flat iron your hair daily, it makes sense to have something attractive on your countertop.
The bottom line
A great flat iron should provide smooth, shiny, frizz-free hair, while minimizing hair damage. We found that the GVP – Ceramic Titanium clearly outshone its competitors because of the smart simple controls, comfortable design and titanium infused ceramic plates. This flat iron is the best choice for most people because it offers above-average hair results, is extremely easy to use and has a mid-range price (around $70).
For those with normal to thick hair, the BaBylissPRO – Nano Titanium is a good splurge choice. Its $130+ price is reflected in the titanium plate's ability to grip and fluidly glide through hair. Our testers with normal to thick hair ranked the BaBylissPRO's hair results highest. However, this iron's minimum temperature is 300°F, making it unsuitable for thin or bleached hair. For more options for thick hair, check out our review of straighteners specifically tested on thick hair.
Those on a budget should consider the Conair – InfinitiPRO, which rated well with our tester's because of its easy-to-use, thin, lightweight design. While it is easy to operate the Conair's temperature dial, its increment system is ambiguous about the actual plate temperature it refers to. While this is a drawback, this flat iron was able to offer solid styling results for under $30.
For more smooth and sleek hair, check out best hair straightening brush review.